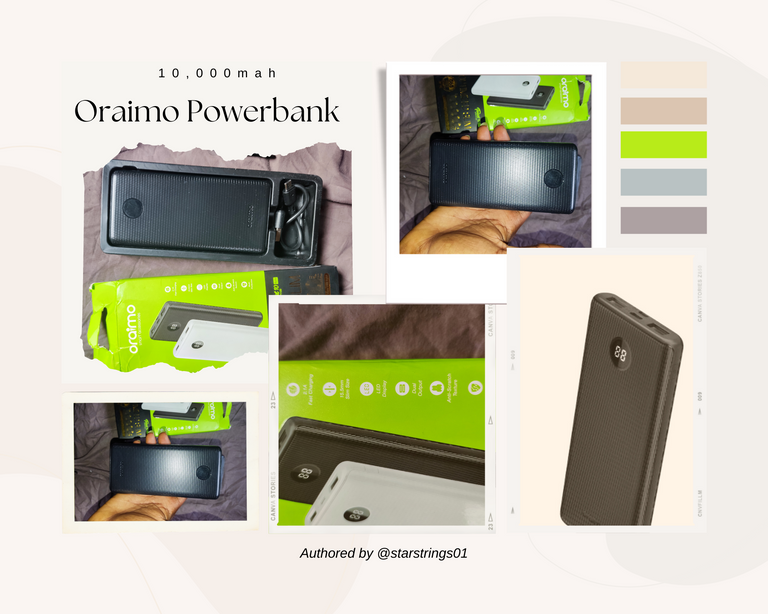 Hello everyone, this is the second time I have been published in this community. The last time was when I made a review of an earbud I got some weeks ago. You can check out the article here.
Recently, I ordered an Oraimo Powerbank from the Oraimo online store not because I didn't have a power bank before but because my power bank is quite too big to carry around and I needed something light that is nice enough for my pocket.
So after I saw this Powerbank on my brother's hands, I decided to get it as well, then make a review on it as well.
Hola a todos, es la segunda vez que me publican en esta comunidad. La última vez fue cuando hice una review de unos auriculares que me regalaron hace unas semanas. Podéis consultar el artículo aquí.
Recientemente, pedí un Oraimo Powerbank de la tienda online de Oraimo, no porque no tuviera un power bank antes, sino porque mi power bank es demasiado grande para llevarlo a todas partes y necesitaba algo ligero que fuera lo suficientemente bonito para mi bolsillo.
Así que después de ver este Powerbank en las manos de mi hermano, decidí conseguirlo también, y luego hacer una reseña sobre él también.

| | |
| --- | --- |

This is the Oriamo Optimized Slim Powerbank, which I recently got. What I like about the PowerBank is the packaging. Oraimo is known for making awesome packaging for their products no matter how big or small their product is.
The packaging is quite thick and looks as if there is more than just a Powerbank in it. The same thing goes for their AirPods, which I have gotten from them so far. Soon, I would be getting one of their AirPods and be making a review on it.
Este es el Oriamo Optimized Slim Powerbank, que he conseguido recientemente. Lo que me gusta del PowerBank es el embalaje. Oraimo es conocido por hacer un embalaje impresionante para sus productos, no importa lo grande o pequeño que sea su producto.
El embalaje es bastante grueso y parece que hay algo más que una Powerbank en él. Lo mismo ocurre con sus AirPods, que he obtenido de ellos hasta ahora. Pronto, voy a conseguir uno de sus AirPods y voy a hacer una reseña sobre él.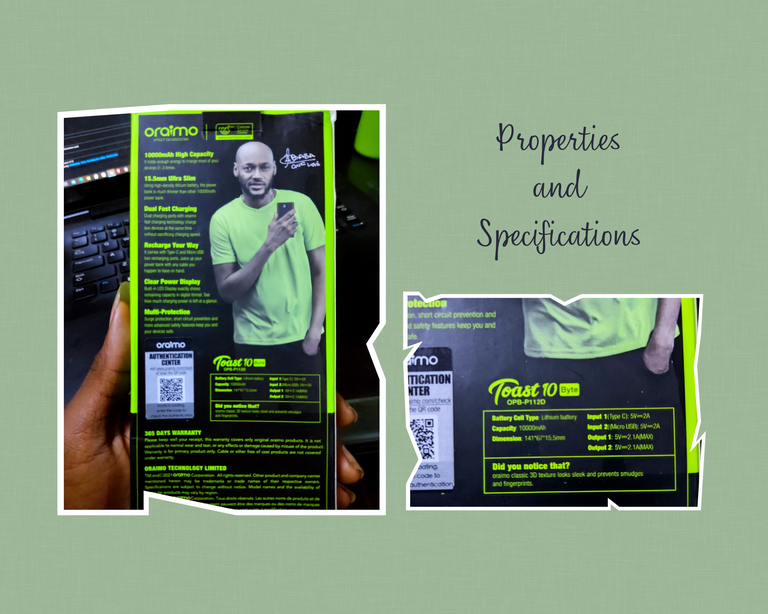 𝔹𝕒𝕥𝕥𝕖𝕣𝕪 𝕔𝕒𝕡𝕒𝕔𝕚𝕥𝕪 // ℂ𝕒𝕡𝕒𝕔𝕚𝕕𝕒𝕕 𝕕𝕖 𝕝𝕒 𝕓𝕒𝕥𝕖𝕣í𝕒
Looking through the properties of the PowerBank, it is a 10,000mAh power bank that has quite enough power to charge my device at least 2x to 3x since I am using an iPhone XR that has a 2900mAh battery life
The last time I took it out without a charger; just my power bank and the charging cable, the power bank was able to last for two days while it was still very easy to carry about.
Mirando a través de las propiedades del PowerBank, es un banco de energía de 10.000mAh que tiene bastante poder para cargar mi dispositivo por lo menos 2x a 3x ya que estoy usando un iPhone XR que tiene una vida de batería de 2900mAh
La última vez que lo saqué sin un cargador; sólo mi banco de energía y el cable de carga, el banco de energía fue capaz de durar dos días mientras que todavía era muy fácil de llevar.
---
𝕌𝕝𝕥𝕣𝕒 𝕊𝕝𝕚𝕞 𝔽𝕖𝕒𝕥𝕦𝕣𝕖 // ℂ𝕒𝕣𝕒𝕔𝕥𝕖𝕣í𝕤𝕥𝕚𝕔𝕒 𝕌𝕝𝕥𝕣𝕒 𝕊𝕝𝕚𝕞
What's more interesting than having a power bank that is easy to carry about. As I said earlier, this is what motivated me to get this power bank. I fell in love with the power bank because of this specification.
Except for the fact that the power bank is slim, it is also lightly weighted which makes it very easy to hold and carry about. Someone can almost mistake it for a small mobile phone.
Qué más interesante que tener un power bank que sea fácil de transportar. Como he dicho antes, esto es lo que me motivó a conseguir este power bank. Me enamoré del power bank por esta especificación.
Además del hecho de que el banco de energía es delgado, también tiene un peso ligero que hace que sea muy fácil de sostener y llevar. Casi se puede confundir con un pequeño teléfono móvil.
---
ℂ𝕙𝕒𝕣𝕘𝕖 𝕌𝕡 𝕥𝕠 𝕋𝕨𝕠 𝔻𝕖𝕧𝕚𝕔𝕖𝕤 // ℂ𝕒𝕣𝕘𝕦𝕖 𝕙𝕒𝕤𝕥𝕒 𝕕𝕠𝕤 𝕕𝕚𝕤𝕡𝕠𝕤𝕚𝕥𝕚𝕧𝕠𝕤
Like most power banks that you can see out there, this PowerBank can only charge up to two devices. It is a good number of ports for me. I actually don't like power banks that have way too many ports for charging so I don't get so many people asking me to share my power bank.
Moreover, why would a person be using more than two phones? yeah, some people have it and it is this kind of people that may need a power bank with more than two ports.
The interesting aspect about the PowerBank is that;It has a dual fasting feature i.e. both ports charge at the same speed. There are some power banks out there that when you are using both ports, the charging speed of one port reduces while the other port may be a bit higher.
Como la mayoría de los bancos de energía que se pueden ver por ahí, este PowerBank sólo puede cargar hasta dos dispositivos. Para mí es un buen número de puertos. De hecho, no me gustan los power banks que tienen demasiados puertos de carga para que no haya tanta gente que me pida que comparta mi power bank.
Además, ¿por qué una persona va a utilizar más de dos teléfonos? sí, algunas personas lo tienen y es este tipo de personas las que pueden necesitar un power bank con más de dos puertos.
El aspecto interesante del PowerBank es que; Tiene una función de ayuno dual, es decir, ambos puertos cargan a la misma velocidad. Hay algunos bancos de energía por ahí que cuando usted está usando ambos puertos, la velocidad de carga de un puerto se reduce, mientras que el otro puerto puede ser un poco más alto.
---
𝕄𝕦𝕝𝕥𝕚𝕡𝕝𝕖 ℝ𝕖𝕔𝕙𝕒𝕣𝕘𝕚𝕟𝕘 ℙ𝕠𝕣𝕥𝕤 // 𝕄ú𝕝𝕥𝕚𝕡𝕝𝕖𝕤 𝕡𝕦𝕖𝕣𝕥𝕠𝕤 𝕕𝕖 𝕣𝕖𝕔𝕒𝕣𝕘𝕒
So, what's more interesting than being able to recharge your power bank with any available charging cable. With the Oraimo toast 10-byte power bank, you get a type C and a type B charging port.
I believe that these charging cables are one of the most common in the market or in any place you may find yourself so if you are not with any available cable to recharge your power bank, then there would someone around that can lend out a cable regardless of what device they use, except it is an iOS device.
Por lo tanto, lo más interesante es poder recargar tu power bank con cualquier cable de carga disponible. Con el powerbank oraimo toast 10 bytes, tienes un puerto de carga tipo C y otro tipo B.
Creo que estos cables de carga son uno de los más comunes en el mercado o en cualquier lugar alrededor de lo que si usted no está con cualquier cable disponible para recargar su banco de energía, entonces habría alguien en torno a usted puede pedir prestado un cable de independientemente de lo que el dispositivo que utilizan, a menos que sea un dispositivo iOS.
---
𝔹𝕒𝕥𝕥𝕖𝕣𝕪 𝕃𝕖𝕕 𝔻𝕚𝕤𝕡𝕝𝕒𝕪 // ℙ𝕒𝕟𝕥𝕒𝕝𝕝𝕒 𝕃𝔼𝔻 𝕕𝕖 𝕝𝕒 𝕓𝕒𝕥𝕖𝕣í𝕒
If you are the type that prefers seeing the exact battery percent of your power bank then you would love the power bank. Unlike most power banks out there, lights are always used as a measure of the battery percentage. Some power banks can have three lights while other would have four lights but this displays the exact battery percentage.
Si eres de los que prefieren ver el porcentaje exacto de la batería de tu power bank, entonces te encantará el power bank. A diferencia de la mayoría de los bancos de energía por ahí, las luces se utilizan siempre como una medida del porcentaje de la batería. Algunos bancos de energía pueden tener tres luces, mientras que otros tienen cuatro luces, pero esto muestra el porcentaje exacto de la batería.
---
| | |
| --- | --- |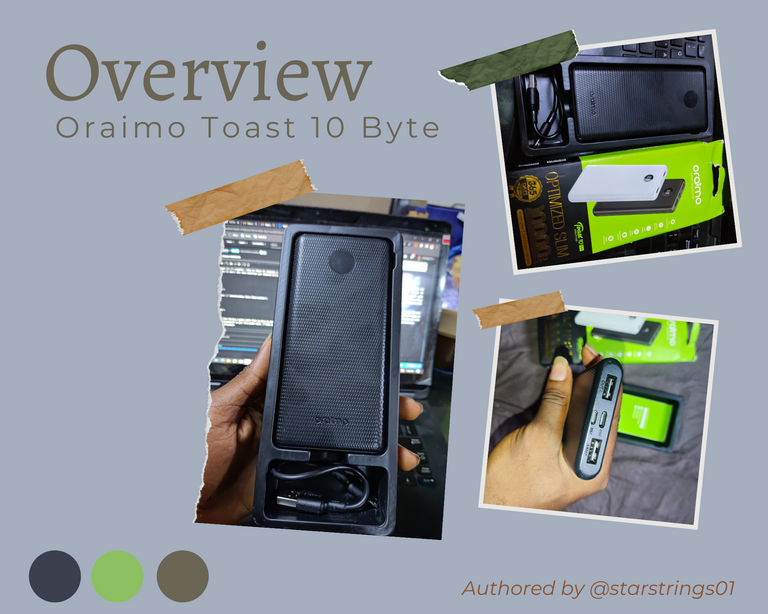 From all I have said about the power bank, it is fair for the price of $12. I literally don't know how much they sell these in your country or any other power bank with a similar specification.
I almost forgot to say earlier that after unboxing the power bank, it comes with a type B charging cable that is not so long in length as you can see in the image above.
Feel free to share the range of prices they sell power banks like this in your country. I would love to know. Thank you!
Por todo lo que he dicho sobre el power bank, es justo por el precio de 12 dólares. Literalmente no sé cuánto venden estos en tu país o cualquier otro power bank con una especificación similar.
Casi se me olvida decir antes que después de unboxing el power bank, viene con un cable de carga tipo B que no es tan largo en longitud como se puede ver en la imagen de arriba.
Siéntase libre de compartir el rango de precios que venden los bancos de energía como este en su país. Me encantaría saberlo. Gracias.
---
WHO IS STARSTRINGS01
---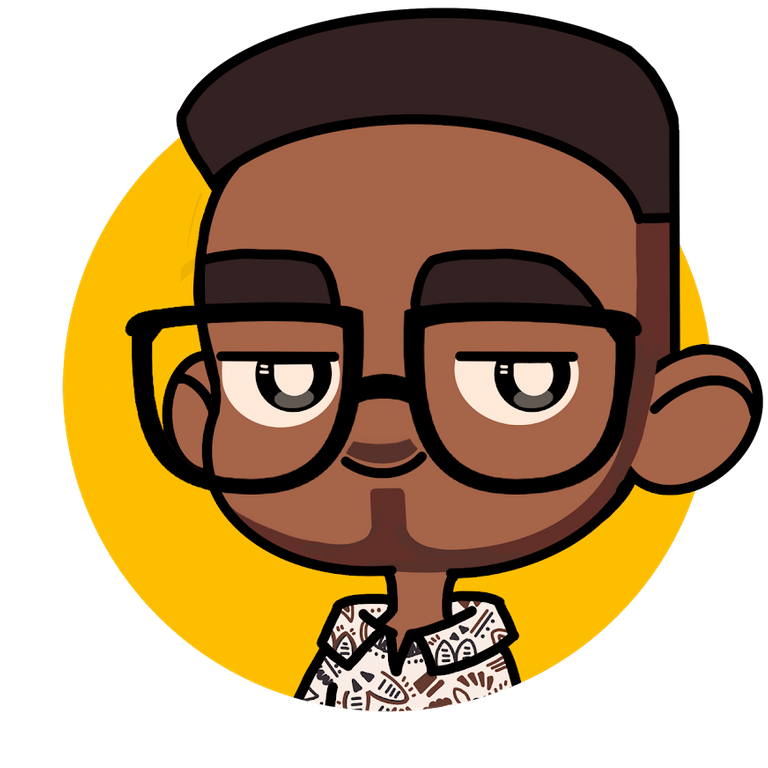 Starstrings01 AKA Giftedhands is a Hive lover, a Nigeria musician (Guitarist), and also a student who studies Mechatronics Engineering at the Federal University of Agriculture, Abeokuta.
His goal on Hive is to be more than a regular blogger but something more; someone with a purpose. That's one of the reasons why he founded the newbies initiative @newbies-hive to help guide and support newbies. Kindly click here to follow the @newbies-hive curation trail.
He battles and struggles with balancing education and being active on the chain but yet his love and passion for Hive keep him on balance.
---
All images are mine except indicated otherwise
All designs were designed by me using Canva
---

IF YOU LOVE THIS POST, YOU CAN KINDLY SUPPORT IT WITH YOUR COMMENTS, REBLOG AND UPVOTE. IT WOULD BE MUCH APPRECIATED

THANKS FOR VISITING MY BLOG 😇💕