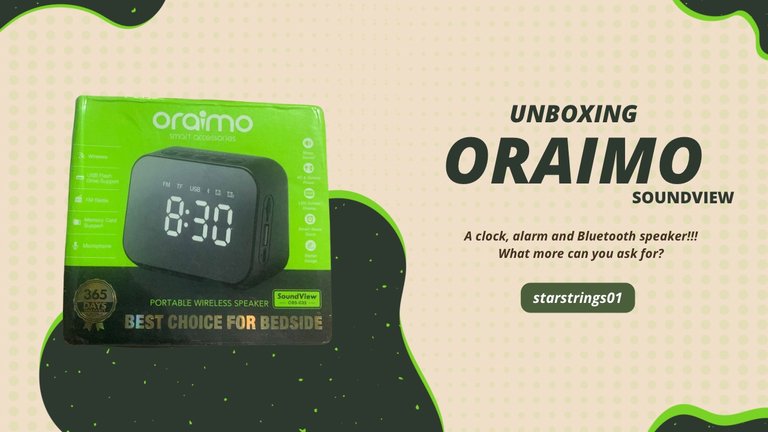 ---
---
Yesterday I went out to collect my Oraimo package at the station where it was dropped. It was a very stressful journey, as discussed in this post here.
I got the item and it was time to unpack it, so I went to fetch my knife to separate the package from the product since it was tightly taped together. These products are always a struggle to open with bare hands, and I was not ready for that.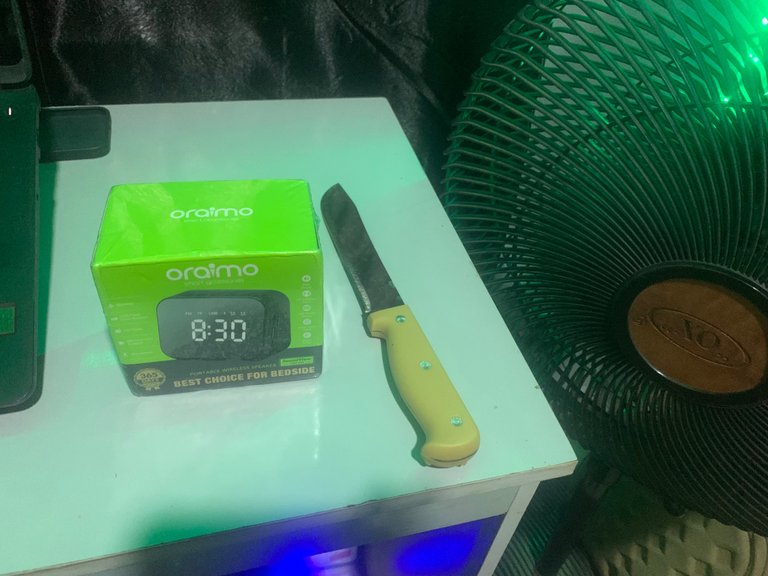 see me looking like Jackie Chan in action. After removing the package, it was left to remove the nylon from the box and bring out the product.
After I unpacked the product, I was a little disappointed with the size because, from the product image online, it seemed bigger than what it actually is.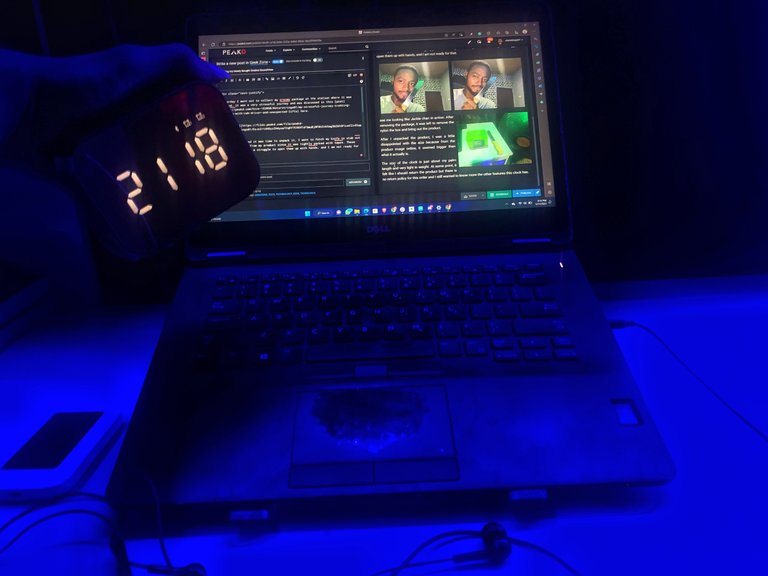 The size of the clock is just about my palm length and very light in weight. At some point, it felt like I should return the product, but there is no return policy for this order, and I still wanted to know more about the other features this clock has.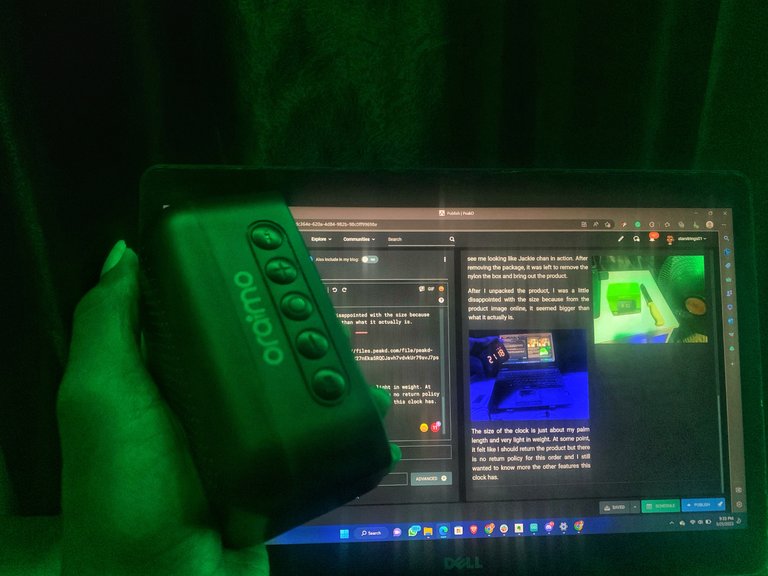 At the top of the clock, we have some controls on it. From the picture above, you can see that there are about 5 buttons that help with its controls. We have the Mod, Minus (-), Play/Pause, Add (+), and Set buttons.
---
𝖥𝖤𝖠𝖳𝖴𝖱𝖤𝖲 𝖮𝖥 𝖳𝖧𝖤 𝖯𝖱𝖮𝖣𝖴𝖢𝖳
---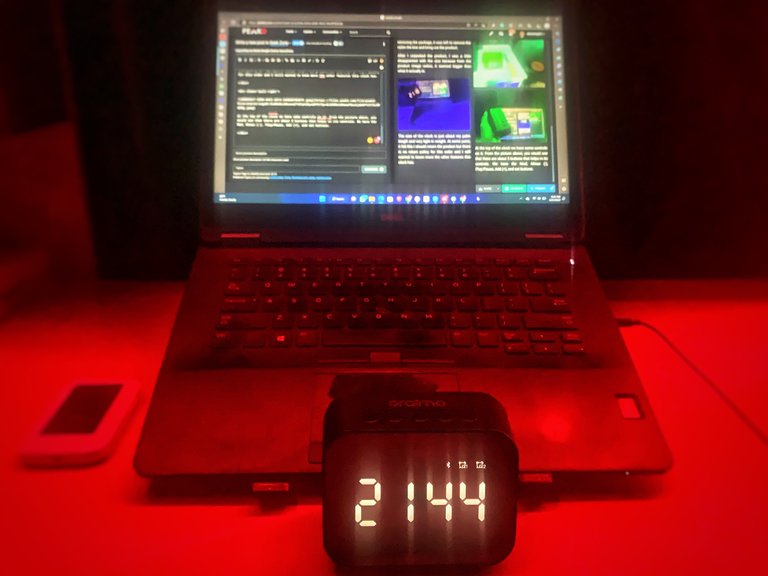 This product, named "Oraimo SoundView," is more than a clock but also a Bluetooth speaker and an alarm clock. I was planning on getting a Bluetooth speaker, but while searching through the net for which product to get, I found this and fell in love with it because I am not only getting a Bluetooth speaker but with other features added to it.
The price of the product cost me $16 to get. I bought it after reading some reviews about it, all of which were positive, but I have some likes and dislikes about it.
The sound is not as booming as I would have preferred, but it is still manageable to some extent. It also perfectly fits my room and I can easily check the clock comfortably while I am on the bed. Also,I can clearly see the time even in the dark.
I went to lie down on my bed to take a picture of the clock to show how it displays time even if everywhere is dark. I don't have to look for my phone to check the time when I wake up in the middle of the night.
From the position where I placed the alarm clock, it has a great view where there is light around. Here is a picture of me turning on the lights.
The clock happens to have two alarms that can be set. At first, I had difficulties setting up the alarm for the clock. I had to check out the manual before I was able to. Even after I did that, the alarm did not go off. I got frustrated and went to YouTube to look for help. I found out that there were not many tutorials on the product. Just about two or three YouTubers talked about the product.
Luckily, I found one of the videos helpful in making the alarm work. From the comments I saw in one of the videos, it seemed I was not the only one that faced that problem, and I am glad it was solved; if not, I would be pissed at myself for getting a product that I am not satisfied with.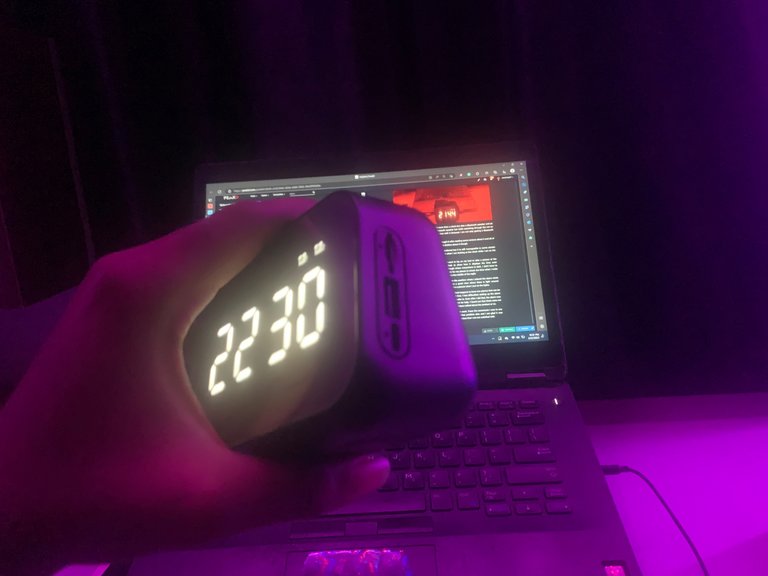 On the side of the clock, there is a type C port, USB, and memory card slots. Type C is for charging, and the memory card slot is for reading music from the memory card inserted, but I don't know what the USB is for yet. I thought maybe it would serve as a power bank, but when I tried plugging my phone into it, nothing happened. I think I would still have to go back to my manual or YouTube to check it out to know what it is for.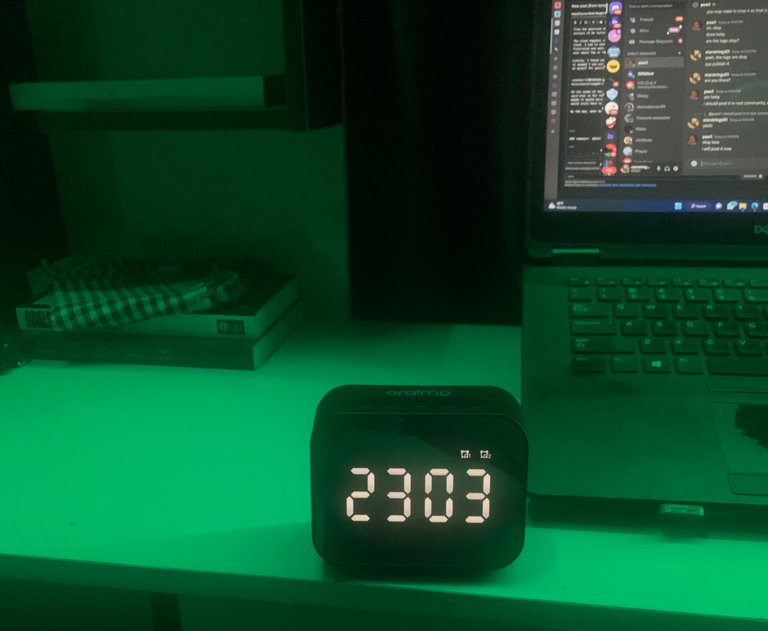 By the way, what do you think about this product? Is it a type of product that is worth buying?
---
𝙰𝙱𝙾𝚄𝚃 𝚃𝙷𝙴 𝙰𝚄𝚃𝙷𝙾𝚁
---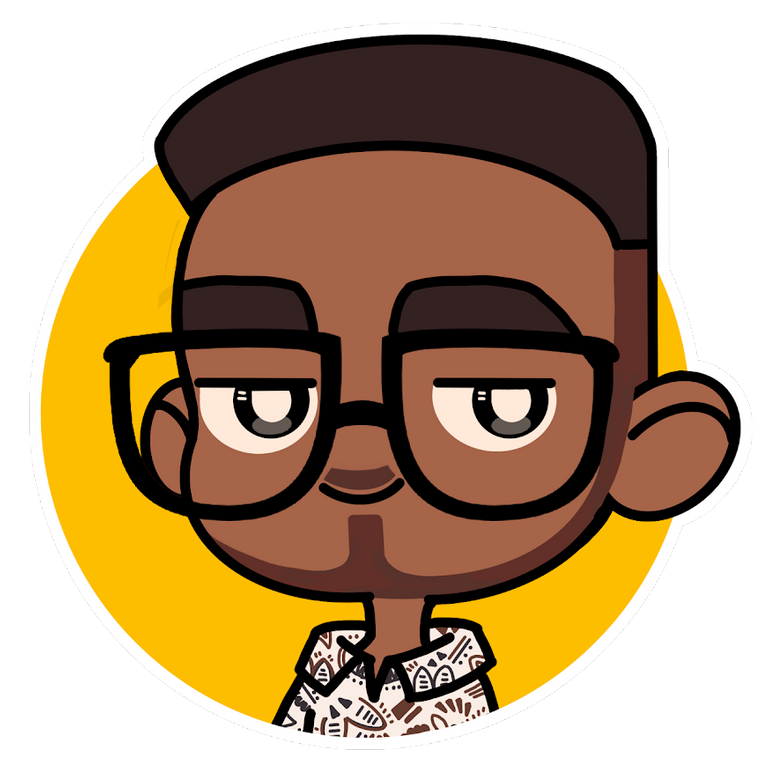 Designed by @ grisvisa
Starstrings01, also known as Giftedhands, attends the Federal University of Agriculture in Abeokuta to study mechanical engineering. He is a lover of the hive, a guitarist from Nigeria, and a student.
His ambition on Hive is to be more than just an ordinary blogger; he wants to be someone with a purpose. That's why he started the newbies initiative @newbies-hive to help guide and support newbies. Please follow the @newbies-hive curation trail by clicking here.
He tries to juggle education with being active on the chain, but his love and passion for Hive keep him on track..
---
All images are mine except where indicated otherwise
All gifs included are powered by Tenor
---
Some posts you might be interested to read:
QUALITY ENGAGEMENT Vs. QUALITY CONTENTS Vs. GAINING VISIBILITY ON HIVE
BEING UNIQUE DOESN'T MAKE IT ORIGINAL || HIVE REWARDS ORIGINALITY