---
🦉Volviendo al Duolingo // Back to Duolingo🦉
---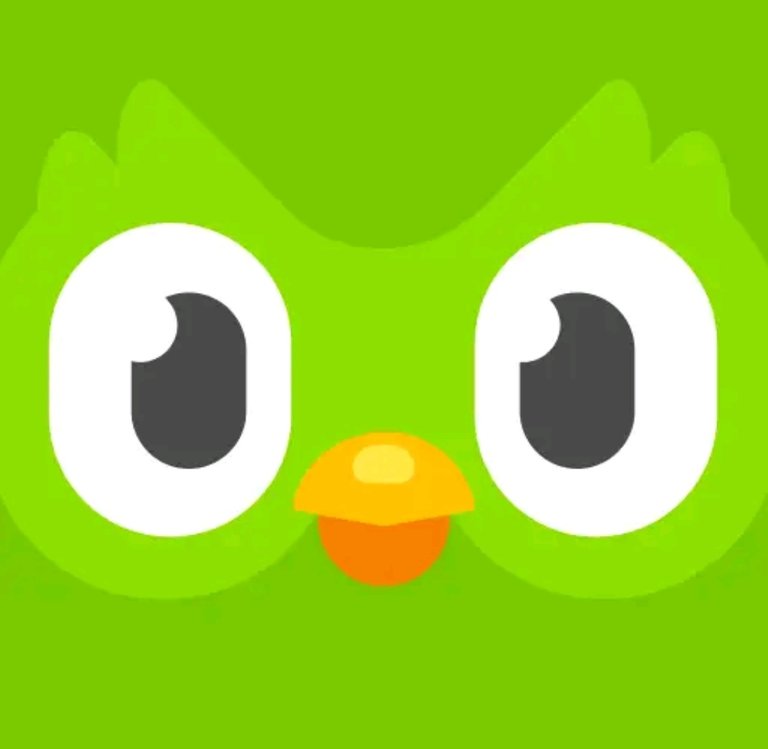 Duolingo
---
Hola Hola
Hace más de un año comencé un curso de Sueco por Duolingo que volví a retomar la semana pasada. Para el pequeño de la casa está prohibido el uso del celular entre semana, ya que estaba presentando fallas al momento de desenvolverse en sus actividades, y mi papá me sugirió que le enseñara a usar el teléfono de forma educativa y que le pusiera el Duolingo para aprender ingles. Así fue, César usa el Duolingo mejor yo y eso que apenas tiene 7 años o mejor dicho, porque tiene 7 años, van volando.
Yo había dejado el curso de Sueco porque requiere internet y en casa es deficiente, pero dije que no había más excusas para continuar y aunque no he avanzado como quiero porque no es tan fácil como se dice, el sueco es un idioma distinto al ingles y español, aunque hayan palabras que no se hacen tan distintas hasta ahora.
---
Hello Hello
More than a year ago I started a Swedish course through Duolingo that I took up again last week. For the little one in the house, the use of the cell phone during the week is prohibited, since he was presenting failures when performing in his activities, and my dad suggested that I teach him to use the telephone in an educational way and that I play Duolingo for him. learn English. That's how it was, César uses Duolingo better than me and that he is barely 7 years old or rather, because he is 7 years old, they go flying.
I had left the Swedish course because it requires internet and at home it is poor, but I said that there were no more excuses to continue and although I have not progressed as I want because it is not as easy as it is said, Swedish is a language other than English and Spanish, although there are words that are not so different until now.
---
Me di cuenta que la aplicación ha mejorado bastante, han incitado a que las personas aprendan también la pronunciación, desde el comienzo, me explico, Duolingo tiene dinámicas de selección para formar una frase que te dicen, al momento de hacer la práctica, ejemplo, el duolingo te hice: "Jag Heter Anna" con voz y tú tienes que pulsar los bloques dónde dicen palabras random además de las correctas y ahí te evalúa si estás bien o mal. Otra de sus actividades son escribir la traducción sea en español o el idioma que estás aprendiendo. Ahí es cuando me caigo más, porque mi oído ya se está acostumbrando pero el escribir es más difícil porque el sueco tiene letras que nosotros los hispano hablantes no conocemos, tienen símbolos de puntuación como la diéresis, entre otros. También se salen imágenes y el estudiante tiene que escoger la imagen de la palabra que te está pidiendo que descubras.
---
I realized that the application has improved a lot, they have encouraged people to also learn the pronunciation, from the beginning, let me explain, Duolingo has selection dynamics to form a sentence that they tell you, at the moment of doing the practice, for example, I made the duolingo for you: "Jag Heter Anna" with a voice and you have to press the blocks where they say random words in addition to the correct ones and there it evaluates you if you are right or wrong. Another of their activities is to write the translation in Spanish or the language you are learning. That's when I fall more, because my ear is getting used to it but writing is more difficult because Swedish has letters that we Spanish speakers don't know, they have punctuation symbols like the umlaut, among others. Images are also displayed and the student has to choose the image of the word that he is asking you to discover.
---
---
Abrí otro idioma que fue el inglés solo cómo practica y también para saber cómo estoy con el idioma, yo escucho, leo bien, pero hablar y escribir me cuesta porque dudo mucho por si lo estoy haciendo bien, siento que me voy a equivocar y no me gusta, este apenas estoy empezándolo, por lo que no tengo muchos niveles avanzados, además que me enfoco más que en el sueco.
---
I opened another language, which was English, just how I practice and also to know how I am with the language, I listen, I read well, but speaking and writing are difficult for me because I doubt a lot if I am doing it well, I feel that I am going to make a mistake and I am not I like it, I'm just starting this one, so I don't have many advanced levels, plus I focus more than Swedish.
---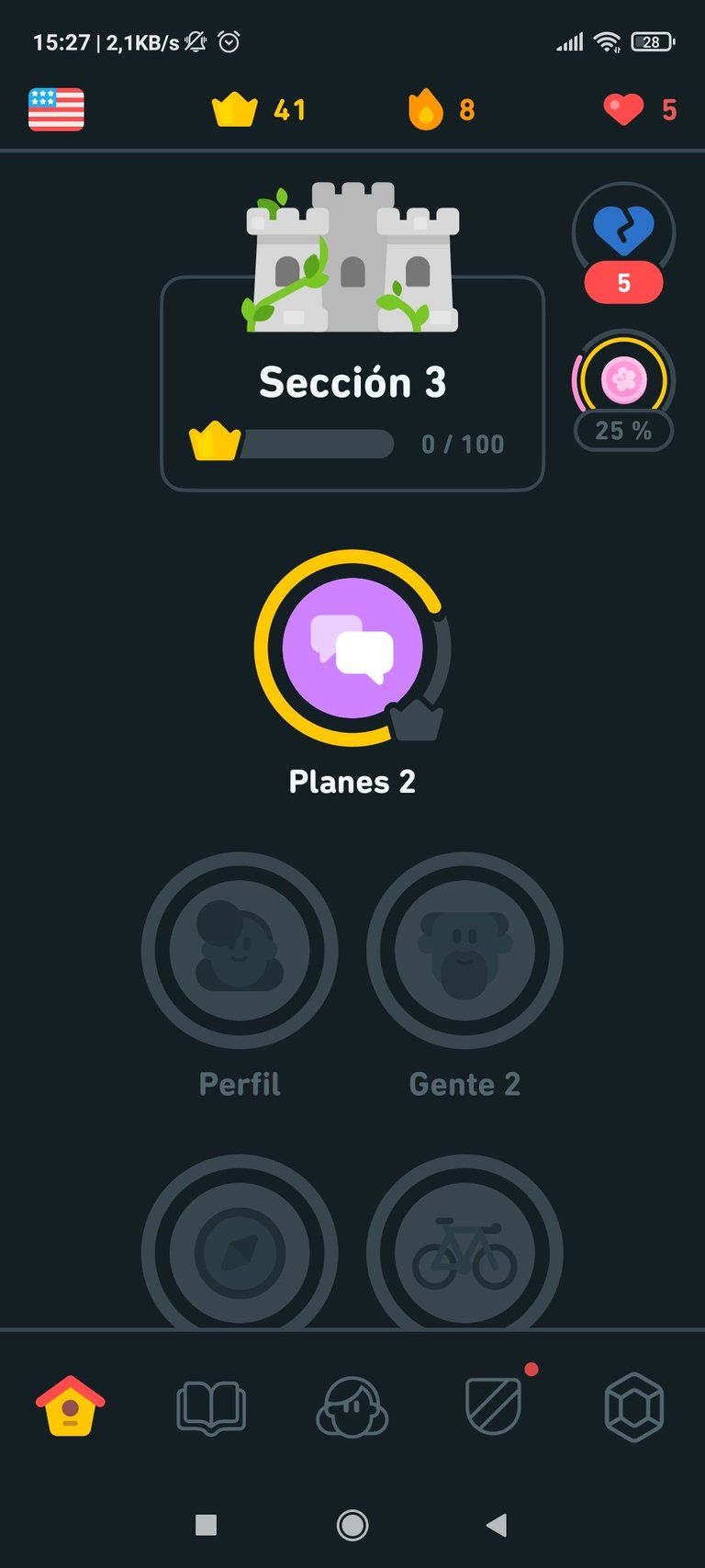 ---
Te preguntarás ¿por qué sueco? Te explico, mi mamá nació en Suecia, su familia paterna es de Suecia y siempre he tenido curiosidad de aprender el idioma, mis abuelos hablaban en sueco, también escuchaba a mi tío hablar sueco, mi mamá y mi otro tío dicen que al escucharlo asocian lo que dicen, pero no se saben comunicar. No quisiera que se perdiera en la familia el idioma, además de que es algo que me nutre y me genera conocimientos. También en un momento pensé en irme a Suecia o conseguir la nacionalidad que por edad perdimos. Al menos para mi hijo.
Quisiera que mi hijo también lo aprenda y a medida que va creciendo que se vaya familiarizando con el idioma y así practicar los dos. Ojalá podamos ir a visitar y conocer a la familia que tenemos allá. Sería muy divertido, lo mejor es podernos comunicar.
---
You may ask why Swedish? I'll explain, my mom was born in Sweden, her paternal family is from Sweden and I've always been curious to learn the language, my grandparents spoke Swedish, I also heard my uncle speak Swedish, my mom and my other uncle say that when they hear him they associate what they say, but they don't know how to communicate. I would not want the language to be lost in the family, besides it is something that nourishes me and generates knowledge. Also at one point I thought about going to Sweden or getting the nationality that we lost due to age. At least for my son.
I would like my son to learn it too and as he grows up he becomes familiar with the language and thus practice both. Hopefully we can go visit and meet the family we have there. It would be a lot of fun, the best thing is to be able to communicate.
---
Recomiendo mucho a Duolingo, porque es una herramienta bastante completa, de fácil acceso, muy sencilla de usar, no es aburrida y tiene actividades dinámicas que te ayudan a aprender el idioma. Lo mejor, es que tienen todos los idiomas que quieras aprender y más.
Por ahora, sigo aprendiendo y ejercitando mi mente con nuevos conocimientos.
---
I highly recommend Duolingo, because it is a fairly complete tool, easy to access, very simple to use, it is not boring and it has dynamic activities that help you learn the language. The best thing is that they have all the languages you want to learn and more.
For now, I keep learning and exercising my mind with new knowledge.
---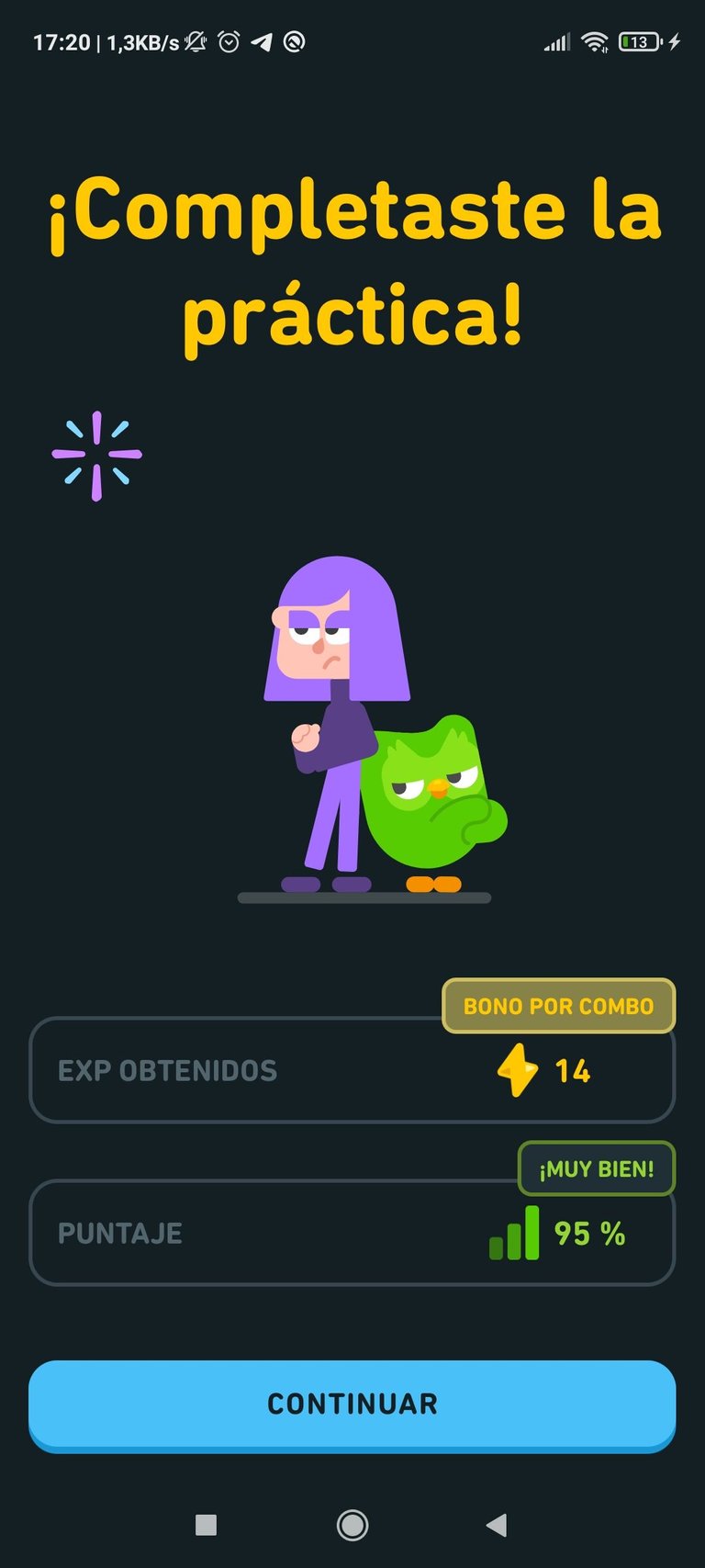 ---
Soy Ana Fuentes💜💜
---
-Capturas tomadas desde mi cuenta por mi Redmi Note 9S