Saludos a todos mis queridos Geeks de esta comunidad. Estoy segura de que muchos de ustedes ven algo en cualquiera de las plataformas de streaming que existen en la actualidad, yo tengo unas cuantas y muchas veces quiero ver algo y voy buscando plataforma por plataforma para ver si la película o la serie que quiero ver se encuentra allí, y sinceramente puedo pasar mucho tiempo buscando y tal vez no encontrar nada. Así que el día de hoy les traigo una solución maravillosa.
Greetings to all my dear Geeks of this community. I am sure that many of you watch something on any of the streaming platforms that exist today, I have a few and many times I want to watch something and I go searching platform by platform to see if the movie or series I want to watch is there, and honestly I can spend a lot of time searching and maybe not find anything. So today I bring you a wonderful solution.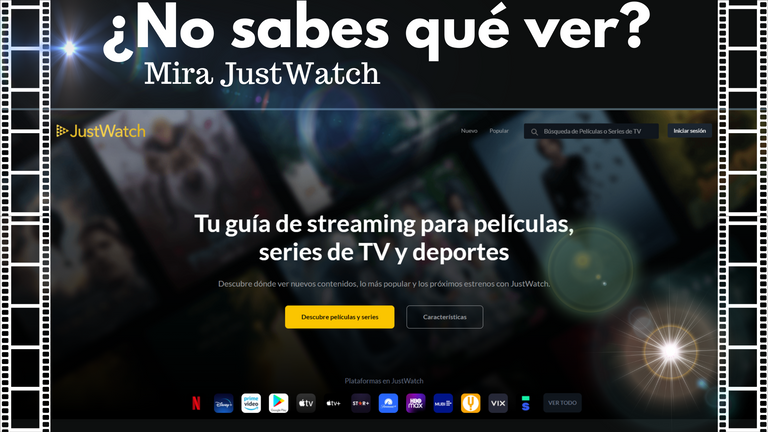 Hace unos días, escuchando un podcast, uno de los podcasters recomendó esta aplicación para buscar películas. La verdad que por un momento pensé que era pago y estaba muy lejos de la realidad. Esta aplicación, como te lo podrás suponer, concentra todas las series, películas, reality Tv. documentales e incluso, deportes para que puedas conseguir lo que quieres ver en un solo lugar. Puedes descargarla en la Play Store o simplemente ingresar a través de https://www.justwatch.com/.
A few days ago, listening to a podcast, one of the podcasters recommended this application to search for movies. The truth is that for a moment I thought it was paid, and it was far from reality. This application, as you can guess, concentrates all the series, movies, reality TV, documentaries, and even sports, so you can get what you want to see in one place. You can download it from the Play Store or simply log in through https://www.justwatch.com/.
| | |
| --- | --- |
Para ingresar puedes registrarte a través de un correo electrónico o a través de tu cuenta de Google o Facebook. Una vez dentro tienes la opción de escoger todas las plataformas en las que estás inscrito y la aplicación por defecto te mostrará sugerencias de todas las cosas que puedes ver. Es importante decir, que esta plataforma reconoce la IP desde donde estás. En mi caso sabe que estoy en Venezuela, así que me mostró todas las plataformas disponibles para esta región, así como todo lo que podía ver. Tal vez utilizando una VPN funcione diferente.
Algo que también me gustó es que te va mostrando los estrenos del día y los próximos estrenos. También te muestra lo más popular del momento, así como también puedes ir haciendo tu Watchlist con todo lo que tienes pendiente por ver (probablemente esta se llene muy pronto).
To log in, you can register through an email or through your Google or Facebook account. Once inside you have the option to choose all the platforms where you are registered and the default application will show you suggestions of all the things you can see. It is important to say that this platform recognizes the IP from where you are. In my case, it knows that I am in Venezuela, so it showed me all the platforms available for this region, as well as everything I could watch. Maybe using a VPN will work differently.

Something I also liked is that it shows you the day's premieres and upcoming releases. It also shows you the most popular of the moment, and you can also make your Watchlist with everything you have pending to watch (this one will probably fill up very soon).
Una de las ventajas de ingresar a través de tu cuenta de Google, es que si tienes un Smart Tv asociado a esa cuenta, puedes asociar esta cuenta con el Smart Tv y si hay algo que consigas en la app, inmediatamente puedes reproducirlo en tu TV, esto es una maravilla porque evitará el uso fastidioso del pequeño control remoto para buscar una serie o película específico. La inmediatez es algo que nos caracteriza en los últimos tiempos y esta tecnología me parece ideal y así no perdemos media hora buscando algo. También puedes establecer filtros con todo lo que te gustaría que te mostrara la aplicación, incluyendo hasta el año de estreno.
Something that I also liked is that if there is something that you know was recently released in a movie theater or if there is a title that is about to be released, there is the option to activate a bell so that you get a notification to let you know when it is available. One of the advantages of logging in through your Google account, is that if you have a Smart TV associated with that account, you can associate this account with the Smart TV and if there is something you get in the app, you can immediately play it on your TV, this is wonderful because it will avoid the annoying use of the small remote control to search for a specific series or movie. Immediacy is something that characterizes us in recent times and this technology seems ideal to me, and so we do not waste half an hour looking for something. You can also set filters with everything you would like the application to show you, including even the year of release.
| | |
| --- | --- |
Algo que también me gustó es que si hay algo que sabes que estrenaron hace poco en algún cine o si existe algún título que está por estrenar, está la opción de activar una campana para que te llegue una notificación que te avise cuando esté disponible.
Something that I also liked is that if there is something that you know was recently released in a movie theater or if there is a title that is about to be released, there is the option to activate a bell to notify you when it is available.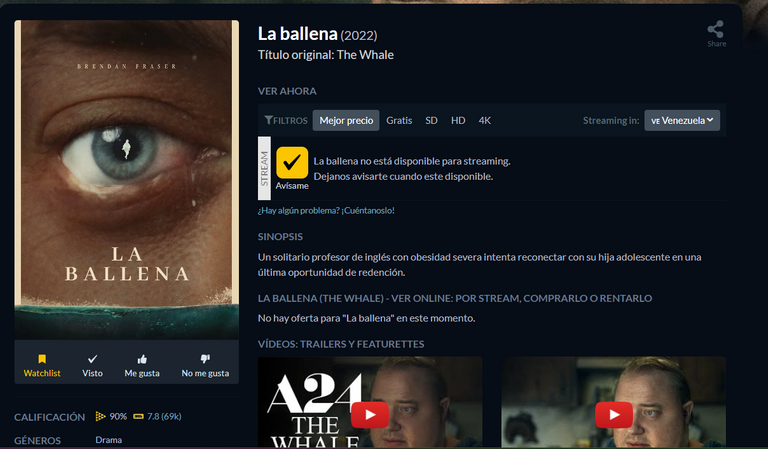 Sé que en esta plataforma, y en esta comunidad, hay muchos cinéfilos como yo y sé que van a utilizar esta herramienta espectacular que nos permite tener concentrado en un mismo lugar los mejores (y peores títulos). ¿Qué te parece? ¿Vas a utilizarla?
I know that on this platform, and in this community, there are many moviegoers like me and I know that they will use this spectacular tool that allows us to have the best (and worst) titles concentrated in one place. What do you think? Are you going to use it?

Capturas realizadas en la App y en la página
Banners realizados con Canva Pro