Con el leve pasar de los días he estado equipando mi PC para estar más cómodo al momento de crear algún contenido. Algo que me preocupaba mucho era el mouse: el que tenía era muy viejo e incómodo. Decidí cambiarlo en la brevedad posible, y busqué algunas ofertas en algunas tiendas de la ciudad de Maturín-Venezuela. No hizo falta recorrer muchos lugares porque hallé fácilmente un Mouse USB a buen precio y que además era para Gamers. La marca es Fantech y el dispositivo está identificado como un "Rhasta II G13". ¿Valió la pena adquirirlo? ¿Es realmente cómodo? ¿Cómo es estéticamente? ¡Vamos a descubrirlo juntos!
With the passing of the days I have been equipping my PC to be more comfortable when creating content. Something that worried me a lot was the mouse: the one I had was very old and uncomfortable. I decided to change it as soon as possible, and I looked for some offers in some stores in the city of Maturin-Venezuela. I didn't need to visit many places because I easily found a USB Mouse at a good price and it was also for Gamers. The brand is Fantech and the device is identified as a "Rhasta II G13". Was it worth buying it, is it really comfortable, how is it aesthetically? Let's find out together!
---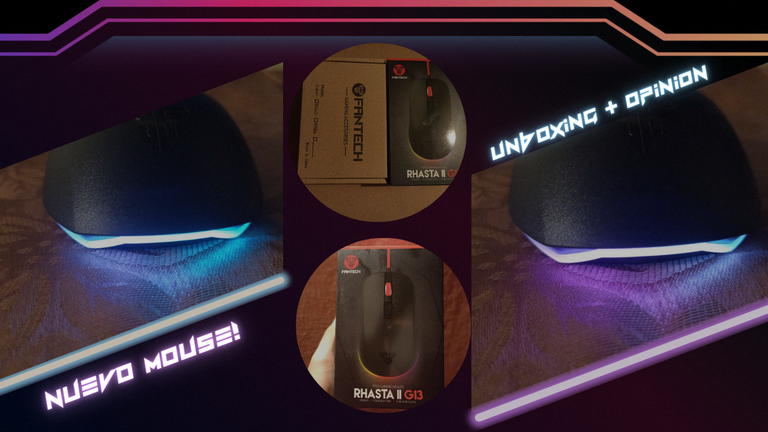 Imagen editada en Canvas
---
En primer lugar debo decir que la caja es hermosa, es más, es la primera vez que digo algo sobre la belleza de una caja, jajaja. Es oscura, con una combinación elegante entre el negro y el rojo. Esto fue lo que llamó mi atención en un principio: en la parte delantera aparece el modelo del Mouse, con algunas luces intercambiadas de colores. En la parte posterior están las especificaciones y las redes sociales de la marca Fantech.
El precio del "Rhasta II G13" era de unos diez dólares americanos, algo muy bueno porque se adaptaba a mi presupuesto. Debo admitir que en mis planes no estaba un Mouse Gamer, de hecho, lo había colocado muy debajo en la lista donde tengo anotadas las cosas que estoy pensando comprar para armar mi set de trabajo. Pero dada la inesperada oportunidad, decidí adquirir este "Rhasta" que suena a nombre de roedor… ¿curioso no? XD
First of all I must say that the box is beautiful, in fact, this is the first time I say something about the beauty of a box, hahaha. It is dark, with an elegant combination between black and red. Here's what caught my attention at first: on the front is the Mouse model, with some color-swapped lights. On the back are the specifications and the social networks of the Fantech brand.

The price of the "Rhasta II G13" was about ten US dollars, a very good thing because it suited my budget. I must admit that in my plans was not a Gamer Mouse, in fact, I had placed it far below in the list where I have written down the things I am thinking of buying to build my working set. But given the unexpected opportunity, I decided to buy this "Rhasta" which sounds like a rodent's name... funny isn't it? XD
---
| | |
| --- | --- |
---
Al abrir la caja me encontré con otra caja, ¡vaya sorpresa! XD. Creo que la pusieron ahí por medidas de seguridad, además, viene con las especificaciones escritas sobre el color y el modelo del Mouse. Pensé que la marca Fantech no era china, aunque al final me equivoqué. En la actualidad gran parte de los productos electrónicos proviene de ese país, eso por el precio que ofrecen y además la calidad que, aunque no siempre sea buena, tiene sus virtudes.
Dentro de la segunda caja estaba el Mouse envuelto en una especie de papel que no conozco, una tarjeta de manual con las especificaciones concretas del dispositivo y un manual completo sobre el mismo. Cada vez que hago un unboxing esta es la etapa donde más nervios tengo por la razón de que puede faltar alguna cosa dentro de la caja, de hecho, esta no dice que contiene el interior y por eso le quitaré un punto, jajaja. Digamos que esa sería una manera de saber si le quitan algo a los productos en las tiendas donde se venden.
La tarjetica del manual es bastante práctica, o sea, es una alternativa en el caso de que no quieras leer todo el manual; claro que si deseas repasar todas las especificaciones puedes optar por el manual completo. Ya queda a tu disposición: en mi caso usé la primera, XD.
When I opened the box I found another box, what a surprise! XD. I think they put it there for security measures, besides, it comes with the specifications written about the color and model of the Mouse. I thought that the Fantech brand was not Chinese, but in the end I was wrong. Nowadays most of the electronic products come from that country, that's because of the price they offer and also the quality that, although not always good, has its virtues.

Inside the second box was the Mouse wrapped in some kind of paper that I don't know, a manual card with the specific specifications of the device and a complete manual about it. Every time I do an unboxing this is the stage where I am most nervous for the reason that there may be something missing inside the box, in fact, this one does not say what it contains inside and that's why I will take away a point, hahaha. Let's say that this would be a way to know if they take something away from the products in the stores where they are sold.

The manual card is quite practical, that is, it is an alternative in case you don't want to read the whole manual; of course, if you want to go through all the specifications you can opt for the complete manual. It is at your disposal: in my case I used the first one, XD.
---
| | |
| --- | --- |
---
Ahora hablemos de Mouse: tiene 11.8 centímetros de largo y 6.4 centímetros de ancho. En cuanto a la altura, esta no supera los 3.4 centímetros, por supuesto, considerando la naturaleza cóncava de su carcasa; esta no es de un material demasiado liso e incluso es cómoda para la palma de la mano. Se desliza fácilmente por cualquier superficie, y es muy rápido cuando de hacer clic se trata. Es cómodo, no molesta en los dedos ni tampoco se calienta como mi viejo Mouse. El diseño es sencillo pero elegante: el logo de la marca puede notarse en la parte delantera.
Como el Rhasta II G13 está diseñado para juegos profesionales, me vi en la obligación de probarlo con uno que otro videojuego que descargué. ¡Fue fantástico! Vuelvo a repetirlo: es cómodo y rápido, no hay que estar doblando la mano (como con mi viejo mouse, XD) y mucho menos forzando el dispositivo para disfrutar de una agradable experiencia. En estos términos, voy a darle diez puntos, XD.
Now let's talk about Mouse: it is 11.8 centimeters long and 6.4 centimeters wide. As for the height, this is no more than 3.4 centimeters, of course, considering the concave nature of its housing; this is not too smooth material and is even comfortable for the palm of the hand. It glides easily over any surface, and is very fast when it comes to clicking. It's comfortable, doesn't bother my fingers and doesn't get hot like my old Mouse. The design is simple but elegant: the brand logo can be noticed on the front.

As the Rhasta II G13 is designed for professional gaming, I had to test it with one or two video games I downloaded, it was fantastic! I'll say it again: it's comfortable and fast, you don't have to be bending your hand (like with my old mouse, XD) and much less straining the device to enjoy a pleasant experience. In these terms, I'm going to give it ten points, XD.
---
| | |
| --- | --- |
---
En general, para ser un producto de precio bajo tiene muy buena calidad. Además, como característica extra, en la parte posterior de la cubierta tiene incorporado luces de colores cambiantes, tal como lo indicó la caja. En las características extras descritas en el manual se especifica que el Rhasta II G13 tiene un sensor Gaming, quizás adaptable al botón derecho, izquierdo, el scroll, e incluso el DPI que tiene como botón extra.
Es la oscuridad el Mouse es una belleza, en serio. Mi meta es hacer un set sencillo pero colorido, ¡las lucecitas definen mucho al gamer! XD.
Overall, for a low priced product it has very good quality. Also, as an extra feature, on the back of the cover it has built-in color changing lights, as indicated on the box. In the extra features described in the manual it is specified that the Rhasta II G13 has a Gaming sensor, perhaps adaptable to the right button, left button, scroll, and even the DPI that has as an extra button.

It's darkness the Mouse is a beauty, seriously. My goal is to make a simple but colorful set, the little lights define the gamer a lot! XD.
---
---
Si alguna vez deseas comprar un Mouse Gamer económico y funcional el Rhasta II G13 puede ser una buena opción para ti. ¿Cuánta calidad puede tener para videojuegos profesionales? Creo que la suficiente para pasar un buen rato. Ahora puedo estar más cómodo; todavía falta adquirir otros productos para disfrutar al máximo de la experiencia de trabajar desde una PC. Sin duda, las diferencias antes y después del Mouse G13 son muy notables.
If you ever want to buy an affordable and functional Gamer Mouse the Rhasta II G13 may be a good choice for you. How much quality can it have for professional gaming? I think it's enough to have a good time. Now I can be more comfortable; I still need to acquire other products to fully enjoy the experience of working from a PC. Undoubtedly, the differences before and after the G13 Mouse are very noticeable.
---
Fotografías tomadas con mi Xiaomi Redmi Note 10s
Photographs taken with my Xiaomi Redmi Note 10s
---