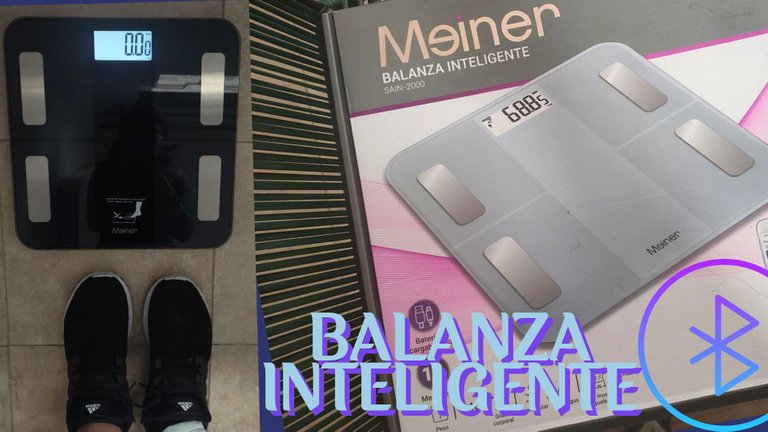 Hola amigos de la comunidad Geek Zone! El día de hoy les compartiré en esta publicación mi reseña de la báscula digital MEINER, también denominada Balanza Inteligente.
Hello friends of the Geek Zone community! Today I will share with you in this post my review of the MEINER digital scale, also called Smart Scale.
Me parece importante tener algún tipo de báscula en casa, sea digital o análoga, ya que esta nos ayuda a tener un conocimiento y consciencia de nuestro peso corporal para mantenernos saludables, y al mismo tiempo nos
permite tener una referencia del peso de objetos, como cajas o maletas, una vez que nos pesamos primero nosotros y luego nos pesamos cargando dicho objeto. ¿Alguien más aplica esta técnica en casa?
I think it is important to have some kind of scale at home, either digital or analog, because it helps us to have a knowledge and awareness of our body weight to keep us healthy, and at the same time allows us to have a reference of the weight of objects, such as boxes, boxes, etc.. Does anyone else use this technique at home?
Para comprar la báscula me paseé por distintas farmacias y tiendas. Me encontré con que las básculas análogas costaban alrededor de 50.000 pesos colombianos, es decir, 12$ aproximadamente, y las digitales el doble o más, dependiendo de las características del producto. Sin embargo, conseguí una oferta de una báscula digital Meiner por 60.000 pesos colombianos, es decir, 15$ aproximadamente, con unas especificaciones útiles y atractivas que me convencieron para comprarla. Cabe resaltar que era la primera vez que me compraba una báscula "inteligente", así que realmente me sorprendí con lo que ella podía hacer 😂
To buy the scale I went to different pharmacies and stores. I found that the analog scales cost around 50,000 Colombian pesos, or about $12, and the digital scales cost twice as much or more, depending on the characteristics of the product. However, I got an offer for a Meiner digital scale for 60,000 Colombian pesos, that is, 15$ approximately, with useful and attractive specifications that convinced me to buy it. It is worth noting that it was the first time I bought a "smart" scale, so I was really surprised with what it could do 😂.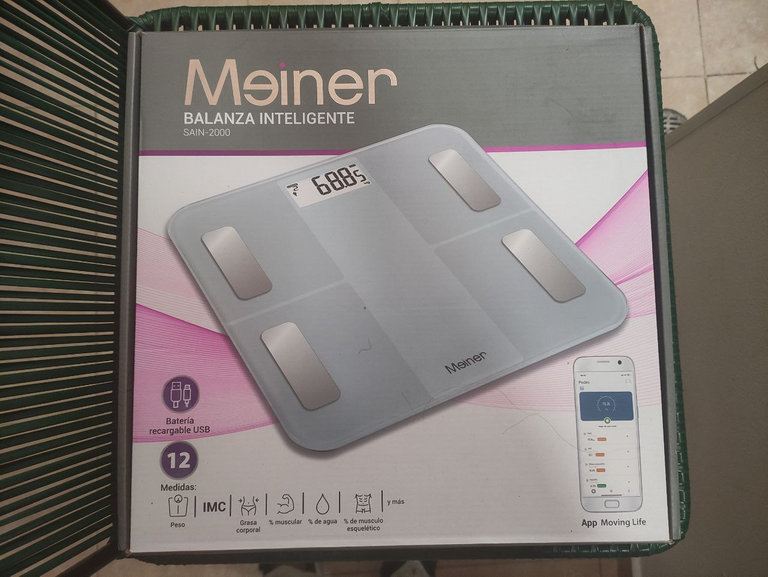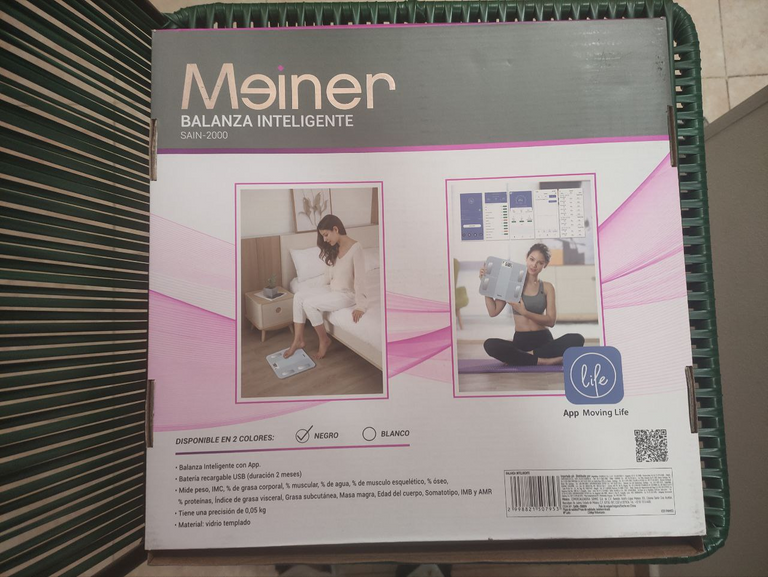 Lo primero es saber que para aprovechar todas las funciones de este aparato hay que descargar la app Moving Life, la cual puede guardar hasta 15 perfiles o conjunto de datos. En la App se agrega información necesaria como sexo biológico, altura y edad para cada perfil. Cuando la persona se sube a la balanza, esta transmite la información al teléfono inteligente, específicamente a la aplicación Moving Life a través de la tecnología Bluetooh. Así, la información recogida en la balanza más la información que proporciona la persona arroja parámetros de IMC, porcentaje de grasa corporal, % muscular, % de agua, % de músculo esquelético, % óseo, % proteínas, índice de grasa visceral, Grasa subcutánea, masa magra, edad del cuerpo, somatotitpo, índice metabólico basal y la tasa metabólica activa (AMR) que son las calorías que consumimos diariamente en función de nuestra estatura, sexo, edad, peso y el grado de actividad diaria 😲
The first thing is to know that to take advantage of all the features of this device you have to download the Moving Life app, which can store up to 15 profiles or data set. In the App you add necessary information such as biological sex, height and age for each profile. When the person steps on the scale, it transmits the information to the smartphone, specifically to the Moving Life app via Bluetooh technology. Thus, the information collected on the scale plus the information provided by the person yields parameters of BMI, % body fat, % muscle, % water, % skeletal muscle, % bone, % protein, visceral fat index, Subcutaneous fat, lean mass, body age, somatotype, basal metabolic rate and active metabolic rate (AMR) which are the calories we consume daily based on our height, sex, age, weight and the degree of daily activity 😲.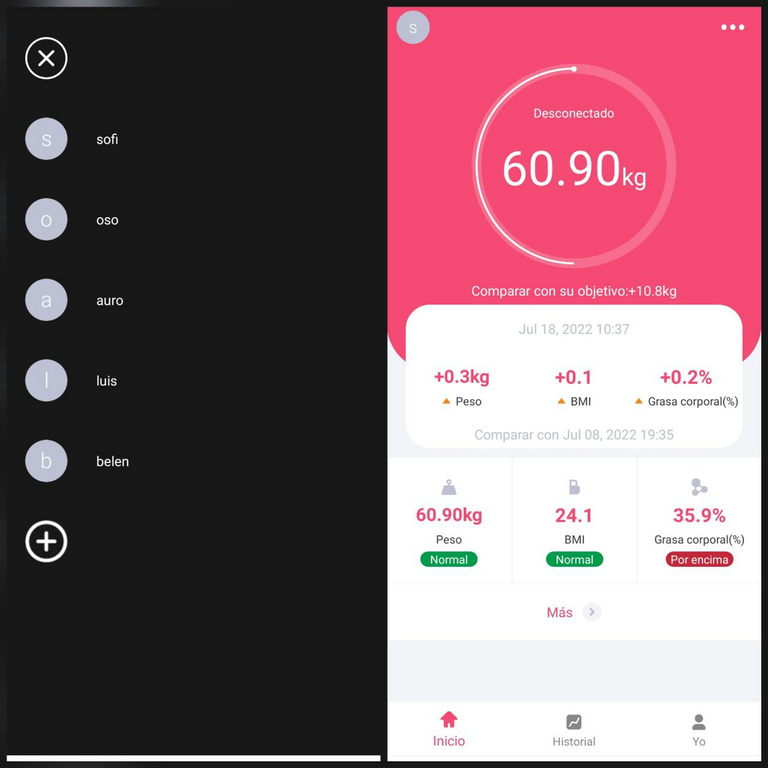 Dentro de la aplicación pueden explorarse los distintos perfiles, así como visualizar a través de gráficos los parámetros y la evolución de estos a lo largo del tiempo.
Within the application you can explore the different profiles, as well as visualize through graphs the parameters and the evolution of these over time.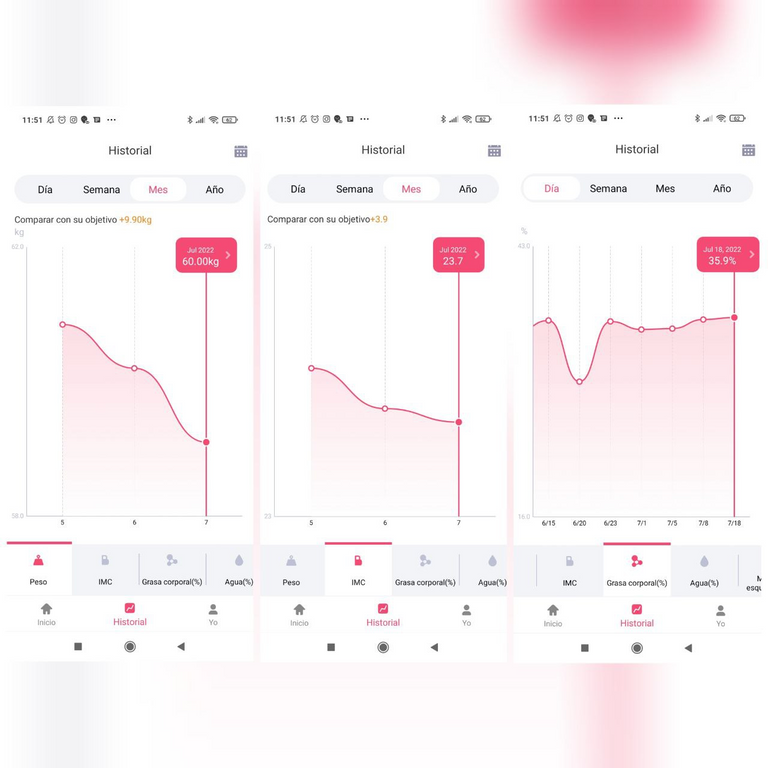 Cuando usé la báscula por primera vez y vi toda la información recogida me surgió la duda de cómo funcionaba ese aparato 🙈. Así fue como investigando aprendí que este tipo de básculas funcionan a través de las propiedades eléctricas del cuerpo humano, enviando y recibiendo señales eléctricas y arrojando información probable sobre esto, por ejemplo, los músculos y huesos son buenos conductores de la electricidad, mientras que la grasa no. Ahora bien, hay que tener en cuenta que esta medición casera no se compara a un registro médico con aparatos más especializados y solo debe ser usado como referencia.
When I used the scale for the first time and saw all the information collected, I wondered how this device worked 🙈. That's how researching I learned that this type of scales work through the electrical properties of the human body, sending and receiving electrical signals and yielding probable information about this, for example, muscles and bones are good conductors of electricity, while fat is not. Now, it should be noted that this home measurement does not compare to a medical record with more specialized devices and should only be used as a reference.
Esta balanza cuenta con una garantía de 2 años y un manual de instrucciones con todas las características y modos de funcionamiento. Se carga a través de un cable USB, el proceso de carga es de aproximadamente 2 horas y puede durar la batería 2 meses o más.
This scale comes with a 2-year warranty and an instruction manual with all the features and modes of operation. It is charged via a USB cable, the charging process is approximately 2 hours and can last the battery 2 months or more.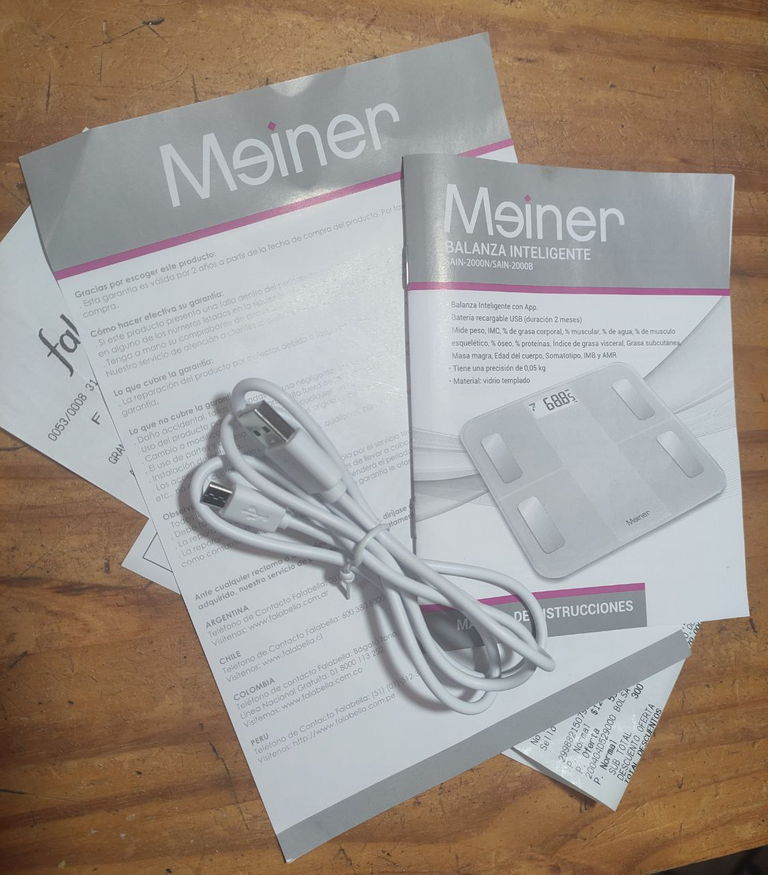 Si el Bluetooh no está encendido la balanza de igual forma muestra en la pantalla el peso pero este no se guardará en el registro personal de la aplicación. Por eso, para llevar un control y que los datos se guarden a lo largo del tiempo es importante abrir la aplicación, encender el BLuetooh y abrir el perfil de la persona que se va a pesar. Una vez que aparezca "conectado" es hora de subirse y esperar a que la báscula inteligente recoja toda la información.
If the Bluetooh is not turned on, the scale will still display the weight on the screen but it will not be saved in the personal record of the application. Therefore, to keep track and to save the data over time, it is important to open the application, turn on the Bluetooh and open the profile of the person to be weighed. Once "connected" appears, it is time to get on and wait for the smart scale to collect all the information.
Los parámetros obtenidos son muy fáciles de entender a través de la aplicación, además, esta ubica los puntajes en rangos bajos, normales o altos, y proporciona una información general sobre qué implica cada uno de los parámetros y el resultado que obtuvo la persona. Estos resultados también se pueden leer en la pantalla de la báscula, a través de los íconos cuya interpretación aparece en el manual de instrucciones.
The parameters obtained are very easy to understand through the application, in addition, it places the scores in low, normal or high ranges, and provides general information about what each of the parameters implies and the result obtained by the person. These results can also be read on the scale's display, through the icons whose interpretation appears in the instruction manual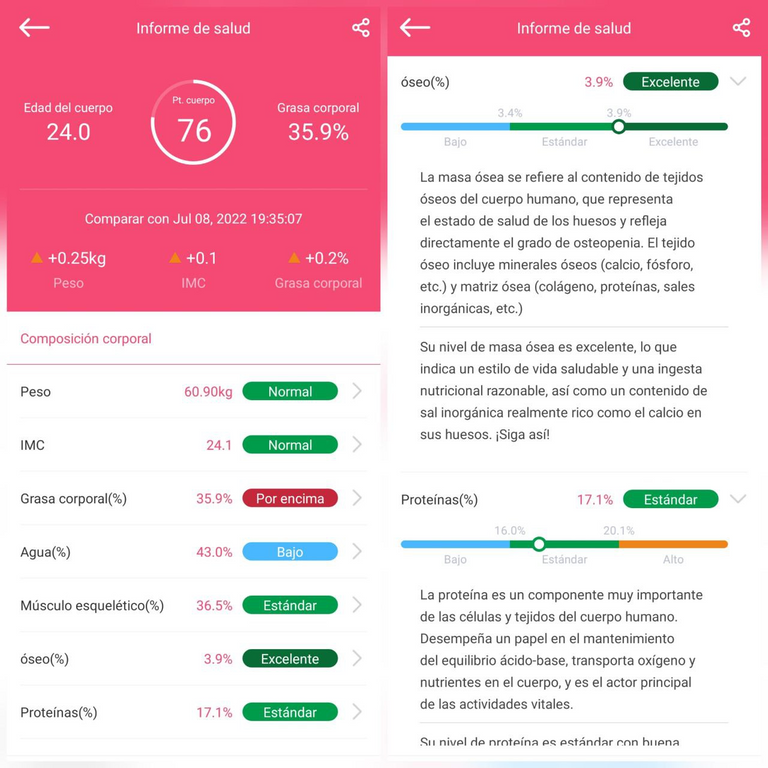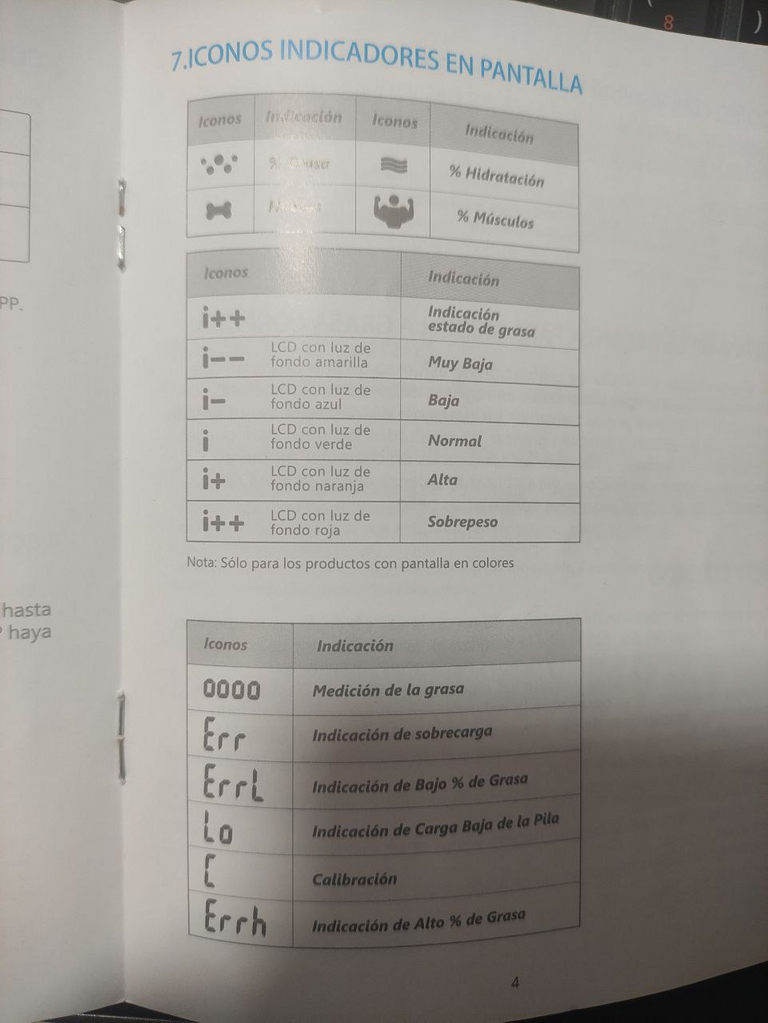 Como últimos detalles técnicos, el material de esta balanza es de vidrio templado y la precisión es de 0.05 Kg.
As last technical details, the material of this scale is tempered glass and the accuracy is 0.05 kg.
En mi caso, esta ha sido una compra útil para mí y para toda mi familia, pues les he creado un perfil a cada uno y allí tenemos un registro de nuestro peso. En mi caso, cada dos o tres meses me pesaba en alguna farmacia y pagaba por ello, entonces ahora con esta báscula es un ahorro a largo plazo. Hasta ahora, luego de casi dos meses de uso la he cargado una única vez (el día que la compré) y la he usado varias veces para realizarles esta reseña. Estoy contenta con la compra y un poco sorprendida de lo que la tecnología puede hacer por nosotros desde la comodidad de la casa.
In my case, this has been a useful purchase for me and my whole family, as I have created a profile for each of them and there we have a record of our weight. In my case, every two or three months I used to weigh myself in a pharmacy and pay for it, so now with this scale it is a long term saving. So far, after almost two months of use I have charged it only once (the day I bought it) and I have used it several times to make this review. I am happy with the purchase and a little surprised at what technology can do for us from the comfort of home.
Espero que les haya sido útil esta reseña. Cualquier duda, nos vemos en los comentarios. Muchas gracias por leer mi publicación!
I hope you found this review helpful. If you have any questions, I'll see you in the comments. Thank you very much for reading my post!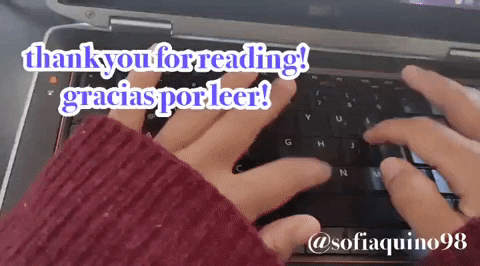 ---
Todas las imágenes de esta publicación son de mi autoría, editadas en aplicaciones como CANVA y GIPHY. El contenido también es original y propio.
All images in this post are my own, edited in apps like CANVA and GIPHY. The content is also original and mine.