Hola querida comunidad de Geek Zone, cuánto tiempo sin pasarme por acá... la verdad es que desde la última vez que escribí aquí he adquirido algunos dispositivos interesantes y útiles de los cuales les iré hablando más adelante. El día de hoy les estaré compartiendo una reseña sobre mi lápiz digital para el Ipad, una versión muchísimo más económica que el Apple Pencil, pero que de igual forma me ha funcionado muy bien durante más de 6 meses. Si te interesa el tema de las tabletas y lápices digitales, continúa leyendo!!
Hello dear Geek Zone community, long time no visit... the truth is that since the last time I wrote here I have acquired some interesting and useful devices which I will tell you more about later. Today I will be sharing with you a review of my digital pencil for the Ipad, a much cheaper version than the Apple Pencil, but that has worked very well for more than 6 months. If you are interested in the topic of tablets and stylus pen, read on!!!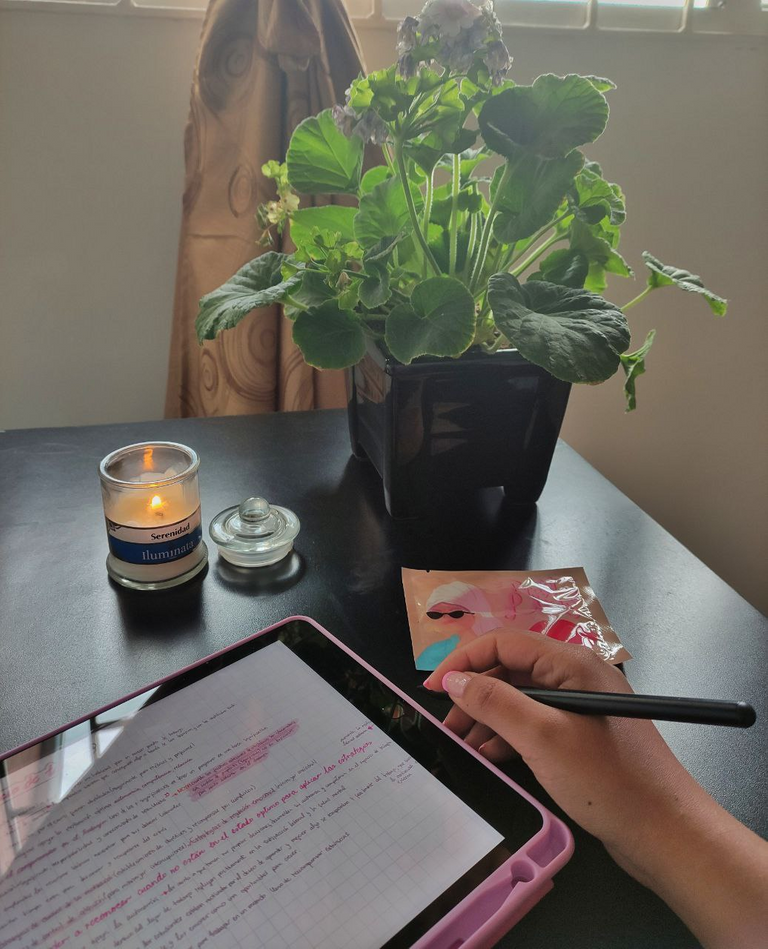 Una vez que tuve mi Ipad 9th me hacía muchísima ilusión adquirir un lápiz digital para realizar mis apuntes allí. Sin embargo, al revisar los precios del Apple Pencil de primera generación me sorprendió muchísimo que el precio fuera de 519.000 pesos colombianos, más de 125$. No sabía si realmente me serviría o lo usaría con frecuencia, así que me pareció una opción muy costosa y decidí buscar otras alternativas. Así fue como ubiqué el Centro Comercial de Alta Tecnología (un lugar con muchísimas tiendas especializadas en electrónicos) y allí me recomendaron algunas opciones de lápices "genéricos"
Once I got my Ipad 9th I was really looking forward to getting a stylus to make my notes on it. However, when I checked the prices of the first generation Apple Pencil I was very surprised that the price was 519,000 Colombian pesos, more than 125$. I didn't know if it would really work for me or if I would use it frequently, so it seemed like a very expensive option and I decided to look for other alternatives. That's how I found the Centro Comercial de Alta Tecnología (a place with a lot of stores specialized in electronics) and there they recommended me some options of "generic" pencils.
Una vendedora me recomendó el Pencil Pro Smart Stylus, por menos de 25$, así que decidí arriesgarme y comprarlo para ver qué tal funcionaba. La caja, la cual les muestro a continuación, incluía el lápiz, un cargador, una punta de repuesto y un pequeño manual de instrucciones. La vendedora me dio algunas recomendaciones como no dejarlo caer, o cargarlo desde la computadora y no con un cargador de teléfono tradicional pues podía "quemar" la batería.
A saleswoman recommended the Pencil Pro Smart Stylus, for less than $25, so I decided to take a chance and buy it to see how it worked. The box, which I show you below, included the stylus, a charger, a spare tip and a small instruction manual. The saleswoman gave me some recommendations such as not dropping it, or charging it from the computer and not with a traditional phone charger as it could "burn" the battery.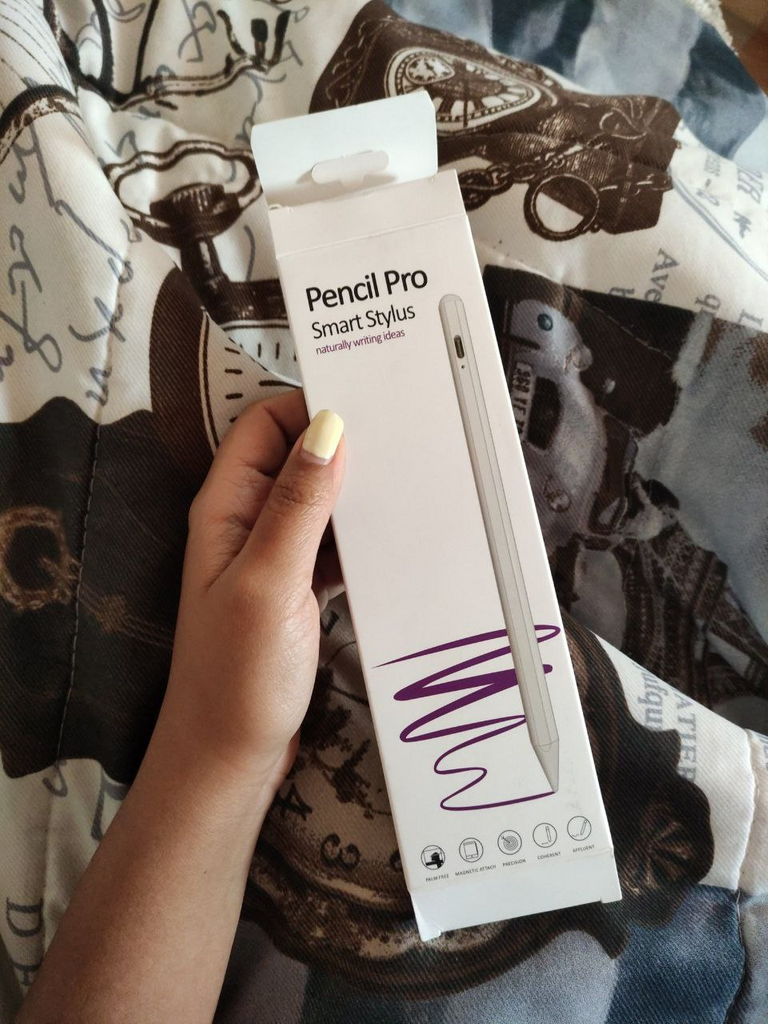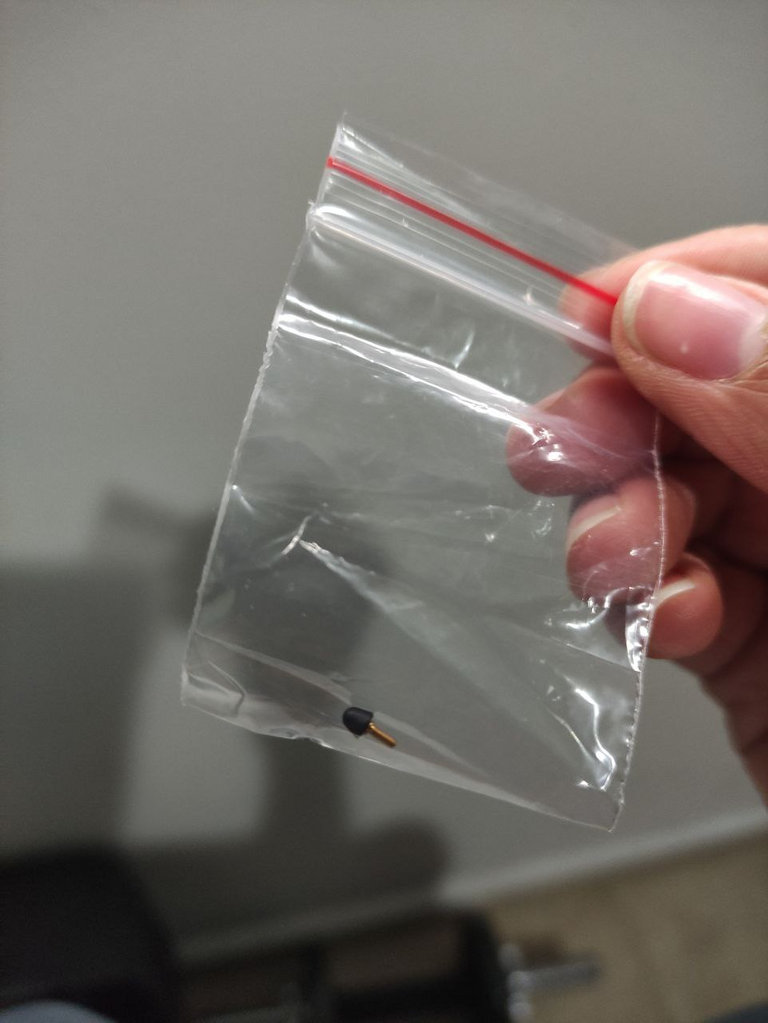 El manual de instrucciones es muy preciso y se los muestro a continuación. Básicamente indica lo que incluye la caja, los dispositivos compatibles con el lápiz, los cuales son: Ipad Air 3th generación o los siguientes, Ipad mini 5th G o los siguientes, Ipad 6th generación o los siguientes y Ipad Pro desde la 3rd generación.
The instruction manual is very accurate and I show it below. It basically indicates what is included in the box, the devices compatible with the stylus, which are: Ipad Air 3rd generation or later, Ipad mini 5th G or later, Ipad 6th generation or later and Ipad Pro from 3rd generation.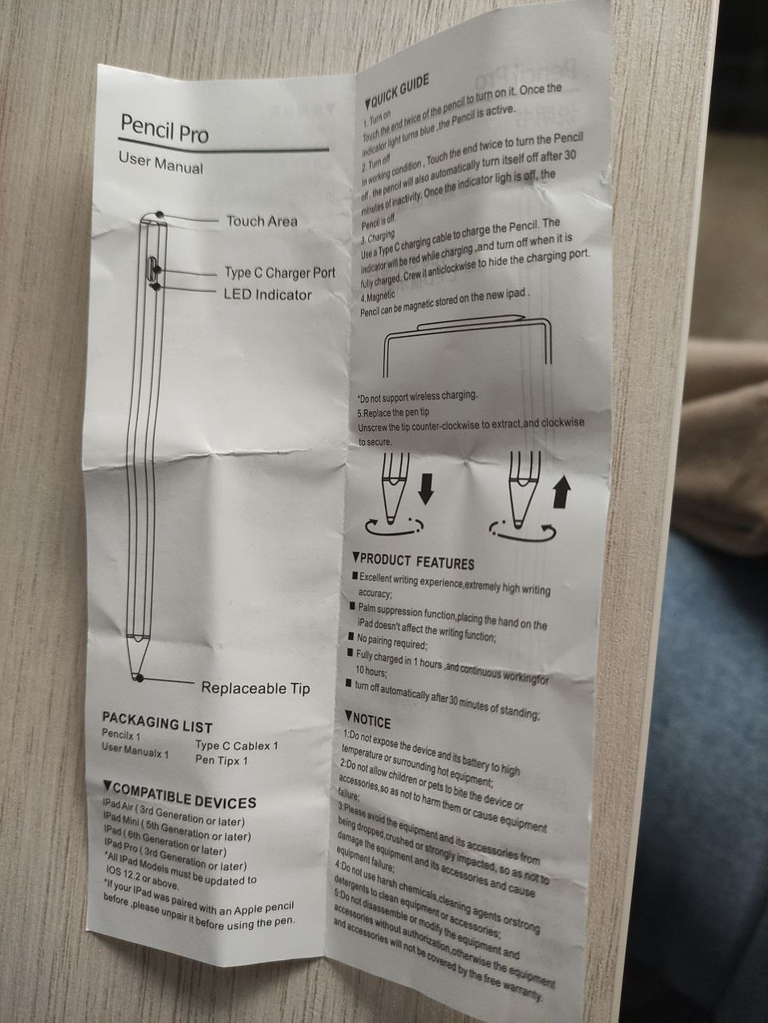 El manual también incluye una guía rápida de uso. Dos toquecitos en la parte superior del lápiz para aprender y apagar. La luz azul indica que tiene batería, la luz verde que está completamente cargado y la luz roja que está cargando. Luego de 10 horas de uso se consume la batería, entonces el lápiz se apaga solo. Cargarlo solo toma 1 hora.
The manual also includes a quick usage guide. Two taps on the top of the stylus to learn and turn off. Blue light indicates battery power, green light indicates fully charged and red light indicates charging. After 10 hours of use the battery is consumed, then the pen turns itself off. Charging only takes 1 hour.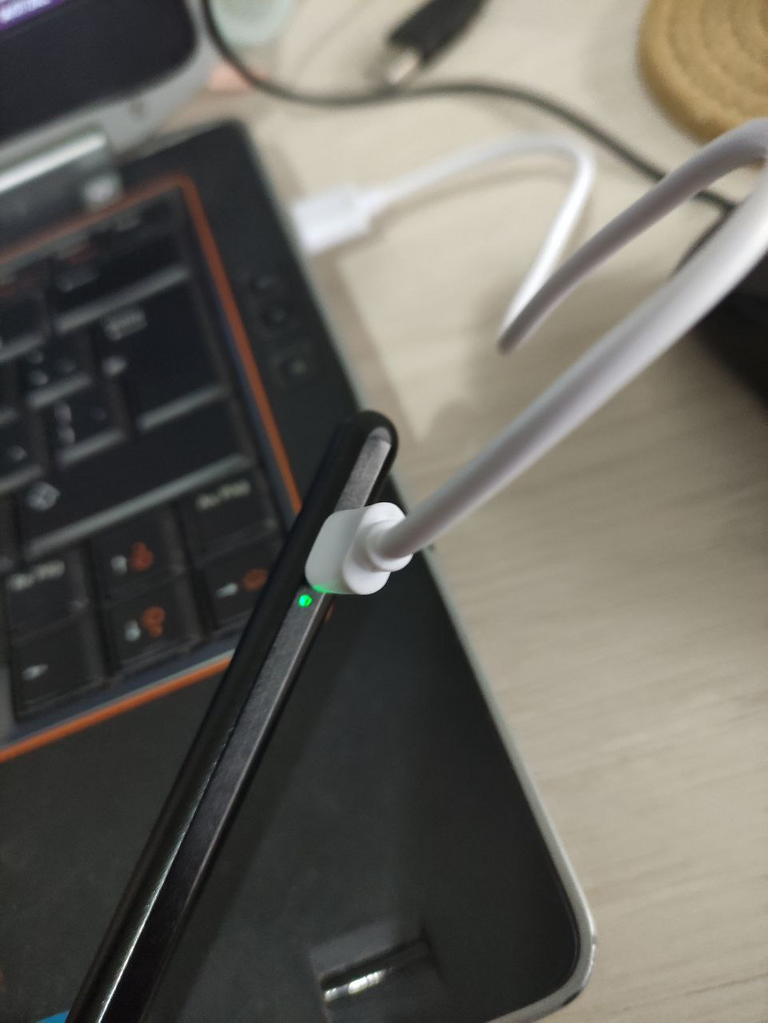 En cuanto a las características del producto, dice que posee una extremadamente alta precisión de escritura, incluye la función de supresión de palma (puedes apoyar la mano en el Ipad y esto no alterará la escritura), no requiere conectar el lápiz con el Ipad, solo con encenderlo funciona y el lápiz se apaga automáticamente luego de 30 minutos sin uso.
As for the product features, it says it has extremely high writing accuracy, includes palm suppression function (you can rest your hand on the Ipad and it will not alter the writing), does not require connecting the pencil with the Ipad, just turning it on works and the pencil turns off automatically after 30 minutes of non-use.
En mi experiencia, el Pencil Pro Smart Stylus es una excelente opción para tomar apuntes. Es muy cómodo, ligero, del tamaño de un bolígrafo. Luego de más de 6 meses usándolo continuamente puedo decir que la precisión de escritura es alta. Ciertamente, la función de supresión de la palma funciona correctamente y la verdad es que no he tenido ningún inconveniente con este dispositivo, al contrario, lo uso con elevada frecuencia y me ha ido genial. Dentro de poco tendré que reemplazar la punta del lápiz pero, de acuerdo a las instrucciones esto no tiene demasiada ciencia.
In my experience, the Pencil Pro Smart Stylus is an excellent choice for note taking. It is very comfortable, lightweight, pen-sized. After more than 6 months of continuous use I can say that the writing accuracy is high. Certainly, the palm suppression function works properly and the truth is that I have not had any inconvenience with this device, on the contrary, I use it with high frequency and it has been great. I will soon have to replace the stylus tip but, according to the instructions this is not too much of a science.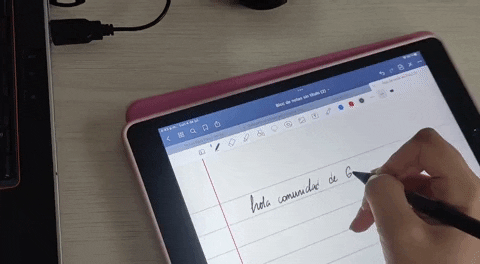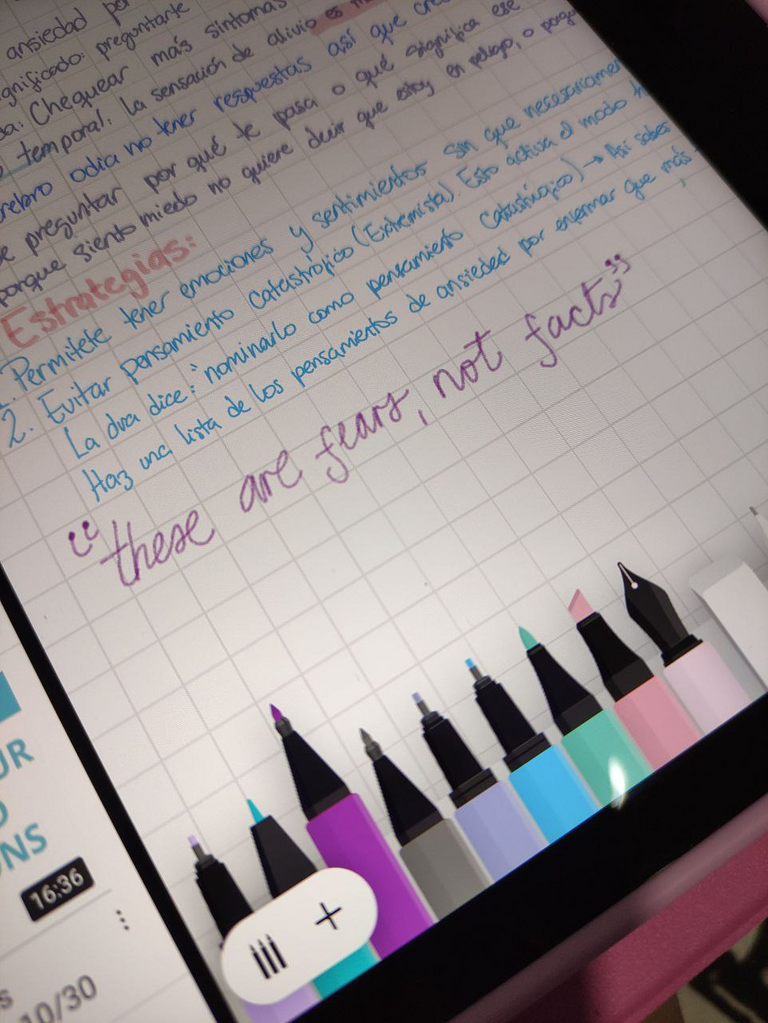 Este lápiz digital funciona con todas las aplicaciones del Ipad, para pasar las páginas al leer, subrayar textos, navegar en redes sociales... Por supuesto, también funciona para dibujar pero esto es algo que yo no he probado pues no sé dibujar 😅
This stylus works with all Ipad applications, for turning pages when reading, underlining text, browsing social networks.... Of course, it also works for drawing but this is something I haven't tried as I don't know how to draw 😅.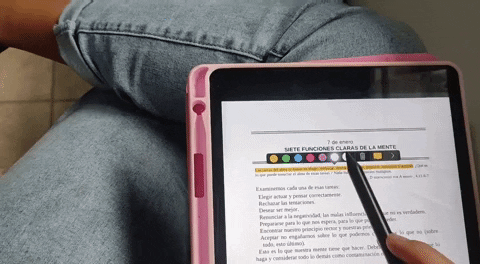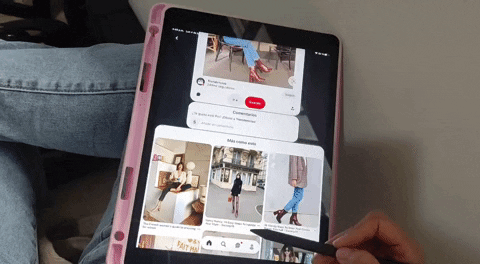 Estoy muy contenta con mi compra y luego de varios meses usándolo puedo decirles que vale la pena, sobre todo para aquellos que quieran utilizar su Ipad como un Block de Notas o cuaderno de pinturas. En mi caso, se me hizo un poco desordenado escribir desde las "notas" del Ipad así que decidí probar la opción de la aplicación paga Good Notes y la reseña de esta app la dejaré para otra publicación. Por ahora, espero que este post les haya sido de utilidad y si te encuentras en la búsqueda de un lápiz digital tienes que saber que en el mercado hay muchas opciones buenas y económicas :) Nos vemos en los comentarios!!
I am very happy with my purchase and after several months using it I can tell you that it is worth it, especially for those who want to use their Ipad as a Notepad or paint notebook. In my case, I found it a bit messy to write from the Ipad's "notes" so I decided to try the Good Notes pay app option and I will leave the review of this app for another post. For now, I hope this post has been useful and if you are looking for a stylus you should know that there are many good and affordable options on the market :) See you in the comments!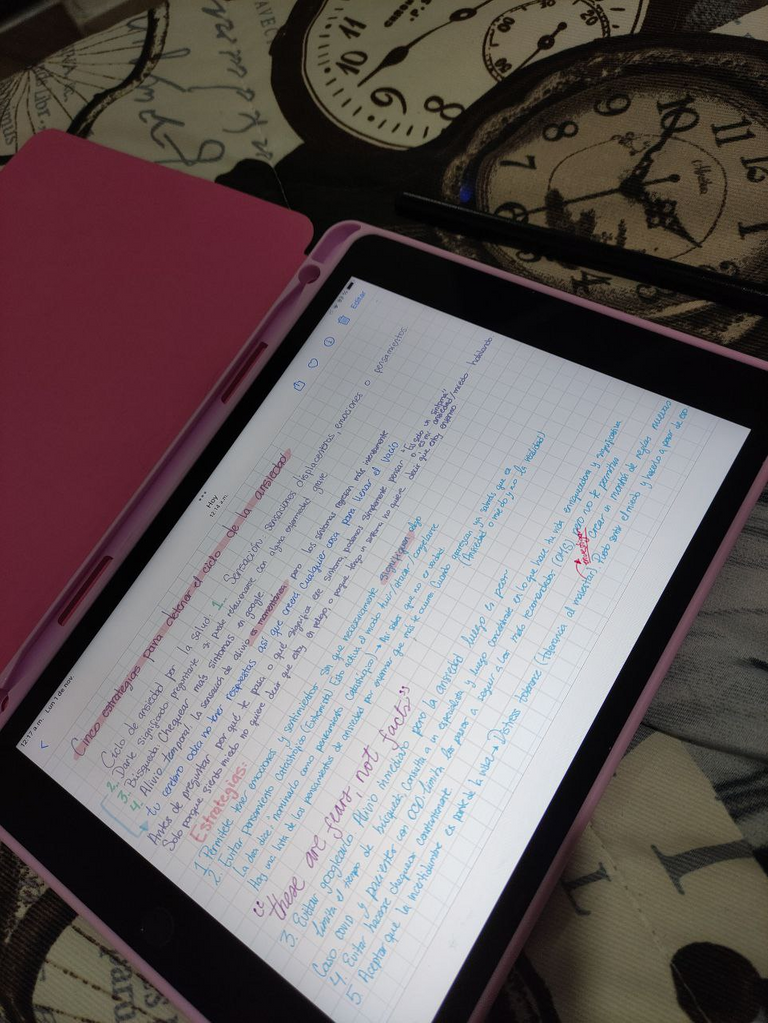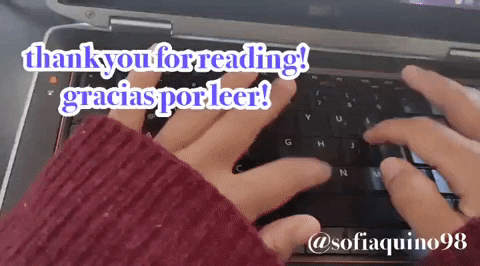 ---
Todas las imágenes de esta publicación son de mi autoría, editadas en aplicaciones como CANVA y GIPHY. El contenido también es original y propio.
All images in this post are my own, edited in apps like CANVA and GIPHY. The content is also original and mine.