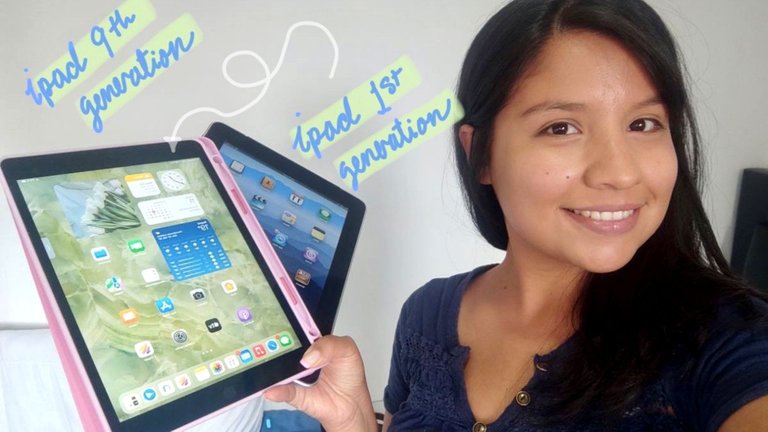 Holaa🙋 ¿Qué tal están? Escribo por acá para compartirles mi experiencia usando mi nuevo Ipad, específicamente estaré haciendo un unboxing y review del dispositivo.
Hi🙋 How are you? I'm writing over here to share with you my experience using my new Ipad, specifically I will be doing an unboxing and review of the device.
Un dinosaurio en buen estado: Mi Ipad 1.
A dinosaur in good condition: My Ipad 1.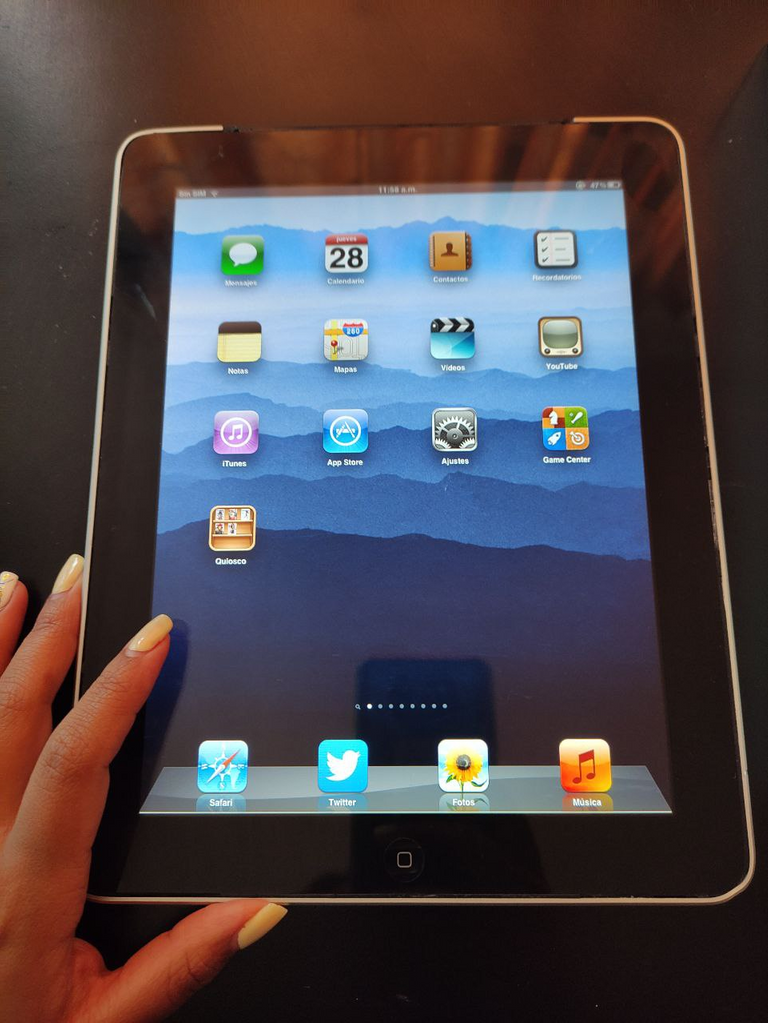 Mi primer Ipad (1era generación) fue un regalo de mis padres, lo compraron en el año 2011, en la época en la cual la moda eran los Blackberrys y celulares con teclados parecidos a los de una computadora. En ese momento fue un regalo que me tomó por sorpresa, no sabía como usarlo ni como sacarle provecho. Con el tiempo, me fui enamorando más y más de lo cómodo que era estudiar, distraerme y leer allí. Hasta el 2017 pude jugar los Sims, ver Netflix y Youtube sin problemas, sin embargo, con el tiempo dejaron de salir actualizaciones para ese dispositivo en particular y el uso de mi ipad se restringió únicamente a tres cosas: investigaciones pequeñas en internet, lectura de libros y escritura en el block de notas. Hasta el día de hoy me sorprende el funcionamiento de mi ipad en la actualidad, porque sí, todavía funciona, con solo 256 MB de Memoria RAM, ¿pueden creerlo?.
My first Ipad (1st generation) was a gift from my parents, they bought it in 2011, at the time when the fashion was Blackberrys and cell phones with keyboards similar to those of a computer. At that time it was a gift that took me by surprise, I didn't know how to use it or how to take advantage of it. Over time, I fell more and more in love with how comfortable it was to study, distract myself and read there. Until 2017 I was able to play the Sims, watch Netflix and Youtube with no problems, however, over time updates for that particular device stopped coming out and the use of my ipad was restricted to only three things: small research on the internet, reading books and writing on the notepad. To this day I am amazed at how my ipad works today, because yes, it still works, with only 256 MB of RAM, can you believe it?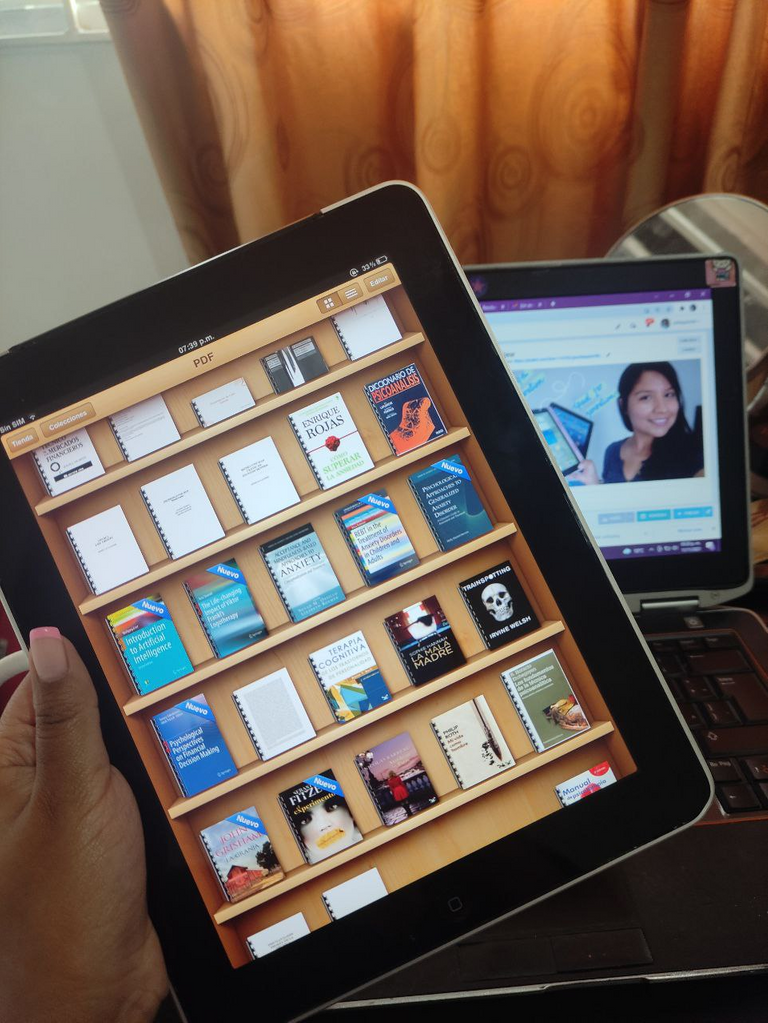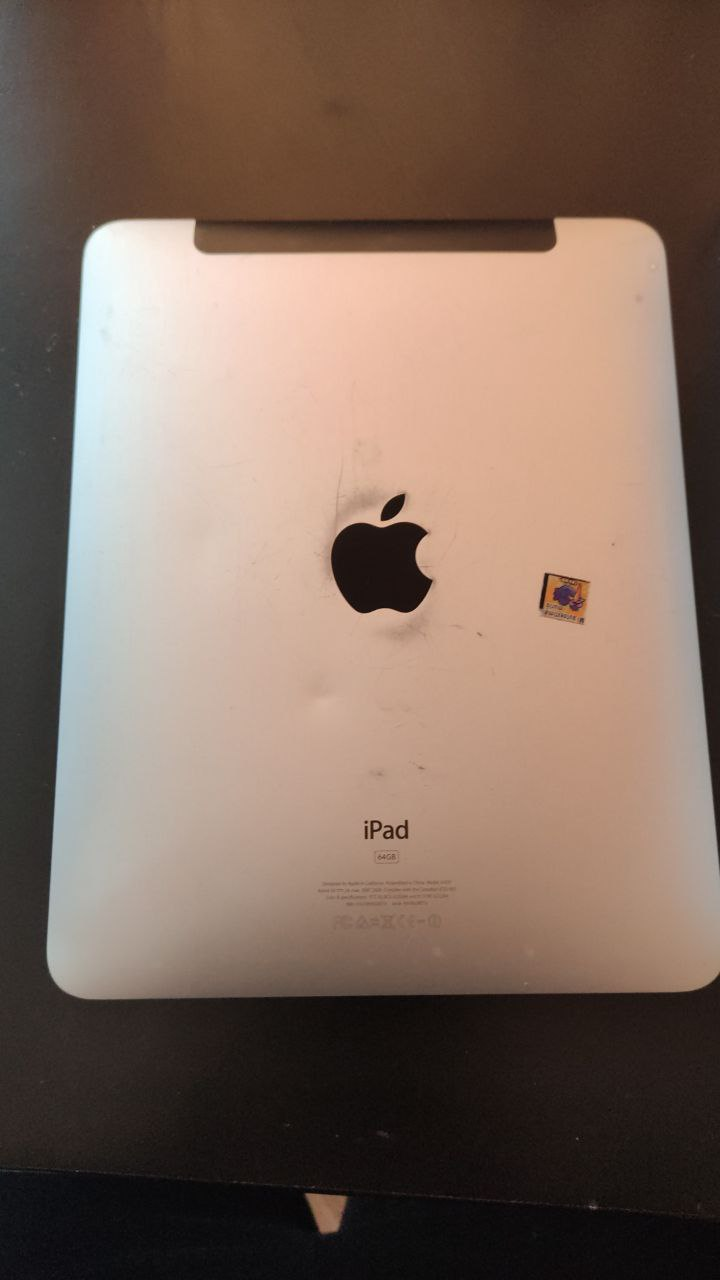 Tomar la decisión: ¿Apple o Samsung?
Making the decision: Apple or Samsung?
A pesar de que mi Ipad estaba en "perfecto estado" aún con sus 10 años de uso, sabía que pronto tendría que actualizarlo para estudiar y trabajar más cómodamente. Quería un Ipad nuevo, pero los costos me preocupaban. Entonces empecé a investigar muchísimo sobre todas las alternativas de tablets Apple y Samsung. Al final mis opciones se redujeron a: Samsung Tablet s6 lite, Samsung tables S7 plus (espectacular, pero muy costosa por cierto), Ipad Air 4th generación o Ipad de 7ma u 8va generación (eran los que entraban en el presupuesto para mi regalo de cumple). Sin mentirles, estuve un mes investigando y leyendo reviews. Cuando fui a verlos en persona internamente había tomando mi decisión, pero de todos modos hice una lista con Pros y Contras comparando el Samsung s6 lite y El Ipad 8th Generación. Además consideré la pregunta que apareció en uno de los videos que vi y que ayuda mucho a tomar una decisión ¿Para qué quieres el nuevo dispositivo? En mi caso, quería usarlo para estudiar y trabajar (tomar notas, editar, hacer videollamadas), y también para ver Netflix.
Although my Ipad was in "perfect condition" even with its 10 years of use, I knew that soon I would have to upgrade it to study and work more comfortably. I wanted a new Ipad, but I was worried about the costs. So I started doing a lot of research on all the Apple and Samsung tablet alternatives. In the end my choices were narrowed down to: Samsung Tablet s6 lite, Samsung tables S7 plus (spectacular, but very expensive by the way), Ipad Air 4th generation or Ipad 7th or 8th generation (they were the ones that fit in the budget for my birthday gift). Without lying to you, I spent a month researching and reading reviews. By the time I went to see them in person I had internally made my decision, but I still made a Pros and Cons list comparing the Samsung s6 lite and the Ipad 8th Gen. I also considered the question that came up in one of the videos I watched that helps a lot in making a decision What do you want the new device for? In my case, I wanted to use it for studying and work (note taking, editing, video calling), and also to watch Netflix.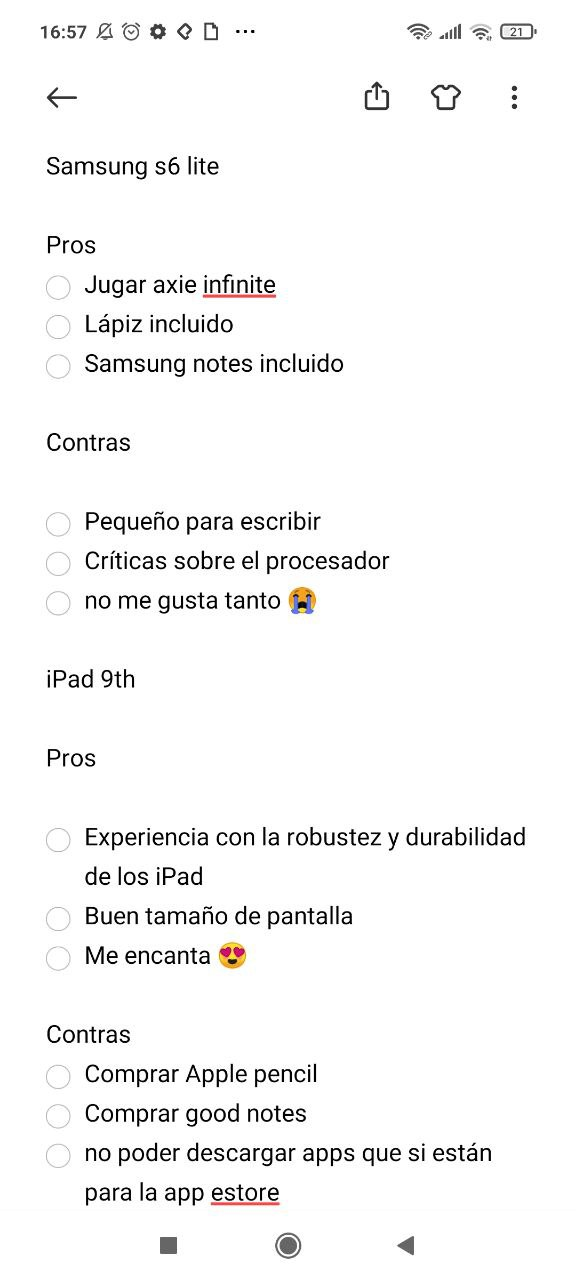 Básicamente lo que me gustaba de la tablet S6 lite era su precio, que ya incluía el lápiz y la app para escribir de forma gratuita, y que podía descargar y jugar Axie allí. Lo que no me gustaba es que era muy pequeña, que leí algunas críticas sobre que se quedaba "pegada", y realmente no me gustaba tanto :( En cuanto al Ipad, tenía la BUENA experiencia con mi ipad 1, me encantaba el diseño, pero tendría que gastar más en ese dispositivo, y aparte comprar el lápiz y la app para hacer anotaciones 😥😥😥. Sin embargo... mis habilidades de investigación me hicieron descubrir algo: El día sin IVA.
Basically what I liked about the S6 lite tablet was its price, that it already included the stylus and writing app for free, and that I could download and play Axie there. What I didn't like was that it was too small, that I read some reviews about it being "stuck", and I really didn't like it that much :( As for the Ipad, I had the GOOD experience with my ipad 1, I loved the design, but I would have to spend more on that device, and apart from that buy the pencil and the app to make notes 😥😥😥😥. However... my research skills made me discover something: VAT-free day.
Mi Salvación: El día sin IVA.
My Salvation: The VAT-free Day
No les miento, invertía 1 o 2 horas al día a investigar sobre mi nueva tablet, dónde conseguir los mejores precios, cuál comprar. Me dormía por las noches viendo unboxings en Youtube😆🤣🤣, ya se acercaba la fecha de mi cumple, y mi esposo, que me daría Ese regalo, me dijo que si yo no elegía él elegiría por mi (Él es team Samsung por cierto😅). Un día vi las publicaciones del año pasado (medio intensa yo...) de la Apple Store y me di cuenta de que en Colombia hay algo llamado "Día Sin IVA". En seguida busqué el decreto para entender de qué se trataba. Son 3 días al año donde productos de un determinado precio están exentos de impuesto. En ese momento, faltaban 4 días para el día sin IVA 😵 ¿Era mi día de suerte? Parecía que sí. Con el descuento, el Ipad de novena generación (lanzamiento septiembre de 2021) costaría lo mismo que el Samsung s6 lite (que salió el año pasado). Ustedes me dirán.... tomé o no tomé una buena decisión??? Considerando mis gustos, por supuesto.
I'm not lying to you, I was spending 1 or 2 hours a day researching about my new tablet, where to get the best prices, which one to buy. I would fall asleep at night watching unboxings on Youtube😆🤣🤣, it was getting close to my birthday, and my husband, who would give me that gift, told me that if I didn't choose he would choose for me (He is team Samsung by the way😅). One day I saw the publications from last year ( kinda intense me...) from the Apple Store and I realized that there is something called "2021 IVA Tax Free Days" in Colombia. I immediately looked up the decree to understand what it was about. They are 3 days a year where products of a certain price are exempt from tax. At that moment, there were 4 days left until the day without VAT 😵 Was it my lucky day? It seemed like it was. With the discount, the 9th generation Ipad (launch September 2021) would cost the same as the Samsung s6 lite (which came out last year). You guys tell me .... did I or did I not make a good decision???? Considering my preferences, of course.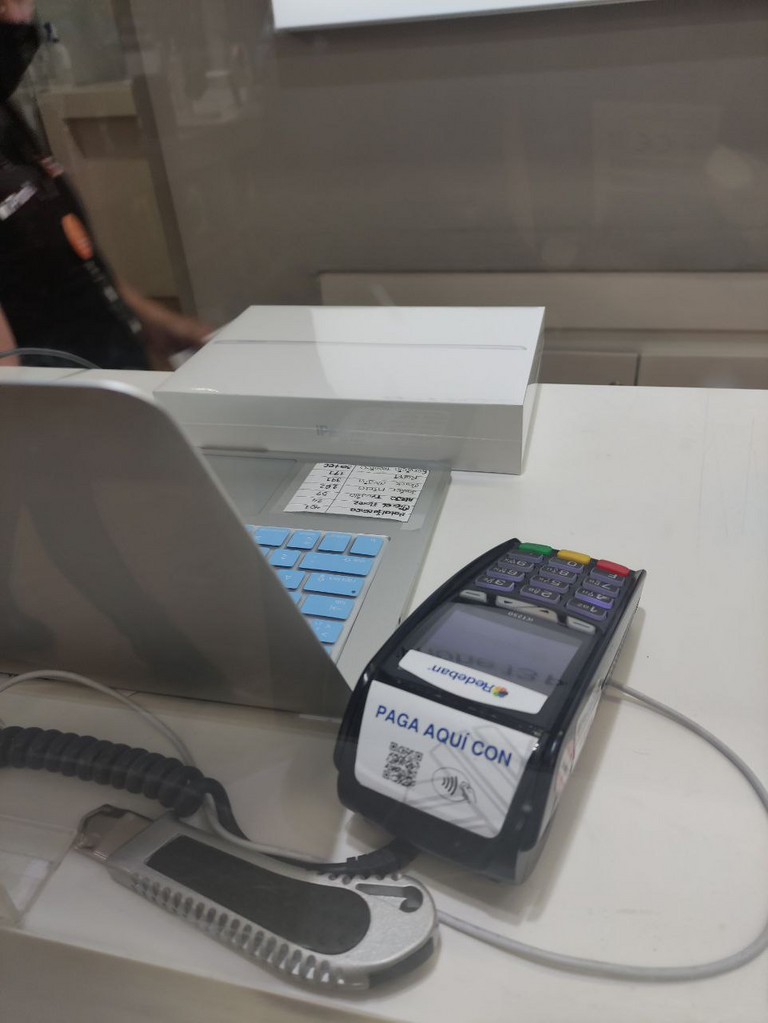 Unboxing y la adicción al olor de los productos Apple
Unboxing and the addiction to the smell of Apple products
4 días antes del Día sin IVA fuimos a una de las Apple Store para hacer todas las preguntas sobre cómo funcionaba esa promoción, y allí me dijeron que en el día sin IVA obviamente solo se pagaba con tarjeta de crédito. Por 1 segundo me cortaron las alas, pero decidí ir a preguntar a otra tienda y allí me dijeron que sin problemas podía pagar en efectivo (Inserte aquí fuegos artificiales). Lo que investigué sobre el día sin IVA me asustó un poco, gente haciendo colas por horas para comprarse televisores, neveras, licuadoras. Yo dije "Nada. Ese día tengo que madrugar". Y así fue, el 28 de octubre llegamos a las 6:00 am a la tienda, que abría a las 8:00 am porque según yo, podía quedarme sin mi Ipad plateado que tanto había soñado😂😂. Fuimos los primeros en entrar y los primeros en comprar, ese día no hubo caos, ni montones de gente... Y llegué a mi casa con el Ipad para hacer mi tan esperado unboxing... Lo que más deseaba saber era sí la caja por dentro olía igual a como lo recordaba en el 2011🤣🤣, y sí, aunque no tan intensamente. ¿A alguien más le gusta el olor de los productos Apple?
4 days before the VAT Free Day we went to one of the Apple Store to ask all the questions about how that promotion worked, and there I was told that on the VAT Free Day obviously we could only pay by credit card. For 1 second my wings were clipped, but I decided to go ask at another store and there I was told that no problem I could pay in cash (Insert fireworks here). What I researched about the VAT free day scared me a bit, people queuing for hours to buy TVs, fridges, blenders. I said " No way. I have to get up early that day". And so it was, on October 28 we arrived at 6:00 am to the store, which opened at 8:00 am because according to me, I could be left without my silver Ipad that I had dreamed so much😂😂. We were the first to enter and the first to buy, that day there was no chaos, no crowds of people..... And I arrived home with the Ipad to do my long awaited unboxing.... What I most wanted to know was if the box inside smelled the same as I remembered it in 2011🤣🤣, and yes, although not as intensely. Does anyone else like the smell of Apple products?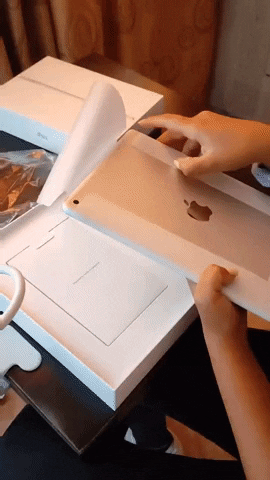 El problemita con el Apple ID
The little problem with Apple ID
Cuando encendí mi Ipad e intenté registrar el apple ID que usaba en Venezuela, me di cuenta de un pequeño detalle: Necesitaba mi número de Venezuela... y yo estaba en Colombia. Tuve que reportarlo y me dijeron que debía esperar 2 semanas... ¿Después de tanta espera? Sí! Pensé "ya tengo el ipad, voy a esperar esos 14 días". Pero solo aguanté un día, y tuve que crearme un nuevo Apple ID 🤣. Si hubiera esperado, a penas lo estaría estrenando el día de hoy. Me presento, mi segundo nombre es Impaciencia :)
When I turned on my Ipad and tried to register the apple ID I was using in Venezuela, I realized a small detail: It needed my Venezuela number... and I was in Colombia. I had to report it and they told me I had to wait 2 weeks.... After such a long wait? Yes, I thought "I already have the ipad, I'm going to wait those 14 days". But I only held out for a day, and had to create a new Apple ID 🤣. If I had waited, I'd barely be releasing it today. I introduce myself, my middle name is Impatience :)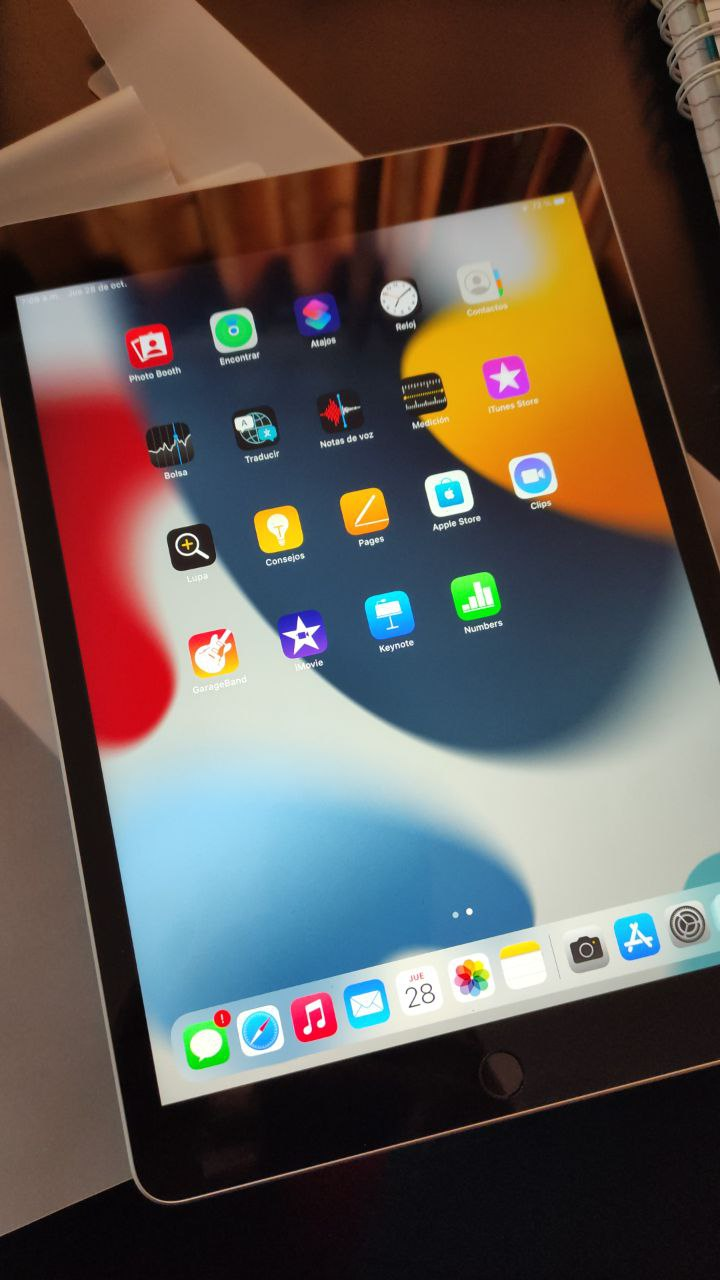 ¿Valió la pena?
Was it worth it?
Por supuesto que sí! Ahora mismo mi Ipad me viene perfecto para estudiar (idiomas, psicología) y trabajar (creación de publicaciones, edición de fotos). Me ayuda con la productividad y organización, y ya he visto algunas algunas películas en Netflix y Amazon Prime. El tema de los bordes de la pantalla (que son más evidentes en comparación con el Ipad pro o el Air) no es un big deal para mi, y hasta ahora no he probado el Ipad para jugar porque realmente no es algo que haga en mi día a día. Algunas de las especificaciones importantes sobre el dispositivo que estoy utilizando son: Pantalla Multi-Touch de 10,2 pulgadas, Cámara gran angular de 8 MP y 12 MP, Grabación de video HD de 1080p a 25 cps y 30 cps, capacidad de 64 GB, Chip A13 Bionic con arquitectura de 64 bits y más características que pueden leer acá
Of course it is! Right now my Ipad is perfect for studying (languages, psychology) and working (creating publications, photo editing). It helps me with productivity and organization, and I've already watched a few movies on Netflix and Amazon Prime. The issue with the edges of the screen (which are more obvious compared to the Ipad pro or Air) is not a big deal for me, and so far I haven't tested the Ipad for gaming because it's not really something I do in my day to day life. Some of the important specs about the device I am using are: 10.2 inch Multi-Touch display, 8 MP and 12 MP wide angle camera, 1080p HD video recording at 25 fps and 30 fps, 64 GB capacity, A13 Bionic chip with 64 bit architecture and more features which you can read here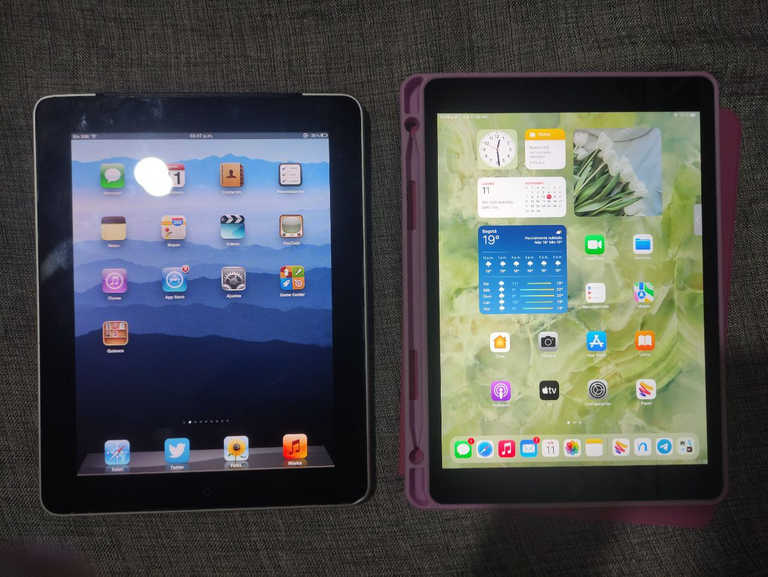 Probablemente en otra publicación les cuente cómo he resuelto el tema del Apple Pencil y GoodNotes, las alternativas que conseguí y los usos que le doy a mi Ipad. Si llegaste hasta aquí, muchas gracias por leer mi publicación, espero que te hayas divertido leyéndolo como yo me divertí escribiéndolo :). Por cierto, me gustaría saber, ¿Team Apple o Team Samsung?
Probably in another post I will tell you how I solved the Apple Pencil and GoodNotes issue, the alternatives I got and the uses I give to my Ipad. If you got this far, thank you very much for reading my post, I hope you had fun reading it as I had fun writing it :). By the way, I would like to know, Team Apple or Team Samsung? 🍎👾