This post is part of my One Post a Day For a Week Challenge

Este post es parte de mi Reto de Un Post al día por Una Semana.
---
A Year with a Acer Predator Helios 300 Gaming Laptop Un Año con una Acer Predator Helios 300 Latop Gaming.

English
Hello everyone. I've bought a Lapto a year ago in an spanish store called, PcComponentes they had "PCDays", like the "Prime Days" from Amazon, where they have some discounts and offers in a lot of products in the store.
I was looking for a Desktop PC, but with the state of the graphics card, and the high prices a year ago, i decided to get a Laptop in the end. Came across with the Acer Predator Helios 300.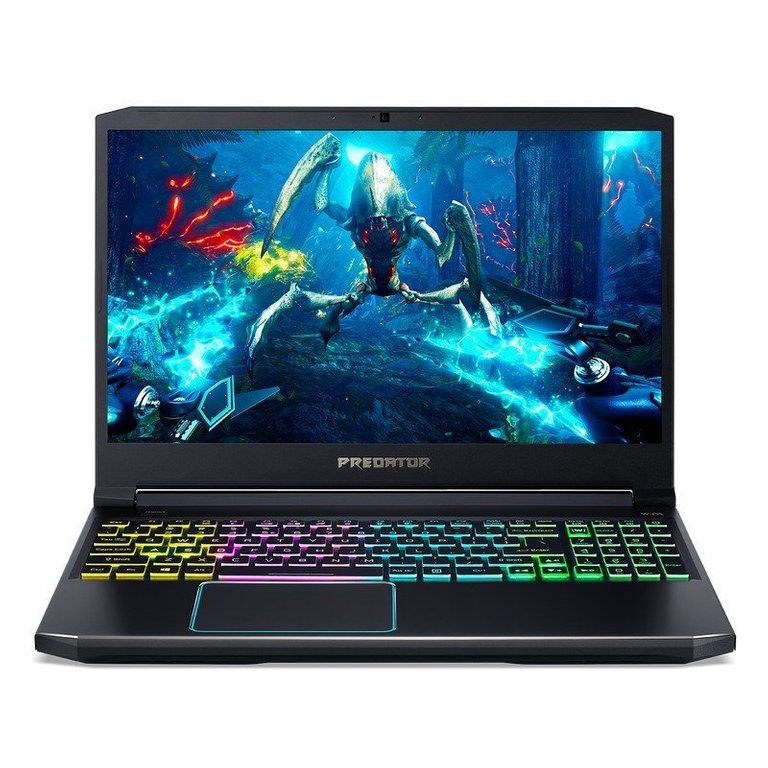 Source
The decision of getting this one was easy, in the whole store i think personally this was the best in Quality-Price, picked this one at the pricde of €999, when normally it's around the €1200-1300 mark.
I wanted primarily for gaming obviusly. But i wanted a laptop with a good Display because of my Area of Work, photography. This laptop has a decent in the color spectrum range of sRGB (95%).
This one it's the RTX2060 version, there is a RTX3070 around €1500.

Specifications
Let's get to what really matters firts, then we are going to get to the design and outside of the PC.
Processor: Intel® Core™ i7-10750H 2.6 GHz - 5.0 GHz
Nothing much to say in this department, a very fast processor from the 2020, with 6 cores and 12 threads, instead of it's superior brother the i7-10875H that has 8 cores and 16 threads. But even if you buy the newer Helios 300 models they'll have the same processor but different graphics card (3060, or 3070).
RAM: 2x8 GB DDR4 2933MHz Memory*
We all know what RAM is. This is a decent amount of RAM for gaming, even if you use it for something else, in my case i was Using Capture One, and Photoshop, while playing videos in Brave all at the same time, and the PC doesn't brake a sweat.
Storage: 1TB PCIe NVMe SSD (Extra: +1 SSD Slot and +1 HDD Slot)
Right now 1TB sounds like a lot, but if you are into gaming like we all do here, we know that games are getting really big in space. If you manage your softwares and games well shouldn't be a problem. But, something i loved about this PC when i read about it, it's the fact that has 1 Free SSD Slot, and 1 Free HDD Slot, so if you want you can get it up to 3TB of space, and it's something to be appreciated.
Display: 15.6" FHD IPS 144Hz slim bezel LCD FHD IPS (1920 x 1080) 3ms
Doing some research on the Display, that it's something important to me, i discovered that it has a very decent range in the Color Spectrums, like 95% of sRGB and 68% of AdobeRGB. To not get very technical about it, it means that is somewhat accurate when it comes to color (It has to be calibrated to get the REAL juice of it). But when talking about day to day use and the important part of this PC and post, Gaming. It has really rich colors when playing and browsing in the web, and videos, you'll have 0 problems or complains about it. It has a IPS display so it doesnt change color too much when moving the screen.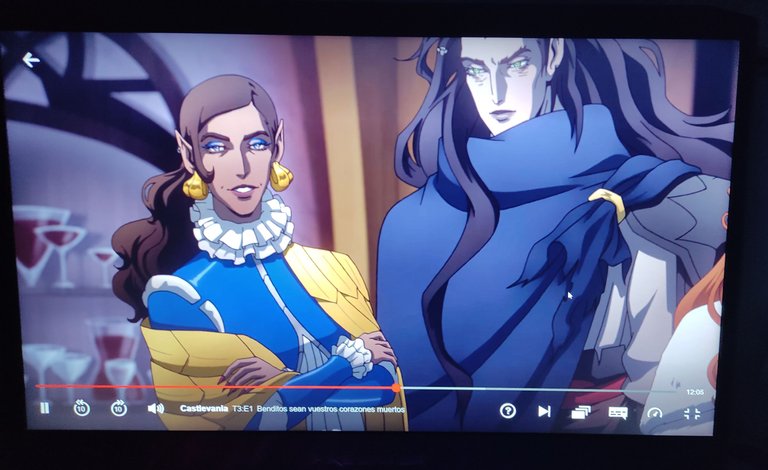 If you look another laptops in the same price-range you'll came across with poor displays, so against the other ones i considered inside the same price (€800-999) this was hands down the best one in display.
Disclaimer: if you want rich and accurate colors for some reason buy a decent monitor and calibrate it.
Graphics Card: NVIDIA® GeForce RTX™ 2060 6G-GDDR6
So, to keep the Quality-Price comparasion, this was one of the few laptops with discount that had a RTX2060 (Mobile) installed, most of them had GTX1650, 1650S ot 1650Ti (Mobile), so against all of this models the RTX2060 wins, the 1600series isn't the brilliant series of Nvidia, so this was a pretty good deal, and obviusly cheaper than a laptop with a RTX3000 series but still with a really good performance, that will keep up probably just fine for really minimun 2 years.

Features
Now, let's talk about some other features that this laptop has, as i say it's a gaming laptop so it's designed to this specific use.
Predator Sense
The Acer Predator Sense it's a software or utility app as the called it given by Acer to download and take controll and to monitor the PC Usage.
If your predator comes without operative system same as mine, you have to download the SPECIFIC Predator Sense for that specific PC, or when you install will give you an error.
You can open the app with a very specific and subtle key in your keyboard with the Predator Logo on it.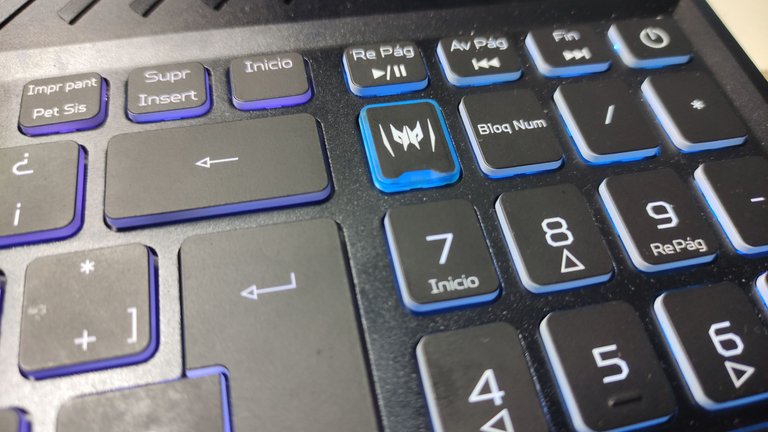 When you open the app you'll have a resumed panel where you can see the temperature of the PC, the illumination profile of the keyboard, the overcloking of the GPU and the fan settings.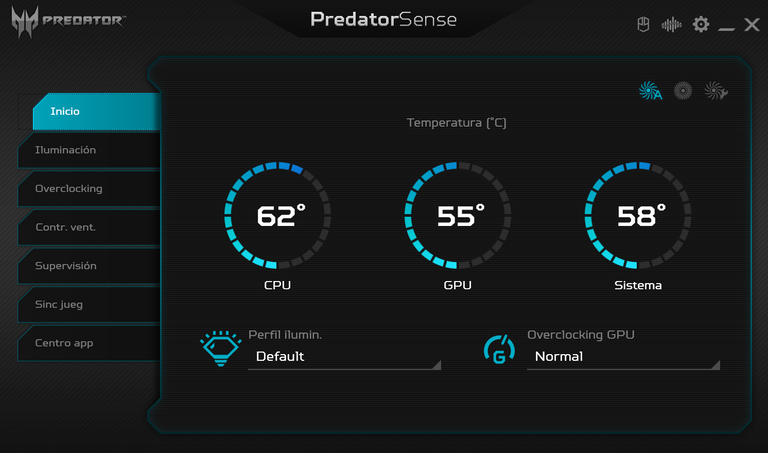 Asn we can see, the Predator Sense App, has some options to control the features of the PC, starting from top to bottom.
---
Ilumination: Refering to the Keyboard backlighting, if the pc comes without software the keyboard will only have a blue backlight, you have to install the Predator Sense App if you want to personalize it. The app would let you choose between static and dynamic, in the dynamic section you can choose one of the styles they offer: Active, Wave, Zoom, Neon, and displacement.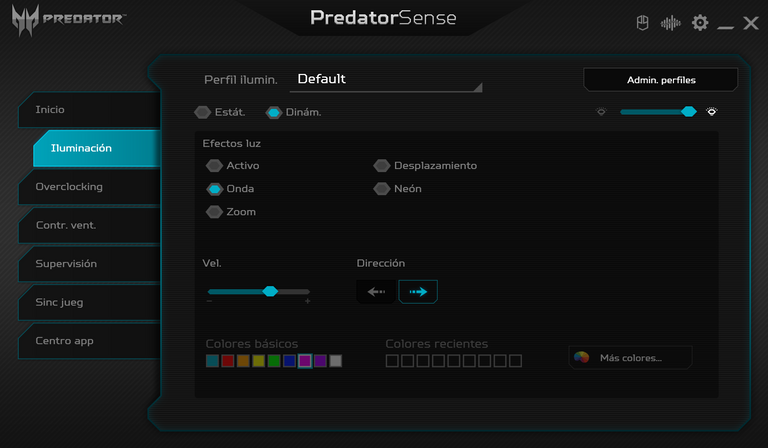 Some of the styles would let you to change or choose the colors, and the other will aoutomatically use the basic colors. Be aware that you can pick any color you want when given the option.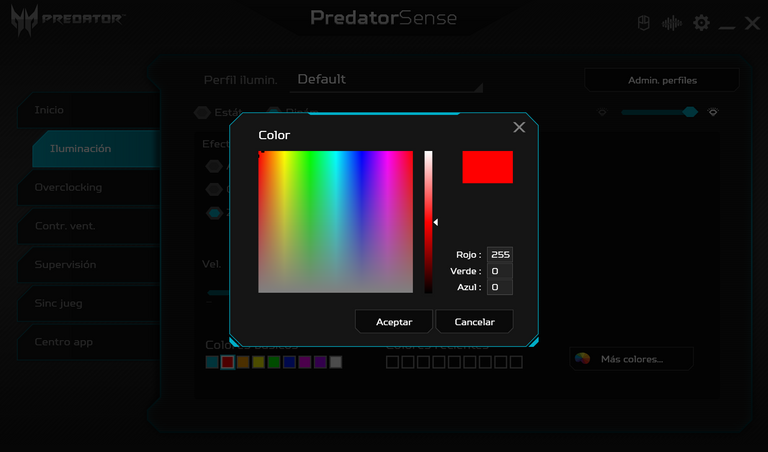 Then in the static tab of the ilumination would let you pick the color per sections of the keyboard, unfortunately would not let you pick every key of individually, that was kinda of a let down, but it's okay anyways. If you are looking for total and complete customization, sorry but not will be possible.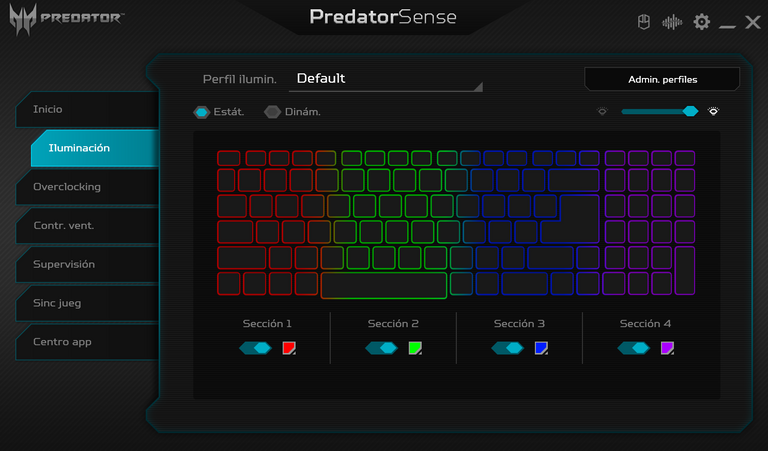 ---
Overclocking: Nothing much here, you can overclock the CPU with just changing and selecting the button you want, you cannot choose specifically the overclock, it's premade. For the time being, i do not use this feature.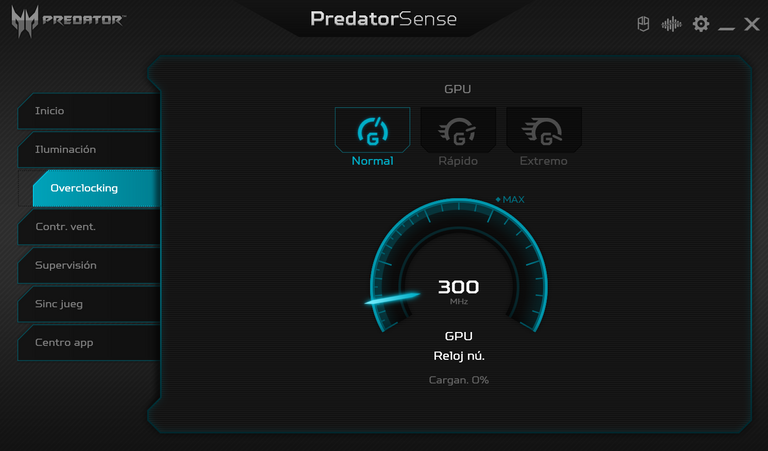 ---
Fan Control: The same as the Overclocking, you can choose out of 3 options, but this time you can choose the speed of the fans, each one for the CPU and the GPU. You have Auto (i use this one), Max, and Custom. The fans will show the RPM of each.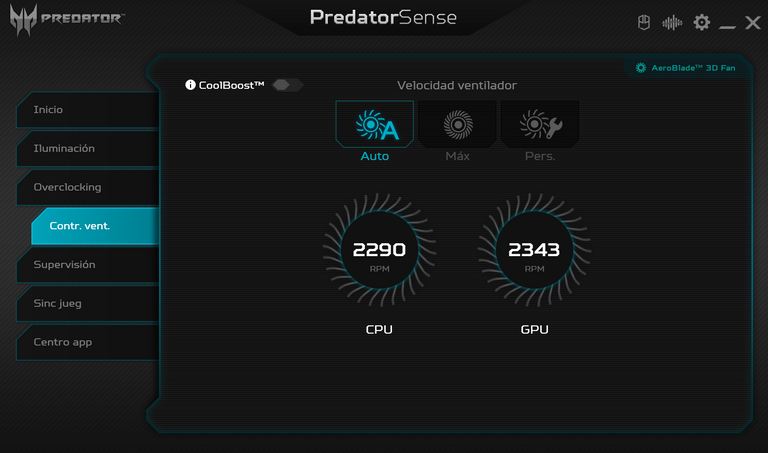 ---
Monitoring/Supervision: The tab where you can see the performance of the CPU, GPU and the whole system, the usage, the temperature, voltage, MHZ and RPM of the Fans, aswell as the RAM Usage, and the Ethernet or Wifi.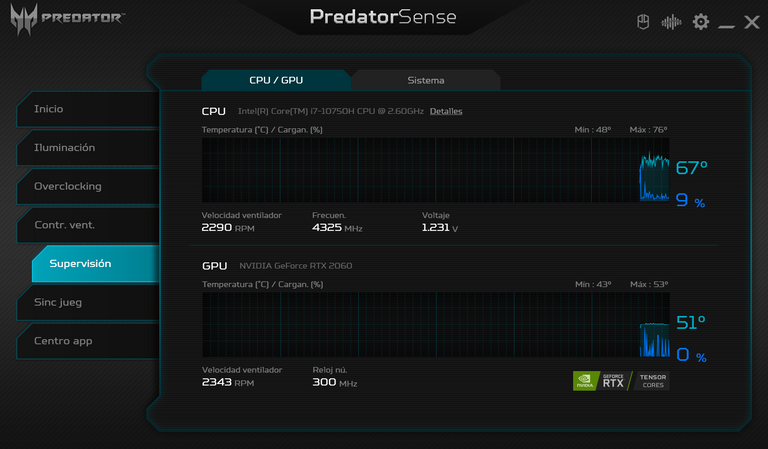 ---
Game Sync: In this tab you can add games to the list and customize and choose the performance for each game, even the color or ilumination pattern on the keyboard when you open the game.
For example, you add GTA V to the Game Sync Tab and create an illumination profile of just Red, making the CPU overclock to the max, and auto fans. And when you open the game this settings will start automatically.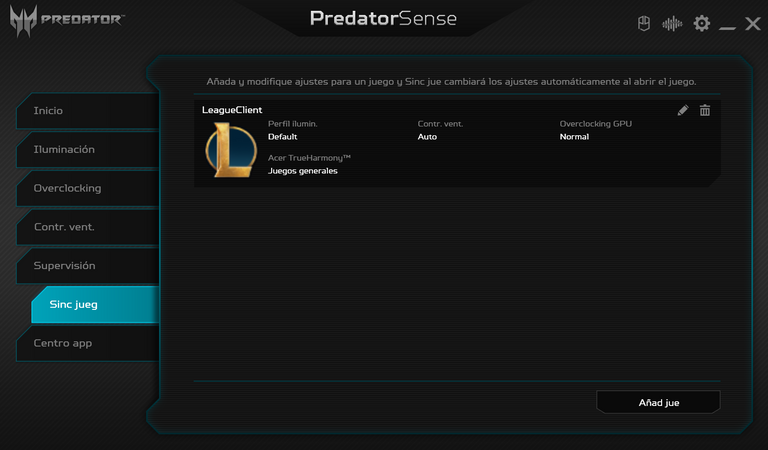 ---
App Center: Just a teb where you can see the apps of your pc and manage them, open them from the predator sense app, or unistall programs.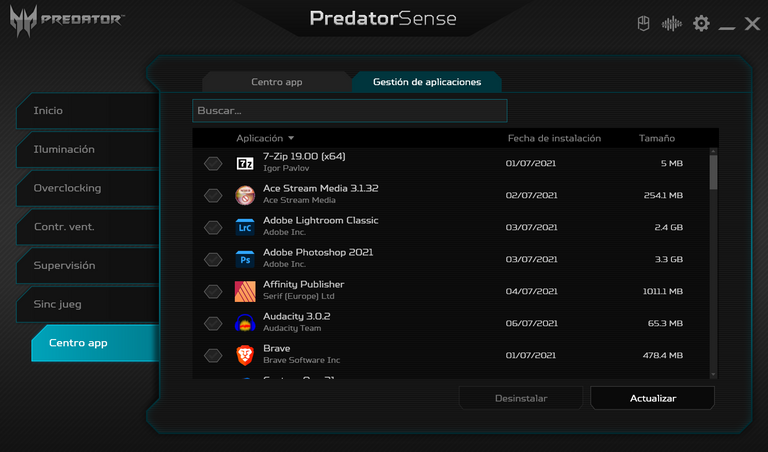 Performance
Now finally to the hot stuff. Yes yes, a lot or customizing, pretty colors, pretty keyboard. But does it run the games?.
TL:DR yes it does.
Now being serious. Am not goint into benchmarks or numbers, because i don't really kwnow how does that works. I'll leave you the benchmark of some webpages and you can see for yourself the performance of the RTX2060 Mobile.
Here: Benchmark 1 - Benchmark 2
The pc works really well even in heat situations, the GPU and CPU got up to 70° in a 40°C day here in spain. Yes if you want this laptop the Fans will sound like an airplane engine, but it will keep the pc cool enough to not to shut down. And will keep the FPS consistently.
I play almost everygame at 60-144Fps to go with the 144Hz of the display. I've played Watch Dogs and GTA V without any problem obviusly, even while having programs running behind, like web browsers and discord or even recording/streaming with the OBS.
Am not a very experienced "gamer", so i play a lot of Valorant, League of Legends and normal/modded minecraft, and this goes swiftly through those games without breaking a sweat. Recently played staisfactory and does wonderfully.

Conclusion
After a Year the only thing i can say it's i'm super glad i bought this Laptop, it's probably the best purchase yet, although there's new Helios versions with new graphics cards of the 3000's verion.
The only problem i had with the Laptop is that i had to send it to Acer using the warranty, the fans of my laptop were not working properly, the laptop was getting hot too quickly and having perfomance issues, but Acer was quick to fix it and send it back in 3 days, so no problem at all there.
But besides that it works like a charm, and i use it every freaking day, games, photoshop, premiere, and heavy usea day after day.
So, it's recommended in my humble opinion.

Español
Hola a todos. Hace un año compré una laptop en una tienda española que se llama PcComponentes tenían "PCDays", como los "Prime Days" de Amazon, donde tienen unos descuentos y ofertas en un montón de productos en la tienda.
Estaba buscando una computadora de escritorio, pero con el estado de las tarjetas gráficas y los altos precios en ese tiempo, finalmente decidí comprar una computadora portátil. Encontré con el Acer Predator Helios 300.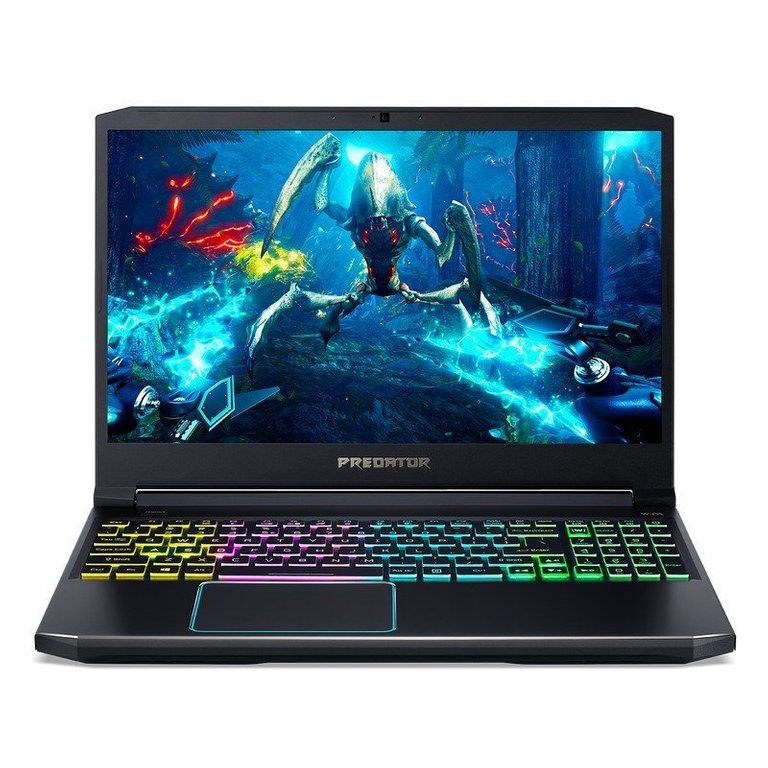 La decisión de hacerme con esta fue fácil, de toda la tienda personalmente creo que este fue el mejor en Calidad-Precio, la elegí a precio de 999€, cuando normalmente rondaba los 1200-1300€.
La quería principalmente para jugar obviamente. Pero quería una computadora portátil con una buena pantalla debido a mi área de trabajo, la fotografía. Esta computadora portátil tiene un rango de espectro de color decente de sRGB (95%).
Esta es la versión RTX2060, hay una RTX3070 que ronda los 1500€.

Especificaciones
Vayamos a lo que realmente importa primero, luego vamos a llegar al diseño y lo afuera de la PC.
Procesador: Intel® Core™ i7-10750H 2,6 GHz - 5,0 GHz
No hay mucho que decir en este departamento, un procesador muy rápido del 2020, con 6 núcleos y 12 hilos, en lugar de su hermano mayor, el i7-10875H que tiene 8 núcleos y 16 hilos. Pero incluso si comprabas los modelos Helios 300 más nuevos, tendrán el mismo procesador pero una tarjeta gráfica diferente (3060 o 3070).
RAM: 2x8 GB de memoria DDR4 2933MHz*
Todos sabemos qué es la memoria RAM. Esta es una cantidad decente de RAM para juegos, incluso si la usa para otra cosa, en mi caso estaba usando Capture One y Photoshop, mientras reproducía videos en Brave, todo al mismo tiempo, y la PC ni suda.
Almacenamiento: SSD PCIe NVMe de 1 TB (Extra: +1 ranura SSD y +1 ranura HDD)
En este momento, 1 TB parece mucho, pero si te gustan los juegos como todos aquí, sabemos que los juegos se están volviendo muy grandes en espacio. Si administras bien sus programas y juegos, no debería ser un problema. Pero, algo que me encantó de esta PC cuando leí sobre ella, es el hecho de que tiene 1 ranura para SSD libre y 1 ranura para disco duro sólido libre, así que si quieres puedes obtener hasta 3 TB (o más) de espacio, y es algo de ser apreciado.
Pantalla: 15,6" FHD IPS 144 Hz bisel delgado LCD FHD IPS (1920 x 1080) 3 ms
Investigando un poco sobre la pantalla, que es algo importante para mí, descubrí que tiene un rango muy decente en los espectros de color, como el 95 % de sRGB y el 68 % de AdobeRGB. Para no ser muy técnico al respecto, significa que es algo preciso en lo que respecta al color (tiene que calibrarse para sacarle el jugo REAL). Pero cuando se habla del uso diario y la parte importante de esta PC y post, Gaming. Tiene colores realmente ricos cuando juegas y navegas en la web y videos, no tendrás problemas ni quejas al respecto. Tiene una pantalla IPS por lo que no cambia demasiado de color al mover la pantalla.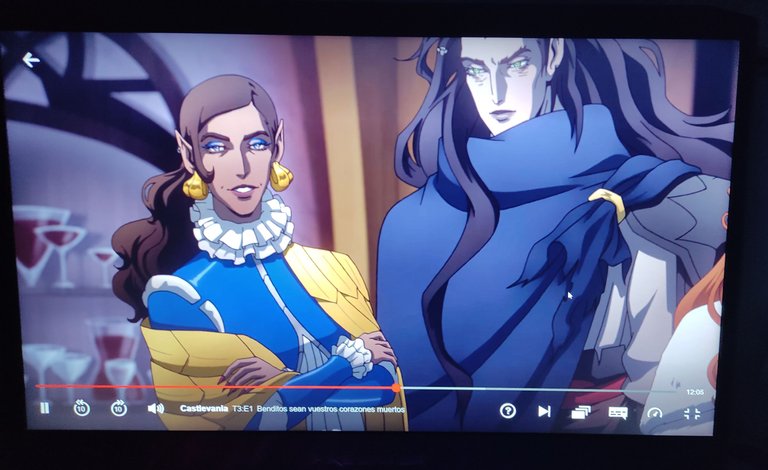 Si observas otras laptops en el mismo rango de precios, se encontrará con pantallas deficientes, por lo que, en comparación con las otras que consideré dentro del mismo precio (€ 800-999), esta fue sin duda la mejor en pantalla.
Atención: si deseas colores intensos y precisos por alguna razón, compra un monitor decente y calíbralo.
Tarjeta gráfica: NVIDIA® GeForce RTX™ 2060 6G-GDDR6
Entonces, para mantener la comparación Calidad-Precio, esta era una de las pocas computadoras portátiles con descuento que tenía instalada una RTX2060 (Móvil), la mayoría tenía GTX1650, 1650S o 1650Ti (Móvil), por lo que contra todos estos modelos gana la RTX2060 , la serie 1600 no es la serie más brillante de Nvidia, por lo que esta fue una oferta bastante buena, y obviamente más barata que un portátil con una serie RTX3000 en su momento, pero aún así con un rendimiento realmente bueno, que probablemente se mantendrá bastante bien por un mínimo de 2 años.

Características
Ahora, hablemos de algunas otras características que tiene este portátil, como digo, es una laptop para juegos, por lo que está diseñada para este uso específico.
Predator Sense
El Acer Predator Sense es un software o una aplicación de utilidad, como la llama Acer, para descargar, tomar el control y monitorear el uso de la PC.
Si tu predator viene sin sistema operativo igual al mio, tienes que descargar el Predator Sense ESPECIFICO para esa PC en especifico, o al instalar te dara error.
Puede abrir la aplicación con una tecla muy específica y nada sutil en su teclado con el logotipo de Predator.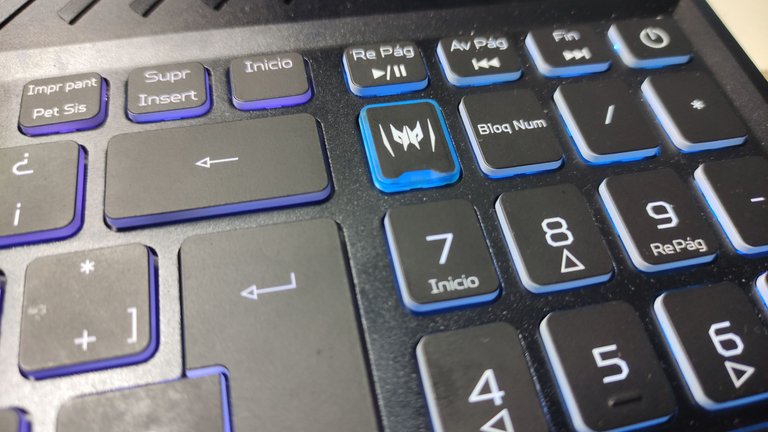 Cuando abras la aplicación, tendrás un panel donde puedes ver la temperatura de la PC, el perfil de iluminación del teclado, el overcloking de la GPU y la configuración del ventilador.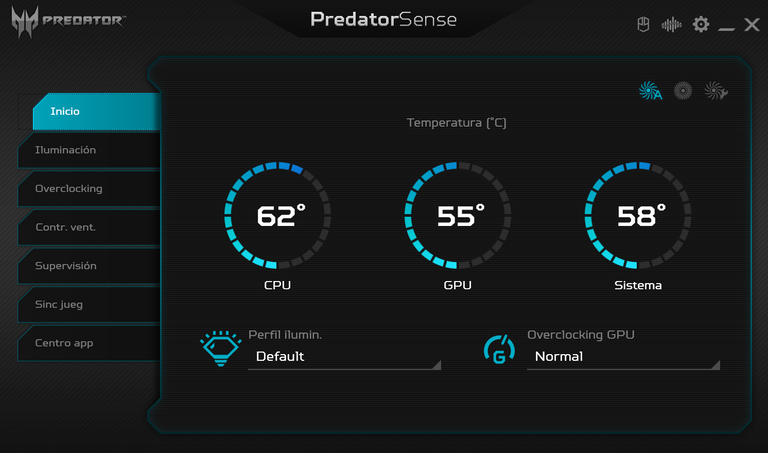 Como podemos ver, la aplicación Predator Sense tiene algunas opciones para controlar las funciones de la PC, comenzando de arriba a abajo.
---
Iluminación: En cuanto a la retroiluminación del teclado, si la pc viene sin software el teclado solo tendrá retroiluminación azul, tienes que instalar la App Predator Sense si quieres personalizarlo. La aplicación te dejaría elegir entre estático y dinámico, en la sección dinámica puedes elegir uno de los estilos que ofrecen: Activo, Onda, Zoom, Neón y Desplazamiento.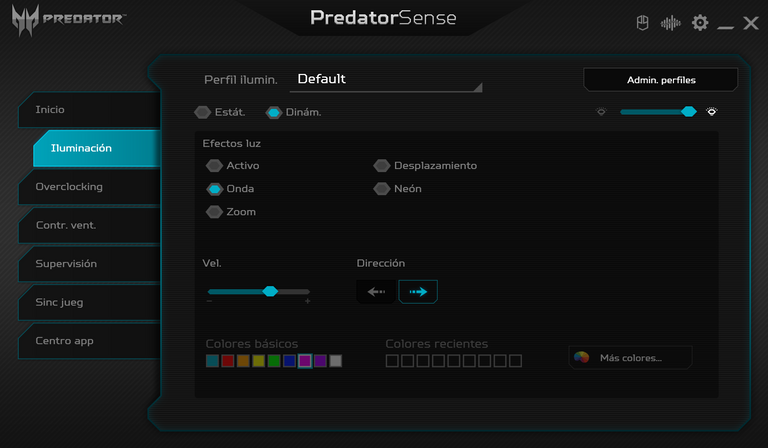 Algunos de los estilos te permitirán cambiar o elegir los colores, y el otro usará automáticamente los colores básicos. Tenga en cuenta que puede elegir el color que desees cuando se le dé la opción.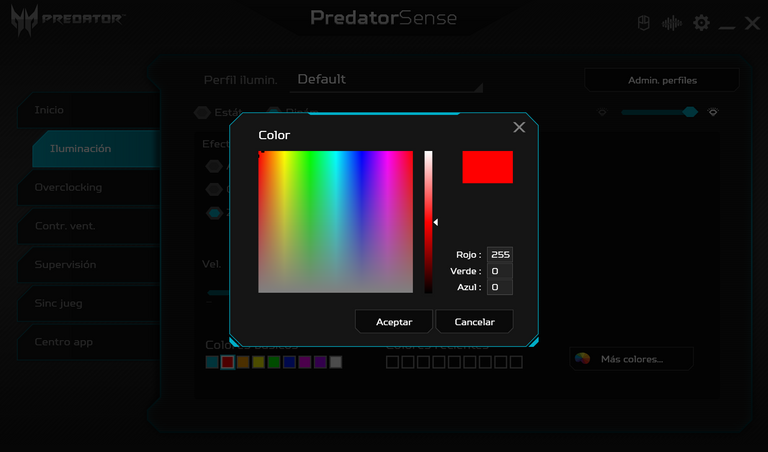 Luego, en la pestaña estática de la iluminación, te permitirá elegir el color por secciones del teclado, desafortunadamente no te permitirá elegir cada tecla individualmente, eso fue un poco decepcionante, pero está bien de todos modos. Si buscas una personalización total y completa, lo sentimos pero no será posible.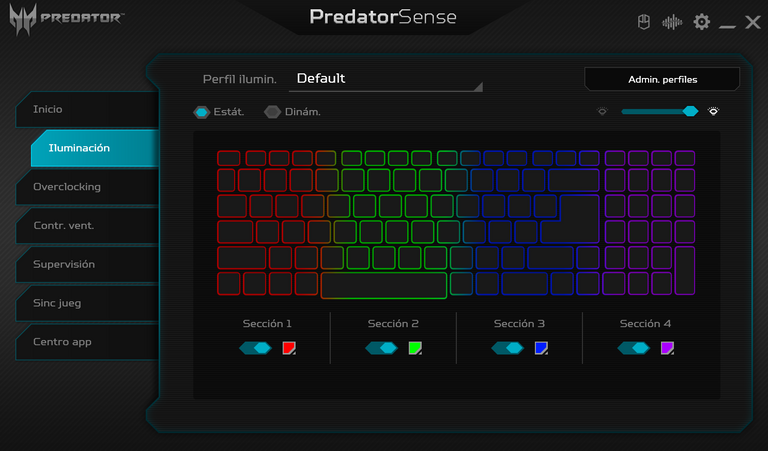 ---
Overclocking: No hay mucho aquí, puedes hacer overclocking en la CPU con solo cambiar y seleccionar el botón que desee, no puedes elegir específicamente el overclocking, está prefabricado. Por el momento, no uso esta función.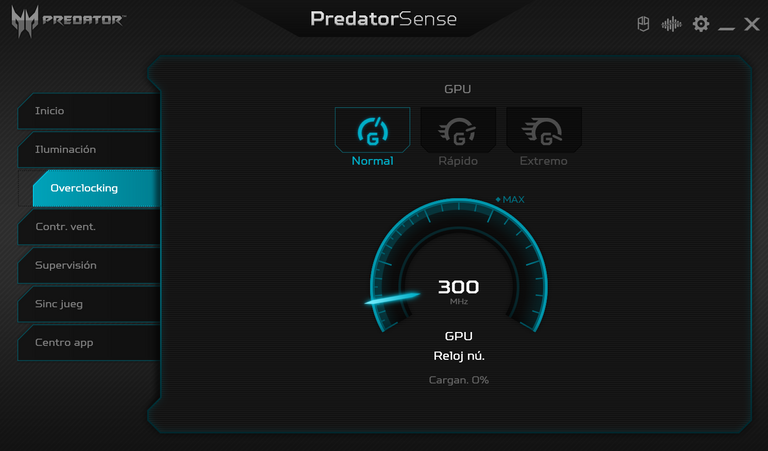 ---
Control de Ventiladores: Al igual que el Overclocking, puedes elegir entre 3 opciones, pero esta vez puedes elegir la velocidad de los ventiladores, cada uno para la CPU y la GPU. Tienes Auto (yo uso este), Max y Custom. Los ventiladores mostrarán las RPM de cada uno.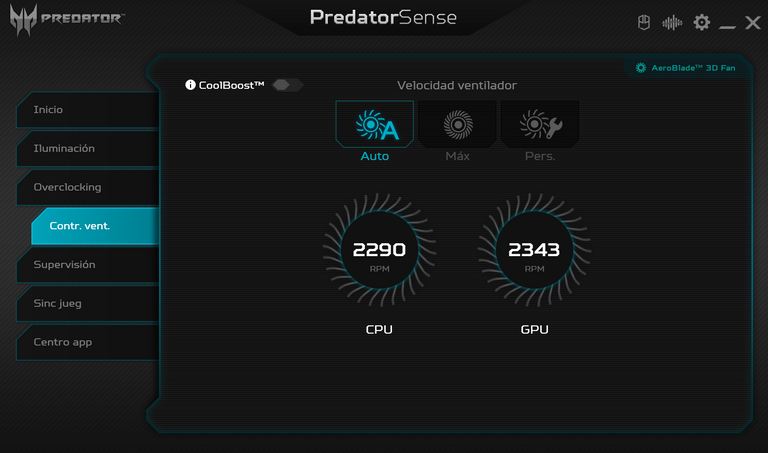 ---
Monitoreo/Supervisión: La pestaña donde puede ver el rendimiento de la CPU, la GPU y todo el sistema, el uso, la temperatura, el voltaje, MHZ y RPM de los ventiladores, así como el uso de RAM y Ethernet. o Wi-Fi.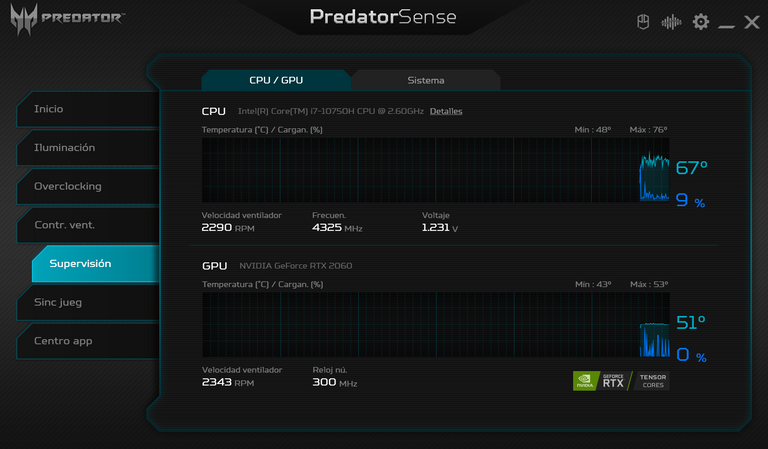 ---
Game Sync: en esta pestaña puedes agregar juegos a la lista y personalizar y elegir el rendimiento de cada juego, incluso el color o el patrón de iluminación en el teclado cuando abres el juego.
Por ejemplo, agrega GTA V a la pestaña Game Sync y crea un perfil de iluminación de solo rojo, lo que hace que la CPU se acelere al máximo y los ventiladores automáticos. Y cuando abras el juego, esta configuración se iniciará automáticamente.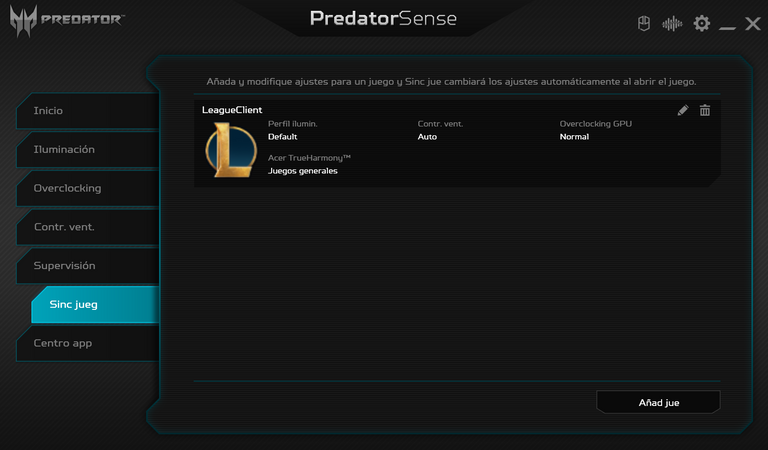 ---
App Center: Solo una pestaña donde puedes ver las aplicaciones de tu pc y administrarlas, abrirlas desde la aplicación predator sense o desinstalar programas.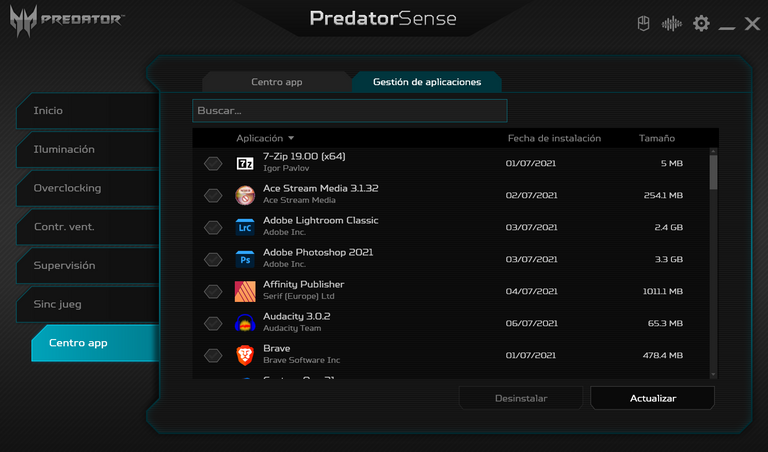 Rendimiento
Ahora finalmente a las cosas calientes. Si si, mucho o personalizacion, bonitos colores, bonito teclado. Pero, ¿ejecuta los juegos?.
Resumen: sí lo hace.
Ahora hablando en serio. No voy a entrar en referencias o números, porque realmente no sé cómo funciona eso. Te dejo el benchmark de algunas páginas web y podrás comprobar por ti mismo el rendimiento del RTX2060 Mobile.
Aquí: Benchmark 1 - [Benchmark 2](https://www.videocardbenchmark.net/gpu.php?gpu =GeForce+RTX+2060+%28Mobile%29&id=4085)
La PC funciona muy bien incluso en situaciones de calor, la GPU y la CPU alcanzaron los 70° en un día de 40°C aquí en España. Sí, si desesa esta computadora portátil, los ventiladores sonarán como el motor de un avión, pero mantendrán la laptop lo suficientemente fría como para no apagarse. Y mantendrá los FPS consistentemente.
Juego casi todos los juegos a 60-144 Fps para combinar con los 144 Hz de la pantalla. He jugado a Watch Dogs y GTA V sin ningún problema, obviamente, incluso mientras tenía programas ejecutándose detrás, como navegadores web y discord o incluso grabando/transmitiendo con OBS.
No soy un "jugador" muy experimentado, así que juego mucho a Valorant, League of Legends y Minecraft normal/modificado, y esto pasa rápidamente por esos juegos sin sudar. Jugué Satisfactory recientemente y lo hace de maravilla

Conclusión
Después de un año, lo único que puedo decir es que estoy muy contento de haber comprado esta computadora portátil, es probablemente la mejor compra hasta ahora, aunque hay nuevas versiones de Helios con nuevas tarjetas gráficas de la versión 3000's de Nvidia.
El único problema que tuve con la laptop es que tuve que enviársela a Acer usando la garantía, los ventiladores de mi computadora portátil no funcionaban correctamente y estaban empezando a sonar como averiado, el portátil se calentaba demasiado rápido y tenía problemas de rendimiento, pero Acer lo solucionó rápidamente. y me lo envió de vuelta en 3 días, así que no hay ningún problema.
Pero además de eso, funciona de maravilla, y lo uso todos los días, juegos, photoshop, adobe premiere y uso intensivo día tras día.
Por lo tanto, es recomendable en mi humilde opinión.
---
Social Networks / Redes Sociales:
---
All the photos are taken by me. / Todas las fotos son tomadas por mi.