---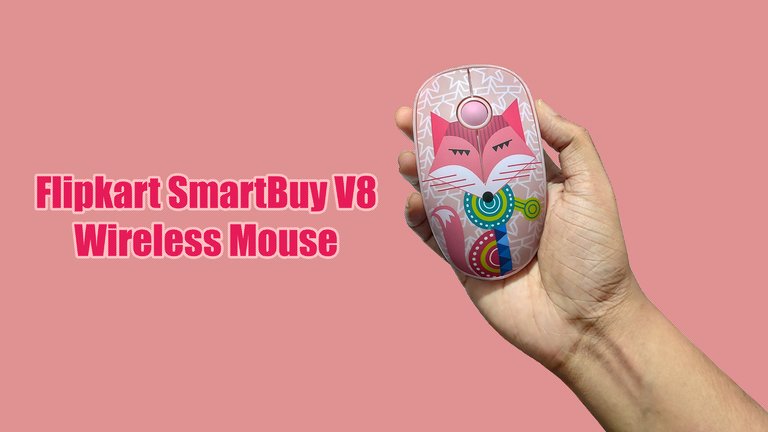 Flipkart SmartBuy V8
Hello friends, Today I'm doing a full review of the Flipkart SmartBuy V8 wireless mouse which is sold in Flipkart for 399rs and that is about 5$ and this will be the best mouse that I have ever used for under 5$. This mouse surprised me from the time of unboxing till the end. This mouse is one of kind with extreme value for money. I think everyone needs to know about his mouse. In this revie, I will be doing a gaming test, latency test and I will give a honest opinion about the mouse. So I ordered this mouse for my sister so that she can use it on her laptop while attending online classes for the PG entrance examination. I also thought of making use of this mouse after that, by using it on a Raspberry Pi that I'm planning to buy soon. I prefer to use a wireless mouse on the Raspberry Pi 3 or 4. They are really small and the movement of a wired mouse will make an impact on the Pi by making it move around. .
Hola amigos, hoy estoy haciendo una revisión completa del mouse inalámbrico Flipkart SmartBuy V8 que se vende en Flipkart por 399rs y eso es alrededor de 5 $ y este será el mejor mouse que he usado por menos de 5 $. Este ratón me sorprendió desde el momento del desempaquetado hasta el final. Este mouse es único en su tipo con una excelente relación calidad-precio. Creo que todo el mundo necesita saber sobre su ratón. En esta revisión, haré una prueba de juego, una prueba de latencia y una prueba de uso casual para llegar a una conclusión
Así que le pedí este mouse a mi hermana para que pueda usarlo en su computadora portátil mientras asiste a clases en línea para el examen de ingreso PG. También pensé en usar este mouse después de eso, usándolo en una Raspberry Pi que planeo comprar pronto. Prefiero usar un mouse inalámbrico en la Raspberry Pi 3 o 4. Son realmente pequeños y el movimiento de un mouse con cable tendrá un impacto en la Pi al hacer que se mueva.
---
THINGS INSIDE THE BOX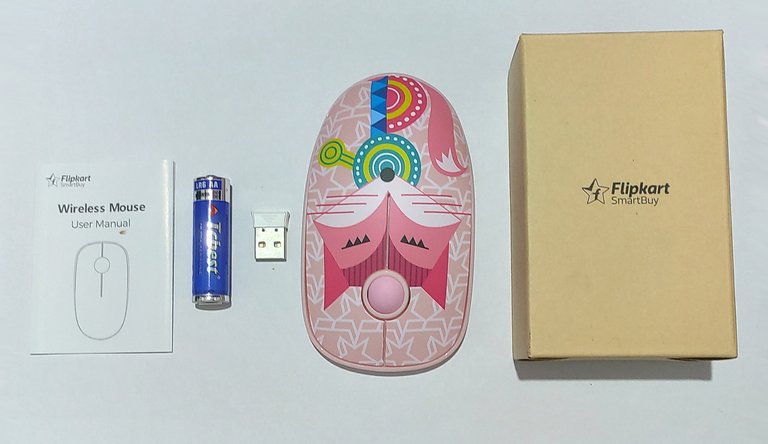 You will get the 1 - Flipkart SmartBuy V8 wireless mouse, 1 - USB Receiver with Flipkart Logo, 1 - AA Battery and 1 - User Manual
---
PACKAGING AND PRICE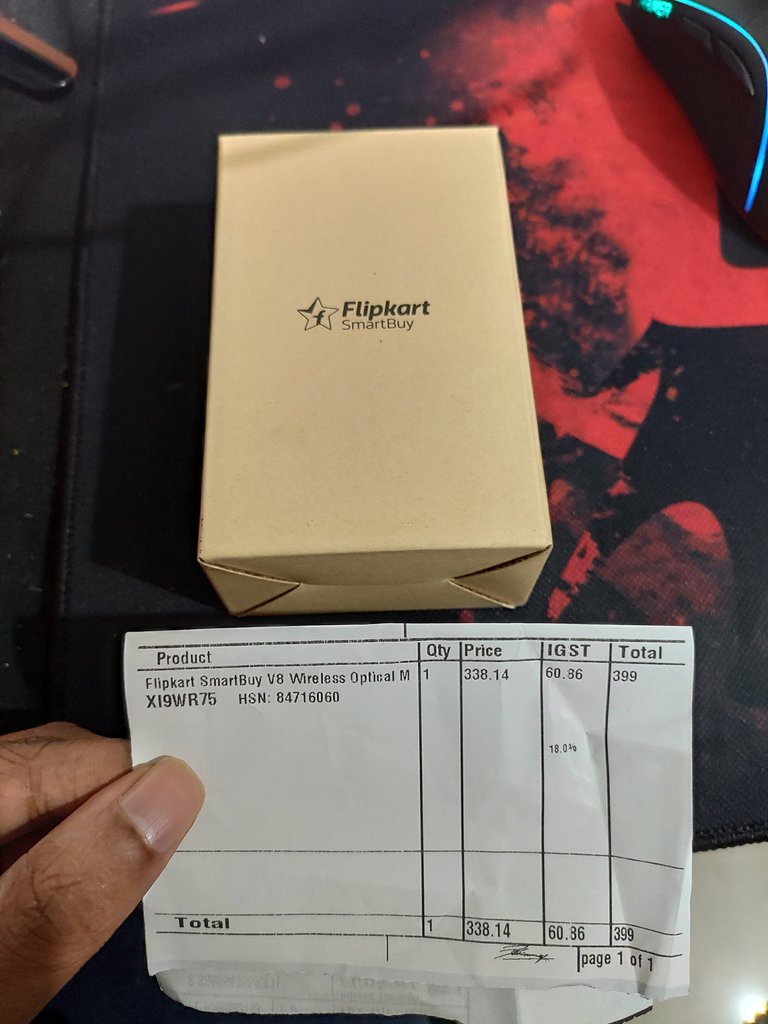 As you can see from the 399rs (60.86rs is IGST Tax) and the remaining 338.14rs is the actual price of the mouse that is 4.48 usd. So they had to cut down the packaging cost. As you can see the packaging is very minimal and even inside the box you won't see any huge paper works. The have provided a bubble wrapper for protection while shipping the product. The most of the money inside the 338rs has been focused on the mouse itself for making a superior quality product.
---
DESIGN OF THE MOUSE
view
view
The design and the print on top of the mouse is of really good quality as you see by viewing the image. The material used is of good quality plastic doesn't feel cheap.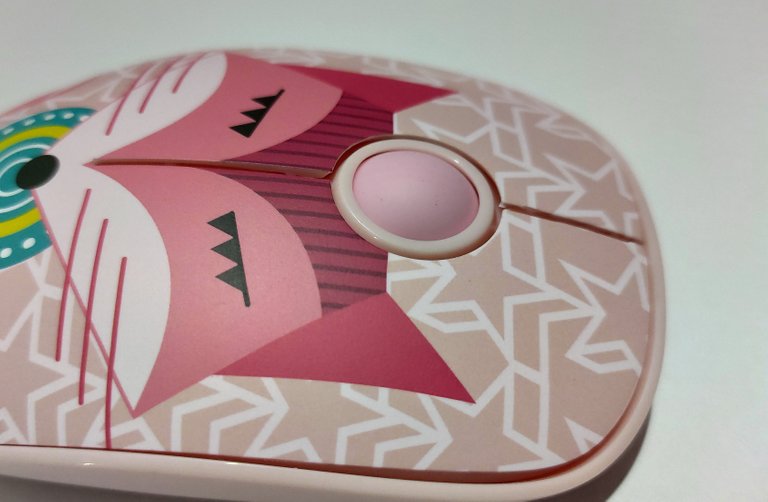 The scroll wheel, is not what we are used to. It's kind of like an old traditional ball like scoll wheel.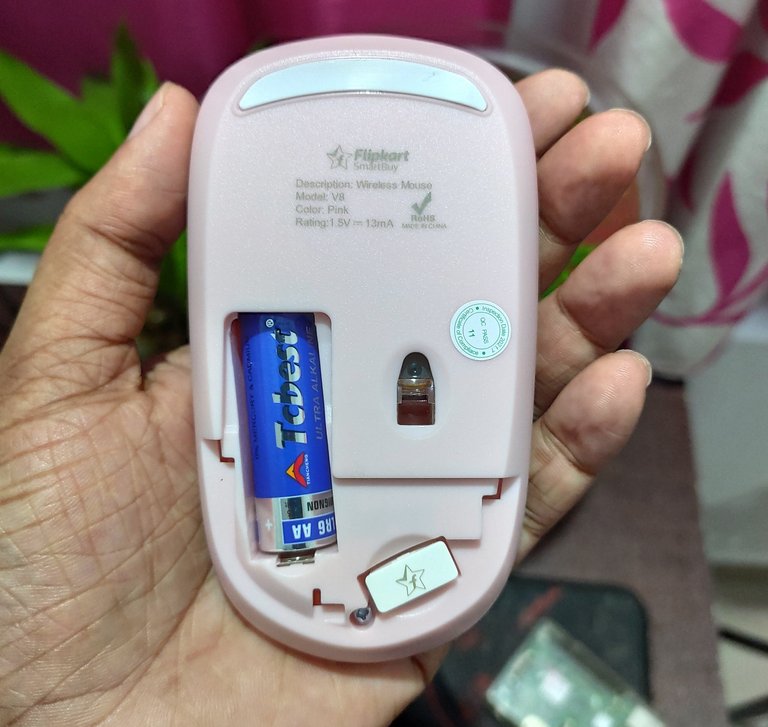 Under the mouse there is clip that you can remove and inside there you will get a USB receiver holder and the location for inserting the battery.
---
LATENCY TEST
So for testing the latency I played Warface game and tried to shoot the head while moving so that we will get an idea about the latency.
I was suprised that the latency very minimum and while gaming it was not noticeable.
The Gaming test using this Mouse can be found on the end of video which was uploaded to 3Speak
---
V8 MOUSE SPECIFICATIONS
| V8 MOUSE | SPECIFICATIONS |
| --- | --- |
| Sensor | Advanced Optical Sensor |
| DPI | 1600 DPI |
| Receiver | 2.4GHz Wireless USB Receiver |
| Range | Upto 10 Meters Lossless Connection |
| Scrolling Wheel | Precision Scrolling |
| Supports | Win XP and above, Mac OS and Linux |

Not much of the information is provided about this mouse by flipkart and these were the only information I can find of this mouse.
---
CONCLUSION
The V8 wireless mouse from the brand Flipkart SmartBuy is a real value for money mouse and I don't think there is any mouse that can beat this mouse in terms of quality and performance at this price point. The artwork on top of the mouse is of High Clarity and the colours are vibrant. The mouse click quality is really good, It dosen't feel cheap while using it. The gaming performance of the mouse was great with really low latency but I'm not sure if this mouse will last long if you are a hardcore gamer. The best part is that we are getting 6 months warrenty for this product. I will really recommend this mouse to anyone who is looking for a wireless mouse for casual use.
El mouse inalámbrico V8 de la marca Flipkart SmartBuy es un mouse con una buena relación calidad-precio y no creo que haya ningún mouse que pueda vencer a este mouse en términos de calidad y rendimiento a este precio. La obra de arte en la parte superior del mouse es de alta claridad y los colores son vibrantes. La calidad del clic del mouse es realmente buena, no se siente barata mientras lo usa. El rendimiento de juego del mouse fue excelente con una latencia realmente baja, pero no estoy seguro de si este mouse durará mucho si eres un jugador empedernido. La mejor parte es que obtenemos 6 meses de garantía para este producto.
Realmente recomendaré este mouse a cualquiera que busque un mouse inalámbrico para uso casual.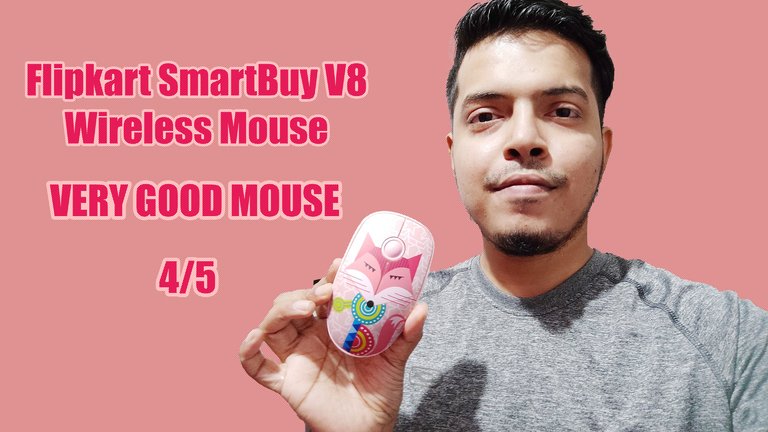 ---
All the images and the video was taken using the Redmi K20 Pro and the Microphone used in the 3Speak video were Fifine T669 and Boya By M1. The photos were edited using Photoshop CC and videos were edited using the Premiere Pro. The Rasberry Pi used in this video is Rasberry Pi 3 Vi 2 and was running on rasbian OS.
Todas las imágenes y el video se tomaron con el Redmi K20 Pro y el micrófono utilizado en el video de 3Speak fue Fifine T669 y Boya By M1. Las fotos se editaron con Photoshop CC y los videos se editaron con Premiere Pro. La Rasberry Pi utilizada en este video es Rasberry Pi 3 Vi 2 y se estaba ejecutando en el sistema operativo rasbian.
---
Thank you :)
---
▶️ 3Speak