English version
Hello friends of Hive, and especially to the Geek Zone community, I hope you are well, this time I have come to tell you about a pretty useful phone application, this is a pretty good video editor with a good variety of options and with an easy to use interface.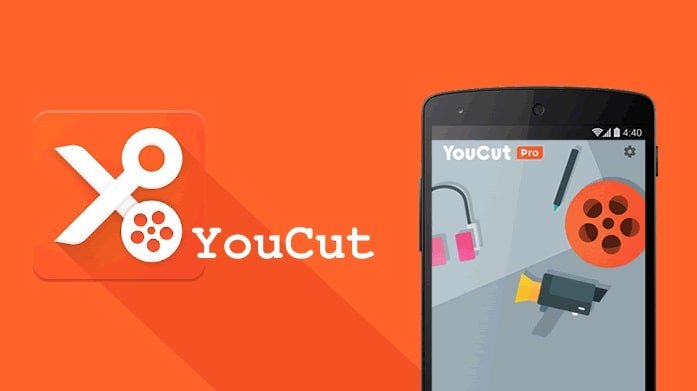 Source
This is a video editor that from what I see works pretty well on low end phones, it's very easy to use, it's a pretty complete editor, also, you can find it for free in the Play Store, I've been using it for a while now and I've found it amazing.
---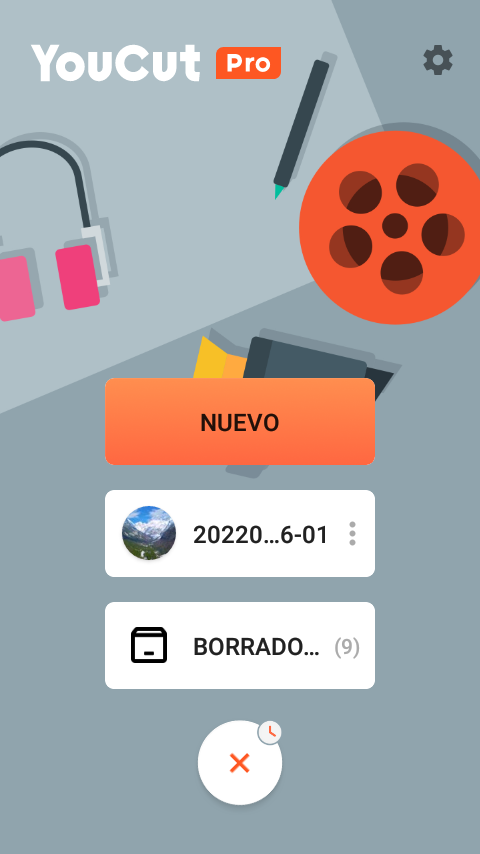 First of all, it has a comfortable interface, it contains a simple design but you find at a glance everything you need, when we enter we will have the option to start a new project and right there we find all the drafts that we have saved.
---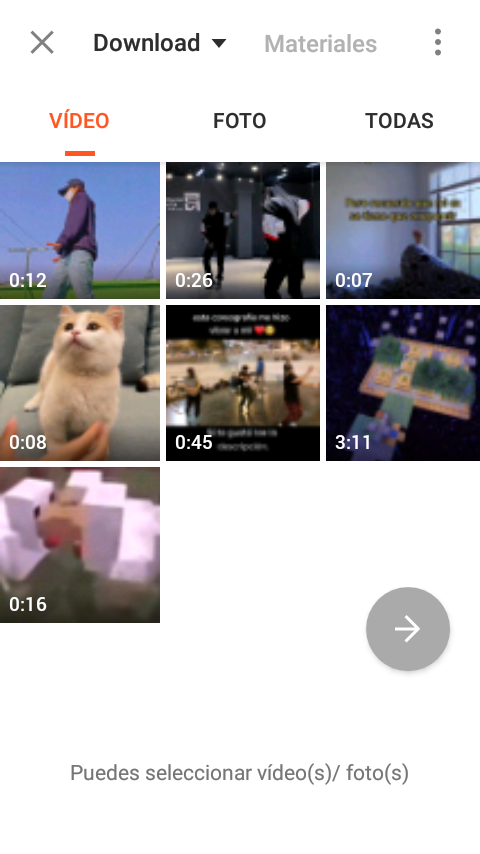 Here we can start selecting the videos and images that we have to start editing, we can select as many videos and photos as we want, if before selecting the video we want to edit we leave it pressed, the editor will give us a preview of the video, it will play for as long as we keep pressed and so we can know if that is the video we want without having to be checking from the gallery.
---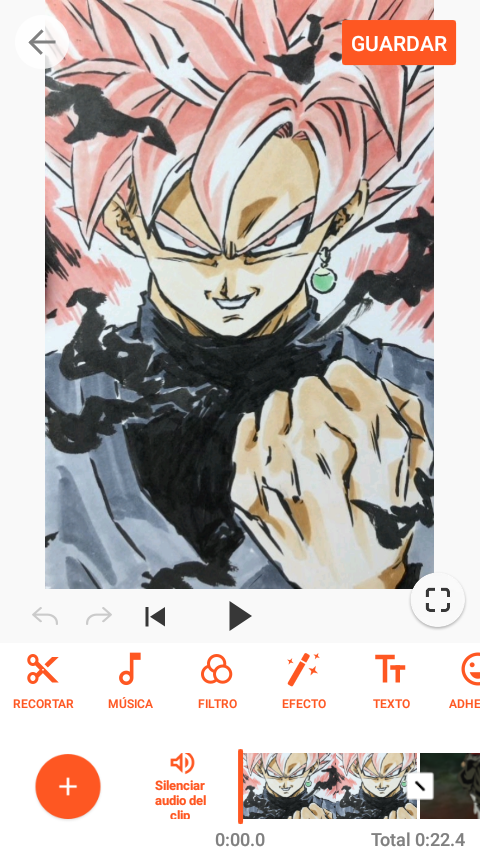 Once we have already chosen the videos and images that we want to edit we will click next and we will open this menu, here is everything we need to start editing, we will have a bar that contains all the tools to edit, such as the video trimmer, we can add music or audio, put transitions, add text and many more things.
---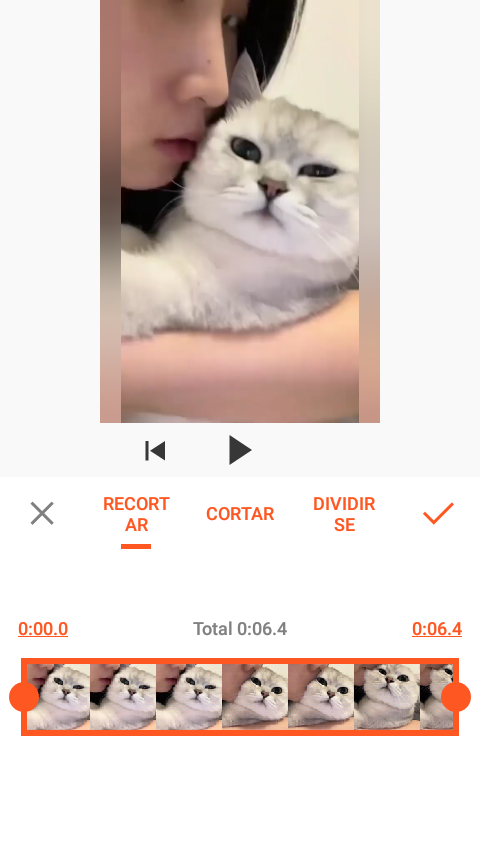 The editor has a pretty good way to cut the video, a very precise way, when you want to cut the video you can do it directly with your finger, but if you want to do it in a more precise way you can select the timestamps that are in color and there you choose from seconds to milliseconds that you want this part of the video, honestly I found something quite nice because many times you can not make very precise cuts with your finger, but this is great, you can also cut and divide the video into parts.
---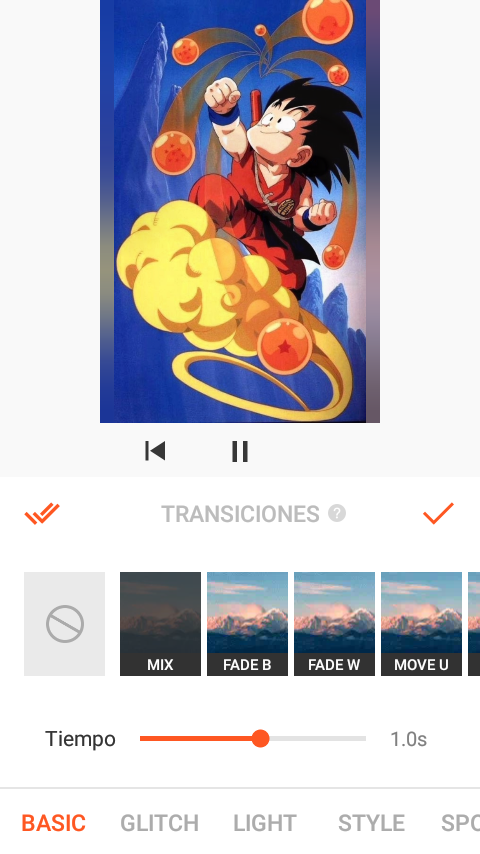 It has a good variety of transitions, it brings fade transitions, spinning transitions, those that come from top to bottom and vice versa and many more, you can choose how long you want to appear or keep the transition.
---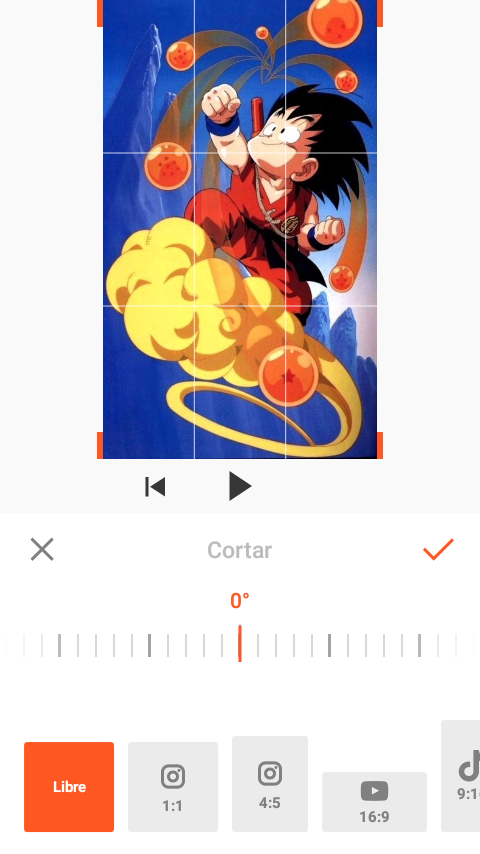 You can crop the dimensions of your video or photo to how you choose and you can change the angle at which it is viewed, either to take to one side or straighten your video, and it gives you preset formats such as Instagram, YouTube, Tik Tok, etc.
---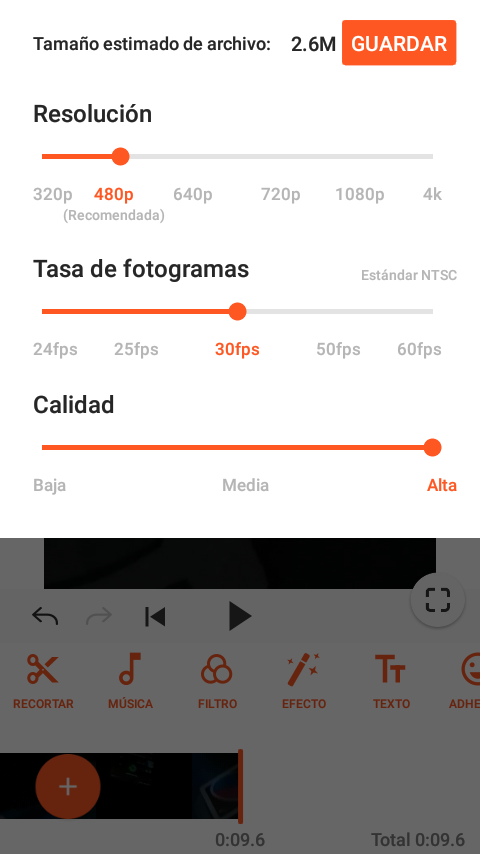 You can export your video with different degrees of resolution, the one I usually use is 720p so that the videos I usually edit are not so heavy, the highest resolution is 4k but my phone is low end and the editor does not allow me to export in that resolution, but it does let me do it at 1080p and it looks pretty good.
The frame rate lets you in several options, I feel that at 50 or 30 fps the videos go well, but if you want you can raise it up to 60 fps, although of course this will make the video a little heavier.
And in quality I always leave it on high because I don't know how much it affects it, besides it doesn't make a big difference in the space it occupies.
---
I liked how fast it saves the videos, at least to me it seems fast, this is a video of about 3 minutes with a few transitions and several images and in two minutes it was ready, my phone is not very powerful and that time seems very fast for what that video was, maybe in a mid-range phone the work is twice as fast, it is good that speed with which it exports the videos.
---
Something a little bad about the editor is that it limits several options if you do not use the pro version, I have it because many times it was annoying not to have all the elements available.
Something also a little annoying is that when trimming the music is very inaccurate, the trim bar becomes a little crazy and you have to maneuver a little to get it right.
Well something also bad, although I think this is because of my phone, is that when adding several transitions and the video is very heavy, the export slows down too much taking up to half an hour.
---
In conclusion, I recommend this video editor, although it is clear that being a phone editor you will not find professional results, but if you're going to have a good quality editing, plus if you know a little video editing, if it is a very good video editor, and I know there are many more editors on the market but I found this and I felt quite comfortable and satisfied with what it offered.
---
!So much for today's post, I hope you liked it, thanks for staying until the end, until next time!
---
---
Versión en español
Hola amigos de Hive, y en especial a la comunidad de Geek Zone, espero que se encuentren bien, en esta ocasión he venido a hablarles de una aplicacion para teléfono bastante útil, se trata de un editor de videos bastante bueno con una buena variedad de opciones y con una interfaz fácil de usar.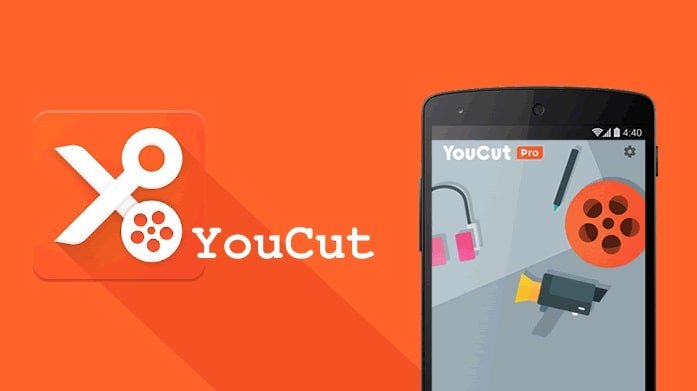 Fuente
Este es un editor de videos que por lo que veo funciona bastante bien en teléfonos de gama baja, es muy faci de usar, es un editor bastante completo, además, lo puedes encontrar gratis en la Play Store, llevo ya un tiempo usándolo y me ha parecido increíble.
---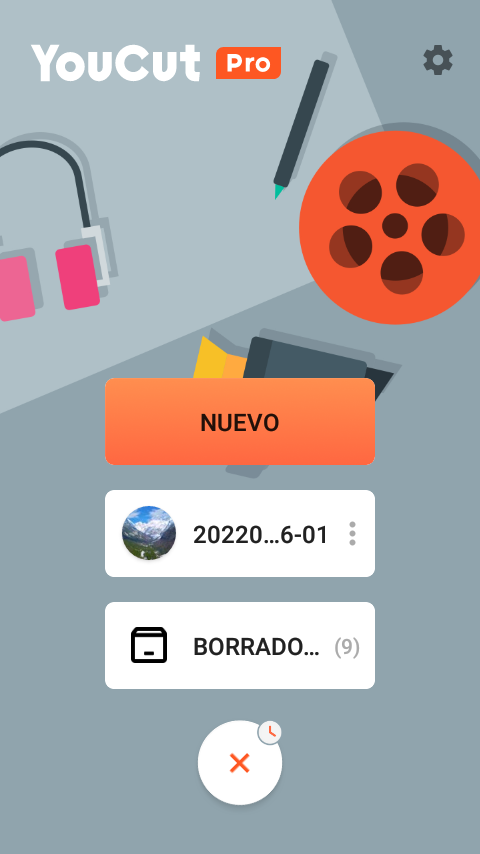 Primero que nada, cuenta con una interfaz cómoda, contiene un diseño sencillo pero encuentras a simple vista todo lo que necesites, cuando entramos tendremos la opción para iniciar un nuevo proyecto y ahí mismo encontramos todos los borradores que tengamos guardados.
---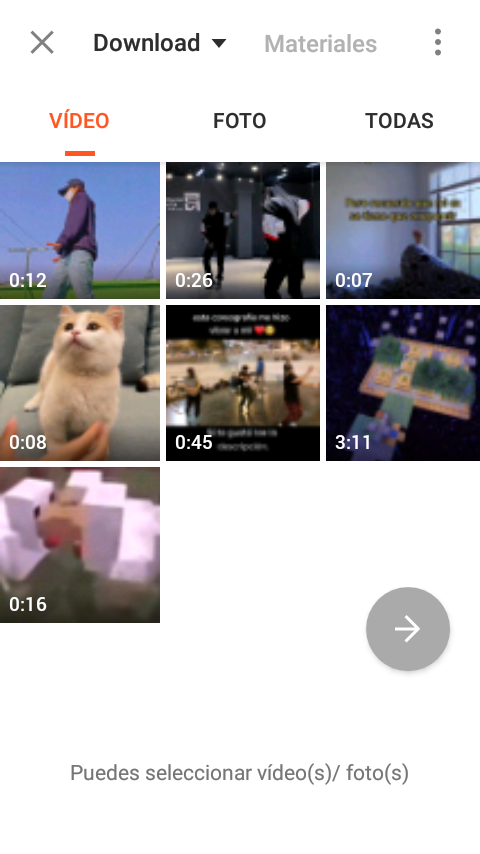 Aquí ya podemos empezar a seleccionar los videos e imágenes que tengamos para empezar a editar, podemos seleccionar cuantos videos y fotos como queramos, si antes de seleccionar el video que queremos editar lo dejamos presionado, el editor nos dará una vista previa del video, se reproducirá durante el tiempo que mantengamos presionado y así podemos saber si es ese es el video que queremos sin tener que estar revisando desde la galería.
---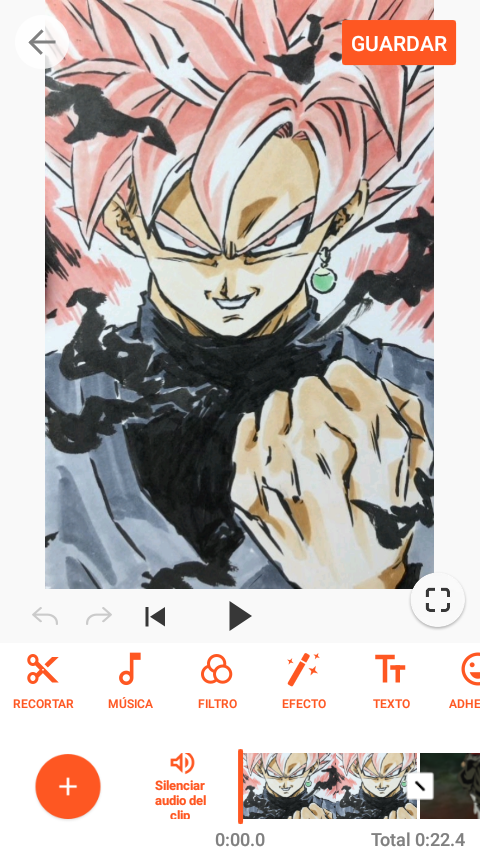 Una vez que ya hayamos elegido los videos he imágenes que queremos editar daremos en siguiente y se nos abrirá este menú, aqui se encuentra todo lo que necesitaremos para empezar a editar, contaremos con una barra que contiene todas las herramientas para editar, como el recortador de video, podremos añadir música o audios, ponerle transiciones, añadir texto y muchas cosas mas.
---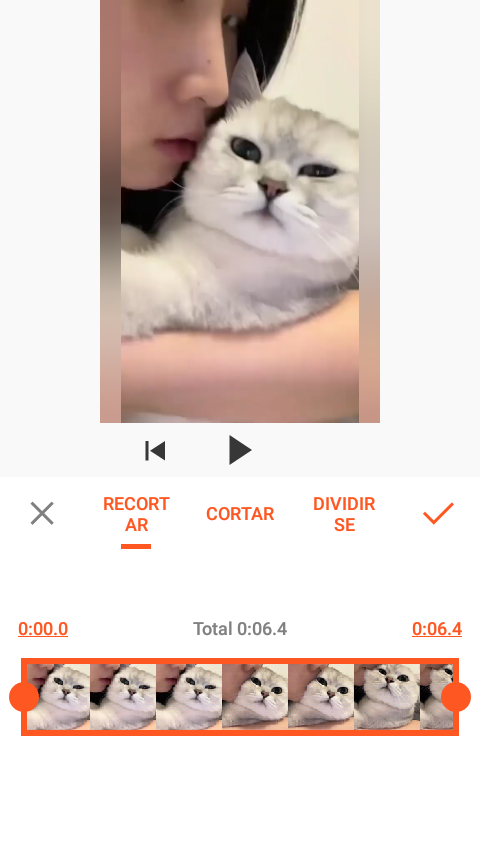 El editor cuenta con una manera bastante buena de recortar los video, una manera muy precisa, al momento en que quieras recortar el video lo puedes hacer directamente con tu dedo, pero si quieres hacerlo de una manera mas precisa puedes seleccionar las marcas de tiempo que están en color y ahí eliges desde los segundos hasta los milisegundo que quieres que este esa parte del video, sinceramente me pareció algo bastante agradable ya que muchas veces no se pueden hacer cortes muy precisos con el dedo, pero esto esta genial, también puedes cortar y dividir el video en partes.
---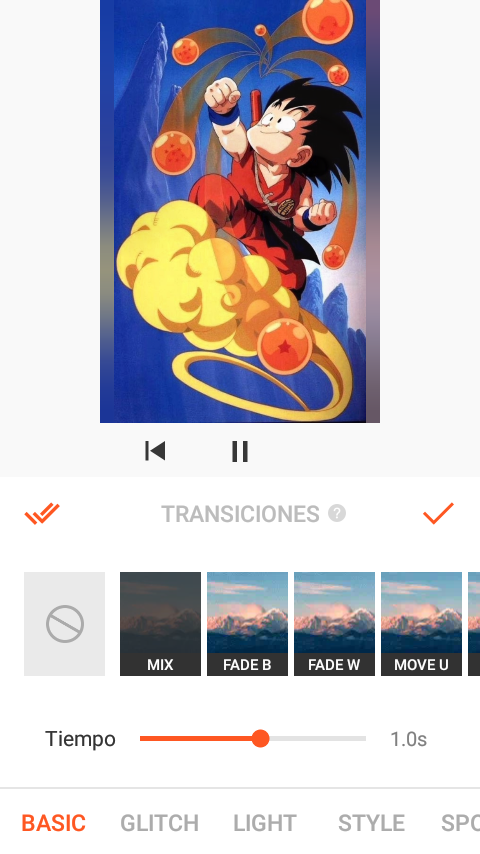 Cuenta con una buena variedad de transiciones, trae transiciones de desvanecimiento, de giros, las que vienen de arriba hacia abajo y viceversa y muchas mas, puedes elegir por cuanto tiempo quieres que aparezca o se mantenga la transición.
---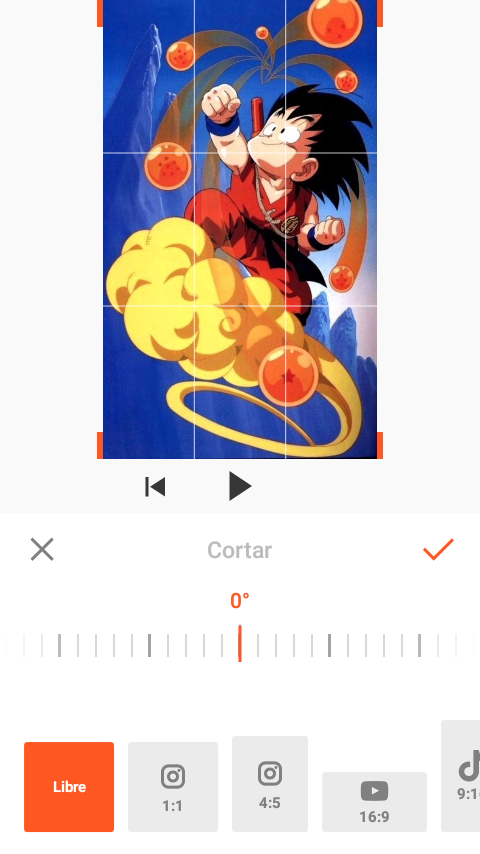 Puedes recortar las dimensiones de tu video o foto a como tu elijas y puedes cambiar el ángulo en el que se ve, ya sea para llevar para un lado o enderezar tu video, y te da formatos predeterminados como los de Instagram, YouTube, Tik Tok, etc.
---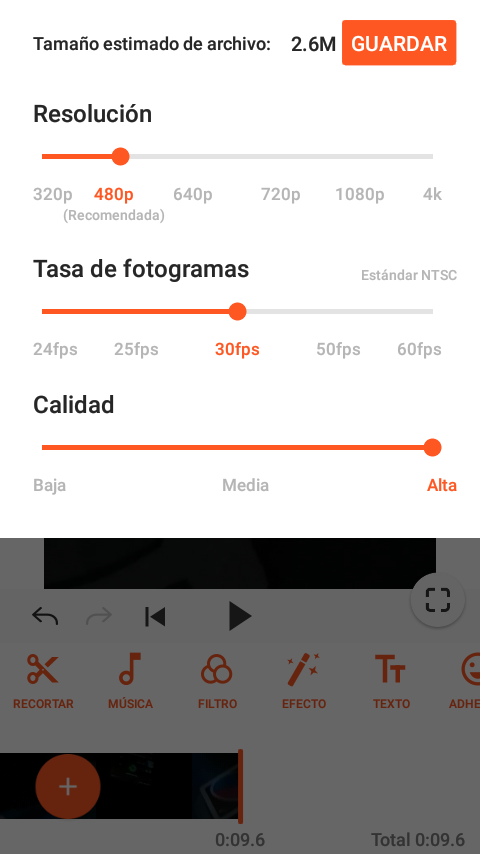 Puedes exportar tu video con diferentes grados de resolución, la que suelo utilizar es 720p para que no sean tan pesados los videos que suelo editar, la mayor resolución es 4k pero mi teléfono es de gama baja y el editor no me permite exportar en esa resolución, pero si me deja hacerlo a 1080p y se ve bastante bien.
La tasa de fotogramas te deja en varias opciones, yo siento que a 50 o 30 fps van bien los videos, pero si quieres puedes subirlo hasta los 60 fps, aunque claro esto hará que el video se vuelva un poco mas pesado.
Y en calidad siempre lo suelo dejar en alta ya que no se muy bien que tanto afecte, adema no hace una gran diferencia en el espacio que ocupa.
---
Me gusto lo rápido que guarda los videos, al menos a mi me parece rápido, este es un video de unos 3 minutos con unas cuantas transiciones y varias imágenes y en dos minutos ya estaba listo, mi teléfono no es muy potente y ese tiempo me parece muy rápido para lo que era ese video, tal vez en un teléfono de gama media el trabajo sea el doble de rápido, está buena esa rapidez con la que exporta los videos.
---
Algo un poco malo del editor es que te limita varias opciones si no usas la versión pro, yo la tengo ya que muchas veces era fastidioso no tener todos los elementos disponibles.
Algo también un poco molesto que a la hora de recortar la música es muy impreciso, la barrita de recorte se vuelve un poquito loca y tienes que maniobrar un poco para que quede bien.
Bueno algo también malo, aunque creo que esto ya es por mi teléfono, es que al agregar varias transiciones y que el video sea muy pesado se ralentiza demasiado la exportación tardando hasta media hora.
---
En conclusión, recomiendo este editor de video, aunque esta claro que al ser un editor para teléfono no vas a encontrar resultado profesionales, pero si vas a tener una buena edición de calidad, además si sabes un poco de edición de videos, en si es un muy buen editor de video, y se que existen muchísimos mas editores en el mercado pero encontré este y me sentí bastante cómodo y satisfecho con lo que ofrecía.
---
!Hasta aquí el post de hoy, espero que les haya gustado, gracias por quedarte hasta el final, hasta la próxima!