Hello hive friends, I hope you are well, today I bring you an Unboxing of my smart watch.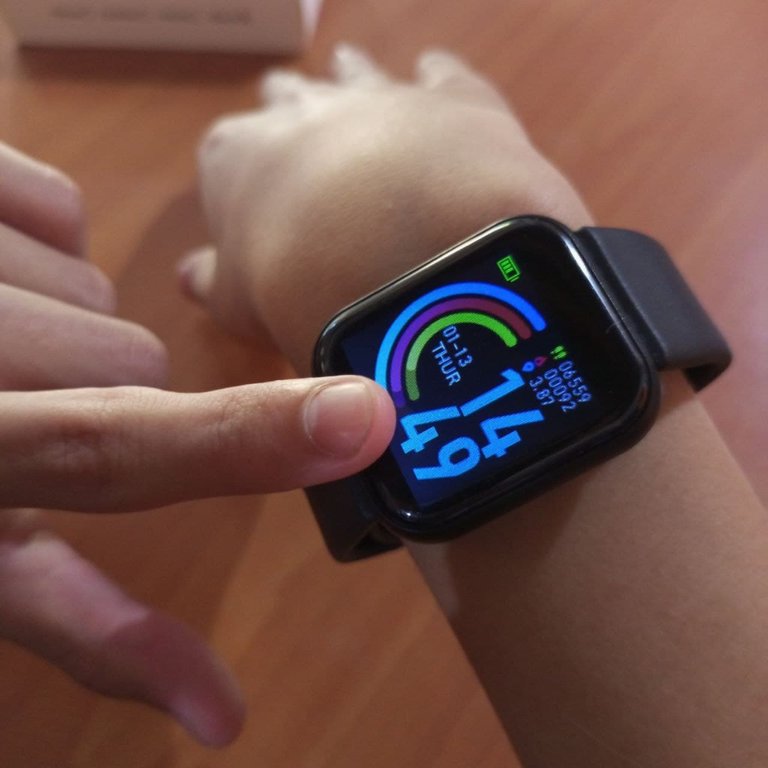 This watch is a smartwach model d20l, I managed to acquire this watch after an outing to the mall, for quite a while now I was determined to buy it, I really like the design of the watch, it is comfortable and looks pretty good, it has a touch button at the bottom that allows us to switch between tasks.
| | |
| --- | --- |
| | |
Features:
Interface: USB 3.0.
Battery capacity: 150 mlA.
Device memory: 128Mb.
Operation mode: touch.
Display size: 1.3 inch.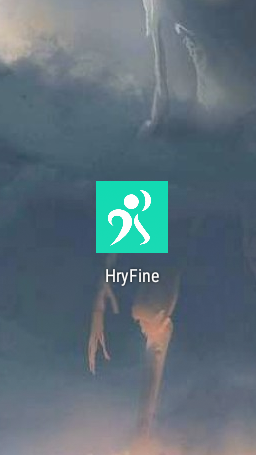 Image taken as screenshot from my phone.
To configure the clock you have to download an application, in this case it is HryFine, when we enter this we find a comfortable interface, at least for me.
We will have to pair the watch with the phone via bluetooth to configure the watch, from it we can see things such as heart rate, blood oxygen, calories burned, blood pressure, kilometers traveled, how many steps we have taken and more.
---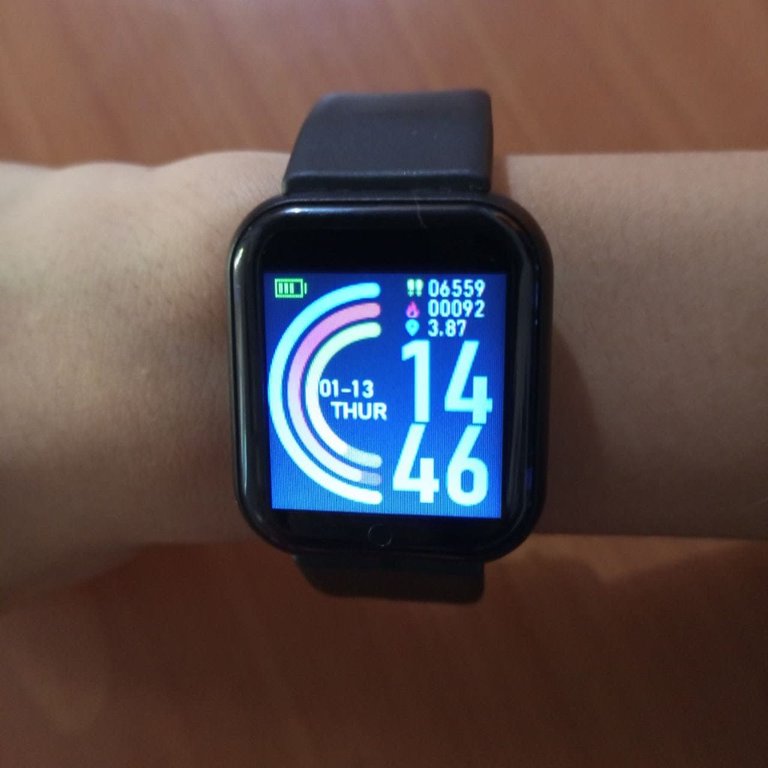 After pairing the watch with our phone the time will automatically synchronize with the phone's time. From the watch we will be able to see the last 3 messages that have arrived to us, and it will alert us when we are being called, but we will not be able to answer them from the watch.
---
Images taken as screenshots from my phone.
In the application we will be able to register our activity for the week, the month, or even the whole year, it will show us some graphs that represent our progress.
---
Images taken as screenshots from my phone.
We can change the interface of the application by a light or dark theme, we will have more options in the settings part of hand ring, such as giving access to notifications, change the language of the clock, we will have a power saving mode, and other things that honestly I still do not know what they are for, we will also be able to vibrate the watch in case we can't find it, although, it is a little soft vibration, and we can activate an alarm from the watch to look for the phone (as long as it is linked to the phone), and the truth is a loud sound, it is a very good way to find our phone in case we lose it.
Within the application we will have an option that will give us the opportunity to change the main wallpaper of the watch with any photo that we have saved on our phone, and from the watch just by pressing and holding we can change the theme of the main screen, the local sphere.
The watch can be charged with the phone charger, and it charges in just over 2 hours and can last up to 4 days.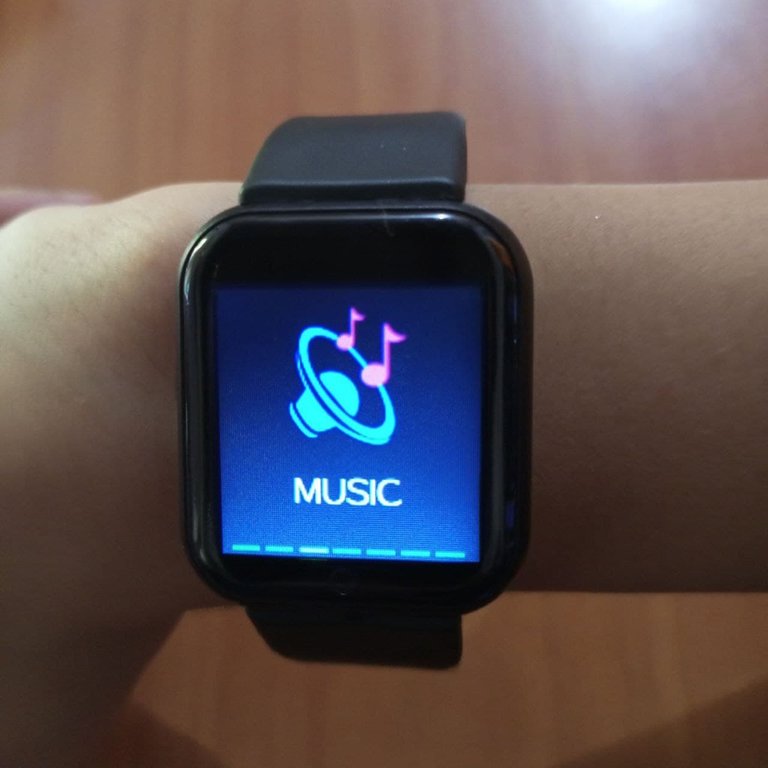 If we are listening to music from the phone we can start or pause it, change it to the next one or return it, all from the watch.
---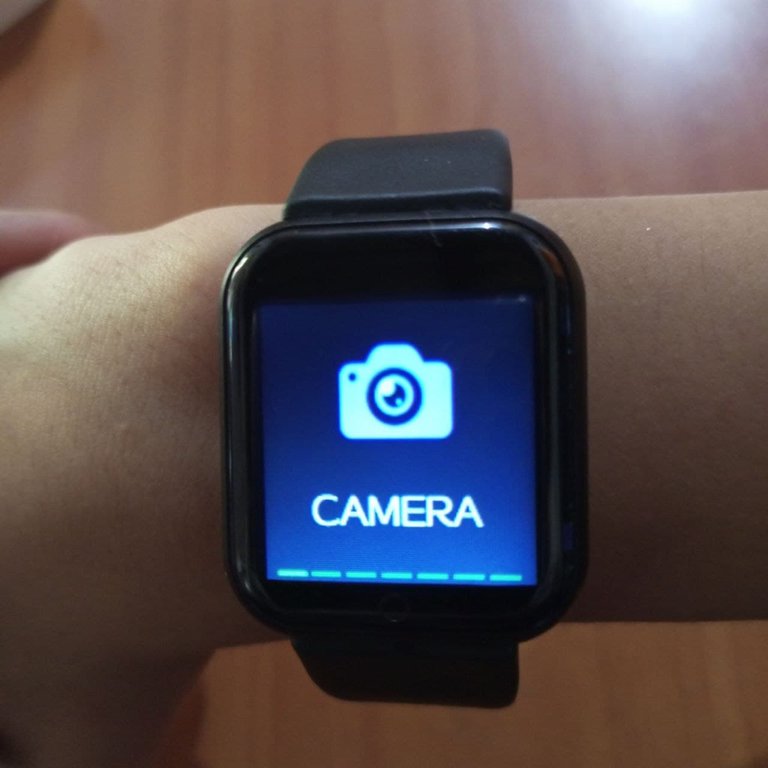 We can control the phone camera from the watch, this will take us to the application and from there we can control taking pictures with the watch.
---
The strap of the watch is made of silicone, and the watch itself is made of plastic, the material feels strong, in a few occasions I have dropped it and nothing happened, it looks like it can withstand a few bumps before being damaged, also, it has a good price, it was only 12 dollars, for everything you can do with it, it's pretty good in my opinion.
I chose it in black color, I liked it a lot because it is not so flashy, but it can be combined with almost everything, there were several colors, but I preferred this one, it is more my style, I don't like to use so colorful things.
I have felt very comfortable with it, it has not given me problems, it fulfills its function and that is the important thing, anyway, I am not to do exercise routines or go for a walk, I almost do not leave the house, I use it mostly on outings or go to school.
Thanks for reading my post :), see you next time, bye.
---
---
Hola amigos de hive, espero que se encuentren bien, hoy les traigo un Unboxing de mi reloj inteligente.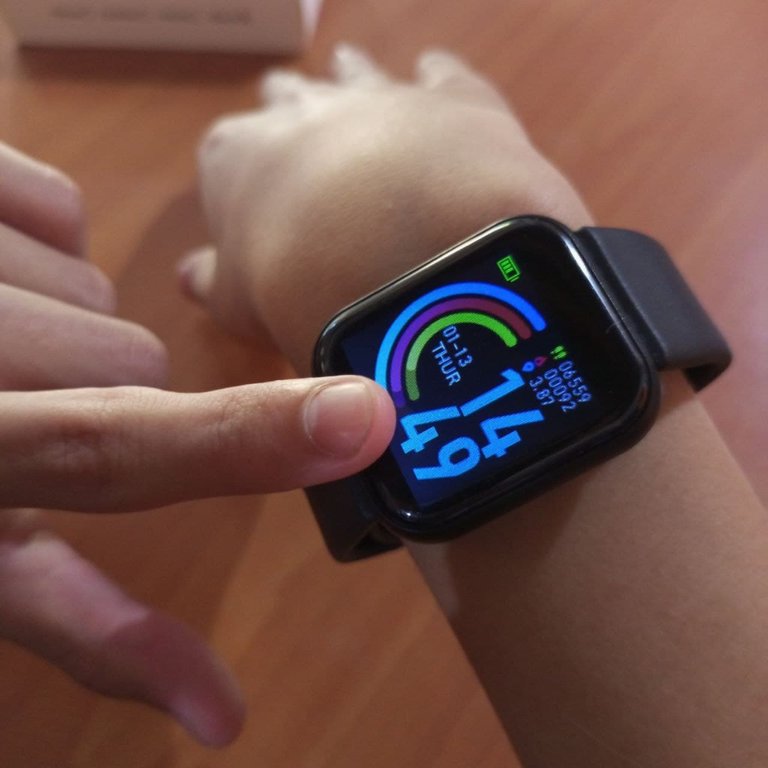 Este reloj es un smartwach modelo d20l, logré adquirir este reloj tras una salida al centro comercial, desde hace ya un buen tiempo estaba decidido a comprarlo, me gusta mucho el diseño del reloj, es cómodo y se ve bastante bien, tiene un botón táctil en la parte de abajo que nos permite cambiar entre tareas.
Características:
• Interfaz: USB 3.0.
• Capacidad de la batería: 150 mlA.
• Memoria del equipo: 128Mb.
• Modo de operación: toque.
• Tamaño de pantalla: 1.3 pulgadas.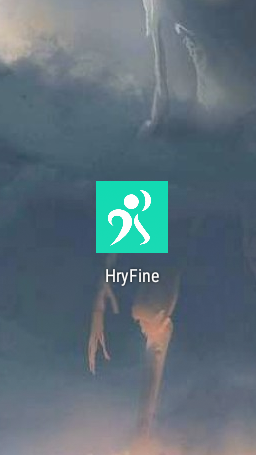 Imagen tomada como screenshot desde mi teléfono.
Para configurar el reloj hay que descargar una aplicación, en este caso es HryFine, cuando entramos en esta nos encontramos con una interfaz cómoda, al menos para mí.
Tendremos que vincular el reloj con el teléfono a través de bluetooth para configurar el reloj, desde él podemos ver cosas tales como el ritmo cardiaco, el oxígeno en la sangre, las calorías quemadas, la presión arterial, los kilómetros recorridos, cuantos pasos hemos dado y otras cosas más.
---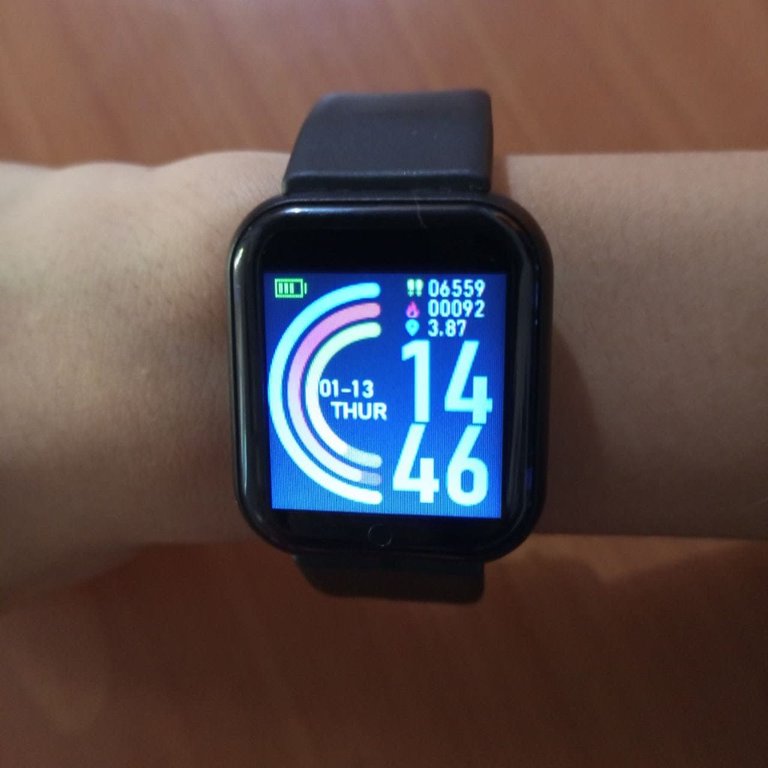 Después de vincular el reloj con nuestro teléfono la hora se sincronizará automáticamente con la hora del teléfono. Desde el reloj podremos ver los últimos 3 mensajes que nos hayan llegado, y nos avisará cuando nos estén llamando, pero estas no podremos responderlas desde el reloj.
---
Imágenes tomadas como screenshots desde mi teléfono.
En la aplicación podremos registrar nuestra actividad de la semana, el mes, o hasta de todo el año, nos mostrará unas gráficas que representan nuestro progreso.
---
Imágenes tomadas como screenshots desde mi teléfono.
Podemos cambiar la interfaz de la aplicación por un tema claro o uno oscuro, tendremos más opciones en la parte de configuración de anillo de mano, como dar acceso a las notificaciones, cambiar el idioma del reloj, tendremos un modo de ahorro de energía, y otras cosas que sinceramente todavía no sé para qué son, también podremos hacer vibrar el reloj en caso de no encontrarlo, aunque, es una vibración un poco suave, y podemos activar una alarma desde el reloj para buscar el teléfono (siempre y cuando esté vinculado con el teléfono), y la verdad es un sonido fuerte, es una muy buena forma de encontrar nuestro teléfono en caso de perderlo.
Dentro de la aplicación tendremos una opción que nos dará la oportunidad de cambiar el fondo de pantalla principal del reloj con cualquier foto que tengamos guardada en nuestro teléfono, y desde el reloj con solo mantener presionado podremos cambiar el tema de la pantalla principal, la esfera local.
El reloj lo podemos cargar con el cargador del teléfono, y se cargar en poco más de 2 horas y puede llegar a durar hasta 4 días.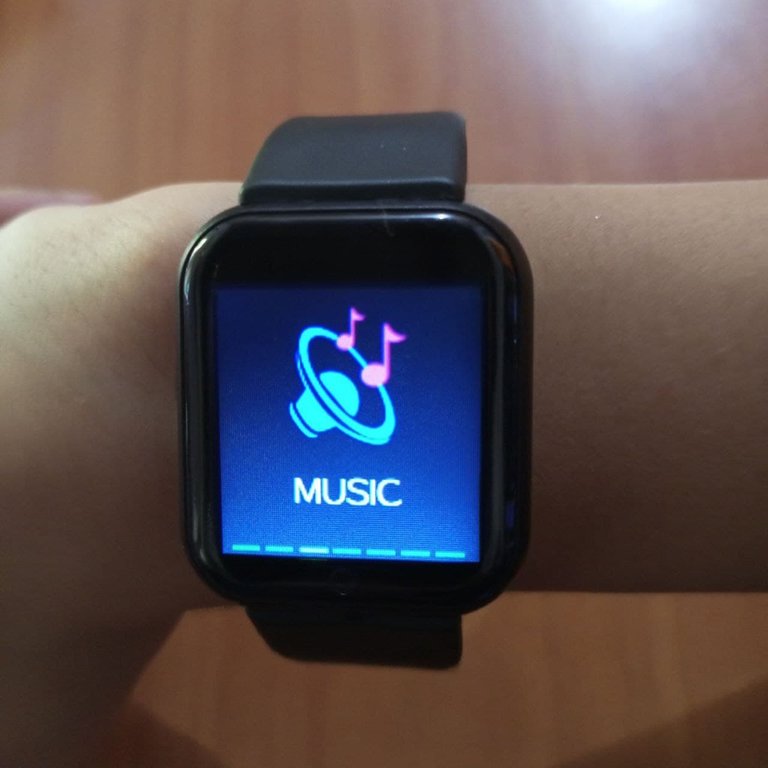 Si estamos escuchando música del teléfono podremos iniciarla o pausarla, cambiarla a la siguiente o devolverla, todo desde el reloj.
---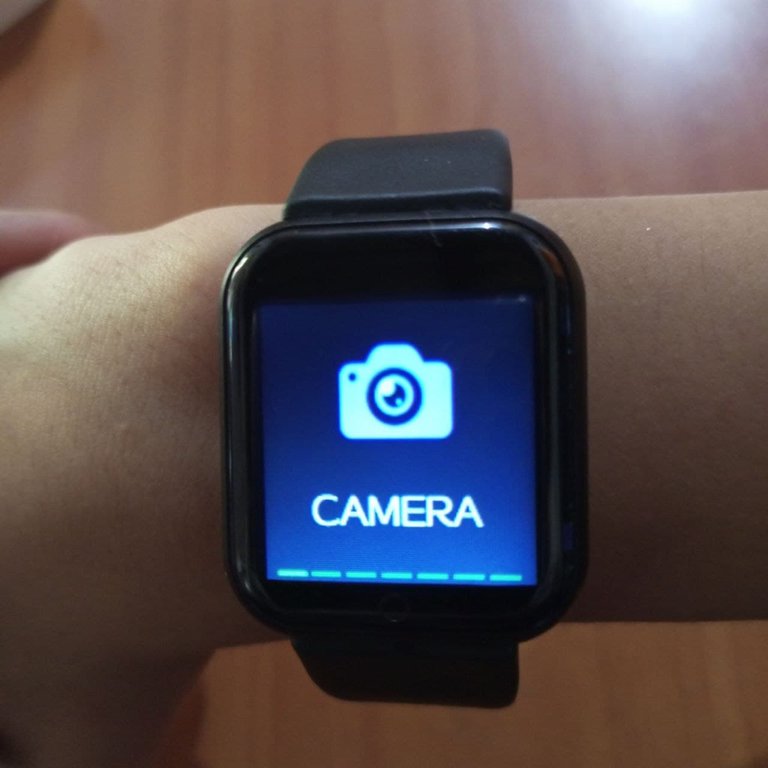 Podemos controlar la cámara del teléfono desde el reloj, esto nos llevara a la aplicación y desde ahí podremos controlar la toma de fotos con el reloj.
---
La pulsera del reloj es de silicona, y el reloj en sí es de plástico, el material se siente fuerte, en unas ocasiones se me ha llegado a caer y no le ha pasado nada, se nota que puede llegar a resistir unos cuantos golpes antes de llegar a dañarse, además, tiene un buen precio, fueron solo 12 dólares, para todas las cosas que puedes hacer con él, está bastante bien a mi parecer.
Lo elegí en color negro, a mí me gustó mucho así porque no es tan llamativo, pero puede combinar con casi cualquier cosa, habían de varios colores, pero preferí este, es más de mi estilo, no me gusta usar cosas tan coloridas.
Me he sentido muy cómodo con él, no me ha dado problemas, cumple con su función y eso es lo importante, de todas formas, no soy de hacer rutinas de ejercicio o salir a caminar, casi no salgo de casa, lo uso más que todo en salidas o ir a la escuela.
Gracias por leer mi post :), hasta la próxima, adiós.