English version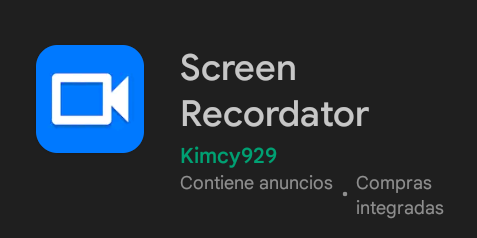 Hello friends of Hive, welcome to a new post, I hope you are well, and happy start of the week, in this new opportunity I come to bring you a review of an application to record the screen of our phones.
What has made me want to share this application and talk about it, is that, unlike other applications, it offers much more variety of options for adjusting the recording, to make everything more comfortable and thus achieve excellent quality recording.
This can be very useful for personnel who are mainly in charge of making audio-visual content, such as recording game games, for example, it has an exceptional quality that makes me give you the opportunity to show why it would be a good choice to have the best possible results making recordings from our mobile devices, without more to say, I will now tell you about the application.
This application is called Screen recordator, this application we can find it for free in the Play Store. Its weight is very light, it is only 55Mb.
---
The interface
To begin with, the interface of the app is simple, it offers you a light theme and a dark theme, I usually use the dark themes of the apps because I feel that they do not hurt my eyesight. Everything is organized by categories, such as control settings, audio, video, advanced, etc.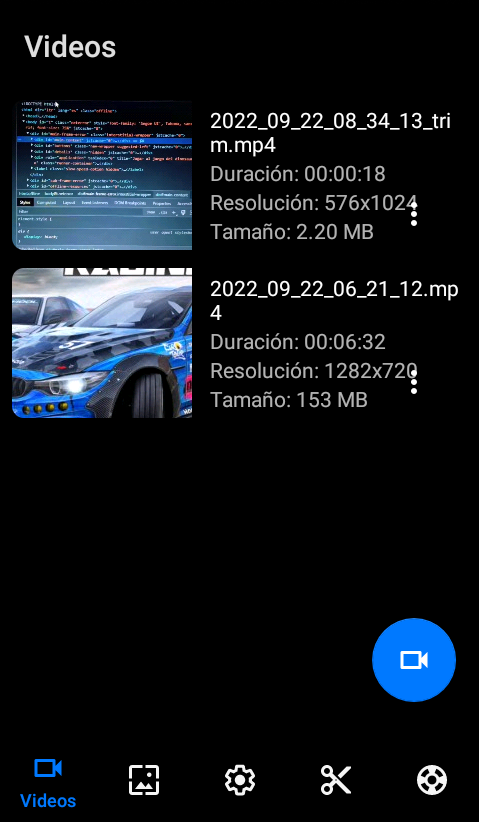 You find several sections such as the editing section, where you can make a simple editing inside the app, you can only trim your video, although this can be useful, it helps you to save some time.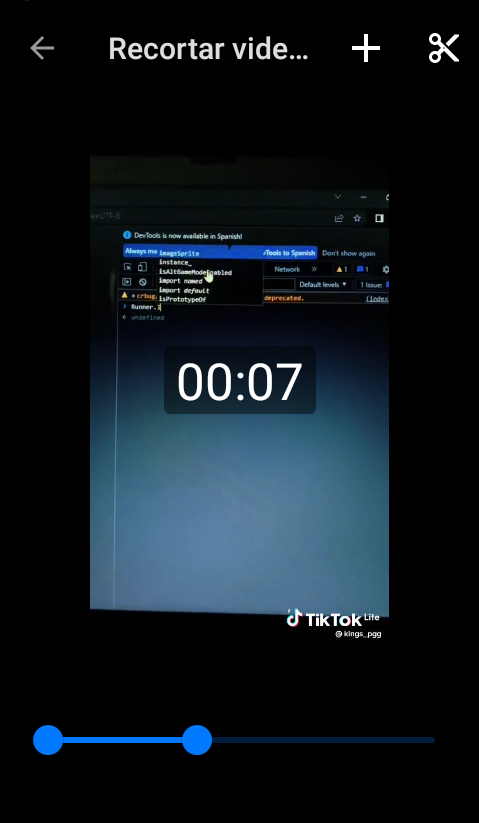 On the other hand, you can find all the recordings you have made and the screenshots you have taken during a recording next to the previous section.
---
Recording options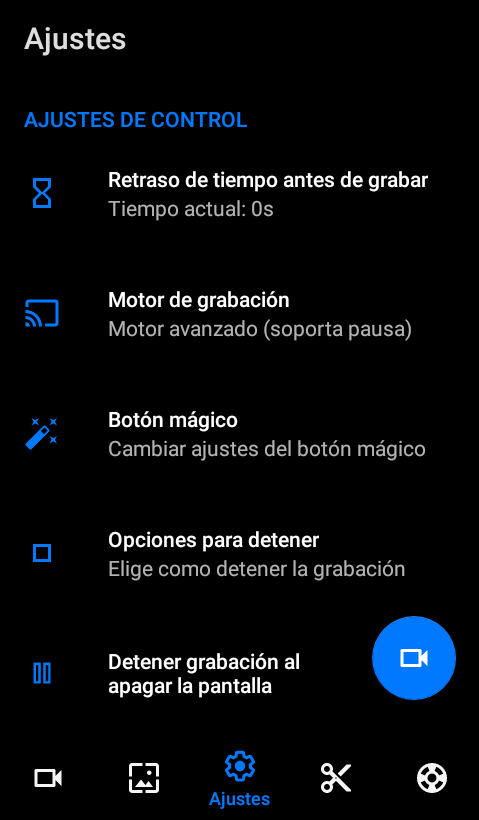 The Control Settings will give us a simple utility that will not be so important for the whole recording, it is only to adjust the time before recording, we will have 2 recording engines, one that will give us the opportunity to pause the pause and continue it later, and another one that will give us a higher rate of frames per second, and other things like a magic button to control the recording.
---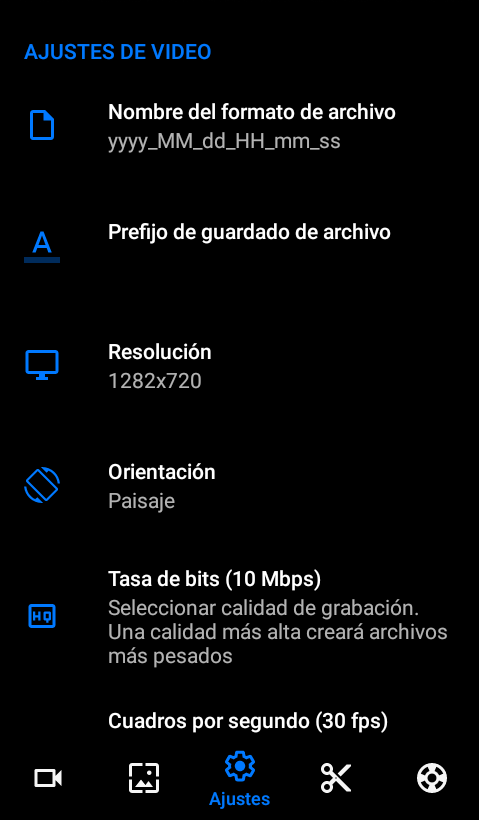 The video settings, here we can find a variety of default resolutions that the application gives us, and with the option to use a custom one, we can also choose one that automatically adjusts to the resolution of your screen, this helped me, as there were times when I chose qualities a little low or also that I spent with the resolutions and the aggravation was very heavy, the application adjusted this to my phone and everything went very well.
We can also adjust the bit rate, the higher the number of bits the more quality the video has, but it also becomes heavier, the amount of bits will determine the amount of tones and the quality that the image will contain, it works for me to set it to 10 bits as this gives a decent quality to the video and does not make it so heavy.
It will be available to adjust the frames per second, we can adjust from 25 to 120 fps, it is a very good point that has support for such fluid numbers, although if you do not have much power on your device you can not have the best experience with this option delos higher numbers of fps, I work very well to put it at 30 fps, and sometimes 48, this is enough to achieve a smooth project without stressing both the performance of the phone.
---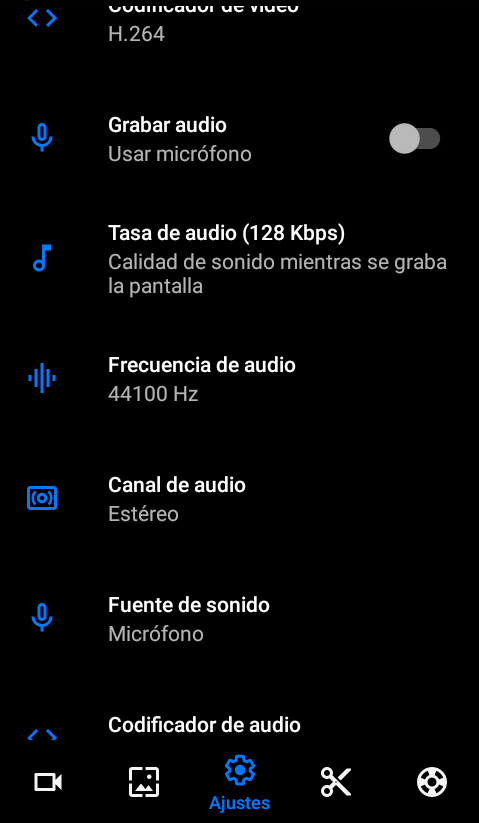 It has internal and external audio recorder, in which we can use a microphone, it has audio quality adjustment, up to 320 kbps for higher audio quality, and other things like audio encoder, frequency, audio channels, we can adjust the audio as mono and stereo.
---
There is an option where we can choose if we want to create a new file after passing the recording size limit (which is about 4gb) this is quite good if we don't want to save such big files.
---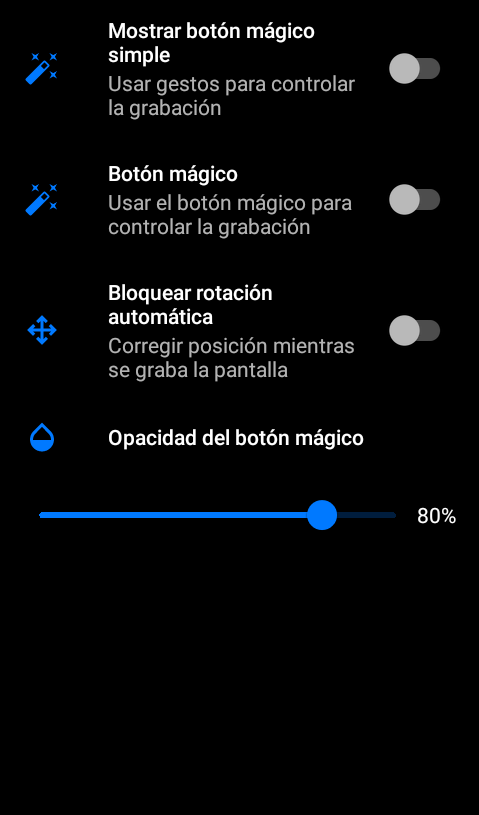 In overlay settings we can activate floating tools, or show the camera while recording.
While recording we can take screenshots.
---
And we have more options of the interface of the application
---
From what I have seen and experienced when using this application has very good results, the recordings are fluid, with a very good quality, it is also a matter of configuring the application to suit what you want to achieve and what our team allows us, my phone is a basic team, even so I try to get the most out of it, I sometimes enjoy recording my games of the different games I usually play, I with a good configuration and taking a little more resources I have achieved very good quality projects.
---
In conclusion, I recommend this application, screen recorder, it offers us a lot, it is a great application, within many competitors with the different recorders that exist on the internet, in addition, replacing the screen recorder that brings the phone, which, from my own experience, is very bad, hahaha, at least mine, I can honestly say that it is very good, I hope you liked it, I would like to know what you thought.
---
Thanks for reading, see you next time!
All images shown here were taken by me on my Blu C5 2019 phone.
---
---
---
Versión en español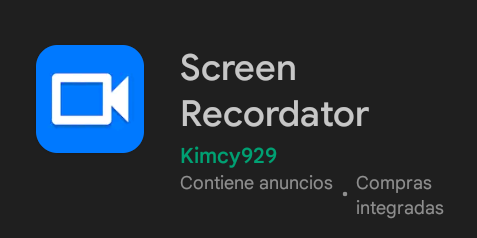 Hola amigos de Hive, bienvenidos a un nuevo post, espero que se encuentren bien, y feliz inicio de semana, en esta nueva oportunidad vengo a traerles una reseña de una aplicación para grabar la pantalla de nuestros teléfonos.
Lo que me ha dado las ganas compartir esta aplicación y hablar sobre ella, es que, a diferencia de otras aplicaciones, ofrece mucha más variedad de opciones para el ajuste de la grabación, para hacer todo más cómodo y así lograr una grabación de excelente calidad.
Esto puede ser muy útil para personal que se encargan principalmente de hacer contenido audio-visual, como el grabar partidas de juegos, por ejemplo, tiene una calidad excepcional que hace que le dé la oportunidad para mostrar por qué sería una buena opción para tener los mejores resultados posibles haciendo grabaciones desde nuestros dispositivos móviles, sin más que decir, paso a hablarles de la aplicación.
Esta aplicación se llama Screen recordator, esta aplicación la podemos encontrar de manera gratis en la Play Store. Su peso es muy liviano, son solo 55Mb.
---
La interfaz
Para empezar, la interfaz de la aplicación es sencilla, te ofrece un tema claro y un tema oscuro, yo por lo general uso los temas oscuros de las aplicaciones porque siento que no me lastiman la vista. Todo está organizado por categorías, como los ajustes de controlo, audio, video, avanzados, etc.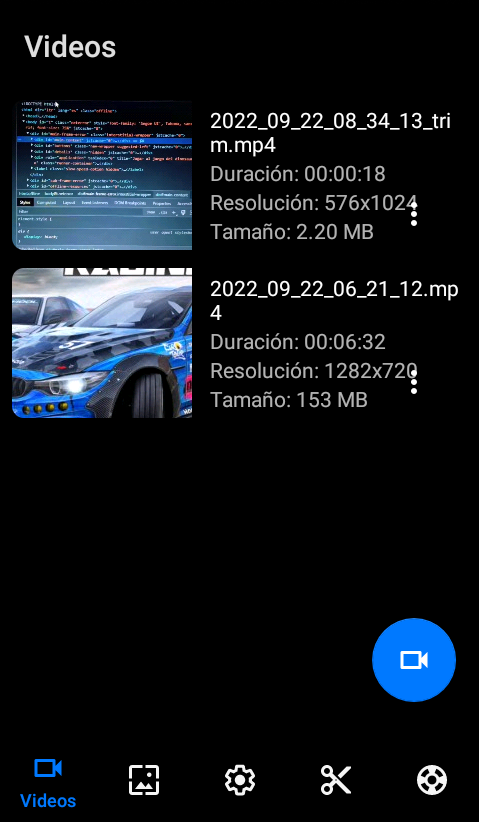 Encuentras varios apartados como la sección de edición, donde podrás hacer una edición sencilla dentro de la app, solo podrás recortar tu video, aunque esto puede ser útil, te ayudad a ahorrar un poco de tiempo.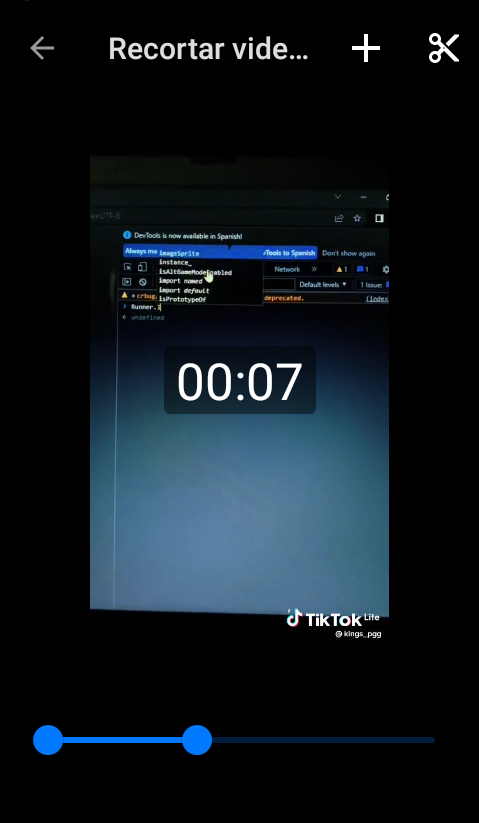 Por otro lado, podrás encontrar todas las grabaciones que hayas hecho y las capturas de pantalla que hayas hecho durante una grabación al lado de la sección anterior.
---
Opciones de grabación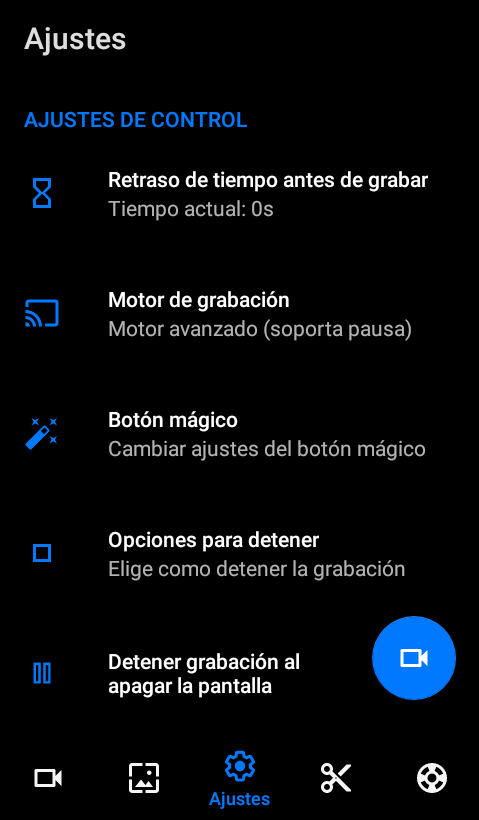 Los ajustes de control nos darán una utilidad sencilla que no será tan importante para toda la grabación, solo es ajustar el tiempo antes de grabar, tendremos 2 motores de grabación, uno que nos dará la oportunidad de pausar la pausa y seguirla después, y otro que nos otorgará una mayor tasa de cuadros por segundo, y otras cosas como un botón mágico para controlar la grabación.
---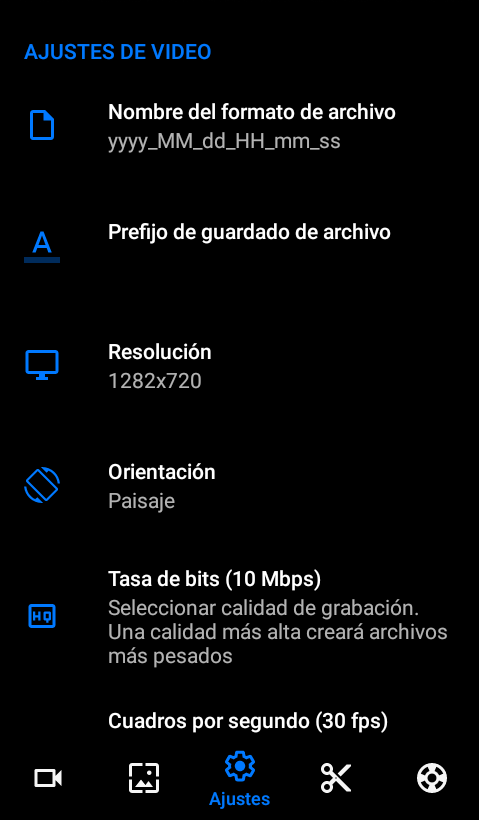 Los ajustes de video, aquí podremos encontrar una variedad de resoluciones predeterminadas que nos da la aplicación, y con la opción de usar una personalizada, también podemos elegir una que se ajusta automáticamente a la resolución de tu pantalla, esto me ayudo, ya que había veces en las que elegía calidades un poco bajas o también que me pasaba con las resoluciones y la agravación era muy pesada, la aplicación ajusto esto a mi teléfono y fue muy bien todo.
También podemos ajustar la tasa de bits, cuanto mayor sea el número de bits más calidad tiene el video, pero también se vuelve más pesado, la cantidad de bits determinara la cantidad de tonos y la calidad que contendrá la imagen, a mí me sirve ponerlo en 10 bits ya que esto da una calidad decente al video y no lo hace tan pesado.
Estará disponible ajustar los cuadros por segundo, los podremos ajustar desde los 25 hasta los 120 fps, es un punto muy bueno que tenga soporte para números tan fluidos, aunque si no tienes mucha potencia en tu dispositivo no podrás tener la mejor experiencia con esta opción delos números más altos de fps, a mí me funcionan muy bien ponerlo a 30 fps, y a veces 48, esto es suficiente para lograr un proyecto fluido y sin estresar tanto al rendimiento del teléfono.
---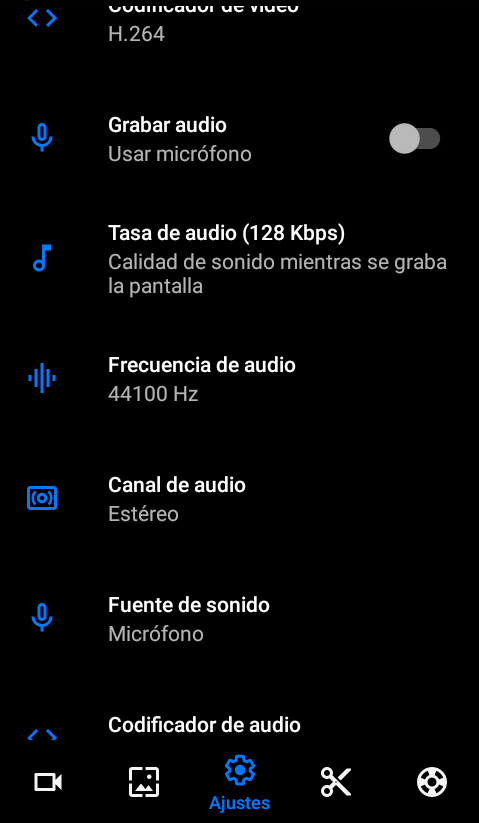 Cuenta con grabador de audio interno y externo, en el cual podemos usar un micrófono, tiene ajuste de la calidad de audio, hasta 320 kbps para una mayor calidad de audio, y otras cosas como el codificador de audio, la frecuencia, los canales de audio, podemos ajustar el audio como mono y estéreo.
---
Hay una opción donde podemos elegir si queremos crear un nuevo archivo luego de pasar el límite del tamaño de la grabación (que es cerca de los 4gb) esto es bastante bueno si no queremos guardar archivos tan grandes.
---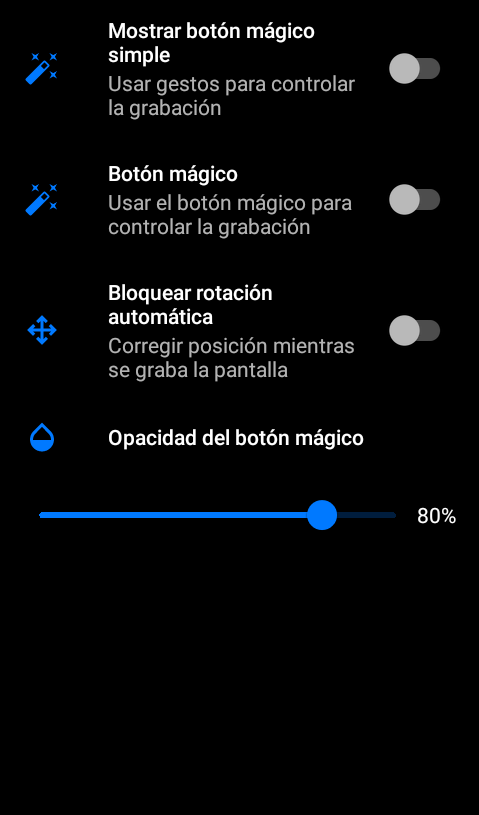 En ajustes de superposición podemos activar herramientas flotantes, o mostrar la cámara mientras grabamos.
Mientras realicemos una grabación podemos hacer capturas de pantalla.
---
Y tenemos más opciones de la interfaz de la aplicación
---
Por lo que he visto y experimentado al usar esta aplicación tiene resultados muy buenos, las grabaciones son fluidas, con una calidad muy buena, también es cuestión de configurar la aplicación para adaptarla a lo que uno quiera lograr y a lo que nuestro equipo nos lo permita, mi teléfono es un equipo básico, aun así trato de sacarle el mayor provecho posible, suelo disfrutar a veces de grabar mis partidas de los diferentes juegos que suelo jugar, yo con una buena configuración y sacándole un poco más de recursos he logrado proyectos de muy buena calidad.
---
En conclusión, recomiendo esta aplicación, grabador de pantalla, nos ofrece mucho, es una gran aplicación, dentro de muchos competidores con los diferentes grabadores que existen en internet, además, sustituyendo al grabador de pantalla que trae el teléfono, que, por experiencia propia, es muy malo, jajaja, al menos el mío, sinceramente puedo decir que es muy buena, espero que les haya gustado, me gustaría saber que te pareció.
---
¡Gracias por leer, hasta la próxima!
Todas las imágenes aquí mostradas fueron tomadas por mi en mi teléfono Blu C5 2019.