English version.
Hello friends of Hive, and especially to the beautiful community of Geek Zone, happy start of the week, I hope you are well.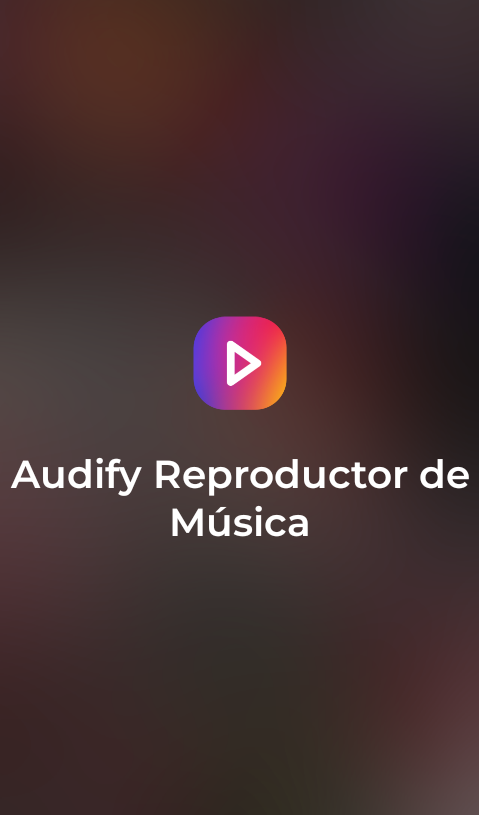 This time I want to talk about a pretty cool app, it is about Audify, a music player that has a variety of pretty good options, plus it's free in the Play Store.
This is a good alternative for music player, it has some good features and things that you do not find in many music players.
---
First of all the app is nice, has a simple but quite nice design, comes with several themes of the application, but if you do not like you can choose an image from our gallery to set it as background in the application.
At first glance everything is easily visualized, in the bottom bar of the application we find the sections of the songs, artists, albums, etc..
At the top right the song search engine, the automatic changer of default theme, the three dots where we will have several options such as select, equalizer, and at the top left where we can create an offline profile and more options and settings of the application such as changing the language.
---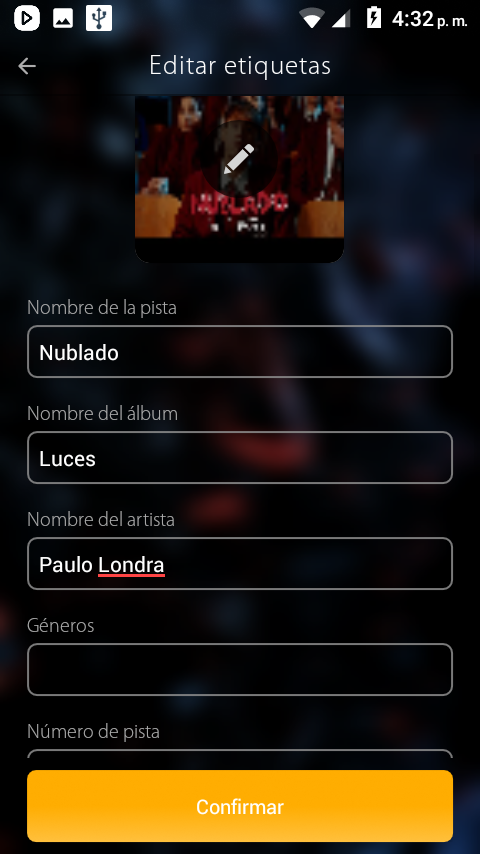 This player gives you the option to change the tags of your songs, this means that you can edit the artist, the album, the name of the song and even the musical genre to which it belongs.
I really like this because sometimes it is a bit annoying to see the song titles in a messy way, now I just edit them and that's it, so you can find all your music more easily.
---
It has lyrics of the songs offline within the app, you only have to download once and then you can see it whenever you want without using wifi, the application searches the lyrics of the song automatically by the name of the song and if it does not appear you can search manually or copy and paste it from the internet, and if the song is misspelled you can also edit it yourself.
The lyrics are not synchronized with the music but the fact that you can have them right there is good enough.
---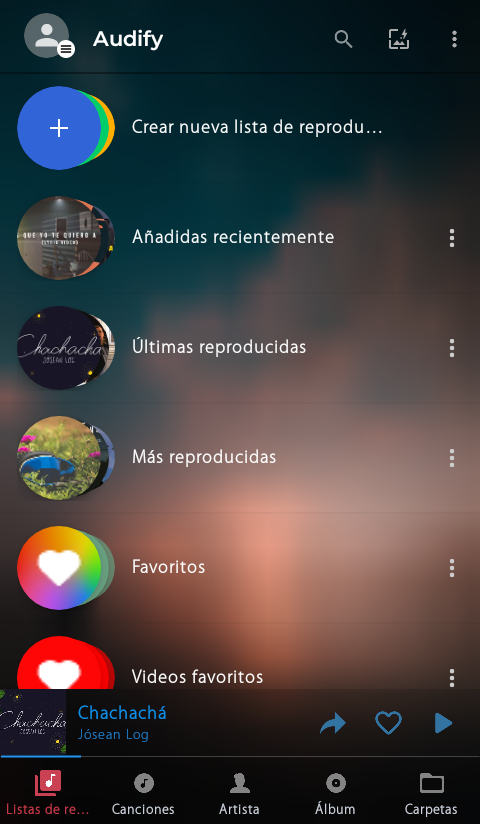 You can create playlists to your liking, in addition to change the photo for the one you want.
---
I have been surprised with this, within the same player you can search songs online on YouTube as an internal browser, although in addition to just search for music we can watch videos as if we normally use YouTube, but I think it's pretty good that it is within the application.
In conclusion, I recommend this application, especially if you are one of those people who always like to have things organized, and in order like me, and brings various functions that you might like or find useful.
This is the end of today's post, thanks for staying until the end, see you next time!
---
---
Versión en español
Hola amigos de Hive, y en especial a la hermosa comunidad de Geek Zone, feliz inicio de semana, espero que se encuentren bien.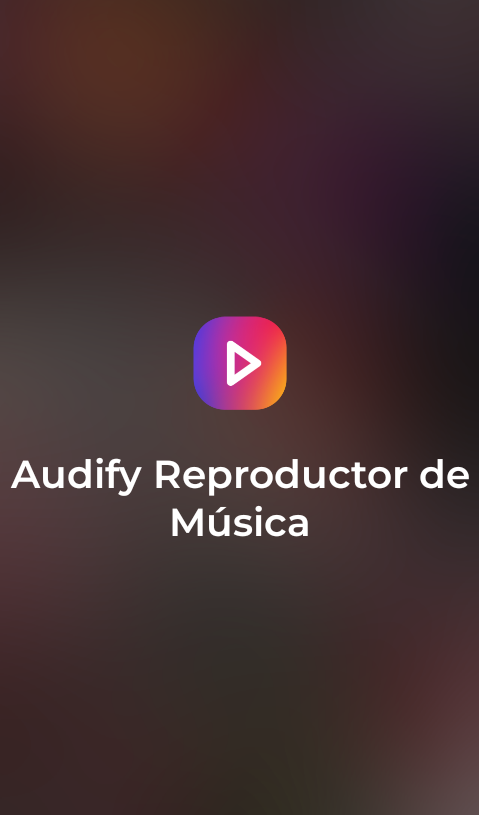 En esta ocasión quiero hablar de una aplicación bastante genial, se trata de Audify, un reproductor de música que cuenta con una variedad de opciones bastante buenas, además de que esta gratis en la Play Store.
Esta es una buena alternativa para reproductor de música, tiene buenas características y cosas que no encuentras en muchos reproductores de música.
---
En primer lugar la app es bonita, cuenta con un diseño simple pero bastante agradable, viene con varios temas propios de la aplicación, pero si no te gustan puedes elegir una imagen de nuestra galería para establecerla de fondo en la aplicación.
A primera vista todo se logra visualizar con facilidad, en la barra inferior de la aplicación encontramos la secciones de las canciones, los artistas, los álbumes, etc.
En la parte superior derecha el buscador de canciones, el cambiador automático de tema predeterminado, los tres puntitos donde tendremos varias opciones como seleccionar, ecualizador, y en la parte superior izquierda donde podremos crear un perfil offline y mas opciones y ajustes de la aplicación como cambiar el idioma.
---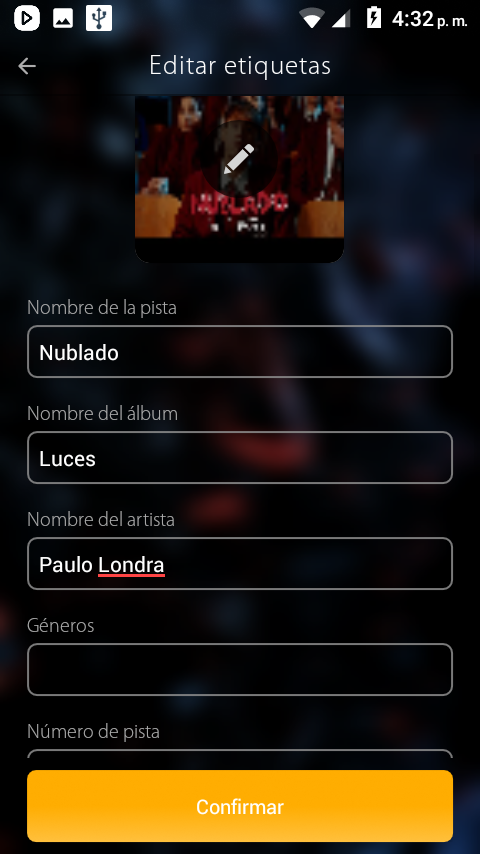 Este reproductor te da la opción de cambiarle las etiquetas a tus canciones, esto quiere decir que podrás editar el artista, el álbum, el nombre de la canción y hasta el genero musical al que pertenece.
Me gustó mucho esto ya que a veces es un poco molesto ver los títulos de las canciones de manera desordenada, ahora solo los edito y ya, así podrás encontrar toda tu música de manera mas fácil.
---
Cuenta con letras de las canciones de manera offline dentro de la app, solo tendrás que descargar una vez y ya después podrás verla cuando quieras sin necesidad de usar wifi, la aplicación busca la letra de la canción de manera automática por el nombre de la canción y si no aparece podrás buscarla manualmente o copiar y pegarla de internet, y si la canción esta mal escrita también la podrás editas tu mismo.
Las letras no tienen sincronización con la música pero con que la puedas tener ahí mismo de por si es bastante bueno.
---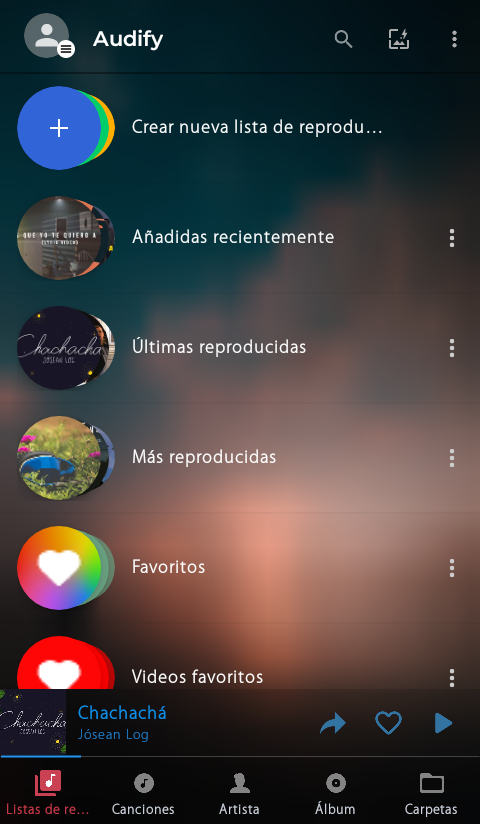 Podrás crear listas de reproducción a tu gusto, además de cambiarles la foto por la que desees.
---
Me he quedado sorprendido con esto, dentro del mismo reproductor puedes buscar canciones de manera online en YouTube como un navegador interno, aunque además de solo buscar música podremos ver videos como si normalmente usáramos YouTube, pero me parece bastante bien que se encuentre dentro de la aplicación.
En conclusión, recomiendo esta aplicación, más si eres de esas personas que siempre les gusta tener las cosas de manera organizada, y en orden como yo, y trae diversas funciones que podrían gustarte o resultarte útiles.
¡Hasta acá el post de hoy, gracias por haberse quedado hasta el finas, hasta la próxima!