Hola amigos amantes de la Tecnología.
Hello friends who love technology.
Hoy quiero hablarles de una página de internet que te permite enviar tus archivos pesados por correo electrónico sin ningún problema y con mucha facilidad.
Today I want to tell you about a web page that allows you to send your large files by e-mail without any problem and with a lot of ease.
La pagina se llama WeTransfer.com.
The site is called WeTransfer.com.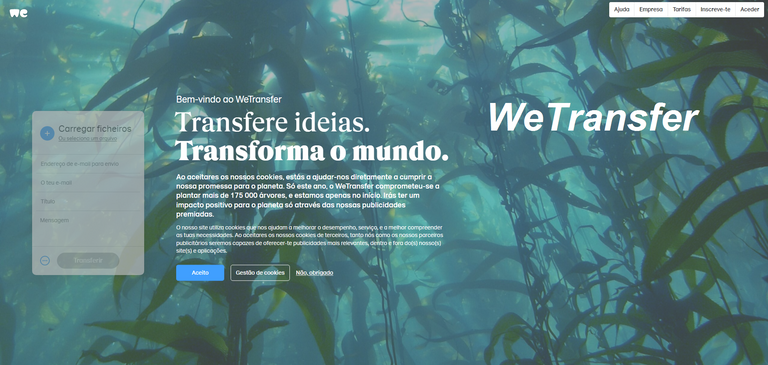 Esta página te permite enviar hasta 200 gigabyte de información en su versión pro y hasta 2 gigabyte de información en su versión gratuita.
This site allows you to send up to 200 gigabytes of information in its pro version and up to 2 gigabytes of information in its free version.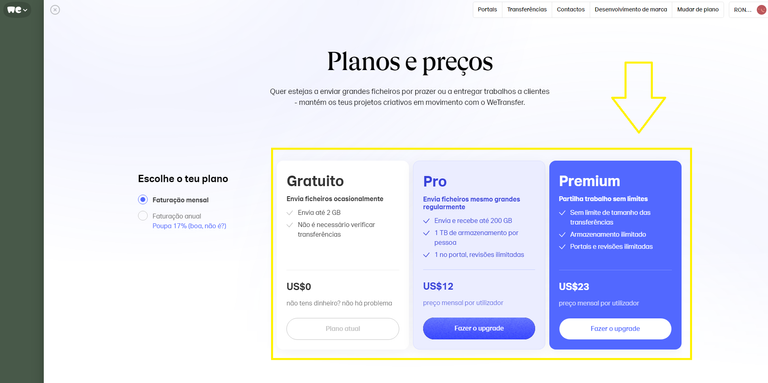 Descubrí esta página en mi trabajo porque muchas veces necesito enviar archivos que pesan más de 1 gigabyte de información, así que se me recomendó utilizar WeTransfer para hacerlo.
I discovered this site at work because I often need to send files that weigh more than 1 gigabyte of information, so I was recommended to use WeTransfer to do so.
Hasta ahora me está pareciendo una página muy eficiente a la hora de enviar este tipo de informaciónes. Por lo cual la recomiendo 100 %.
So far I am finding it a very efficient site to send this kind of information. So I recommend it 100%.
La pagina funciona de la siguiente manera:
The page works as follows:
Entras en la página WeTransfer.com y te registras con tu correo electrónico y una clave de usuario. Puedes hacerlo con tu correo Gmail u Outlook.
You go to the WeTransfer.com website and register with your email address and password. You can do this with your Gmail or Outlook email address.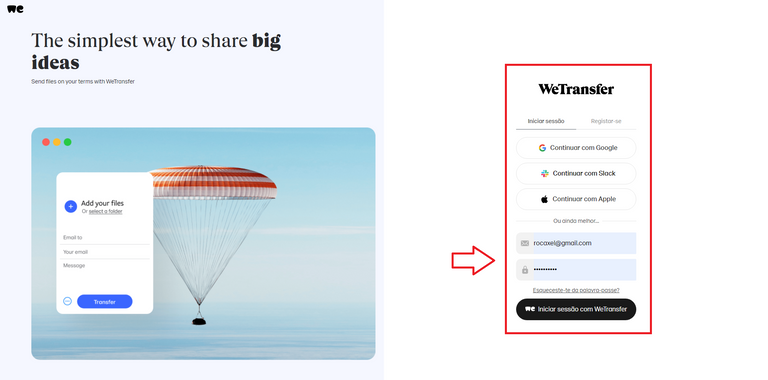 Aceptas los términos y condiciones de la pagina.
You accept the terms and conditions of the site.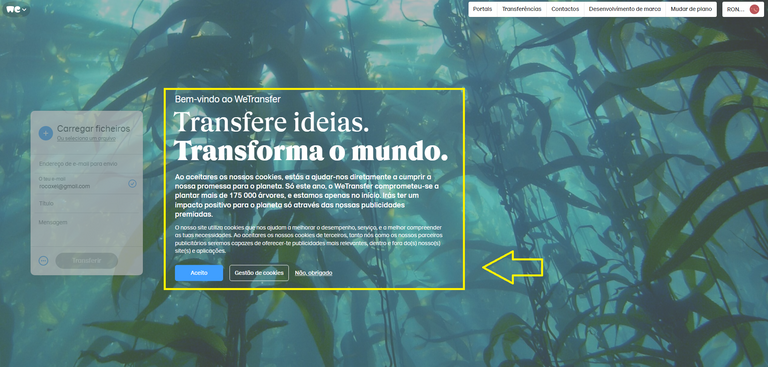 Después de registrarte y aceptar los términos, enseguida te envía a otra página donde podrás arrastrar y pegar tus archivos en cualquier parte de la pantalla y de inmediato se anexan a la información que se va a enviar.
After registering and accepting the terms, you are immediately sent to another page where you can drag and drop your files anywhere on the screen and they are immediately appended to the information to be sent.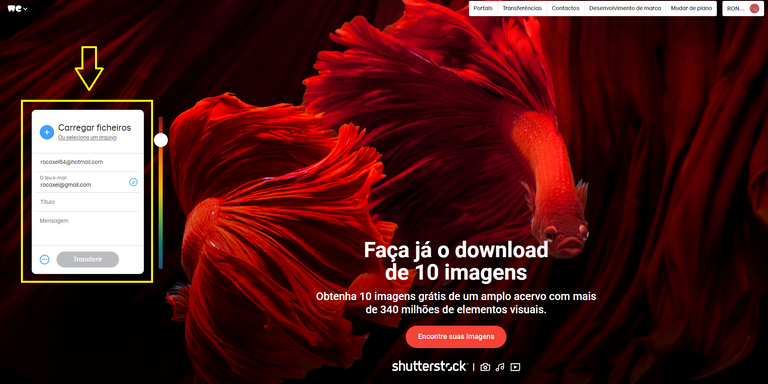 Ahora colocas abajo el correo electrónico del destinatario, el título del correo y alguna información adicional. Es como si estuvieras enviando un correo electrónico tradicional pero con la diferencia de que puedes enviar mucha más información.
Now you place below the recipient's email address, the title of the email and some additional information. It is as if you were sending a traditional email but with the difference that you can send much more information.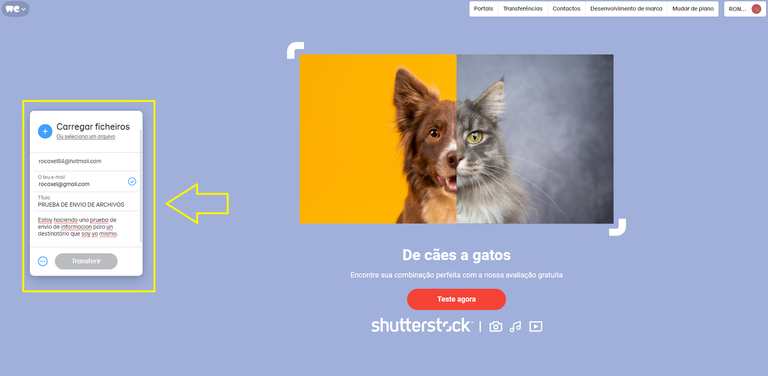 El siguiente paso es cargar los archivos, como ya mencione es solo arrastrandolos desde una carpeta abierta.
The next step is to load the files as mentioned above by dragging them from an open folder.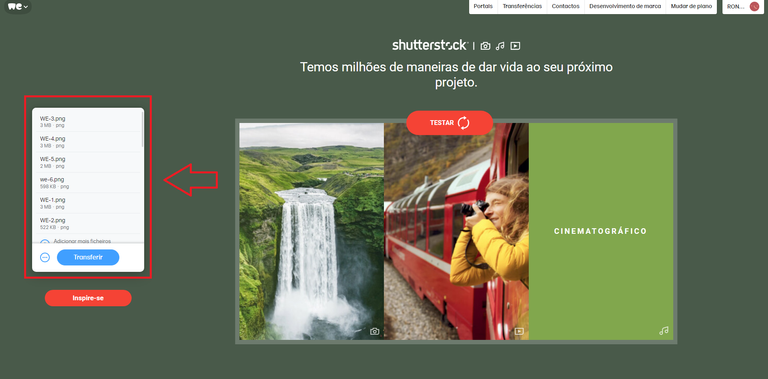 En ese momento la información comienza a cargarse en la página y cuando culmina automáticamente se envía al destinatario. El destinatario va a recibir un correo electrónico con el Link de descarga. Este Link te direcciona a la página y se te muestra la opción descargar los archivos. Los archivos se descargan directamente en la carpeta "Descargas" existente en tu computadora.
-At that moment the information begins to load on the page and when it is finished it is automatically sent to the recipient. The recipient will receive an email with the download link. This link directs you to the page and shows you the option to download the files. The files are downloaded directly to the "Downloads" folder on your computer.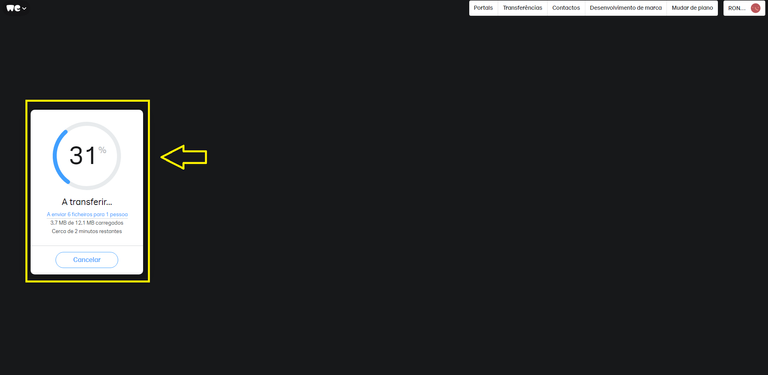 La página también te da la opción de generar un Link y enviarlo al destinatario por mensaje de texto o WhatsApp en caso de que no tenga correo electrónico.
-The page also gives you the option to generate a Link and send it to the recipient by text message or WhatsApp in case they do not have email.
La información estará disponible en la página durante 7 días a partir del momento en que la envías. A partir de los 7 días el Link de descarga deja de funcionar.
-The information will be available on the page for 7 days from the moment you send it. After 7 days the download link will stop working.
De esa forma tan sencilla podemos enviar y recibir información de archivos que superan la capacidad de los correos electrónicos tradicionales.
-In this simple way we can send and receive file information that exceeds the capacity of traditional e-mails.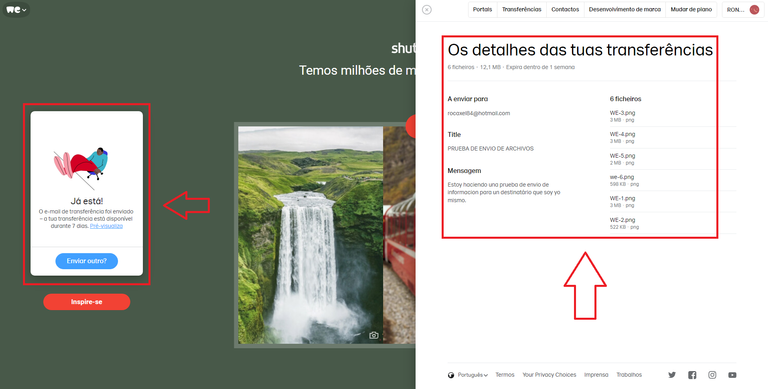 Bueno amigos me gusto mucho compartir con ustedes la información acerca de esta página para enviar archivos pesados por correo electrónico. Espero que les sea de utilidad si en algún momento necesitan enviar una información que excede la capacidad de su correo electrónico.
-Well friends I was very pleased to share with you the information about this page to send large files by email. I hope you find it useful if at any time you need to send information that exceeds the capacity of your email.
Las imágenes son capturas de pantalla hechas con mi computadora desde mi cuenta en la pagina.
Las imagenes fueron editadas en Paint.
-The images are screenshots made with my computer from my account on the site.
The images were edited in Paint.
Translated with www.DeepL.com/Translator (free version)