Saludos para todos los Hivers que cada día comparten tecnología en esta comunidad.
Últimamente he visto muchos artículos sobre el equipo celular Xiaomi Poco M3. Sobre Toto artículos que hablan sobre defectos de fabrica, sobre fallas, averías, incluso hasta la muerte de equipos de esta marca y modelo.
Greetings to all Hivers who every day share technology in this community.
Lately I have seen many articles about the Xiaomi Poco M3 cell phone. About Toto articles that talk about manufacturing defects, failures, breakdowns, even death of equipment of this brand and model.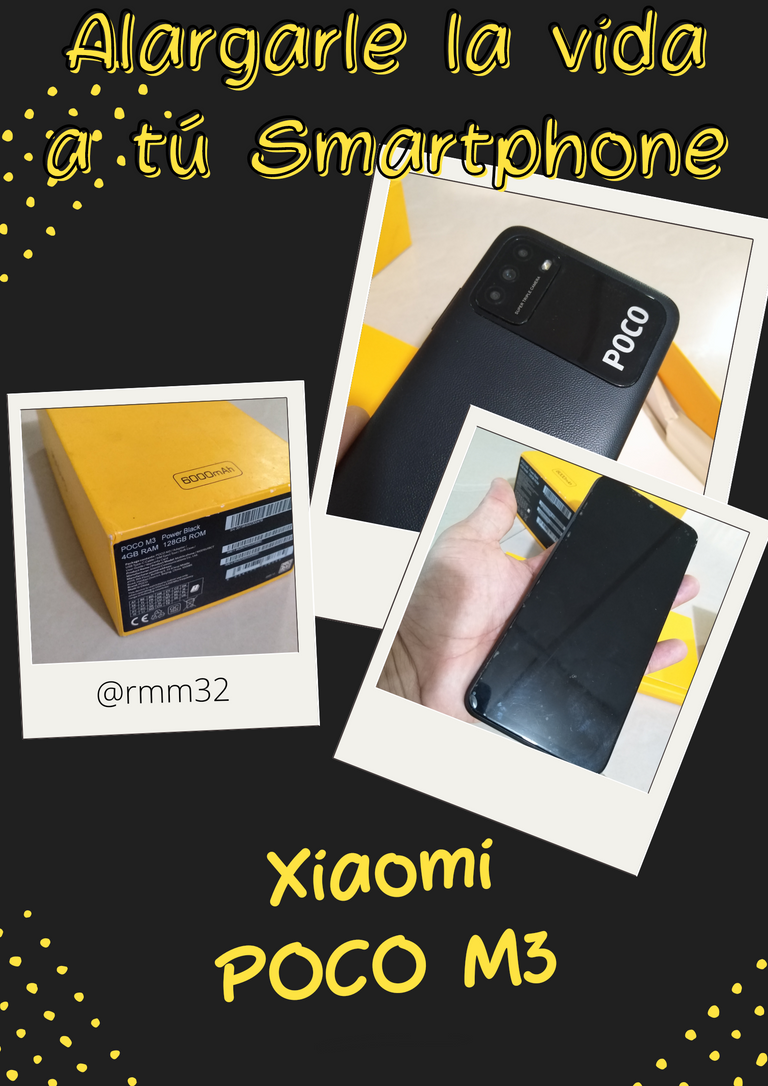 Imágen Editada en Canva por @rmm32
El Poco M3 es un Smartphone con buenas características,de acuerdo a su capacidad de almacenamiento de 128 GB y 4 de memoria ram,dual SIM,triple cámara de 48 mpx 2 mpx 2mpx, una de selfie de 8 mpx y lo que también puede llamar la atención es la capacidad de la batería, con 600 mAh.
Estas son las principales características que verás en la caja y lo que que te puede mencionar el vendedo al momento de acudir a una tienda para elegir un equipo.
The Poco M3 is a smartphone with good features, according to its storage capacity of 128 GB and 4 ram memory, dual SIM, triple camera 48 mpx 2 mpx 2mpx, a selfie of 8 mpx and what can also draw attention is the capacity of the battery, with 600 mAh.
These are the main features that you will see on the box and what you can mention the seller when you go to a store to choose a team.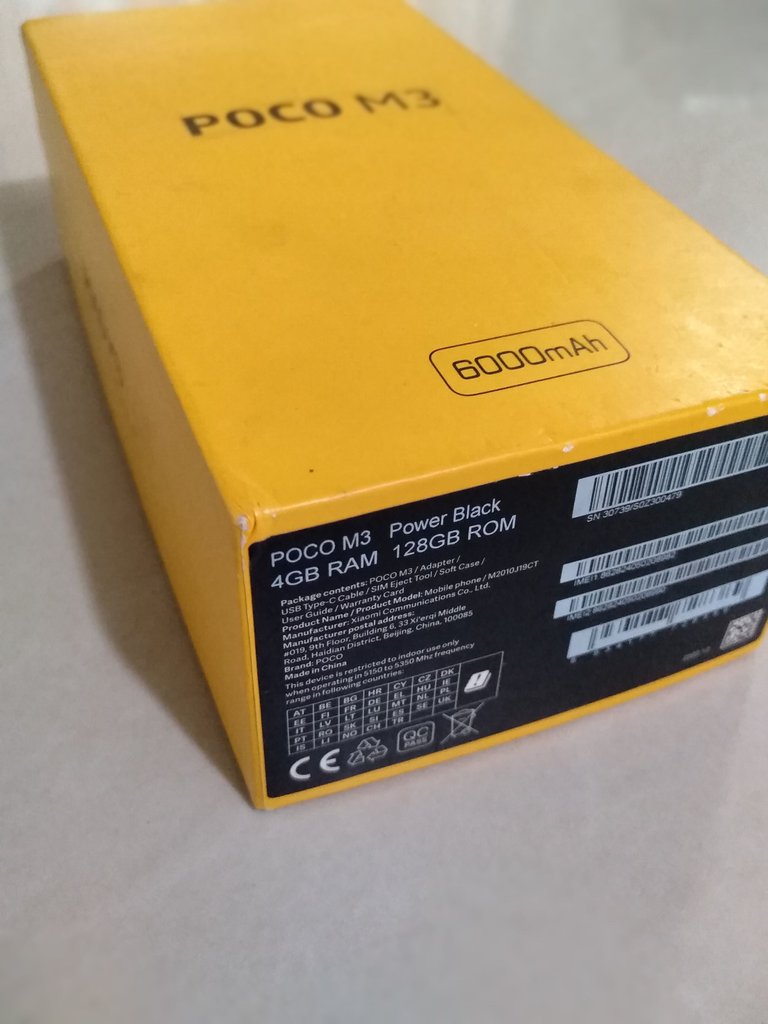 Caja del Smartphone Xiaomi Poco M3
En la parte lógica te pueden decir que cuenta con el sistema operativo Android 10 y MIUI 12. La verdad es que el equipo es bastante atractivo, su precio es elevado, en el mercado Venezolano se puede conseguir en 200$ aproximadamente.
In the logical part you can say that it has the Android 10 operating system and MIUI 12. The truth is that the team is quite attractive, its price is high, in the Venezuelan market can be obtained at approximately $ 200.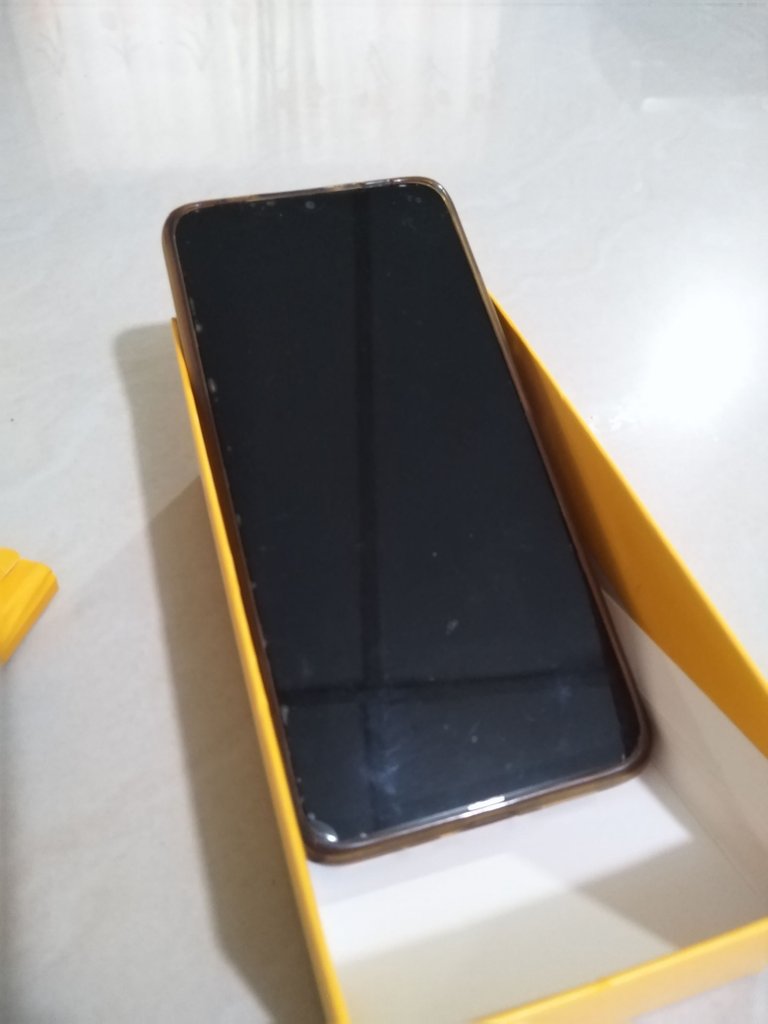 Poco M3
Cuando adquieres un equipo de una marca nueva pero que tiene un elevado costo puedes llegar a pensar que es de excelente calidad y por esa razón tiene un precio elevado.
Al adquirirlo y empezar a utilizarlo te vas dando cuenta su ergonomía, el es un poco pesado, 190 GM aproximadamente, sostetenelo por largas horas puede ocasionar dolor en tus manos, por aquí nos damos cuenta que su batería juega un papel importante en cuato al peso del dispositivo.
When you acquire a new brand of equipment but has a high cost you may think that it is of excellent quality and for that reason has a high price.
When you buy it and start using it you realize its ergonomics, it is a little heavy, 190 GM approximately, hold it for long hours can cause pain in your hands, here we realize that its battery plays an important role in terms of the weight of the device.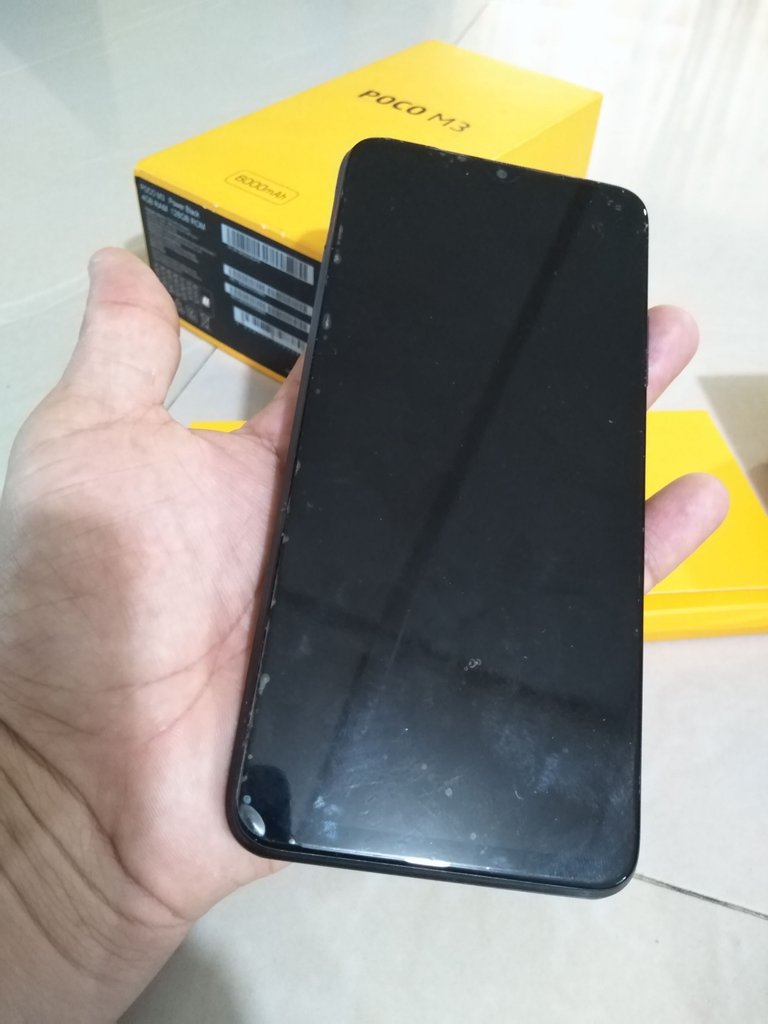 Poco M3
Sin embargo cuando tenemos un equipo celular nuevo podemos pasar horas y horas explorandolo, descargando aplicaciones, juegos, tomando fotografías, viendo vídeos etc.
Cuando tenemos internet wi-fi esta actividad se puede prolongar hasta el momento de agotar la batería de gran capacidad, no nos percatamos que el celular se calienta de forma un poco más de lo normal.
Ignoramos el papelito blanco que viene en la caja, ese pequeño manual de usuario donde se nos indica que el celular puede aumentar su temperatura a unos 40 °C, pero sí supera está temperatura se puede dañar el dispositivo.
However, when we have a new cell phone we can spend hours and hours exploring it, downloading applications, games, taking pictures, watching videos, etc.
When we have wi-fi internet this activity can be prolonged until the high capacity battery runs out, we do not notice that the cell phone heats up a little more than normal.
We ignore the white paper that comes in the box, that little user manual where we are told that the cell phone can increase its temperature to about 40 ° C, but if it exceeds this temperature can damage the device.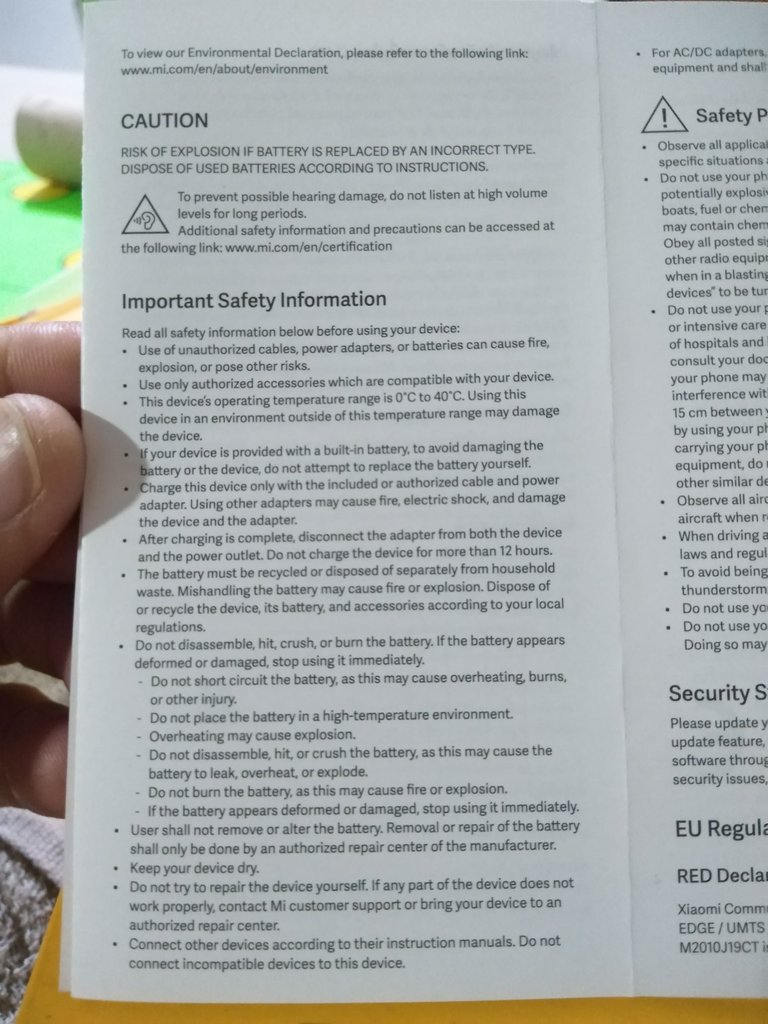 Manual del usuario, advertencia del fabricante sobre la temperatura
Ahora vamos a hablar sobre lo que nos ocupa,como podemos Alargarle la vida a Smartphone Poco M3.
En el manual del usuario el fabricante indica un dato muy importante, el advierte que el celular puede manejar una temperatura de 0 a 40 °C., Esto quiere decir que él sabe que este dispositivo se calienta mucho, 40 °C en un dispositivo es una temperatura bastante alta.
Now let's talk about what concerns us, how we can ***Extend the life of Smartphone Poco M3.
In the user manual the manufacturer indicates a very important fact, he warns that the cell phone can handle a temperature from 0 to 40 °C., This means that he knows that this device gets very hot, 40 °C in a device is a pretty high temperature.
Resulta que este dispositivo tiene la memoria y el procesador cercanos, prácticamente pegados,entonces estos dos elementos suman temperatura.
Ellos se encuentran ubicados exactamente dónde está la palabra POCO, entonces si nosotros al utilizar el celular en una forma normal, es decir; sin exceder los límites de su funcionamiento y detectamos que el equipo está muy caliente en ese área lo que debemos hacer es dejarlo enfriar.
It turns out that this device has the memory and the processor close together, practically glued, so these two elements add temperature.
They are located exactly where the word POCO is, so if we use the cell phone in a normal way, i.e. without exceeding the limits of its operation and we detect that the equipment is very hot in that area what we should do is let it cool down.
Porque el daño más recurrente en este equipo se debe al calentamiento excesivo, los dos elementos se sobrecalienta y se crea una falsa soldadura. Se crean fisuras internas en la soldadura.
Because the most recurrent damage in this equipment is due to excessive heating, the two elements overheat and a false weld is created. Internal cracks are created in the weld.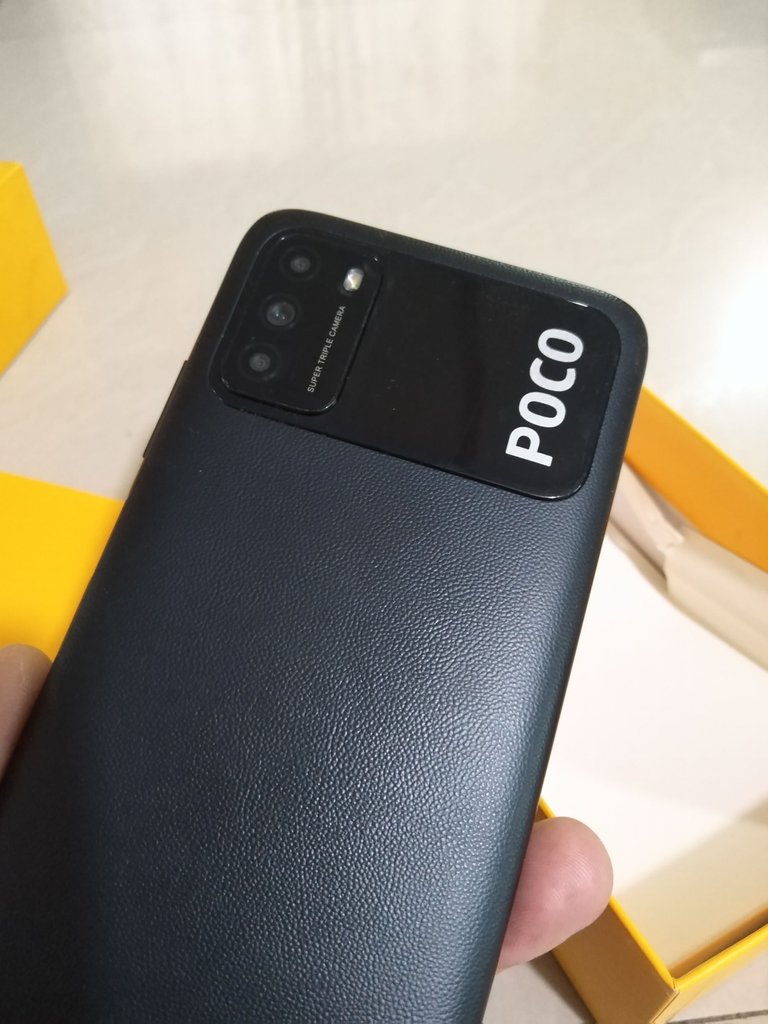 Poco M3 parte trasera
Una de las causas de que este dispositivo se dañe, es que se utilice mientras se está cargando, esto pone al límite el dispositivo, más aún cuando se está corriendo un juego.
Con esta actividad el procesador y la memoria trabajan de forma constante, a pesar de que ellos cuentan con un disipador de calor con pasta térmica, el calor es súper elevado, haciendo que sea insuficiente para controlar el calor generado en su interior.
One of the causes of damage to this device is that it is used while charging, this puts the device to the limit, even more so when running a game.
With this activity the processor and memory work constantly, although they have a heat sink with thermal paste, the heat is super high, making it insufficient to control the heat generated inside.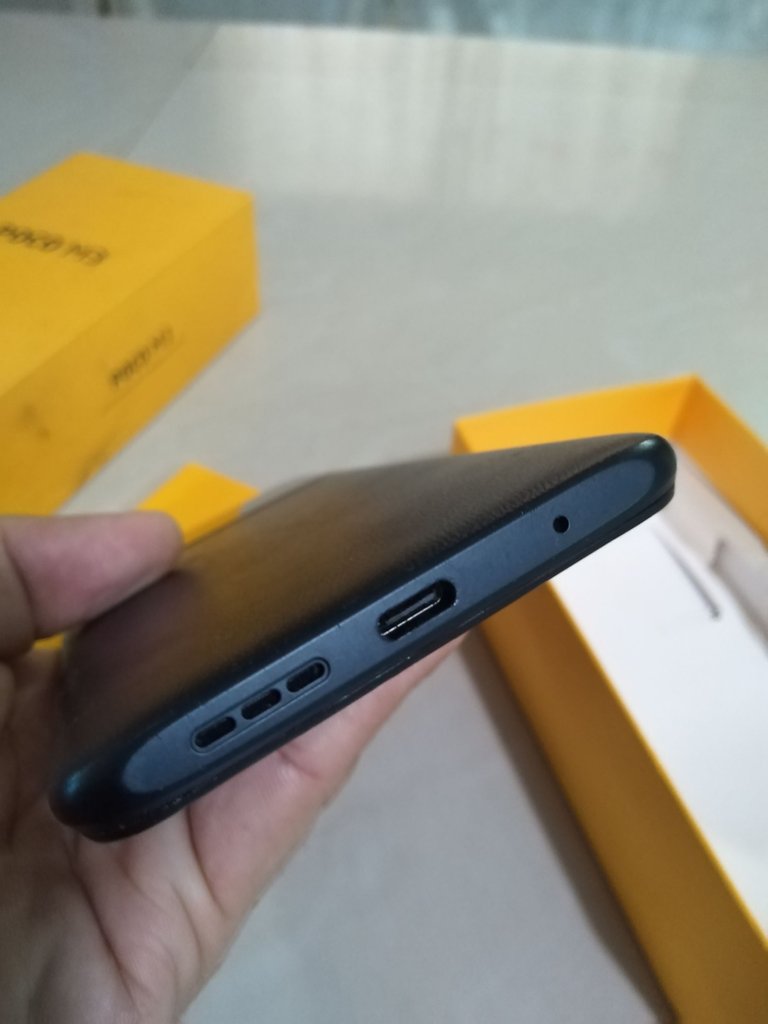 Parte inferior, pin de carga tipo C
Sí aún tienes tú dispositivo Poco M3, aplica estás simples medidas, mantener tu equipo con una temperatura baja podría marcar la diferencia entre la vida y la muerte.
Ahora se preguntarán ¿por qué en las imágenes de esta publicación el celular siempre se sale apagao?.
If you still have your Poco M3 device, apply these simple measures, keeping your device with a low temperature could make the difference between life and death.
Now you may wonder why in the images of this publication the cell phone is always turned off.
Está apagado porque sufrió un daño severo en su placa, en el procesador, su usuario siempre lo descargaba por completo, luego lo ponía a cargar mientras veía videos, a los 3 meses después de haber sido comprado empezó a presentar las primeras fallas.
Se ponía lento,cuando se calentaba, lo reiniciaban y tardaba en prender, luego un día no quiso prender, lo dejaron quieto y al día siguiente después de darle unos masajes en la "batería" sin destaparlo, prendió.
It is off because it suffered severe damage to its board, the processor, its user always downloaded it completely, then put it to charge while watching videos, 3 months after being purchased began to present the first failures.
It became slow, when it got hot, they restarted it and it took a while to turn on, then one day it did not want to turn on, they left it still and the next day after massaging the "battery" without uncovering it, it turned on.
Este masaje lo que hizo fue volver a poner en contacto las soldaduras que ya se habían fracturado. A pesar de que el usuario veía que ya el dispositivo había tenido esa falla, siguió con el mal uso a pesar de las advertencias.
Hasta que llegó el día en que no prendió más.se envío a un servicio técnico para que le hicieran reballin y no funcionó. Murió. Este celular era de mi cuñada. Nunca atendió mis advertencias, ahora se venderá por piezas.
What this massage did was to recontact the solder joints that had already fractured. Although the user saw that the device had already had that failure, he continued with the misuse despite the warnings.
Until the day came when it did not turn on anymore. It was sent to a technical service to be reballin and it did not work. It died. This cell phone belonged to my sister-in-law. She never heeded my warnings, now it will be sold for parts.
Es triste que un buen equipo haya muerto por el hecho de no atender las advertencias, por no darle un buen uso.
Si aún tienes tú dispositivo funcionando, cuídalo de esta forma, igual sucede con otros dispositivos, nunca lo uses cuando se está cargando, saturas la batería, el sistema y sus componentes internos.
Espero este artículo sea de mucha ayuda. Hasta la próxima.
It is sad that a good device has died for not heeding the warnings, for not giving it a good use.
If you still have your device working, take care of it in this way, the same happens with other devices, never use it when it is charging, you saturate the battery, the system and its internal components.
I hope this article will be helpful. See you next time.