Saludos Hivers, el día de hoy les vengo a mostrar un #unboxing de un dispositivo que te puede sacar de apuros o sencillamente salvar tu equipo de computación cuando uno de sus dispositivos periféricos falla o se quema.
Se trata de una antena WiFi, está antena WiFi USB N 802.llN de 150 mbps es bastante útil y se ajusta a nuestro presupuesto, ya que es económica tiene un valor de unos 7$ o 6 HBD.
Greetings Hivers, today I come to show you an #unboxing of a device that can get you out of trouble or simply save your computer when one of your peripheral devices fails or burns.
It is a WiFi antenna, this WiFi antenna USB N 802.llN 802.llN 150 mbps is quite useful and fits our budget, as it is inexpensive and has a value of about $ 7 or 6 HBD.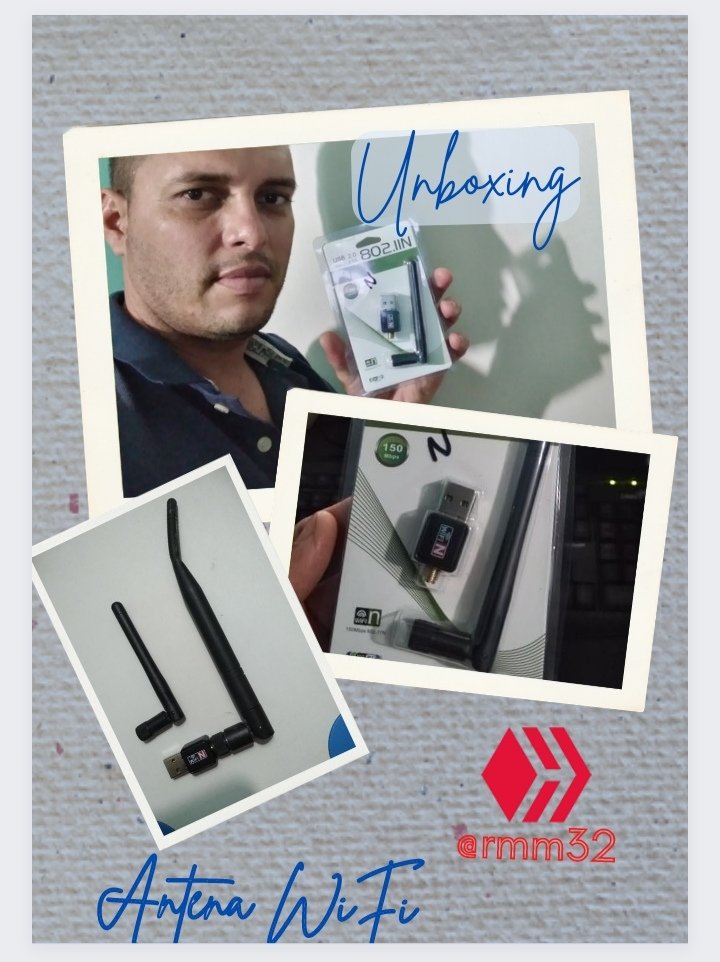 Imágen editada en Canva por @rmm32
Resulta que a mi taller llegó una computadora vit con una falla de encendido.
El cpu prendía pero cuando se le daba la orden de apagar, apagaba e inmediatamente encendía,así que revise la tarjeta madre y encontré el integrado Realtek quemado.
Extraje la pieza y se resolvió el problema de encendido pero se produjo uno nuevo y es que ahora el equipo no puede conectarse a la red por medio de cable Ethernet y tampoco por tarjeta WiFi PCI, ya que ese área se encuentra averiada.
It turns out that a vit computer arrived at my shop with a power failure.
The cpu would turn on but when given the order to turn off, it would turn off and immediately turn on, so I checked the motherboard and found the Realtek integrated burned.
I removed the part and the power on problem was solved but a new one occurred and now the computer can not connect to the network via Ethernet cable or WiFi PCI card, since that area is broken.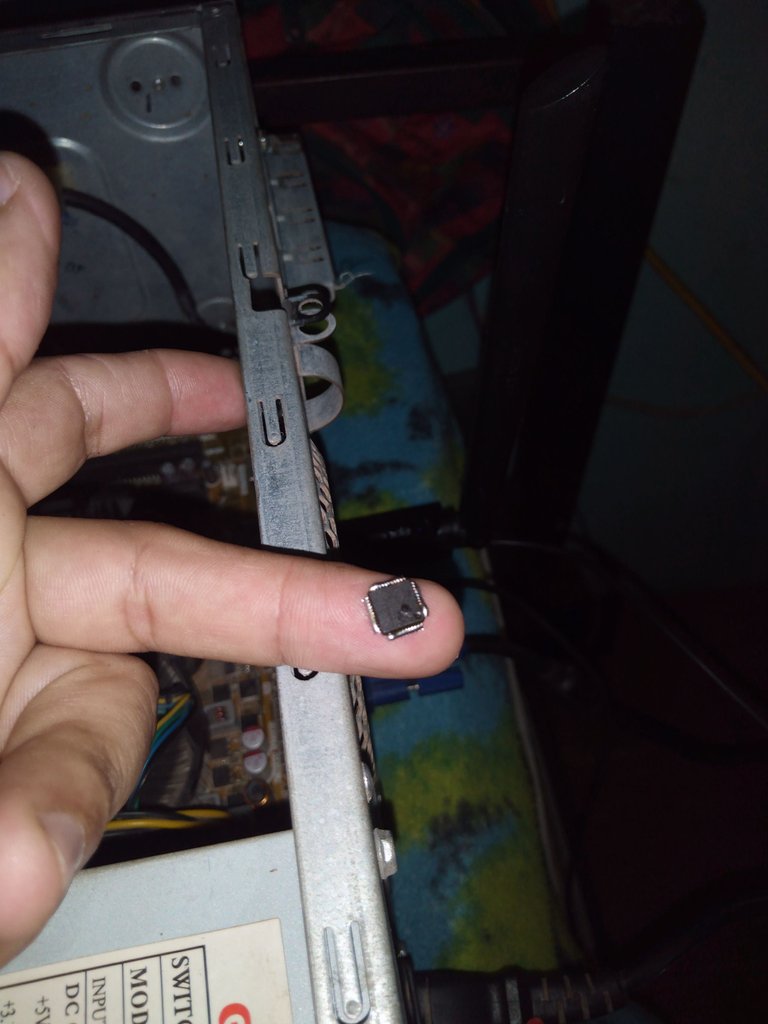 Integrado Realtek quemado
Por lo tanto la opción más viable era la de colocarle una antena receptora WiFi USB 2.0 y de esta forma solucionar el problema.
Le indique al cliente que modelo de la antena receptora WiFi más adecuado y adquirió este dispositivo.
Therefore the most viable option was to place a USB 2.0 WiFi receiver antenna and thus solve the problem.
I indicated to the customer which model of WiFi receiving antenna was the most suitable and purchased this device.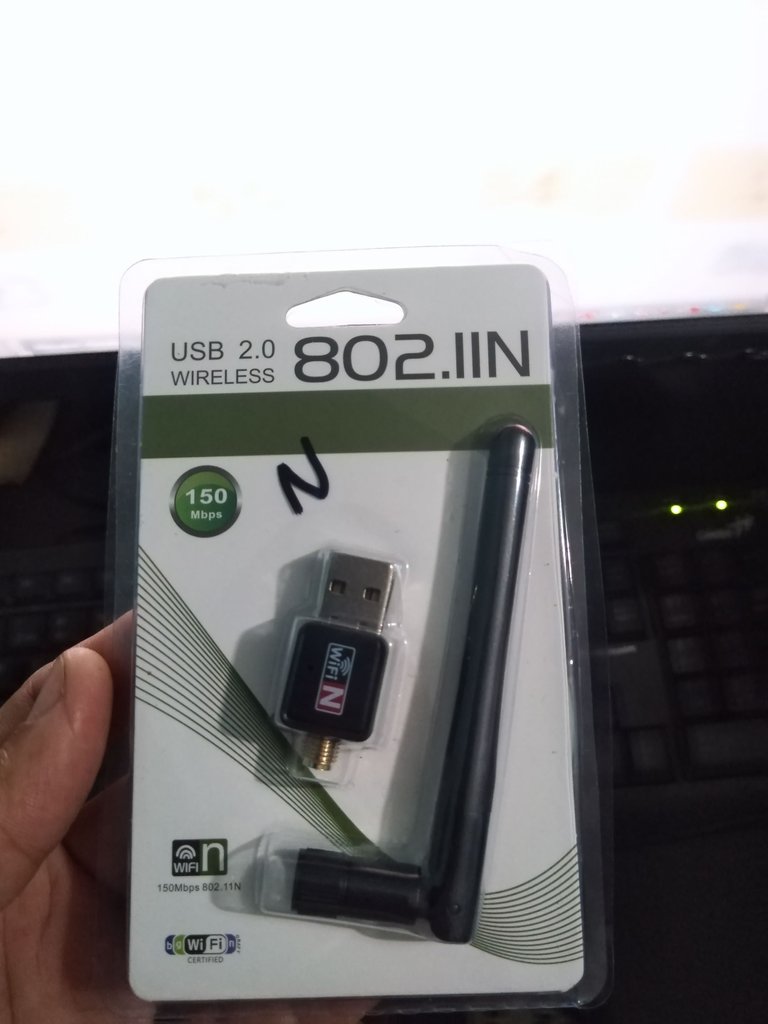 Unboxing Antena WiFi USB 8011.llN
Este modelo de antena WiFi USB tiene la opción de poderle cambiar la antena, ella trae una antena pequeña, pero se le puede remover y colocarle una de más dBi.
This model of USB WiFi antenna has the option to change the antenna, she brings a small antenna, but you can remove it and place a more dBi.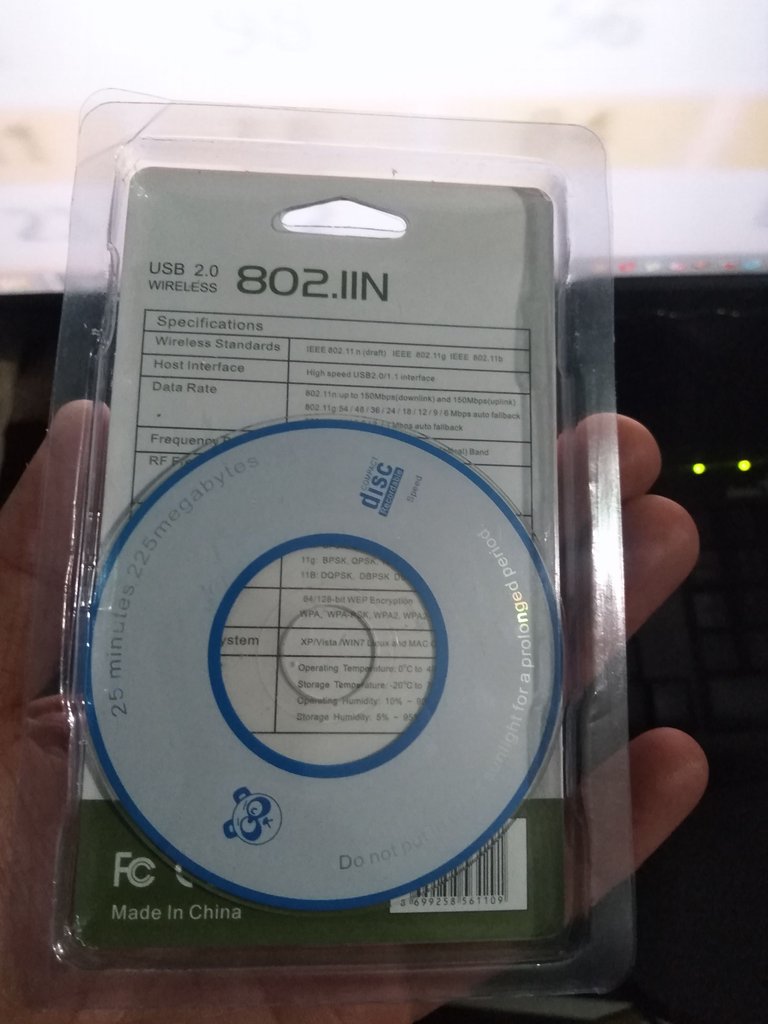 Unboxing Antena WiFi USB 8011.llN
Trae sus drivers de instalación en un mini dvd, esto puede ser en ocasiones fácil de instalar pero también se puede dar la situación que el equipo donde vas a hacer la instalación no tenga activo la unidad de DVD.
Así que este tipo de instalación de drivers no es el más adecuado. En mi caso tuve que instalar un lector de dvd externo para poder hacer la instalación de los controladores.
It brings its installation drivers on a mini dvd, this can sometimes be easy to install but it can also be the case that the computer where you are going to do the installation does not have an active DVD drive.
So this type of driver installation is not the most suitable. In my case I had to install an external dvd drive to be able to install the drivers.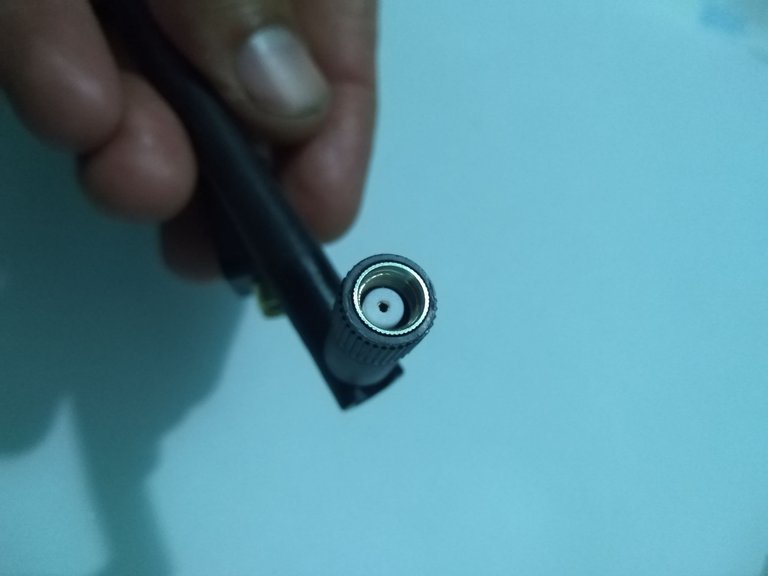 Unboxing Antena WiFi USB 8011.llN
Su conector es universal, como dije anteriormente podemos acoplar otra antena.
Its connector is universal, as I said before we can attach another antenna.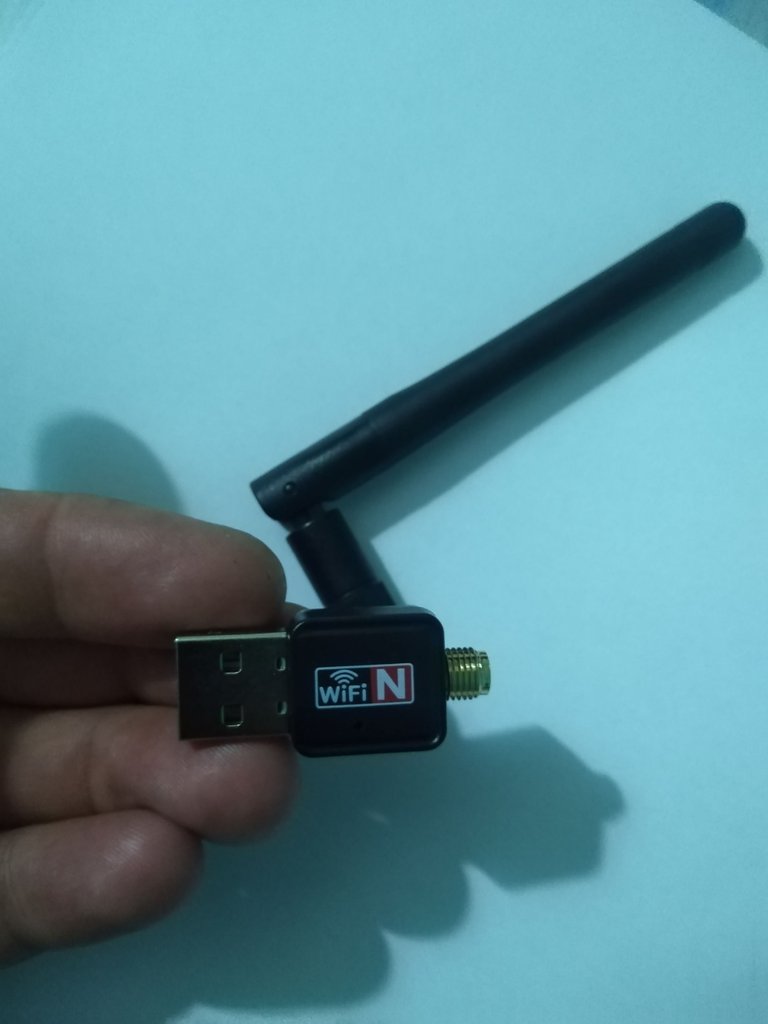 Unboxing Antena WiFi USB 8011.llN
Se puede doblar y direccionar en ángulos de 360°. La antena es omnidireccional, así que el equipo puede ubicarse en un rincón de la casa, en una habitación y recibirá la señal wi-fi.
It can be bent and directed at 360° angles. The antenna is omnidirectional, so the equipment can be placed in a corner of the house, in a room and it will receive the wi-fi signal.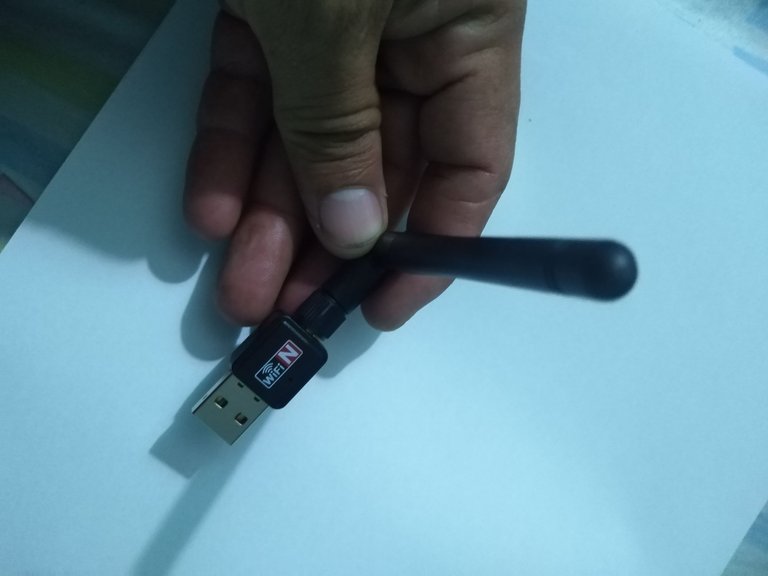 Unboxing Antena WiFi USB 8011.llN
Una vez instalamos los controladores, insertamos la antena WiFi USB y el equipo reconocerá la antena y las señales WiFi que estén disponibles alrededor.
Once the drivers are installed, we insert the USB WiFi antenna and the equipment will recognize the antenna and the WiFi signals that are available around it.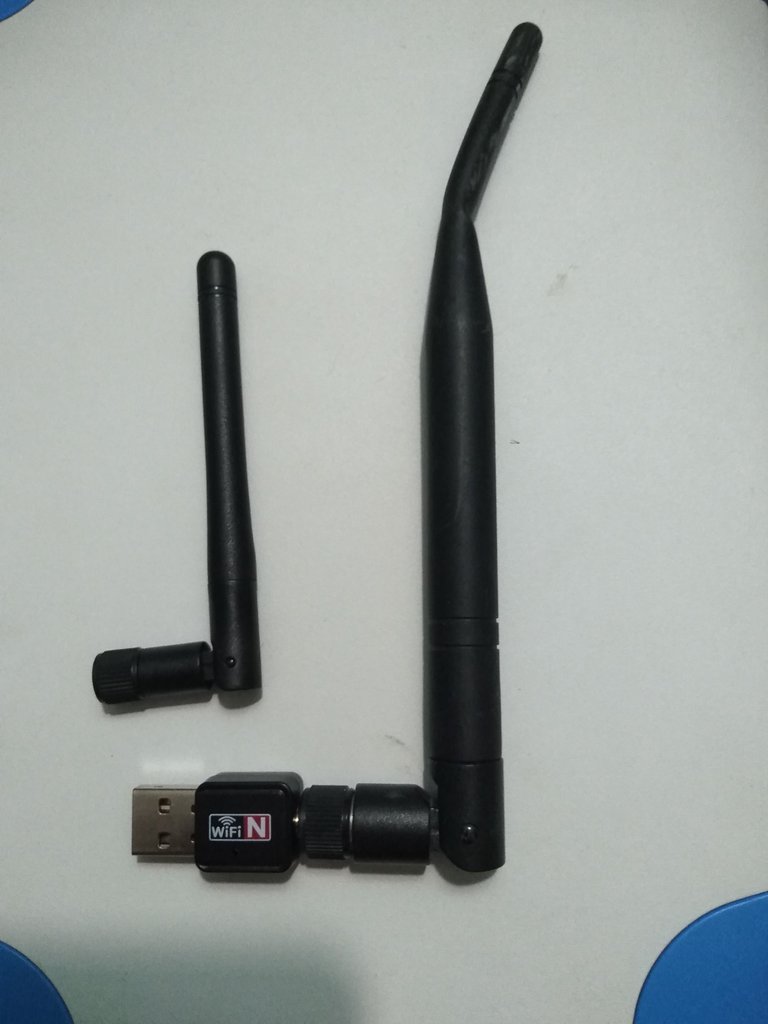 Unboxing Antena WiFi USB 8011.llN
Nos conectamos a la red WiFi de nuestro hogar y de inmediato podremos disfrutar del Internet. En este caso me conecte a la señal wifi compartida de mi Smartphone Huawei Dub-Al00.
We connect to the WiFi network of our home and immediately we can enjoy the Internet. In this case I connected to the shared wifi signal of my Huawei Dub-Al00 Smartphone.

Unboxing Antena WiFi USB 8011.llN
Ahora si podemos entregar el equipo porque le hemos encontrado una Solución.
A veces no podemos reparar el daño colocando el dispositivo o componente averiado, pero podemos buscar la forma en dispositivos alternativos que de igual forma satisfagan nuestras necesidades.
Desde la evolución en la tecnología de conexión a Internet, este ha sido uno de los dispositivos más práctico que he utilizado, porque lo podemos desconectar y utilizar en otro equipo de computación sin necesidad de hacer desmontaje o destapar un equipo.
La tecnología va avanzando para hacernos la vida más fácil.
Saludos a todos y gracias por leer mi publicación.
Now we can deliver the equipment because we have found a solution.
Sometimes we can't repair the damage by placing the broken device or component, but we can look for alternative devices that still meet our needs.
Since the evolution of Internet connection technology, this has been one of the most practical devices I have used, because we can disconnect it and use it in another computer without the need to disassemble or uncover a computer.
Technology is advancing to make our lives easier.
Greetings to all and thanks for reading my publication.
Todas las imágenes son de mi propiedad, tomadas con mí Smartphone Huawei Dub-Al00 Cantaura Venezuela 🇻🇪 / All images are my property, taken with my Smartphone Huawei Dub-Al00 Cantaura Venezuela 🇻🇪
Traducción con: https://www.deepl.com/translator-mobile