➤ Creo que todos sabemos la situación actual de los productos gamers de hoy en día, en donde cualquier producto con luces RGB incluida es vendido como un objeto gamer a sobre precio, y sobre salen por ser productos de mala calidad y vendidos en exceso en la mayoría de las tiendas, haciendo difícil poder conseguir algo como un teclado o un mouse a un precio bajo, y que estéticamente sea agradable. Ya que si queremos comprar algo de marca todos sabemos que este tipo de productos la verdad es que son bastante caros. Hace muchos meses compré un combo de un teclado y un mouse "gamer", y la verdad es que no esperaba demasiado, pero ha logrado sorprenderme. Estos son los Cheetah KM960 de la marca Jertech.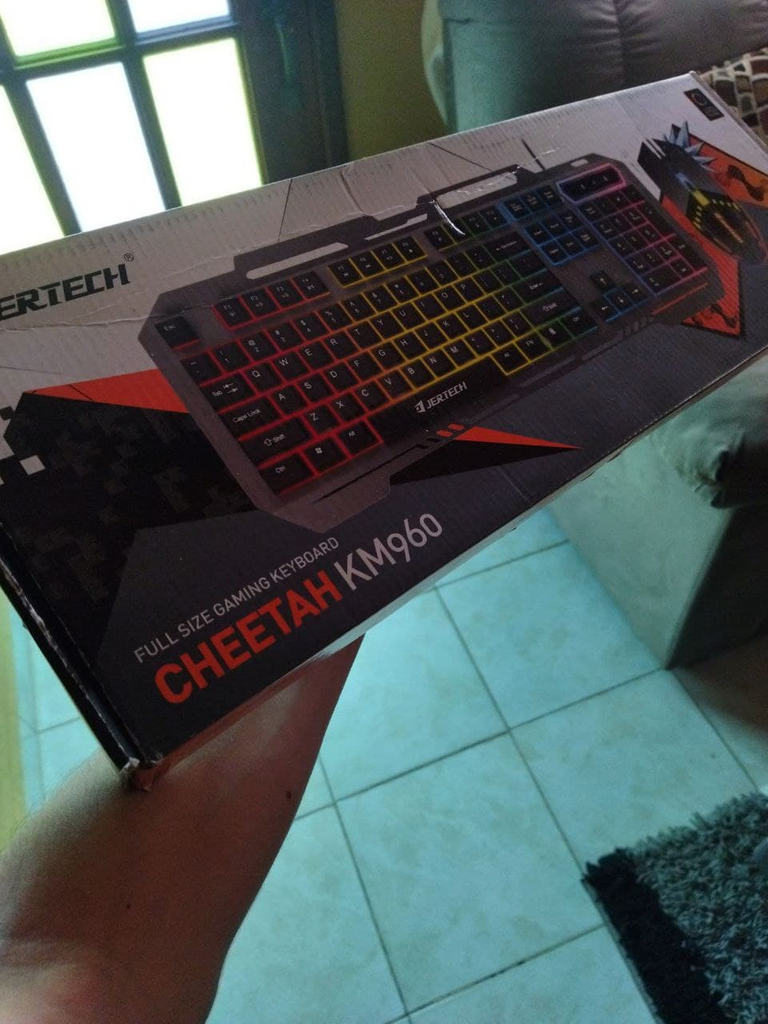 ---
➤ Realmente lo compré por un precio de 20$, y siendo sinceros no podía esperar mucho de esto y tampoco lo hacía, solo quería algo que fuera funcional y que estéticamente se viera bien, porque mi anterior teclado y mouse se habían dañado. Para su precio hay que recalcar que se sienten muy bien, el material de construccion tanto del teclado como del mouse se sienten de muy buena calidad, que incluso hasta podrían aguantar unos cuantos golpes y la verdad es que son duraderos, llevo ya un total de más de 6 meses con ellos y no han sufrido ni un solo rasguño. El teclado tiene un acabado metálico por los lados que sirven muy bien para ponerlo más estable en la superficie en que esté y también como un cómodo posamanos. Y en cuanto al mouse su diseño puede ser algo extraño a primera vista, pero tengo que admitir que es realmente cómodo una vez que nos acostumbramos y se siente muy ergornomico y tiene un tamaño bastante considerable, lo que al menos a mí me parece perfecto ya que tengo manos grandes y muchas veces me ha pasado que se siente incómodo utilizar mouse pequeños.
➤ También por otra parte el mouse solo tiene un pequeño botón que sirve únicamente para configurar el DPI, el cual es graduable desde 800 hasta 1600, no es una cantidad excesiva pero es aceptable, y en cuanto a su sensor y movimiento es bastante bueno, de hecho es capaz de moverse en cualquier superficie, como madera e incluso encima de libros. Su movimiento es mucho más que aceptable, he jugado muchos shooters y hasta ahora no me ha fallado en nada. Lo que sí tengo que mencionar es que en el teclado el dibujo de las letras es hecho con una especie de papel y con el tiempo se comienza a desaparecer la marca de las letras, e incluso podremos rasguñarlas y quitarlas.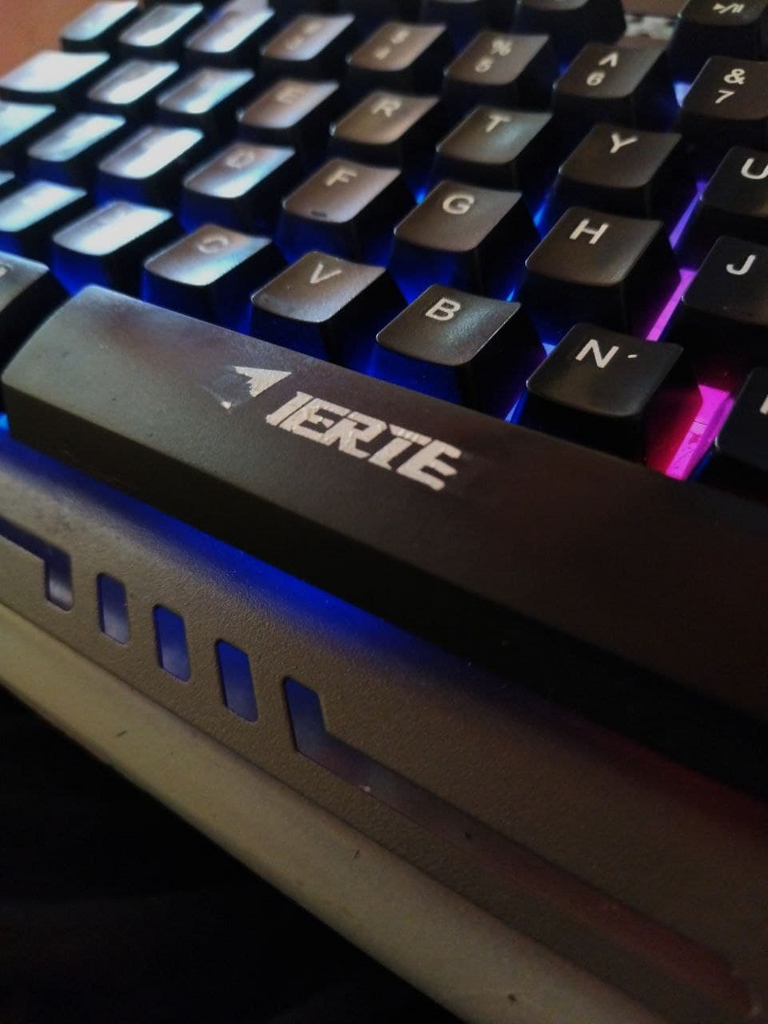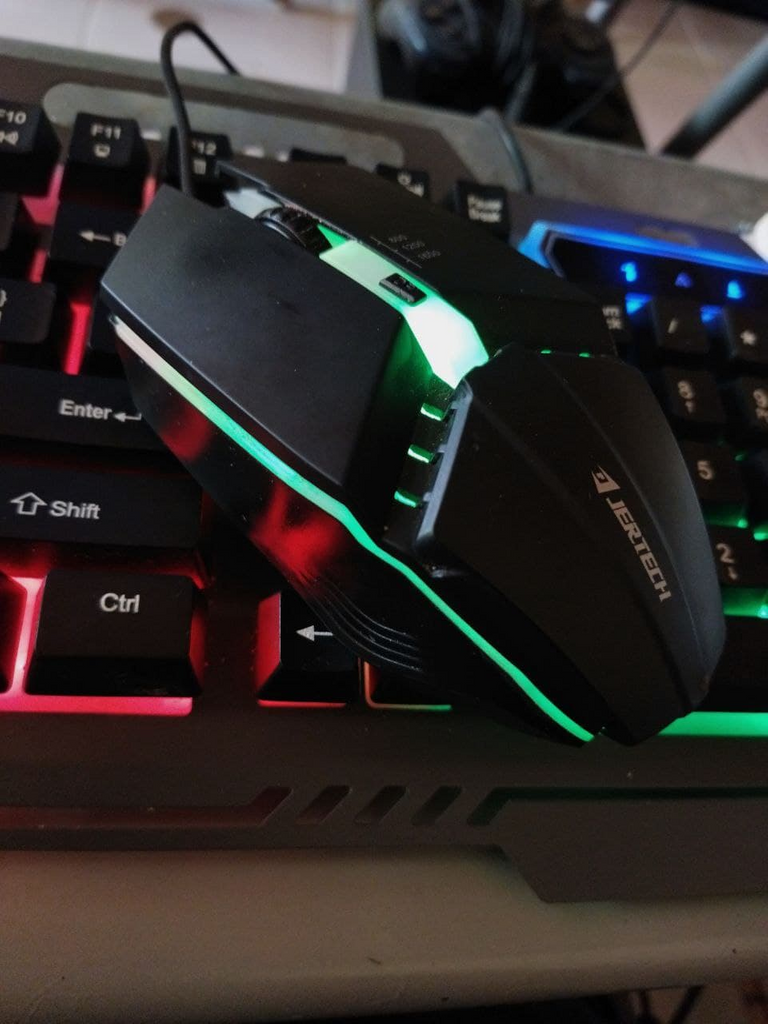 ---
➤ Creo que el gran fuerte de todo esto es la presencia del teclado mecánico, que al menos es un teclado mecánico real, o si no probablemente sea un teclado semimecánico. Pero se siente demasiado bien, como todo teclado mecánico es ruidoso a la hora de presionar las teclas, los switches se ven bastante bien y de buena calidad y también podremos presionar al mismo tiempo todas las teclas que queramos. La reacción del teclado es instantanea y esto se me hizo muy notorio en juegos como Brawlhalla, por ejemplo. Donde la reacción por cada tecla es instantanea y sin ningún tipo de delay, delay que por ejemplo sí estaba presente en el anterior teclado común con el que jugaba. También sirve muy bien para juegos como Osu, donde la rápidez del teclado es muy importante.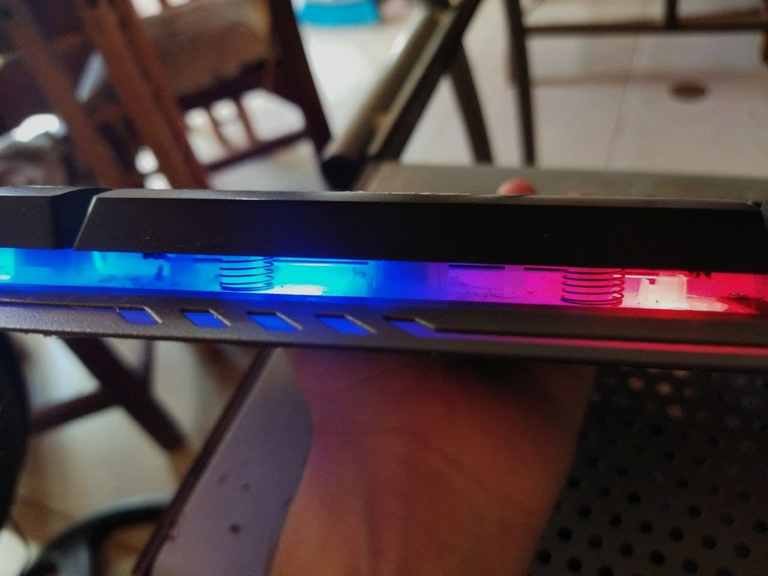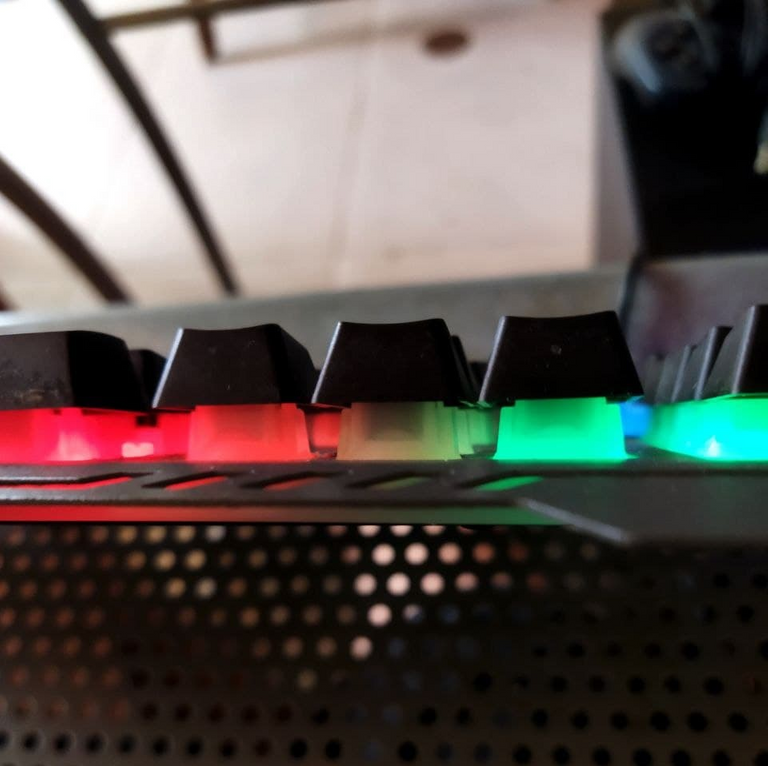 ---
➤ Por último toca hablar de su parte estética, y con esto, sus luces. Realmente se podría decir que el teclado no es RGB, a lo que me refiero con esto es que simplemente trae colores fijos que no podemos cambiar, y en cuanto al mouse cambia de color aleatoriamente, aunque tampoco se puede controlar, pero por lo que vale tampoco se puede pedir demasiado. Así que si esperan poder cambiar los colores y modificarlos a su gusto, tendrían que buscar una opción más avanzada. Aún así las luces son bastante bonitas, y si solo buscamos que algo de estética por un precio muy bajo está más que bien y no podemos exigir demasiado, de hecho por las noches se ve bastante genial. Los colores fijos del teclado son el azul, el morado, el rojo y algunas tonalidades de naranja y por último el verde, divididos en 4 sectores del teclado.
| | |
| --- | --- |
| | |
| | |
| --- | --- |
| | |
---
➤ La verdad es que sigo mencionando que por un bajo precio, de forma estética y funcionalmente están bastante bien, o al menos en mi opinión. Como último les dejo una pequeña foto de como se ve todo en la noche, muchas gracias por haber leído, ¡nos vemos en el próximo post!
All images are by me. 

---
English Version
---
➤ I think we all know the current situation of gamers products today, where any product with RGB lights included is sold as a gamer object at overpriced, and over come out to be poor quality products and sold in excess in most stores, making it difficult to get something like a keyboard or a mouse at a low price, and aesthetically pleasing. Since if we want to buy something branded we all know that this kind of products are quite expensive. Many months ago I bought a combo of a keyboard and a gamer mouse, and the truth is that I did not expect much, but it has managed to surprise me. These are the Cheetah KM960 from Jertech.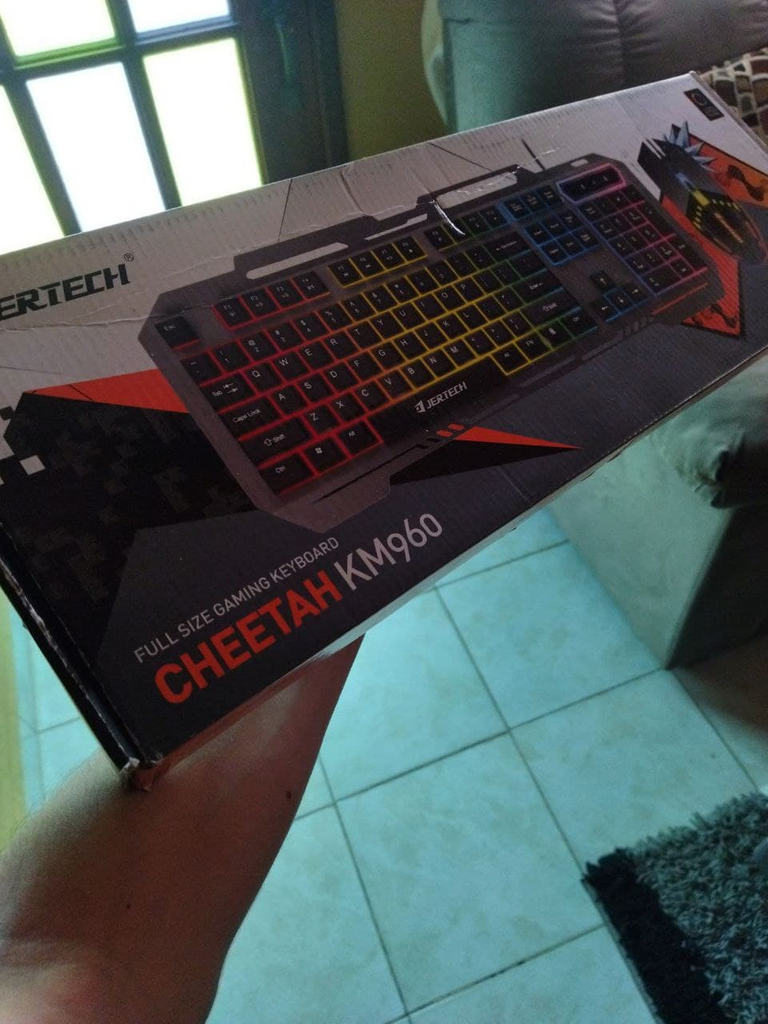 ---
➤ I actually bought it for a price of $20, and to be honest I couldn't expect much from this and neither did I, I just wanted something that was functional and looked good aesthetically, because my previous keyboard and mouse had been damaged. For its price it must be emphasized that they feel very good, the construction material of both the keyboard and mouse feel of very good quality, they could even withstand a few blows and the truth is that they are durable, I have already a total of more than 6 months with them and they have not suffered a single scratch. The keyboard has a metal finish on the sides that serve very well to put it more stable on the surface where it is and also as a comfortable hand rest. And as for the mouse its design can be a little strange at first glance, but I have to admit that it is really comfortable once we get used to it and it feels very ergonomic and has a quite considerable size, which at least to me seems perfect since I have big hands and many times it has happened to me that it feels uncomfortable to use small mice.
➤ Also on the other hand the mouse only has a small button that serves only to set the DPI, which is adjustable from 800 to 1600, it is not an excessive amount but it is acceptable, and as for its sensor and movement is quite good, in fact it is able to move on any surface, such as wood and even on top of books. Its movement is much more than acceptable, I have played many shooters and so far it has not failed me in anything. What I do have to mention is that on the keyboard the drawing of the letters is made with a kind of paper and over time the mark of the letters begins to disappear, and we can even scratch them and remove them.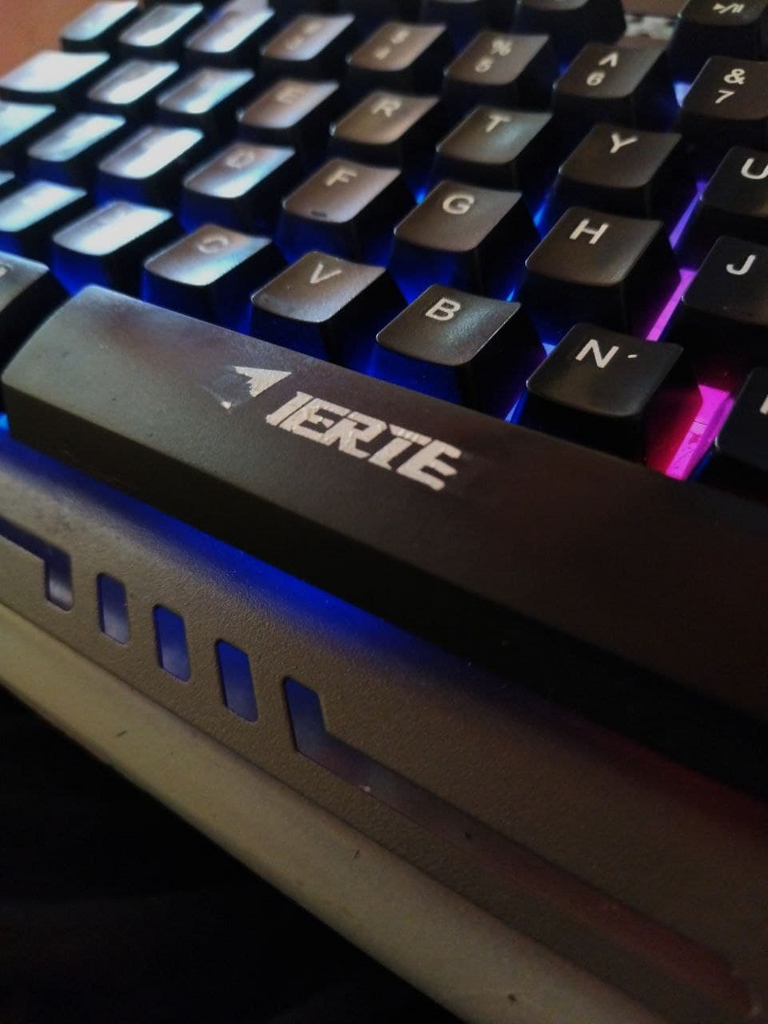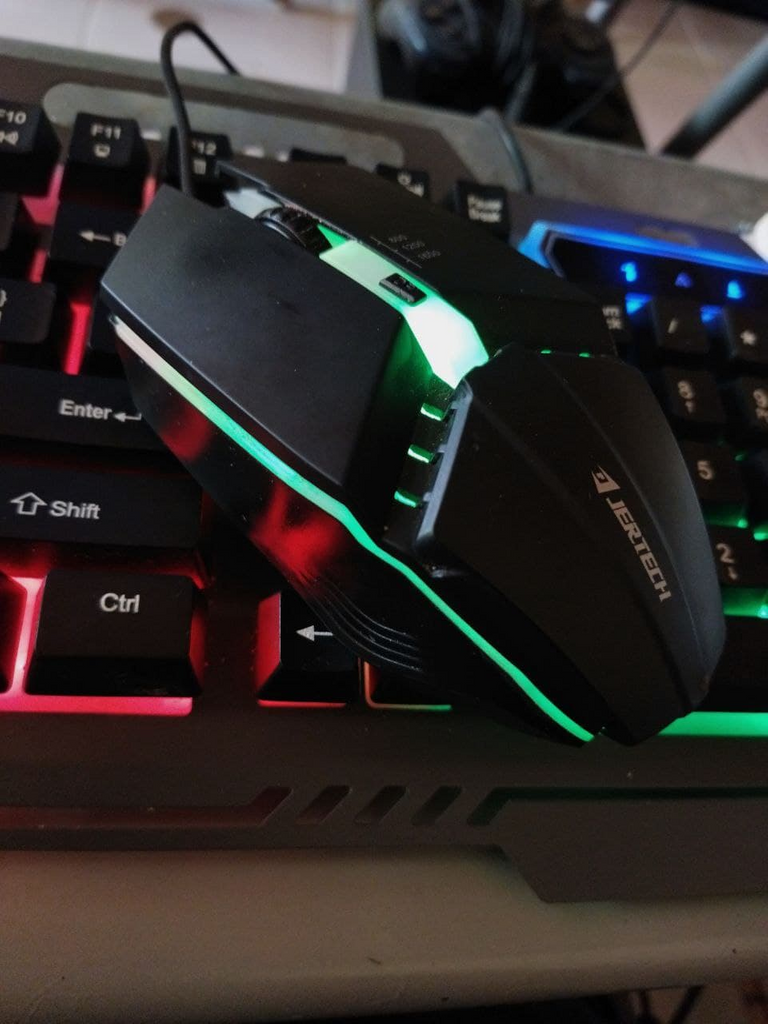 ---
➤ I think the great strength of all this is the presence of the mechanical keyboard, which at least is a real mechanical keyboard, or if not it's probably a semi-mechanical keyboard. But it feels too good, like any mechanical keyboard it is noisy when pressing the keys, the switches look pretty good and of good quality and we can also press at the same time all the keys we want. The reaction of the keyboard is instantaneous and this was very noticeable in games like Brawlhalla, for example. Where the reaction for each key is instantaneous and without any delay, delay that for example was present in the previous common keyboard with which I played. It also works very well for games like Osu, where the speed of the keyboard is very important.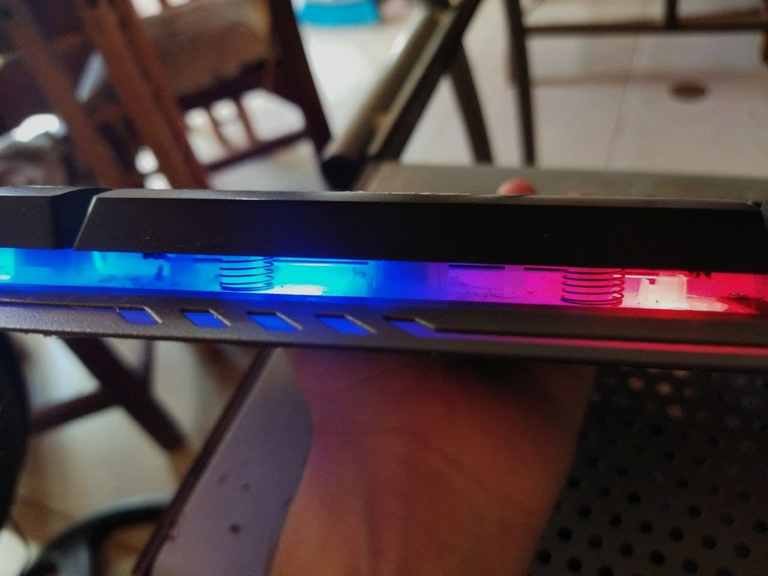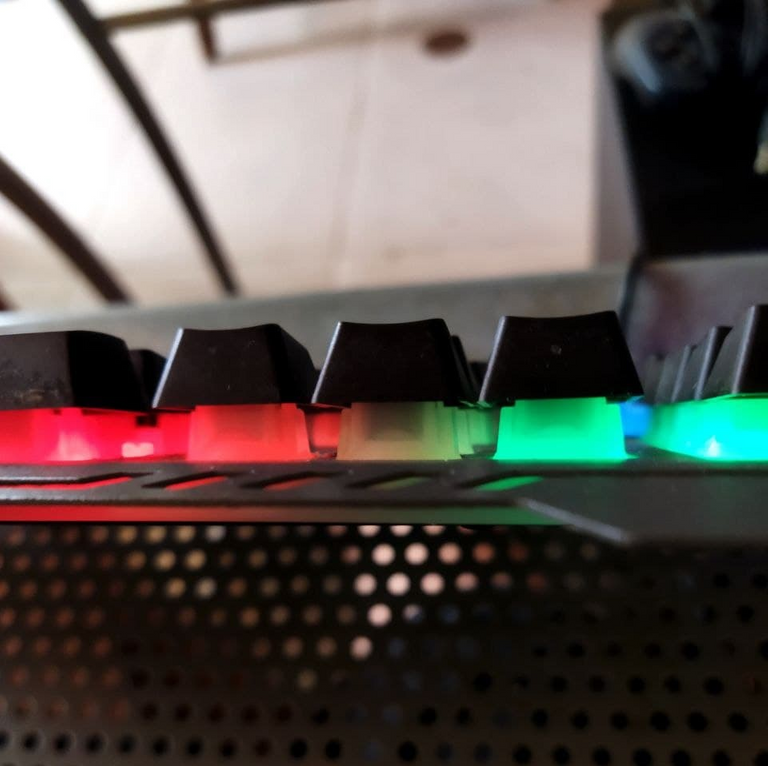 ---
➤ Finally it's time to talk about its aesthetic part, and with this, its lights. You could really say that the keyboard is not RGB, what I mean by this is that it simply brings fixed colors that we can not change, and as for the mouse changes color randomly, although it can not be controlled, but for what it costs you can not ask too much. So if you expect to be able to change the colors and modify them to your liking, you would have to look for a more advanced option. Still the lights are quite nice, and if we are only looking for some aesthetics for a very low price is more than fine and we can not demand too much, in fact at night it looks pretty cool. The fixed colors of the keyboard are blue, purple, red and some shades of orange and finally green, divided into 4 sectors of the keyboard.
| | |
| --- | --- |
| | |

---
➤ The truth is that I keep mentioning that for a low price, aesthetically and functionally they are quite good, or at least in my opinion. As last I leave you a little picture of how everything looks at night, thank you very much for reading, see you in the next post!
All images are by me.