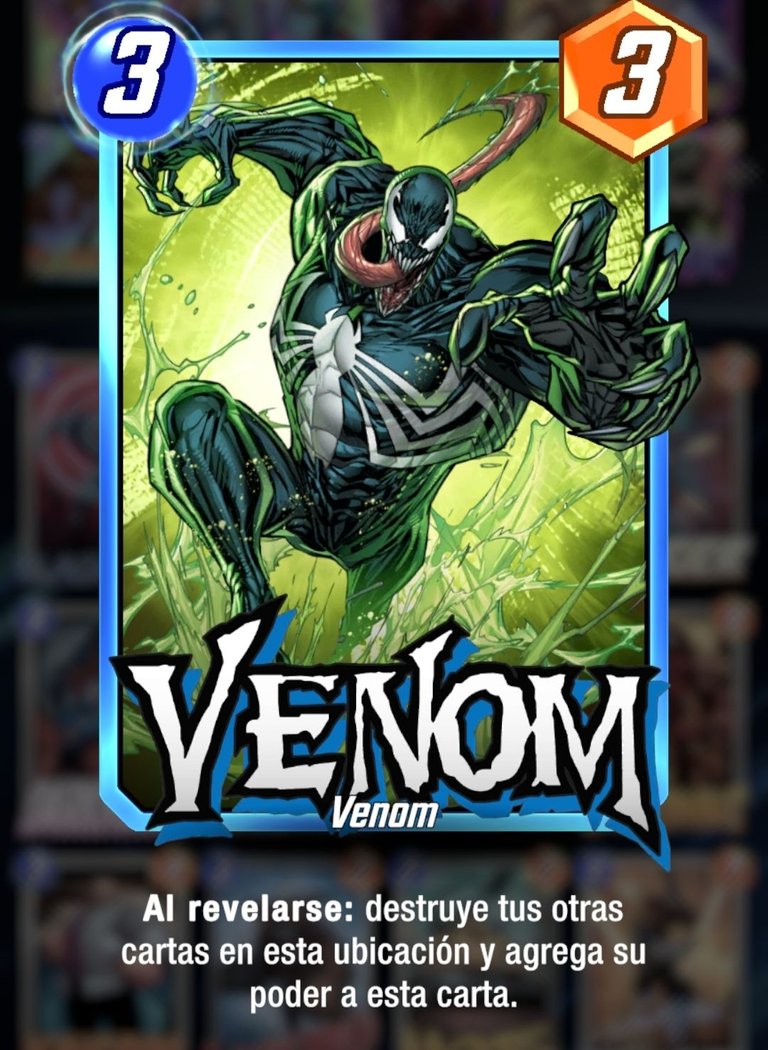 All the screenshots in this post were taken directly from the game by me

English
With only a week left until the "Guardians greatest hits" season ends, I think it's the perfect time to make one last push to climb a few more ranks in Marvel Snap.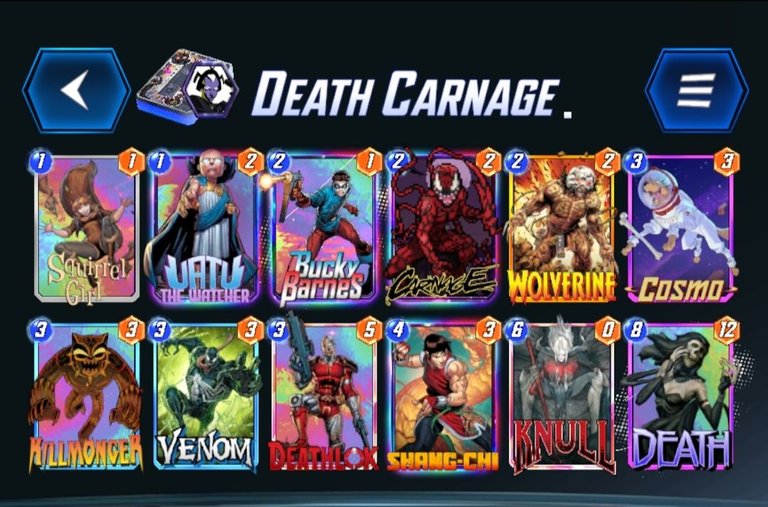 I must admit that unlike some previous seasons this time it took me a long time to get to the desired level, however, not only did I manage to maintain my record from the previous month, but I feel that with a bit of luck I can surpass it again.
The key? I finally managed to get one of the cards that could benefit my playstyle the most: Venom
As I have exposed on several previous occasions, my deck focuses entirely on the intentional destruction of my own cards, something that not only ends up activating special effects within them, but at the same time, ends up increasing the strength of the superior cards of my deck: Death and Knull.
Like Carnage, Venom's main incentive is to destroy his placement partners, though he does have a couple of crucial differences that end up causing the two to complement each other very well in the deck.
On the one hand, Carnage gets two extra points for each destroyed card, causing that in a location with three other cards placed, his power can rise up to 8 points (2 base plus 2X3: 6). This makes it a particularly useful card when you mix it with other low-power cards (like Squirrel Girl or Bucky Barnes), but it's negative when you want to discard cards with a power greater than 2.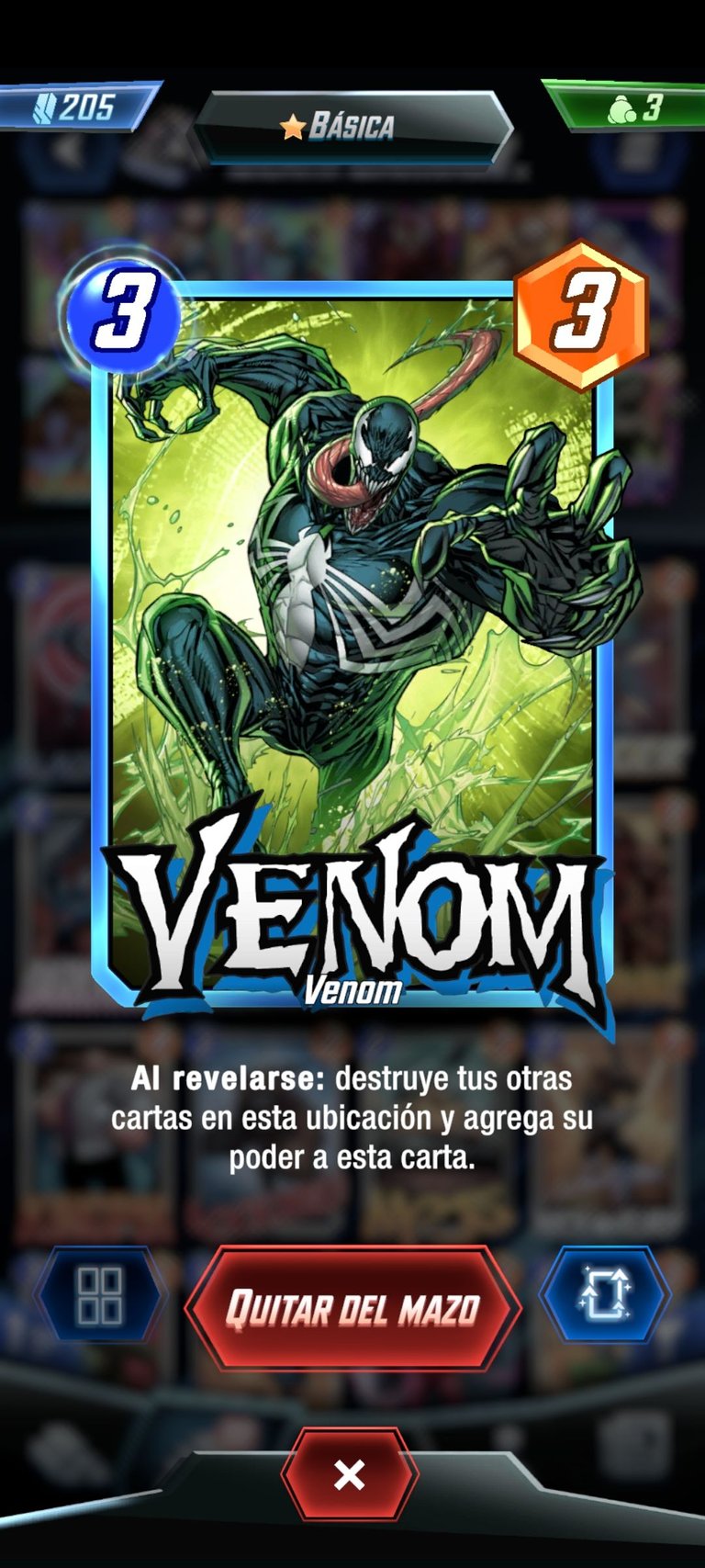 Venom, on the other hand, instead of adding two points for each card destroyed, adds to its power the total number of cards it has consumed, proving particularly fatal when mixed with cards whose power is greater than 2. (although its cost be higher).
Both have their pros and cons, but it's relatively easy to find a balance that takes advantage of both.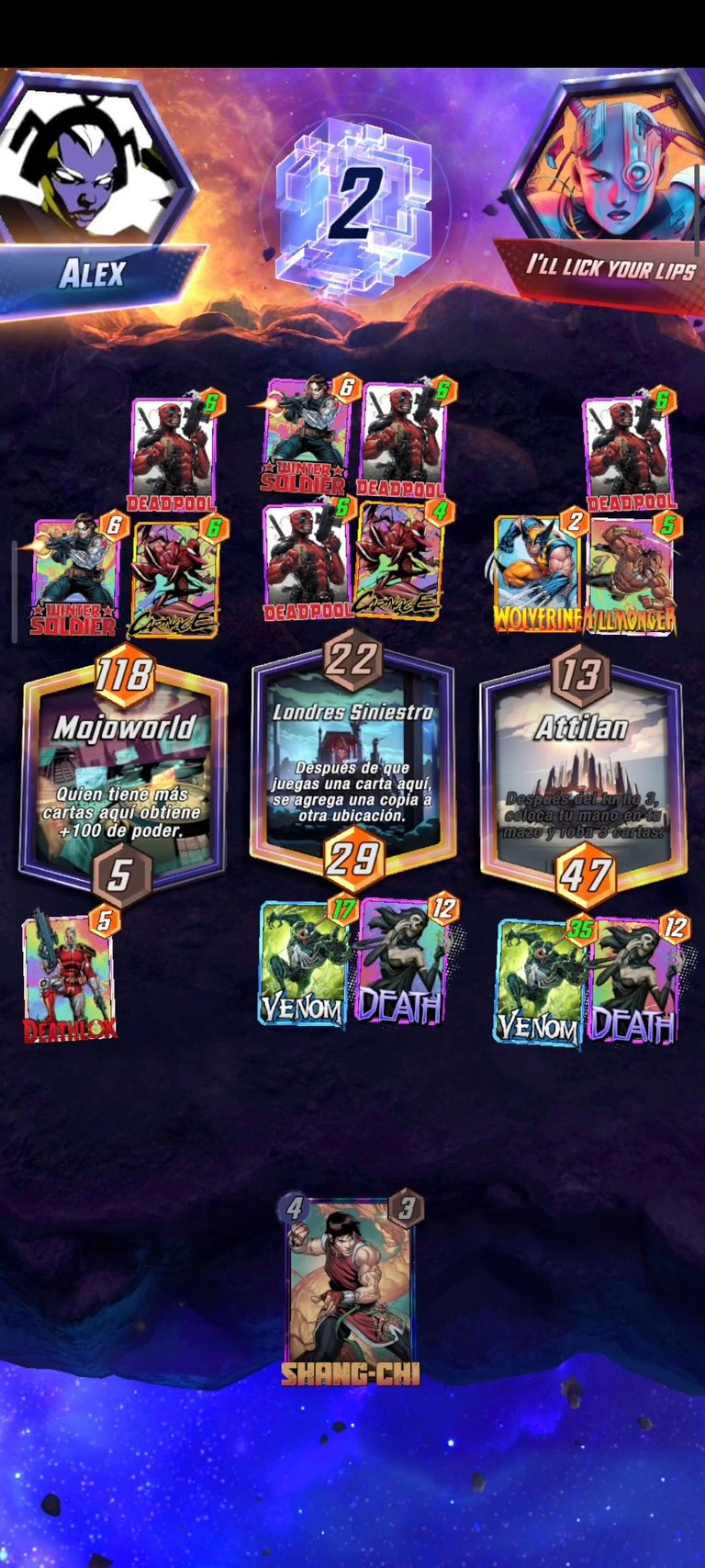 One of the negative points of the inclusion of Venom, is that mixed with my recurring use of cards like Knull or Death (which are characterized by having high power levels apart from being benefited by the destruction of third cards) is that regularly the The power level of the cards put on the board exceeds 9 points, something that can regularly put me in danger from those decks that use cards like Shang-Chi or Gambit.
The solution? Include Cosmo, one of the few defensive cards in my entire deck, but capable of protecting entire areas where I have a high number of points.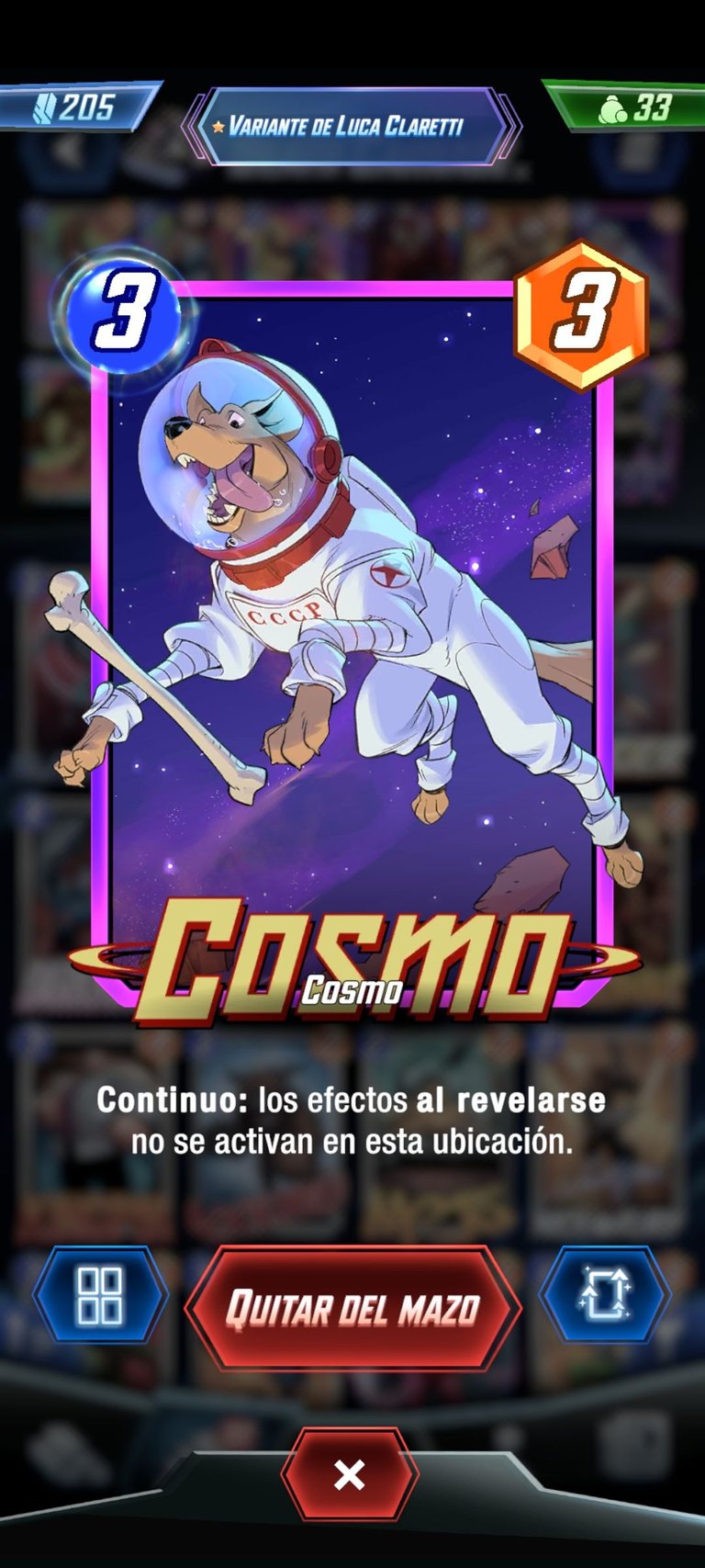 Although I've used defensive cards like Cosmo or Armor before, I've always had a hard time getting them to work in harmony with the rest of my deck, but I think I finally got the dynamic I wanted.
Cosmo is a risky card (considering that it negates both our and our opponent's reveal effects) but playing it at the right time can ensure victory.
As I always say: Marvel Snap is a great video game and this type of simple and fun strategies are what for me elevate it above other "deeper" card games, existing in a middle ground where it is easy to understand but difficult to dominate.
Although my control decks are extremely simple, I like the idea of gradually refining them to face opponents with other, more experienced playstyles, which is why I have found spaces for unexpected additions like Shang-Chi or Cosmo, which without no doubt they are caught off guard.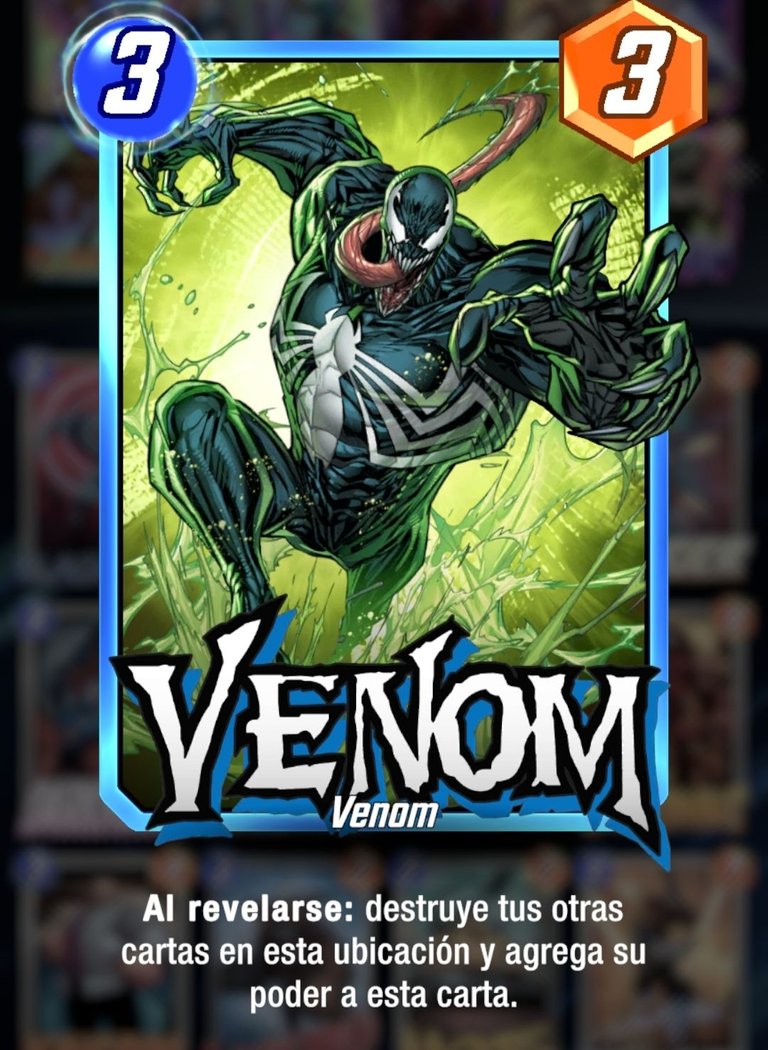 Todas las imágenes en este post fueron tomadas directamente desde el juego por mi

Español
Con tan solo una semana restando para que finalize la temporada de "Guardians greatest hits", creo que es el momento perfecto para realizar un último esfuerzo por ascender un par de rangos más en Marvel Snap.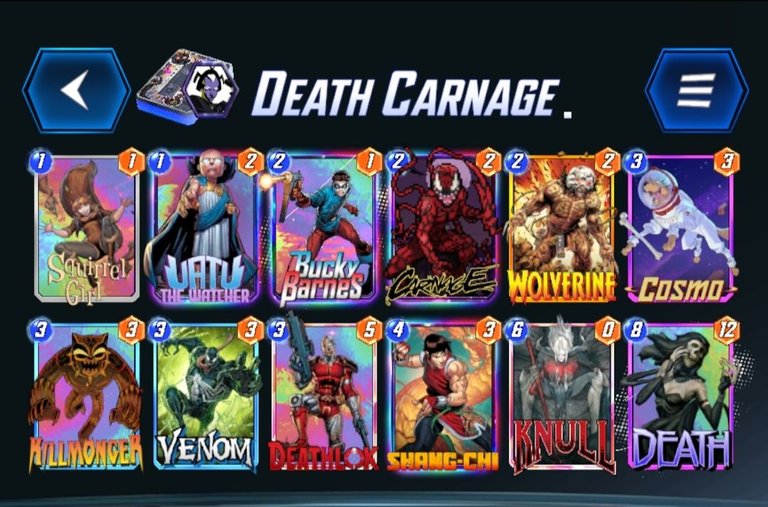 Debo admitir que a diferencia de algunas temporadas previas está vez me tomó muchísimo tiempo llegar al nivel deseado, no obstante, no solo conseguí mantener mi record del mes anterior, sino que siento que con un poco de suerte podré superarlo otra vez.
¿La clave? Finalmente logré conseguir una de las cartas que podría beneficiar más mi estilo de juego: Venom.
Cómo he expuesto en varias ocasiones previas, mi deck se enfoca totalmente en la destrucción intencional de mis propias cartas, algo que no solo termina activando efectos especiales dentro de estas mismas, sino que a la vez, termina aumentando la fuerza de las cartas superiores de mi mazo: Death y Knull.
Al igual que Carnage, el incentivo principal de Venom es destruir a sus compañeros de ubicación, aunque cuenta con un par de diferencias cruciales que termina causando que ambas se complementen muy bien en el deck.
Por un lado, Carnage obtiene dos puntos extra por cada carta destruída, causando que en una ubicación con con otras tres cartas puestas su poder pueda elevarse hasta 8 puntos (2 de base más 2X3:6). Esto la convierte en una carta particularmente útil cuando la Mezclas con otras de bajo poder (Como squirrel girl o Bucky Barnes), pero resulta negativo cuando quieres descartar cartas con un poder mayor a 2.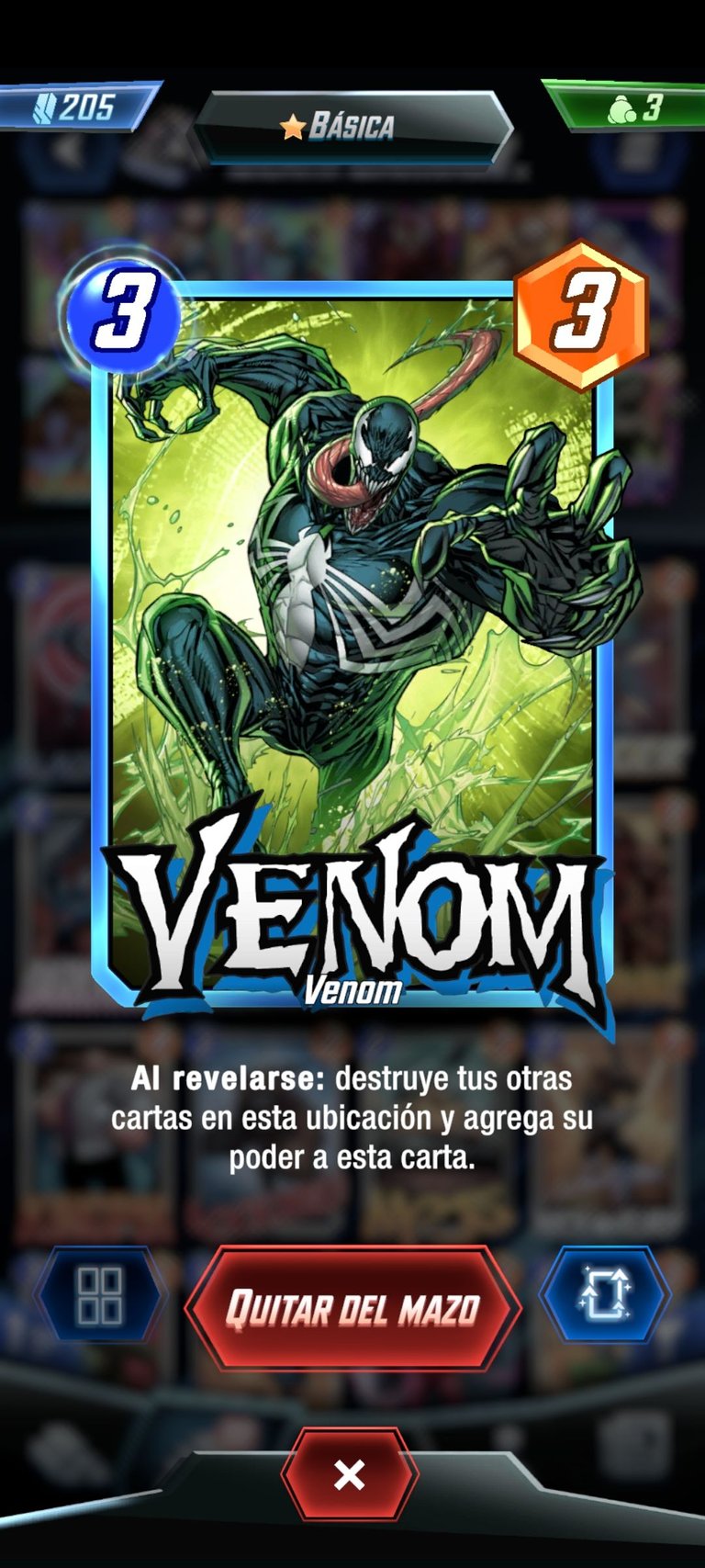 Venom, por otro lado, en vez de sumar dos puntos por cada carta destruída, añade a su poder la cantidad total de las cartas que ha consumido, resultando particularmente fatal cuando se mezcla con cartas cuyo poder es mayor a 2. (aunque su costo sea más elevado).
Ambos tienen sus ventajas y defectos, pero es relativamente fácil encontrar un balance que aproveche ambas.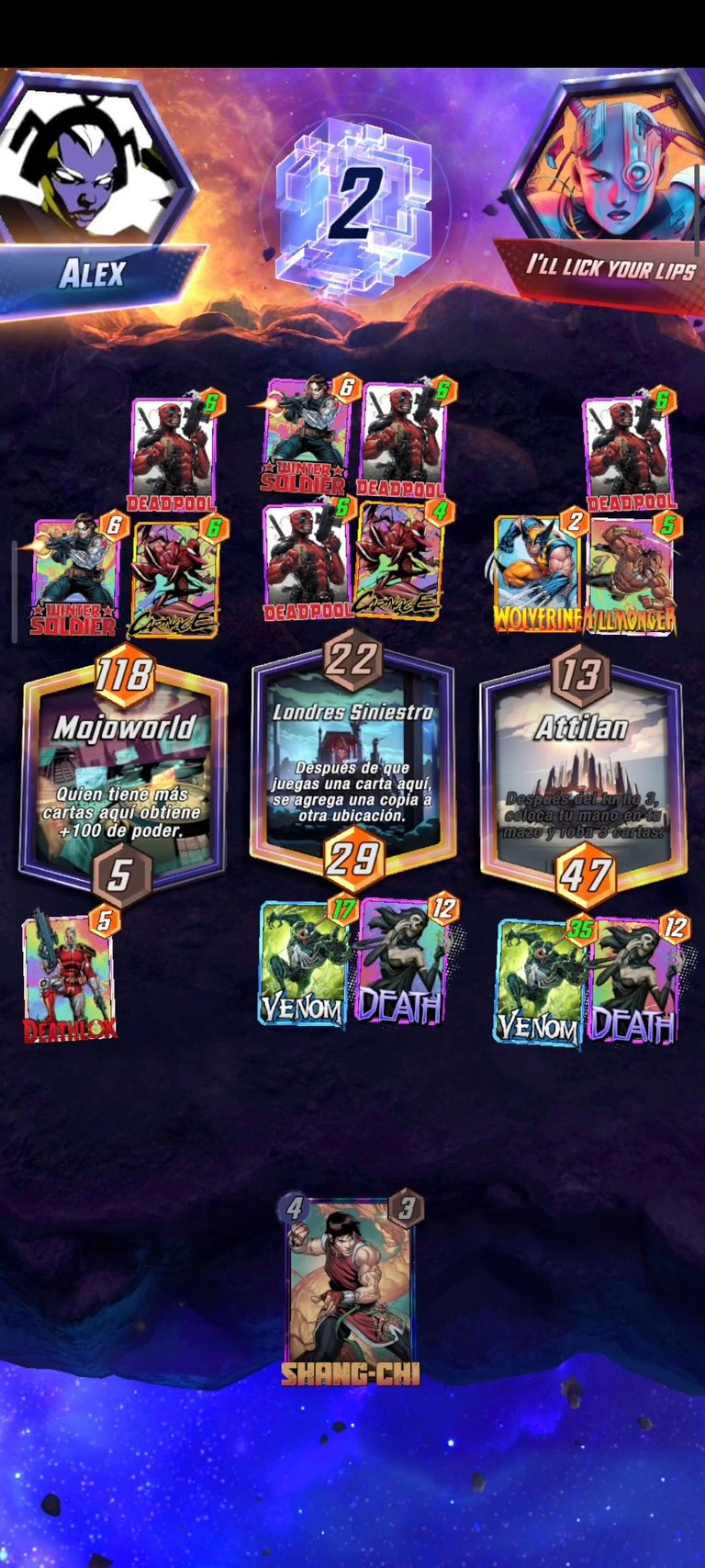 Uno de los puntos negativos de la inclusión de Venom, es que mezclado con mi uso recurrente de cartas como Knull o La Muerte (Que se caracterizan por tener nivel de poder altos aparte de verse beneficiadas por la destrucción de terceras cartas) es que regularmente el nivel de poder de las cartas puestas en el tablero rebasa los 9 puntos, algo que regularmente puede ponerme en peligro de aquellos decks que usen cartas como Shang-Chi o Gambit.
¿La solución? Incluir a Cosmo, una de las pocas cartas defensivas de todo mi deck, pero capaz de proteger áreas completas en dónde tengo una cantidad de puntos elevados.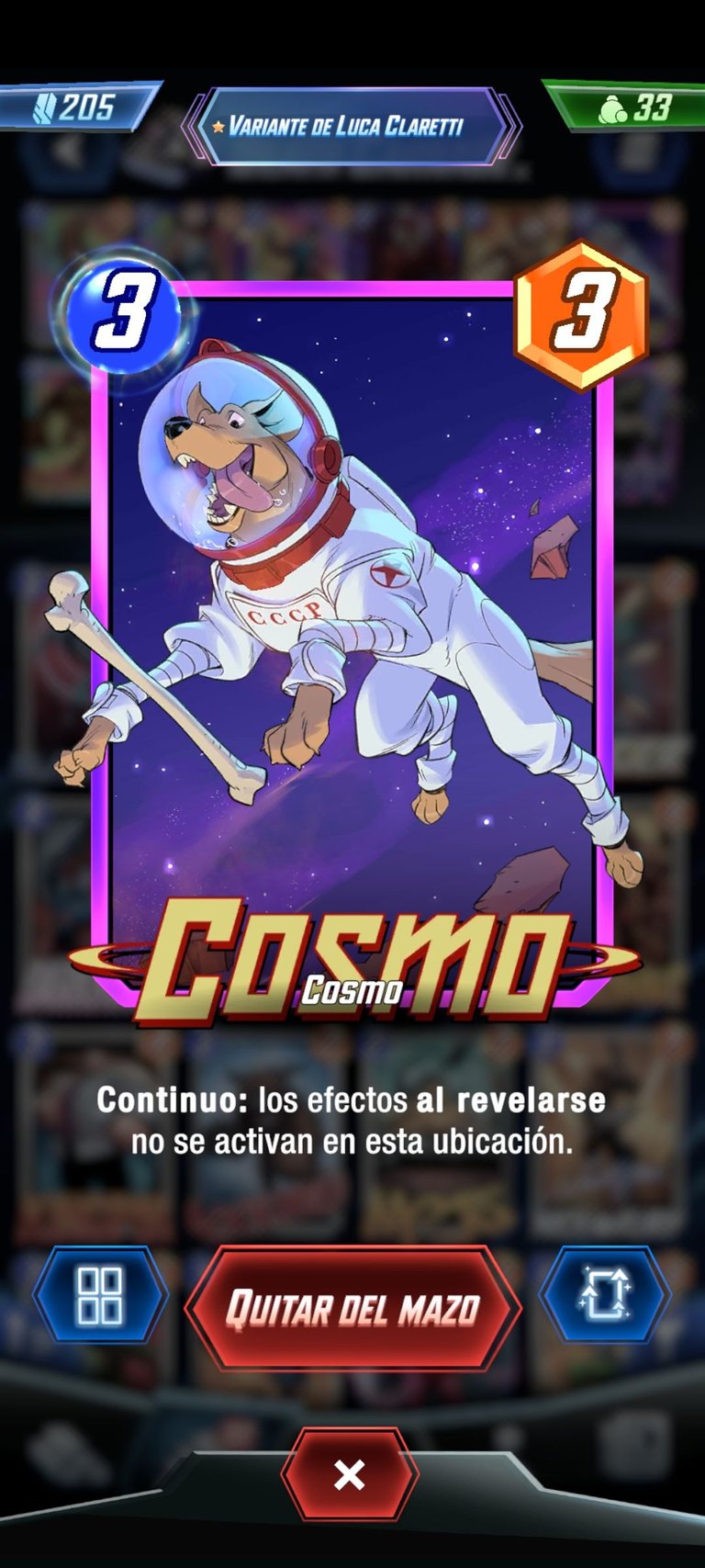 Aunque ya antes había usado cartas defensivas como Cosmo o Armor, siempre me había costado hacer que funcionaran armónica con el resto de mi deck, no obstante, creo que finalmente alcancé la dinámica que quería.
Cosmo es una carta arriesgada (considerando que invalida los efectos de revelación de nosotros y de nuestro rival) pero jugandola en el momento correcto nos puede asegurar la victoria.
Cómo siempre digo: Marvel Snap es un videojuego estupendo y este tipo de estrategias simples y divertidas son las que para mí lo elevan por encima de otros juegos de cartas más "profundos", existiendo en un punto medio en dónde es fácil de comprender pero difícil de dominar.
Si bien mis decks de control son extremadamente simples, me gusta la idea de irlos refinando poco a poco para enfrentarme a rivales con otros estilos de juego más experimentados, por ello mismo he encontrado espacios para adiciones inesperadas como Shang-Chi o Cosmo, que sin duda los toman desprevenidos.

Twitter/Instagram/Letterbox: Alxxssss