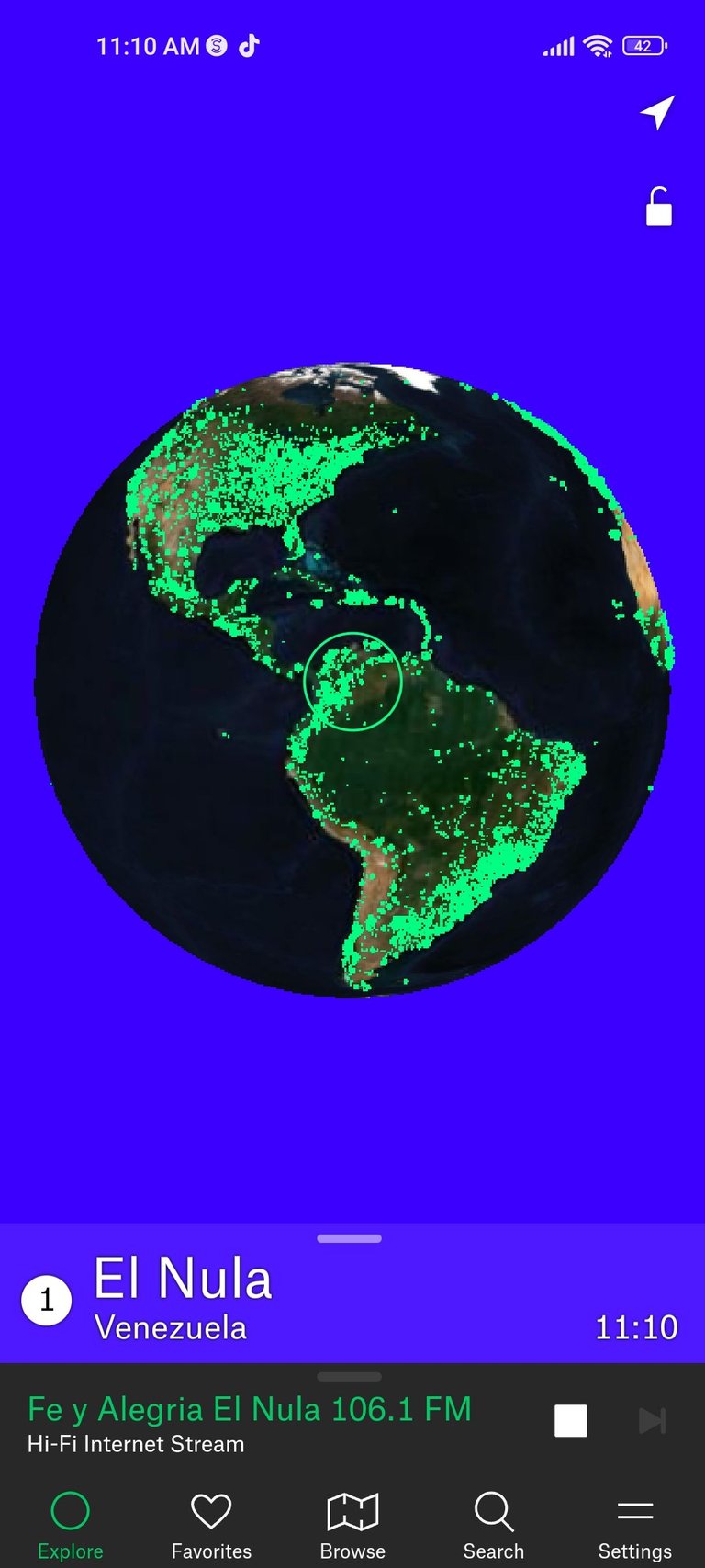 Todas las capturas de pantalla en este post fueron tomadas directamente por mi desde la app, Radio Garden se encuentra disponible para Android y iOS

Like anyone of my generation, my main mechanism for listening to music is streaming, I spend most of my days playing any playlist on Spotify and I enjoy the possibility of playing practically any song by any artist I like, who can blame me? It is very practical and its solid algorithm is in charge of feeding me with more music related to my tastes every time I get bored of what I have.
However, this comfort is often a double-edged sword, where we easily pigeonhole ourselves into our pattern of tastes and hardly get out of there, we take for granted that we have all the content we want at our disposal to the detriment of appreciation. of each topic individually. How will we appreciate what each artist has to offer us, if we can play an almost infinite amount of music that is updated every day, whenever we want?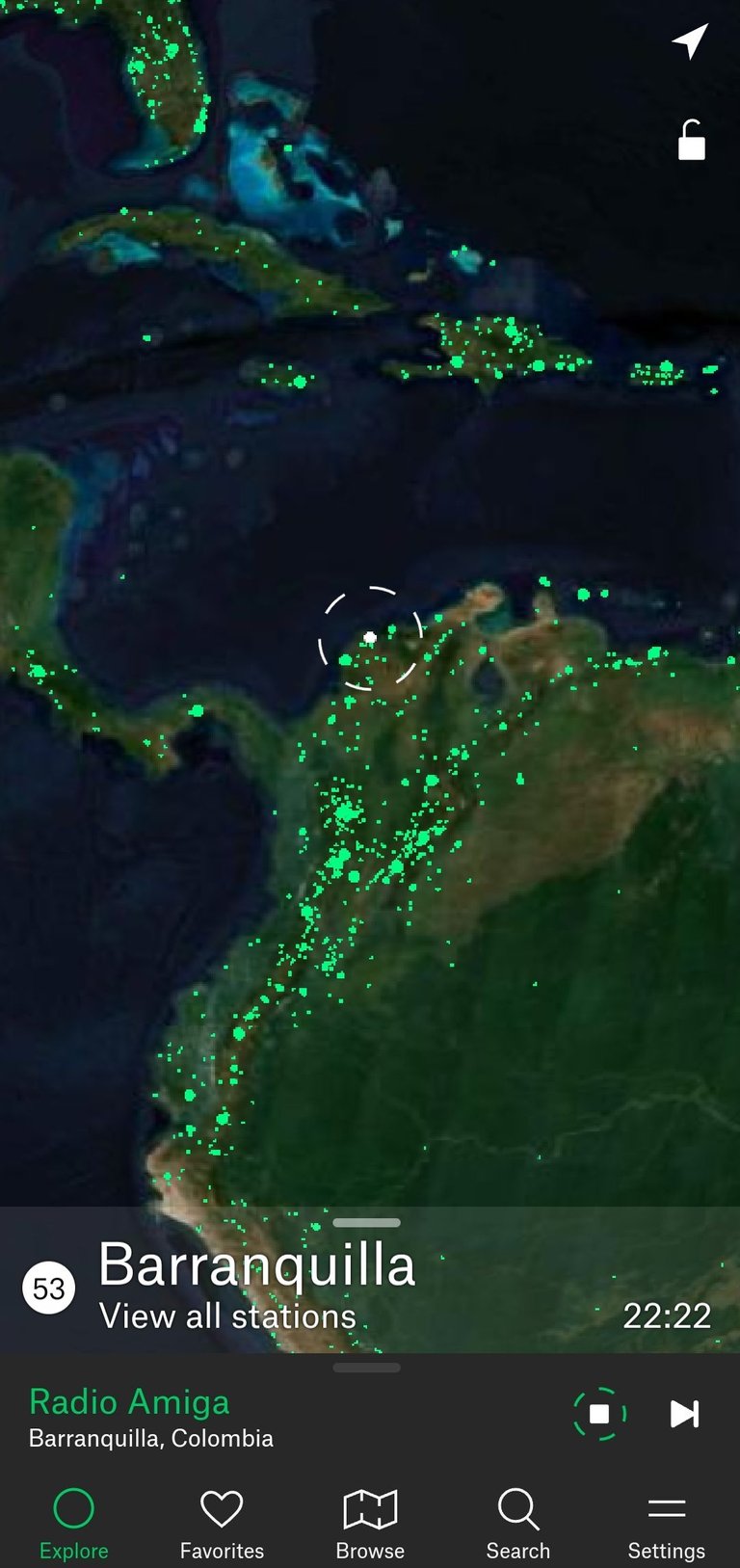 Radio Garden is not only an application that can solve this dilemma, but at the same time it serves to open the doors to different cultures around the world.
You see, its purpose is quite easy to understand: Radio Garden allows us to access radio from all over the world, LITERALLY. To achieve this, it shows us a map very similar to Google Earth, where by means of satellite images we can move to the place we want to listen to the radio stations there.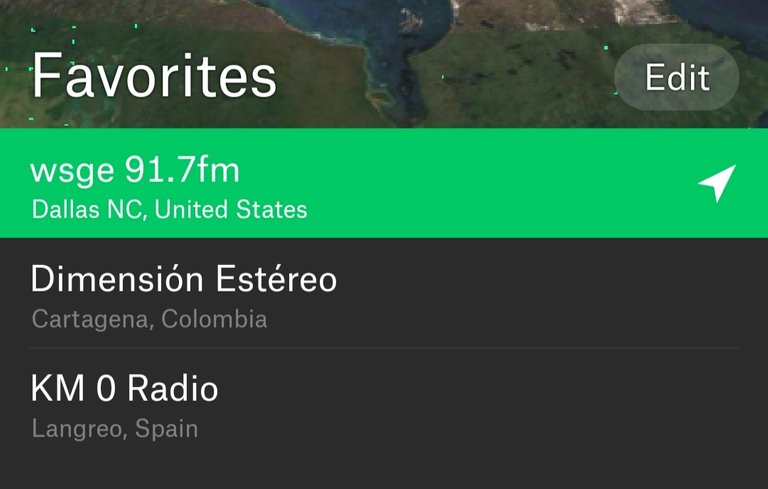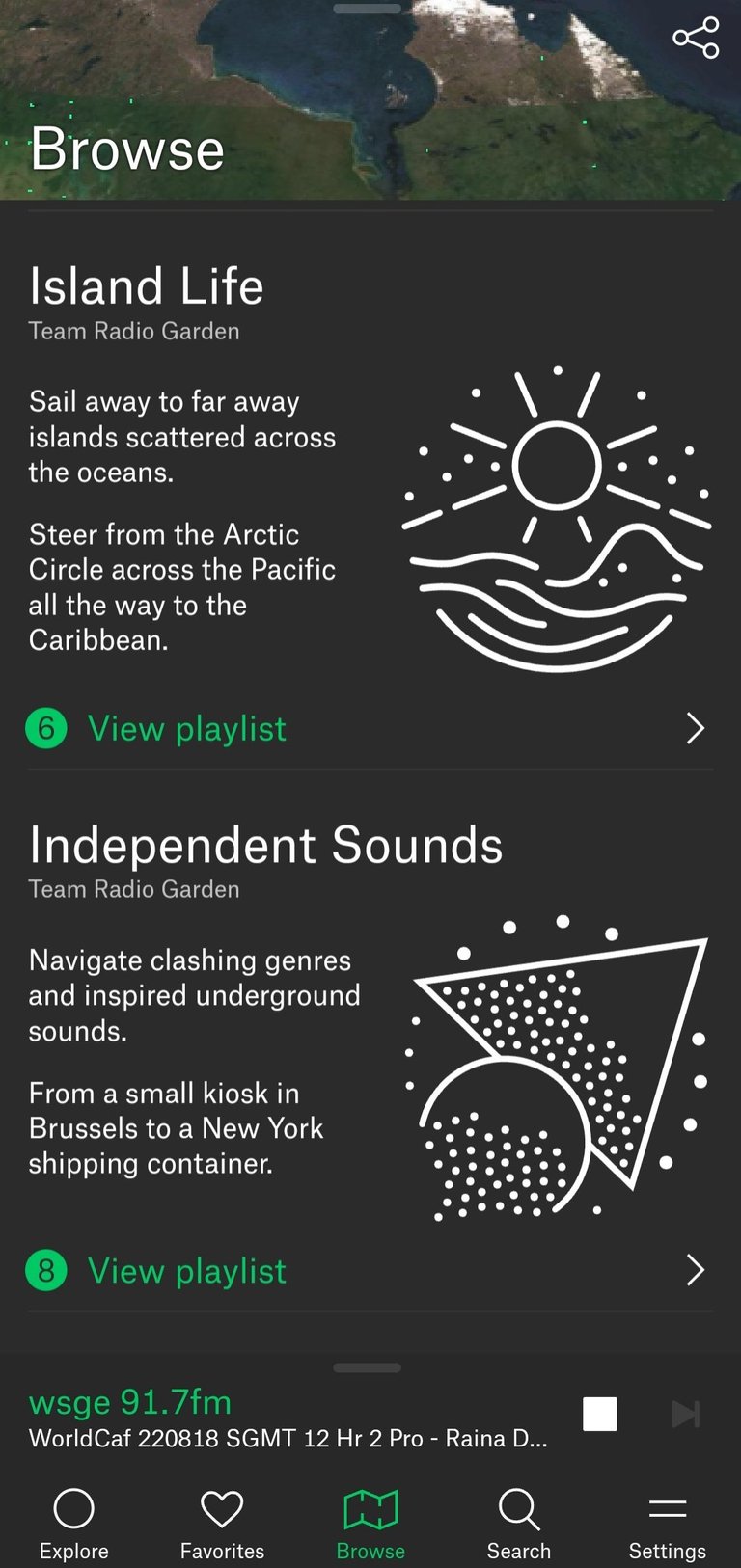 It is understandable that it does not sound like the most practical idea in the world, despite the fact that the radio was one of the most important inventions in contemporary society, we are limited to what each station decides to present to us and the region in which we find ourselves affects the available stations.
Beyond that Radio Garden solves this regional problem, these limitations can be seen more as a virtue than as a drawback, forcing us to discover new types of music, or simply listen to announcers and news that we would never have known otherwise.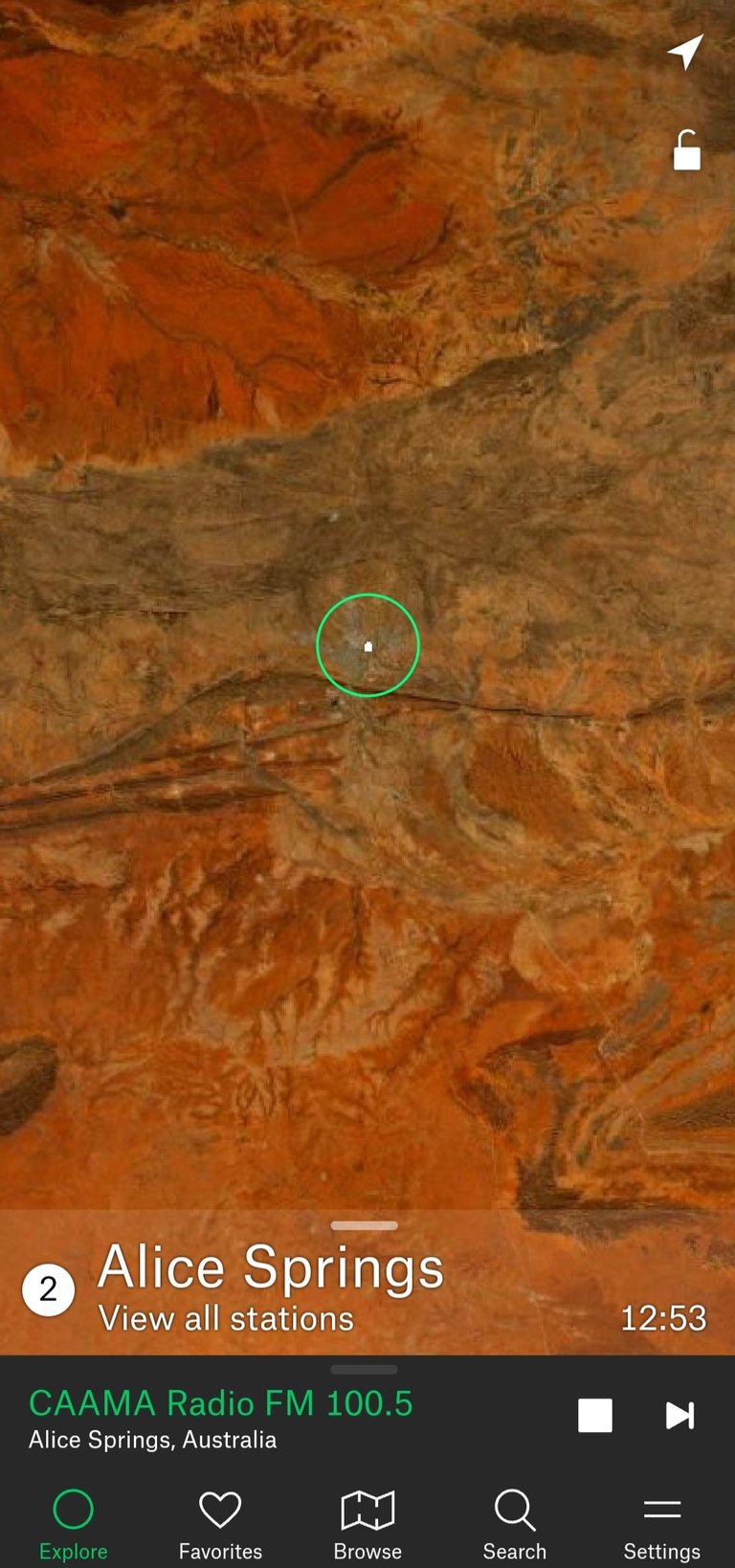 The advantages do not end here, let's suppose we are far from home and we feel nostalgic for what was playing on the radio in our city, the Radio Garden interface allows us to move there, and in case a specific station is not available, we can make a request for it to be included. There is a pretty solid favorites system and there are categories that can make it easier to find certain types of stations.
In conclusion, Radio Garden is not looking to be a replacement for traditional streaming, in fact, it would be quite foolish to consider that they can even compete. Its purpose instead is to present an alternative that allows us to connect music from another angle that for many was already completely abandoned, it is a unique experience that I totally recommend.
It's a fairly simple Dutch project, which could benefit considerably from our support.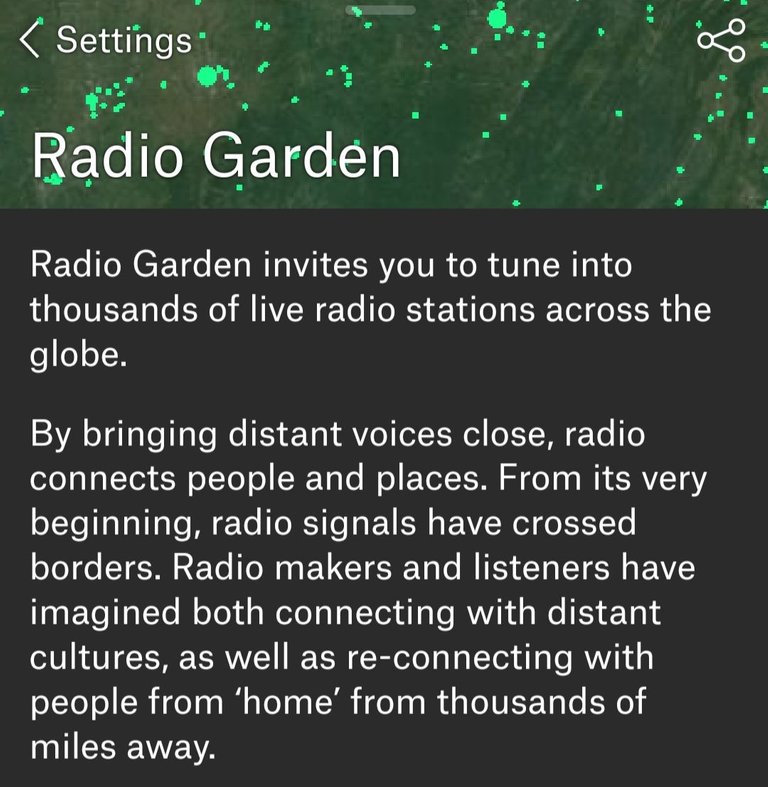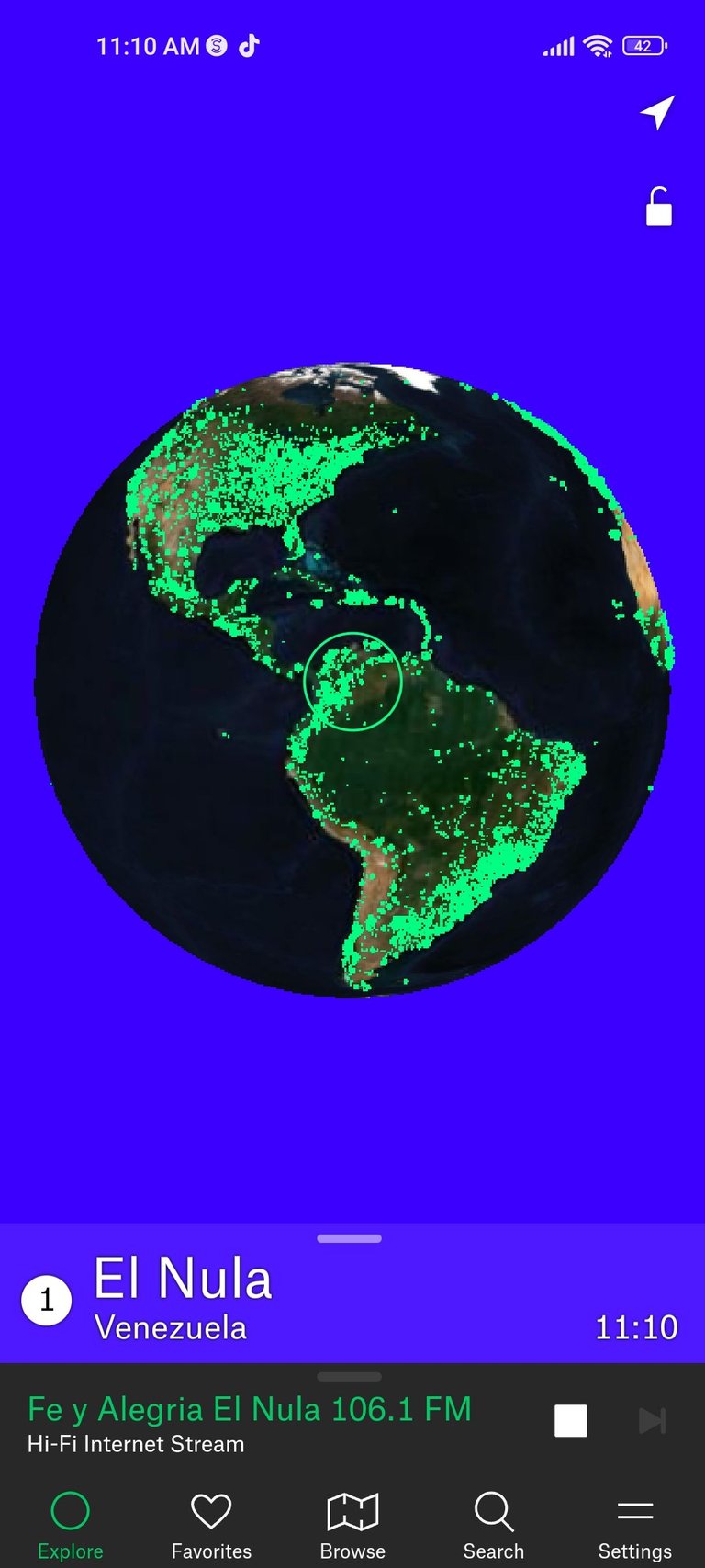 All the screenshots in this post were taken directly from the app by me, Radio Garden is available on Android and iOS

Al igual que cualquier persona de mi generación, me mecanismo principal para escuchar música es el streaming, paso la mayoría de mis días reproduciendo cualquier playlist en Spotify y disfruto de la posibilidad de reproducir prácticamente cualquier tema de cualquier artista que me guste, ¿Quien puede culparme? Es demasiado práctico y su sólido algoritmo se encarga de alimentarme con más música afin a mis gustos cada vez que me aburro de la que tengo.
No obstante, está comodidad muchas veces resulta un arma de doble filo, en dónde en nos encasillamos fácilmente dentro de nuestro patron de gustos y difícilmente salgamos de ahí, damos por hecho que tenemos todo el contenido que deseamos a nuestra disposición en detrimento de la apreciación de cada tema individualmente. ¿Cómo apreciaremos lo que cada artista tiene para ofrecernos, si podemos reproducir una cantidad casi infinita de música que se actualiza cada día, cada vez que lo deseemos?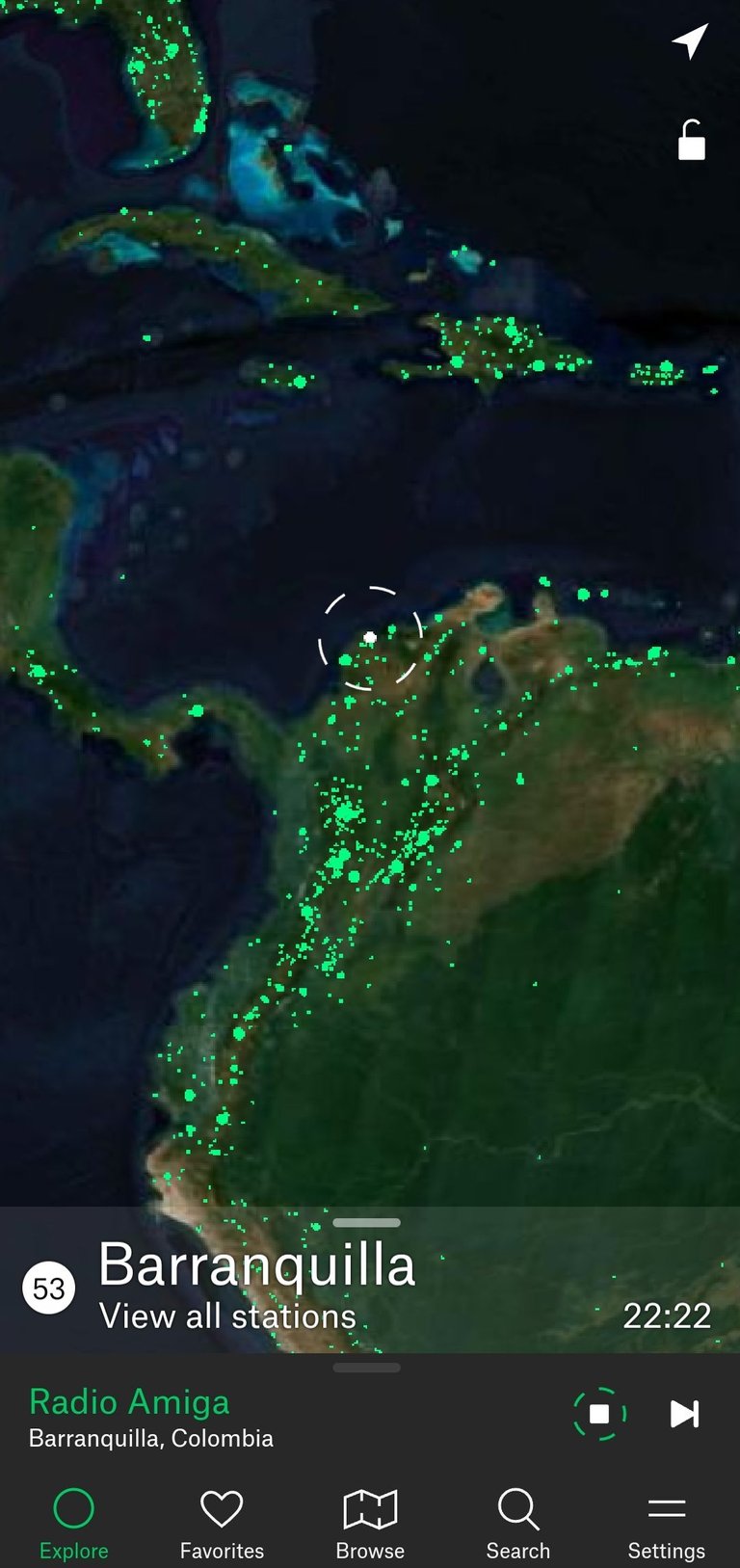 Radio Garden no solo es una aplicación que puede solventar este dilema, sino que al mismo tiempo sirve para abrirnos las puertas a diversas culturas alrededor de todo el mundo.
Verán, su finalidad es bastante fácil de comprender: Radio Garden nos permite acceder a la radio de todo el mundo, LITERALMENTE. Para lograr esto nos muestra un mapa muy al estilo de Google Earth, en dónde por medio de imágenes satelitales podremos desplazarnos al lugar que deseemos para escuchar las emisorias de radio de allí.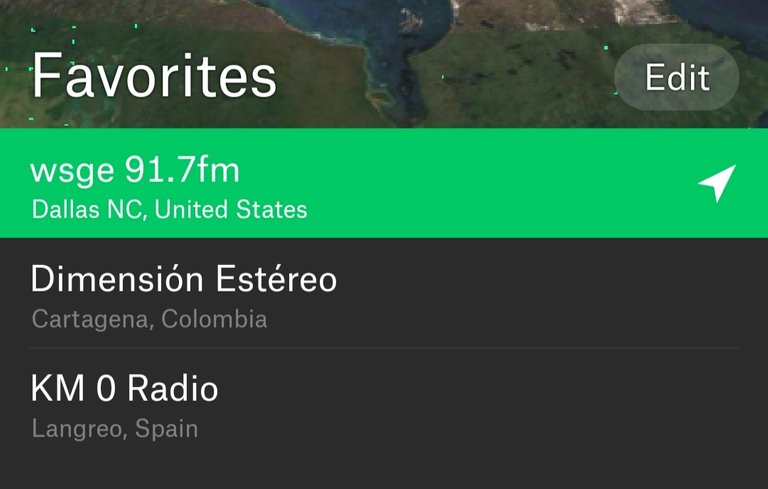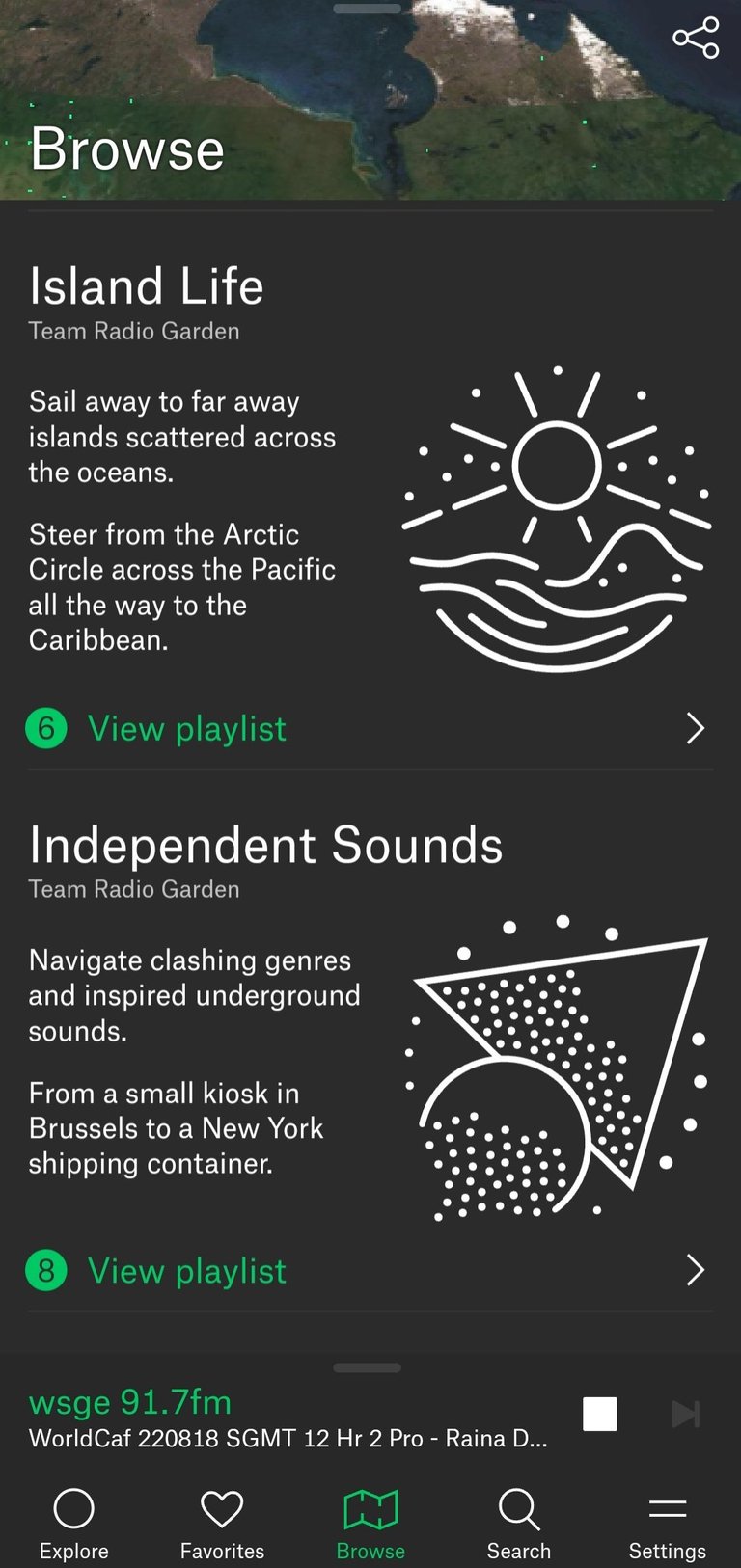 Es entendible que no suene como la idea más práctica del mundo, a pesar de que la radio fue uno de los inventos más importantes en la sociedad contemporánea, estamos limitados a aquello que cada emisora decida presentarnos y la región en la que nos encontremos afecta las emisoras disponibles.
Más allá de que Radio Garden solventa este problema regional, estás limitaciones pueden ser vistas más como una virtud que como un inconveniente, forzandonos a descubrir nuevos tipos de música, o simplemente escuchar locutores y noticias que nunca hubiésemos conocido de otra forma.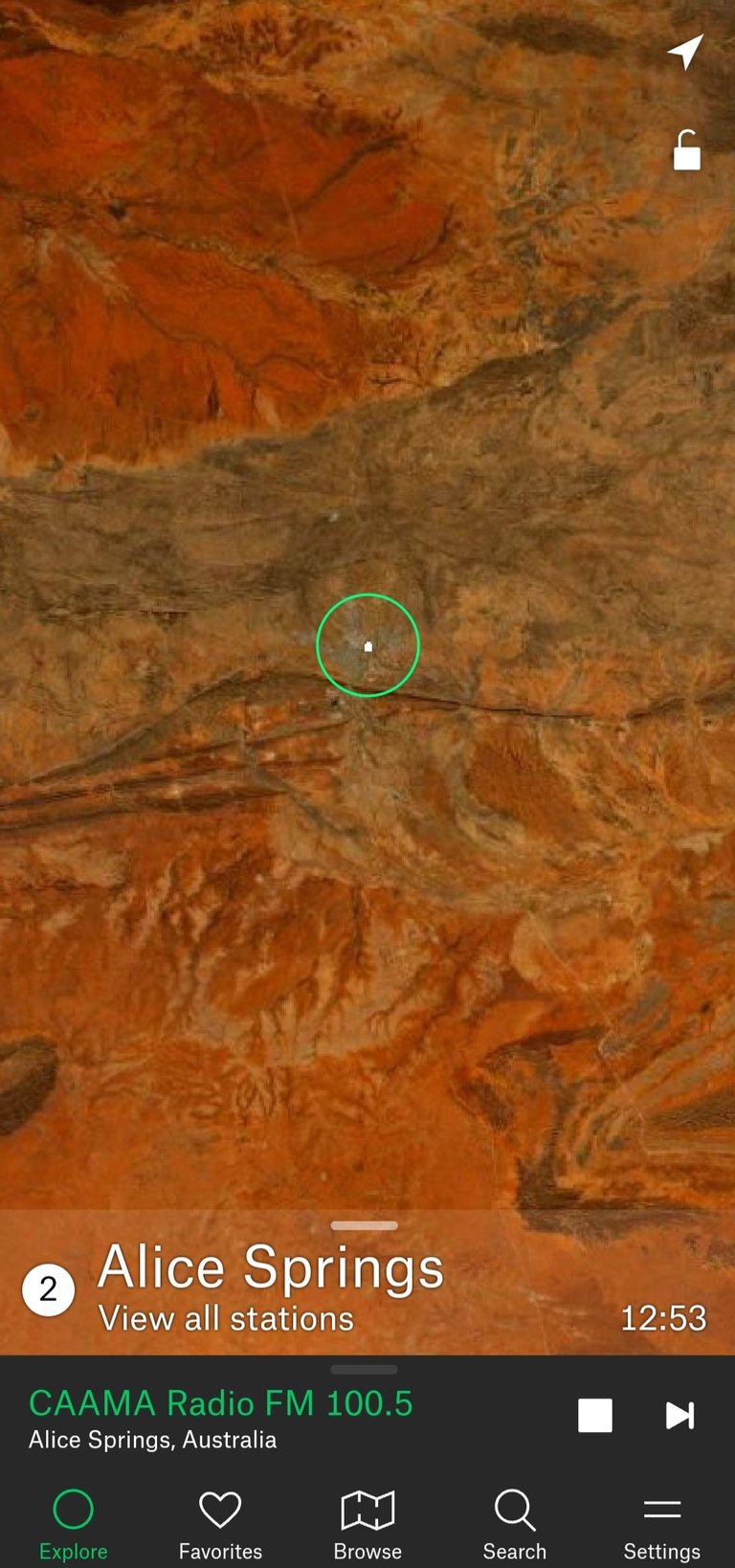 Las ventajas no acaban aquí, supongamos que estamos lejos de casa y nos sentimos nostálgicos por aquello que sonaba en la radio se nuestra ciudad, la interface de Radio Garden nos permite desplazarnos allí, y en caso de que no se encuentra disponible una emisora específica, podemos hacer una solicitud para que sea incluida. Hay un sistema de favoritos bastante sólido y existen categorías que pueden facilitar la tarea de encontrar cierto tipo de emisoras.
En conclusión, Radio Garden no busca ser un reemplazo al streaming tradicional, de hecho, sería bastante tonto considerar que si quiera pueden competir. Su finalidad en cambio es presentar una alternativa que nos permite conectar la música desde otro ángulo que para muchos ya estaba completamente abandonado, es una experiencia única que recomiendo totalmente.
Es un proyecto holandés bastante sencillo, que podría beneficiarse considerablemte de nuestro apoyo.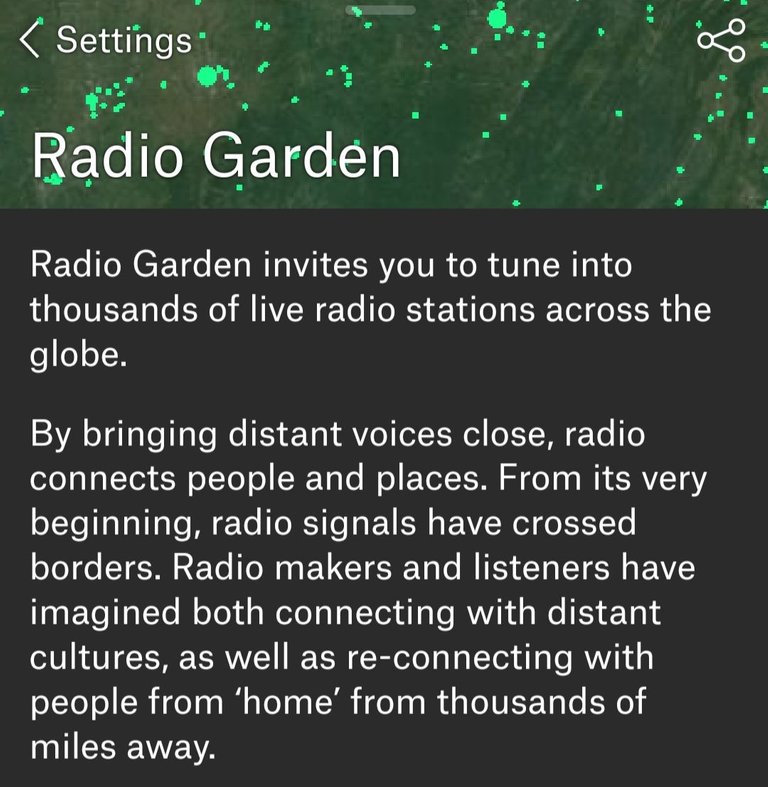 Twitter/Instagram/Letterbox: Alxxssss