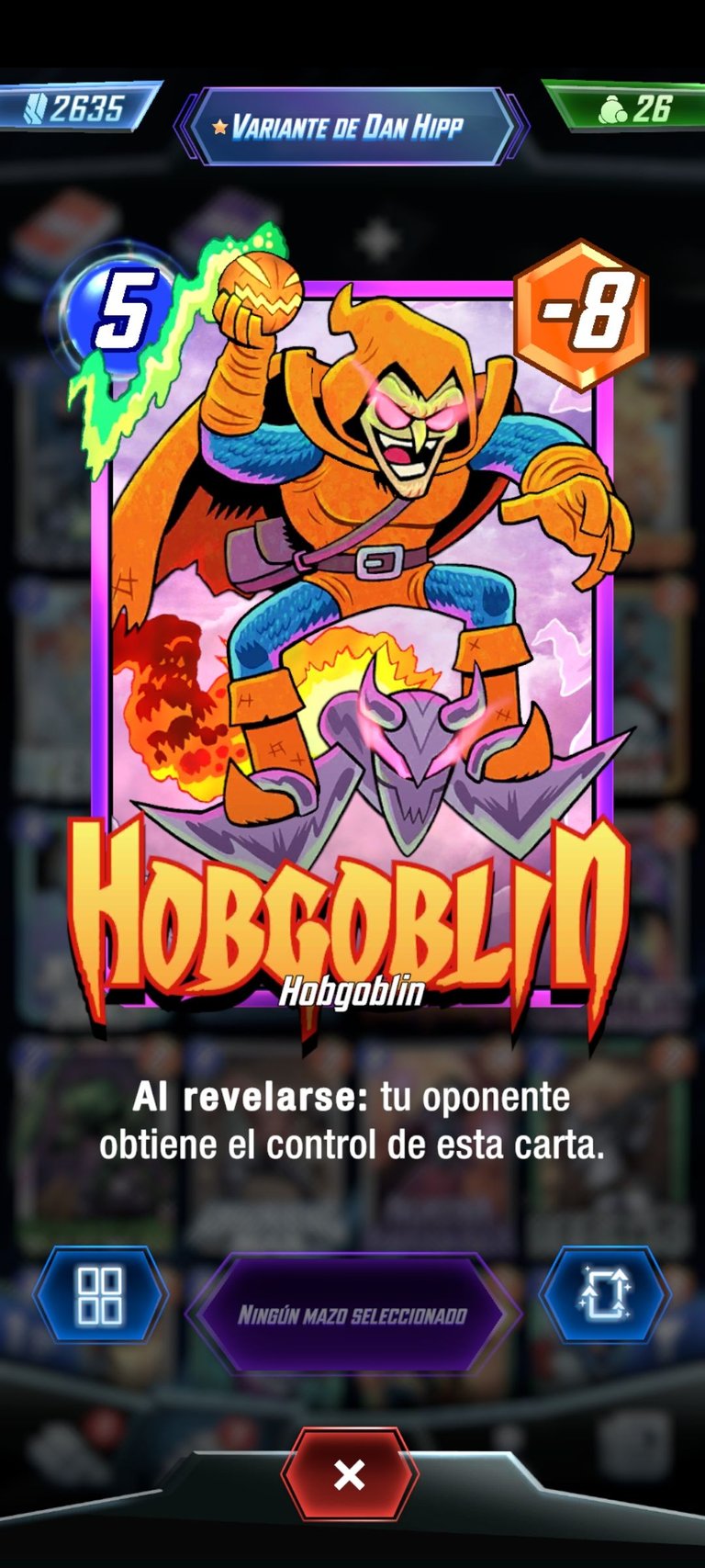 All the pictures in this post were taken directly from the game by me

Since another season of Marvel Snap was released a few days ago (Under the name of Days of the Future Past), I would like to take this opportunity to tell you a little about what would be my favorite variants since I started playing.
Marvel Snap is a card game inspired by the gigantic comic book franchise that is characterized by its simplicity and the use of its most iconic characters for each card, using a series of effects that match the abilities of said character.
For casual players like me, one of the biggest attractions of Marvel Snap lies in the existence of "variants" for the vast majority of the cards, which, although they have the same abilities as the original ones, give it a touch of variety and personality to our respective decks.
How it is a free to play (and a fairly fair one, it must be admitted), how these variants are different only aesthetically, many times they are hidden under "premium" payments or exclusive currencies, representing one of the largest sources of income of the whole game.
Even so, with a little effort (and luck) many times we can access these variants in the store area, since there is a section dedicated to rotating them every few hours.
However, this time I am not only here to show you my favorite variants, but in general which are the cards and effects you usually enjoy the most in the game, limiting myself only to having them in my collection.
1.Groot.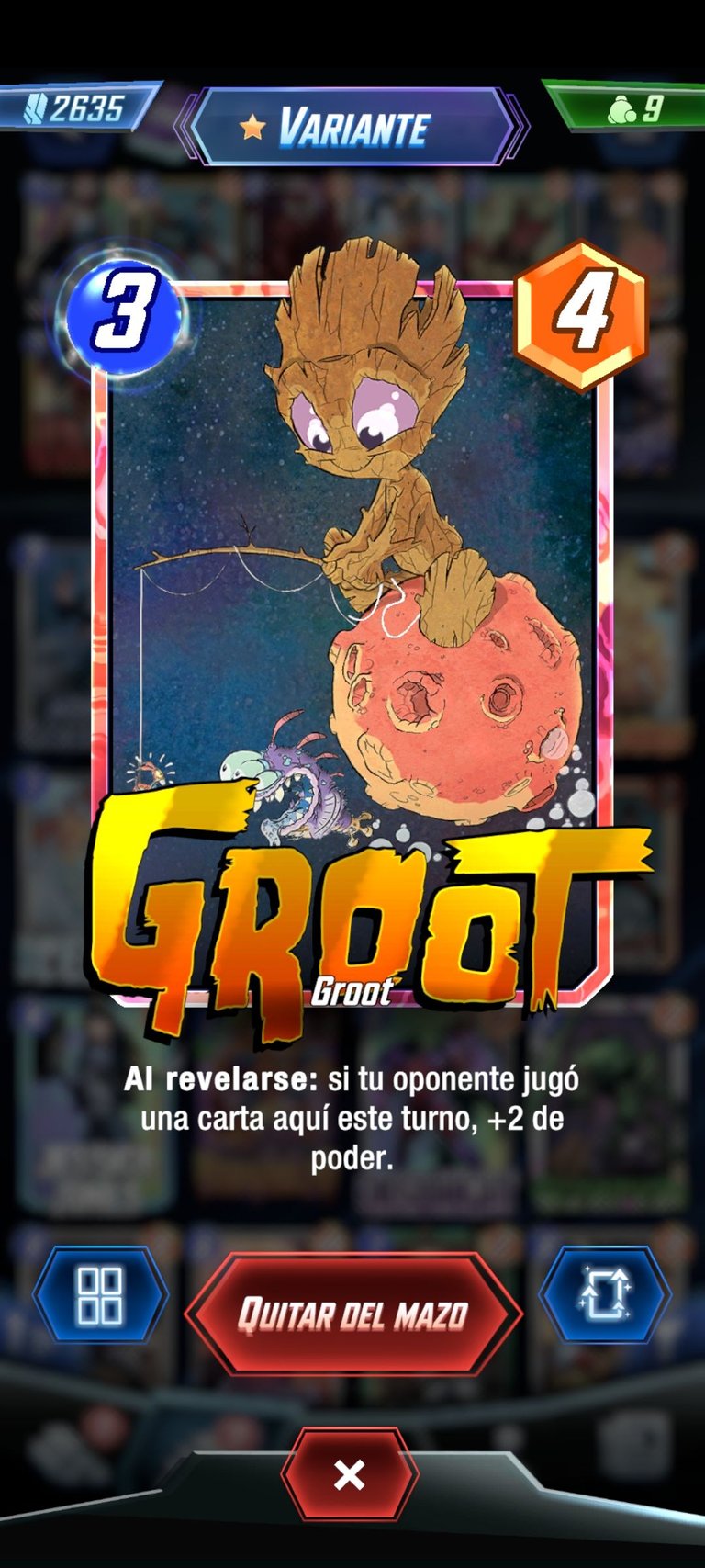 This version of Groot is a "Baby" variant of the original card, characterized by a rather cute art style that reminds us a lot of its MCU counterpart, although it has slightly more "anime" elements of this design. While its effect isn't that great (It deals 2+ damage if its reveal matches the reveal site of an opponent's card), with a cost of just 3 energy it usually helps build up a good amount of points before the first half of the game.
2.Carnage. (pixel)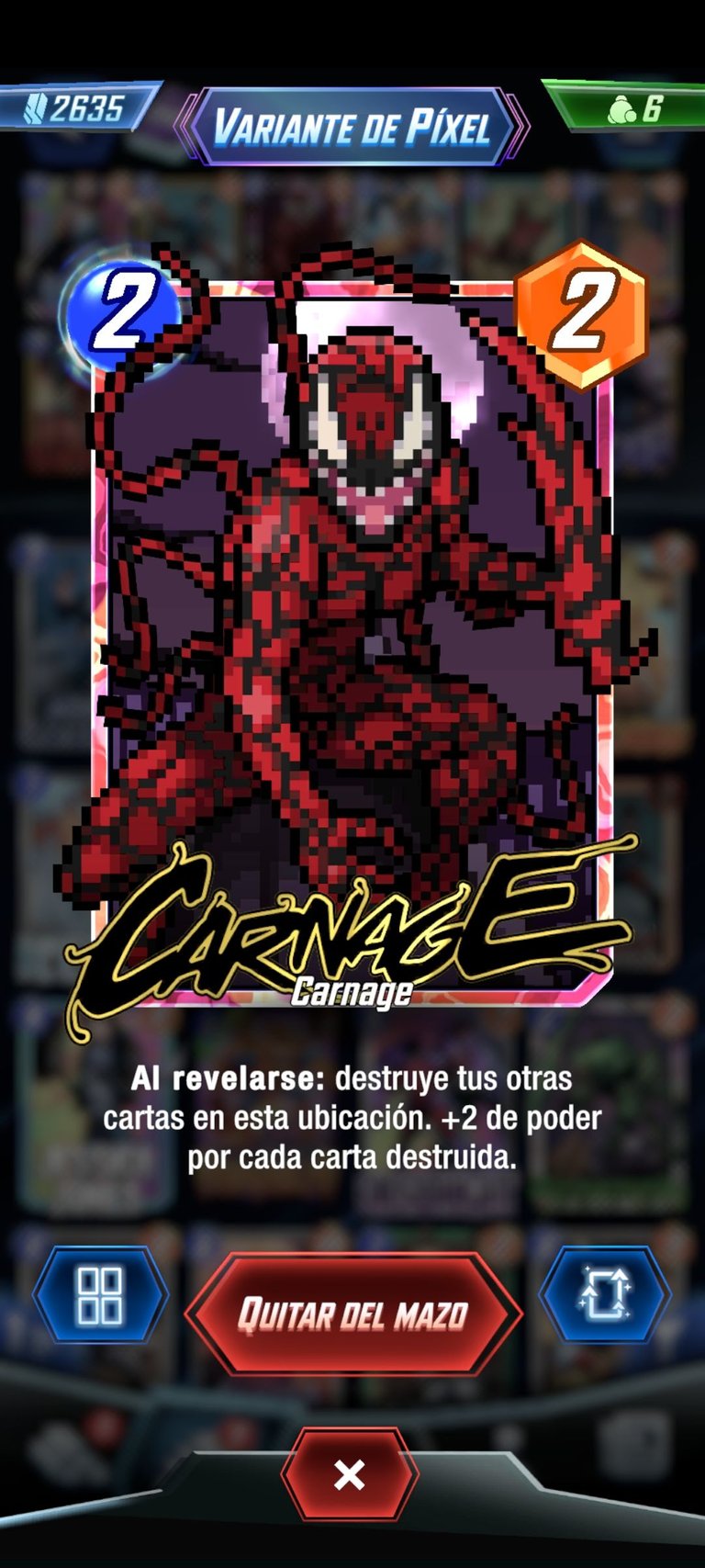 I must admit that the pixel variations of all the cards are usually my favorites in the game, in fact, I would love to be able to build a deck of cards that exclusively use this style. As I explained in another post a few days ago my deck is built around carnage, so it's pretty cool to have this variant.
Its effect is to destroy all the other cards in the location, accumulating two points for each destroyed card, particularly useful if you have cards like Bucky or Wolverine that reappear on the board after being destroyed.
3.Death. (pixel)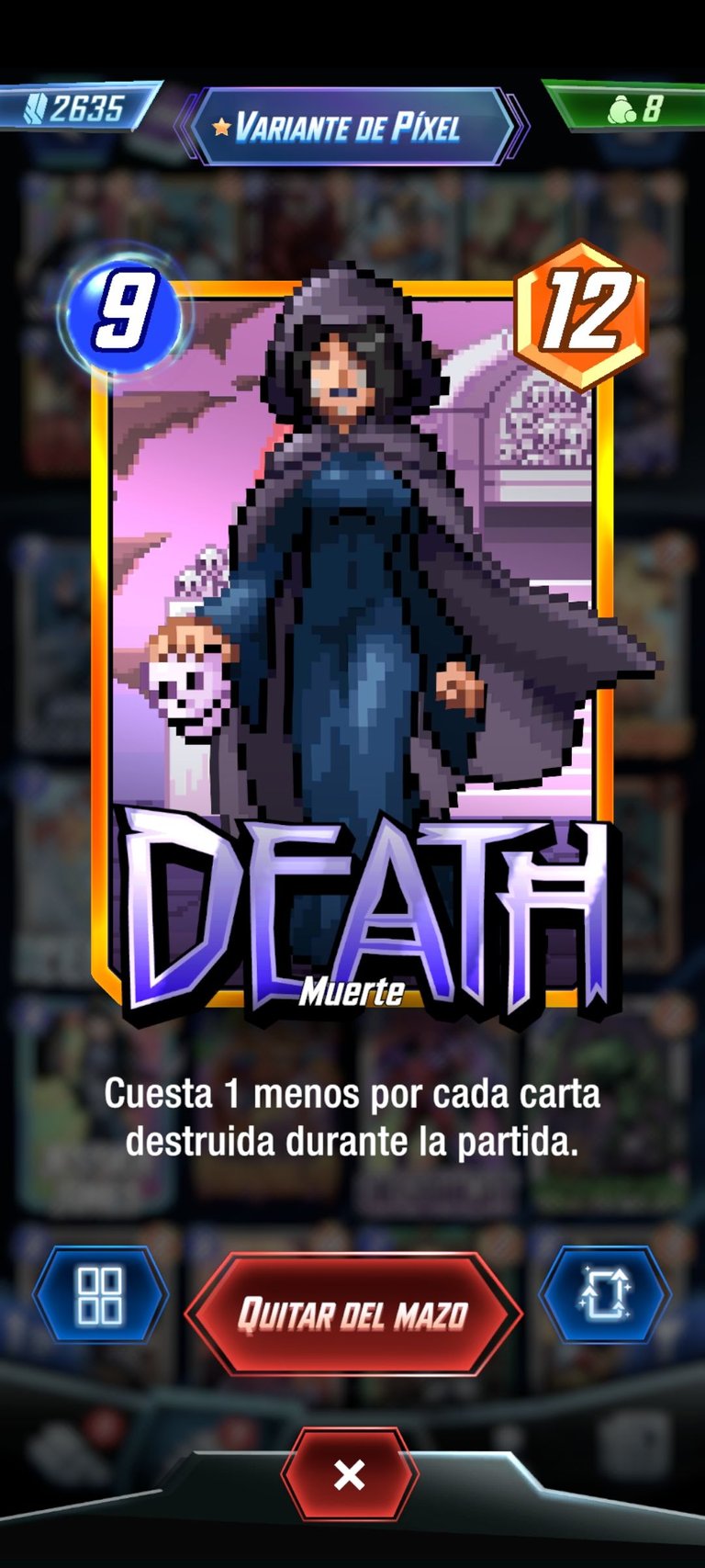 Just like carnage has that particular art style that I like so much, I have nothing more to say, it's a simple card with an attractive design.
Regarding its effect, its cost is reduced by 1 energy every time a card on the board is destroyed, which is why it tends to have a lot of synergy with my carnage deck.
4.Hobgoblin. (Dan Hipp)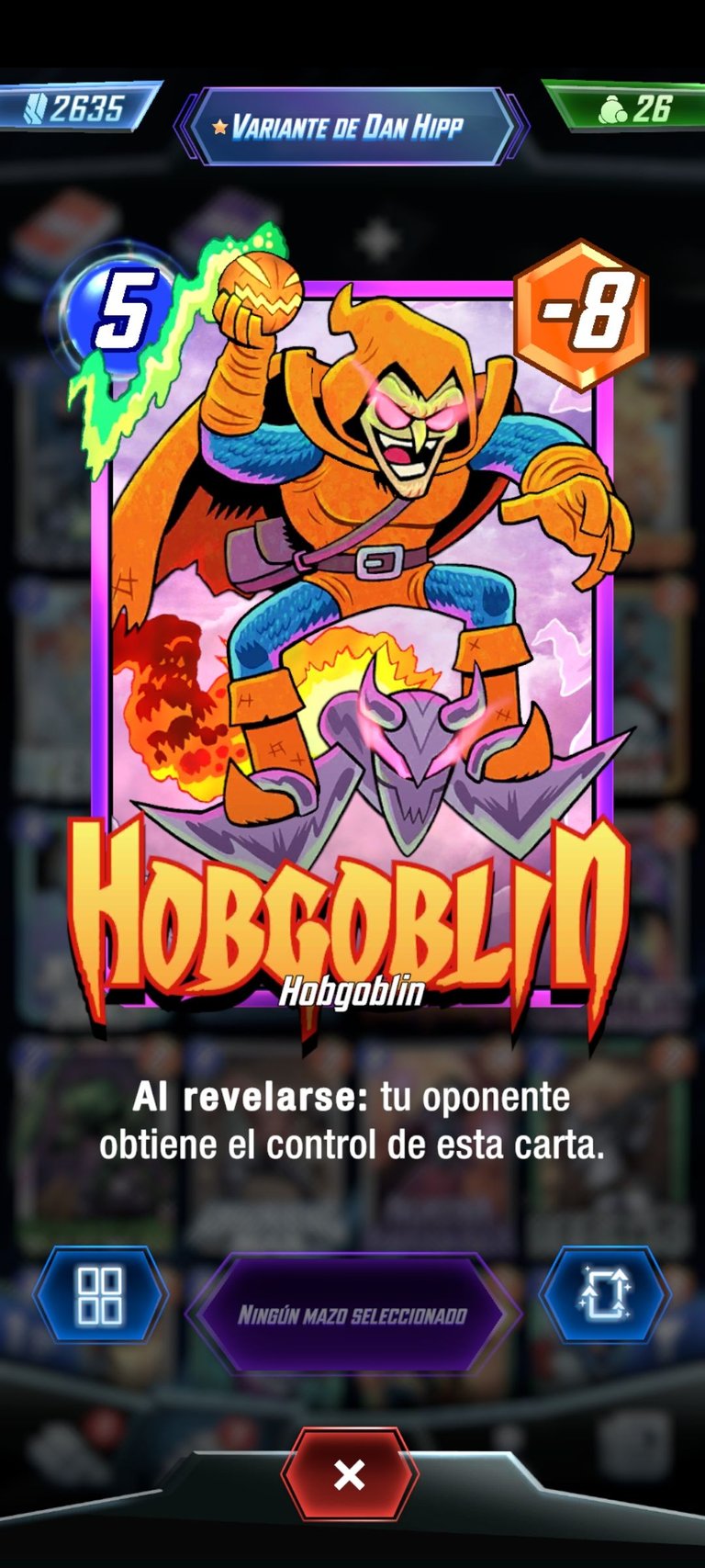 In terms of design this is one of my favorite cards in the entire game, Dan Hipp has one of the most interesting collections of variants in Marvel snapp, Characterized by an extremely cartoonish style and a soft use of colors that contrasts very well with the seriousness of the characters he portrays.
Hobgoblin is, in my opinion, one of the most powerful cards that a casual player can have in his hand, having the ability to transport himself to the enemy's area to give him -8 on his point counter, beyond giving us an advantage, it takes away a slot to our opponent, so many times it can ensure victory in one location.
PS: Although it's not mine I found this cool variant of Venom, I would love to have it.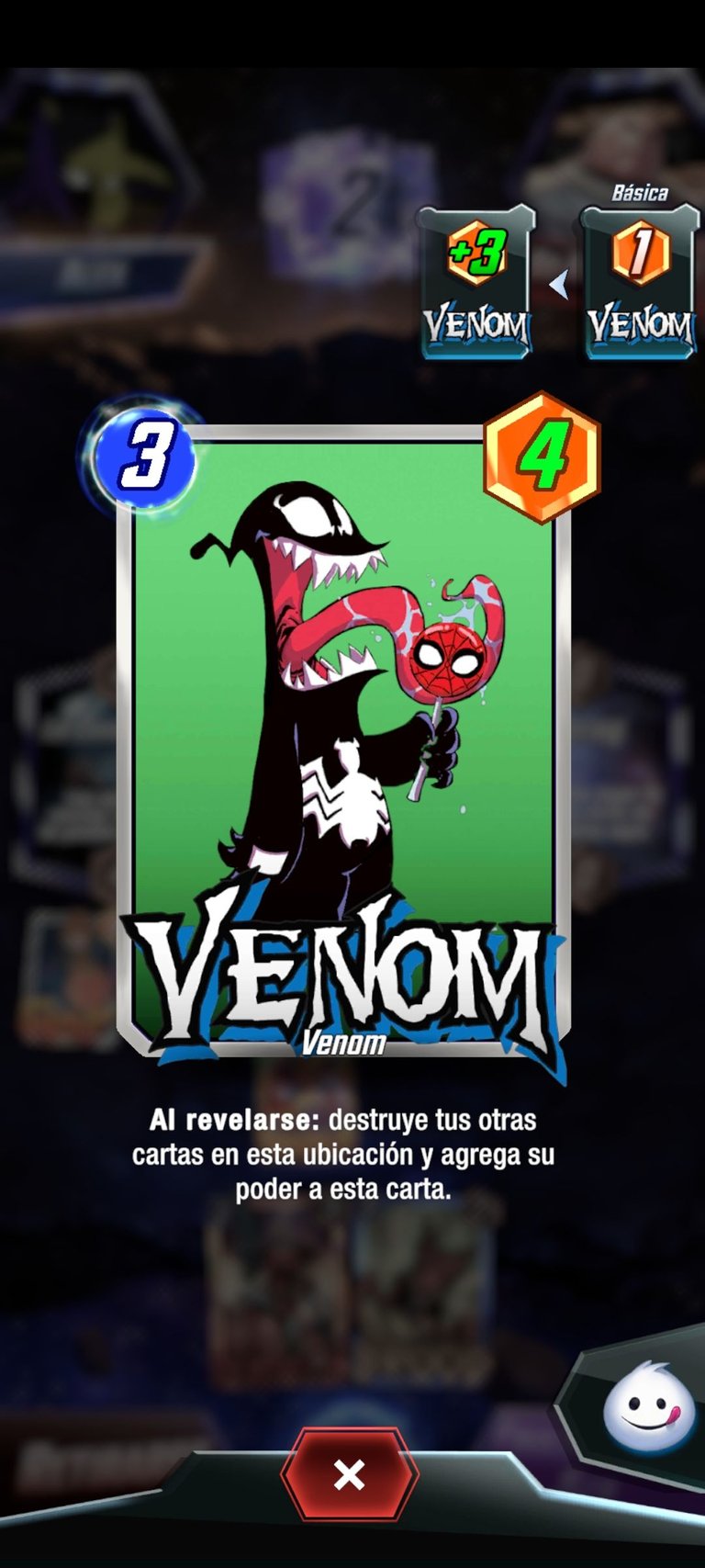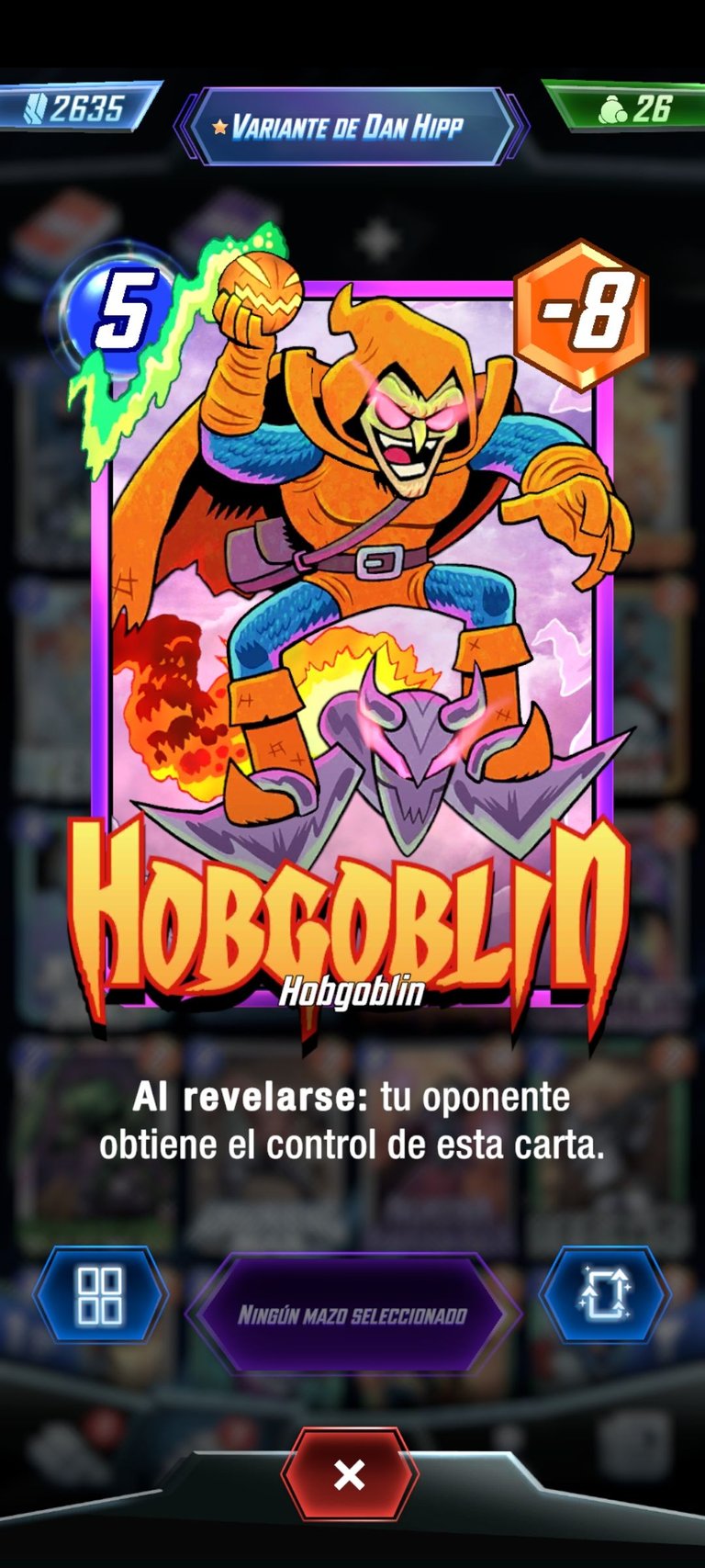 Todas las imágenes en este post fueron sacadas directamente desde el juego por mi

Cómo hace unos días se estrenó otra temporada de Marvel Snap (Bajo el nombre de Days of the Future Past), me gustaría aprovechar esa oportunidad para hablarles un poco de lo que vendrían siendo mis variantes favoritas desde que empecé a jugar.
Marvel Snap es un juego de cartas inspirado en la gigantesca franquicia de cómics que de caracteriza por su su simplicidad y el uso de sus personajes más iconicos para cada carta, utilizando aparte, una serie de efectos que coinciden con las habilidades de dicho personaje.
Para los jugadores casuales como yo, uno de los mayores atractivos de Marvel Snap radica en la existencia de "variantes" para la gran mayoría de las cartas, que si bien cuentan con las mismas habilidades de las originales, le dan un toque de variedad y personalidad a nuestras respectivas decks.
Cómo se trata de un free to play (Y uno bastante justo, hay que reconocerlo), cómo estás variantes son diferentes únicamente en lo estético, muchas veces se esconden bajo pagos "premium" o monedas exclusivas, representando una de las mayores fuentes de ingresos de todo el juego.
Aún así, con un poco de esfuerzo (Y suerte) muchas veces podemos acceder a estas variantes en el área de la tienda, puesto que hay una sección dedicada a la rotación de las mismas cada ciertas horas.
No obstante, en esta ocasión no solo vengo a mostrarles mis variantes favoritas, sino en general cuáles son las cartas y efectos suelo disfrutas más dentro del juego, poniéndome como límite solamente que yo cuente con ellas en mi colección.
1.Groot.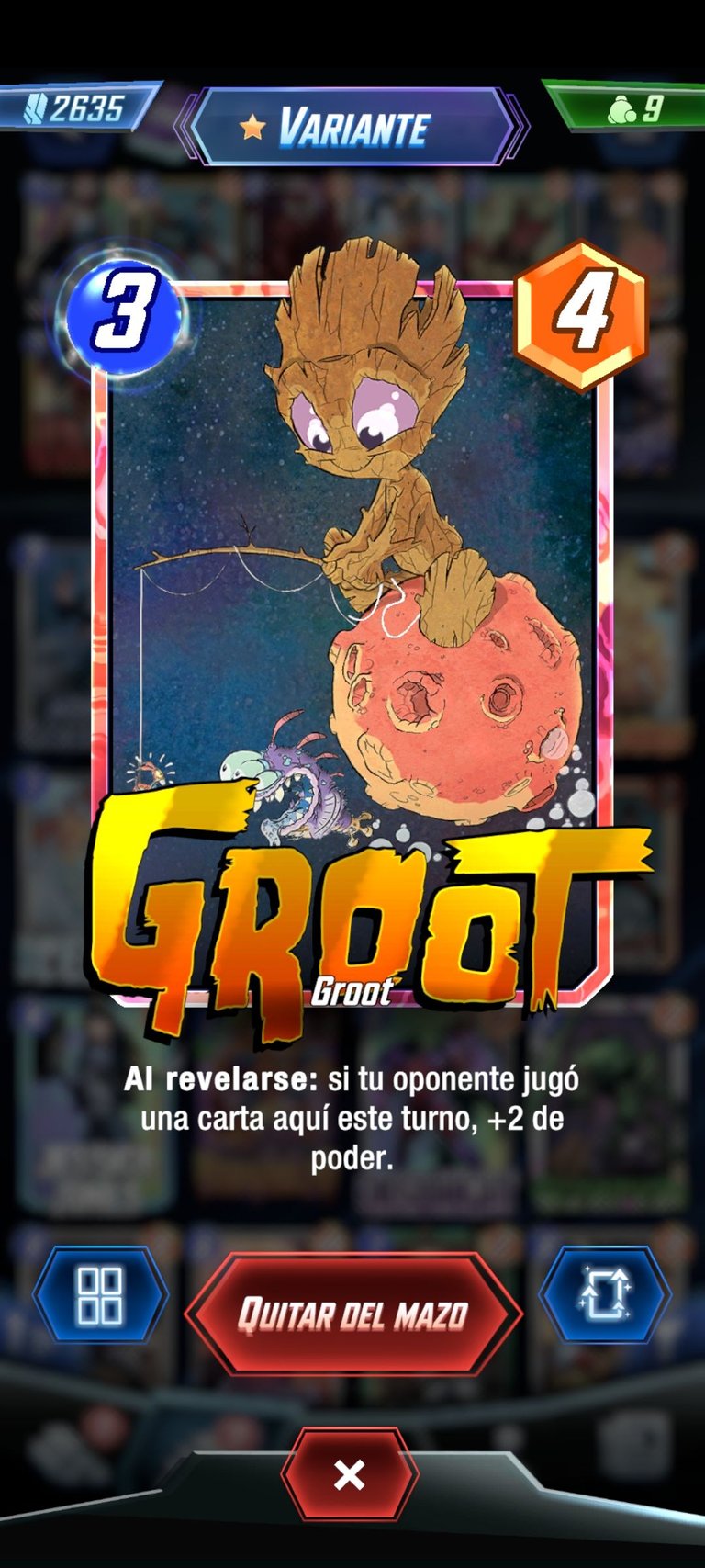 Está versión de Groot es una variante "Baby" de la carta original, Caracterizada por un estilo de arte bastante tierno que nos recuerda mucho a su contraparte en el MCU, aunque cuente con elementos un poco más "anime" de este diseño. Si bien su efecto no es la gran cosa (Genera 2+ de daño si su revelación coincide en el sitio de revelación de una carta del oponente), con un costo de solo 3 de energia suele ayudar a acumular una buena cantidad de puntos antes de la primera mitad de la partida.
2.Carnage. (Pixel)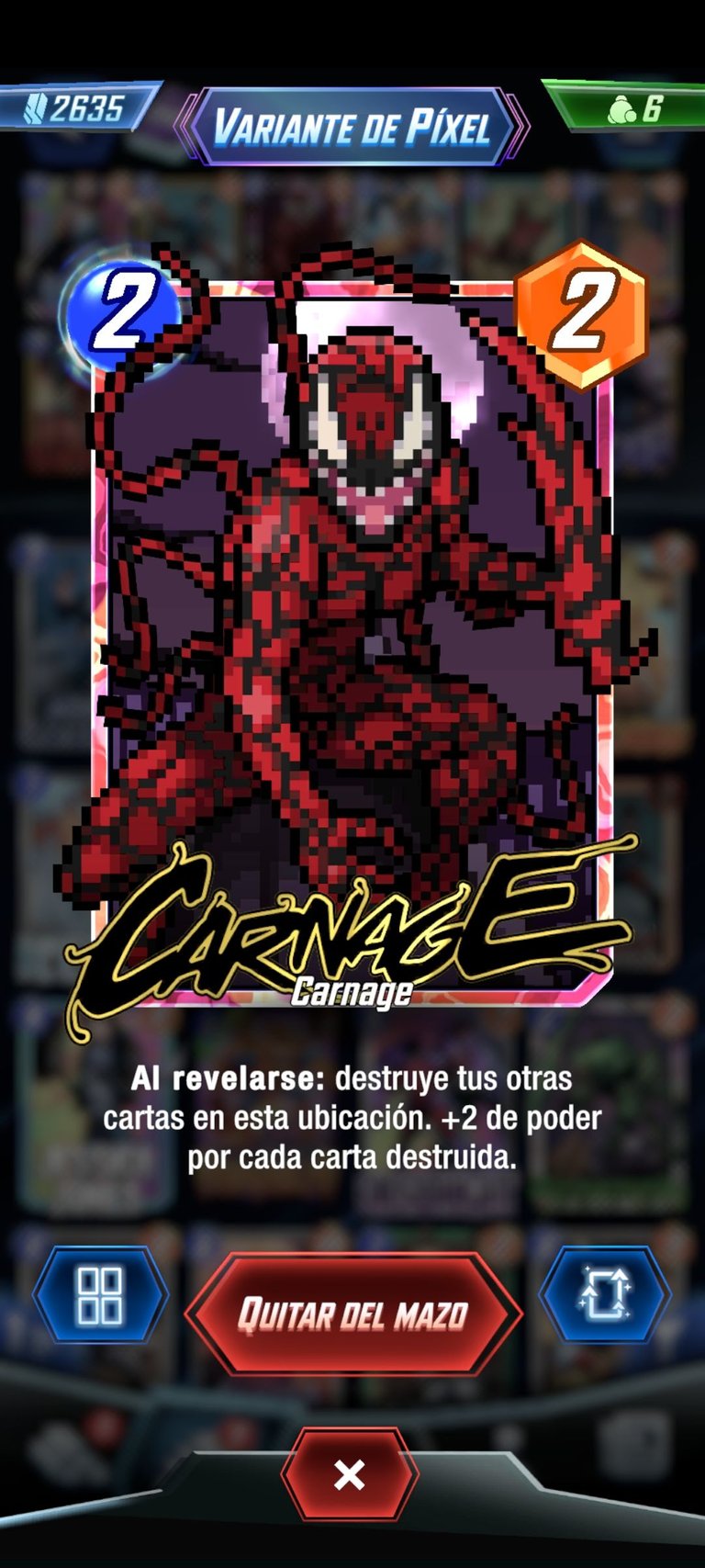 Debo reconocer que las variaciones pixel de todas las cartas suelen ser mis favoritas dentro del juego, de hecho, me encantaría poder conformar un deck de cartas que usen este estilo exclusivamente. Cómo expliqué en otra publicación hace unos días mi deck se construye alrededor de carnage, así que es bastante cool tener está variante.
Su efecto consiste en destruir todas las demás cartas de la ubicación, acumulando dos puntos por cada carta destruída, particularmente útil si cuentas con cartas como Bucky o Wolverine que reaparecen en el tablero luego de ser destruídas.
3.Death. (Pixel)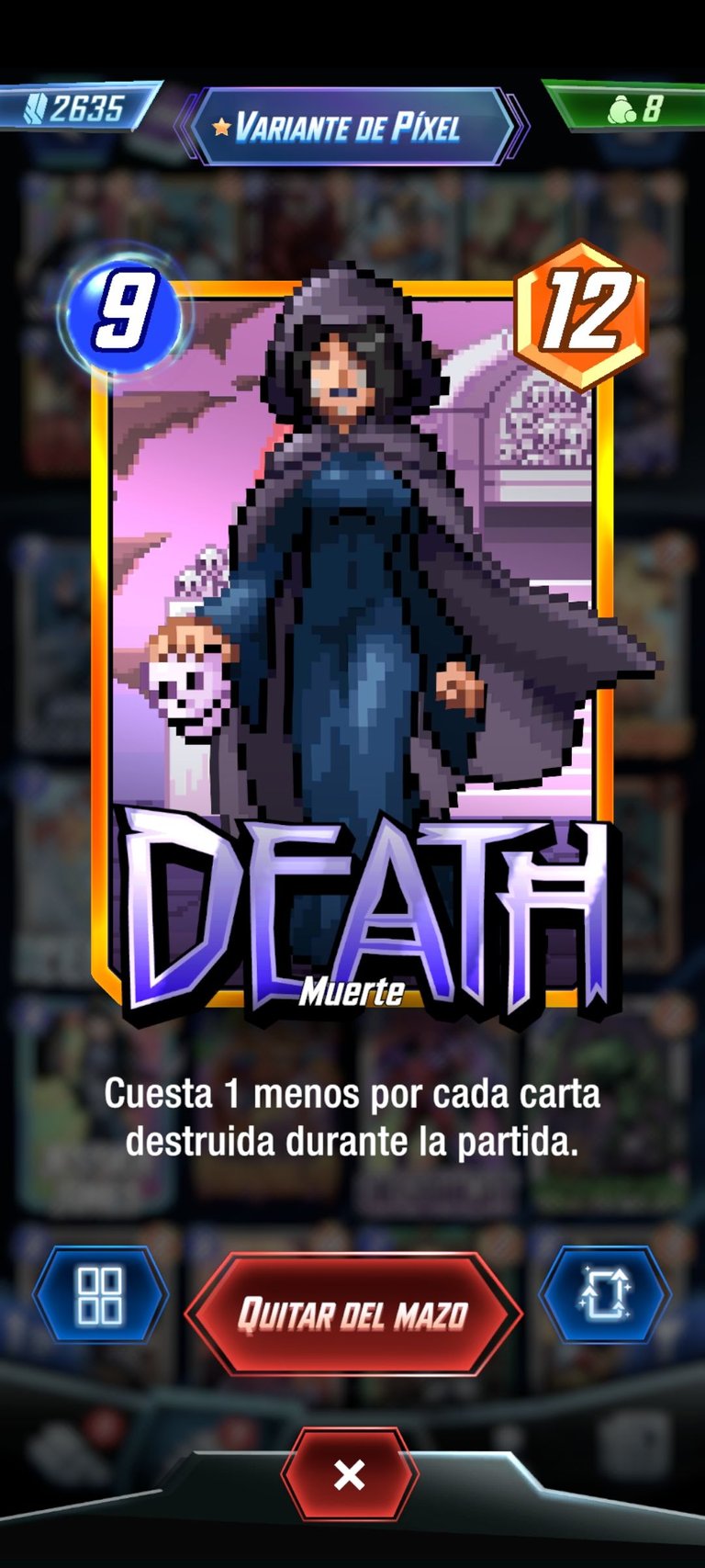 Al igual que carnage cuenta con ese particular estilo de arte que me gusta tanto, no tengo nada más que decir, es una carta simple con un diseño atractivo.
Respecto a su efecto su costo se reduce en 1 de energía cada vez que se destruye una carta en el tablero, por eso mismo suele tener mucha sinergia con mi deck de carnage.
4.Hobgoblin. (Dan Hipp)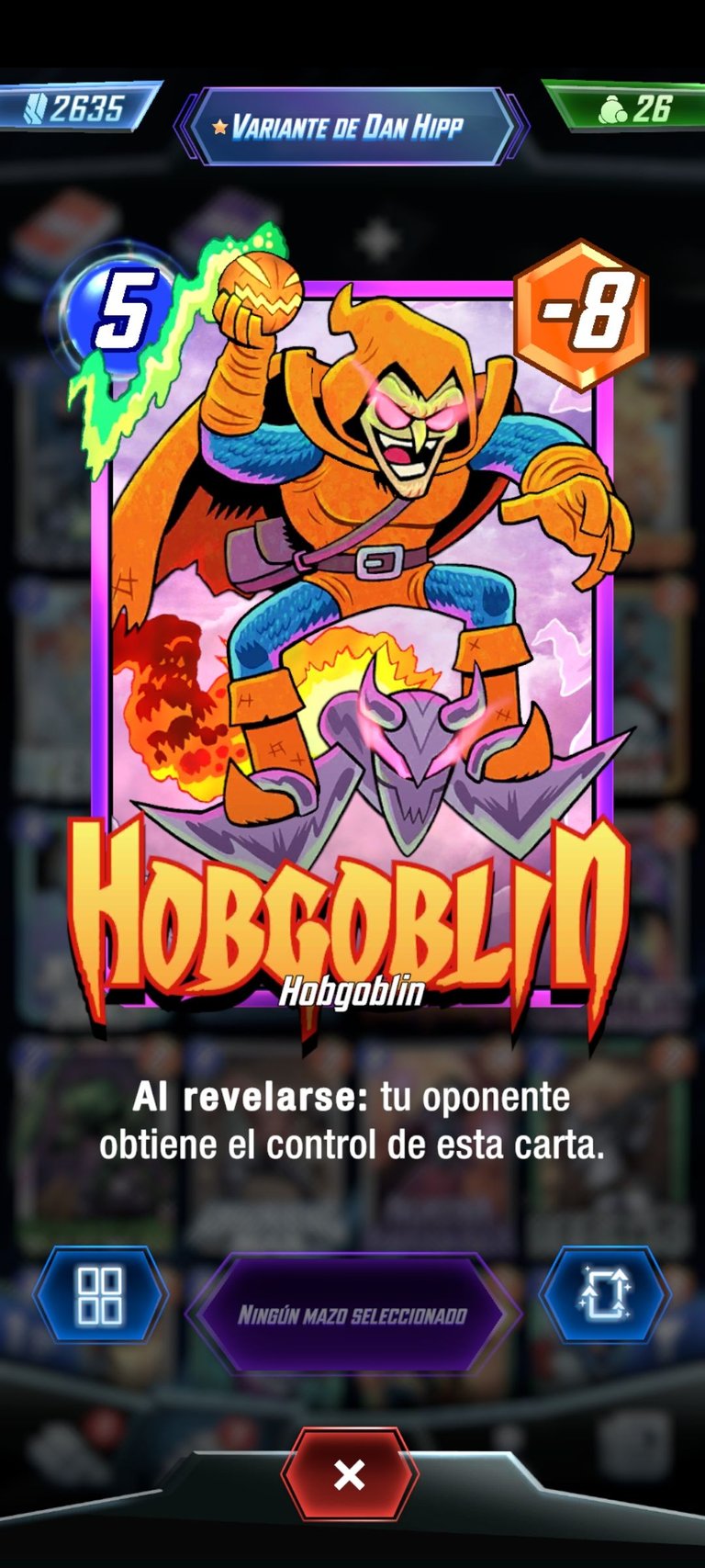 En términos de diseño esta es una de mis cartas favoritas en todo el juego, Dan Hipp cuenta con unas de las colecciones de variantes más interesantes en Marvel snapp, Caracterizada por un estilo extremadamente caricaturesco y un uso de colores suave que contrasta muy bien con la seriedad de los personajes que retrata.
Hobgoblin es según mi opinión una de las cartas más potentes que puede tener un jugador casual en su mano, teniendo la capacidad de transportarse a la zona del enemigo para otorgarle un -8 en su contador de puntos, más allá de darnos una ventaja le quita un slot a nuestro contrincante, así que muchas veces puede asegurarnos la victoria en una ubicación.
PD: Aunque no es mía me encontré está variante genial de Venom, me encantaría tenerla.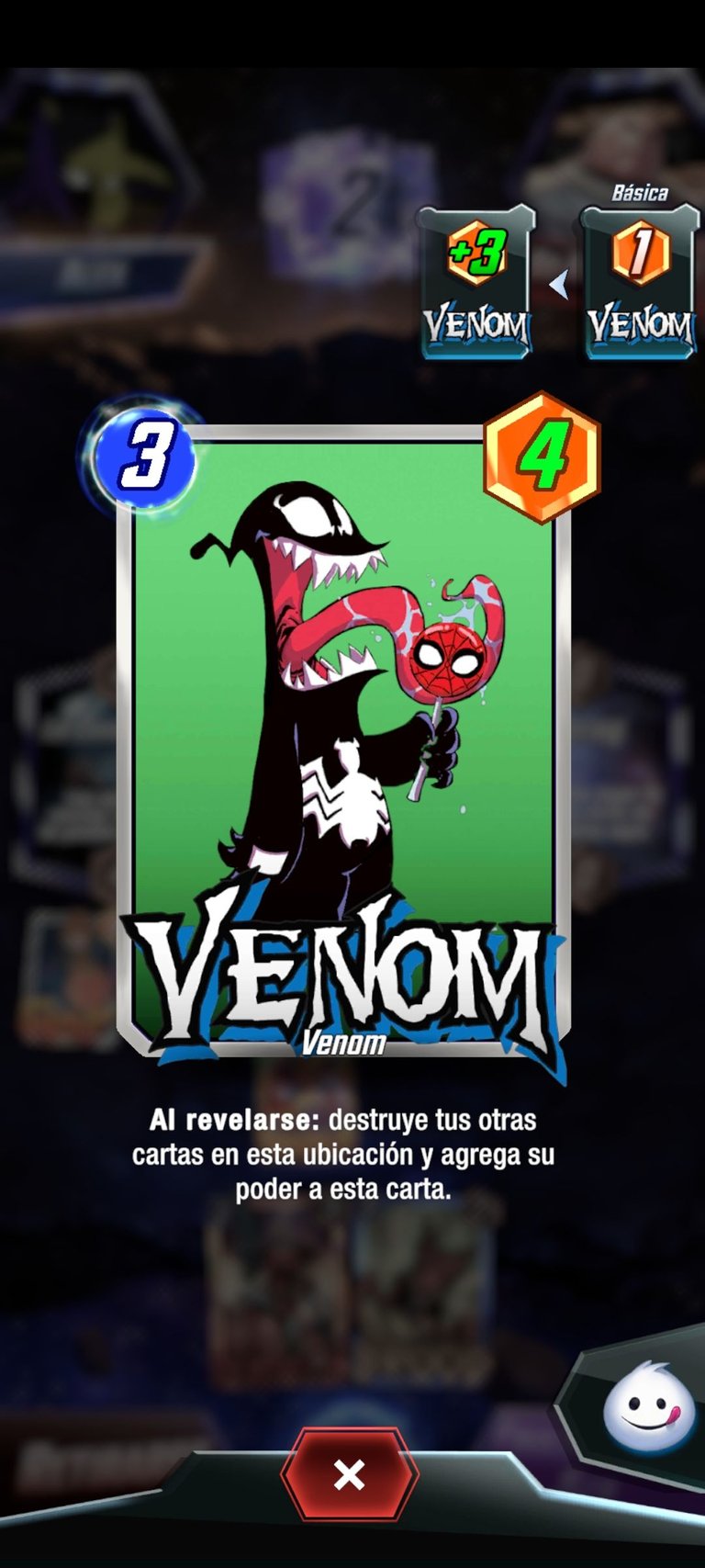 Twitter/Instagram/Letterbox: Alxxssss