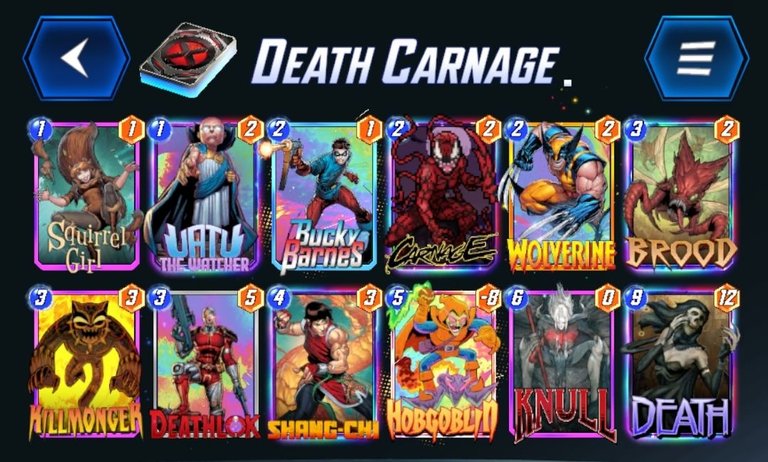 Todas las imágenes y el gameplay incluído en este post fueron sacados directamente desde el juego por mi

Hola chicos! Hoy quería probar algo un poco diferente así que decidí traerles un breve gameplay comentado de uno de mis juegos actuales favoritos: Marvel Snap, la verdad había intentado esto en varias ocasiones pero siempre que me decidía a grabar las partidas que jugaba no resultaban en nada particularmente interesante, luego de varias semanas luchando el momento finalmente llegó, jajaja.
Cómo he expuesto anteriormente mi deck principal se basa en la destrucción de cartas, algo que suele generar efectos positivos en una porción considerable de mi deck (Ej: Wolverine reaparece con dos puntos extra de poder en una ubicación aleatoria, Bucky Barnes desaparece y aparece The Winter Soldier con un poder superior, etc).
Hoy fue como captar un relámpago en una botella, y el destino puso en mi mano todas las cartas que necesitaba para formar un combo bastante ingenioso, en dónde aprovechaba el efecto de la ubicación sinister bar (Duplicar la carta puesta en el resto de slots libres) para llenar el tablero de ardillas (Una carta de 1 de costo y q de poder) que serían posteriormente destruidas por Killmonger (Una carta cuya finalidad es destruir las cartas de 1 costo, exclusivamente), esto repotenciaría los efectos de Knull (Una carta que consume el poder de todas las cartas destruidas en la partida, tanto las mías como las de mi rival) y Death (Una carta que reduce su costo por cada carta destruída).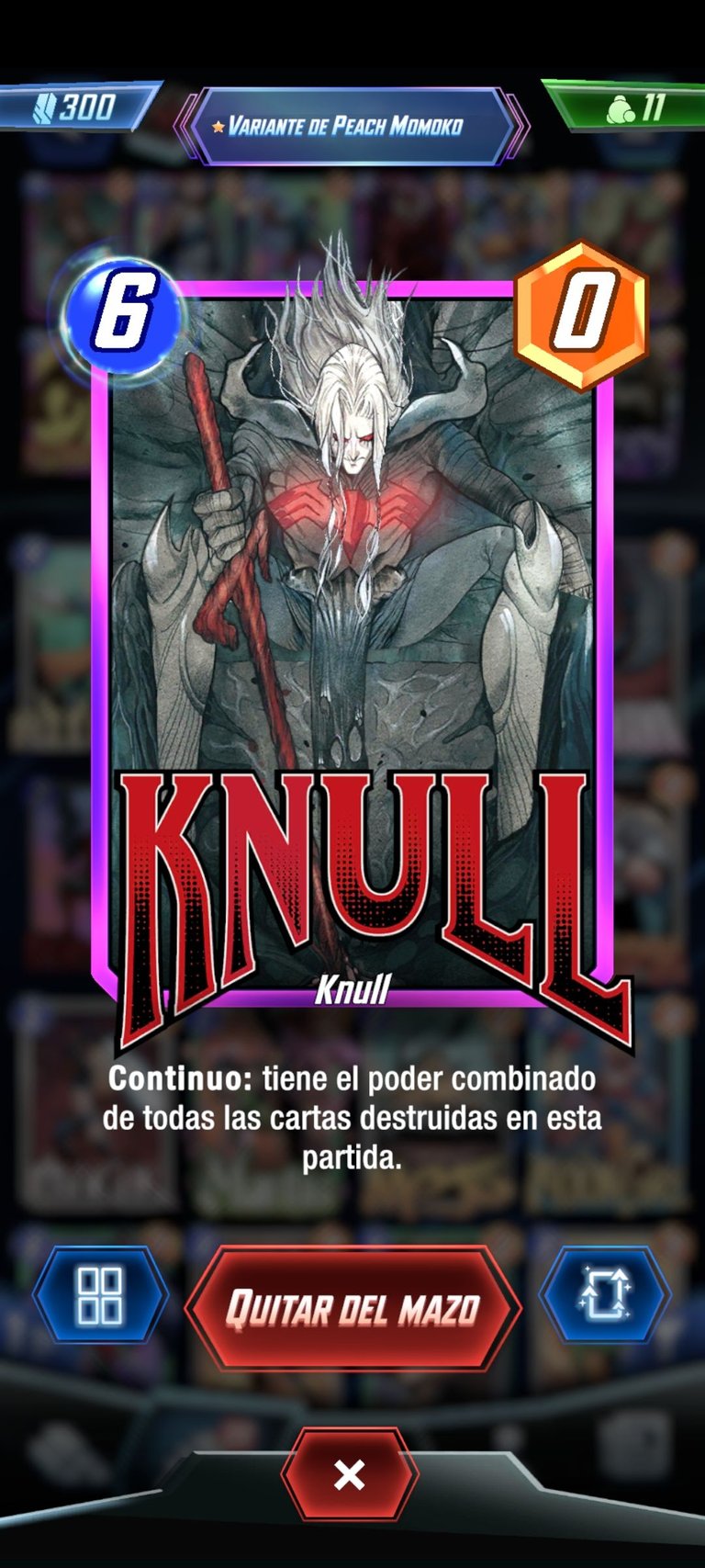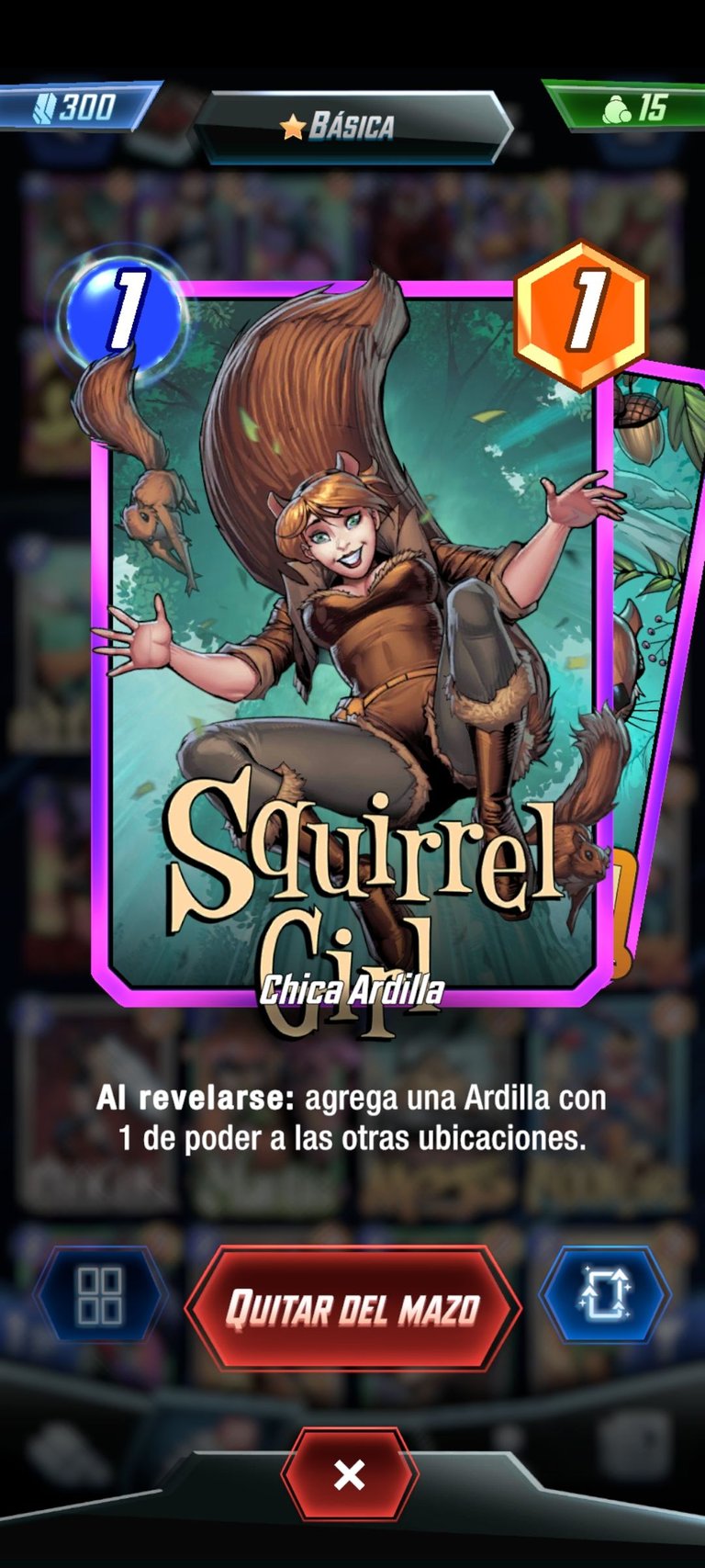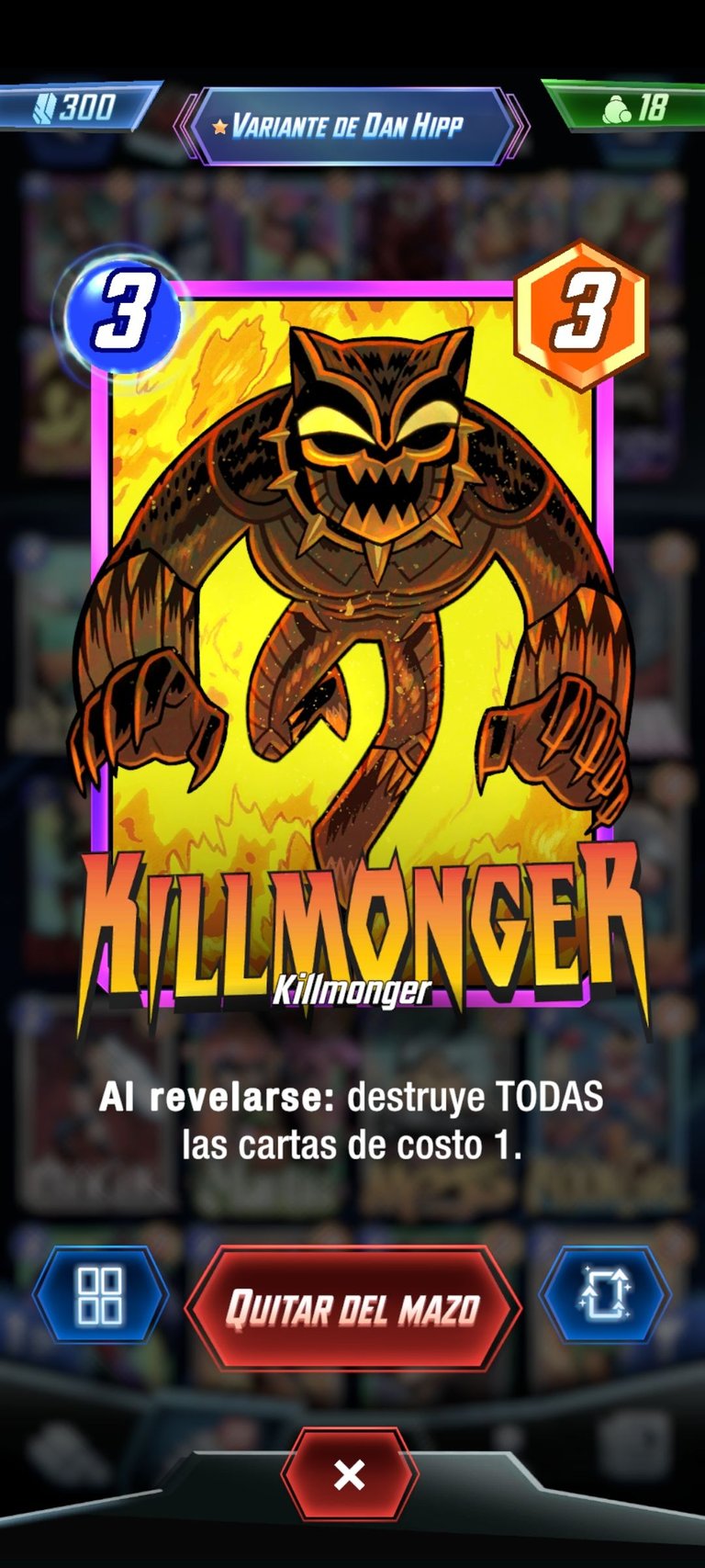 Dentro de los 6 turnos que dura una partida de Marvel Snap solamente necesite dos (El turno 4 y el turno 6) para concretar mi jugada, obviamente, la suerte también me favoreció un poco y mi contrincante no afectó mi jugada de ninguna manera.
Marvel Snap para mí siempre ha resultado un cambio de paradigma estupendo, y se ve muy beneficiado por este tipo de jugadas que rompen con el esquema tradicional de cualquier otro juego de cartas, es algo fascinante estando de cualquiera de los dos lados de la partida, y crea una sensación de ansias por mejorar que simplemente no he sentido en otro juego de este tipo.
Me siento conforme con mi deck actual y aunque de vez en cuando experimento con cartas nuevas siempre vuelvo a el, las cartas de destrucción crean una sensación de juego muy satisfactoria y con un par de adiciones inesperadas (Shang-Chi y Hobgoblin) pueden crear un estilo de juego único y refrescante, que agarre a tus enemigos desprevenidos.
Recientemente se estrenó una nueva temporada (Basada en Guardians of the Galaxy) y luego de haber superado mi record personal llegando a diamante (Nivel 50) en la temporada previa espero al menos mantener el nivel está vez, lo genial de un juego como este es que se puede disfrutar de manera casual, y adquirir nuevas cartas y variantes son una parte crucial de la dinámica.
Espero les guste el vídeo, sé que faltan muchos detalles por pulir pero creo que es un punto de partida excelente para experimentar más adelante con otros gameplays comentados de este tipo.

Twitter/Instagram/Letterbox: Alxxssss