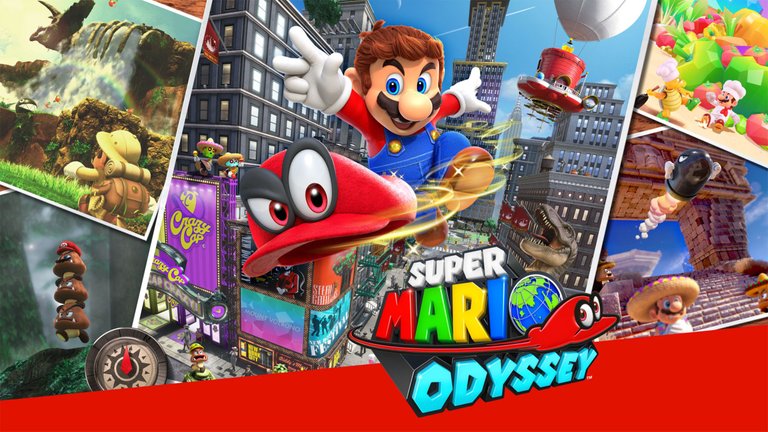 Source
All the pictures in this post were taken directly from the game by me and edited using CamScanner

A few days ago I had the opportunity to play Mario Odyssey for the first time in my life, and although I admit that I have never been the biggest fan of 3D Super Mario Bros games (Other than Galaxy), it is inevitable to observe how the perfection of a formula that had been marinating since its first ambitious foray into the nintendo 64, times when two dimensions were still the norm.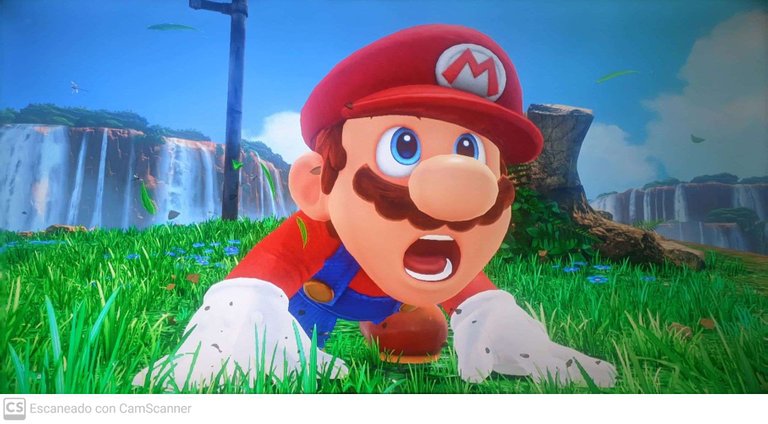 The curious thing about the whole thing is that despite deviating considerably from what we expect from a title of this magnitude (at least in a first impression), the same statement could be applied to those that came before: If Sunshine, for example, started playing With the idea of an open world and Galaxy experimenting with movement in a way disconnected from the laws of physics and gravity, Odyssey takes these two premises and elevates them to another level, giving us the ultimate platformer.
The essence is the same as always: the princess is in danger and Mario must take charge of saving her... What changes as we discover Odissey is that what before was nothing more than a pretext to motivate the characters' action ( and of us as players) now begins to take on a much more powerful narrative identity, of course, without overwhelming us with necessary information.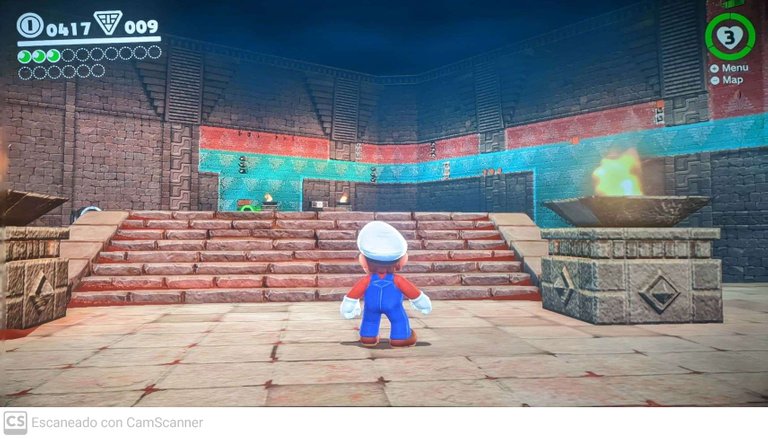 What was previously implicit (or in the physical game manuals) now takes the front seat and is used to give more density to a group of charismatic characters: Bowser is madly in love with Princess Peach and decides to kidnap her to force the nuptials, what Sounds familiar?
Mario Odyssey uses each of its visual, auditory, and playable elements to provide us with a solid experience full of charisma, where everything is possible and the only limit is our own imagination.
Vaguely inspired by the free nature of other contemporary titles like The Legend of Zelda: Breath of The Wild, Odyssey refuses to take the player by the hand and gives us nothing more than a set of tools to discover what our goals and what is the most optimal way to complete them, the days of returning to a hub every time we get a star are over and the powerful moons are introduced, the object that we must collect in each of the worlds we visit to be able to move to the next place.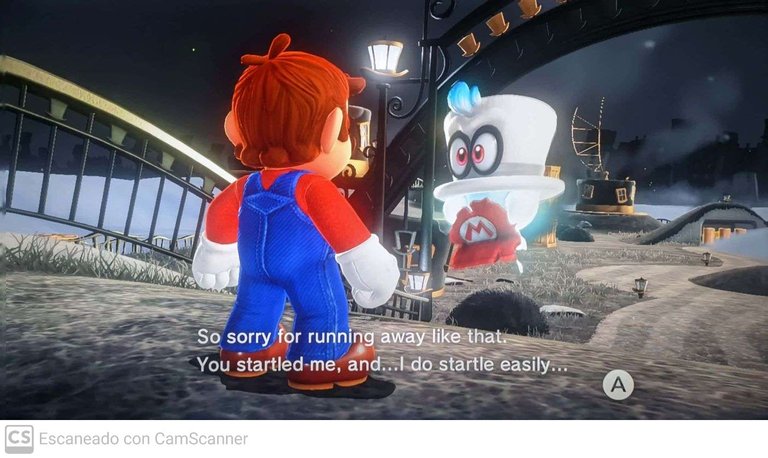 Like in Mario 64, the way to obtain these "moons" will not always be predictable, and many times they serve as a pretext to challenge the way in which we approach the terrain, the magnitude of the maps expands what was seen in Sunshine and the environment. of transport reminds us of Galaxy, if you see where the thing is going?
It should be noted that the real star of the occasion is "Cappy" a living being in the shape of a hat that replaces Mario's cap of a lifetime after he was destroyed when facing Bowser.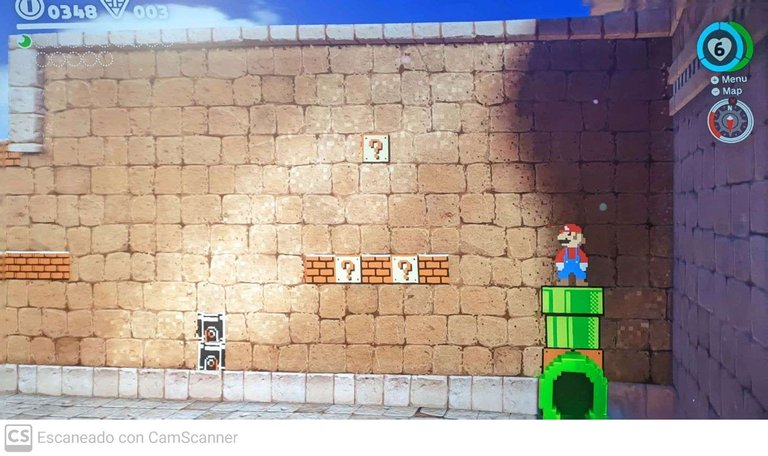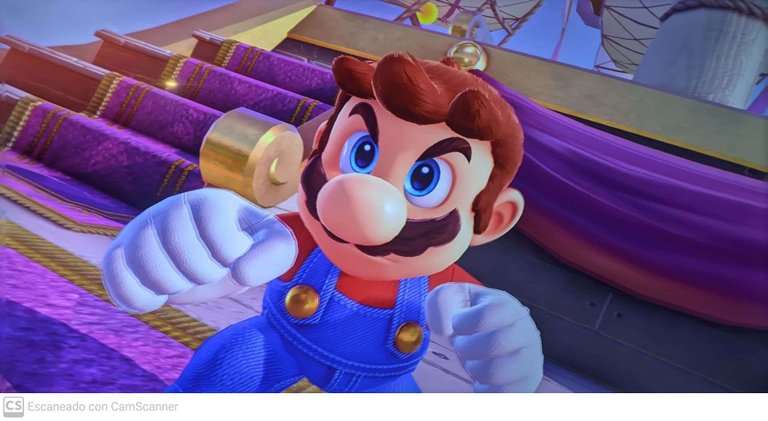 While Cappy may feel like a gimmick for those who haven't played the game directly, it's clear that it's one of the factors responsible for giving the game its own identity, allowing us to throw it at our enemies and more importantly: control a wide range of creatures that will allow us to advance in ingenious ways.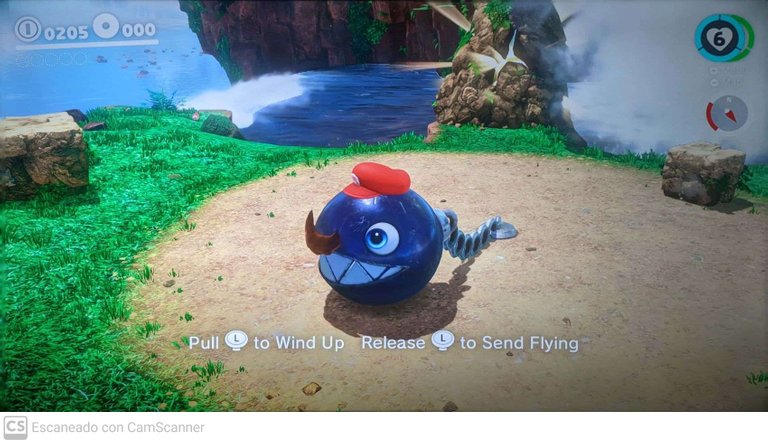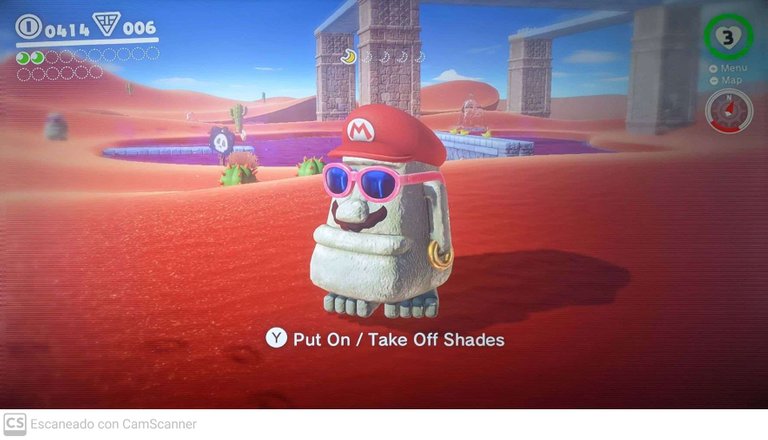 In Mario Odyssey we can control frogs, dinosaurs, chop chomps, Bill Ballas, etc, radically changing the gameplay and making it easier to obtain the previously mentioned moons.
Odyssey is extremely experimental and there are many mechanics that will surprise the player, it can go to two dimensions from time to time, alter the laws of gravity and open before our eyes spectacular universes that we have never seen before.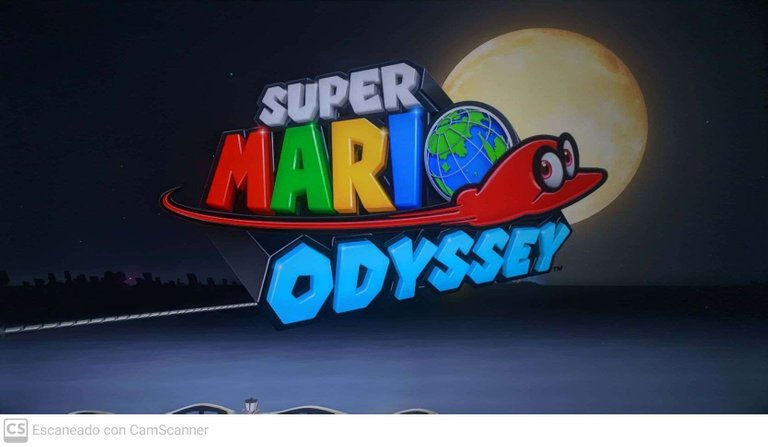 Obviously I still have a long way to go, but what I've seen so far has delighted me.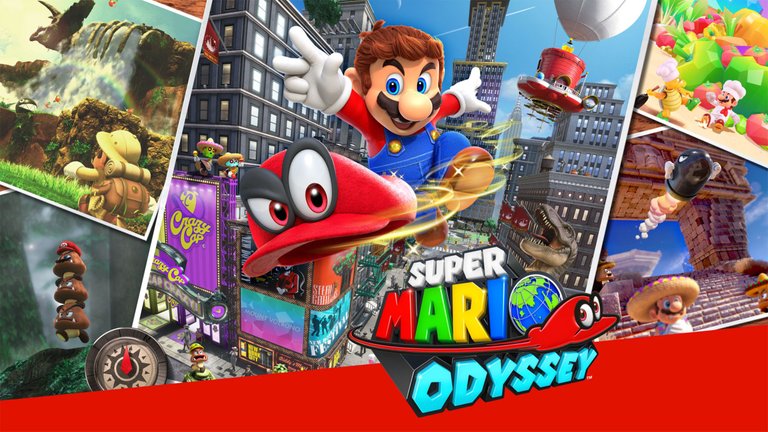 Source
Todas las imágenes en este post fueron tomadas directamente desde el juego por mi y editadas usando CamScanner

Hace unos días tuve la oportunidad de jugar Mario Odissey por primera vez en la vida, y aunque admito que nunca he Sido el mayor fanático de los juegos de Super Mario Bros en tres dimensiones (Aparte de Galaxy), es inevitable observarlo cómo el perfeccionamiento de una fórmula que llevaba marinandose desde su primera ambiciosa incursión en el nintendo 64, tiempos en los que aún las dos dimensiones eran la norma.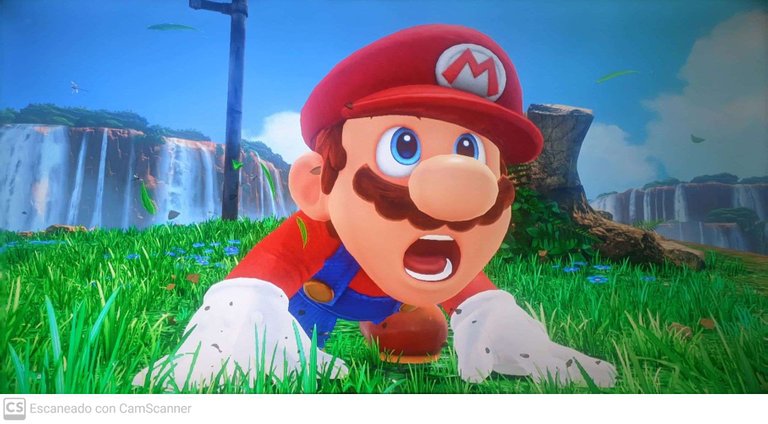 Lo curioso de todo el asunto es que a pesar de desviarse considerablemente de lo que esperamos de un título de estas magnitudes (Al menos en una primera impresión), el mismo statement podría aplicarse a aquellos que vinieron antes: Si Sunshine por ejemplo empezaba a jugar con la idea de un mundo abierto y Galaxy experimentaba con el movimientos de una forma desconectada a las leyes de la física y la gravedad, Odissey toma estas dos premisas y las eleva a otro nivel, brindándonos el plataformero definitivo.
La esencia es la misma de siempre: La princesa está en peligro y Mario debe encargarse de salvarla... Lo que cambia a medida que vamos descubriendo Odissey es que lo que antes no era más que un pretexto para motivar la acción de los personajes (y de nosotros como jugadores) ahora empieza a tomar una identidad narrativa mucho más potente, claro está, sin abrumarnos con información necesaria.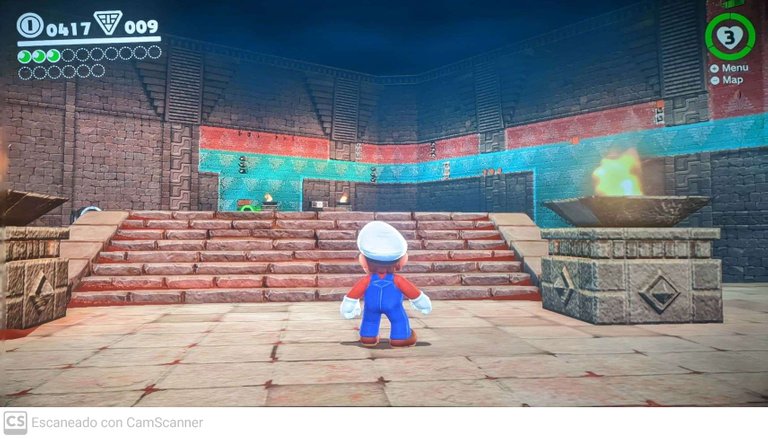 Aquello que antes quedaba implícito (O en los manuales físicos del juego) ahora toma el asiento delantero y se utiliza para darle más densidad a un conjunto de personajes carismáticos: Bowser está enamorado perdidamente de la princesa Peach y decide secuestrarla para forzar las nupcias, ¿Suena familiar?
Mario Odissey usa cada uno de sus elementos visuales, auditivos y jugables para brindarnos una experiencia sólida y llena de carisma, en dónde todo es posible y el único límite lo pone nuestra propia imaginación.
Vagamente inspirado por la naturaleza de libre de otros títulos contemporáneos cómo The Legend of Zelda: Breath of The Wild, Odissey se niega a llevar de la mano al jugador y no nos brinda más que un conjunto de herramientas para ir descubriendo cuáles son nuestros objetivos y cuál es la manera más óptima de completarlos, se acabaron los días de regresarnos a una hub cada vez que obtenemos una estrella y se introducen las lunas poderosas, el objeto que debemos ir coleccionando en cada uno de los mundos que visitamos para poder trasladarnos al siguiente lugar.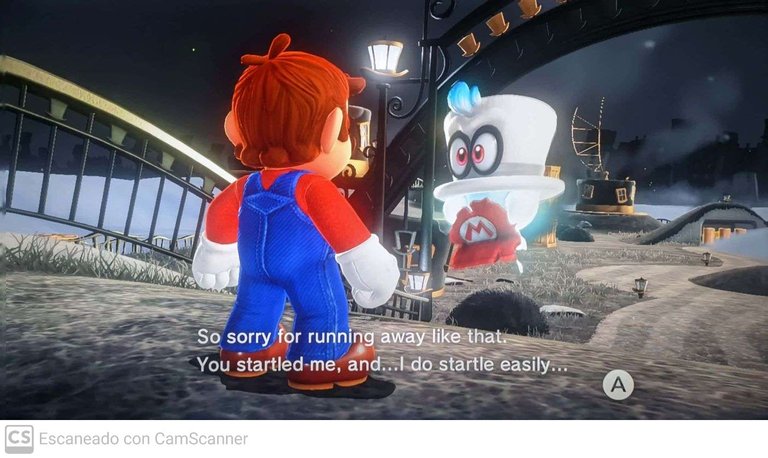 Al igual que joyas como Mario 64 la forma de obtener estas "lunas" no siempre será predecible, y muchas veces sirven como pretexto psra desafiar la forma en la que abordamos el terreno, la magnitud de los mapas amplia lo visto en Sunshine y el medio de transporte nos recuerda a Galaxy, ¿Si ven por dónde va la cosa?
Cabe destacar que la verdadera estrella de la ocasión es "Cappy" un ser vivo con forma de sombrero que reemplaza a la gorra de Mario de toda la vida luego de que quedara destruido al enfrentarse a Bowser.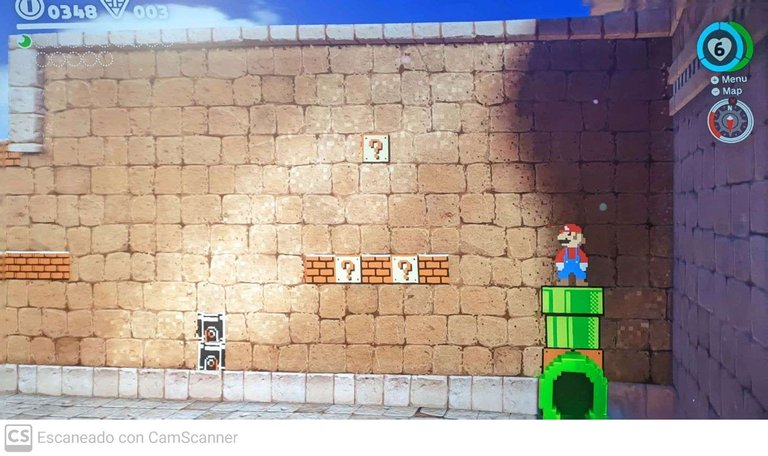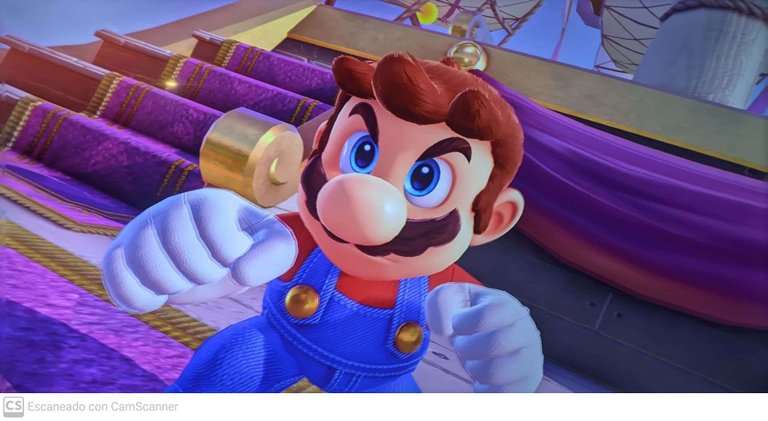 Si bien Cappy puede sentirse como una gimmick para aquellos que no hayan probado el juego directamente, es claro que se trata de uno de los factores responsables por darle una identidad propia al juego, permitiéndonos arrojarlo a nuestros enemigos y más importante aún: Controlar una amplia gama de criaturas que nos permitirán avanzar de formas ingeniosas.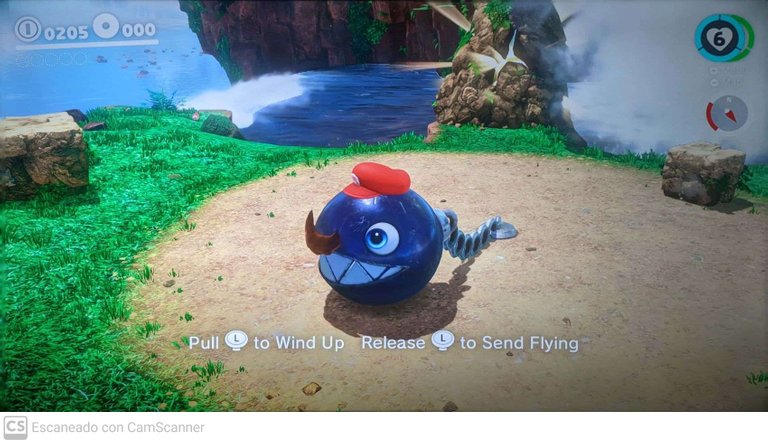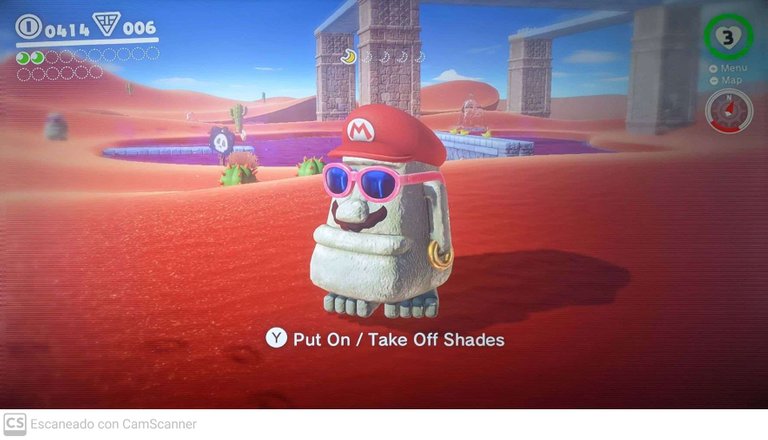 En Mario Odyssey podemos controlar Ranas, dinosaurios, chop chomps, Bill Ballas, etc, cambiando radicalmente el gameplay y facilitando la obtención de las lunas previamente mencionadas.
Odyssey es extremadamente experimental y existen muchísimas mecánicas que van a sorprender al jugador, puede pasar a las dos dimensiones de vez en cuando, alterar las leyes de la gravedad y abrir ante nuestros ojos universos espectaculares que nunca antes habíamos visto.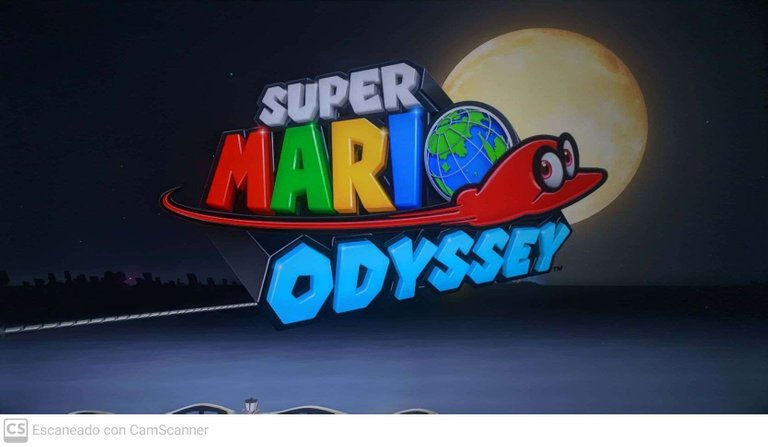 Evidentemente me falta mucho camino por recorrer, pero lo que he visto hasta el momento me ha encantado.

Twitter/Instagram/Letterbox: Alxxssss