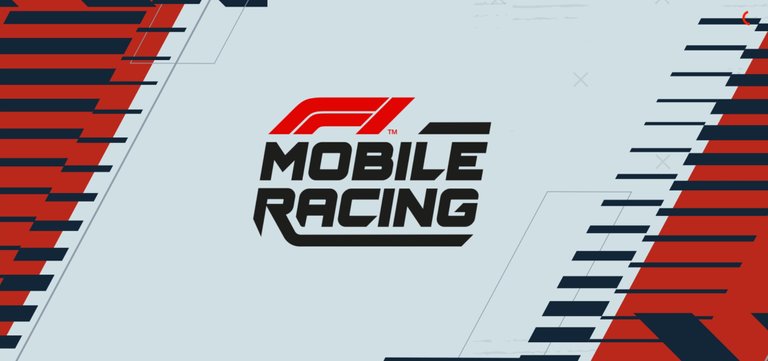 All the screenshots in this post were taken directly from the game by me, F1 Mobile Racing is available on Android and iOS

I recently decided to give F1 Mobile Racing another try, the official Formula 1 video game for smartphones and a title that honestly left me very cold the first time I played it considering the huge amount of potential it had.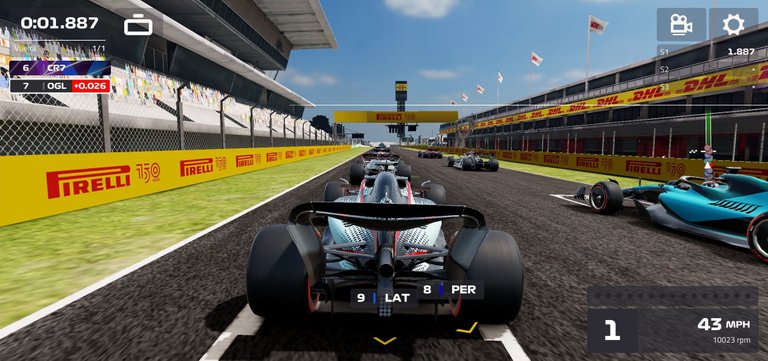 Recently I have been trying to familiarize myself a little more with this very interesting sport, following the 2023 season from the beginning, watching a couple of documentaries about it and reading any type of article or essay that allows me to connect a little with its fascinating nature. .
Logically, as someone who loves videogames, these are usually a relatively accessible window into many hobbies, so well, I wanted to revisit this mobile game from a slightly more "positive" perspective to see if the cold opinions it left me at the first opportunity They could improve a bit.
Although it's unfair to compare it to its older brothers on home consoles and PC (which, by the way, also have a lot of flaws from what I know), it's a shame that one of the most attractive licenses in the entire driving world be wasted in a video game with few game modes and an immeasurable desire to get the most money from its consumers.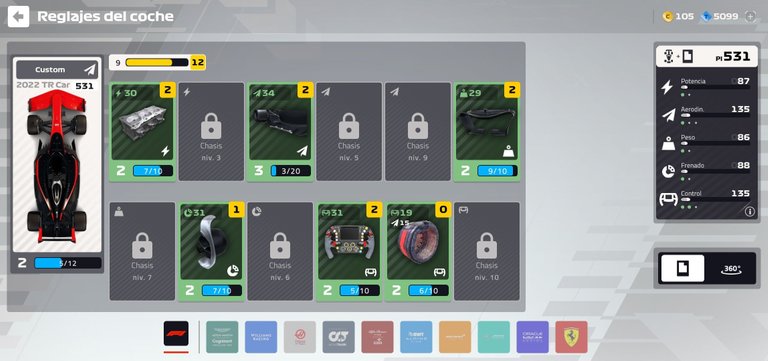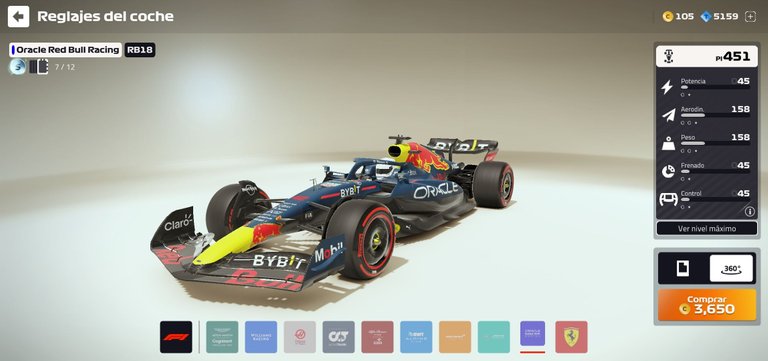 From a technical perspective, this is a very correct title, capable of perfectly mimicking the visual aspect of a "real" race using the humble technical features of our cell phones, the gameplay, on the other hand, has a rather arcade approach but very apt taking into account how limited an exclusively tactile control scheme is.
The problems begin to arise when the races accumulate and we discover that beyond this F1 Mobile Racing has very little to offer, and, apart from that, any kind of ambition to have contact with the cockpit of a "famous" car is going to be behind a price Tag that will only be unattainable or by completing an absurd number of races (In only 3 available circuits), or directly by paying real money.
In contrast, the customization options for our generic vehicles lack character, and for the most part it's easy to lose interest before any visually appreciable form of progress is achieved.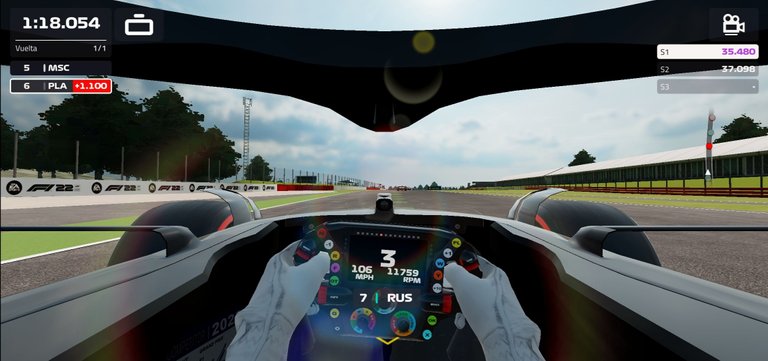 F1 Mobile may present itself as a solid adaptation of the experience to our mobile screens, but there is hardly anything worthwhile in the long run.
As a video game it suffers an identity crisis, and although from time to time the mixture of arcade elements with traditional simulation works well, it is clear that being a free to play hinders it.
Unlike my first contact a few months ago, the only thing that I could highlight is the faithful representation of the present circuits, as well as a couple of extra modalities in which we can compare our times with those of some real drivers, there is also a system of Relatively nice mechanical upgrades, and well, the online works well.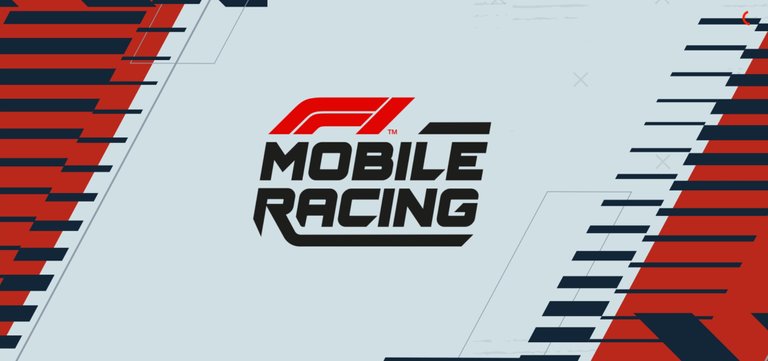 Todas las imágenes en este post fueron sacadas directamente desde el juego por mi. F1 Mobile Racing está disponible en Android y iOS

**Recientemente decidí darle otra oportunidad a F1 Mobile Racing, el videojuego oficial de la Fórmula 1 para smartphones y un título que honestamente me dejó muy frío la primera vez que lo probé considerando la gran cantidad de potencial que tenía. **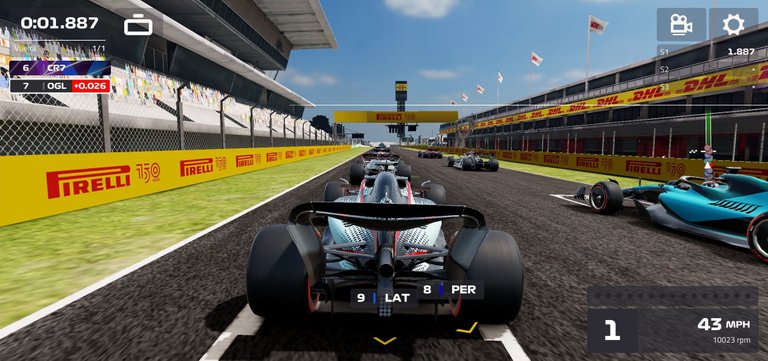 Recientemente he estado tratando de familiarizarme un poco más con este deporte tan interesante, siguiendo la temporada del 2023 desde el principio, viendo un par de documentales al respecto y leyendo cualquier tipo de artículo o ensayo que me permita conectar un poco con su naturaleza tan fascinante.
Lógicamente, como alguien que ama los videojuegos estos suelen ser una ventana relativamente accesible a muchos hobbies, así que bueno, quise revisitar este juego móvil desde una óptica un poco más "positiva" para ver si las frías opiniones que me dejó en la primera oportunidad podían mejorar un poco.
Aunque es injusto compararlo con sus hermanos mayores en consolas de sobremesa y PC (Que por cierto, también cuentan con una gran cantidad de defectos por lo que sé), es una pena que una de las licencias más atractivas en todo el mundo de la conducción sea desaprovechado en un videojuego con escasas modalidades de juego y un afán inmesurable por sacarle la mayor cantidad de dinero a sus consumidores.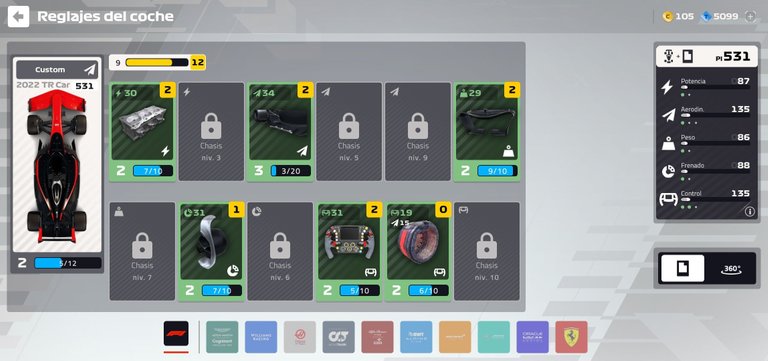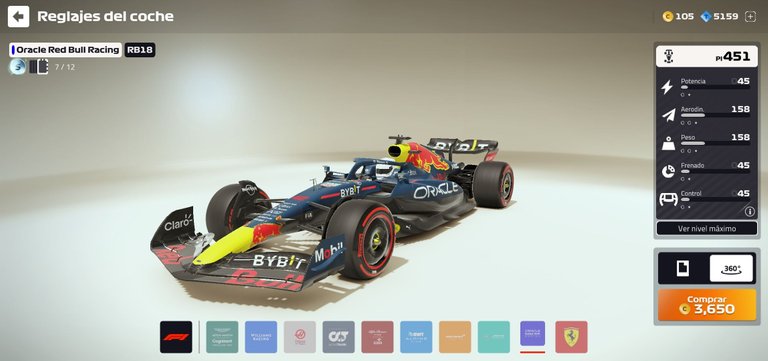 Desde una perspectiva técnica estamos ante un título muy correcto, capaz de mimicar a la perfección el aspecto visual de una carrera "de verdad" usando las humildes prestaciones técnicas de nuestros celulares, el gameplay, por otro lado, tiene un enfoque bastante arcade pero muy apto tomando en cuenta lo limitado que resulta un esquema de controles exclusivamente táctiles.
Los problemas empiezan a surgir cuando las carreras se acumulan y descubrimos que más allá de esto F1 Mobile Racing tiene muy poco que ofrecer, y, que aparte, cualquier tipo de ambición por tener contacto con la cabina de un monoplaza "famoso" va a estar detrás de un price Tag que solo será inalcanzable o completando una cantidad absurda de carreras (En solo 3 circuitos disponibles), o directamente pagando dinero real.
En contraposición, las opciones de personalización para nuestros vehículos genericos carecen de carácter, y en su mayoría es fácil perder el interés antes de conseguir cualquier forma de progreso que sea visualmente apreciable.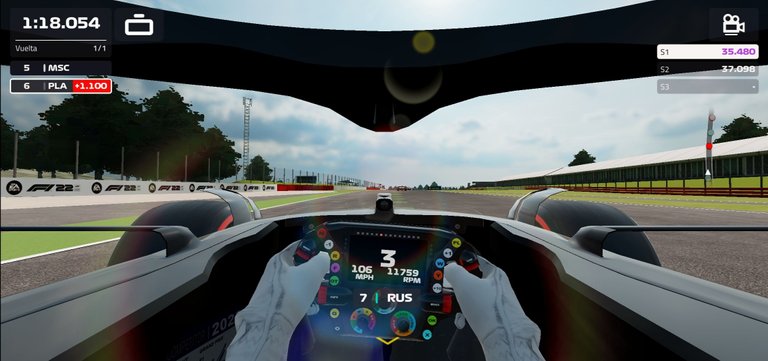 F1 Mobile puede presentarse como una adaptación sólida de la experiencia a las pantallas de nuestros celulares, pero difícilmente haya algo que valga la pena a largo plazo.
Cómo videojuego sufre una crisis de identidad, y aunque de vez en cuando funciona bien la mezcla de elementos arcade con la simulación tradicional, es evidente que ser un free to play le entorpece.
A diferencia de mi primer contacto hace algunos meses, lo único que podría destacar es la representación fiel de los circuitos presentes, así como un par de modalidades extra en la que podemos comparar nuestros tiempos con los de algunos pilotos reales, también hay un sistema de mejoras mecánicas relativamente agradable, y bueno, el online funciona bien.

Twitter/Instagram/Letterbox: Alxxssss