[ESP/ENG] Reparación de un módem de internet / Repair of an Internet modem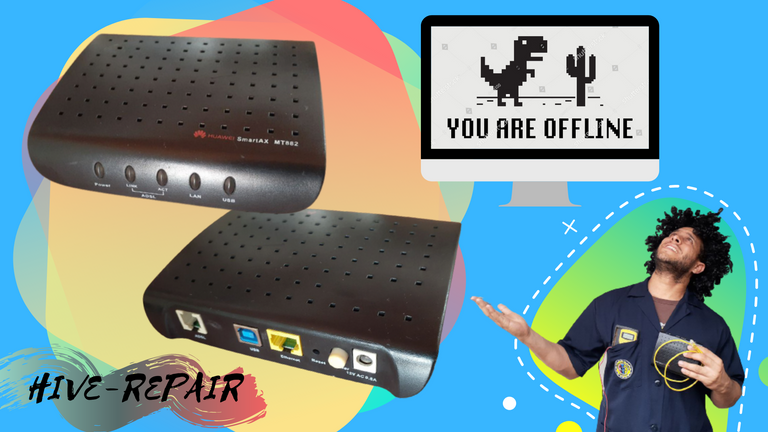 Un gran saludo para todos en esta increíble plataforma llamada HIVE!
Hoy les enseñaré como reparé el módem de internet de mi casa. Todo comenzó debido a que en algunas oportunidades el internet parecía fallar intermitente mente, muchas veces pensé que era el servicio de internet como tal el que fallaba, pero un día decidí revisar el módem y resultó que estaba defectuoso, debido al tiempo que tiene en funcionamiento, la causa principal por la cual se dañan estos dispositivos se debe a la alta temperatura y a medida que trascurre el tiempo dicha temperatura irá en aumento, hasta que algunos componentes en la tarjeta electrónica dejan de funcionar por completo o comienzan a fallar.
Entonces, manos a la obra apreciados Hivers...
A big hello to everyone on this amazing platform called HIVE!

Today I will show you how I repaired my home internet modem. It all started because sometimes the internet seemed to fail intermittently, many times I thought it was the internet service as such that was failing, but one day I decided to check the modem and it turned out that it was defective, due to the time it has been in operation, the main cause why these devices are damaged is due to the high temperature and as time passes the temperature will increase, until some components on the electronic board stop working completely or begin to fail.

So, let's get down to work, dear Hivers...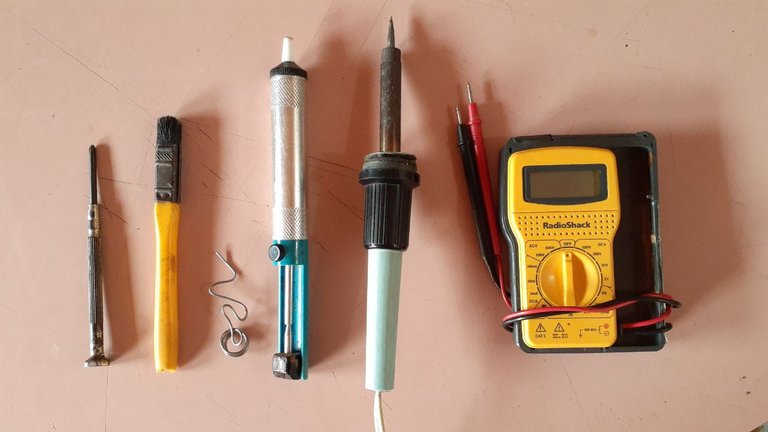 Como siempre primero les presentaré las herramientas y dispositivos que utilizaré en la reparación. En esta ocasión haré uso de un destornillador de estrella pequeño para destapar el módem, una brocha pequeña para limpiar la tarjeta electrónica en las zonas donde realice alguna soldadura, estaño 60/40 y el soldador para quitar y volver a soldar componentes en la placa, el extractor de estaño también nos será útil para esta ultima tarea, y también muy importante el multímetro.
As always I will first introduce the tools and devices that I will use in the repair. This time I will use a small Phillips screwdriver to uncover the modem, a small brush to clean the electronic board in the areas where I do some soldering, tin 60/40 and the soldering iron to remove and re-solder components on the board, the tin extractor will also be useful for this last task, and also very important the multimeter.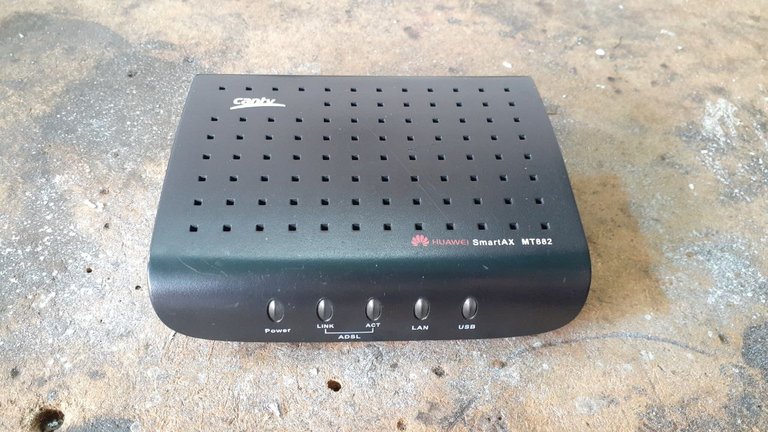 Este es el módem de internet en cuestión, un Huawei SmartAX MT882.
CARACTERÍSTICAS
Ancho de banda máximo:Bajada: 24Mbps
Subida: 1,2Mbps
Distancia máxima del bucle: 6,5Km
Funciones de diagnóstico de la línea
LEDs de estado del dispositivo
Plug-and-Play
Servidor DHCP, NAT, Filtro IP, Firewall y bloqueo de protocolos
Web de configuración de fácil manejo protegida por contraseña que permite actualización de firmware
Administración remota por Telnet
Soporta SNMP v1/v2
Tamaño: 135mm x 110mm x 28mm
Peso: 180g
This is the internet modem in question, a Huawei SmartAX MT882.

FEATURES

Maximum bandwidth:Downstream: 24Mbps
Upstream: 1.2Mbps
Maximum Loop Distance: 6.5Km
Line diagnostic functions
Device status LEDs
Plug-and-Play
DHCP server, NAT, IP Filtering, Firewall and protocol blocking
User-friendly password-protected configuration web interface that allows firmware upgrades
Remote management via Telnet
Supports SNMP v1/v2
Size: 135mm x 110mm x 28mm
Weight: 180g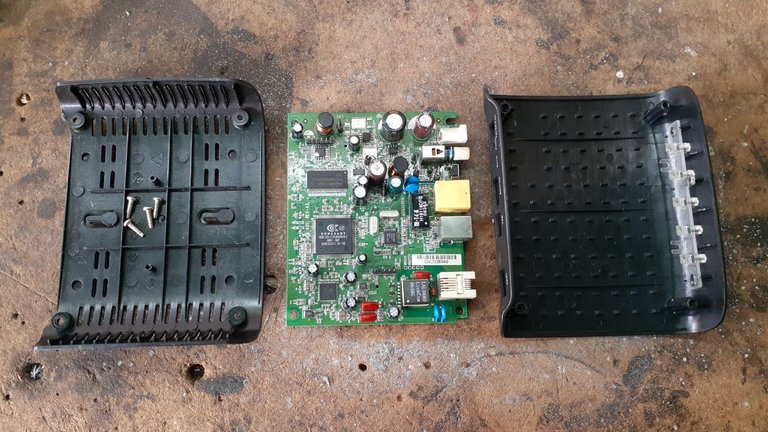 Desconecté el dispositivo, lo llevé a mi mesa de trabajo y lo desarmé con la ayuda del destornillador de estrella. Siempre tengan cuidado con los tornillos, suelen perderse muy fácilmente.
I disconnected the device, took it to my workbench and disassembled it with the help of the Phillips screwdriver. Always be careful with screws, they tend to get lost very easily.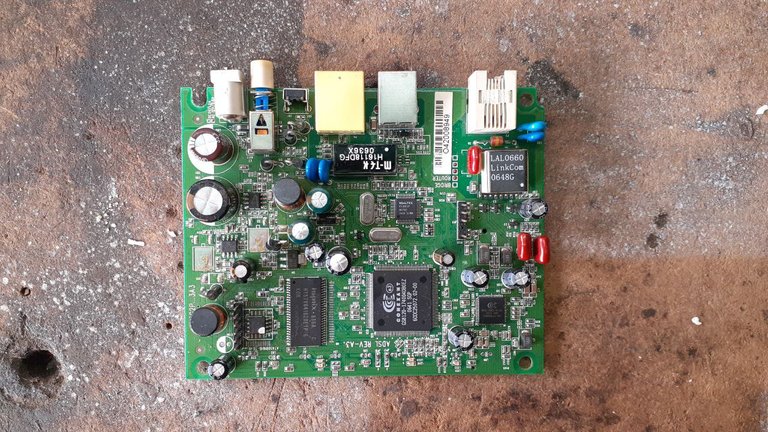 Seguidamente realizo una inspección visual de la tarjeta electrónica por la cara superior, buscando componentes electrónicos que se vean defectuosos o dañados a simple vista.
I then perform a visual inspection of the top side of the electronic board, looking for electronic components that appear defective or damaged to the naked eye.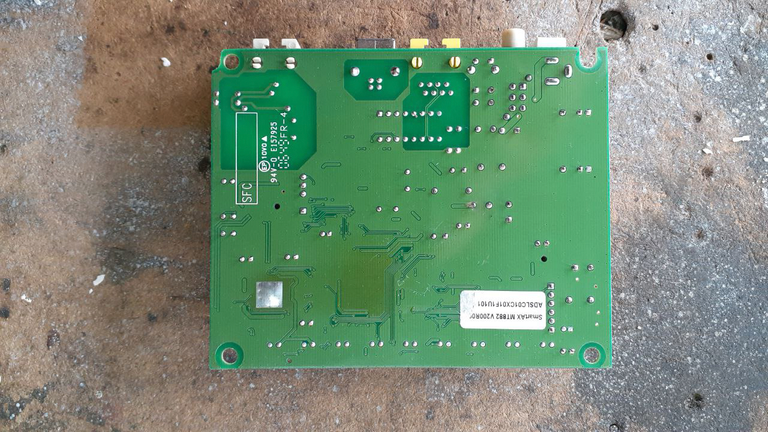 También realizo la inspección visual en la cara inferior de la tarjeta electrónica, esto para descartar pistas de cobre cortadas, soldaduras en mal estado o zonas con marcas de recalentamiento.
I also perform a visual inspection on the underside of the electronic board to rule out cut copper traces, bad solder joints or areas with overheating marks.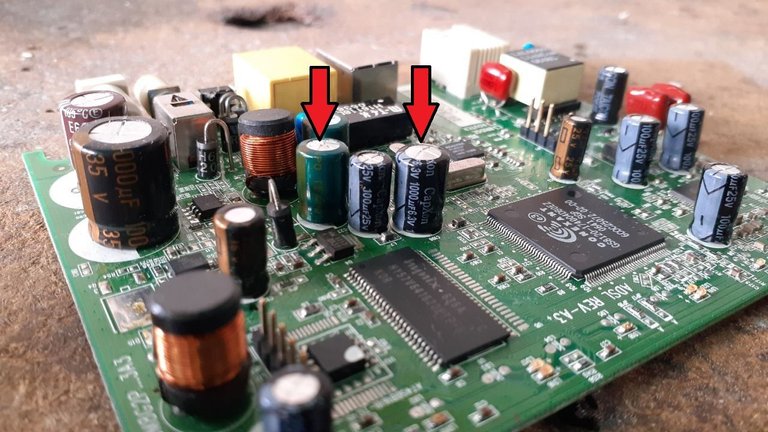 Luego de la inspección visual detecté que dos capacitores electrolíticos estaban hinchados, lo que es una señal de que han perdido sus propiedades capacitivas y por lo tanto habría que reemplazarlos, probé los demás capacitores con la ayuda del multímetro y no encontré algún otro que estuviera dañado o defectuoso. Generalmente estos dispositivos fallan debido a los capacitores electrolíticos, aunque en algunos casos pueden ser otros componentes que son irremplazables.
After visual inspection I detected that two electrolytic capacitors were swollen, which is a sign that they have lost their capacitive properties and therefore should be replaced, I tested the other capacitors with the help of the multimeter and did not find any others that were damaged or defective. Generally these devices fail due to the electrolytic capacitors, although in some cases it may be other components that are irreplaceable.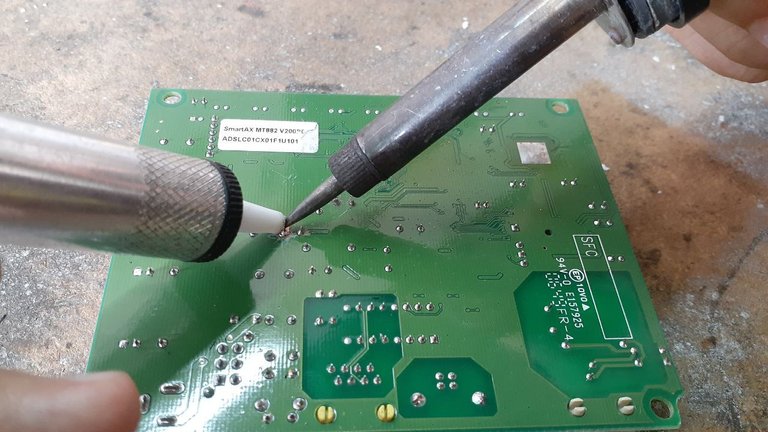 Habiendo identificado el daño, quitaremos de la tarjeta electrónica estos dos componentes con la ayuda del soldador y el extractor de estaño.
Having identified the damage, we will remove these two components from the electronic board with the help of the soldering iron and the solder stripper.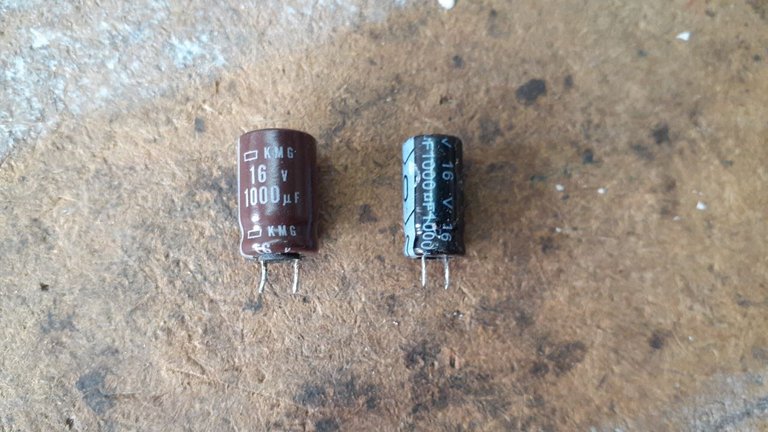 Busqué entre mis componentes electrónicos y conseguí los capacitores que necesitaba, dos capacitores electrolíticos de 1000μF/16v.
I searched through my electronic components and got the capacitors I needed, two 1000μF/16v electrolytic capacitors.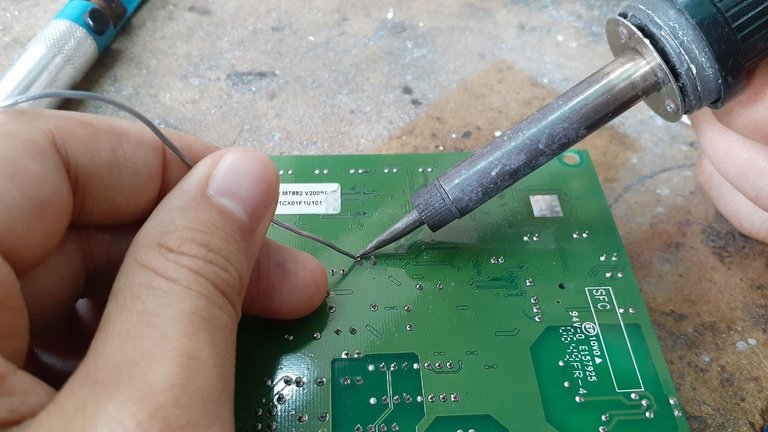 Con un poco de estaño 60/40 y el soldador de estaño, soldé los componentes de reemplazo en la tarjeta electrónica.
With some 60/40 tin and the tin soldering iron, I soldered the replacement components onto the electronic board.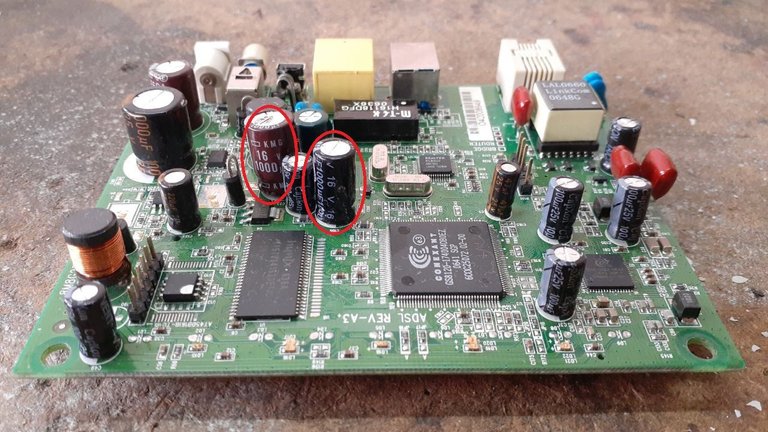 Entonces, así se ven los componentes de reemplazo. Seguidamente armé el módem y estaría listo para realizar una prueba de funcionamiento.
So, this is what the replacement components look like. I then assembled the modem and it would be ready for a test run.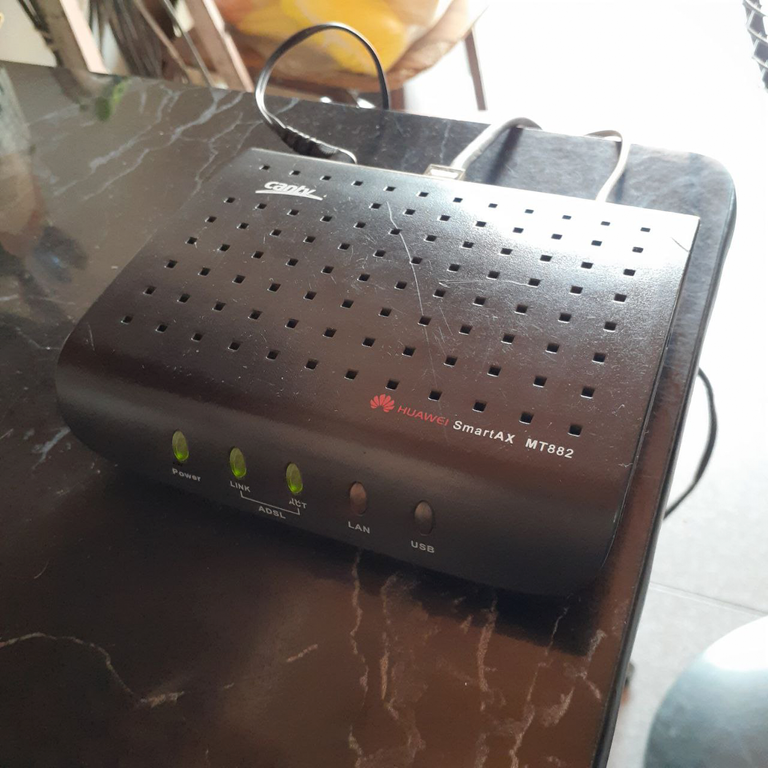 Conecté el módem, es decir, conecté la alimentación eléctrica, el cable telefónico y el cable UTP que va conectado también en la Computadora. Esperé que realizara la secuencia de encendido y que sincronizara.
I connected the modem, that is, I connected the power supply, the telephone cable and the UTP cable that is also connected to the computer. I waited for it to perform the power up sequence and synchronize.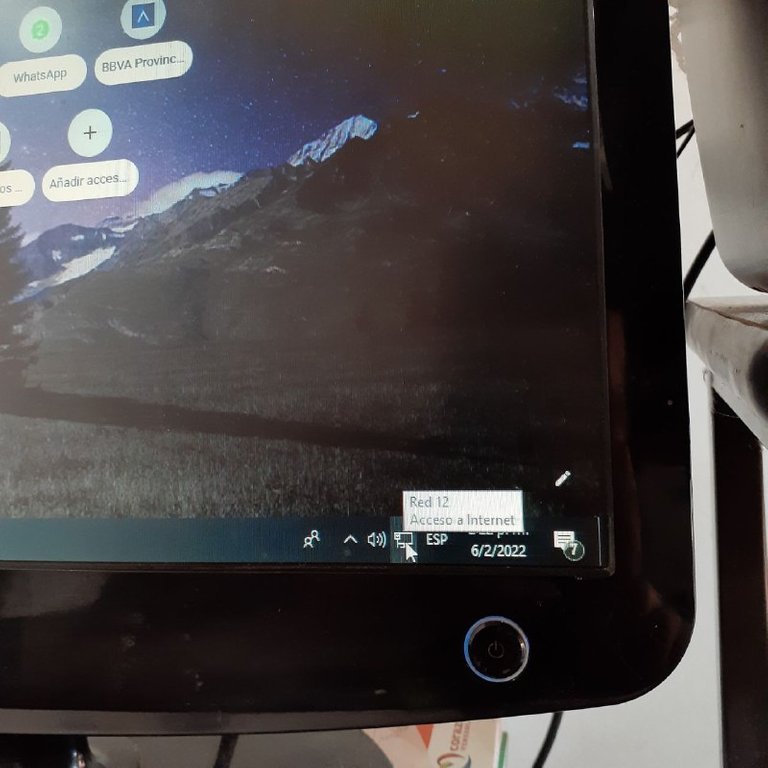 Una vez que el módem haya sincronizado, solo queda revisar en la computadora que efectivamente hay conexión a internet.
Y es así como una vez más logré realizar una reparación exitosa.
Once the modem has synchronized, the only thing left to do is to check on the computer that there is indeed an internet connection.
And that is how I once again managed to perform a successful repair.

Hasta la siguiente publicación!
Until the next post!
Todas las fotografías fueron tomadas con mi celular SAMSUNG Galaxy A20.
All photographs were taken with my SAMSUNG Galaxy A20 cell phone.
El separador de texto y las demás imágenes son de mi autoría.
The text separator and other images are of my authorship.
Imagen de portada/Cover image: Realizada en Canva
Translated with www.DeepL.com/Translator (free version)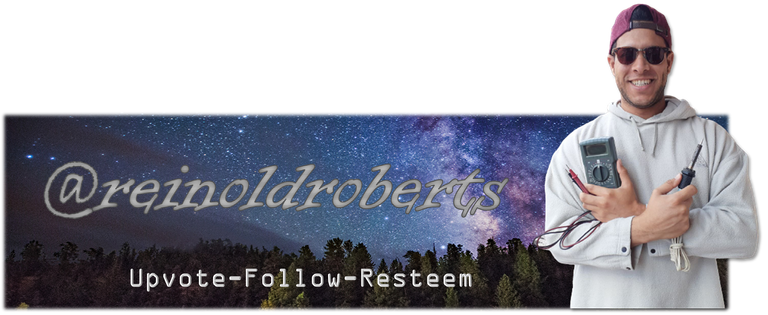 ---
---