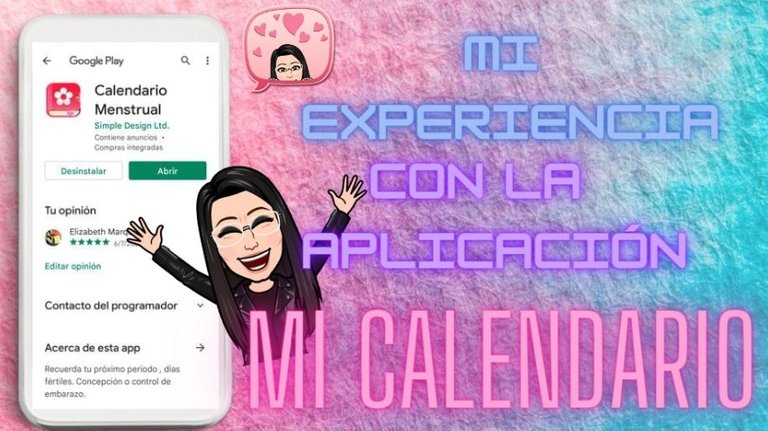 ¡Hola mis queridos Hivernautas de la tecnología! Es un gusto para mí estar aquí nuevamente después de mucho tiempo, y es que la verdad no sé mucho sobre tecnología pero a pesar de ello, siempre la uso en cada cosa que hago, he incluso para llegar a ustedes es por medio de la tecnología, ya que la tecnología hoy en día es prácticamente todo. 😁👩🏻‍💻
Hello my dear Hivernautas of technology! It is a pleasure for me to be here again after a long time, and the truth is that I don't know much about technology but in spite of that, I always use it in everything I do, and even to reach you is through technology, since technology today is practically everything. 😁👩🏻‍💻
---
En cierto modo, la tecnología nos hace la vida un poco más fácil y práctica, y como ejemplo les pondré los teléfonos y las aplicaciones que han creado en los sitios donde podemos obtenerlas, ciertas aplicaciones nos facilitan muchas cosas hoy en día, y es de lo que les haré mención, para ser más específica les hablaré de una aplicación en especial. 😉❣️
In a way, technology makes our lives a little easier and more practical, and as an example I will give you the phones and the applications that have been created in the sites where we can get them, certain applications facilitate many things today, and that is what I will mention, to be more specific I will talk about an application in particular. 😉❣️
---
Desde mi experiencia a todos estos años que llevo usándola desde que la descubrí, me ha sido muy útil en muchos aspectos que a continuación les mencionaré. Hace ya casi 10 años, que la comencé a usar, por cierto, el mismo año de su lanzamiento, recuerdo que la instalé la primera vez a finales de noviembre del 2012, fue que la descubrí un día andado en Google Play, lugar donde siempre descargo mis aplicaciones en el móvil, por lo seguro y práctico, descubrí la aplicación de My Calendar o en mi idioma español Calendario Menstrual. 🗓️🌸
From my experience in all these years that I have been using it since I discovered it, it has been very useful in many aspects that I will mention below. It's been almost 10 years since I started using it, by the way, the same year of its launch, I remember that I installed it the first time at the end of November 2012, it was that I discovered it one day walking on Google Play, place where I always download my applications on my mobile, for the safe and practical, I discovered the application of My Calendar or in my Spanish language Menstrual Calendar. 🗓️🌸
---
---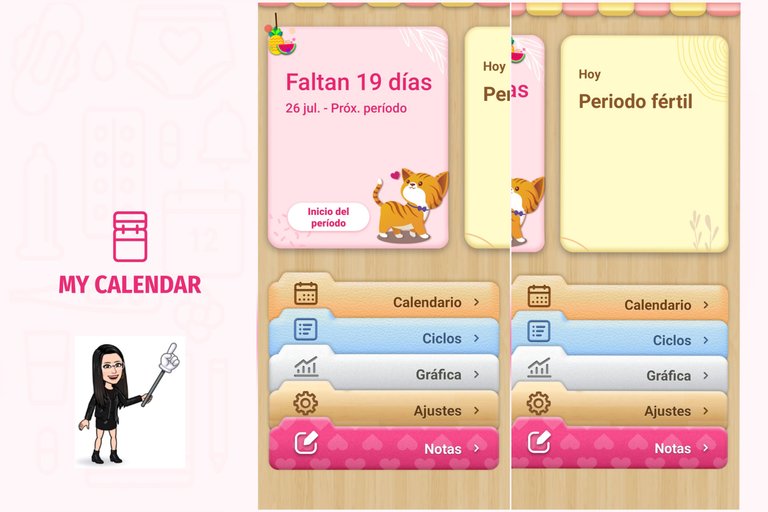 🇪🇦
Lo primero que me llamó la atención de esta aplicación fue el logo tan bonito y tan femenino y juvenil, para ese entonces tenía ya como 20 años si no me equivoco, así que me gustó inmediatamente y me metí a leer su información, me gustó porque era sobre la menstruación, y siempre le perdía la pista a mis fechas menstruales, para ser franca, tenía un desastre con respecto a eso. 😥🤭
Así que tenía la solución en mis manos, la descargué inmediatamente y desde entonces no ha hecho más que gustarme y hacerme la vida menstrual mucho más fácil, y no sólo eso, sino también el día a día, con respecto a cualquier acontecimiento.
Es una aplicación que no pesa más de 40 MB, claro que el peso de la aplicación en megas va aumentando a medida que lo vas usando y actualizando, tampoco es algo que estorbe ni que desmejore, al contrario, con cada actualización que le hacen a la aplicación, van aumentando su mejoramiento y ya tiene una calificación de 4.9 de 5. 🌟🌟🌟⭐
🇺🇸
The first thing that caught my attention of this application was the logo so pretty and so feminine and youthful, by that time I was already like 20 years old if I'm not mistaken, so I liked it immediately and I went to read its information, I liked it because it was about menstruation, and I always lost track of my menstrual dates, to be frank, I had a disaster with respect to that. 😥🤭
So I had the solution in my hands, I downloaded it immediately and since then I have done nothing but like it and it has made my menstrual life much easier, and not only that, but also the day to day, regarding any event.
It is an application that weighs no more than 40 MB, of course the weight of the application in megabytes is increasing as you use and update it, it is not something that hinders or degrades, on the contrary, with each update they do to the application, they are increasing their improvement and already has a rating of 4.9 out of 5. 🌟🌟🌟🌟⭐
---
---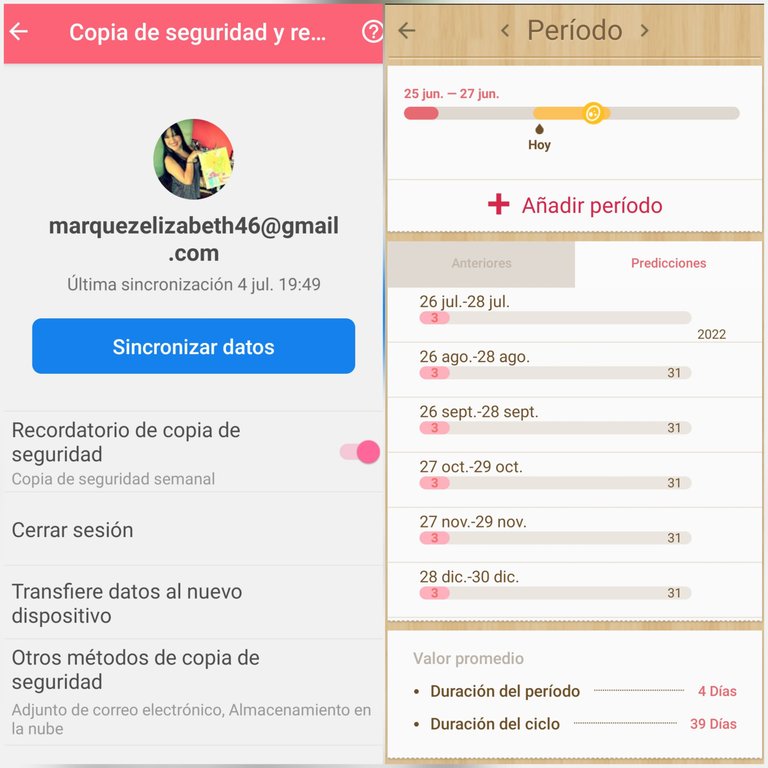 Claramente que desde el año 2012 he cambiado muchísimas veces de teléfono móvil, pero esto es lo que me encanta mucho de esta aplicación, que la puedes transferir de un dispositivo a otro, con sólo ingresar tu correo electrónico 😏📬, ya puedes obtener los datos sin perder tan si quiera uno solo de ellos, su sistema de copia de seguridad es muy buena y rápida y tú eliges si la quieres automática o manualmente.🥳
Está aplicación te hace llevar un orden de tu período menstrual, es casi 100% exacto 🗓️👏🏻, yo comencé colocando mis últimos registros, pero a medida que pasaban los meses se registraba toda la información mes tras mes de acuerdo a los datos de mis últimos registros dentro de la aplicación de manera automática.🔄
Saben lo genial que es planificar una fecha en especial, un día en la playa y que no te tome por sorpresa tu menstruación, ya que llevas un registro al que fácilmente puedes ingresar y desde el calendario hacer toda una planificación sin temor a sorpresas menstruales, ya que antes me pasaba eso.🥲
Clearly since 2012 I have changed my cell phone many times, but this is what I love about this application, you can transfer it from one device to another, just by entering your email 😏📬, you can get the data without losing even one of them, its backup system is very good and fast and you choose whether you want it automatically or manually. 🥳
This application makes you keep track of your menstrual period, it is almost 100% accurate 🗓️👏🏻, I started putting my last records, but as the months passed all the information was recorded month after month according to the data of my last records within the application automatically. 🔄
You know how great it is to plan a special date, a day at the beach and not be taken by surprise by your menstruation, since you have a record that you can easily enter and from the calendar make a whole planning without fear of menstrual surprises, as before that happened to me. 🥲
---
---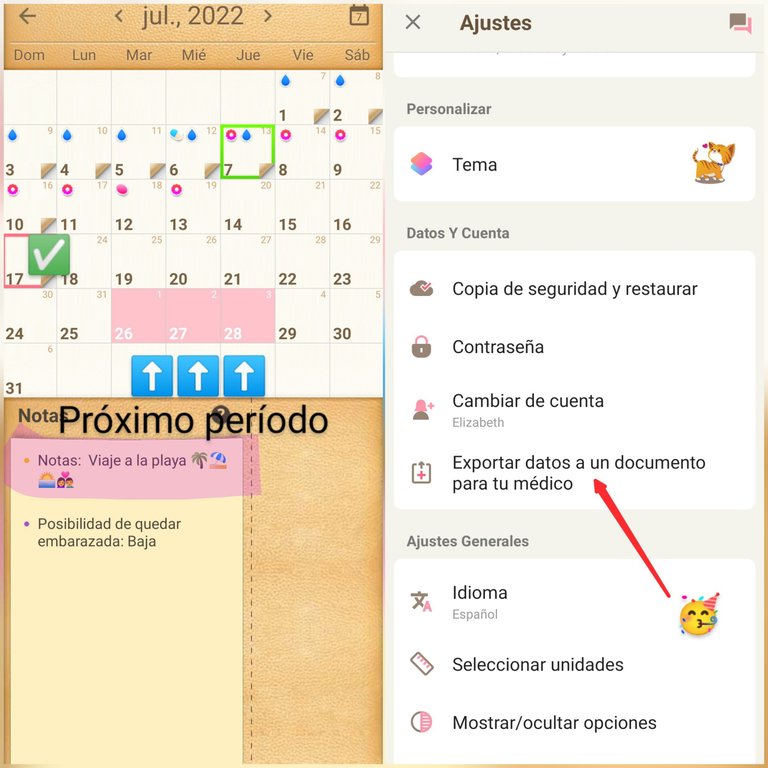 Por ejemplo, cuando vivía con mis padres, mi mamá decía: este fin de semana haré un ceviche (plato típico del Ecuador, que nos encanta por cierto 😋🤤) y eso no lo preparaban todo el tiempo, más de una vez no pude comerlo por la llegada inesperada de mi menstruación ya que el ceviche contiene demasiado limón y no me gusta hacer desarreglos.🤯
Después de esta aplicación, le decía a mamá 😌: hágalo mejor la otra semana para poder comer, porque me vendrá la menstruación este fin de semana y así nunca más me perdí de comer otro ceviche. 💃🏻
Otro ejemplo era alguna salida a la playa 🌴🌅, el río, la piscina, casi siempre esos días por sorpresa me llegaba la menstruación y muchas veces no podía disfrutar como quería, así que esos momentos se acabaron desde que descargué esta aplicación 📱, desde entonces, me planifico mejor y nunca más me volvió a venir una menstruación sorpresa 🤯🗓️👏🏻, todo está bajo control gracias a esta maravilla aplicación tecnológica.
Es que no saben todo lo que esta aplicación puede facilitarnos las cosas, puedes descargar toda la información de tu ciclo menstrual y todos los demás registros en forma de documento y enviarlos por correo electrónico o directo al WhatsApp de tu ginecólogo, ¿No es estupendo? 😁👩🏻‍💻 Así tendrá toda la información necesaria y todo será más fácil y compresible.
For example, when I lived with my parents, my mom would say: this weekend I will make a ceviche (typical dish from Ecuador, which we love by the way 😋🤤) and that was not prepared all the time, more than once I could not eat it because of the unexpected arrival of my menstruation since ceviche contains too much lemon and I do not like to make messes 🤯.
After this application, I would tell mom 😌: make it better the next week so I can eat it, because I will get my period this weekend and so I never missed eating another ceviche again. 💃🏻
Another example was some trip to the beach 🌴🌅, the river, the pool, almost always those days by surprise my menstruation came and many times I could not enjoy as I wanted, so those moments are over since I downloaded this app 📱, since then, I plan myself better and never again came a surprise menstruation 🤯🗓️👏🏻, everything is under control thanks to this wonderful technological application.
You do not know how much this application can make things easier, you can download all the information of your menstrual cycle and all other records in the form of a document and send them by email or directly to your gynecologist's WhatsApp, isn't it great? 😁👩🏻💻 So you will have all the necessary information and everything will be easier and more compressible.
---
---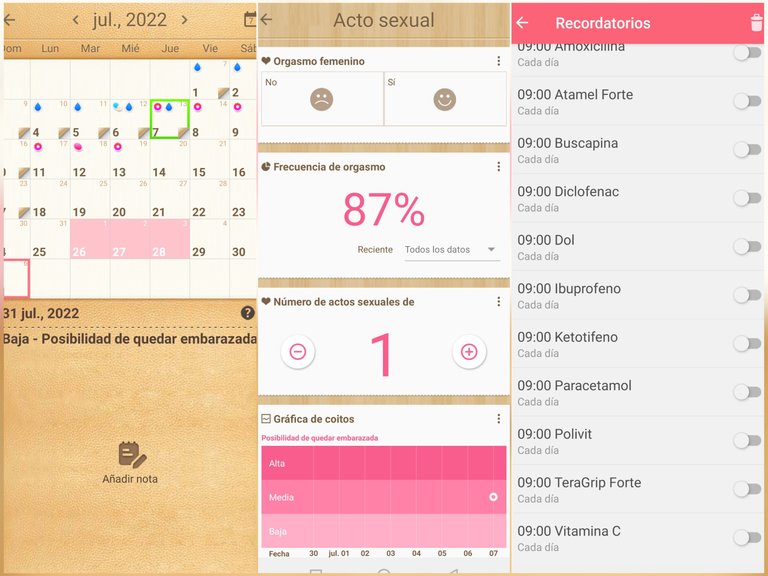 Además de eso, no sólo te indica cuando será tu próximo período sino también tus días fértiles 🌸 y tu día de ovulación 🟣, lo cual es perfecto si quieres quedar embarazada🤰🏻, te indicará una alarma para hacerte saber los días próximos a esas fechas y además de eso, te hace llevar un registro de tu embarazo, por sí en hora buena logras quedar embarazada.
También si eres de las que se cuidan para no estarlo 🚫🤰🏻, también tiene la opción para que ingreses tus métodos anticonceptivos 💉💊, como píldoras, inyecciones, etc., Así mismo tiene un recordatorio ⏰ para que no olvides cuidarte a tiempo, también puedes añadir otros tipos de medicamentos 💊, como algún tratamiento que estés tomando o simplemente pastillas de uso cotidiano como para dolores, malestares o fiebres.
Así mismo también puedes indicar los registros de tus relaciones sexuales ♀️♂️ dentro del calendario, hay una opción para colocar las veces que tienes relaciones sexuales, la cantidad de coitos al día, si tuviste o no orgasmos, si fue con protección o sin protección, esto ayuda también a la hora de un sospechoso embarazo y un registro para calcular el tiempo de inicio de gestión. 🗓️
Besides that, it not only tells you when your next period will be but also your fertile days 🌸 and your ovulation day 🟣, which is perfect if you want to get pregnant🤰🏻, it will indicate an alarm to let you know the days close to those dates and besides that, it makes you keep track of your pregnancy, in case in good time you manage to get pregnant.
Also if you are one of those who take care not to be 🚫🤰🏻, it also has the option to enter your contraceptive methods 💉💊, such as pills, injections, etc., It also has a reminder ⏰ so you do not forget to take care of yourself in time, you can also add other types of medications 💊, as any treatment you are taking or just pills for everyday use as for pain, aches or fevers.
Likewise you can also indicate the records of your sexual relations ♀️♂️ within the calendar, there is an option to place the times you have sex, the amount of intercourse per day, if you had orgasms or not, if it was with protection or without protection, this also helps at the time of a suspected pregnancy and a record to calculate the time of onset of management. 🗓️
---
---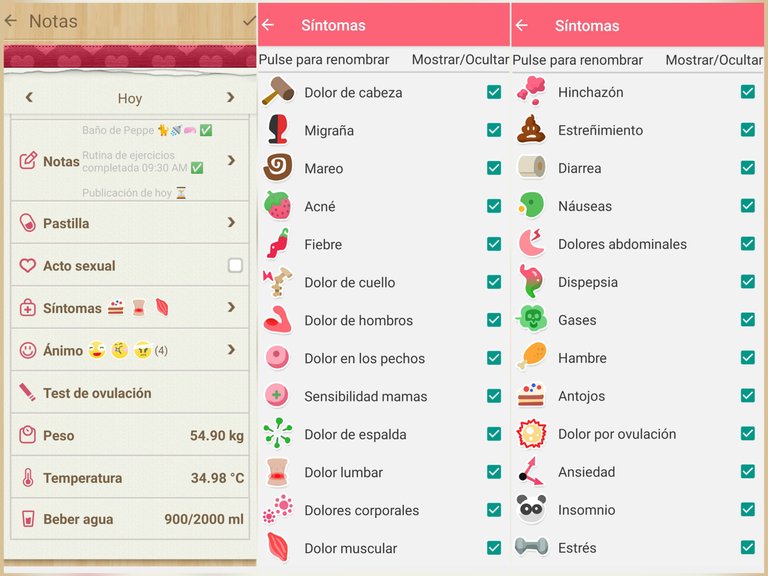 Todo esto es una maravilla que muy bien podría estar mencionándoles todo un sinfín de palabras de todo lo que esta aplicación puede lograr por ti. Puedes anotar tus síntomas diarios, trae una cantidad de lista de síntomas de los cuales experimentamos a diario 🧾🧮, también puedes seleccionar sobre cómo estuvo tu moco o flujo cervical, tu estado de ánimo 😄🤬, si pasaste estrés, ansiedad, si tuviste náuseas 🤢, mareos 🥴, antojos 😋, picaduras de insectos 🦟, dolores de estómago o menstruales 😓, hasta tus estados de humor, si lloraste, si reíste, si pasaste enojada todo el día o en paz, en fin, tiene de todo.
¿Qué genial , cierto? 😁💃🏻 Es súper fácil de usar y la experiencia será muy satisfactoria, realmente pensaron en todos los detalles que como mujeres pasamos día a día, por cierto no se me podía olvidar que además de todo lo que les mencioné, puedes llevar un registro saludable de cuántos vasos de agua bebes al día 🧊🥤, tu peso, tu temperatura 🌡️, y muchas cosas más.
Se me ha hecho todo más fácil, hasta me he dado cuenta que mis estados de ánimo durante la pre menstruación y durante la menstruación son casi siempre los mismos, así que entiendo el porqué algunos días paso algo irritada y otros melancólica o nostálgica jajajaja 😅😂 qué divertido, ya que cuando se acercan esos días puedo prevenir esos estados de ánimo tan vergonzosos, buscando algo diferente qué hacer y en qué distraerme.
Antes ni si quiera sabía cuánto duraba mi menstruación 🥴, ni si quiera estaba pendiente de eso, por lo general mi menstruación apenas dura 3 días 😁👏🏻, como mucho 4 días y eso es cuando hago algún desarreglo 🧐, claro que los dos primeros días son abundantes, pero al tercer día desaparece sin dejar rastros jajaja☺️, así mismo si no he hecho algún desarreglo me viene sin síntomas pre menstruales, es la razón por la que antes me llegaba de sorpresa, es muy divertido llevar control y conocimiento de tu propio cuerpo. 🤸🏻‍♀️🧍🏻‍♀️
All of this is such a marvel that I could very well be mentioning to you all the endless words of what this app can accomplish for you. You can write down your daily symptoms, it brings a number of list of symptoms of which we experience on a daily basis 🧾🧮, you can also select about how your mucus or cervical discharge was, your mood 😄🤬, if you went through stress, anxiety, if you had nausea 🤢, dizziness 🥴, cravings 😋, insect bites 🦟, stomach or menstrual pains 😓, even your moods, if you cried, if you laughed, if you spent angry all day or at peace, in short, it has everything.
How cool, right? 😁💃🏻 It's super easy to use and the experience will be very satisfying, they really thought about all the details that we as women go through day by day, by the way I couldn't forget that in addition to everything I mentioned, you can keep a healthy record of how many glasses of water you drink a day 🧊🥤, your weight, your temperature 🌡️, and many more things.
It's made everything easier for me, I even realized that my moods during pre menstruation and during menstruation are almost always the same, so I understand why some days I spend some days a bit irritated and others melancholic or nostalgic hahahaha 😅😂 how funny, since when those days are approaching I can prevent those embarrassing moods, looking for something different what to do and what to distract myself in.
Before I didn't even know how long my menstruation lasted 🥴, I wasn't even aware of that, usually my menstruation barely lasts 3 days 😁👏🏻, at most 4 days and that's when I make some disarrangement 🧐, of course the first two days are abundant, but on the third day it disappears without a trace hahaha☺️, likewise if I haven't had a miscarriage it comes without pre menstrual symptoms, that's the reason why it used to come to me as a surprise, it's so much fun to have control and knowledge of your own body. 🤸🏻‍♀️🧍🏻‍♀️
---
---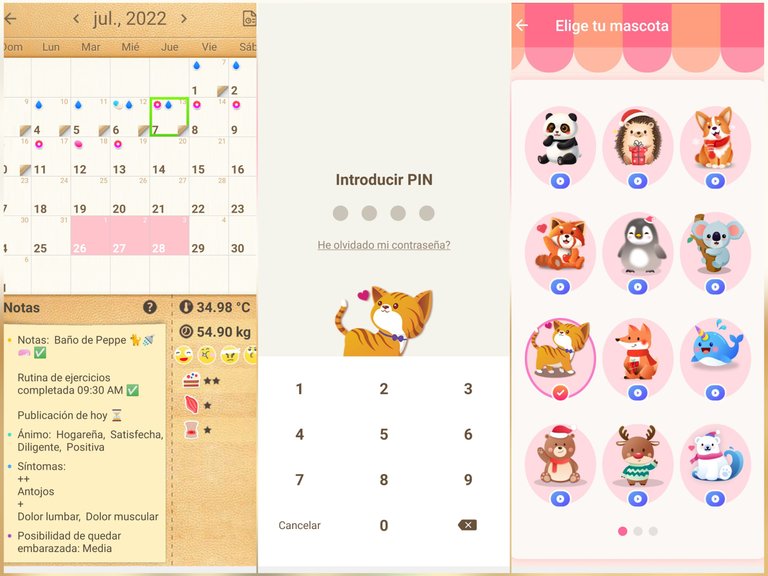 Ahora viene mi parte favorita 🤸🏻‍♀️, está aplicación tiene para descargarle varios temas a medida que va actualizando, y entre ellos tiene la opción de escoger una mascota, es la que estará siempre en la página principal, por su puesto, como amo los gatos 😻 y de hecho tengo mi hijo gatuno, escogí un hermoso gatito parecido a mi gato Peppe 🐈.
También tiene una cantidad grande de idiomas para escoger, yo lo tenía en la opción del idioma portugués de Brasil 🇧🇷, pero como tenía que tomar algunas capturas de pantallas 📱 y mostrarles algunos ejemplos, tuve que cambiar la opción a español 😓, que es mi idioma natal, para mayor comprensión 🤗.
Y lo más importante es que tiene un espacio de notas 📝, donde puedes agregar cualquier cosa extra que se te ocurra o que hayas experimentado ese día y quieras agarrar nota de eso, también para anotar fechas 🗓️🥰💞 o momentos especiales, así mismo puedes utilizarlo como un diario personal 📖🔏 y no preocuparte de intrusos que quieran obtener esta información ya que tiene un sistema de seguridad muy bueno. 🕵🏻‍♂️
Now comes my favorite part 🤸🏻‍♀️, this application has to download several themes as it updates, and among them you have the option to choose a pet, it is the one that will always be on the main page, of course, as I love cats 😻 and in fact I have my cat son, I chose a beautiful kitten similar to my cat Peppe 🐈.

It also has a large amount of languages to choose from, I had it in the Brazilian Portuguese language option 🇧🇷, but as I had to take some screenshots 📱 and show you some examples, I had to change the option to Spanish 😓, which is my native language, for better understanding 🤗.

And the most important thing is that it has a space for notes 📝, where you can add anything extra that comes to your mind or that you have experienced that day and you want to take note of that, also to write down dates 🗓️🥰💞 or special moments, likewise you can use it as a personal diary 📖🔏 and not worry about intruders who want to get this information since it has a very good security system. 🕵🏻‍♂️
---
---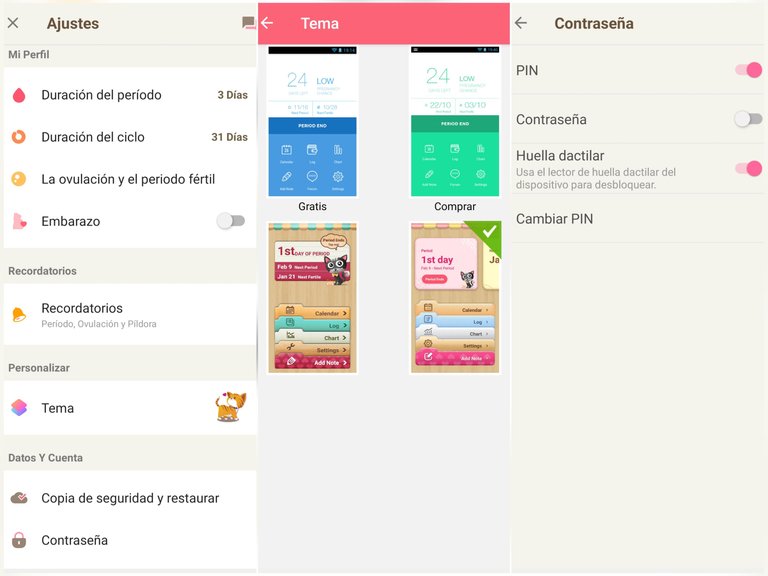 Puedes agregar un pin de seguridad de tu preferencia y resguardar toda la información 🔏👏🏻 que hay en ello, sin que nadie se quiera meter a mirar todo lo que has pasado durante el día. De verdad que esta aplicación es muy completa y fascinante para nosotras las mujeres y pues aunque te parezca extraño no sólo lo es para nosotras, sino también para ellos, sí así como lo lees. 😱😧
Tengo un amigo que tiene esta aplicación en su teléfono 🥴📱 porque me escuchó hablar un día de ella 🧏🏻‍♀️, la usa para llevar registros de su esposa, lo más chistoso es que ella no lo ha notado 🧐😂, él anota sus períodos menstruales y sus estados de ánimo 🤯🤬😂😭, si le gritó ese día o no, si pasó el día riendo o llorando, si tuvo algún antojo de chocolate 😋🍫 o alguna comida en especial 🍔, y así es que está pendiente de ella, al sonar la alarma ⏰, ya sabe cómo debe actuar y en qué debe complacer a su esposa para llevar la fiesta en paz jajajajaja 😂😆, que loco que es, pero que astuto también. 😏
Ya sabe cuándo comprarle chocolate, cuando llevarle alguna comida salada, o cuando no debe acercarse mucho a ella 🚨😵, o cuando no hacerla molestar ni llorar, qué divertido. Si eres hombre y estás leyendo esto 👀, pues aquí te entrego ésta herramienta práctica y así entenderás más a tu chica. 😏
Por aquí les dejo el link Calendario Menstrual 🗓️🌸 para que la puedan descargar y comenzar a usar, estoy segura que les encantará y si ya la están usando pueden compartirme sus experiencias personales en los comentarios, estaré muy atenta y emocionada por leerles. ¡Los amo, hasta la próxima! 💞😚
You can add a security pin of your choice and protect all the information 🔏👏🏻 that is in it, without anyone wanting to look at everything you've spent during the day. This application is really very complete and fascinating for us women and although it may seem strange to you, it is not only for us, but also for them, yes, just as you read it. 😱😧

I have a friend who has this app on his phone 🥴📱 because he heard me talking about it one day 🧏🏻♀️, he uses it to keep records of his wife, the funny thing is that she hasn't noticed 🧐😂, he writes down her menstrual periods and her moods 🤯🤬😂😭, if she yelled at him that day or not, if she spent the day laughing or crying, if she had any craving for chocolate 😋🍫 or any special food 🍔, and so he is keeping an eye on her, when the alarm goes off ⏰, he already knows how he should act and what he should please his wife with to lead the party in peace hahahahahaha 😂😆, how crazy he is, but how cunning too. 😏

He already knows when to buy her chocolate, when to bring her some salty food, or when he shouldn't get too close to her 🚨😵, or when not to make her upset or cry, how funny. If you are a man and you are reading this 👀, well here I give you this practical tool and so you will understand your girl more. 😏

Over here I leave you the link Menstrual Calendar 🗓️🌸 so you can download it and start using it, I'm sure you will love it and if you are already using it you can share with me your personal experiences in the comments, I will be very attentive and excited to read you. love you, until next time! 💞😚
---
---

Todo el contenido de esta publicación son de mi propiedad. Las imágenes fueron capturadas por mí desde la aplicación con mi teléfono móvil Infinix Note 10. Editadas con la aplicación de Collage Maker. Imagen de portada creada por mí en canva. | All contents of this publication are my property. The images were captured by me from the application with my Infinix Note 10 cell phone. Edited with the Collage Maker application. Cover image created by me in canva.