Holaaaa gente bonita de esta comunidad geek, hoy quiero contarles mi experiencia al comprar un secador de cabello Oster.
Hello beautiful people of this geek community, today I want to tell you about my experience buying an Oster hair dryer.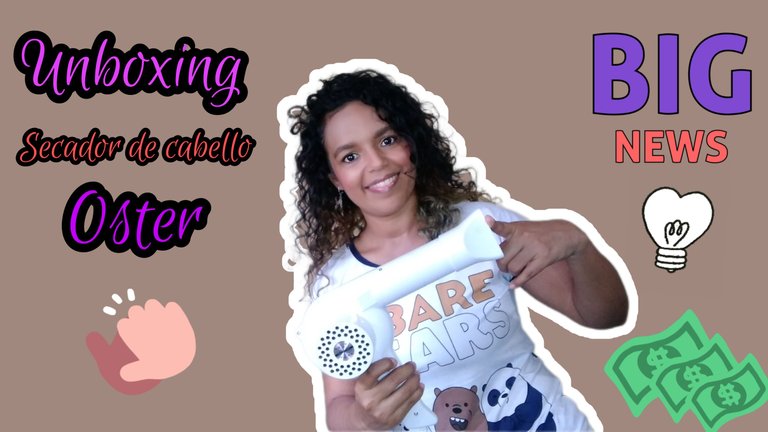 Edited with Inshot
Hace unos meses yo decidí sanar mi cabello, esto comprende no aplicar químicos, usar plancha, y dejar a un lado los productos con siliconas y sal.
A few months ago I decided to heal my hair, this includes not applying chemicals, using a flat iron, and leaving aside products with silicones and salt.
Ha sido un proceso lento y de paciencia, de tanto leer e investigar me di cuenta de que para obtener una mejor definición en mis rizos necesitaba un secador.
It has been a slow and patient process, from reading and researching I realized that to get better definition in my curls I needed a hair dryer.
Así que inicié la búsqueda de un secador con difusor, todos los que vi oscilaban entre $20 hasta $40.
So I started looking for a blow dryer with a diffuser, all the ones I saw ranged from $20 to $40.
Una tarde me dice una vecina que cerca de la casa estaban vendiendo un secador, es una venta de garage donde venden objetos de segunda mano. Solicité información sobre el secador, ya que lo que me interesaba era que tuviera aire frío, no tenía altas expectativas, puesto que sabía que sería usado y capaz, no era profesional, sin embargo, me serviría, además tampoco incluía el difusor. El precio era de $8 lo pensé y finalmente me decidí en comprarlo. Lo cancelé con transferencia en bolívares.
One afternoon a neighbor told me that a hairdryer was for sale near the house, it is a garage sale where they sell second hand items. I asked for information about the dryer, since what interested me was that it had cold air, I did not have high expectations, since I knew it would be used and capable, it was not professional, however, it would serve me, besides it did not include the diffuser. The price was $8, I thought about it and finally decided to buy it. I paid for it with a transfer in bolivars.
Al pasar un par de días llegó el secador a casa, yo estaba en la oficina y mi mamá me avisó, al llegar me llevé una grata sorpresa, el secador estaba nuevo, literal. No tengo pruebas pero tampoco dudas 😂
After a couple of days the dryer arrived home, I was in the office and my mom told me, when I arrived I was pleasantly surprised, the dryer was new, literally. I have no proof but no doubts either 😂.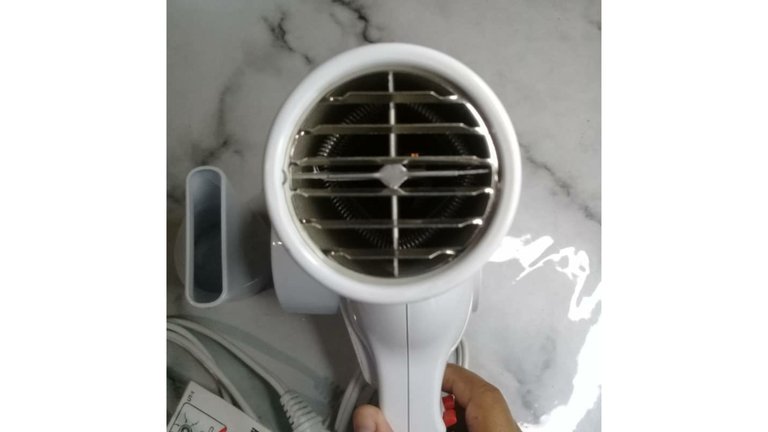 Resistencias, se ven nuevas
Vino en su caja original, al abrirlo estaba dentro de una bolsa plástica transparente con el papel de instrucciones y garantía.
It came in its original box, when I opened it, it was inside a transparent plastic bag with the instructions and warranty paper.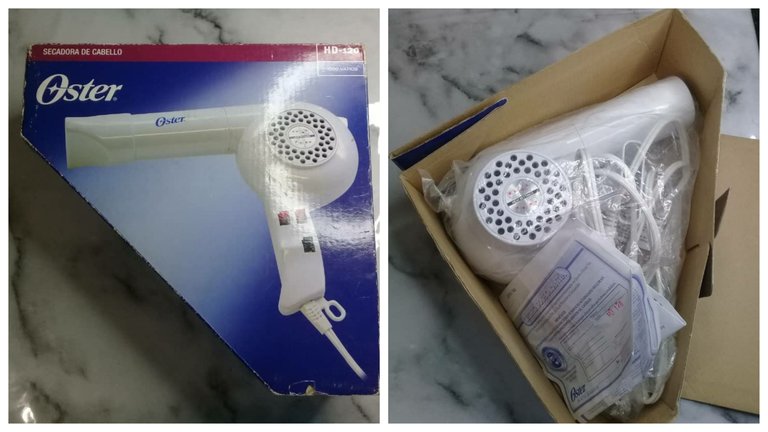 No traía el difusor, sin embargo, el producto estaba como nuevo y a un excelente precio.
It did not bring the diffuser, however, the product was like new and at an excellent price.
| Características | Features |
| --- | --- |
| 1500 vatios | 1500 watts |
| 4 temperaturas | 4 temperatures |
| 2 velocidades | 2 speeds |
| Incluye concentrador de aire | Includes air concentrator |
| Argolla para colgar | Hanging ring |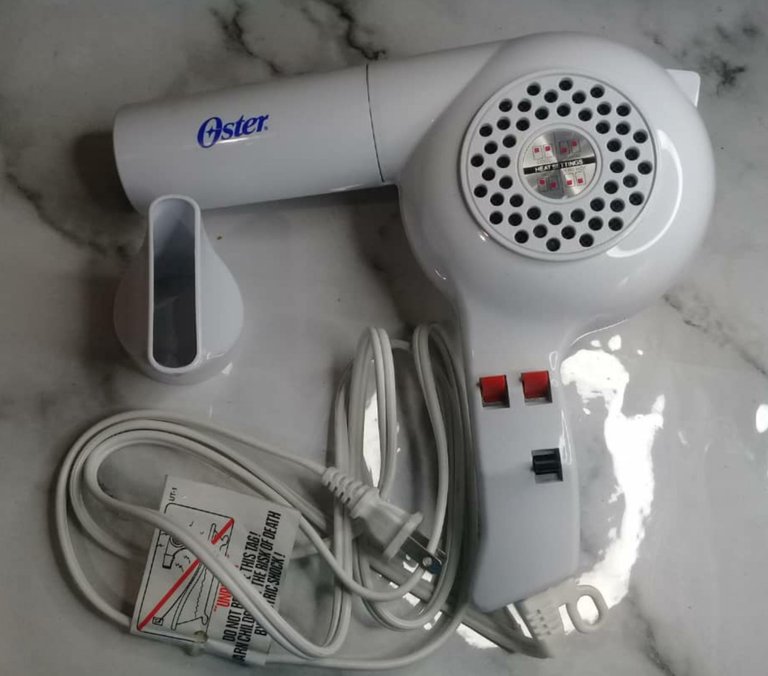 Es un secador de uso doméstico, liviano y cómodo, los botones se pueden manipular con facilidad, además cuenta con una leyenda donde se puede leer fácilmente la combinación para cada temperatura y velocidad.
It is a dryer for home use, light and comfortable, the buttons can be easily manipulated, it also has a legend where you can easily read the combination for each temperature and speed.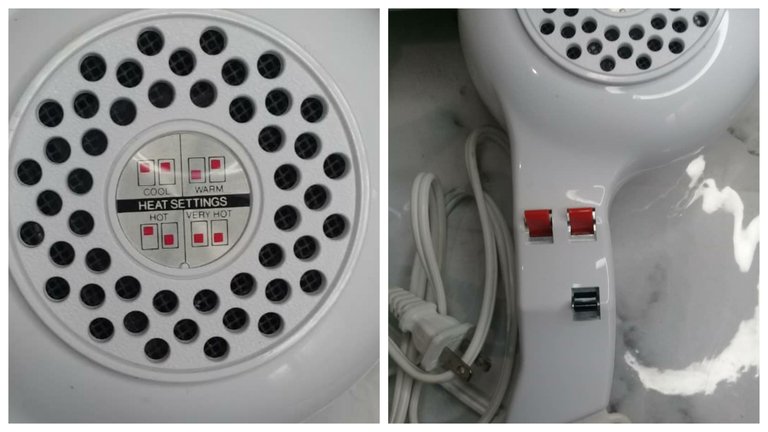 Tengo días utilizándolo y me ha ido genial, yo lo uso con temperatura fría, tiene fuerza, puedo manipularlo fácilmente, y obtengo los resultados que necesito.
I have been using it for days and it has been great, I use it with cold temperature, it has strength, I can manipulate it easily, and I get the results I need.
Fue una excelente oportunidad, por la calidad del secador y ni hablar del precio.
It was an excellent opportunity, for the quality of the dryer and not to mention the price.
Llegó en el preciso momento donde lo necesitaba para definir mejor los rizos y poder secar el cabello de manera rápida.
It came at the precise moment when I needed it to better define my curls and to dry my hair quickly.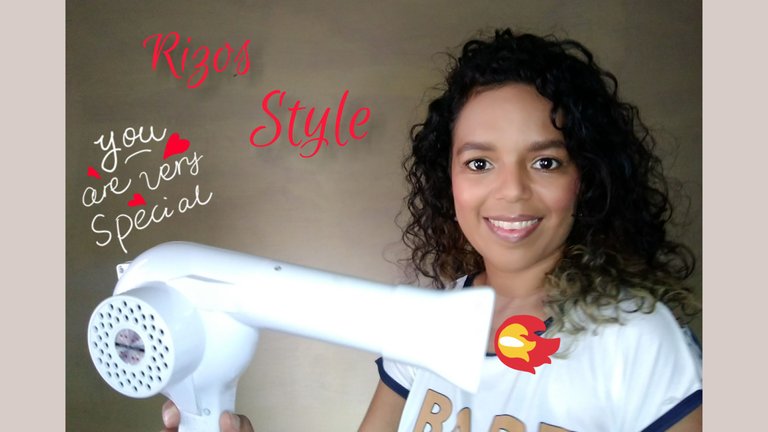 Con el secador logro una mejor definición de mis rizos, puedo salir con el cabello totalmente seco.
Creo que fue un premio a la paciencia que tuve jajajajaja ya que tenía rato buscando precios y marcas.
I think it was a prize for the patience I had hahahahaha since I had been looking for prices and brands for a while.
Siempre que puedo hecho un vistazo a las cosas que venden de segunda mano, aunque para ser sincera este tipo de objetos no me gusta comprarlos en venta de garage porque no se el uso que le han dado ni como lo han tratado, en esta ocasión me lleve una grata sorpresa y sin haberlo visto me arriesgue por completo pensé en lo económico y valió la pena.
Whenever I can I take a walk through the things they sell second hand, although to be honest I do not like to buy such objects in garage sales because I do not know the use they have given or how they have been treated, this time I was pleasantly surprised and without having seen it I risked completely I thought about the economic and it was worth it.
¿Has comprado algún objeto eléctrico o electrónico de segunda mano?, ¿Como te fue?
Have you ever bought an electrical or electronic object second hand, how did it go?
---
¡Saludos mPB!
---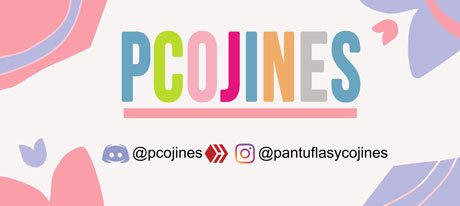 ---
Derechos Reservados®️ 2020
Traductor deepl
Imágenes propiedad de @pcojines tomadas con teléfono Samsung J2 prime
Banner y separadores diseñado con Photoshop