Hace mucho tiempo atrás, casi alrededor de 2 años, inicié en este mundo de creatividad de #hive realizando mis contenidos tanto en video como escritos, a través de un teléfono celular Samsung galaxy S5, el cual me dió muchas satisfacciones, cabe destacar que aún lo poseo. En el transcurrir del tiempo y gracias a nuestra madre hive quien nos ha otorgado múltiples bendiciones, hace pocos meses realicé una publicación sobre la adquisición de otro teléfono móvil, en este caso fue el Realme 7i, un teléfono con muy buenas prestaciones. También en esa publicación comenté que gracias a mi esfuerzo y a las metas cumplidas por hive, en cualquier momento me volvería a actualizar adquiriendo otro equipo con características superiores a ese Realme 7i.
Bueno amigos y así fue, porque hoy les vengo a compartir mi enorme satisfacción por la adquisición del teléfono móvil Tecno Camon 18p. Todo se lo debo a hive y cada uno de ustedes quienes me han apoyado en este maravilloso viaje de la creación de contenido. ¿Por qué fijé la mirada en este teléfono?, bueno, esto gracias a comentarios realizados por otros hivers quienes afirmaron que estos modelos poseen buenas prestaciones, además, meses antes había tenido en mi mano el modelo Tecno Pova 2 y de verdad que es una máquina con una memoria ram de 6gb, pero investigando mucho me fijé en este 18p que tiene una ram de 8gb. En tal sentido me di a la tarea de visitar varios locales aquí en Cumaná estado Sucre Venezuela dedicados a la venta de equipos de alta tecnología.
Siempre con la mira puesta en el Tecno Camon 18p; el referido equipo en varios negocios estaba a precios que oscilaban entre 210 y 220 dólares, contaba con ese presupuesto pero había que seguir caminando a ver si podría obtener precios más bajos. En tal sentido, recordé que días antes publiqué un contenido sobre el teléfono Realme 9A el cual le había obsequiado a mi hijo por estar cerca el día de su cumpleaños, además de haber culminado con éxito su cuarto año de bachillerato. En ese post mencioné que el equipo lo había comprado en una tienda llamada DLR ubicada en el Centro Comercial Cumaná Plaza, aquí mismo en Cumaná. Por tal motivo me dirigí a esa tienda donde el Tecno 18p estaba a un precio de 210 dólares, pero para mí decepción ya se había agotado.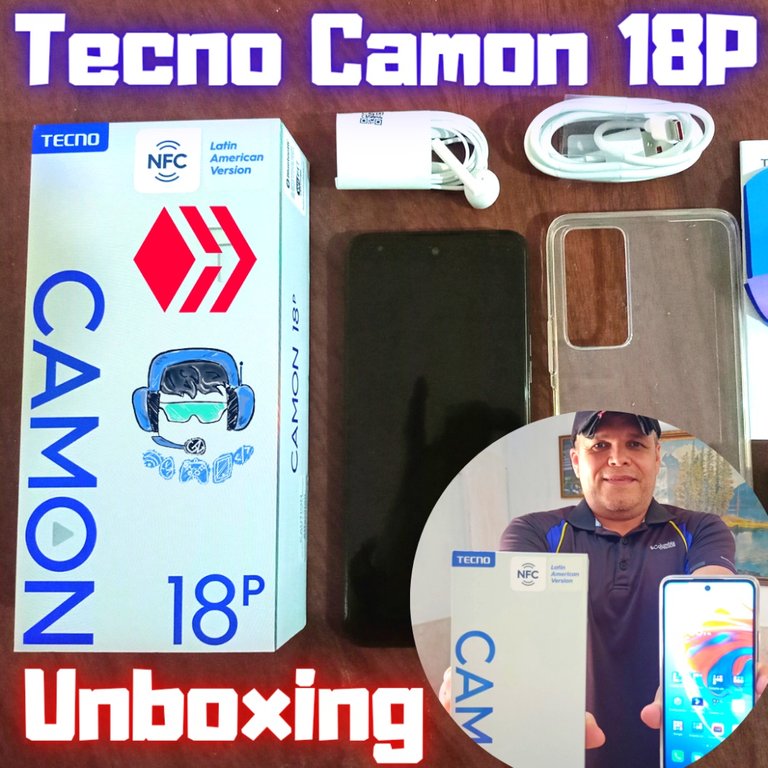 Imagen de mi Autoría Editada en/Image of my Authorship Edited in Canva
Logos propiedad de / Logos owned by @hiveio, @geekzone
A long time ago, almost 2 years ago, I started in this world of #hive creativity making my contents both in video and written, through a Samsung galaxy S5 cell phone, which gave me a lot of satisfaction, it is worth mentioning that I still have it. In the course of time and thanks to our mother hive who has given us many blessings, a few months ago I made a publication on the acquisition of another cell phone, in this case was the Realme 7i, a phone with very good performance. Also in that publication I commented that thanks to my effort and the goals achieved by hive, at any time I would upgrade again acquiring another device with superior features to that Realme 7i.
Well friends and so it was, because today I come to share with you my enormous satisfaction for the acquisition of the Tecno Camon 18p cell phone. I owe it all to hive and each of you who have supported me in this wonderful journey of content creation. Why I looked at this phone, well, this thanks to comments made by other hivers who said that these models have good performance, in addition, months before I had had in my hand the Tecno Pova 2 model and it really is a machine with a ram memory of 6gb, but researching a lot I looked at this 18p that has a ram of 8gb. In that sense I gave myself the task of visiting several stores here in Cumana state Sucre Venezuela dedicated to the sale of high-tech equipment.
Always with my sights set on the Tecno Camon 18p; the referred equipment in several stores was at prices ranging between 210 and 220 dollars, I had that budget but I had to keep walking to see if I could get lower prices. In that sense, I remembered that days before I published a content about the Realme 9A phone which I had given to my son for being close to his birthday, in addition to having successfully completed his fourth year of high school. In that post I mentioned that I had bought the equipment in a store called DLR located in the Centro Comercial Cumaná Plaza, right here in Cumaná. For that reason I went to that store where the Tecno 18p was priced at $210, but to my disappointment it was already sold out.

Me dije a mi mismo, tendré que devolverme a las otras tiendas, porque este era el teléfono que quería y debía obtenerlo. Pero resulta que bajando del negocio, logré visualizar otra tienda en la planta baja llamada Mister Cell, observé que en la vidriera estaba el equipo móvil, entré, pregunté por él, y el encargado me dijo que si había y era el último que quedaba. Lo más importante es que el precio fue de 190 dólares, de inmediato le dije, ese es mío. Lo sacó de la vidriera, y como es lógico me preguntó ¿Cómo vas a pagar?, en divisas le dije, ok me permite el dinero para poder continuar con la venta, pilas el tipo. Entregué el dinero y el encargado procedió a destapar la caja la cual estaba totalmente sellada, por lo menos había garantía de que era nuevo. Cabe recalcar que había pasado 2 horas y media caminando y preguntando, y eso que ya tenía en la mente cual teléfono deseaba, imagínense si iba con dudas de cuál modelo ubicar
Básicamente, en el local me hicieron un desempaquetado, lo probé en sitio, pantalla, funcionamiento, carga del equipo, accesorios. Todo marchaba con normalidad, de inmediato me dieron mi factura y rapidito me vine a la casa. Ahora toca hacer este desempaquetado a todos ustedes, y vamos a ver qué tenemos dentro de esta caja que me generó muchas emociones. Podemos ver una cajita blanca con letras azules. Al destapar observamos el teléfono envuelto en un empaque. Si revisamos más adentro tenemos aparte del teléfono los distintos accesorios, entre ellos unos audífonos, cable USB tipo C, cajetín o adaptador de corriente, lógicamente tenemos el respectivo manual, el forro protector y la famosa punta para extraer la bandeja porta SIM y tarjeta SD. Importante resaltar que el teléfono trajo instalado un vidrio templado.
Si nos vamos a las características externas del equipo podemos observar que está diseñado en su parte frontal en vidrio, en la región posterior en plástico y en los bordes de aluminio. En su parte inferior disfrutamos del tradicional puerto 3.5mm generalmente para los audífonos, seguido del micrófono, en la zona central vemos el puerto de carga USB tipo C, y a su lado las cornetas de altavoz. En la parte central tenemos la cámara frontal de 16 megapíxeles integrada por un círculo en la zona superior central de la pantalla, ¡Ah!, el teléfono cuánta con flash frontal. Al darle la vuelta al equipo vemos las 3 cámaras con su respectivo flash, la principal es de 48 megapíxeles. Por otro lado, en el lado derecho disfrutamos de los botones de control de volumen, además del botón de encendido que tiene triple función, para encender, apagar el teléfono o reiniciar y el sensor de huella.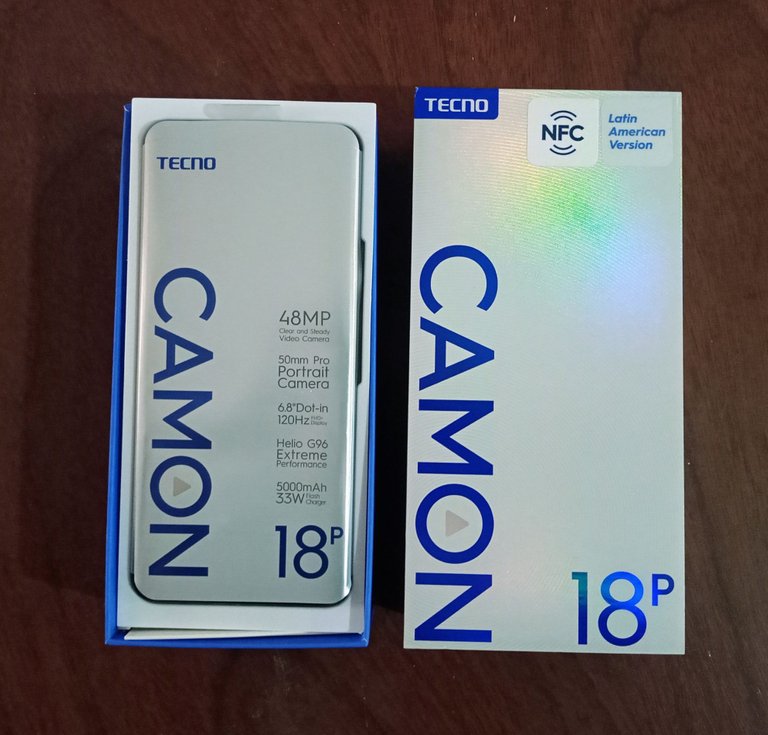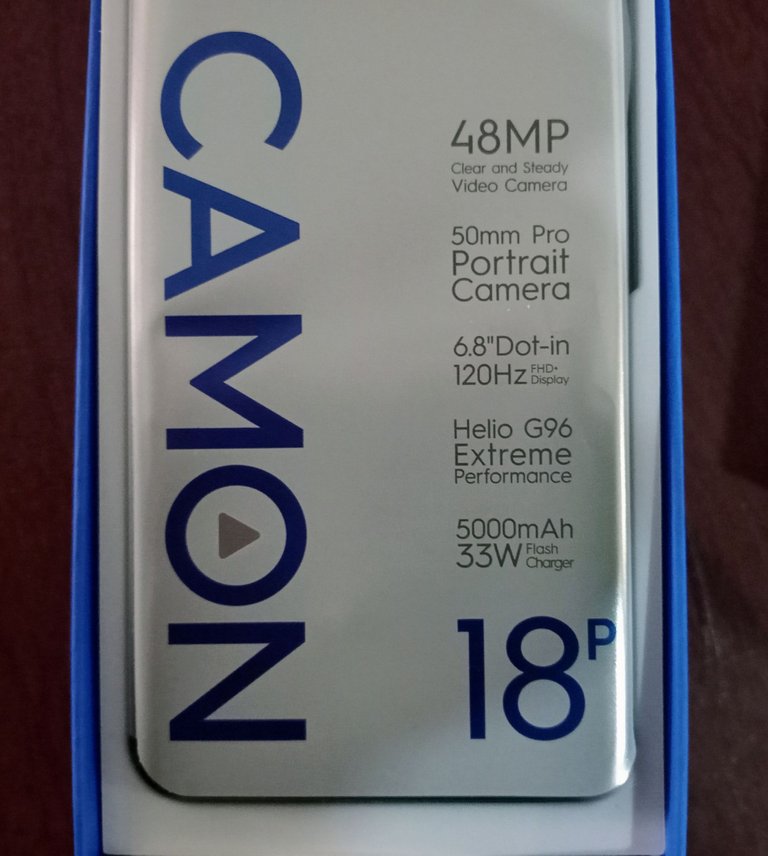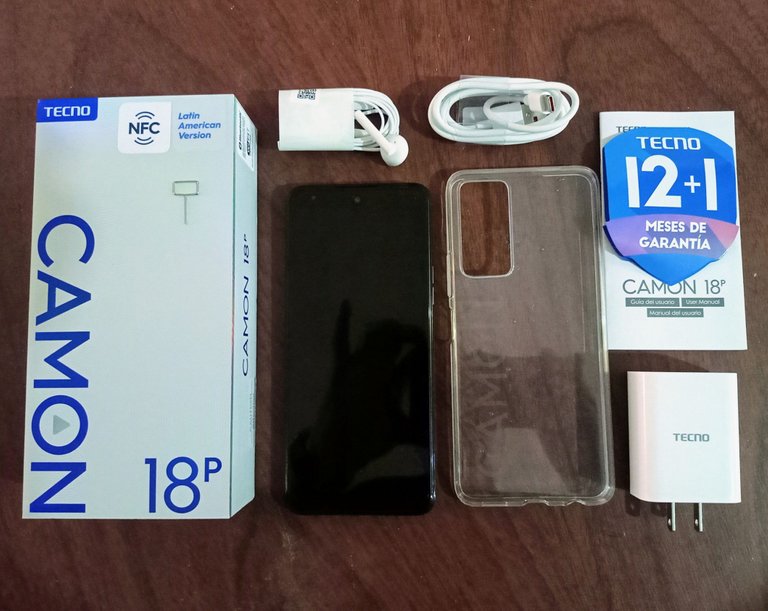 I said to myself, I will have to go back to the other stores, because this was the phone I wanted and I had to get it. But it turns out that coming down from the store, I managed to visualize another store on the first floor called Mister Cell, I noticed that in the window was the mobile equipment, I went in, I asked for it, and the manager told me that if there was and was the last one left. The most important thing is that the price was 190 dollars, I immediately told him, that's mine. He took it out of the window, and as it is logical he asked me how are you going to pay, in foreign currency I said, ok let me have the money to continue with the sale, the guy piled up. I handed over the money and the manager proceeded to uncover the box which was completely sealed, at least there was a guarantee that it was new. It should be noted that I had spent 2 and a half hours walking and asking, and that I already had in mind which phone I wanted, imagine if I went with doubts about which model to locate.
Basically, in the store they made me an unboxing, I tested it on site, screen, operation, charging equipment, accessories. Everything went normally, I immediately got my invoice and quickly I went home. Now it's time to unpack it for all of you, and let's see what we have inside this box that generated a lot of emotions in me. We can see a white box with blue letters. When we uncover it, we can see the phone wrapped in a package. If we check further inside we have apart from the phone the various accessories, including headphones, USB type C cable, box or power adapter, logically we have the respective manual, the protective lining and the famous tip to remove the SIM tray and SD card. It is important to note that the phone came with tempered glass installed.
If we go to the external features of the equipment we can see that it is designed on the front in glass, in the rear region in plastic and aluminum edges. In its lower part we enjoy the traditional 3.5mm port usually for headphones, followed by the microphone, in the central area we see the USB Type-C charging port, and next to it the speaker horns. In the central part we have the 16-megapixel front camera integrated by a circle in the upper center of the screen, Ah, the phone has a front flash. When we turn the device around we see the 3 cameras with their respective flash, the main one is 48 megapixels. On the other hand, on the right side we enjoy the volume control buttons, plus the power button that has triple function, to turn on, turn off the phone or reboot and the fingerprint sensor.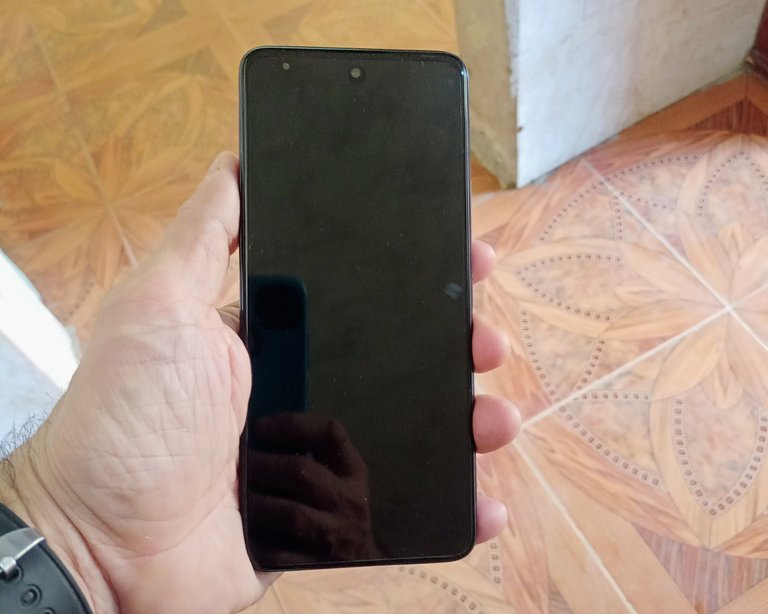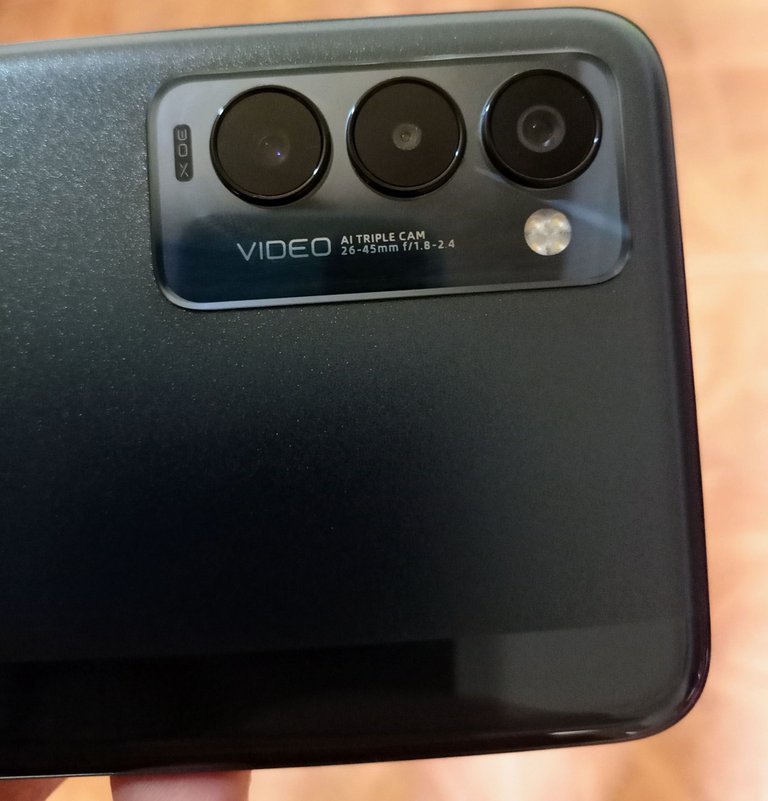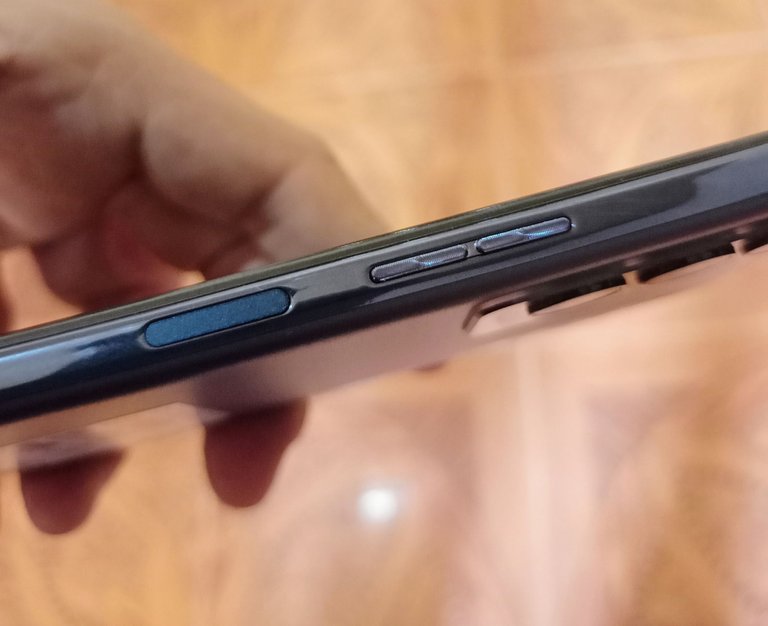 En el lado izquierdo encontramos una abertura con un pequeño orificio encargado de albergar las tarjetas SIM ya que el equipo es liberado para dos líneas, además de aceptar tarjeta SD. Para abrir la bandeja insertamos la punta metálica en el orificio para expulsarla. Esta bandeja tiene una característica especial, ya que normalmente las porta SIM en una misma cara pueden colocar tanto la SD como ambas SIM. Sin embargo, en el Tecno 18p la bandeja es de doble cara, en su parte superior colocamos la SD y en la cara inferior se ubican las tarjetas SIM, no se preocupen que no se caen porque tiene su soporte. Conocidas sus características externas, ahora encendemos el equipo para disfrutar de las internas las cuales son muy buenas. Prendemos el equipo y esperamos un momento el arranque.
Una vez realizado el arranque completamente, disfrutamos de la calidad en colores y de su pantalla de cristal LCD IPS de radio de espectro 20:9 con 6.8 pulgadas full HD+, con una resolución de 1080 x 2460px con una densidad de 387ppi (pulgadas por pixeles), esta pantalla es resistente a los rayones, no lo digo yo, lo dicen los fabricantes, pero cuando llegue el momento, el cual no deseo, se probará esta característica. Un aspecto especial es que en la parte superior derecha al lado del indicador de batería, podemos ver la velocidad de navegación, que por cierto es muy lenta, tenemos Movistar señores, imagínense la tortura para subir un video jajajaja. Luego de esto y aunque antes había probado la carga, quise probarlo ante ustedes para que verifiquen que si funciona.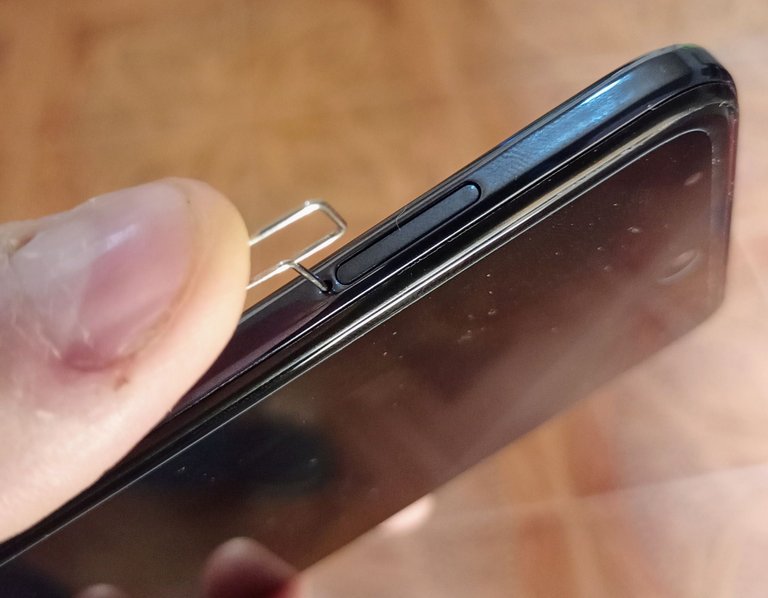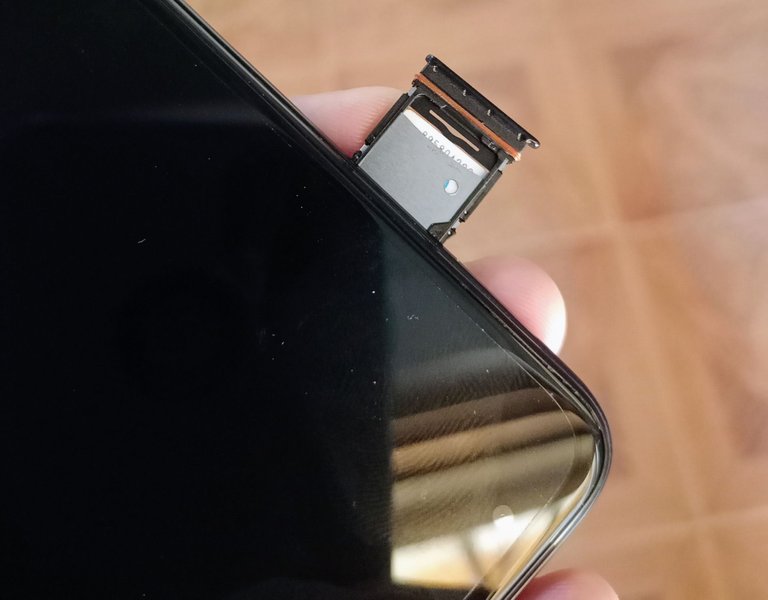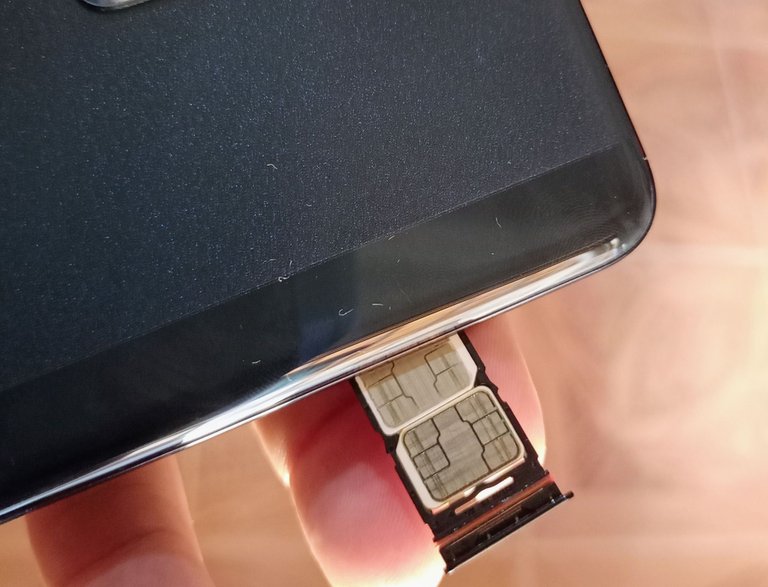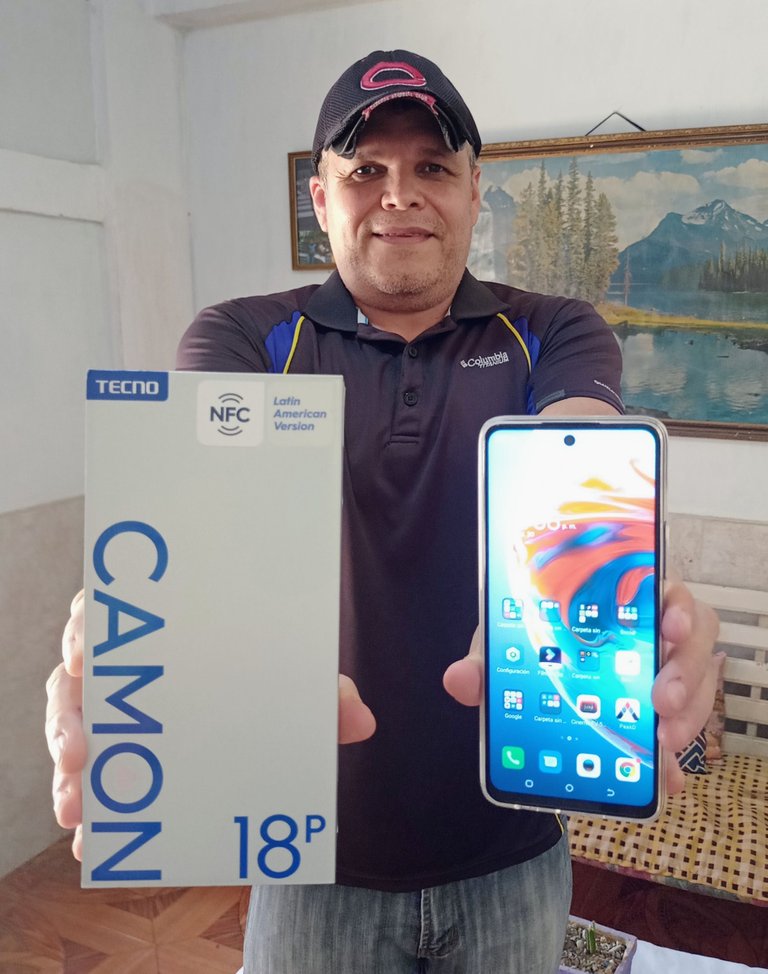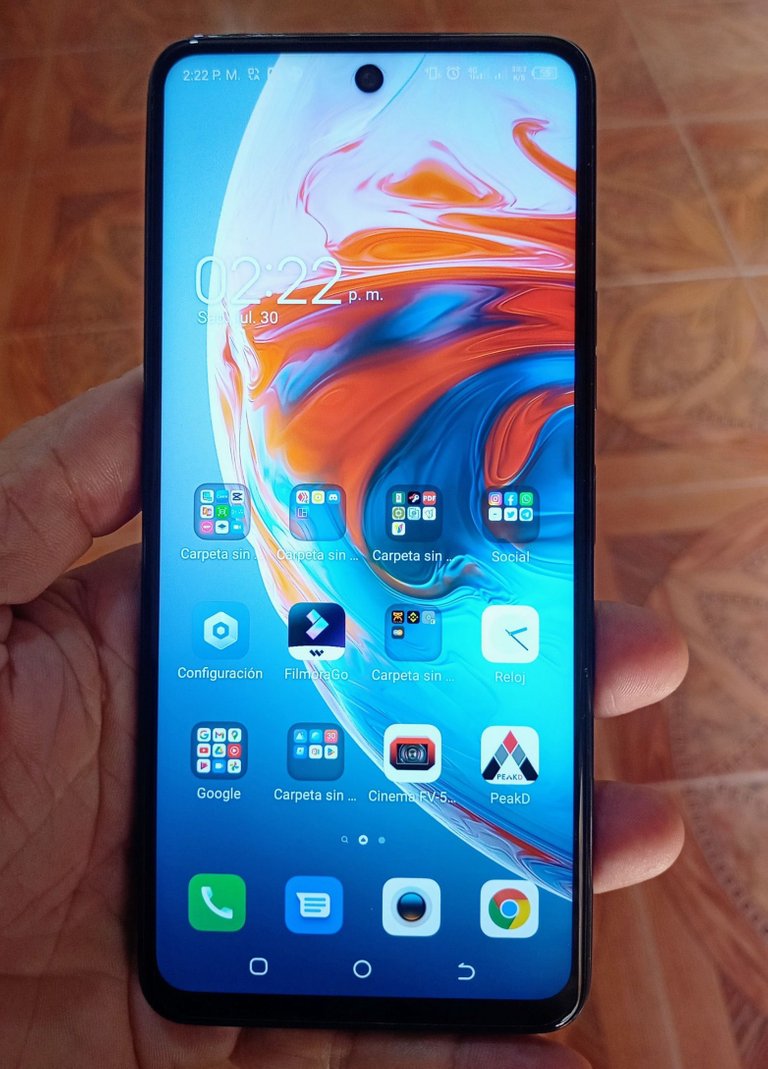 On the left side there is an opening with a small hole to hold the SIM cards, since the device is dual-line unlocked, in addition to accepting SD cards. To open the tray we insert the metal tip into the hole to eject it. This tray has a special feature, since normally the SIM holders on the same side can hold both the SD and both SIMs. However, in the Tecno 18p the tray is double-sided, on its upper side we place the SD and on the lower side the SIM cards are placed, do not worry that they do not fall because it has its support. Knowing its external features, now we turn on the equipment to enjoy the internal ones which are very good. We turn on the device and wait for a moment to boot.
Once the boot completely done, we enjoy the quality in colors and its 20:9 spectrum radius IPS LCD glass screen with 6.8 inches full HD+, with a resolution of 1080 x 2460px with a density of 387ppi (inches per pixel), this screen is resistant to scratches, I do not say so, the manufacturers say so, but when the time comes, which I do not want, this feature will be tested. A special aspect is that in the top right next to the battery indicator, we can see the navigation speed, which by the way is very slow, we have Movistar gentlemen, imagine the torture to upload a video hahahaha. After this and although I had previously tested the upload, I wanted to test it before you to verify that it works.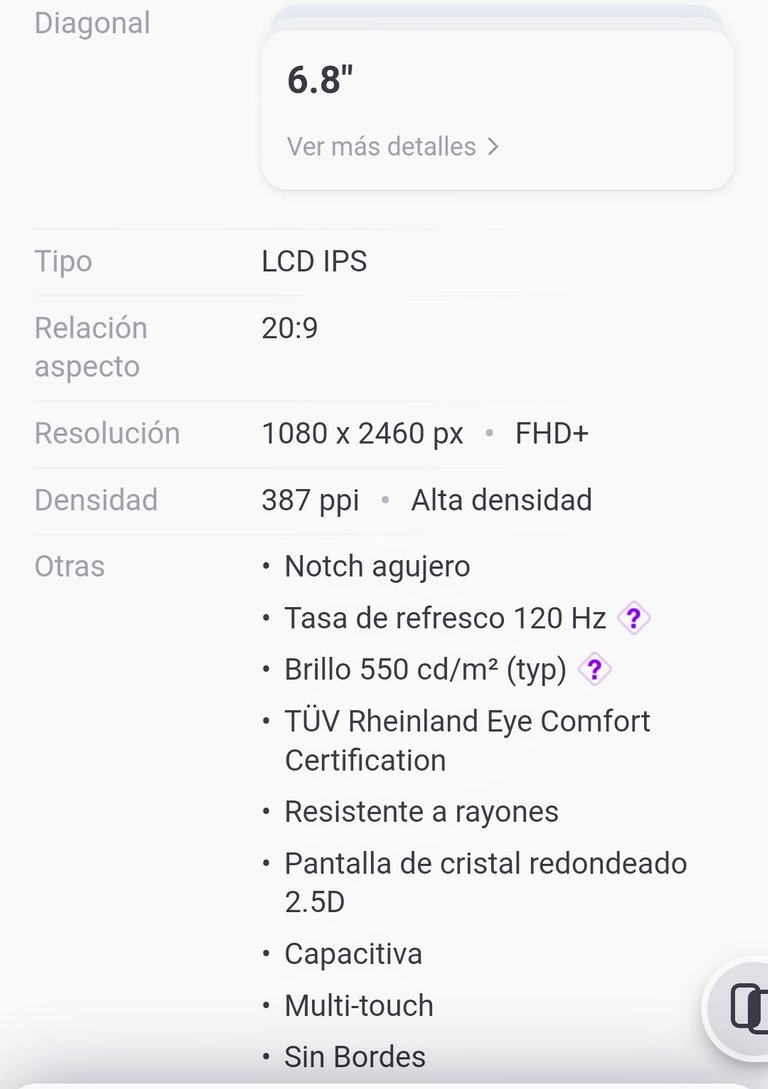 Fuente-Source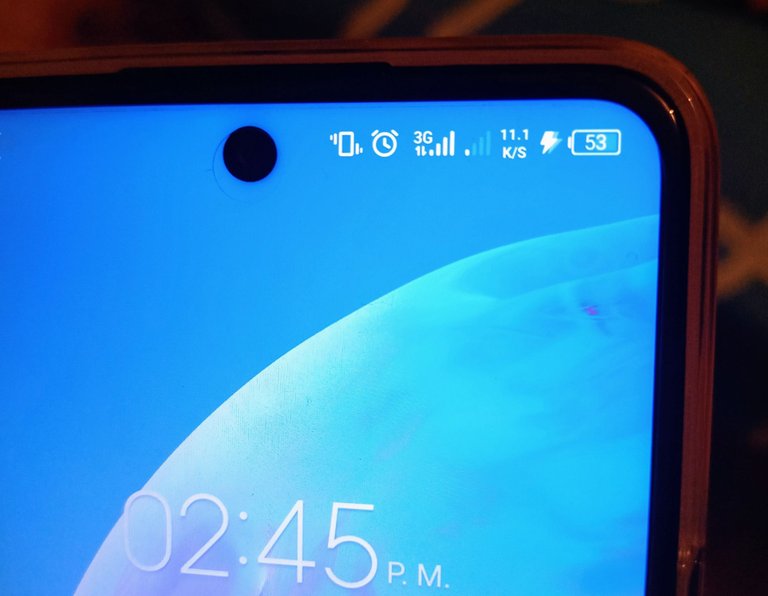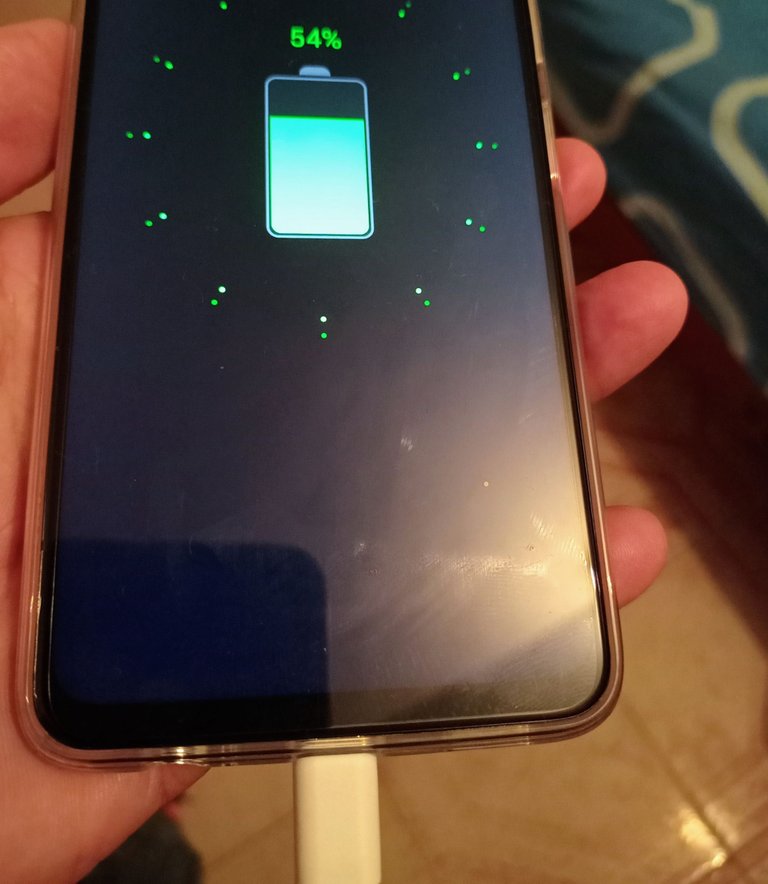 Como saben el equipo es el Tecno Camon 18p pero su modelo es el CH7n, contando con un procesador Helio G96. Su versión Android es la número 11, y lo que me llamó la atención fue su memoria Ram de 8gb y su almacenamiento interno de 128gb. Una alternativa importante es que el teléfono tiene la opción de fusión de memoria, es decir, 8gb + 3gb, fusionando la RAM con parte de la ROM para obtener mayor experiencia de velocidad. No podemos dejar lado la capacidad de su batería la cual es de 5000 mAh con carga rápida de 33W.
Si nos vamos a la barra de notificación y de herramientas, éstas se acceden de una manera muy particular ya que la cámara frontal funciona como la frontera entre ellas, a la izquierda de la cámara se despliegan las notificaciones, y a la derecha de la misma se despliegan las herramientas, las cuales son múltiples. Podemos encontraras las básicas como las opciones de wifi, línea que estamos usando, activación del equipo como router, calculadora entre otros.
Por otra parte tenemos otras herramientas como grabar pantalla, protección de ojos, la función NFC muy importante para la transferencia de datos entre dispositivos con esta característica, o simplemente realizar pagos. Tenemos una opción de modo WhatsApp, entre otras, pero me gusta mucho una alternativa muy útil para nosotros los creadores de contenido, la cual es una función de traductor, opción que será explicada más adelante.
En el apartado de la cámara, una opción que nos interesa mucho, es que este dispositivo puede ser configurado a 48 megapíxeles accediendo a la función ultra alta definición localizada en los ajustes de la aplicación, pudiendo disminuir esa resolución a 35 y 27 megapíxeles, las demás resoluciones pueden ser de 13 megapíxeles aplicando la inteligencia artificial. En cuanto a videos, aquí podemos hacer tomas a 720, 1080 P, y en su mayor resolución a 2K, una máquina jajajaja.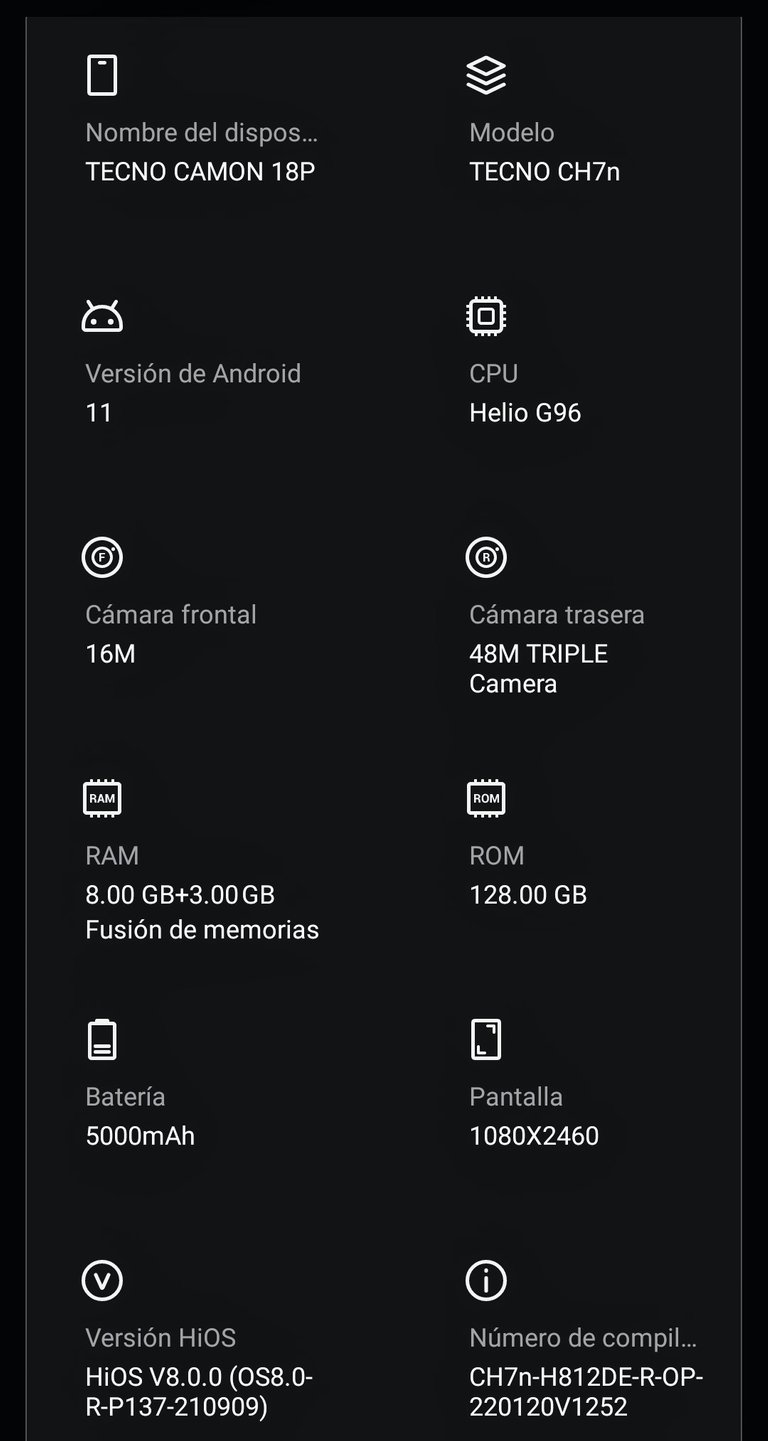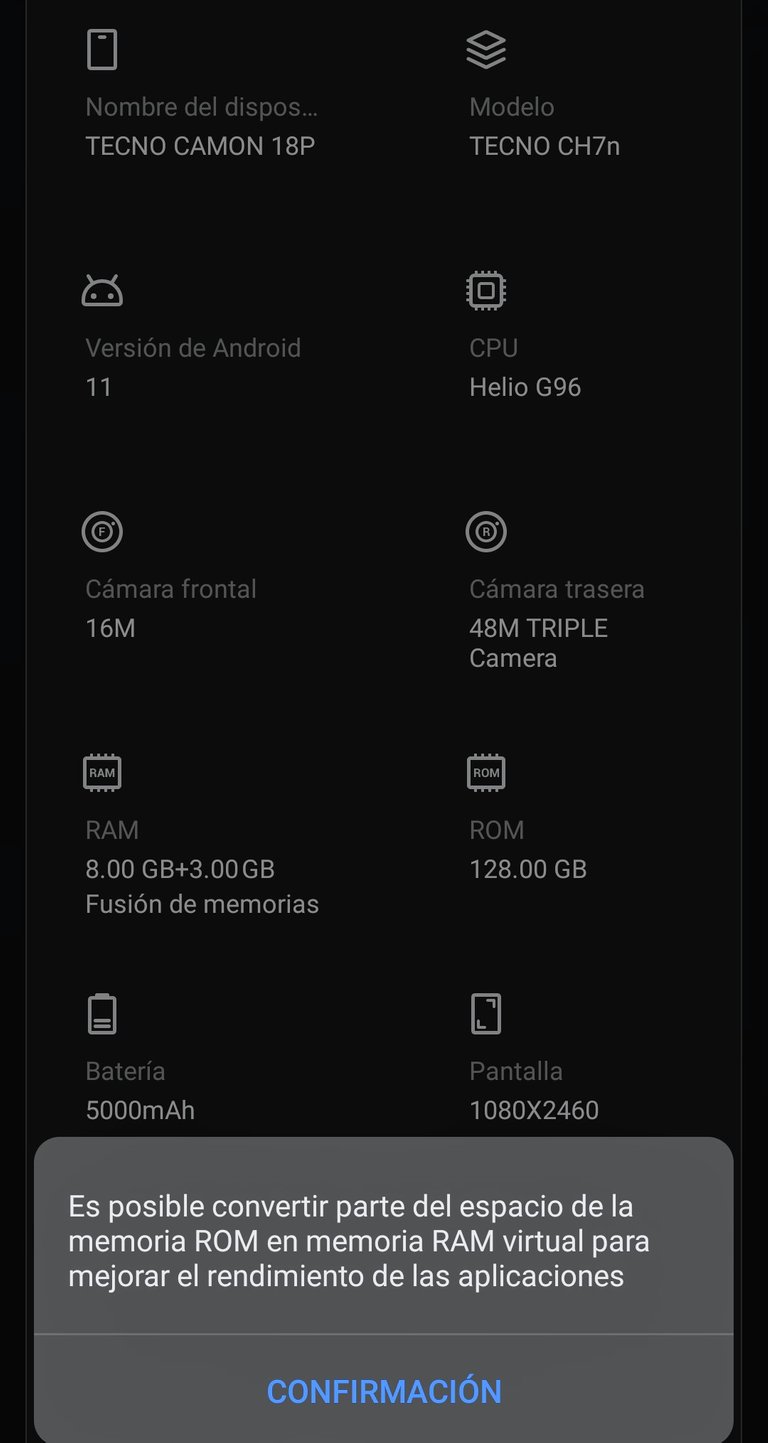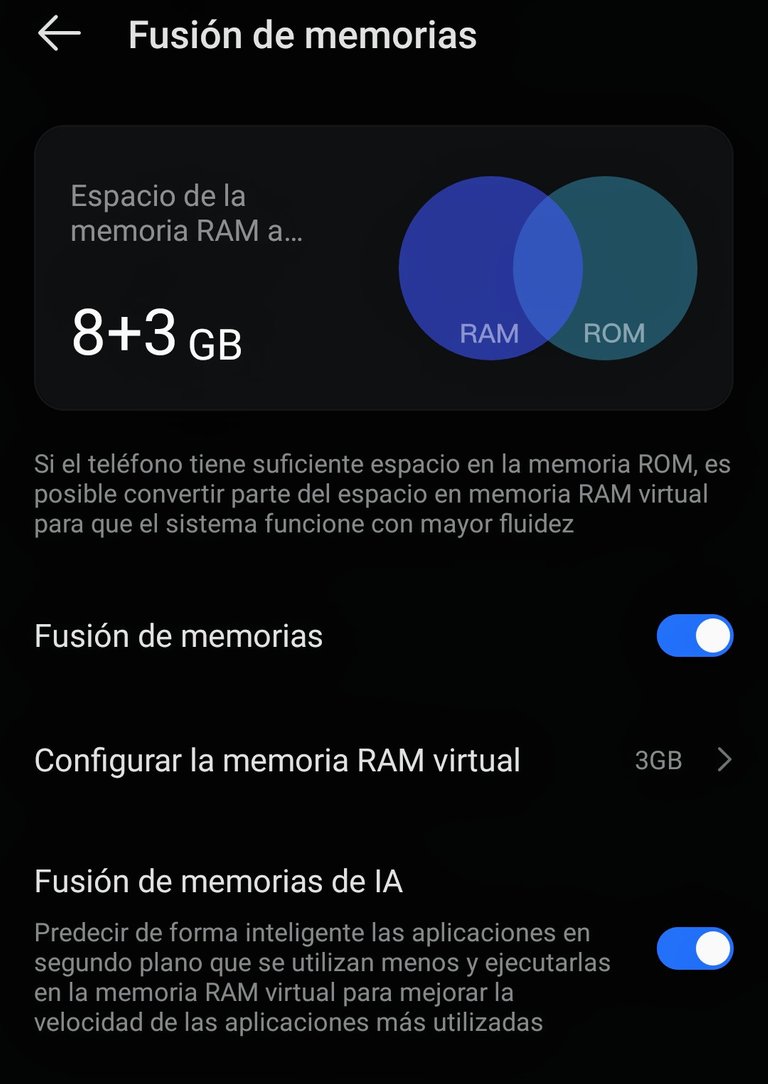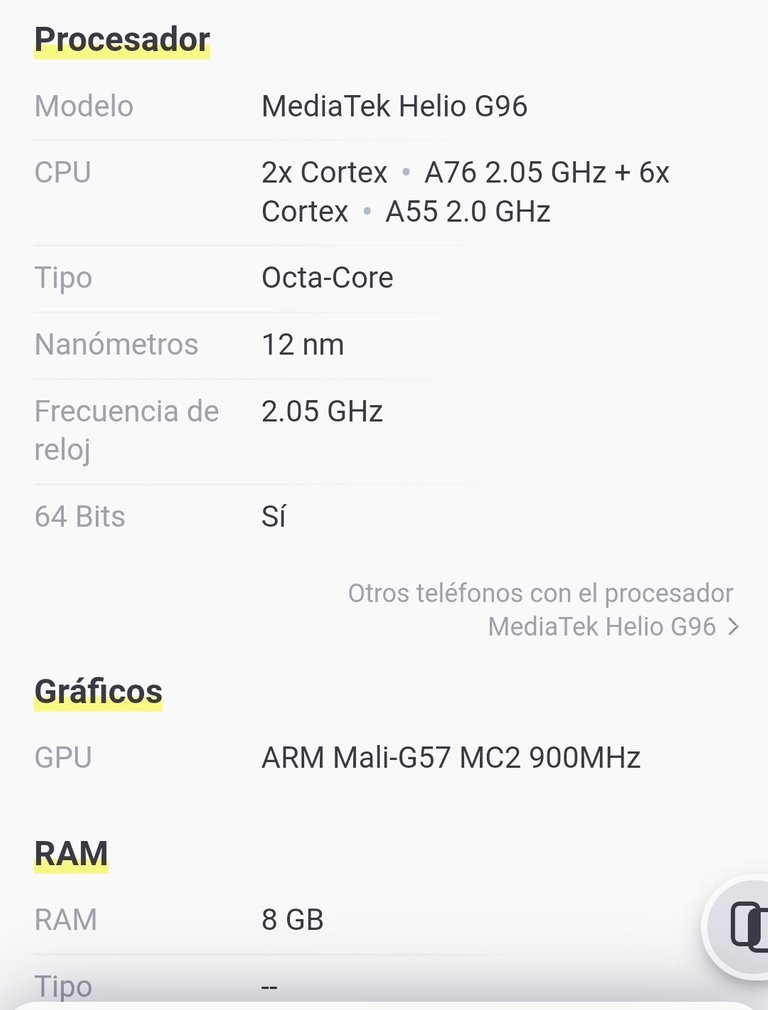 Fuente-Source
As you know the device is the Tecno Camon 18p but its model is the CH7n, with a Helio G96 processor. Its Android version is number 11, and what caught my attention was its 8gb Ram memory and 128gb internal storage. An important alternative is that the phone has the memory fusion option, that is, 8gb + 3gb, merging the RAM with part of the ROM to get more speed experience. We can't leave aside its battery capacity which is 5000 mAh with 33W fast charging.
If we go to the notification and toolbar, these are accessed in a very particular way since the front camera works as the border between them, to the left of the camera notifications are displayed, and to the right of it the tools are displayed, which are multiple. We can find the basic ones such as the wifi options, the line we are using, activation of the device as a router, calculator, among others.
On the other hand we have other tools such as screen recording, eye protection, the very important NFC function for data transfer between devices with this feature, or simply make payments. We have a WhatsApp mode option, among others, but I really like a very useful alternative for us content creators, which is a translator function, an option that will be explained later.
In the camera section, an option that interests us a lot, is that this device can be configured to 48 megapixels by accessing the ultra high definition function located in the application settings, being able to decrease that resolution to 35 and 27 megapixels, the other resolutions can be 13 megapixels by applying artificial intelligence. As for videos, here we can take shots at 720, 1080 P, and at its highest resolution at 2K, a machine hahahaha.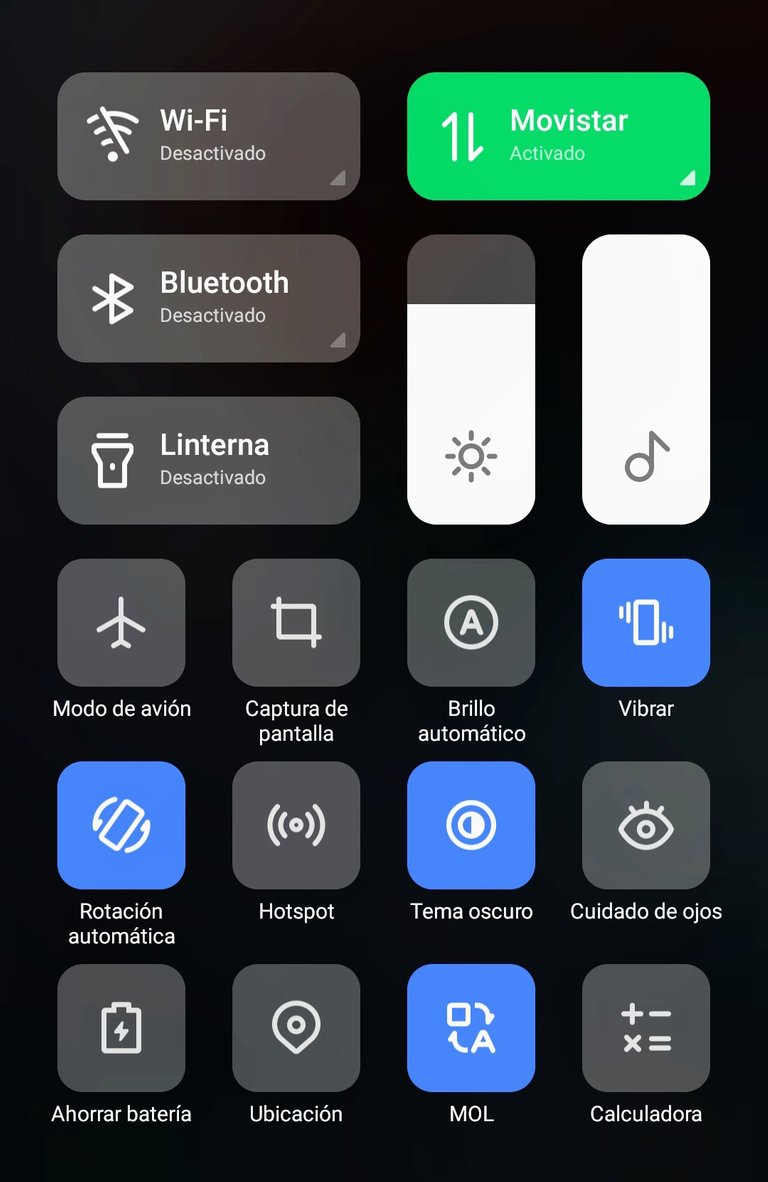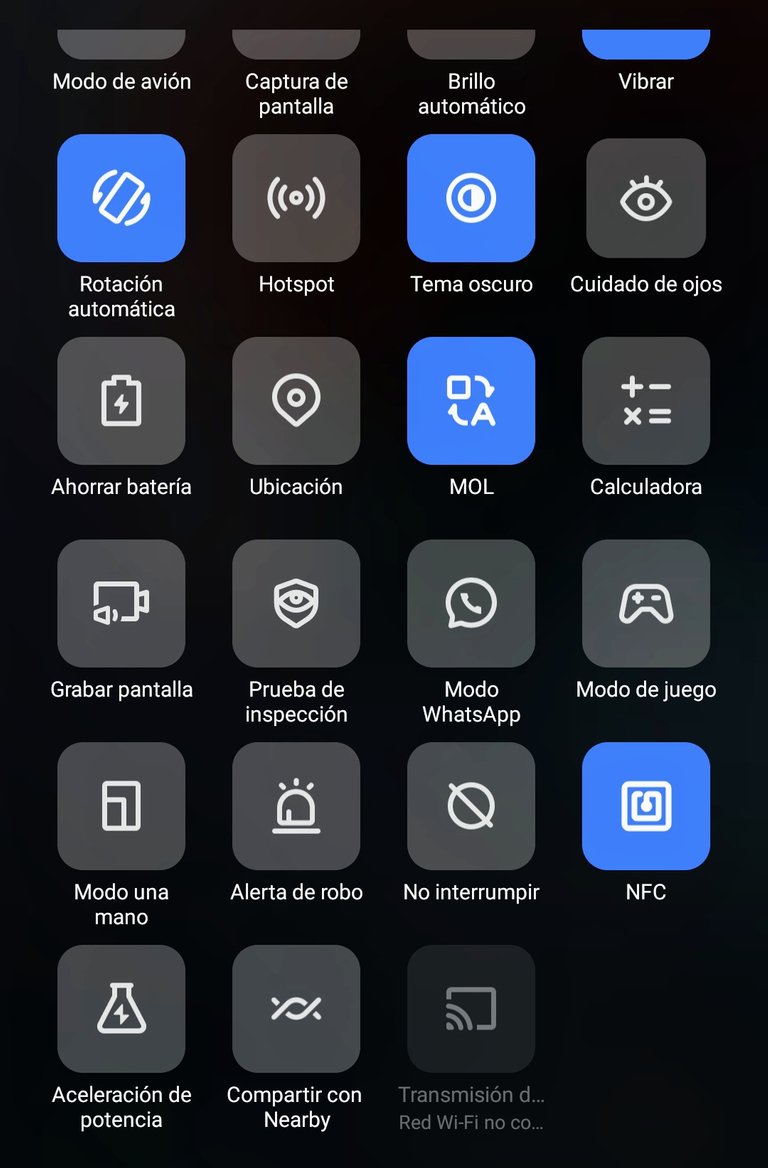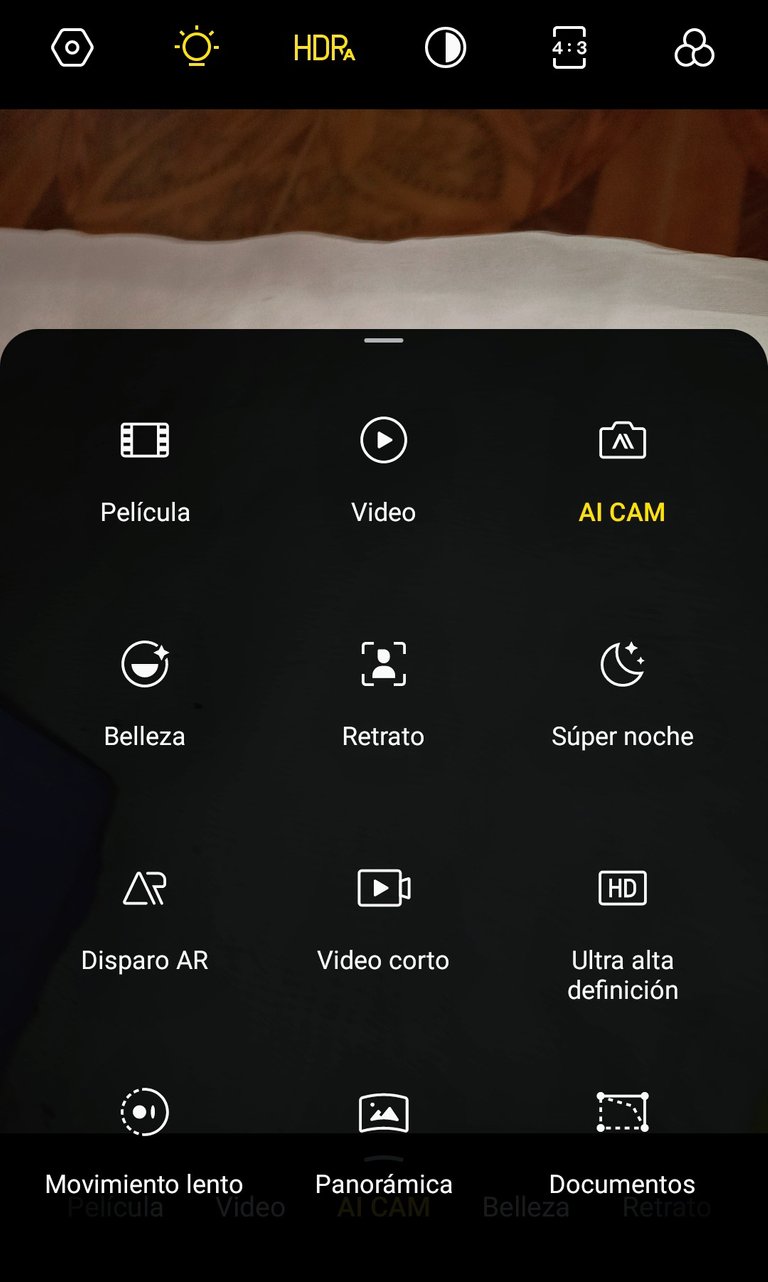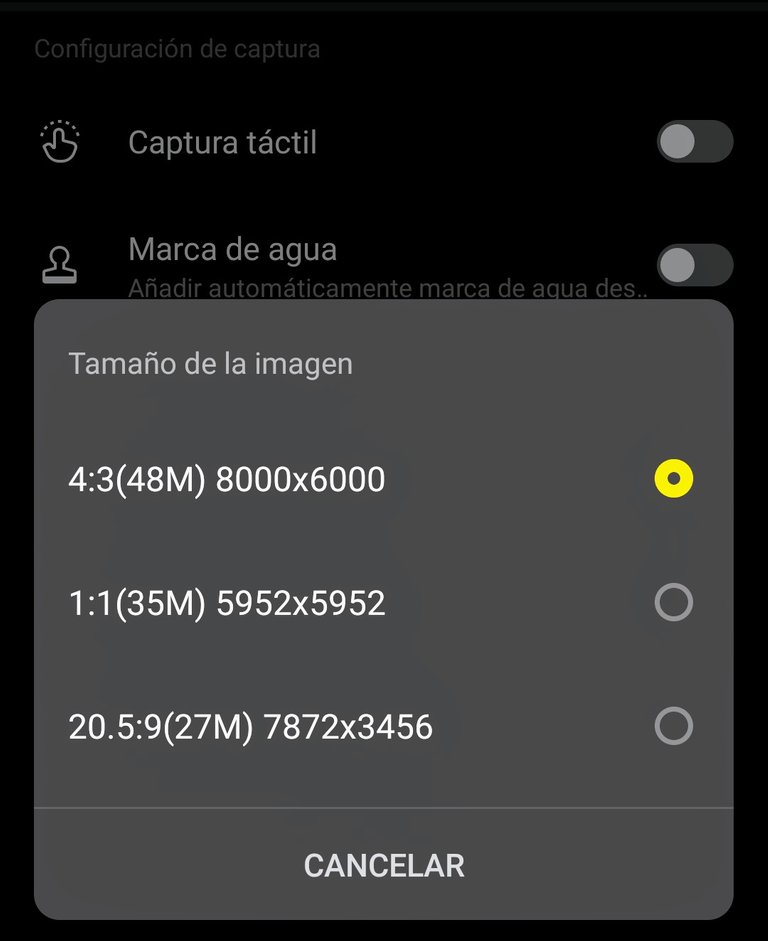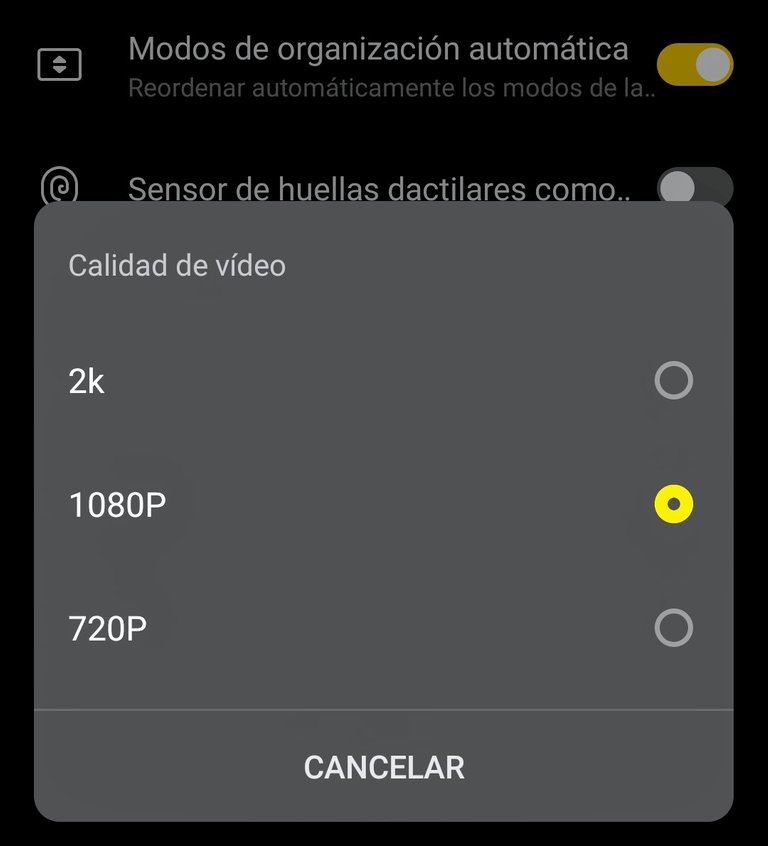 Como lo prometido es deuda, vamos a explicar el funcionamiento de la opción traductor, cuya aplicación es llamada MOL. Para ello nos vamos a la barra de herramientas, que como dije antes se despliega al pasar el dedo de arriba hacia abajo por el lado derecho de la cámara frontal. Al bajar la barra activamos el botón MOL, veremos qué en el lado izquierdo de la camara frontal se activa la opción traducción presencial, desplegamos la barra de notificaciones presionamos en ella y aparece una pantalla con el escrito de hola en español y en inglés.
En la parte inferior tenemos tres botones, a la izquierda un botón verde para traducir en forma oral de español a inglés, en el centro un botón de teclado para realizar la traducción de forma escrita, y a la derecha un botón azul para traducir de inglés a español de forma oral. Nos vamos primero a realizar la traducción escrita por lo que presionamos el botón de teclado, apareciendo otra pantalla donde te indica los idiomas a traducir los cuales seleccionamos en primera instancia, en el cajón grande escribimos por ejemplo en español, al terminar presionamos la palabra traducción, esperamos, y nos aparece otra ventana con la traducción realizada de español a inglés.
Si queremos escuchar la pronunciación presionamos la corneta, si queremos copiar la traducción y pegarla en otro sitio presionamos el ícono de las dos páginas ubicadas al lado de la corneta, nos vamos al destino y pegamos el contenido. Ahora, si no queremos escribir podemos realizar la traducción de forma oral y la aplicación nos entrega el escrito. Para ello nos vamos al inicio de la aplicación y presionamos el botón verde para iniciar a hablar, de inmediato aparece la palabra traduciendo y finaliza con la pantalla donde aparece el texto traducido, igualmente puedes copiar y pegar en el sitio deseado.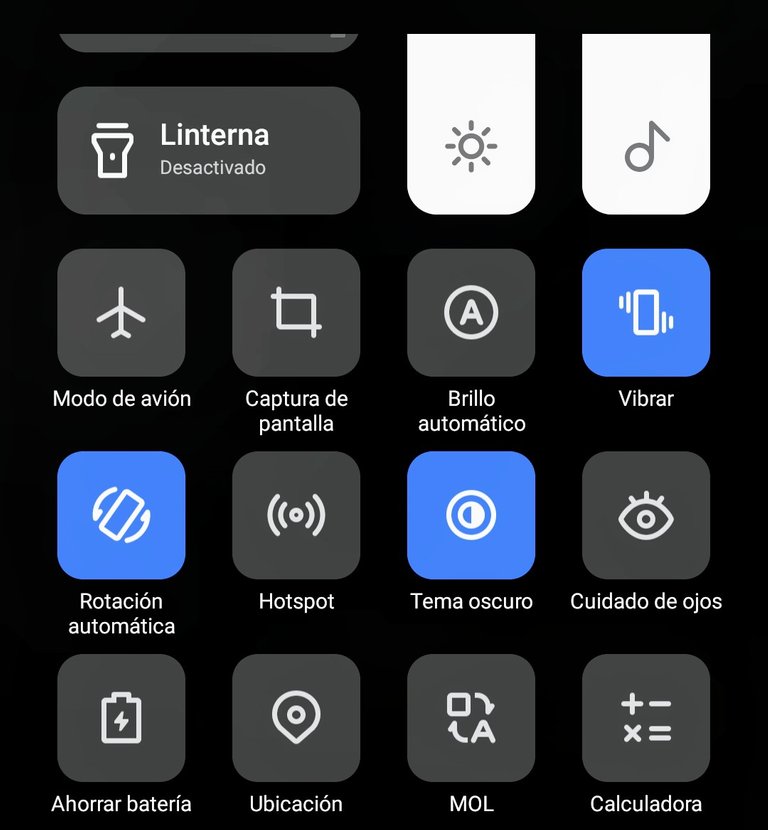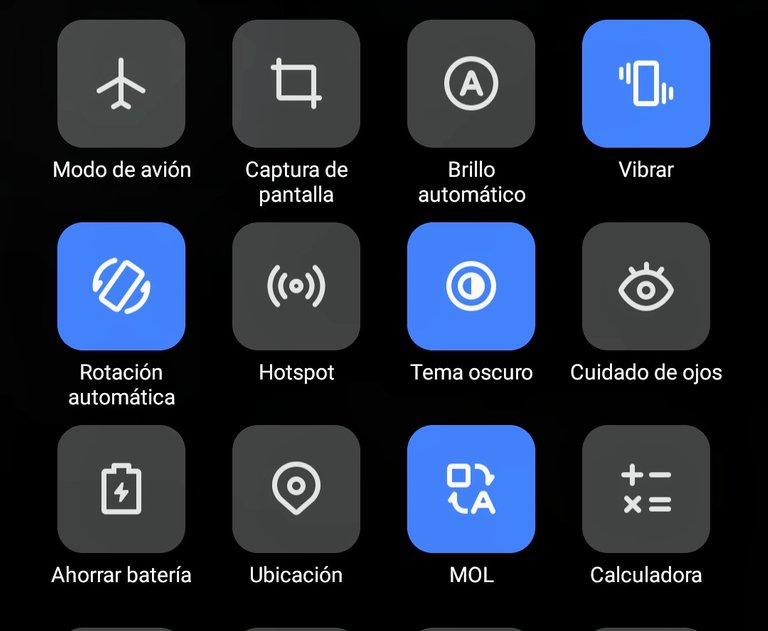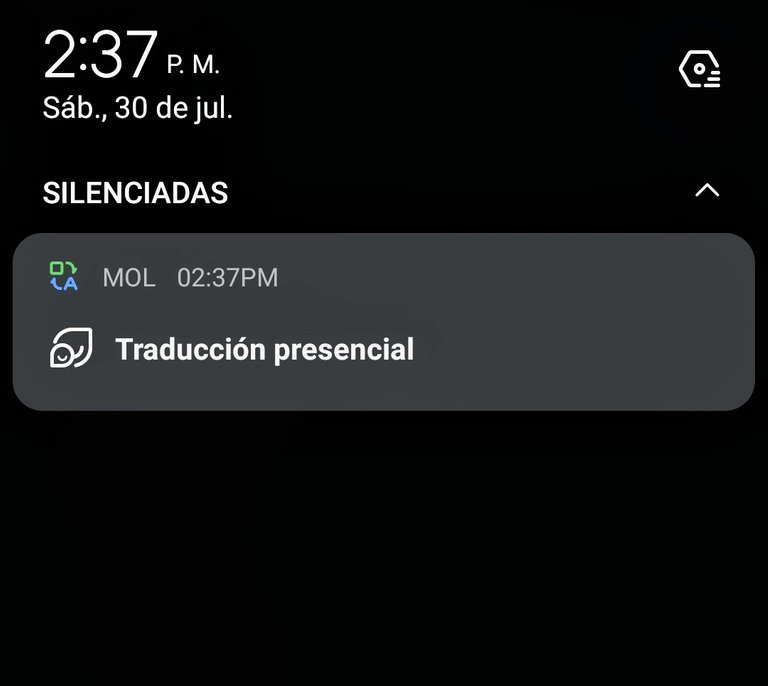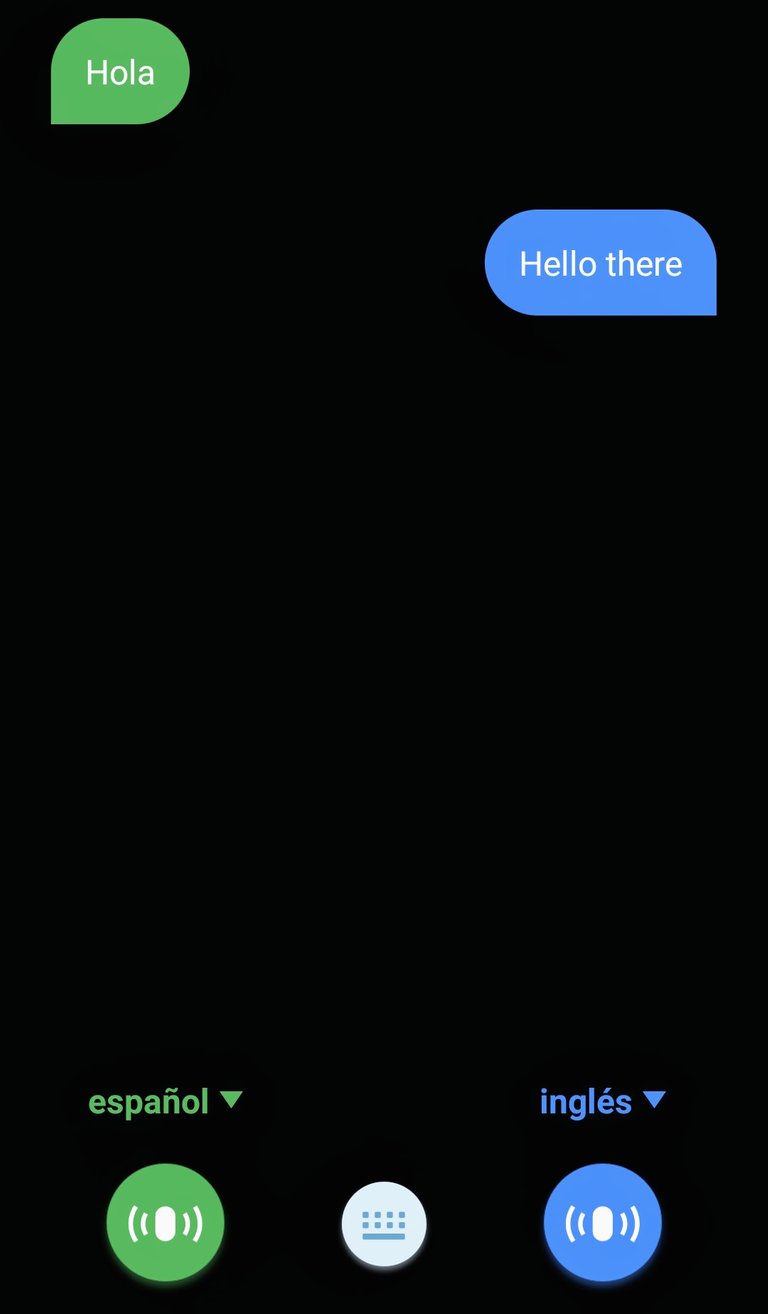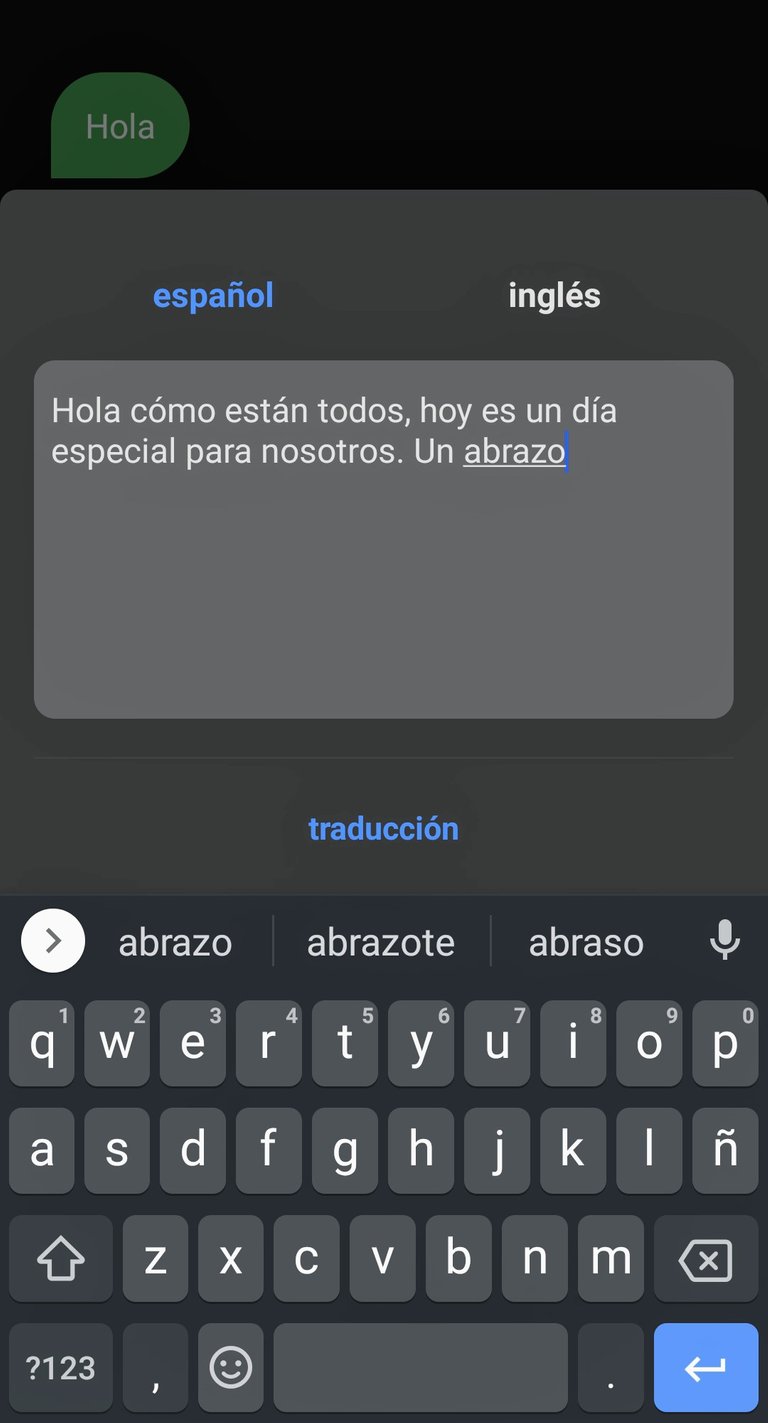 As promised, let's explain the operation of the translator option, whose application is called MOL. To do this we go to the toolbar, which as I said before is displayed by swiping from top to bottom on the right side of the front camera. When lowering the bar we activate the MOL button, we will see what on the left side of the front camera is activated the option face translation, we deploy the notification bar we press on it and a screen appears with the writing of hello in Spanish and English.
At the bottom we have three buttons, on the left a green button to translate orally from Spanish to English, in the center a keyboard button to perform the translation in written form, and on the right a blue button to translate from English to Spanish orally. We go first to make the written translation so we press the button of keyboard, appearing another screen where it indicates you the languages to translate which we select in first instance, in the big drawer we write for example in Spanish, when we finish we press the word translation, we wait, and another window appears to us with the translation made from Spanish to English.
If we want to listen to the pronunciation we press the bugle, if we want to copy the translation and paste it in another place we press the icon of the two pages located next to the bugle, we go to the destination and paste the content. Now, if we do not want to write, we can do the translation orally and the application will deliver the written text. To do this we go to the start of the application and press the green button to start speaking, immediately appears the word translating and ends with the screen where the translated text appears, you can also copy and paste into the desired site.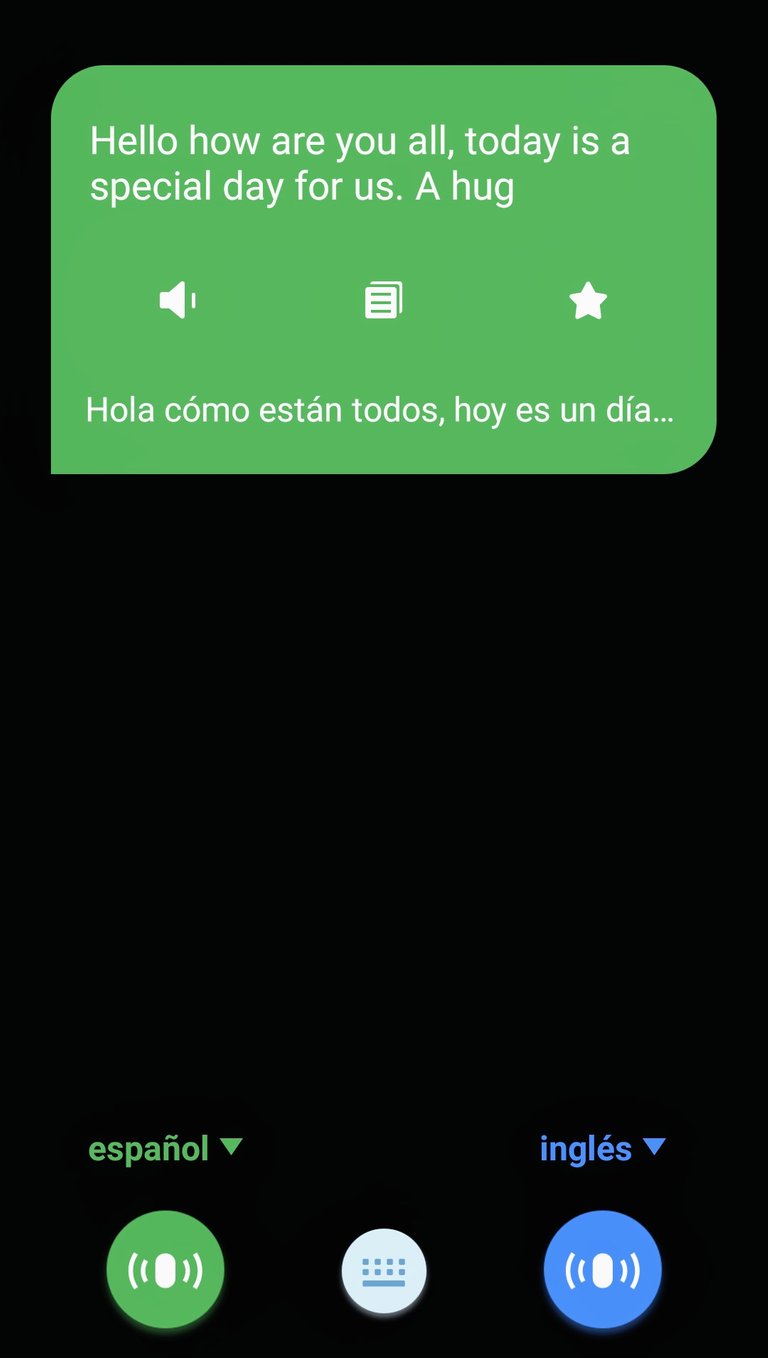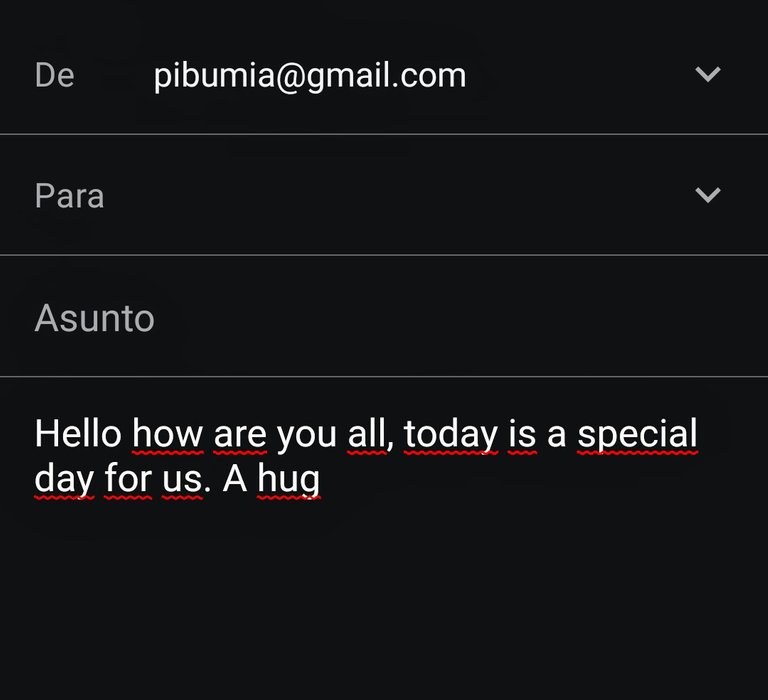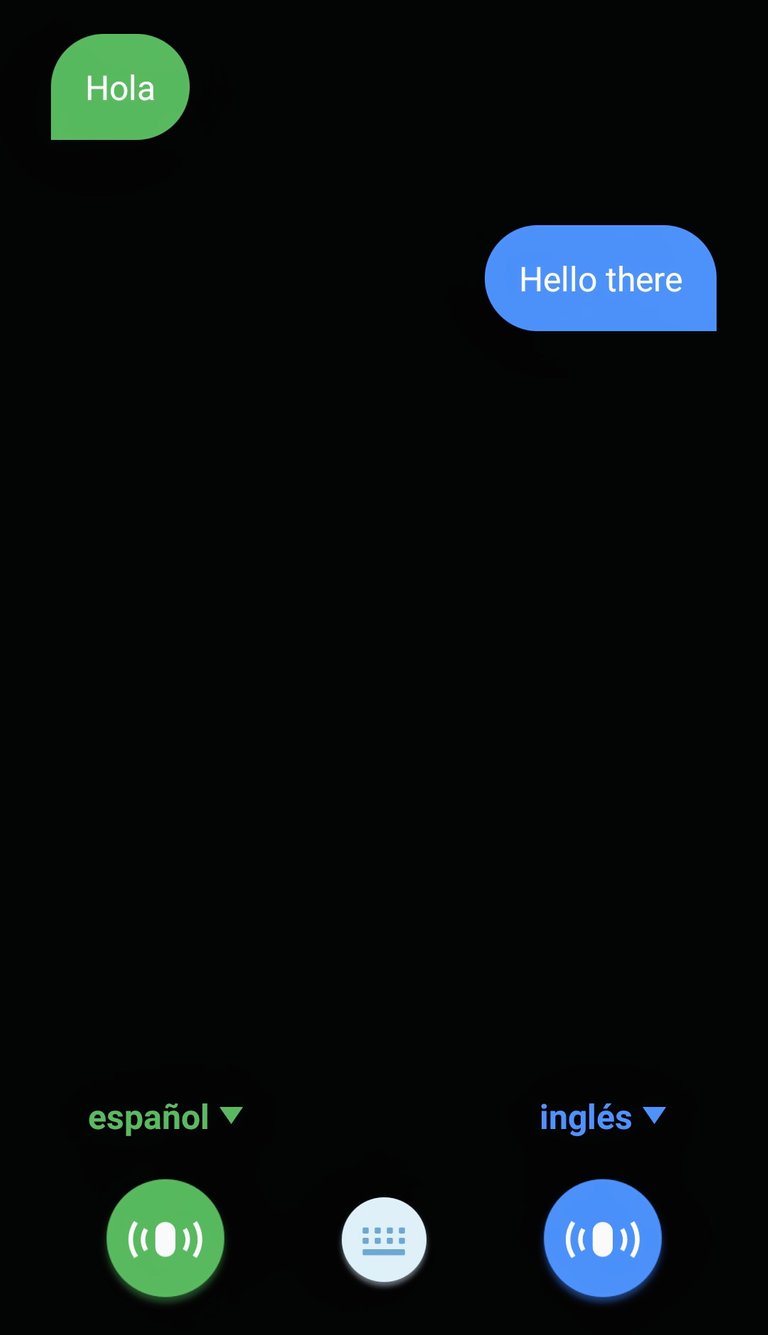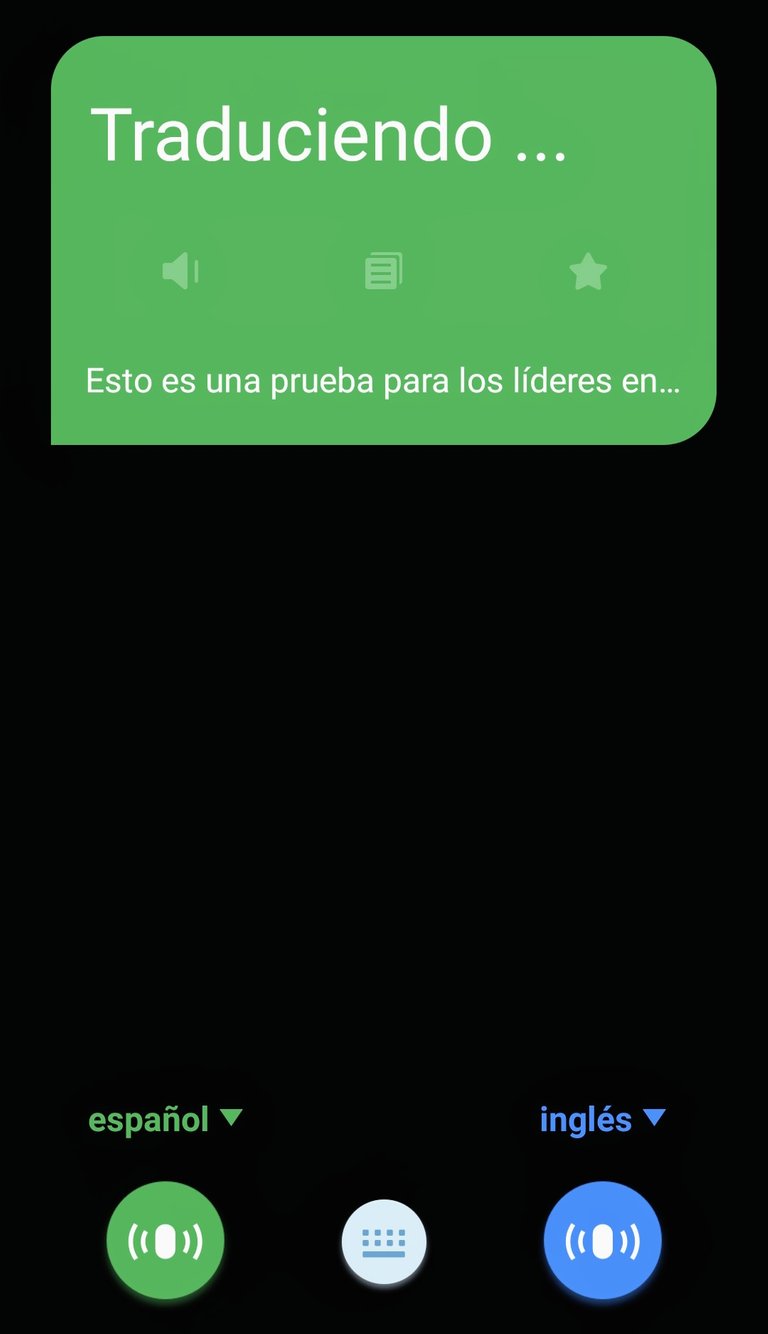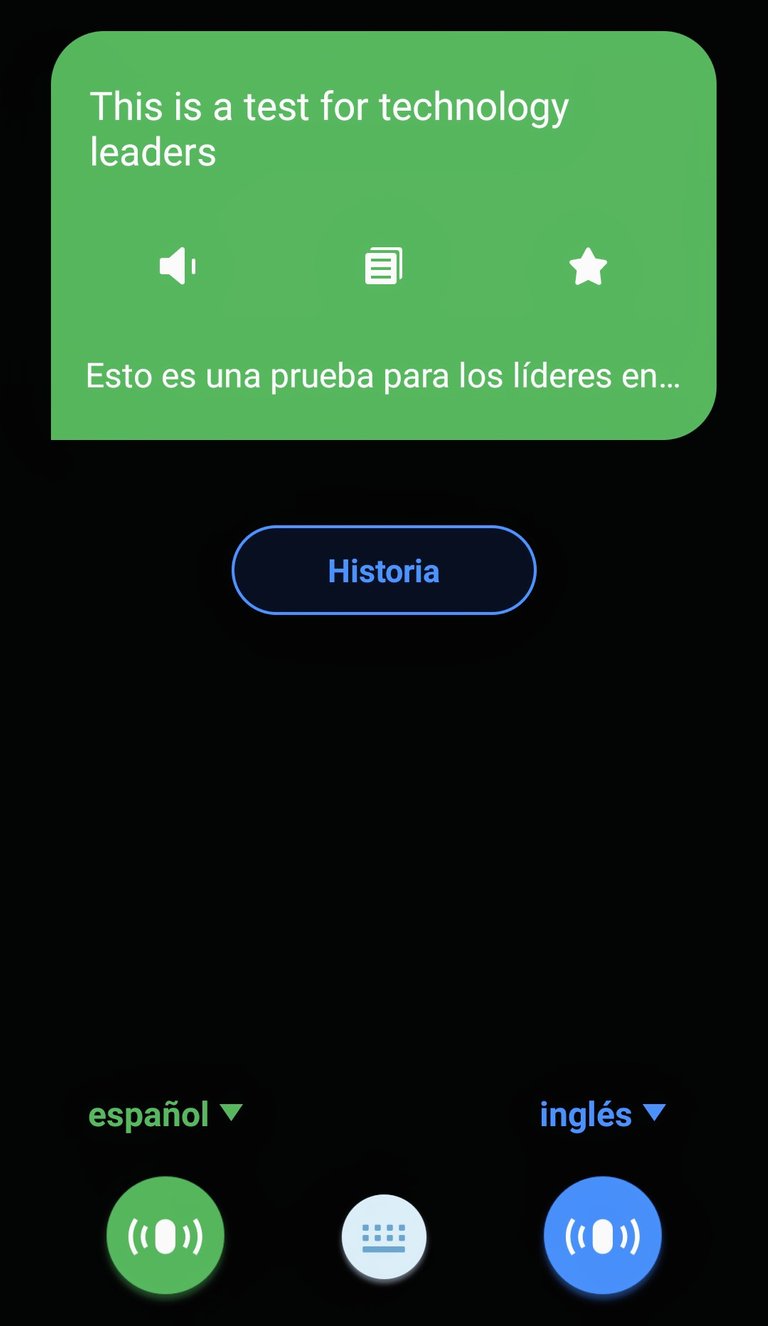 Apreciados amigos tecnológicos, hemos llegado al final de este desempaquetado, esperando que haya sido de su agrado experimentar las prestaciones de este equipo Tecno Camon 18P, debo decir que es muy potente, y por supuesto que debo indagar más ya que existen muchas funciones que probar. Si han ingresado a mis tres o cuatro últimas publicaciones podrán disfrutar de la calidad en la fotos y videos tomados. A lo mejor se preguntarán ¿Qué hizo @omarcitorojas con el Realme 7i?, Bueno, ese equipo como aún está nuevo no lo vendí, sino que se lo regalé a mi hija Nancy, y se podrán imaginar lo feliz y emocionada que está mi niña. Amigos míos, nos vemos en una próxima entrega sobre los aspectos más resaltantes de la tecnología y nuestra experiencia con ella. Saludos y llévatelo.
Dear technological friends, we have reached the end of this unpacking, hoping that you have been pleased to experience the performance of this Tecno Camon 18P, I must say that it is very powerful, and of course I must investigate more as there are many functions to test. If you've been to my last three or four posts you will enjoy the quality of the photos and videos taken. You may be wondering what @omarcitorojas did with the Realme 7i, well, since it is still new I didn't sell it, I gave it to my daughter Nancy, and you can imagine how happy and excited my little girl is. My friends, see you in a next installment on the highlights of technology and our experience with it. Greetings and take it with you.
...Gracias Por Visitar...
...Thanks for visiting...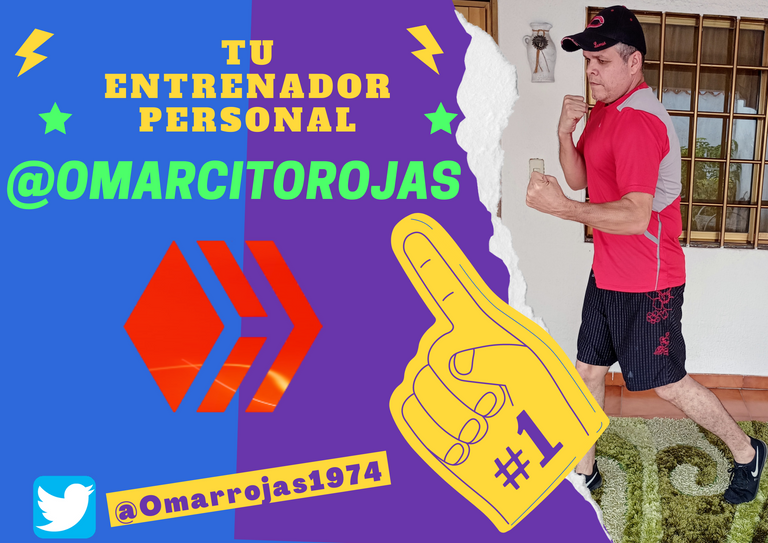 Imágenes tomadas por mí y mi hija Nancy desde el realme 7i. Capturas de pantalla realizadas con el mismo Tecno Camon 18P
Images taken by me and my daughter Nancy from the realme 7i. Screenshots taken with the same Tecno Camon 18P
Sorry. English is not our native language. Therefore, a web translator is used for texts in English. (Spanishdict)