When we, as content creators, are looking for equipment or devices that allow us to improve quality, it is when we propose to delve into the location of these new technologies. However, due to the great variety, or in any case in the absence of them, they can result in a quick find or that it takes us a long time to find them. In my case, most of my work consists of creating and broadcasting #videos of #exercise routines, such as those related to tutorials, and information in general. On the other hand, it would be ideal to have carried out this unpacking in audiovisual format, however, the limited access to the Internet that we have here in Venezuela, makes us only have cell phone services, specifically Movistar, a company that also has a signal limited so uploading videos is very tedious, however, I have to upload no matter how long this aspect takes. But all is not lost, because you will be able to enjoy the sound check in the video that was published today, since I was able to program it yesterday; video which is accessible at the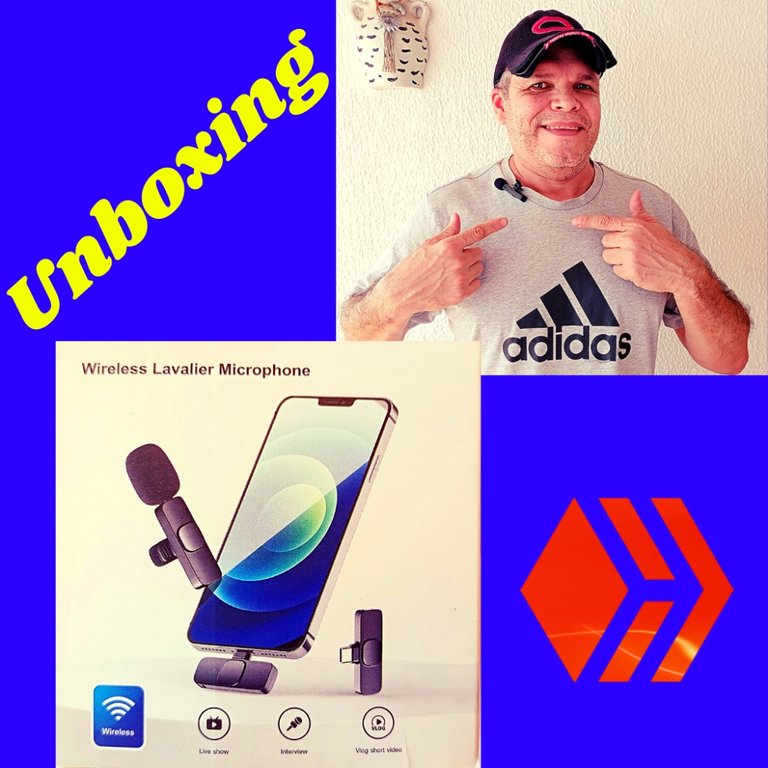 Imagen de mi Autoría Editada en/Image of my Authorship Edited in Canva
Cuando nosotros como creadores de contenidos, estamos en la búsqueda de equipos o dispositivos que nos permitan brindar mejorar la calidad, es cuando nos proponemos a adentrarnos en la localización de estas nuevas tecnologías. Sin embargo, debido a la gran variedad, o en todo caso en ausencia de ellos, pueden resultar en un hallazgo rápido o que nos tome mucho tiempo encontrarlos. En mi caso, la mayor parte de mi trabajo consiste en la creación y emisión de #videos de #rutinas de ejercicios, como los relacionados a tutoriales, e información en general. Por otra parte, sería idóneo haber realizado este desempaquetado en formato audiovisual, sin embargo, el limitado acceso a Internet que tenemos aquí en Venezuela, nos hace contar solo con los servicios de telefonía celular, específicamente Movistar, empresa que tiene de igual forma una señal limitada por lo que subir videos es muy tedioso, no obstante, debo subirlos sin importar el tiempo que tome este aspecto. Pero no todo está perdido, porque la prueba del sonido la podrán disfrutar en el video que fue publicado hoy, ya que pude programarlo el día de ayer; video que está accesible en el siguiente enlace.

I imagine you are curious about what I am talking about. Well, my concern is that the videos have better quality audio, so I took on the task of locating a Wireless microphone for this purpose, but it shouldn't be just any microphone, that is, I'm not going to perform my exercises with some giant headphones with microphone And it is that Venezuela is not a market where we can find great variety, and fewer microphones that are small and suitable for moving from one place to another, without losing voice reception. And not to mention that here in Cumana, Sucre state, it is even more difficult to get what we are looking for. So, searching and searching, I found the Wireless Lavalier Microphone, which is practical and small, whose cost + shipping was 28 dollars, or 131.5 bolívares. Now yes friends, the one who cried came.
Me imagino que tienen la curiosidad de lo que hablo. Bueno, mi preocupación es la de que los videos tengan un audio de mejor calidad, entonces me di a la tarea de ubicar un micrófono Inalámbrico para tal fin, pero no debía ser cualquier micrófono, es decir, no voy a ejecutar mis ejercicios con unos audífonos gigantes con micrófono. Y es que tampoco Venezuela sea un mercado donde podamos encontrar gran variedad, y menos micrófonos que sean pequeños y aptos para movernos de un lado a otro, sin que se pierda la recepción de voz. Y ni mencionar que aquí en Cumaná estado Sucre es más difícil aun conseguir lo que buscamos. Entonces, entre buscar y buscar, encontré el Micrófono Inalámbrico Lavalier, el cual es práctico y pequeño, cuyo costo + envío fue de 28 dolares, o 131.5 bolívares. Ahora sí amigos, llegó por quien lloraban.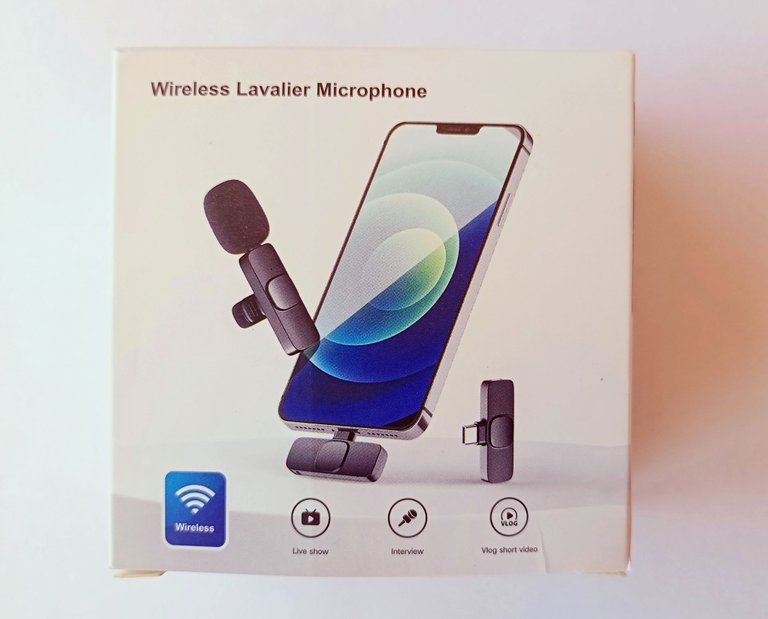 Oh, we come to the important area and that is that we are going to enjoy the content of this little box that gives us a great device. Well, this is a simple, square little box, without much of a show. Inside it we find the manual and a round black neoprene case that protects the most precious content. When opening we can see that the case offers us 4 elements; one representing the receiver with a type C connector; the other element is the microphone plus a sponge so that the audio has higher quality, it also has a kind of hook to be placed in any area of ​​our clothing. Next we have a usb cable to charge the microphone, since the receiving device is charged when connected to the port of the phone.
¡Oh!, llegamos a la zona importante y es que vamos a disfrutar del contenido de esta pequeña cajita que nos brinda un gran dispositivo. Bueno, esta es una cajita sencilla y cuadrada, sin mucho espectáculo. Dentro de ella encontramos el manual y un estuche negro redondo de neopreno que protege el contenido más preciado. Al abrir podemos observar que el estuche nos ofrece 4 elementos; uno que representa el receptor con un conector tipo C; el otro elemento es el micrófono más una esponja para que el audio tenga mayor calidad, además tiene una especie de gancho para ser colocado en cualquier área de nuestra prenda de vestir. Enseguida tenemos un cable usb para cargar el micrófono, ya que el dispositivo receptor se carga al conectarse al puerto del teléfono.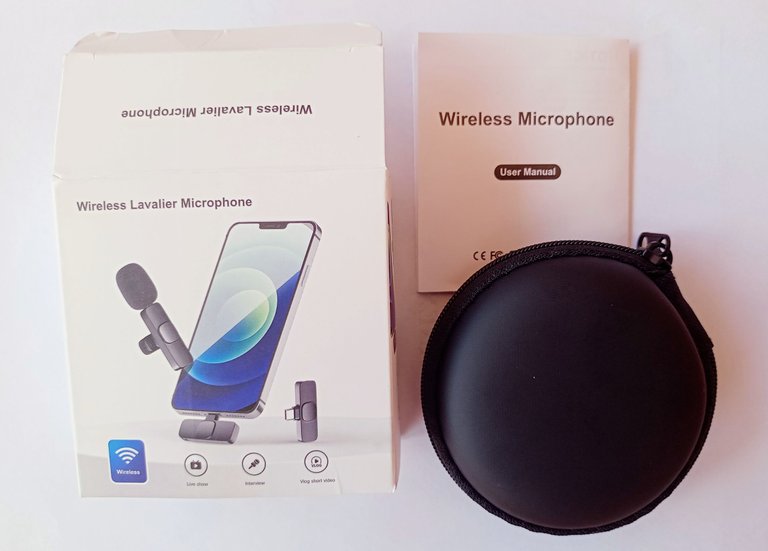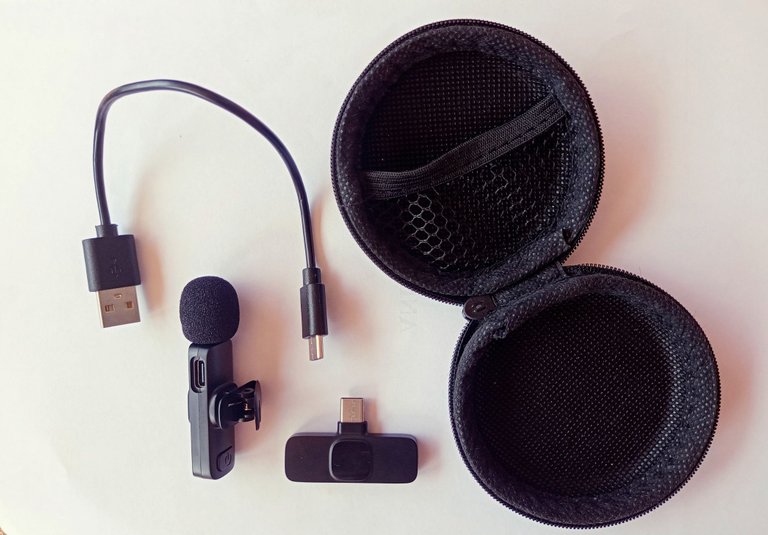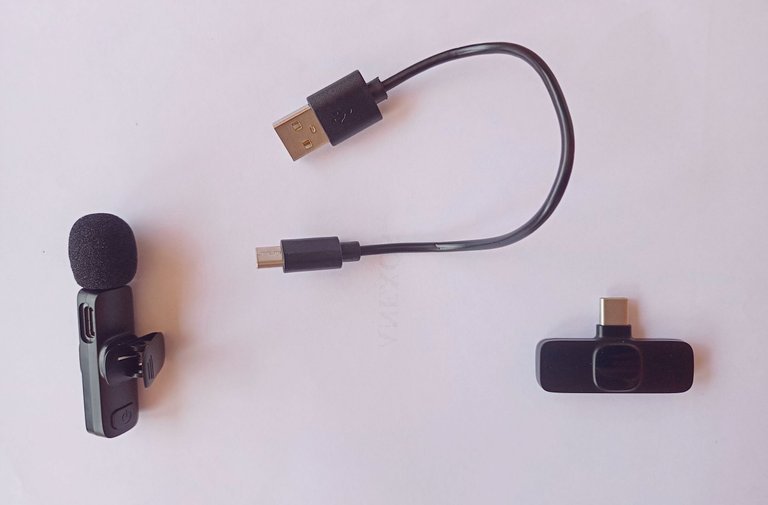 Among the main and striking characteristics of the communication device, is that it is truly Wireless, it does not have any cable to work, only the USB cable to charge the microphone. In addition, what is wonderful is that it is plug and play, that is, it does not need applications, programs, or Bluetooth to work. There is only one caveat that for some mobile phones such as oppo, vivo, iqoo and realme, the OTG option must be activated. If you have a realme cell phone, which is my case, you must go to settings, locate the additional configuration option, then activate the OTG option and that's it. Later we will see the operation of the equipment, for now we are going to its special characteristics.
Dentro de las características principales y llamativas del dispositivo de comunicación, es que en verdad es Inalámbrico, no cuenta con cable alguno para funcionar, solo el cable usb para cargar el micrófono. Además, lo que es maravilloso, es que es plug and play, es decir, que no necesita aplicaciones, ni programas, ni Bluetooth para funcionar. Solo existe la salvedad de que para algunos teléfonos celulares como los oppo, vivo, iqoo y realme, se debe activar la opción OTG. Si tienes un celular realme, que es mi caso, debes dirigirte a ajustes, ubicas la opción configuración adicional, luego activas la alternativa OTG y listo. Más adelante veremos el funcionamiento del equipo, por lo pronto nos vamos a sus especiales características.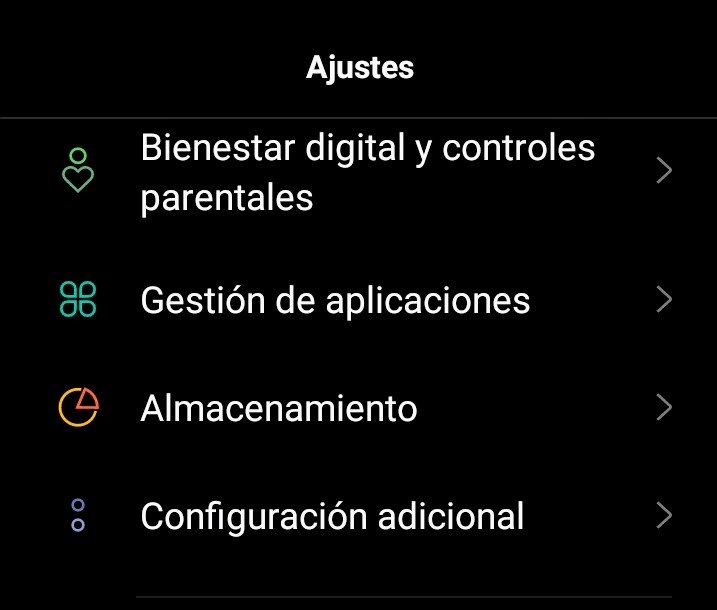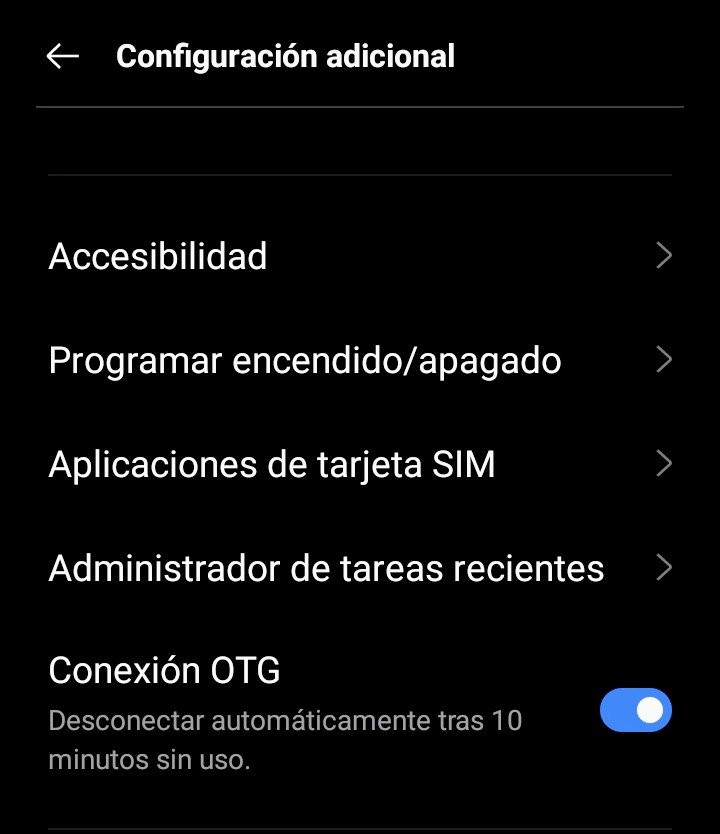 The device has an input voltage of DC4.8 - 5.4V, with an approximate working time of 7 hours. It has a type C connector that connects to the charging pin of the cell phone. On the other hand, the transmission has a minimum delay of 9 milliseconds, and a sensitivity of -26dB, in addition to a frequency response of 20-20KHZ, and an 80mAh battery. Now, this little guy is completely wireless, complying with a working distance of approximately 20 meters without obstacles, and 7 meters before their occurrence. Something extremely important, this one that has 360° omnidirectional sound reception, what's up! You can move anywhere and the clarity of the voice is not lost, perfect for my work, and that's what I'm looking for.
El dispositivo tiene un voltaje de entrada de DC4.8 - 5.4V, con tiempo aproximado de trabajo de 7 horas. Cuenta con un conector tipo C que se conecta al pin de carga del celular. Por otro lado, la transmisión tiene un mínimo retraso de 9 mili segundos, y una sensibilidad de -26dB, además de una respuesta de frecuencia de 20-20KHZ, y una batería de 80mAh. Ahora, este pequeñín es totalmente Inalámbrico cumpliendo con una distancia de trabajo de aproximadamente 20 metros sin obstáculos, y 7 metros ante la ocurrencia de ellos. Algo sumamente importante, este que cuenta con una recepción de sonido omnidireccional de 360°, ¡que tal!, te puedes mover a donde sea y no se pierde la nitidez de la voz, perfecto para mi trabajo, y eso es lo que busco.

The microphone has a high-density spray sponge, reducing environmental interference while recording without losing any detail. Its signal is stable, and it also has a built-in noise reduction chip. So they're going to listen loud and clear. We cannot finish this point without mentioning that it has plug and play technology, which, as mentioned at the beginning, does not require any application or Bluetooth activation to work. So this little communication giant can be used in video conferences, vblogs, which is my case, YouTube, interviews, that is, for whatever comes to mind.
El micrófono posee una esponja en aerosol de alta densidad, reduciendo la interferencia ambiental grabando sin perder ningún detalle. Su señal es estable, además cuenta de forma incorporada con un chip de reducción de ruido. Así que van a escuchar fuerte y claro. No podemos terminar este punto sin mencionar que posee una tecnología plug and play, que como se mencionó al inicio no necesita de ninguna aplicación, ni activación de Bluetooth para funcionar. Así que este pequeño gigante comunicacional puede ser usado en video conferencias, vblog que es mi caso, YouTube, entrevistas, es decir, para lo que se te ocurra.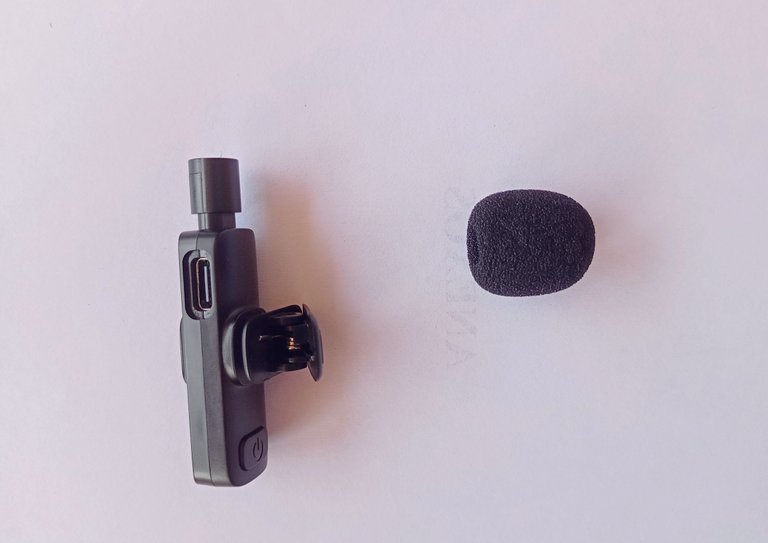 We entered the operating level, so here we go. But wait, I always get used to reading the manual before trying new equipment, it's the right thing to do. Now yes, already read we go to action. You connect the receiving device to the phone's charging port. Remember that if your phone is one of the models I mentioned at the beginning, you must first complete the steps described above. You do this if when you connect the receiver, the icon with headphones and microphone does not appear in the notification area. If it appears, it is because it is already active, so on one of its sides the receiver emits a red light. Next, we press the microphone on/off button, located under the hook. This emits a green light on its front. If you want to charge the mic, on the side of the mic is the charging port where you plug in the usb cable. You put the microphone in any area of ​​the collar of the shirt, and record your video.
Entramos al nivel de funcionamiento, así que allí vamos. Pero un momento, siempre acostumbro antes de probar equipos nuevos, leer el manual, es lo correcto. Ahora sí, ya leído nos vamos a la acción. Conectas el dispositivo receptor al puerto de carga del teléfono. Recuerda que si tu teléfono es uno de los modelos que mencioné al principio, debes cumplir en primera instancia los pasos antes descritos. Esto lo haces si al conectar el receptor, no te aparece en la zona de notificaciones el icono con unos audífonos y el micrófono. Si te aparece es porque ya está activo, por lo que en uno de sus costados el receptor emite una luz roja. Luego, presionamos el botón de encendido y apagado del micrófono, ubicado debajo del gancho. Este emite una luz verde en su parte frontal. Si deseas cargar el micrófono, en el costado del mismo se encuentra el puerto de carga donde conectas el cable usb. Te colocas el micrófono en cualquier área del cuello de la camisa, y grabar tu video.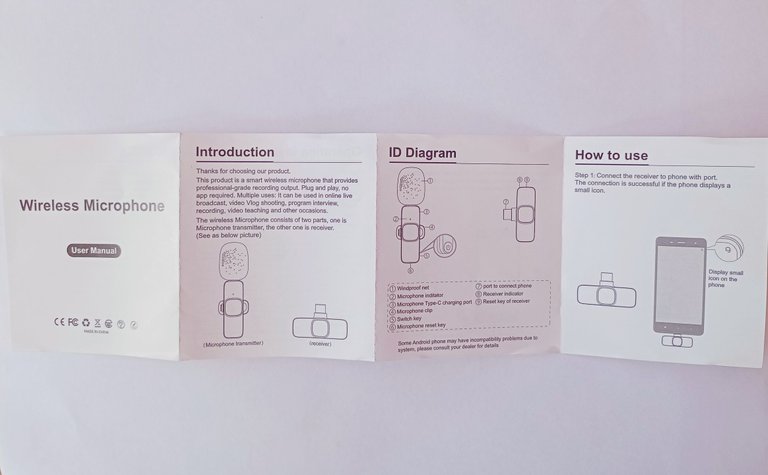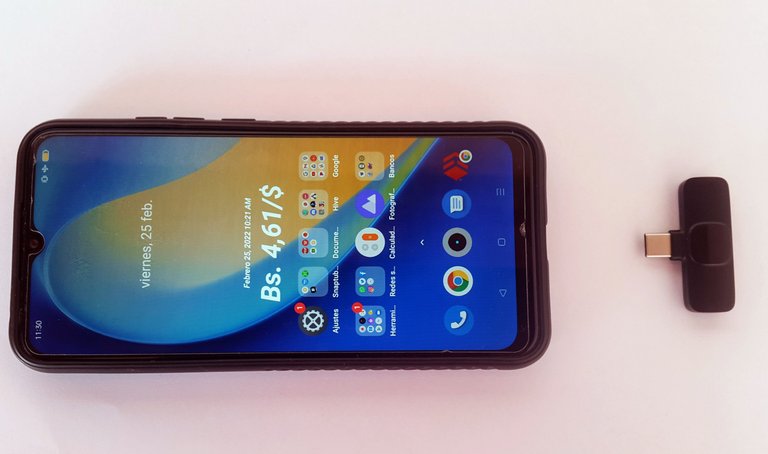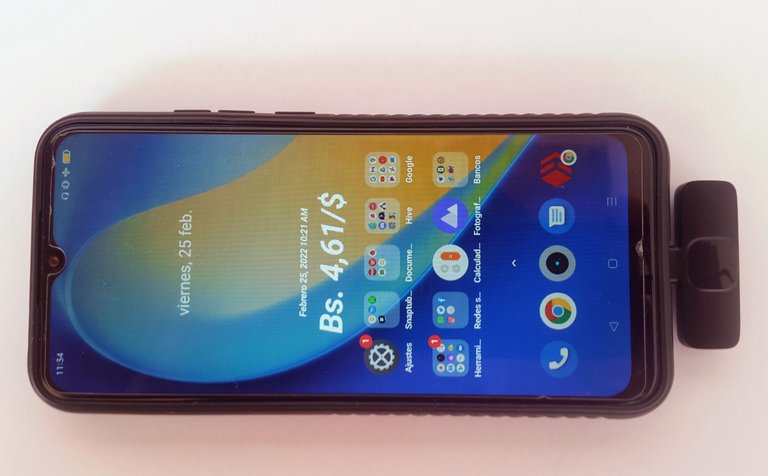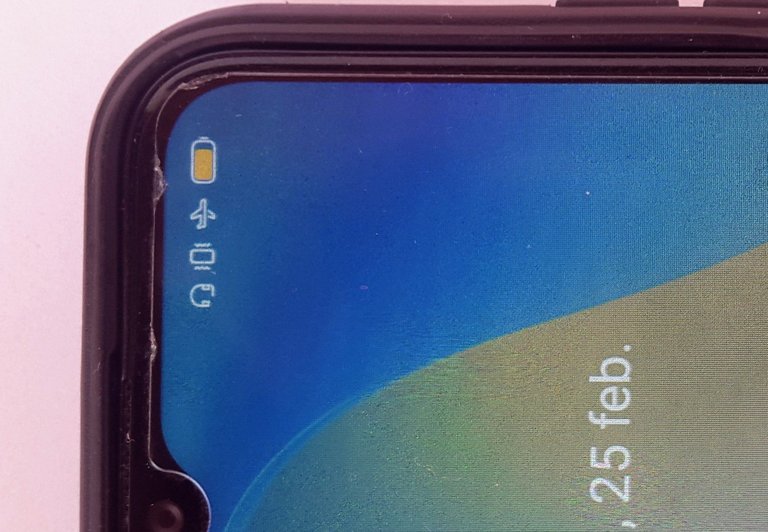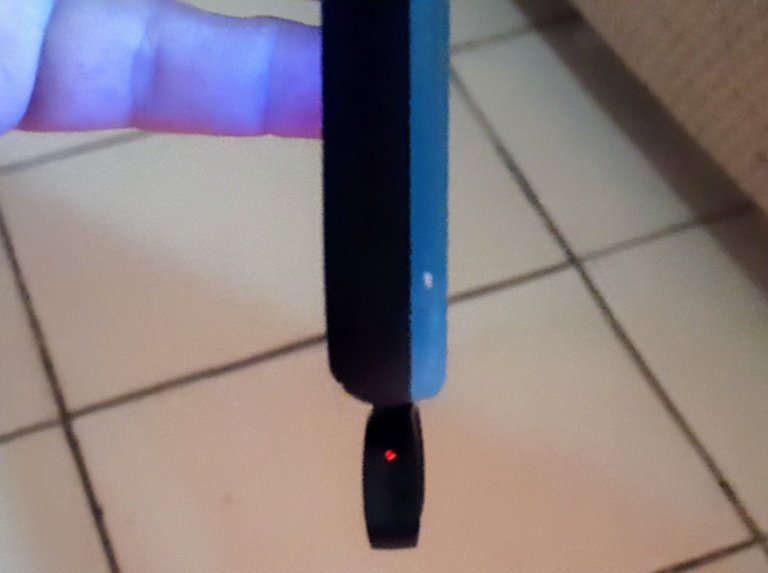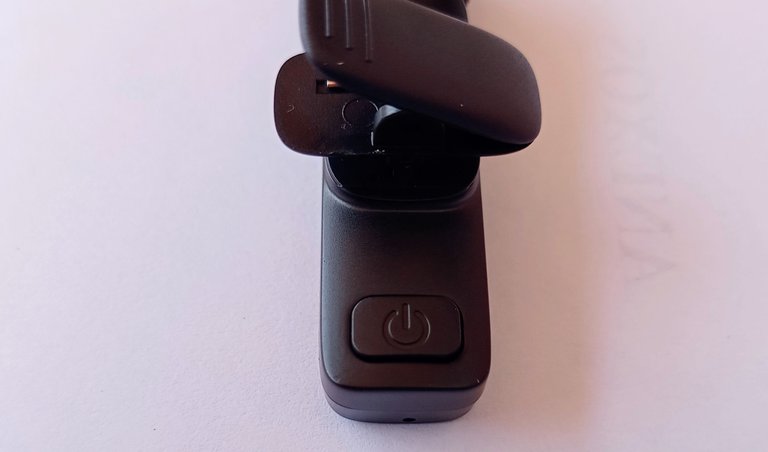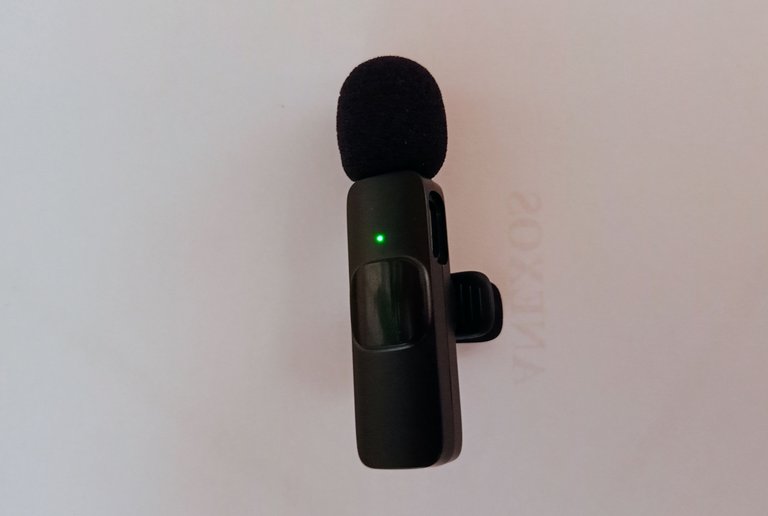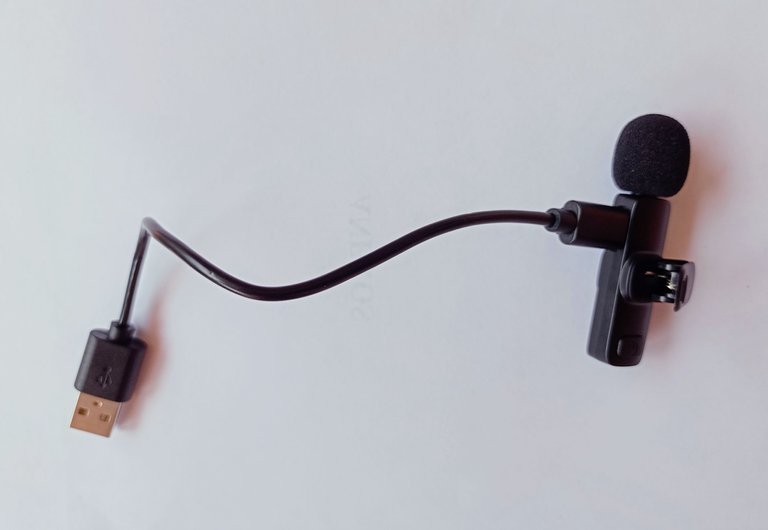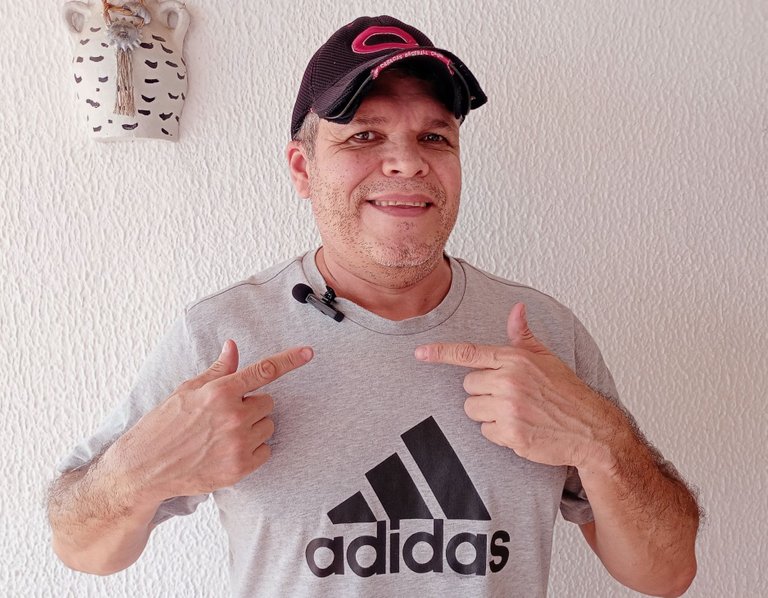 It has been a real pleasure to have created this content for the enjoyment of all of you. The information is important for all those content creators, who carry out their activities in video, and who also need to move constantly presenting the fear that their messages will reach the public in a confusing way. On the other hand, I want to continue thanking this beautiful mother #hive for continuing to provide benefits, passion, and blessings to all of us. Thanks to her I was able to purchase this product. #Hive continues to change lives.
Ha sido un verdadero gusto haber creado este contenido para el disfrute de todos ustedes. La información es importante para todos aquellos creadores de contenidos, que realizan sus actividades en video, y que además necesitan moverse constantemente presentando el temor que sus mensajes lleguen al público de manera confusa. Por otra parte quiero continuar agradeciendo a esta hermosa madre #hive por seguir otorgando beneficios, pasión, y bendiciones a todos nosotros. Gracias a ella he podido adquirir este producto. #Hive continúa cambiando vidas.
...Gracias Por Visitar...

...Thanks for visiting...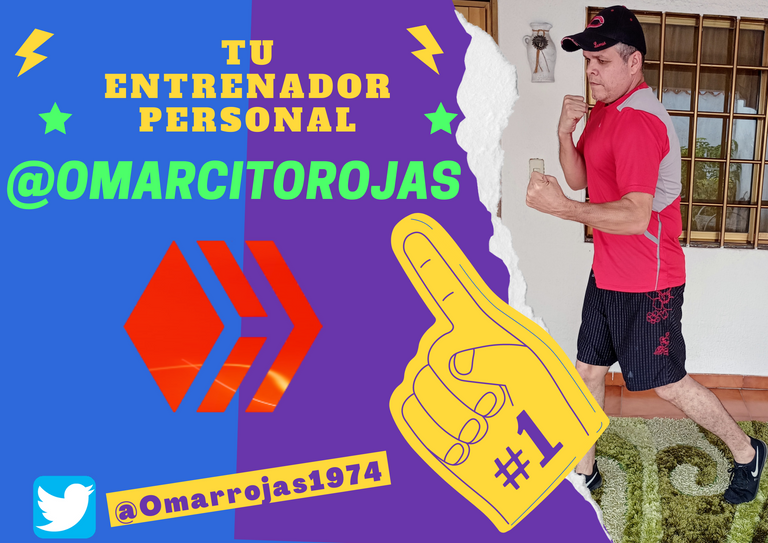 Imágenes tomadas por mi desde mi teléfono realme 7i
Pictures taken by me from my phone realme 7i
Sorry. English is not our native language. Therefore, a web translator is used for texts in English. (Spanishdict)