Estimados amigos que integran este mundo tecnológico. El día de hoy continuamos con nuestras acostumbradas aplicaciones, sin embargo, en esta ocasión hablaremos de una aplicación que está fuera de la play store, es decir, que la vamos a descargar desde la web. Muchos de nosotros estamos en la onda de ver videos directamente desde YouTube, ya sea por hobby, o sencillamente, porque esos videos y música las necesitamos para incluirlos en nuestros contenidos, para así darle un poco de vistosidad a los mismos. Por esta razón, existen aplicaciones paralelas a YouTube que permiten la descarga de material audiovisual, no sólo desde la plataforma mencionada, sino desde otras a las cuales la aplicación objeto de estudio se puede concatenar. Para los que tienen computadora, puede ser que tengan extensiones para descargar estos videos directamente desde YouTube; sin embargo, estoy seguro que muchos de nosotros que trabajamos con dispositivos móviles, necesitamos aplicaciones par tal fin.
Ya creo que tienen curiosidad de lo que les estoy hablando; bueno calma pueblo, porque vamos a disfrutar de la aplicación Snaptube. La misma, como dije anteriormente la debemos descargar directamente desde la web, por lo que será una fuente externa o desconocida para nuestros dispositivos. Más adelante les haré el comentario, de como pueden instalar aplicaciones que no pertenezcan a la play store, en caso de que sus dispositivos no puedan instalarla. De paso, Snaptube es gratuita y hasta pueden iniciar sesión desde sus cuentas de Facebook o de Google. Particularmente, esta aplicación la uso muchísimo para descargar intros, y música sin derechos de autor, para incorporarlos a mis videos de rutinas de ejercicios. A lo mejor muchos la conocen, pero estoy seguro que otros no, y les digo, esta aplicación es una interesante opción.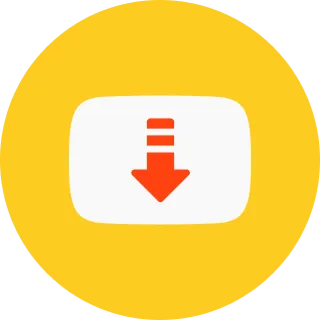 Fuente-Source
Dear friends who are part of this technological world. Today we continue with our usual applications, however, this time we will talk about an application that is outside the play store, that is, we are going to download it from the web. Many of us are in the habit of watching videos directly from YouTube, either as a hobby, or simply because we need those videos and music to include them in our content, in order to give them a bit of visibility. For this reason, there are parallel applications to YouTube that allow the downloading of audiovisual material, not only from the mentioned platform, but from others to which the application under study can be linked. For those who have a computer, they may have extensions to download these videos directly from YouTube; however, I am sure that many of us who work with mobile devices need applications for this purpose.
Already I think you are curious about what I'm talking about; well calm down people, because we are going to enjoy the Snaptube application. The same, as I said before we must download it directly from the web, so it will be an external or unknown source for our devices. Later I will comment on how you can install applications that do not belong to the play store, in case your devices can not install it. By the way, Snaptube is free and you can even log in from your Facebook or Google accounts. Personally, I use this app a lot to download intros and royalty-free music to incorporate into my workout videos. Maybe many of you know it, but I'm sure others don't, and I'm telling you, this app is an interesting option.

Es válido destacar, que esta aplicación ya la tenía instalada en mi dispositivo, por lo que tengo varios vídeos descargados a través de ella. Sin embargo, la desinstalé, para poder llevarles a ustedes un paso a paso como es debido. Las cosas se hacen bien, de lo contario no las hago. En tal sentido, podemos decir que la aplicación, para quien no la ha usado nunca, tendrá un peso de almacenamiento de 25.82MB; pero en mi caso ocupa 76.1MB, ya que no la desinstalé desde la raíz. Su versión es la 6.09.1.6095701. Ya saben entonces, que no forma parte de la play store, pero fácilmente la pueden usar en sus dispositivos android con versiones Jelly Bean 4.1 y posteriores. Esto implica que sí tu versión android es inferior a ésta, lo más seguro es que la aplicación no se instale, o ocurran problemas al momento de su uso. Lo más divertido es que con ella puedes ver videos, musicales, películas, shows, lo que quieras.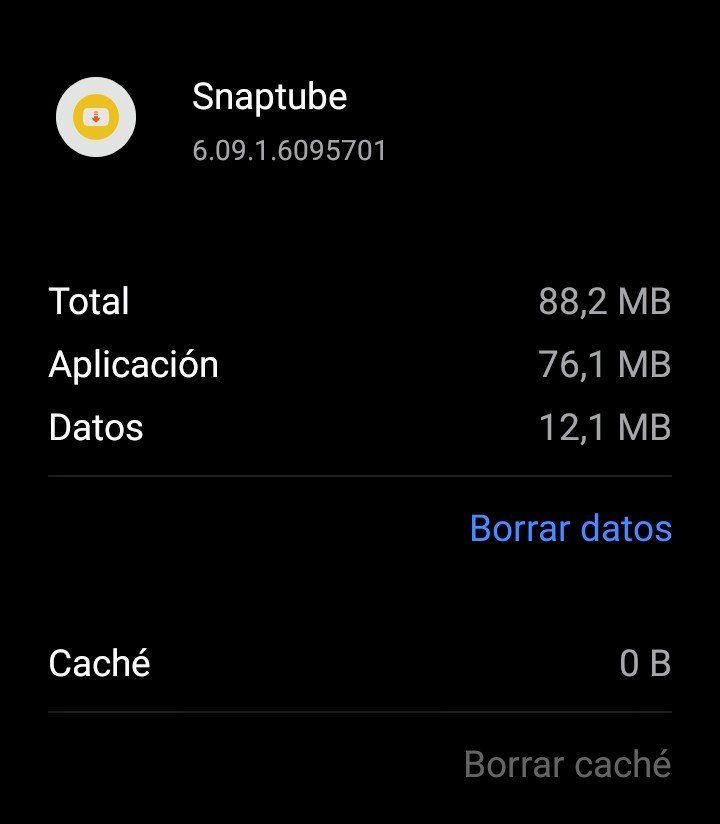 It is worth mentioning that I already had this application installed on my device, so I have several videos downloaded through it. However, I uninstalled it, in order to bring you a step by step as it should be. Things are done right, otherwise I don't do them. In that sense, we can say that the application, for those who have never used it, will have a storage weight of 25.82MB; but in my case it occupies 76.1MB, since I did not uninstall it from the root. Its version is 6.09.1.6095701. You know then, that it is not part of the play store, but you can easily use it on your android devices with Jelly Bean 4.1 and later versions. This implies that if your android version is lower than this, it is most likely that the application will not be installed, or problems will occur at the time of use. The most fun is that with it you can watch videos, musicals, movies, shows, whatever you want.

Vamos entonces a lo que todos están esperando; como iniciamos la descarga de Snaptube. En primer lugar, ingresamos a la web desde su navegador favorito, en mi caso uso Google Chrome. En la barra de direcciones o de búsqueda, escribimos descargar snaptube apk. ¿Por qué apk?, bueno, porque APK en sus siglas es lo mismo que paquete de aplicaciones android. Lo que significa, que el archivo con esa extensión, tendrá los paquetes que necesitan nuestro dispositivo al momento de ser instalados. Fuente.
OK, luego de escribir el nombre de la aplicación, la misma aparece en una especie de listado, seleccionamos el primero. Inicia la búsqueda, y vemos que nos muestra el resultado, seleccionamos la primera que nos aparece. Esperamos un momento, y observamos que entramos en la pagina de la aplicación, presentando el botón de descarga. Lo presionamos, y como es lógico, nos manda una advertencia de que el archivo puede ser dañino, pero le decimos descargar de todos modos. Inician la descarga, y si queremos ver el peso del archivo presionamos la palabra detalles que aparece en el mensaje. Cambia la pantalla, y disfrutamos de la descarga con un peso de 25.82MB. Esperamos un momento que se complete la descarga, y al finalizar, nos aparece otro mensaje indicando que el archivo ha sido descargado.
Ahora viene el mensaje para instalar la aplicación, y en este caso hay dispositivos que no tienen activada la opción para la descarga de fuentes desconocidas. En mi caso el dispositivo que uso es el realme 7i, y las aplicaciones externas o con fuente desconocida se instalan sin problema. En tal sentido, si su dispositivo no instala la aplicación, o en caso contrario, les pide que activen la opción de aplicaciones desconocidas, lo pueden realizar entrando a los ajustes del teléfono, luego nos vamos a Seguridad, luego ubicamos permitir instalar fuentes o aplicaciones desconocidas y la activamos. Hecho este procedimiento, seleccionamos instalar, esperamos, viene el mensaje de se ha instalado la aplicación, para darle entonces a abrir. Ojo, esta aplicación nones maliciosa, la uso casi a diario.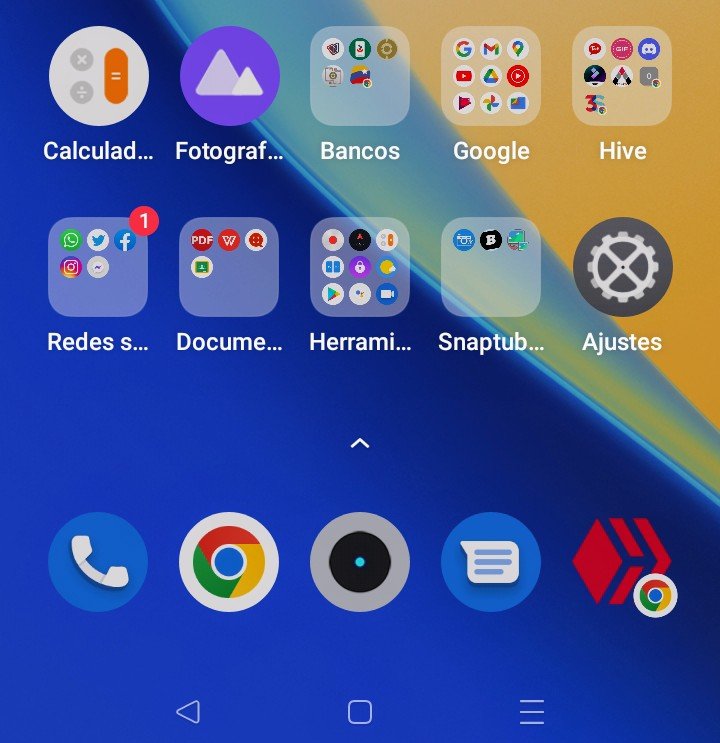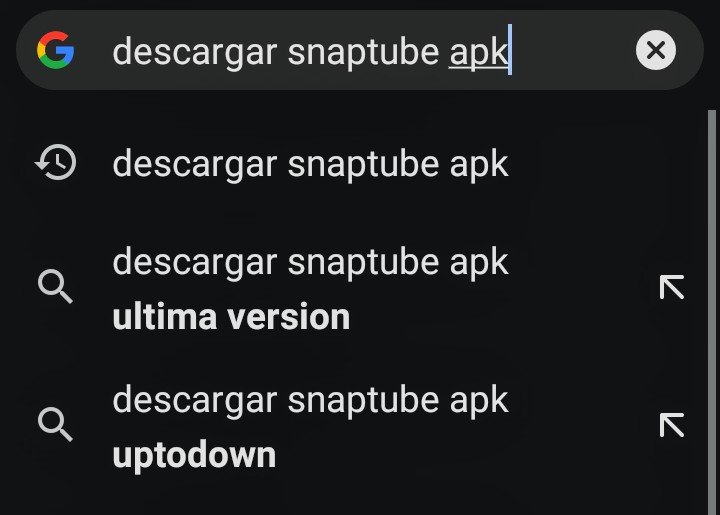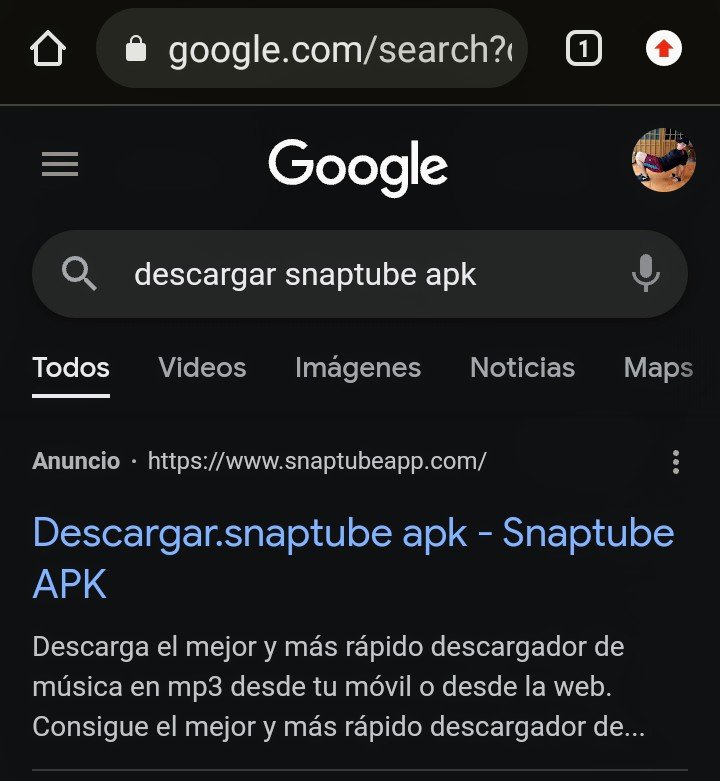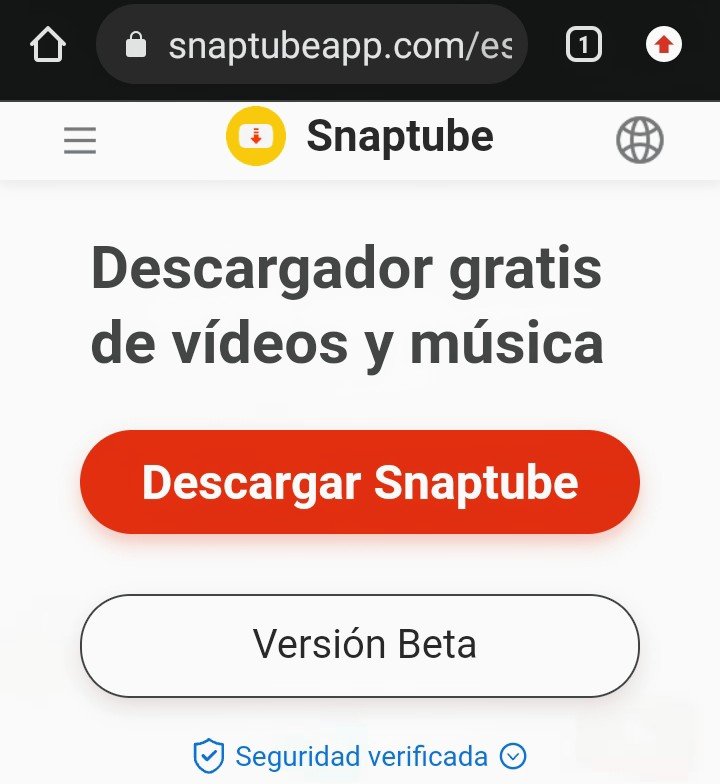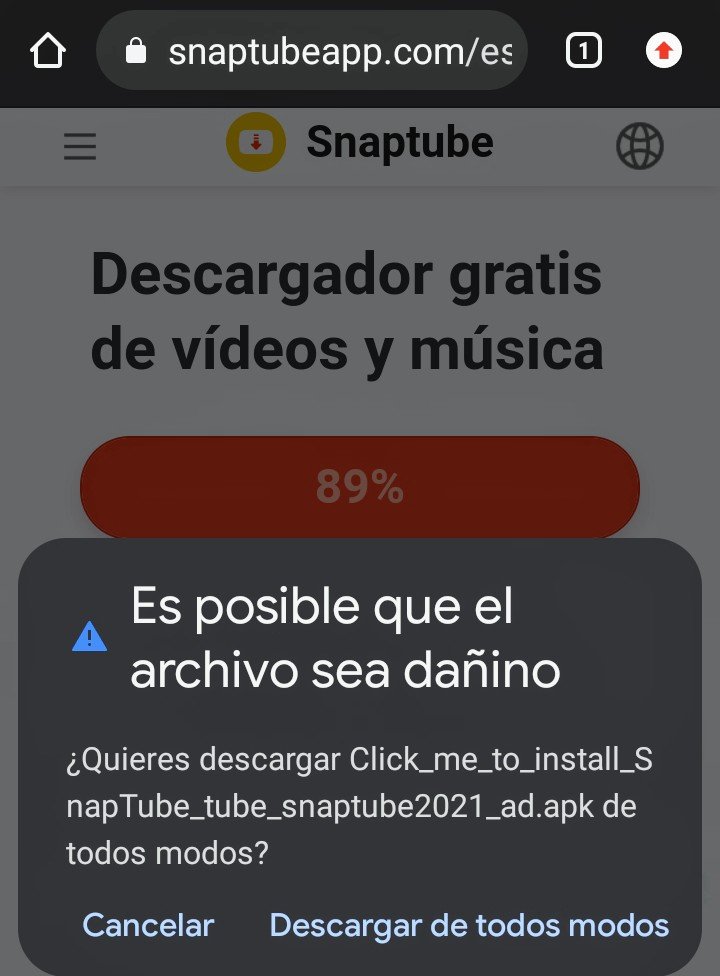 Let's go then to what everyone is waiting for; how do we start the Snaptube download. First of all, we enter the web from your favorite browser, in my case I use Google Chrome. In the address bar or search bar, we type download snaptube apk. Why apk, well, because APK in its acronym is the same as android application package. Which means, that the file with that extension, will have the packages that our device needs at the moment of being installed. Source.
OK, after writing the name of the application, the same one appears in a kind of list, we select the first one. It begins the search, and we see that it shows us the result, we select the first one that appears to us. We wait a moment, and we observe that we enter the page of the application, presenting the download button. We press it, and as it is logical, it sends us a warning that the file can be harmful, but we tell it to download anyway. The download starts, and if we want to see the weight of the file we press the word details that appears in the message. The screen changes, and we enjoy the download with a weight of 25.82MB. We wait a moment for the download to complete, and when it finishes, another message appears indicating that the file has been downloaded.
Now comes the message to install the application, and in this case there are devices that do not have the option to download from unknown sources. In my case the device I use is the realme 7i, and external applications or with unknown source are installed without problem. In that sense, if your device does not install the application, or otherwise, asks you to activate the option of unknown applications, you can do it by entering the phone settings, then we go to Security, then locate allow to install unknown sources or applications and activate it. Once this procedure is done, we select install, we wait for the message that the application has been installed, and then click open. This application is not malicious, I use it almost every day.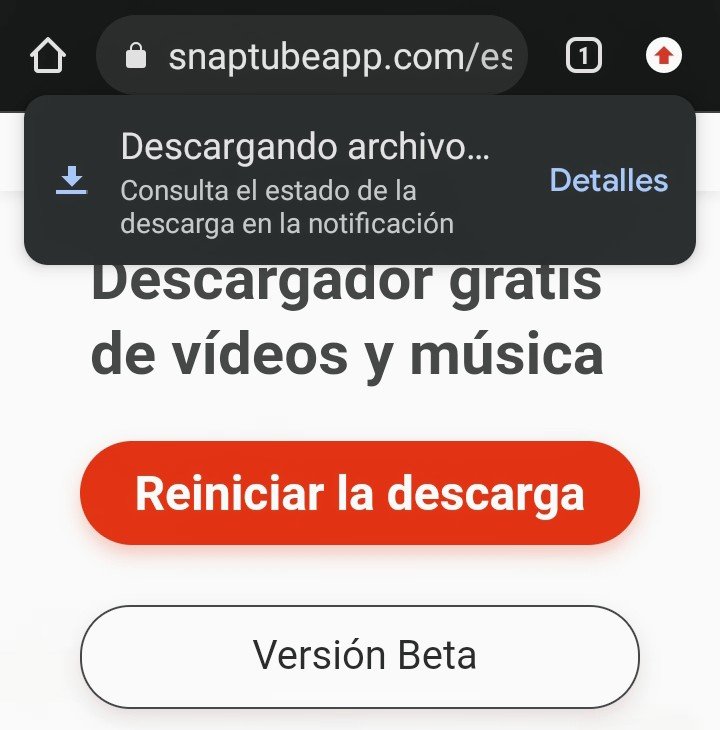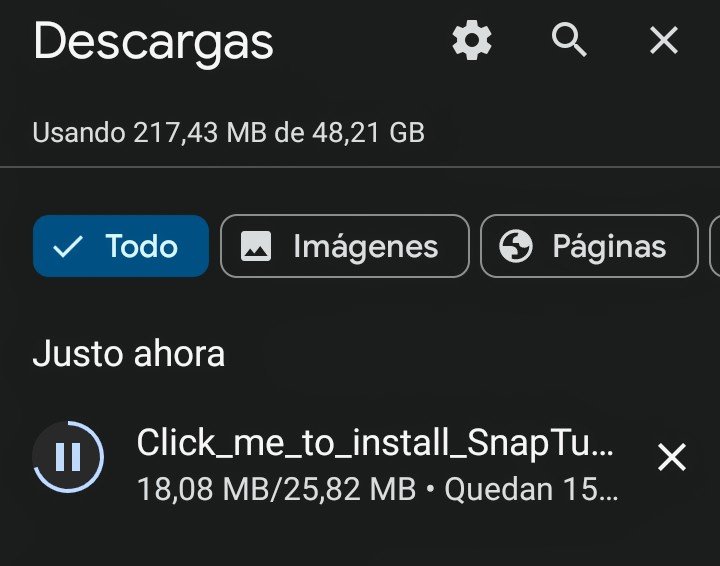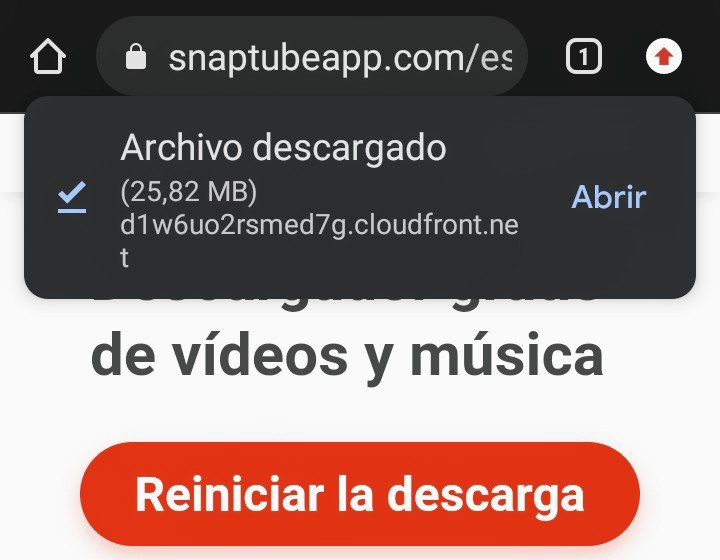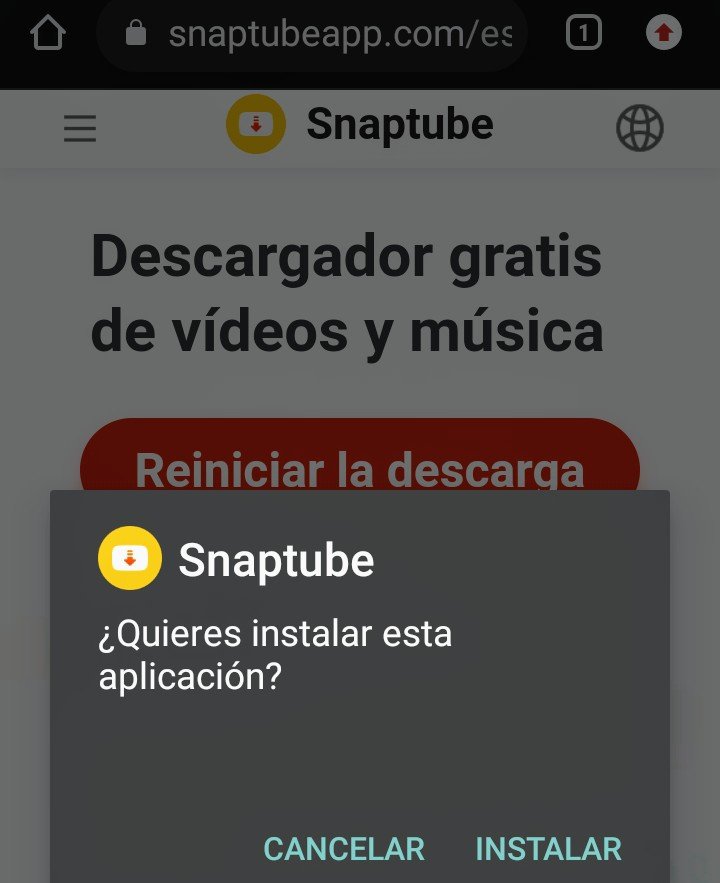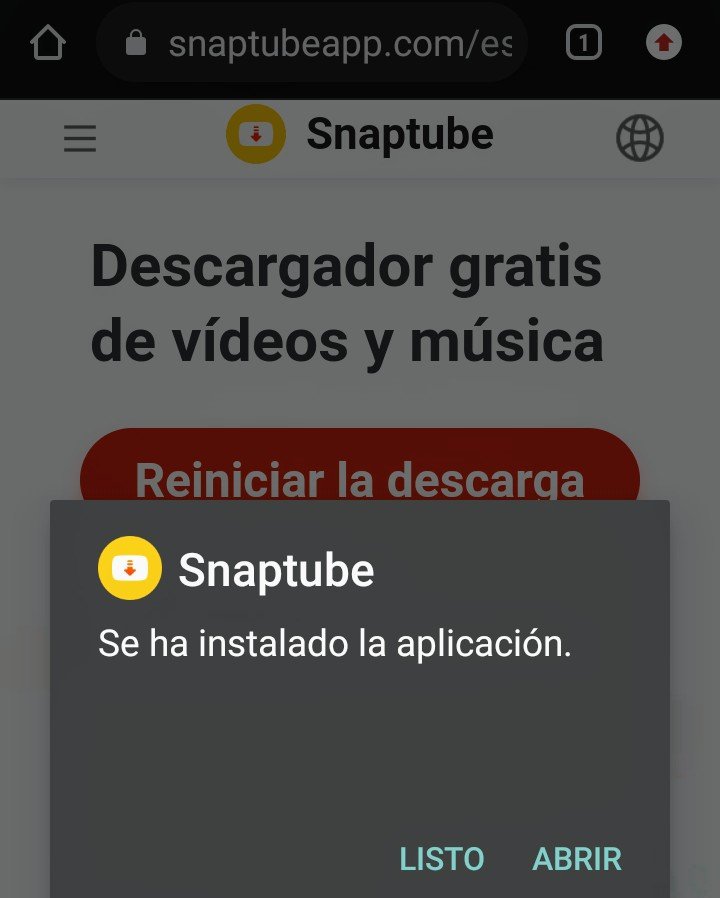 Al abrir la aplicación, nos pide que estemos de acuerdo para utilizar algunas herramientas que vienen con ella. Más adelante les digo de que se trata; entonces presionamos el botón de acuerdo. La aplicación solicita permisos para acceder a la galería y archivos afines, lo propio hace internamente el android. En ambos casos seleccionamos permitir. Ya en la pantalla principal de Snaptube, vemos las redes sociales que están vinculadas a ella, y desde donde podremos extraer algún material audiovisual. En la parte inferior tenemos 3 botones, el primer es inicio, ya estamos en él; la opción mis archivos, es donde se ubican todos los archivos que hemos descargado. Entramos en mis archivos, y allí también tenemos 3 opciones; descargar donde están todos los videos, películas, musicales, mp3, etcétera, que hemos descargado.
En el apartado de música, se encuentran todos los archivos de audio que tenemos en nuestro dispositivo. Y lógicamente En la sección video, podemos observar los videos que están almacenados en el teléfono. Ahora le toca a la opción Yo, y es aquí donde podemos iniciar sesión con nuestra cuenta de Facebook o Google. En mi caso la vinculé con mi cuenta de Facebook, por lo que lógicamente seleccioné esa alternativa. A continuación nos muestra la cuenta, y si deseamos continuar, claro que sí. Nos pide que coloquemos un nombre y le das siguiente. Luego masculino en mi caso, de nuevo siguiente. Los dos pasos anteriores son públicos, a diferencia del paso de la fecha de nacimiento que no lo es. Ubicamos la fecha, luego siguiente y listo hemos iniciado sesión en snaptube, la aplicación está personalizada.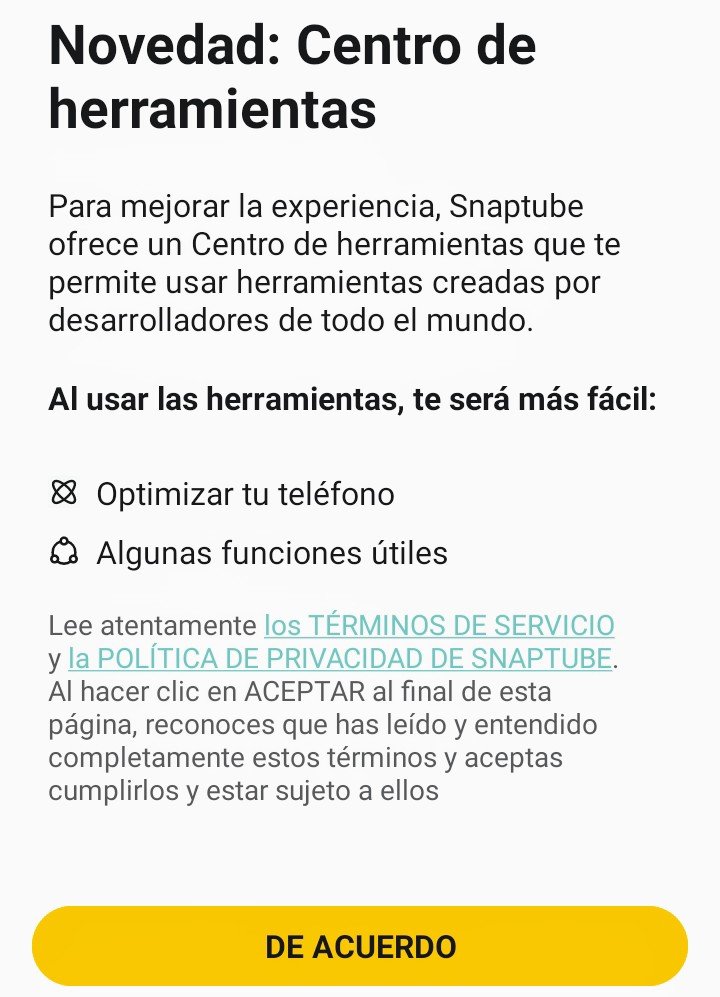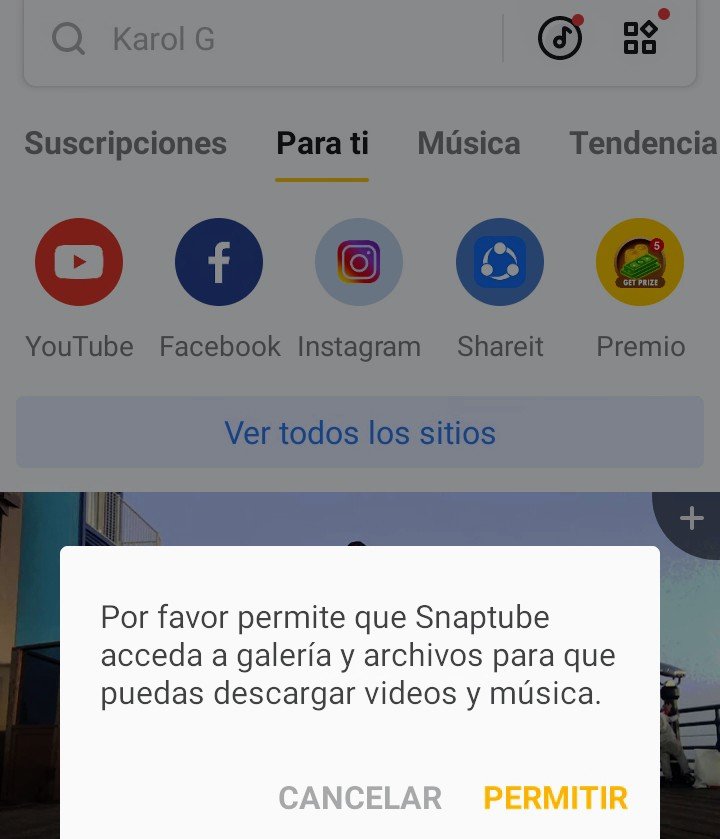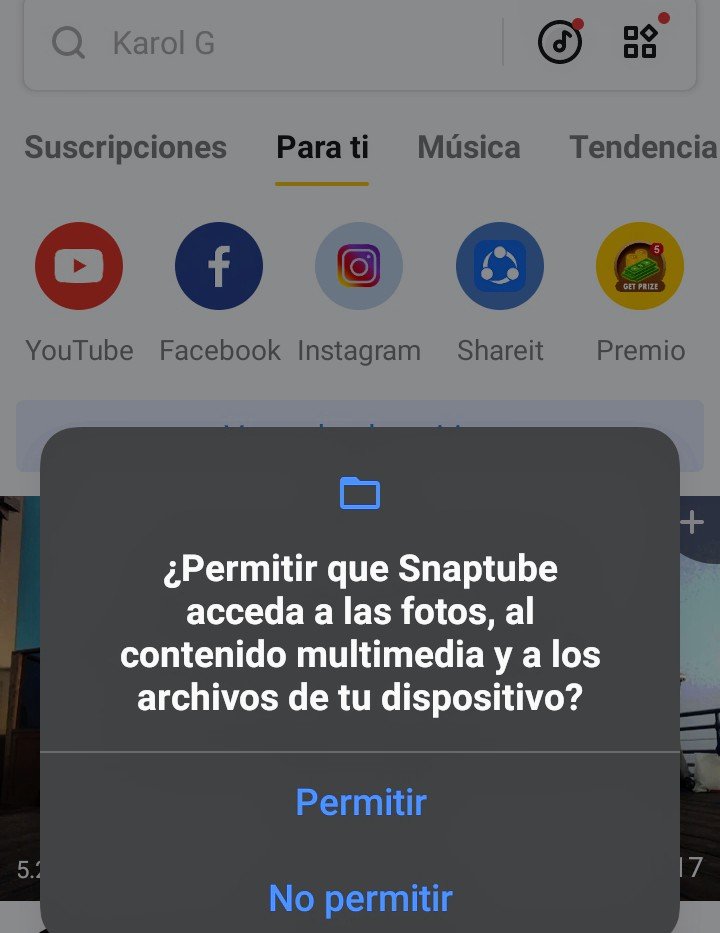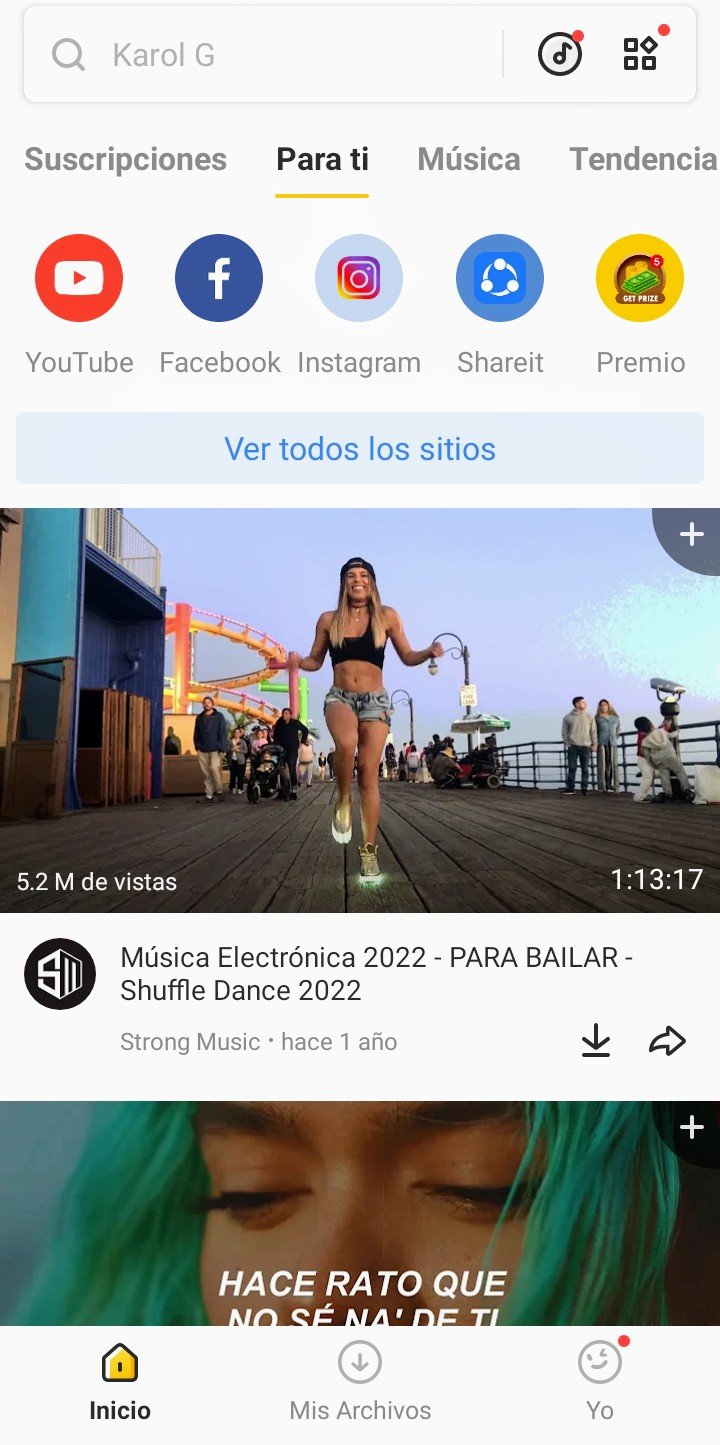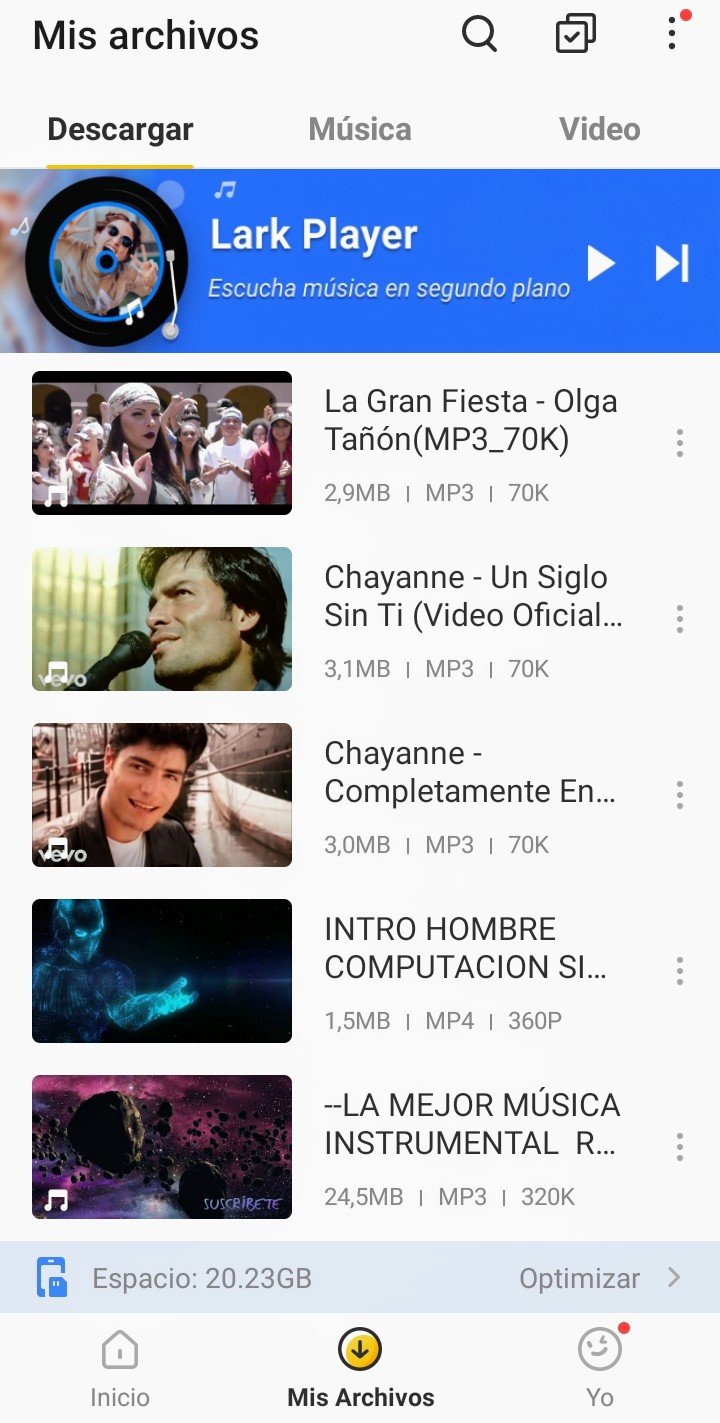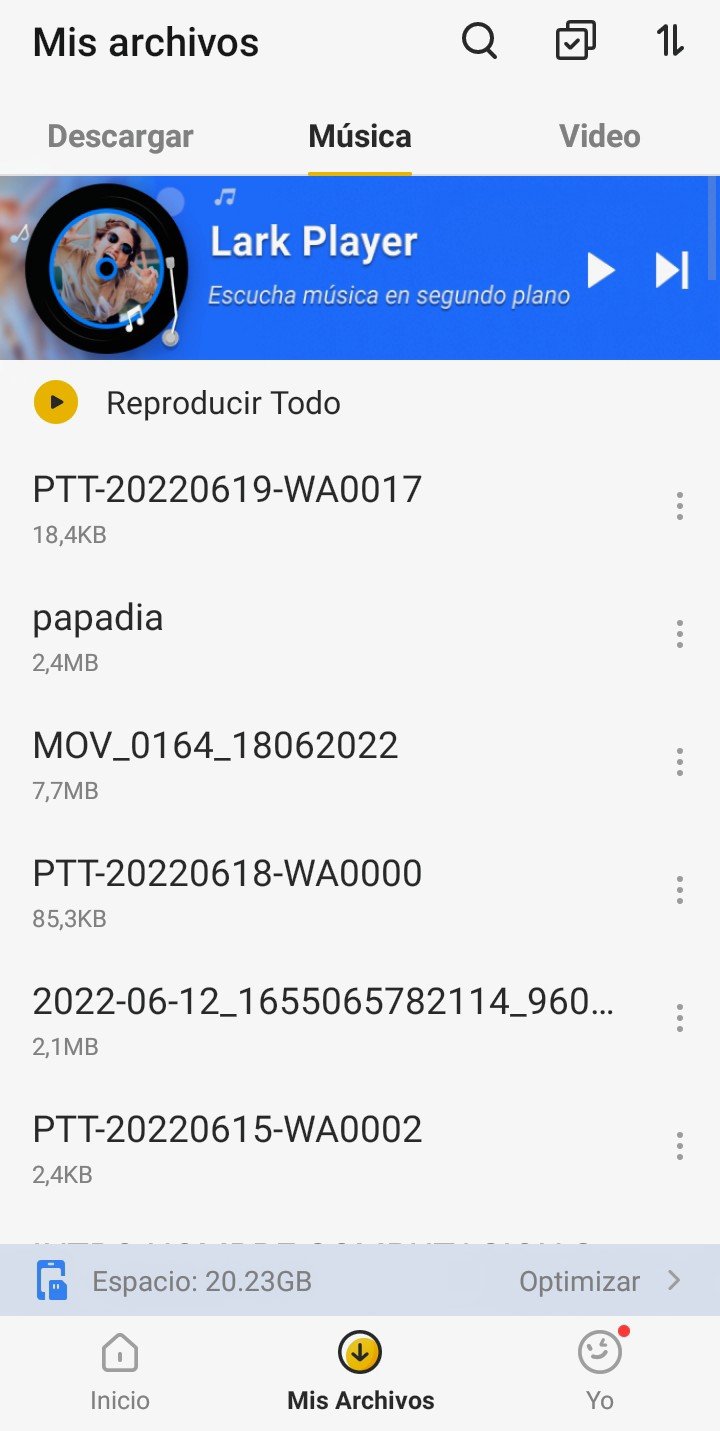 When we open the application, it asks us to agree to use some tools that come with it. Later I will tell you what they are; then we press the agree button. The application asks for permissions to access the gallery and related files, so does the android internally. In both cases we select allow. Already on the main screen of Snaptube, we see the social networks that are linked to it, and from where we can extract some audiovisual material. At the bottom we have 3 buttons, the first one is home, we are already in it; the option my files, is where all the files that we have downloaded are located. We enter in my files, and there we also have 3 options; download where are all the videos, movies, musicals, mp3, etc., that we have downloaded.
In the music section, we can find all the audio files that we have in our device. And logically In the video section, we can observe the videos that are stored on the phone. Now it's time for the Me option, and this is where we can log in with our Facebook or Google account. In my case I linked it with my Facebook account, so logically I selected that alternative. Next it shows us the account, and if we want to continue, of course we do. It asks us to enter a name and you press next. Then male in my case, again next. The two previous steps are public, unlike the step of the date of birth that is not. We place the date, then next and ready we are logged in snaptube, the application is customized.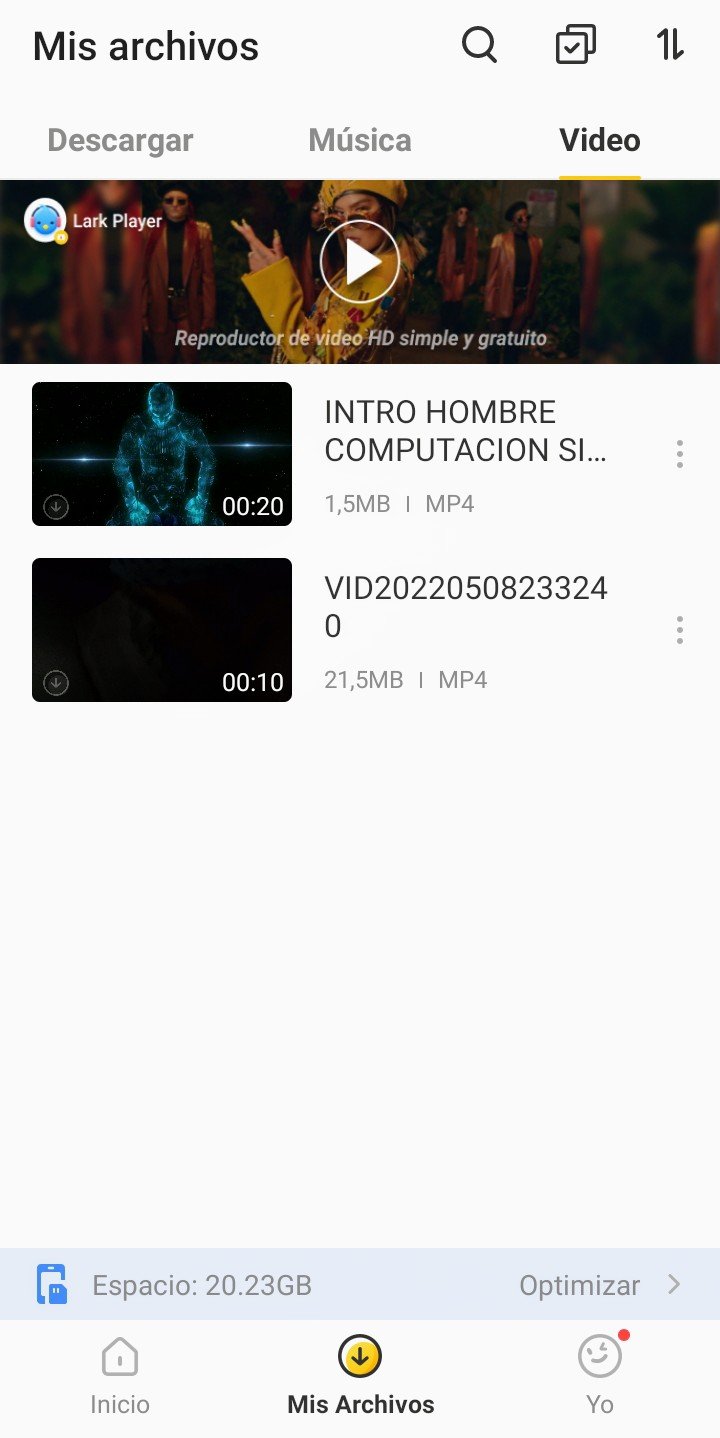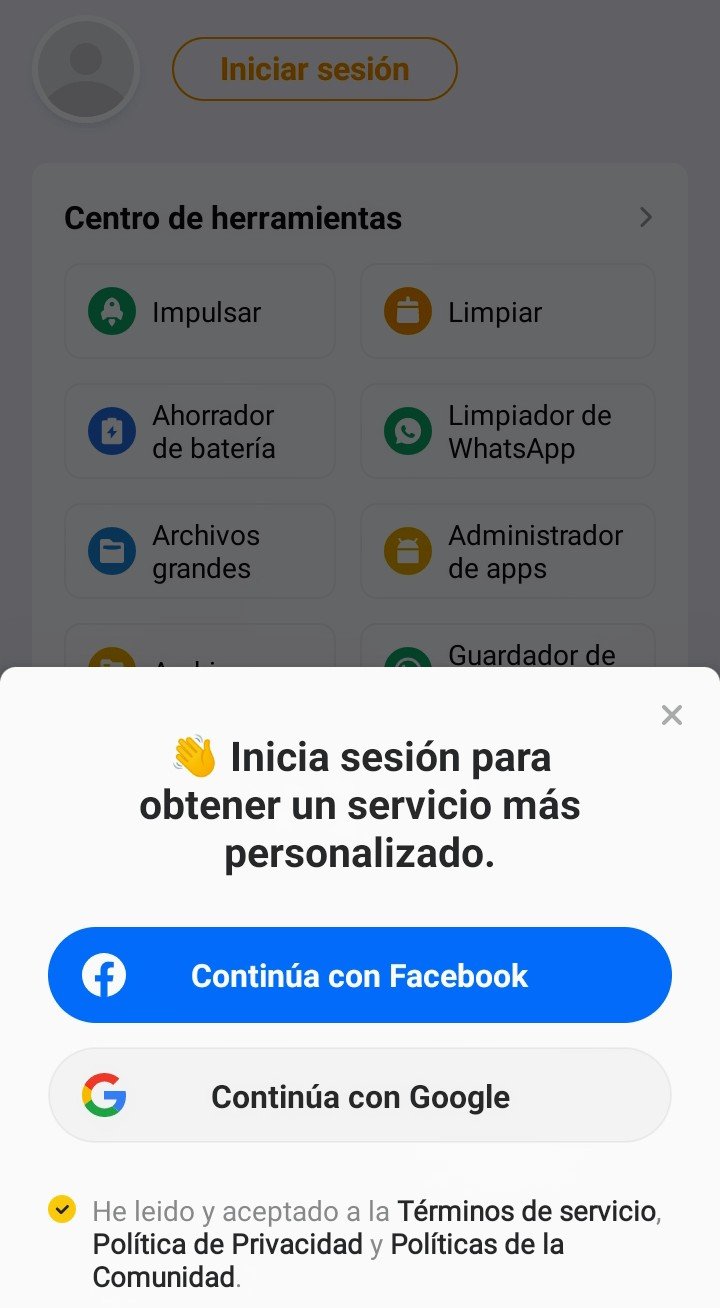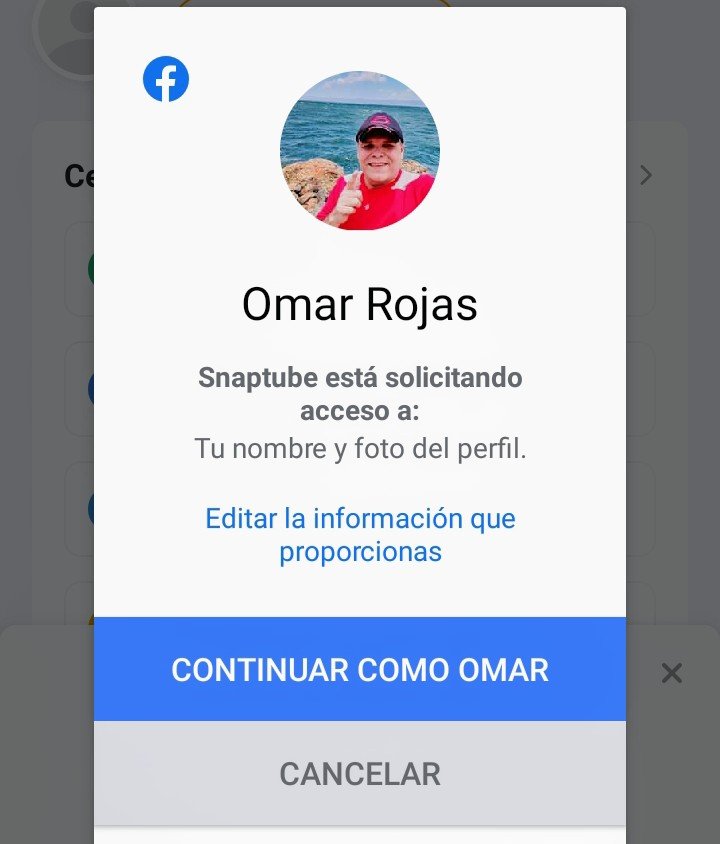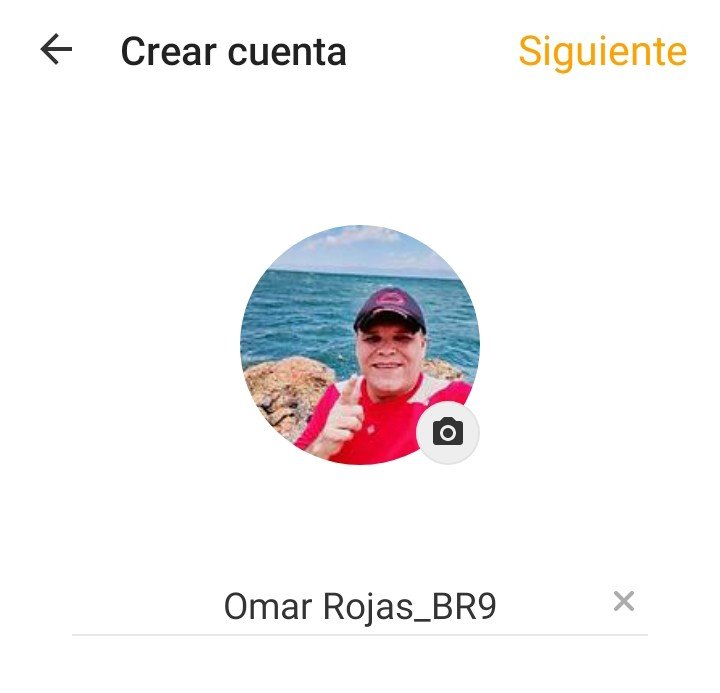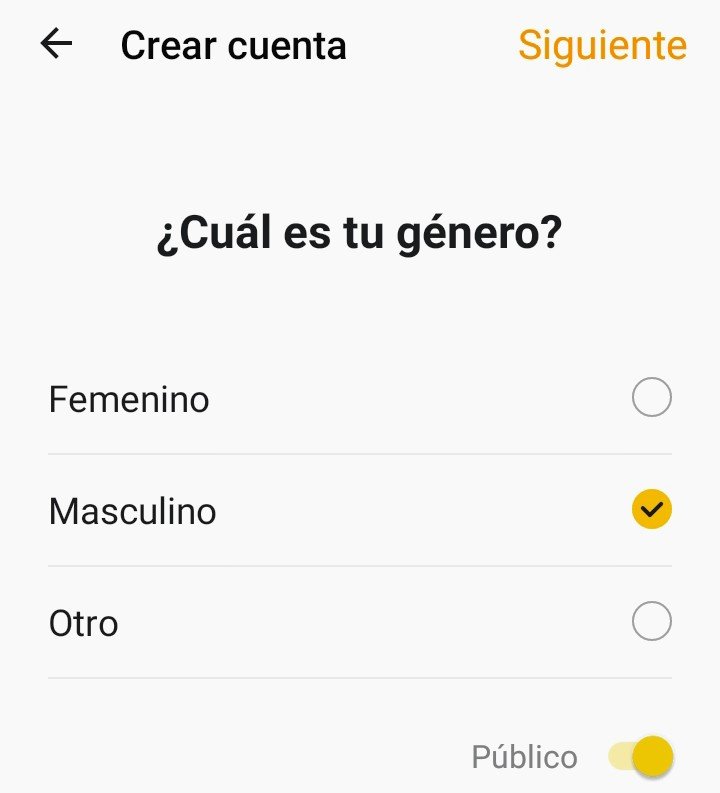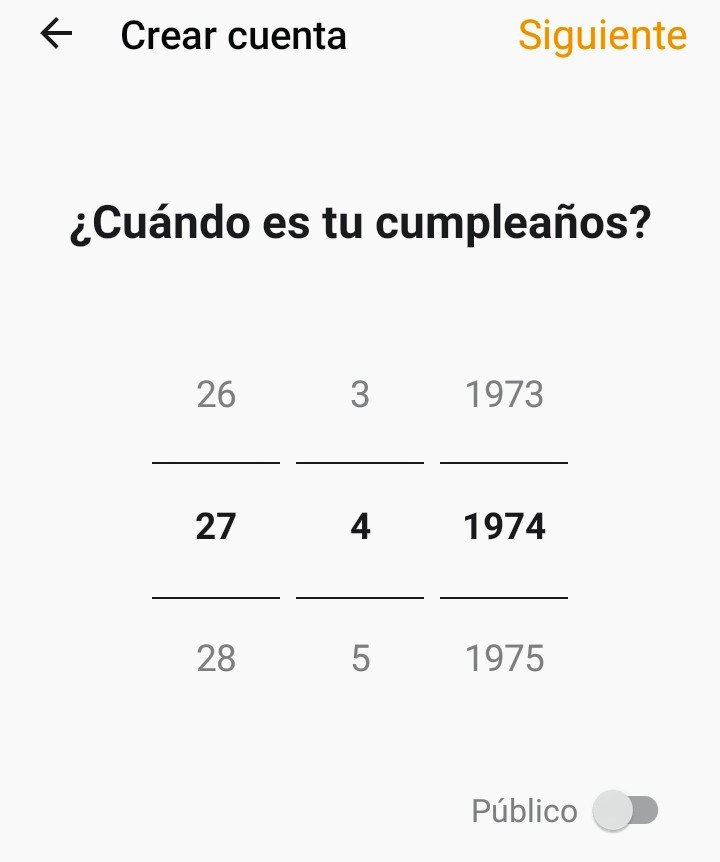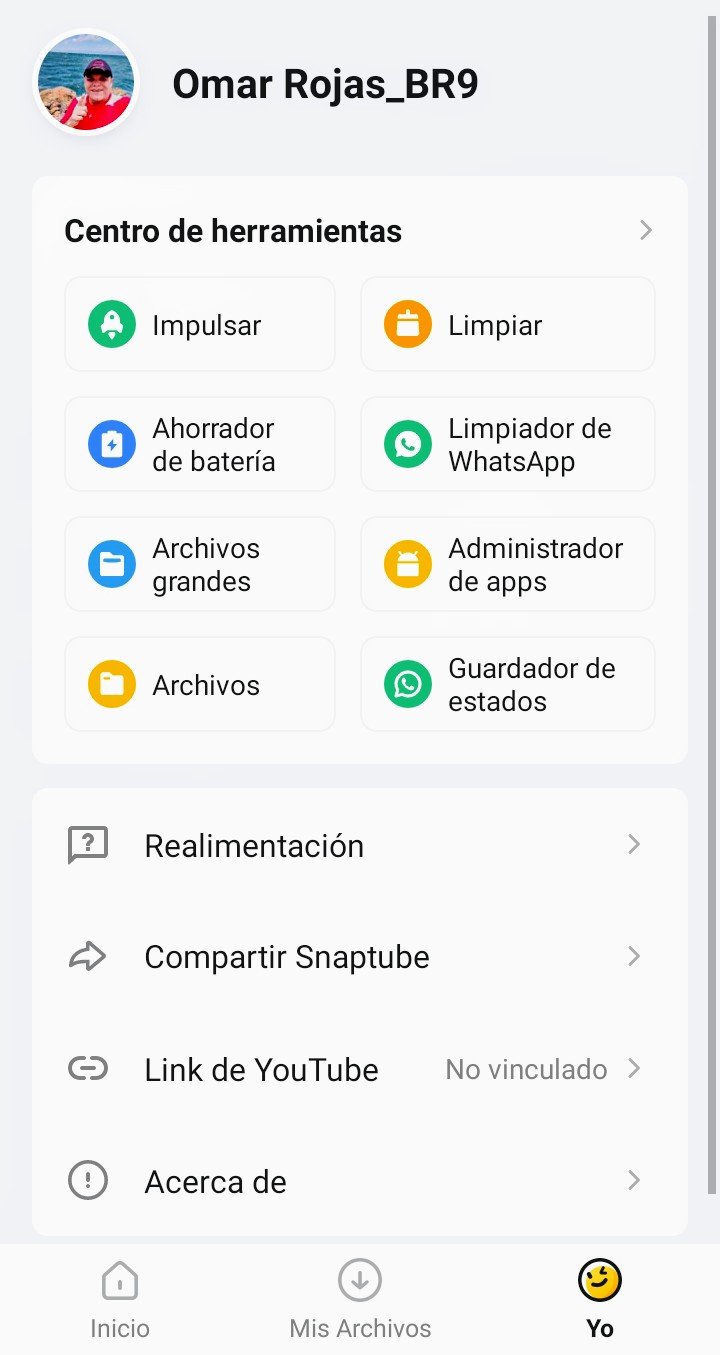 Llego el paso que nos interesa, y para ello presionamos la casita para volver al inicio. En la parte superior tenemos una barra de búsqueda, y es allí donde debemos escribir lo que deseamos buscar. Por ejemplo, tecleamos música instrumental sin copyright, presionamos la lupa, esperamos la búsqueda, y se nos presenta el listado que tiene que ver con lo que deseamos. Pueden observar, que al lado de cada opción existe una flecha delgada que mira hacia abajo. Eso indica que podemos descargar directamente desde allí; sin embargo, como a mi me gusta ver y escuchar primero lo me voy a descargar, entonces simplemente selecciono el material que nos interesa. En la pantalla siguiente, además del video que inicia su reproducción, tenemos debajo de él dos opciones, compartir, sin quieres transmitir la dirección del video a cualquier otra red social. Y descargar, lógicamente para bajar el video. La opción que nos interesa entonces es descargar, por lo que presionamos allí.
En la pantalla siguiente, nos podemos dar cuenta que se presentan diversas opciones de descarga, con sus respectivos formatos y diferentes calidades. Sin queremos descargar el video como tal, seleccionamos una de las opciones de video, para este ejemplo seleccioné la de 360P. De mediato, nos lleva a la pantalla del video, por lo que con el botón de retroceso nativo del teléfono, nos devolvemos a la pantalla donde está el listado de videos. Nos fijamos en la flecha ubicada en la parte superior derecha, la cual se encuentra en movimiento porque algo está descargado. La seleccionamos, y de inmediato nos lleva a la pantalla de mis archivos, allí vemos el video descargado, el cual pesa 2.2MB, su extensión es MP4, y su resolución 360P. Para verificar, nos vamos a la aplicación nativa de video, entramos, y vemos en primer lugar el video descargado.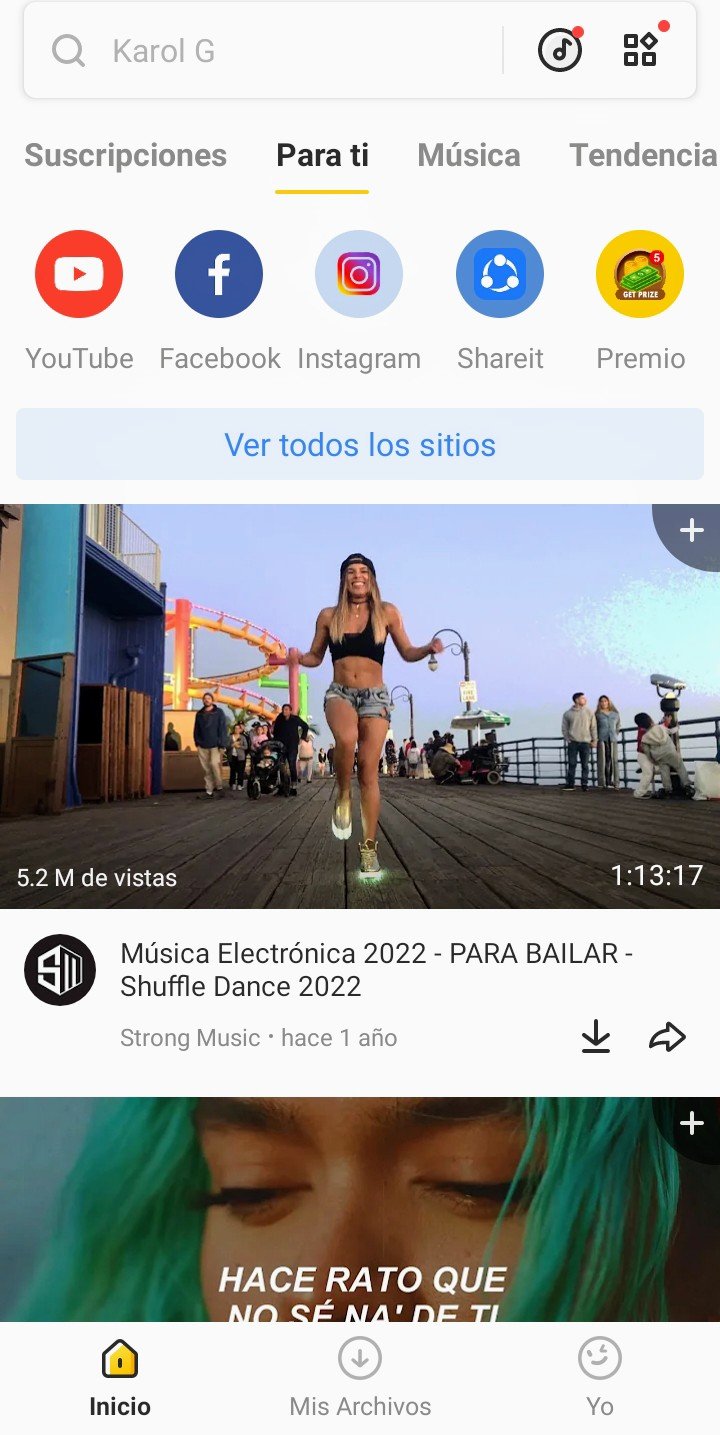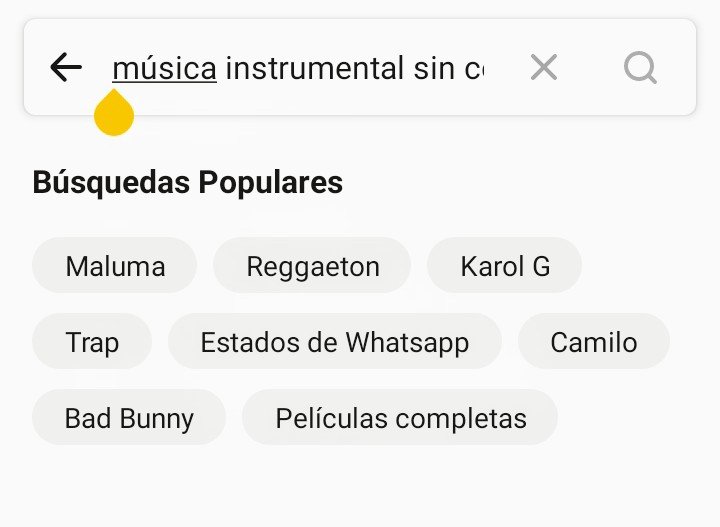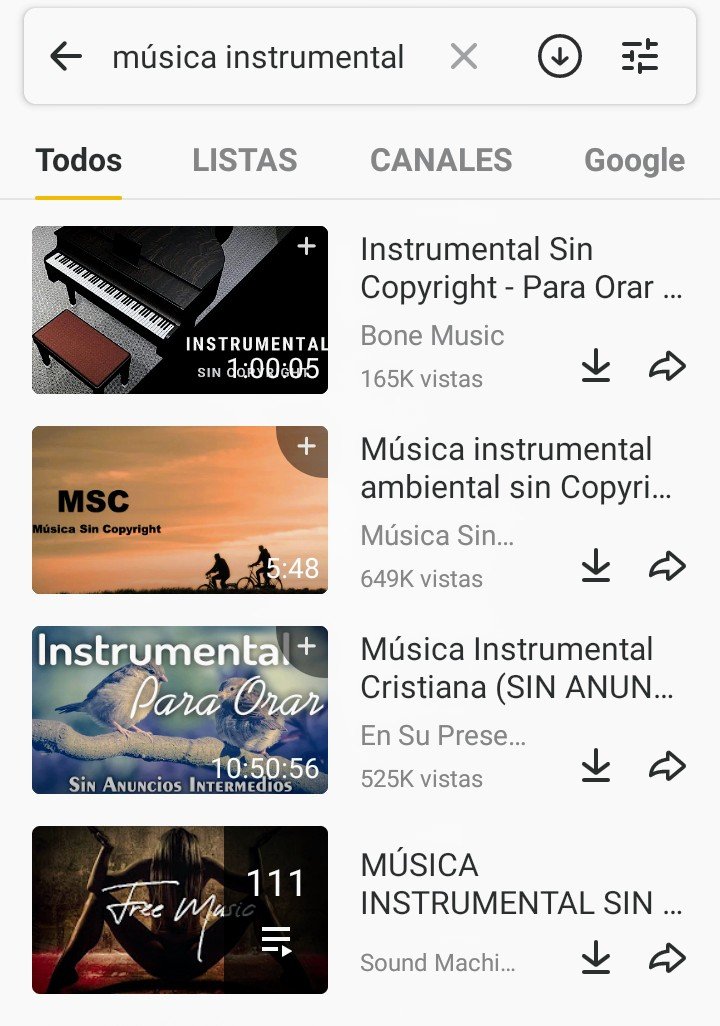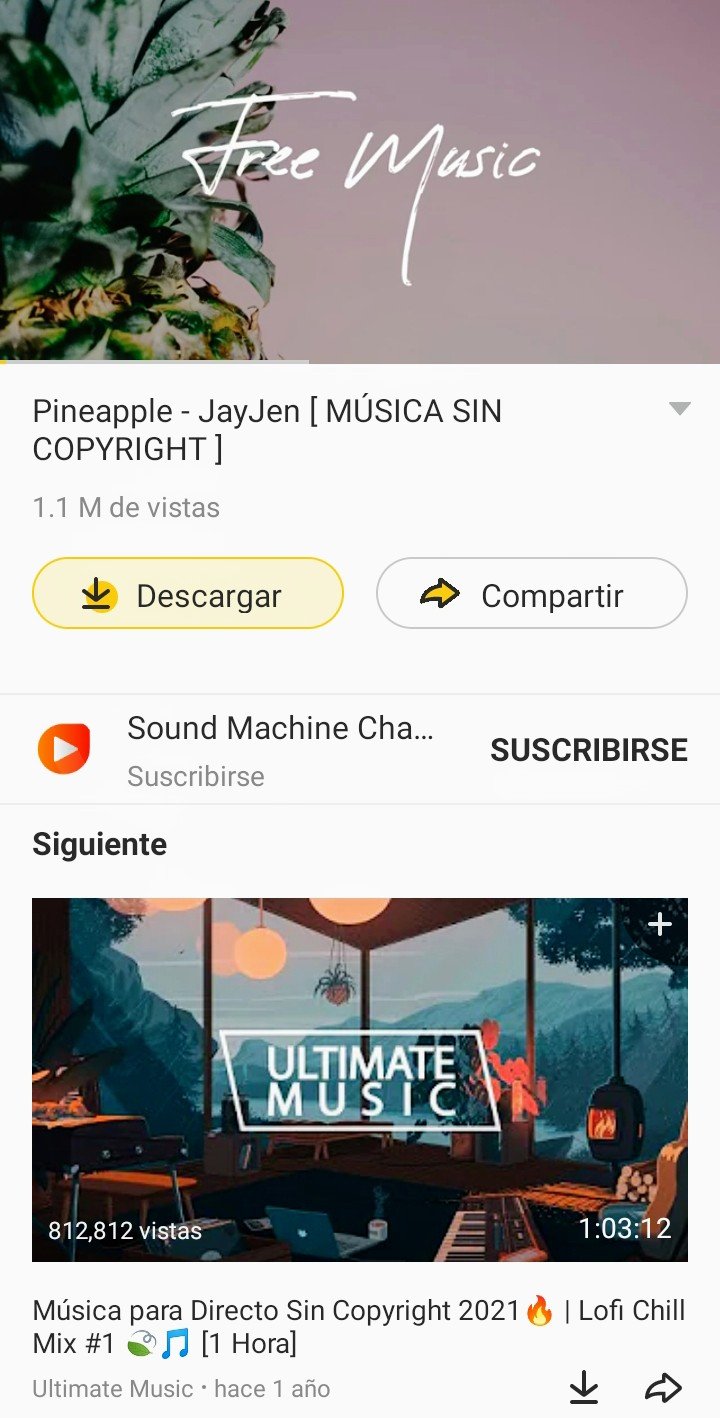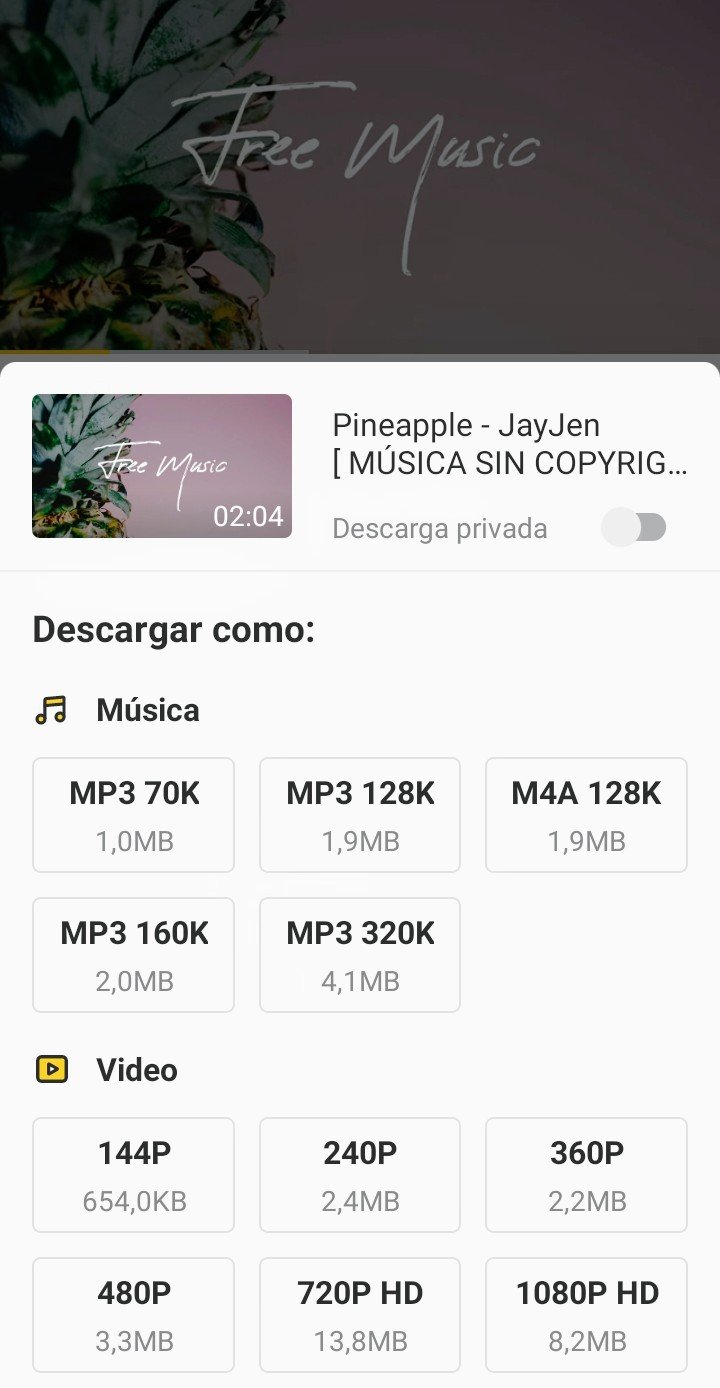 Now is the step that interests us, and for this we press the little box to go back to the beginning. In the upper part we have a search bar, and it is there where we must write what we want to look for. For example, we type in instrumental music without copyright, press the magnifying glass, wait for the search, and we are presented with the list that has to do with what we want. You can see that next to each option there is a thin arrow pointing downwards. This indicates that we can download directly from there; however, as I like to see and listen to what I am going to download first, then I simply select the material we are interested in. On the next screen, in addition to the video that starts playing, we have below it two options, share, if you want to transmit the address of the video to any other social network. And download, logically to download the video. The option that interests us then is to download, so we press there.
In the following screen, we can see that there are several download options, with their respective formats and different qualities. If we want to download the video as such, we select one of the video options, for this example I selected 360P. Immediately, it takes us to the video screen, so with the native back button of the phone, we go back to the screen where the video list is. We look at the arrow located at the top right, which is in motion because something is downloaded. We select it, and it immediately takes us to the screen of my files, there we see the downloaded video, which weighs 2.2MB, its extension is MP4, and its resolution is 360P. To verify, we go to the native application of video, we enter, and we see in first place the downloaded video.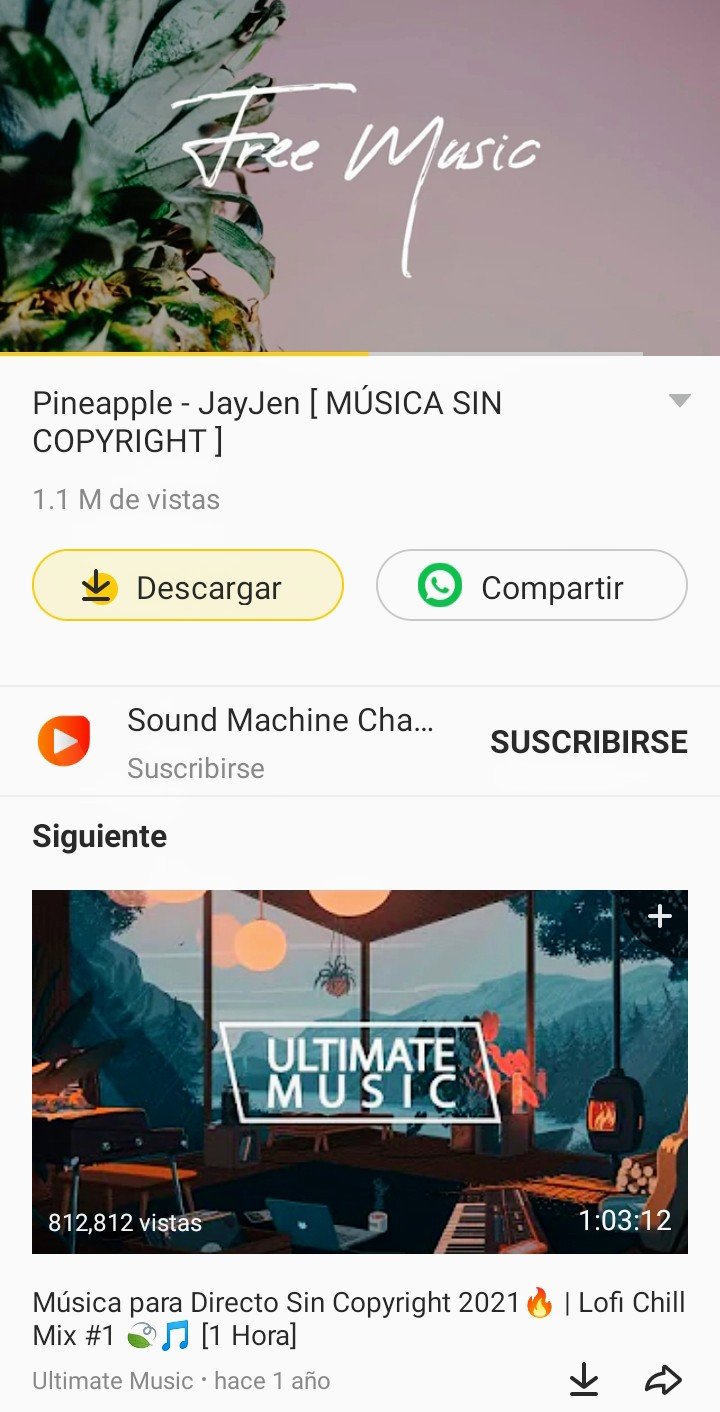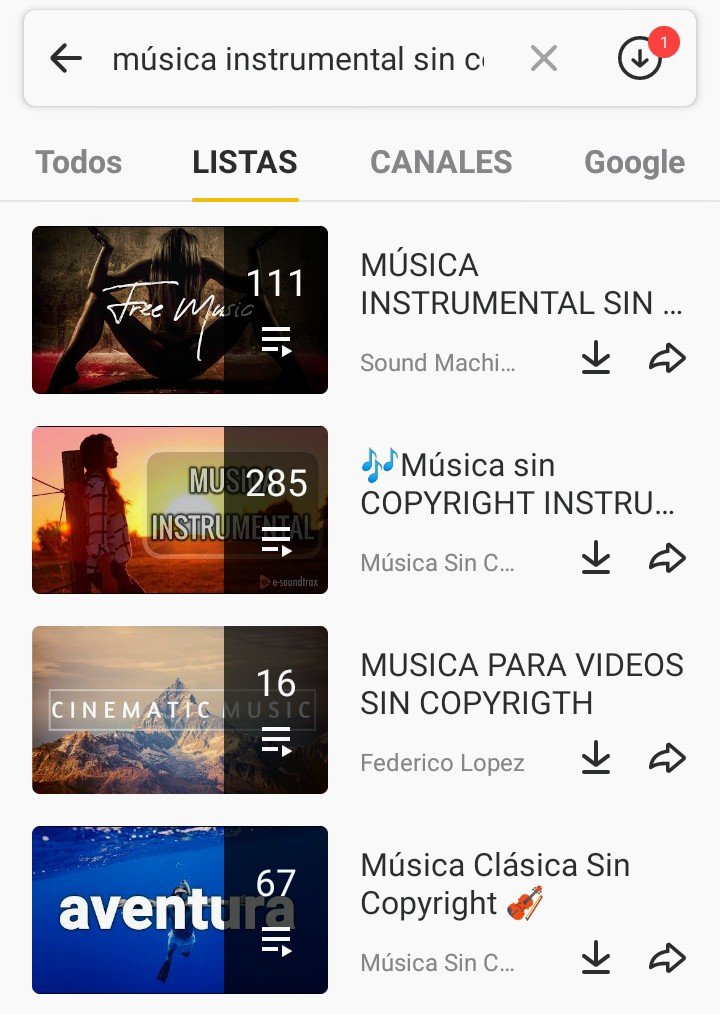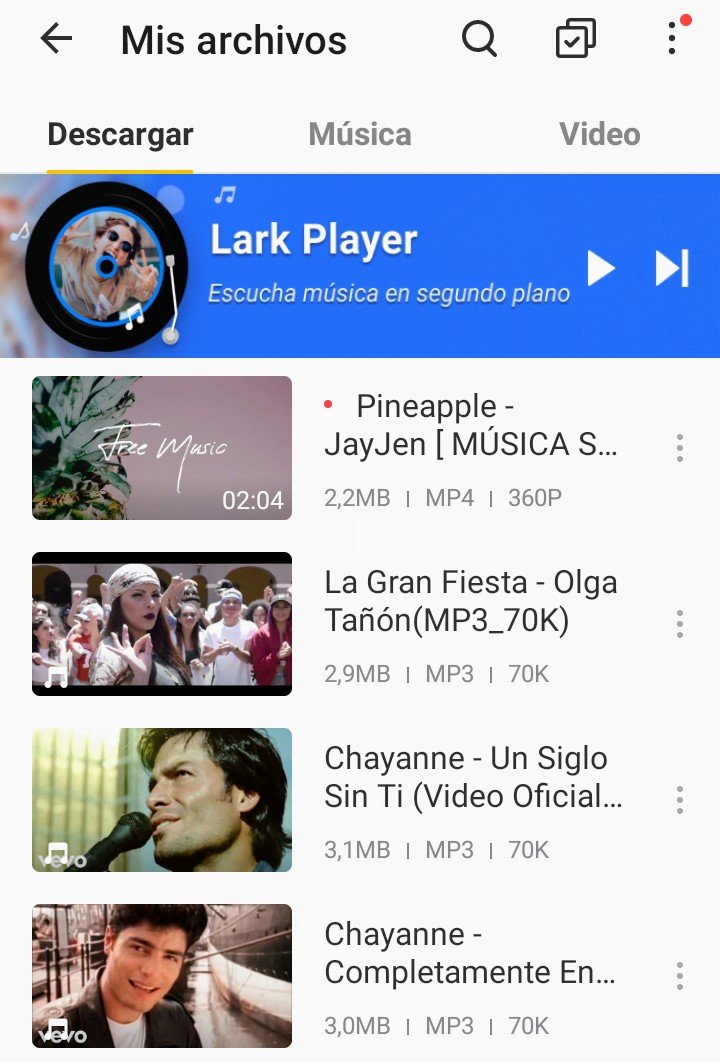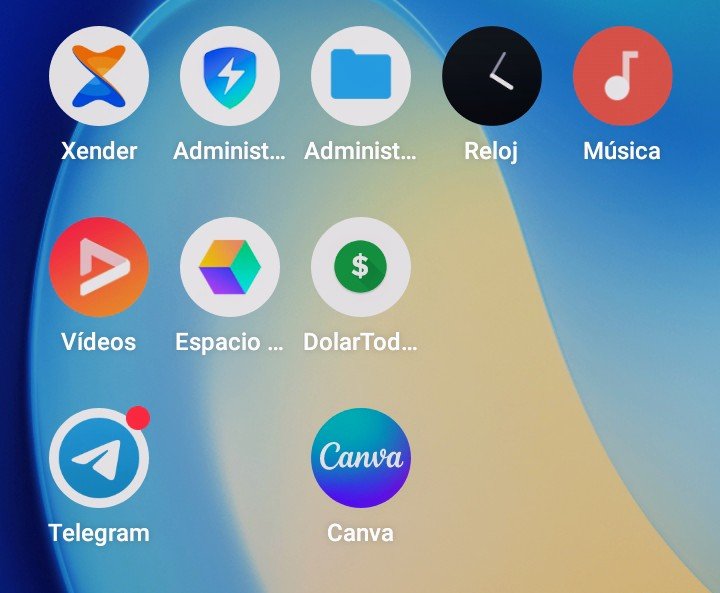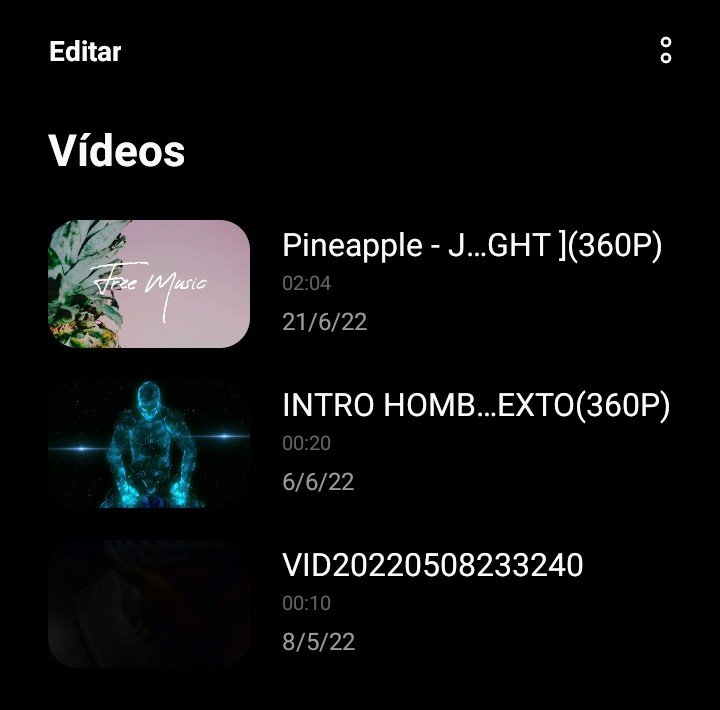 Presionamos el botón de multitarea de nuestro teléfono para regresar a snaptube. Retrocedemos, porque ahora solo quiero descargar el audio MP3 de un vídeo distinto. Seleccionamos por ejemplo, Música de Viaje, nos lleva al video, y como en el caso anterior, presionamos descargar. Nuevamente nos aparecen las opciones de descarga, pero en este caso deseo solo el audio MP3, porque quiero usarlo como fondo musical en otro video propio. De las opciones presentes, selecciono MP3 128K, devolviéndonos a la pantalla anterior.
Igualmente presionamos en la flecha superior derecha, para que nos lleve a la carpeta mis archivos, y para allá nos vamos. Como te das cuenta, allí tenemos el archivo MP3 descargado, su peso de 3.4MB, archivo MP3, y calidad 128K. ¿Cómo diferencias si es audio o video?; bueno, solo ves las extensiones y listo. Seguidamente, para verificar que el audio funciona, nos dirigimos a la aplicación nativa de música, entramos allí para disfrutar del audio, el cual se ubica en primer lugar.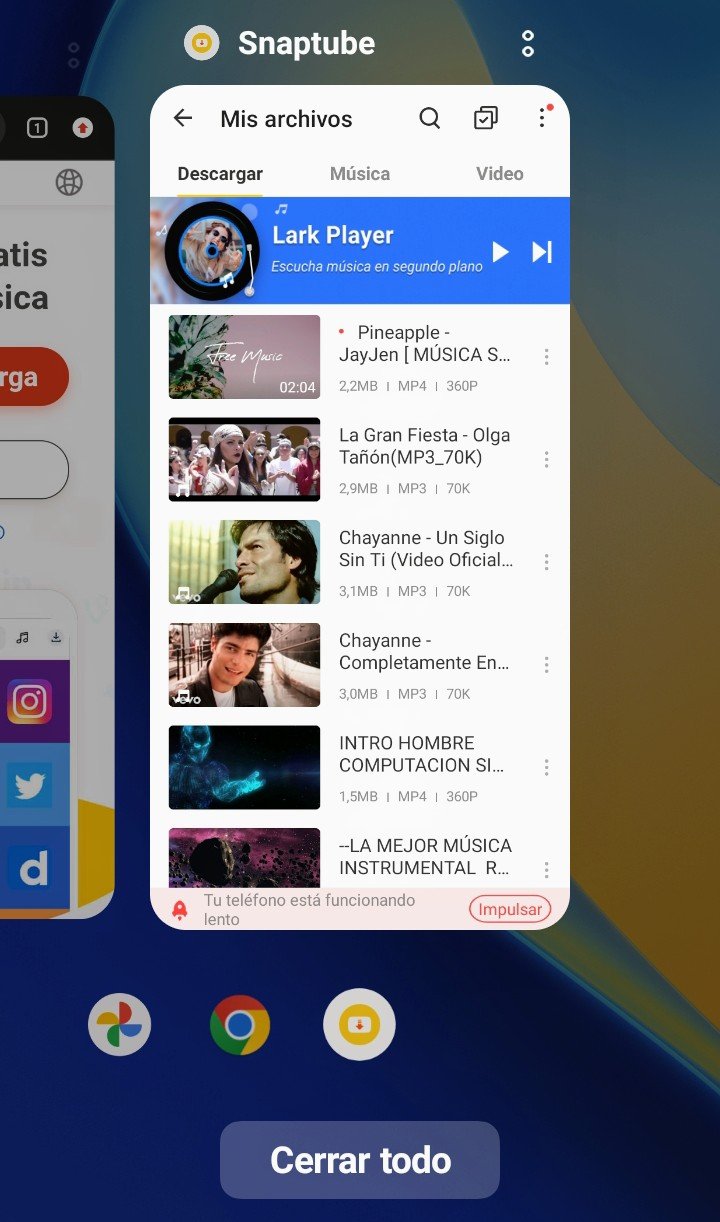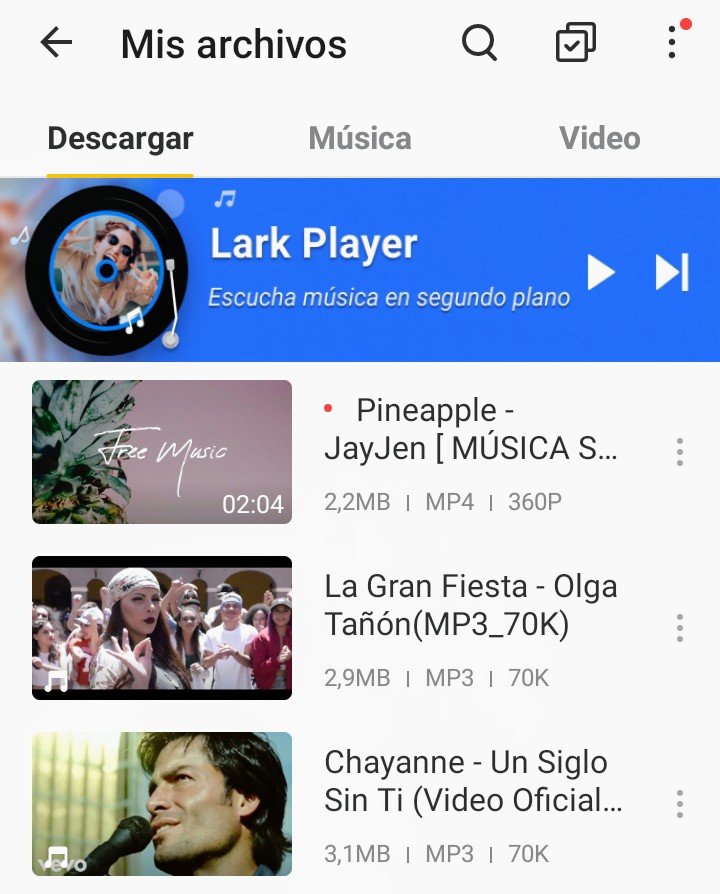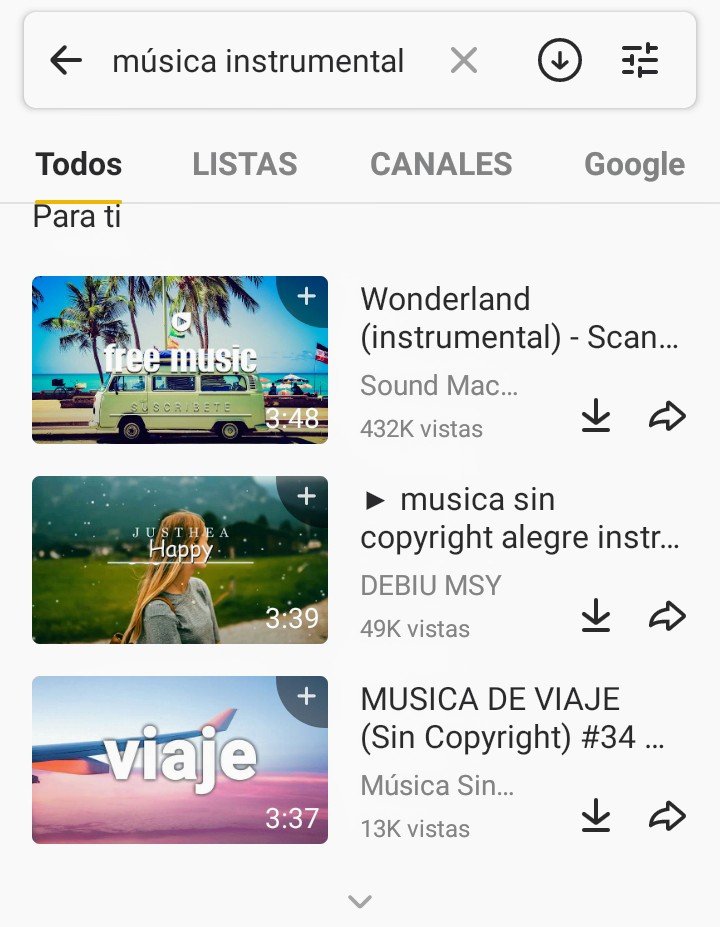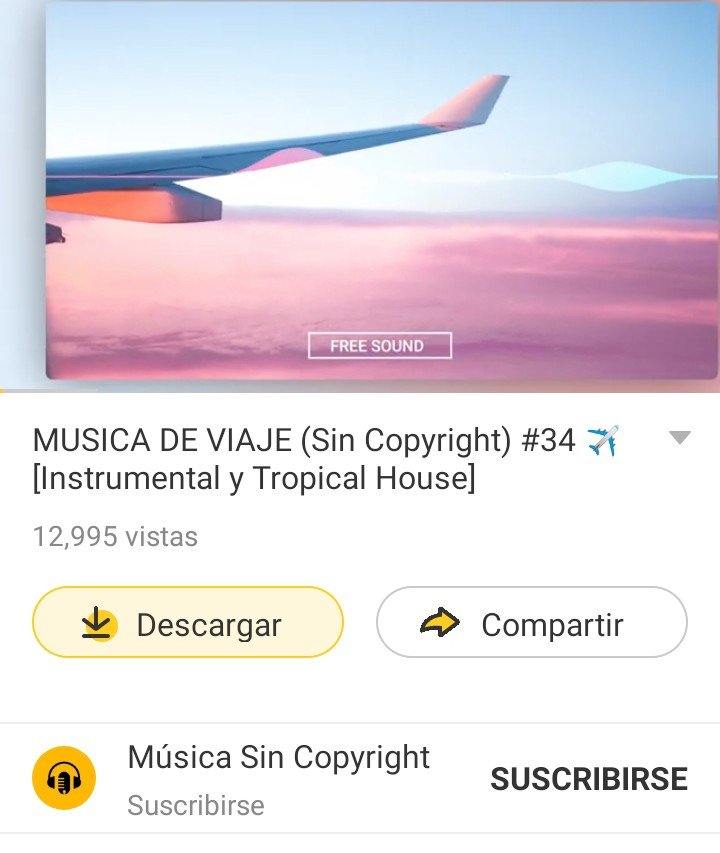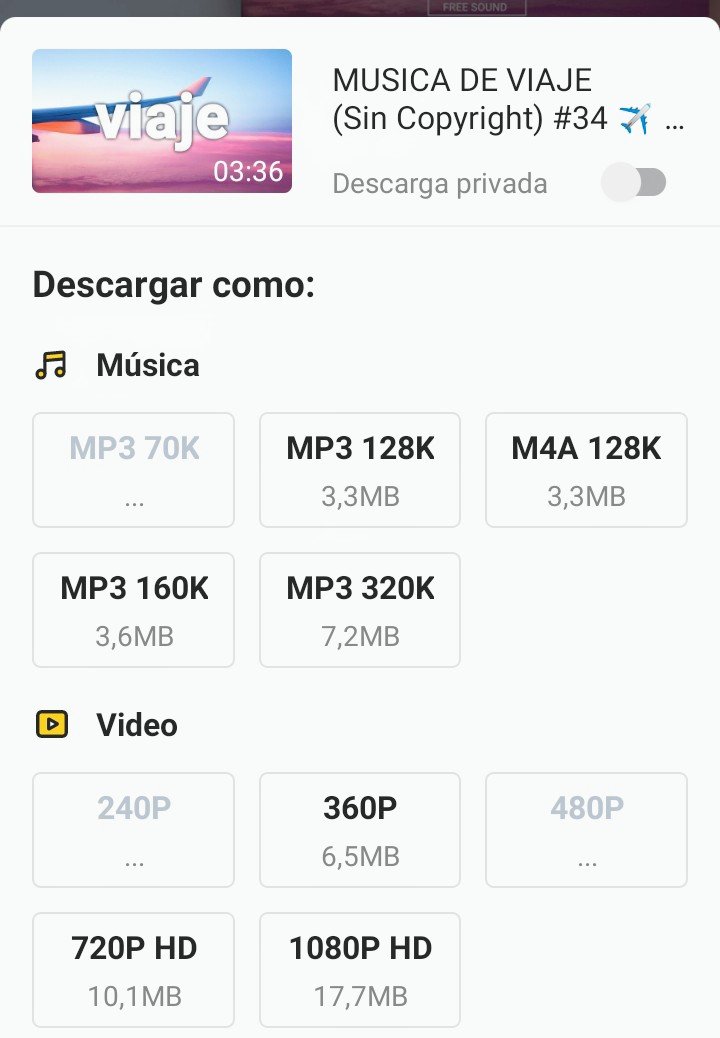 We press the multitasking button on our phone to go back to snaptube. We go back, because now I just want to download the MP3 audio of a different video. We select for example, Travel Music, it takes us to the video, and as in the previous case, we press download. Again the download options appear, but in this case I only want to download the MP3 audio, because I want to use it as background music in another video of my own. Of the present options, I select MP3 128K, returning us to the previous screen.
In the same way we press on the upper right arrow, so that it takes us to the folder my files, and there we go. As you can see, there we have the downloaded MP3 file, its weight is 3.4MB, MP3 file, and 128K quality. How do you tell if it is audio or video; well, you just see the extensions and that's it. Next, to verify that the audio works, we go to the native music application, we enter there to enjoy the audio, which is located in the first place.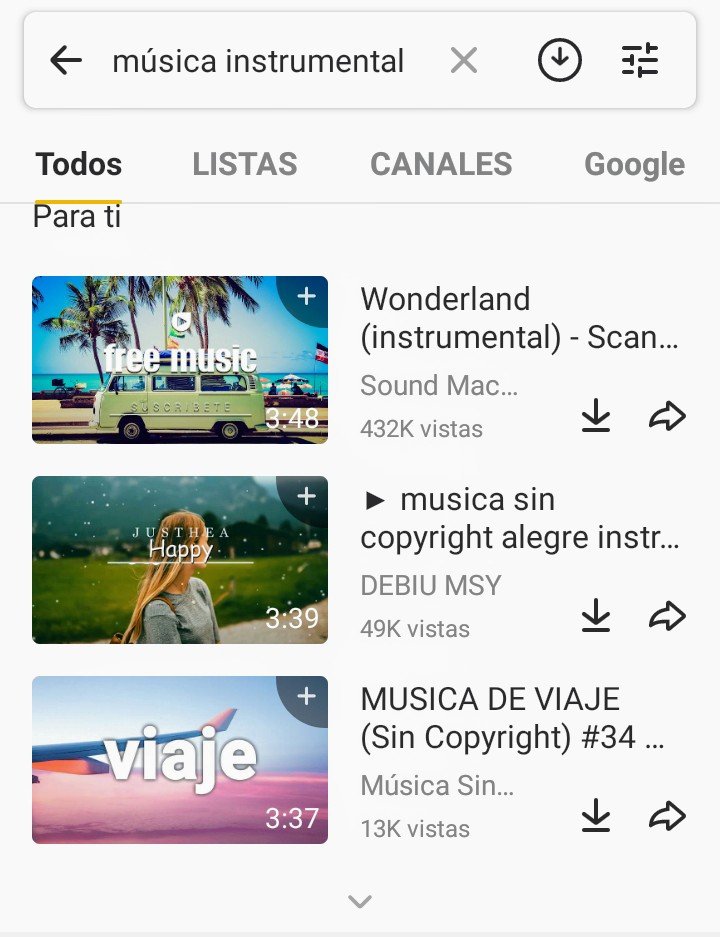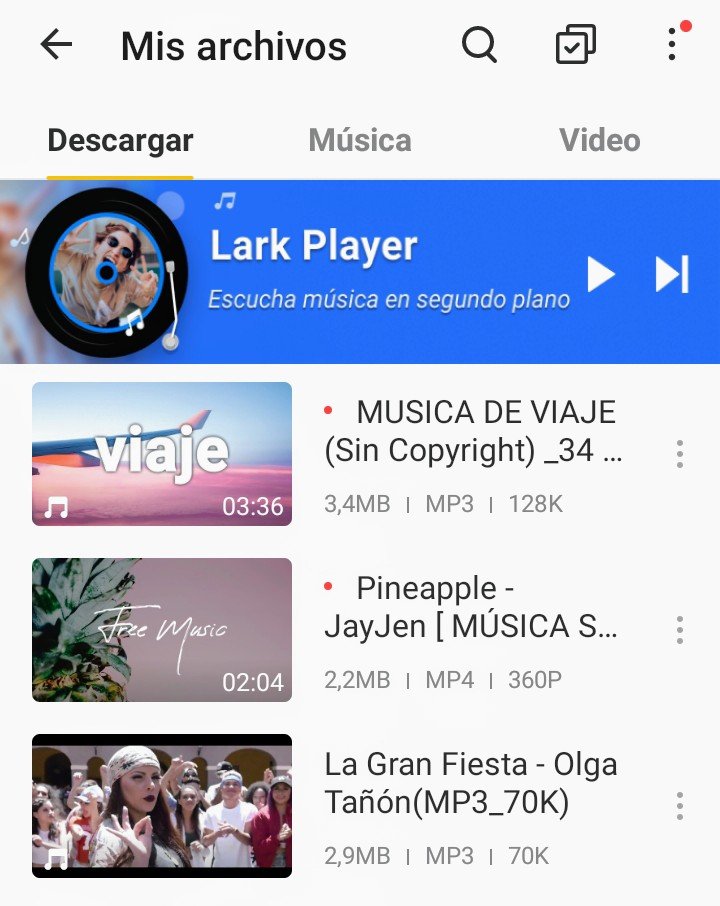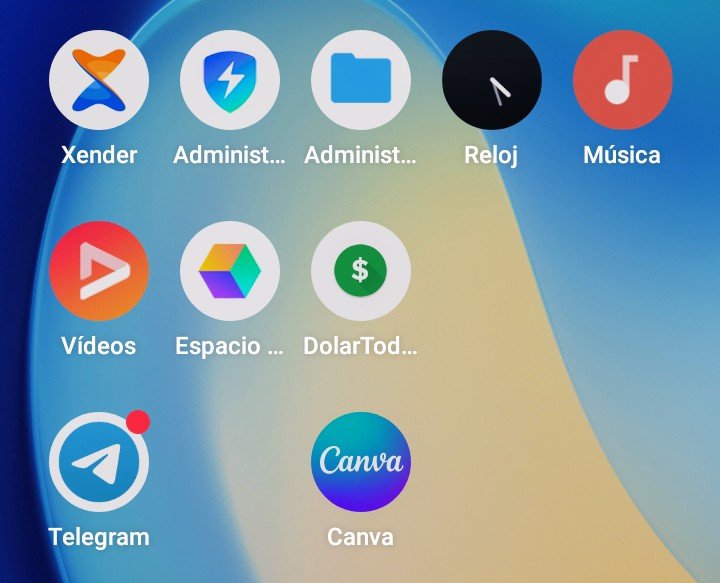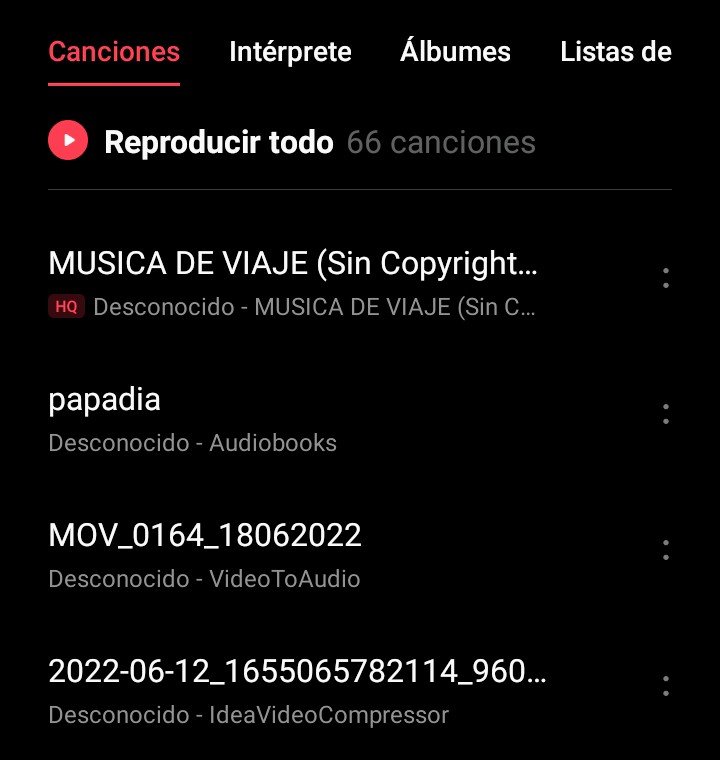 Cuando instalamos la aplicación y la abrimos, debemos recordar que nos presentó un mensaje para aceptar, o estar de acuerdo de que se van a instalar unas herramientas útiles para nuestro teléfono. Bueno, con esto, la aplicación nos instaló en la barra de notificaciones, una barra de herramientas con 4 opciones. La primera, una lupa que nos lleva directamente a la ventana de búsqueda, donde directamente podemos buscar el video o material audiovisual que deseamos. La segunda opción es una escoba, la cual permite eliminar archivos basura. Solo seleccionas la escoba, y te lleva a una pantalla donde automáticamente te indica la cantidad de archivos basura, y el peso de almacenamiento que ocupan. Para eliminarlos, simplemente presionas el botón limpiar basura, la limpia, y pasa a otra pantalla para finalizar.
La tercera opción es impulsar, identificada con un cohete. La presionamos, aparece una pantalla que te indica liberando espacio, y que el dispositivo está trabajando bien, además de decirte que hay aplicaciones que agotan la batería, por lo que las puedes congelar. La opción te dice cuantas aplicaciones puedes congelar, y las marca por ti. Pero si deseas saber cuales son esas aplicaciones, presionamos el botón congelar, o la opción ahorro de batería de la barra principal, y te lleva a la pantalla con esas aplicaciones, donde usted mismo puede desmarcar la que no quiere que se se congele.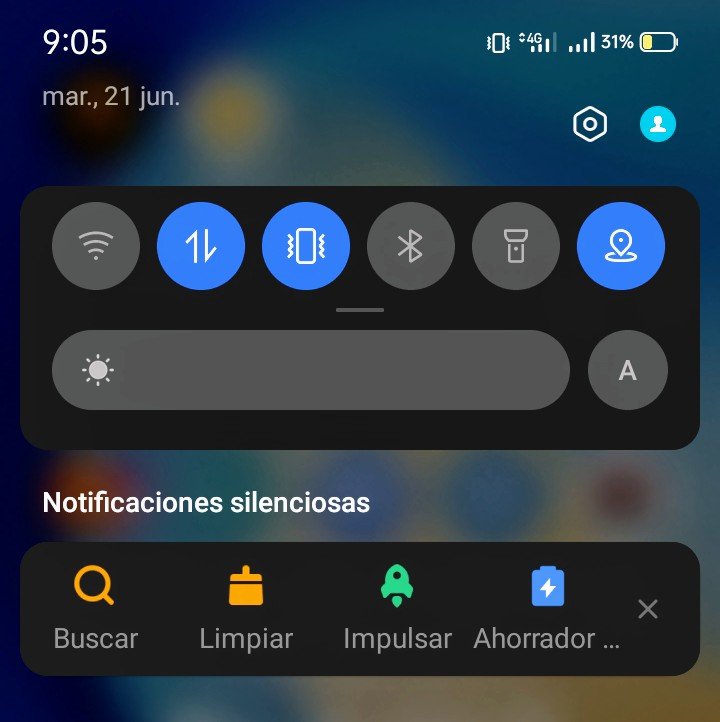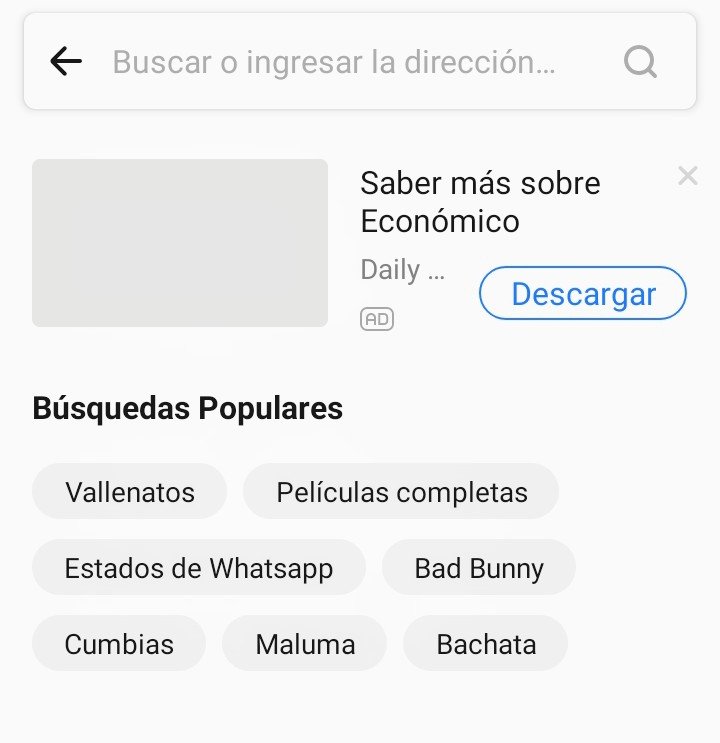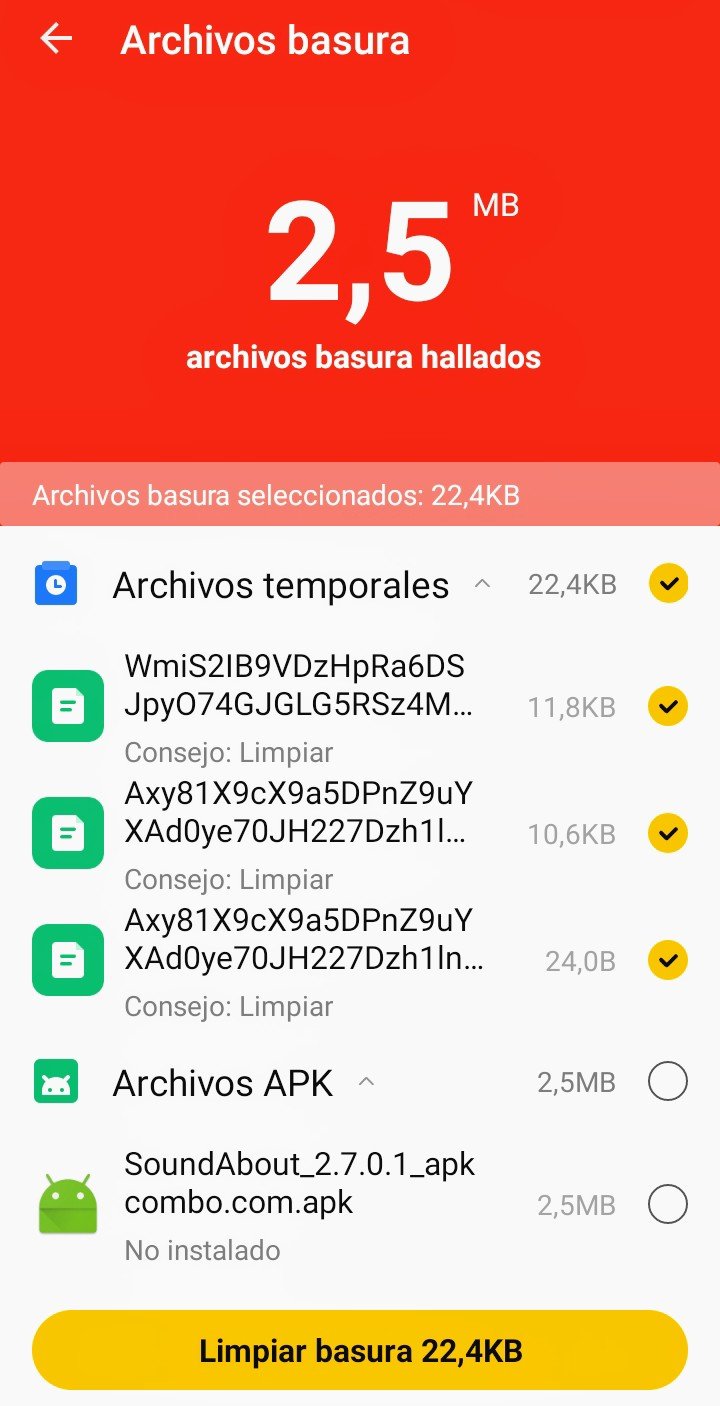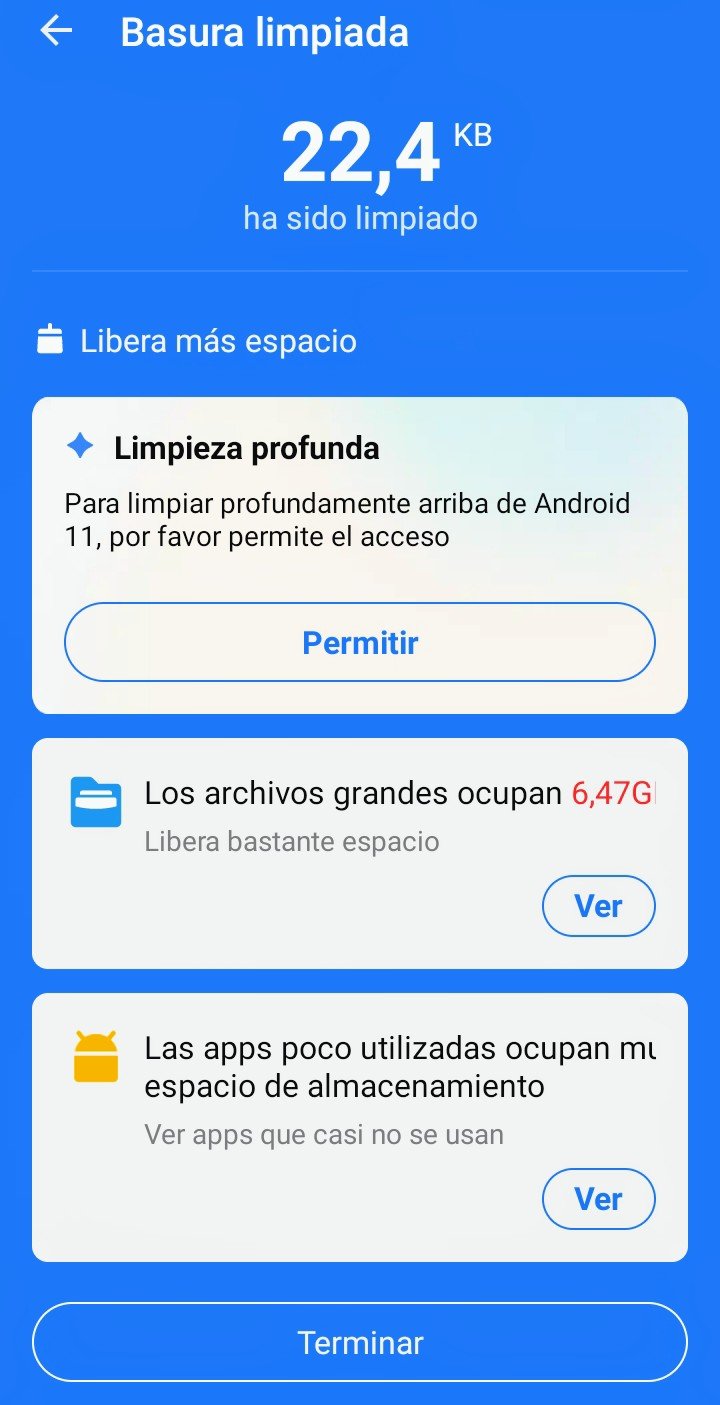 When we installed the application and opened it, we must remember that it presented us with a message to accept, or agree to install some useful tools for our phone. Well, with this, the application installed us in the notification bar, a toolbar with 4 options. The first one, a magnifying glass that takes us directly to the search window, where we can directly search for the video or audiovisual material we want. The second option is a broom, which allows you to delete junk files. You just select the broom, and it takes you to a screen where it automatically indicates the amount of junk files, and the storage weight they occupy. To eliminate them, you simply press the button clean garbage, it cleans it, and it goes to another screen to finish.
The third option is boost, identified with a rocket. We press it, a screen appears that tells you freeing up space, and that the device is working well, and also tells you that there are applications that drain the battery, so you can freeze them. The option tells you how many applications you can freeze, and marks them for you. But if you want to know what those apps are, press the freeze button, or the battery saver option from the main bar, and it takes you to the screen with those apps, where you can uncheck the one you don't want to freeze yourself.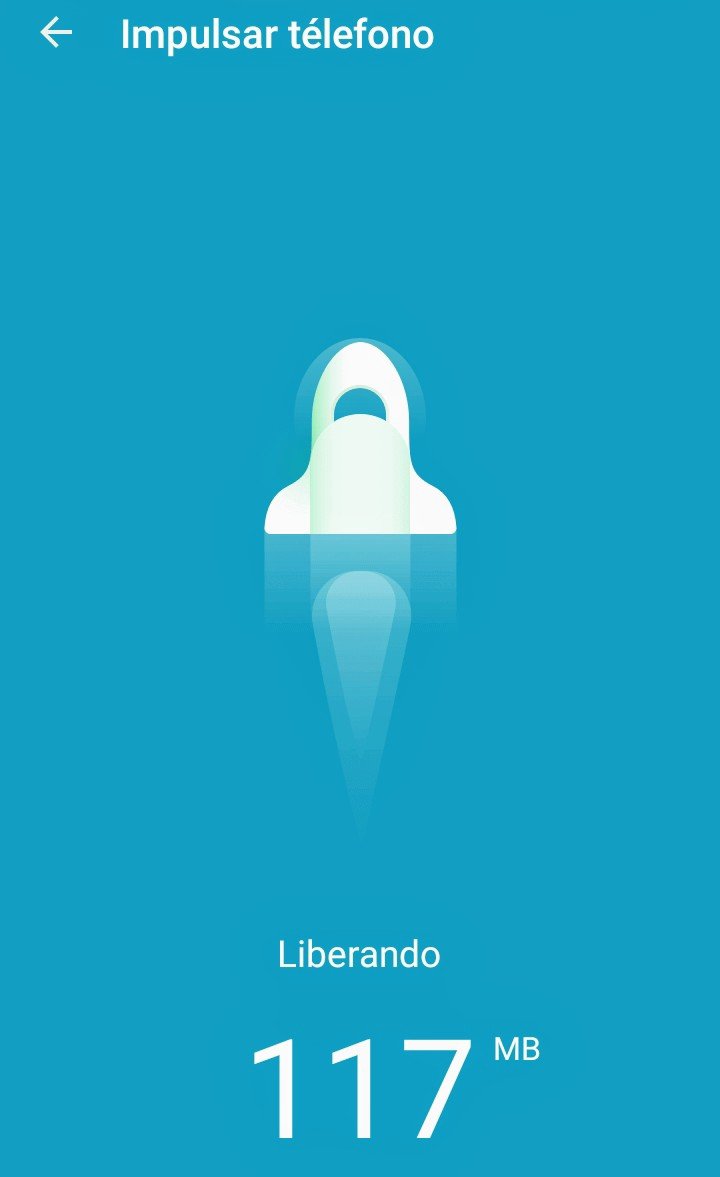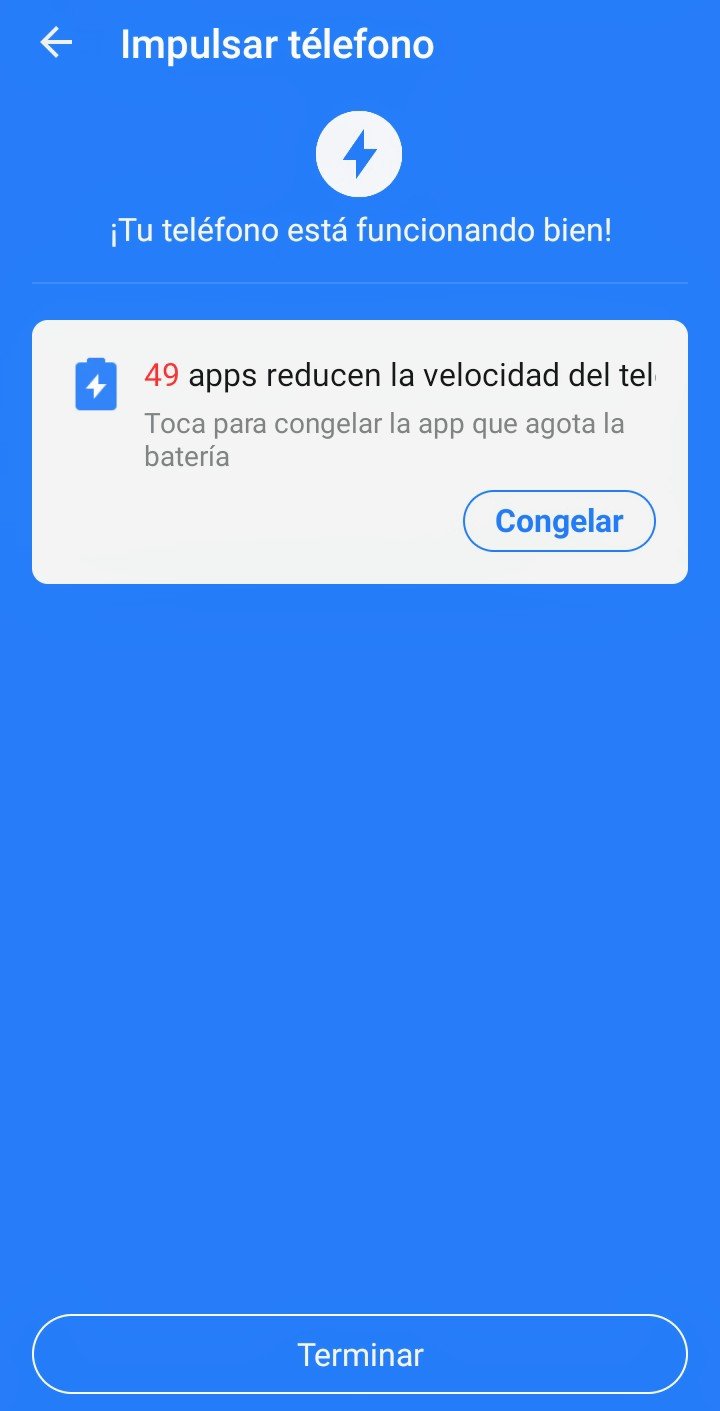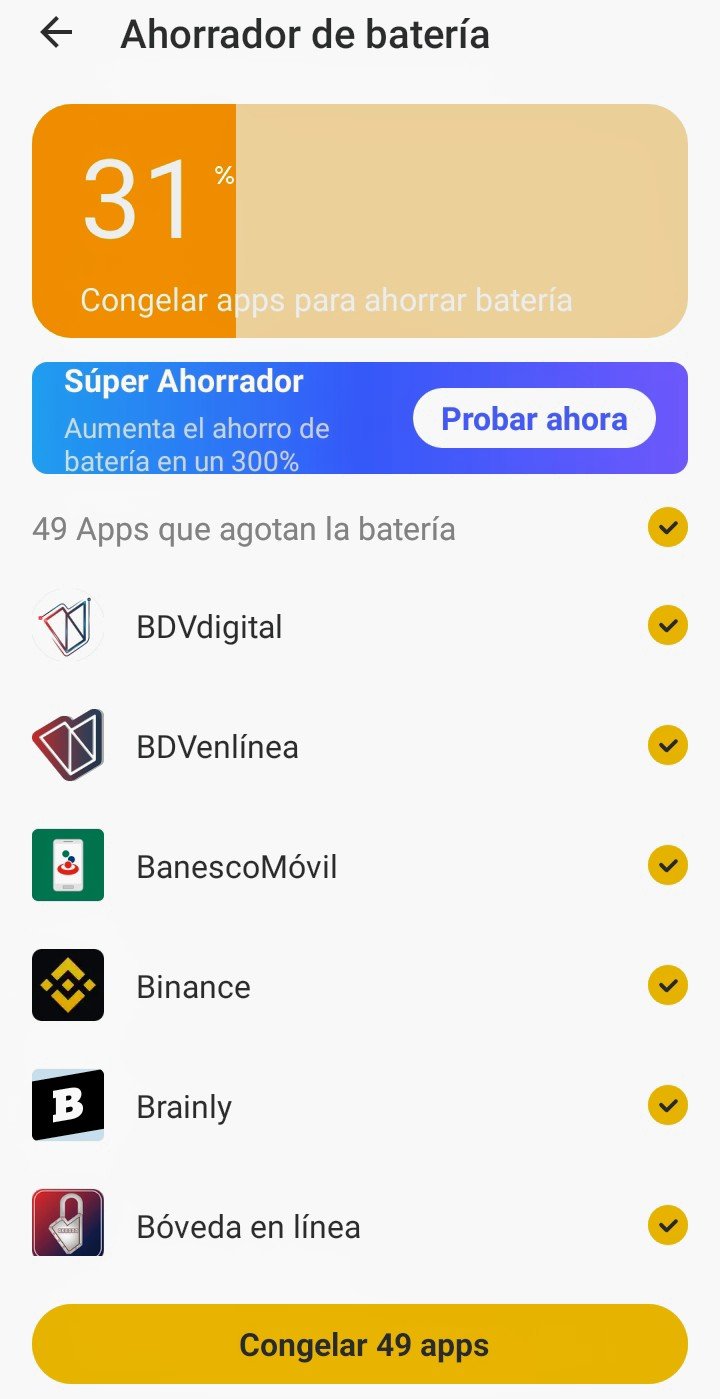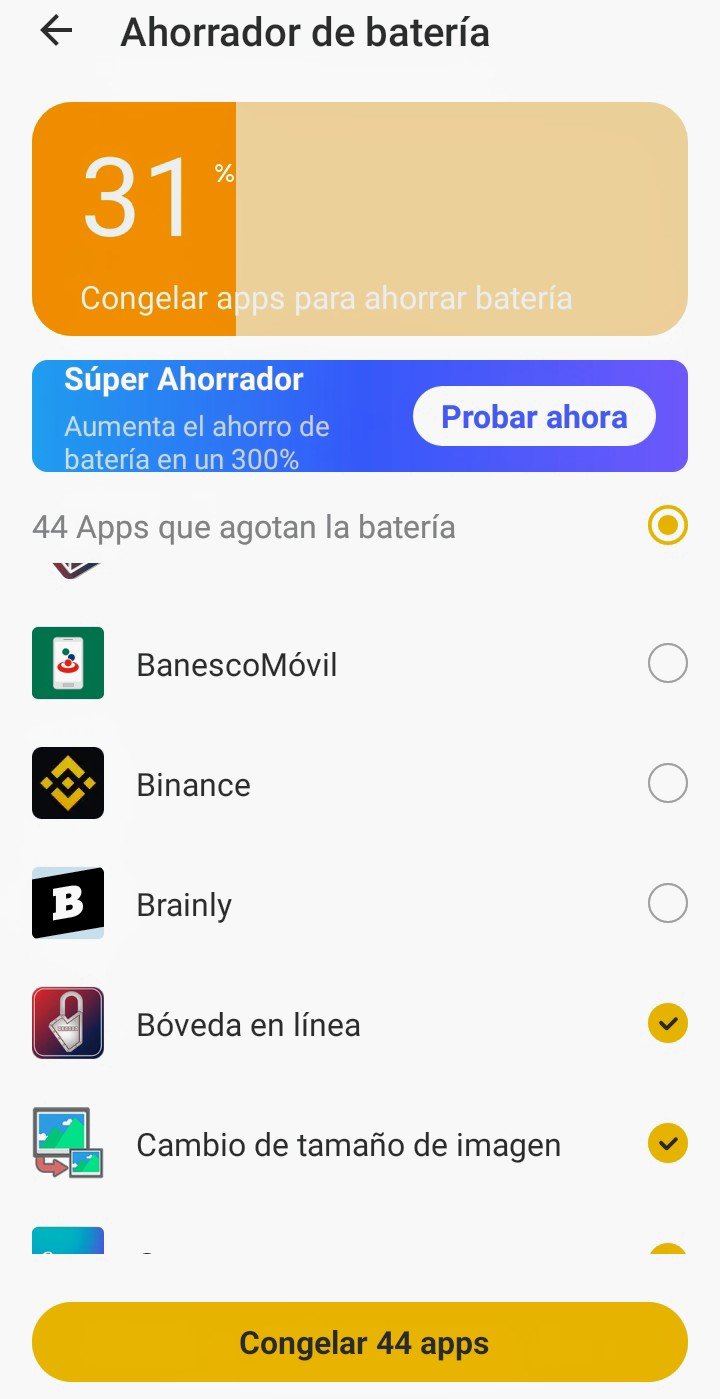 Amigas y amigos tecnológicos, hemos conocido una nueva aplicación que de seguro también les será muy útil, si la conocen, perfecto, si es primera vez que la ven, entonces poco a poco podrás convertirte en una mago al respecto. Nos vemos muy pronto con otras alternativas para nuestro beneficio. Saludos a todos.
Technological friends, we have learned about a new application that will surely be very useful, if you know it, perfect, if it is the first time you see it, then little by little you will be able to become a wizard in this regard. See you very soon with other alternatives for our benefit. Greetings to all.
...Gracias Por Visitar...
...Thanks for visiting...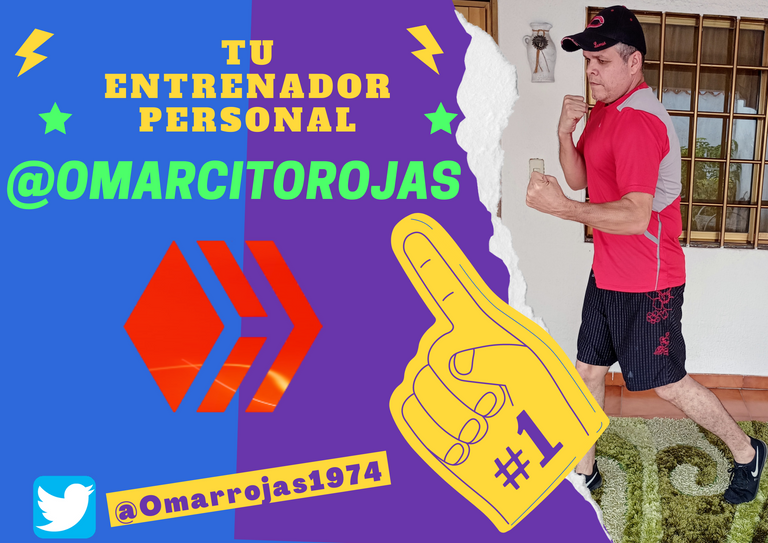 Imágenes tomadas por captura de pantalla desde el realme 7i.
Images taken by screen capture from the realme 7i
Sorry. English is not our native language. Therefore, a web translator is used for texts in English. (Spanishdict)