Mi hijo Miguel el año pasado con motivo de su cumpleaños, tuvo la oportunidad gracias a #hive, de recibir un teléfono celular Smooth 5.5. Le había funcionado muy bien, sin embargo hace como tres meses comenzó a presentar problemas con la batería, la cual se inflamó tanto que casi era imposible cerrar la tapa trasera, además de que para funcionar debía estar conectado al cargador de forma permanente. Por tal razón me di a la tarea de de buscar una batería nueva, pero al parecer el teléfono se tornó como desechable ya que dicha batería fue imposible conseguirla, aquí en Cumaná estado Sucre Venezuela jamás logré ubicarla, busqué en mercado libre y para ese modelo tampoco se encontró. Por ello, inicié una especie de ahorro para adquirir uno nuevo debido a que este 11 de agosto es su cumpleaños y quise nuevamente darle la sorpresa con un nuevo celular.
Más que la cercanía del cumpleaños de Miguel, mi preocupación mayor era que él cada vez que salía de casa estaba incomunicado, ya que el teléfono anterior debía estar pegado al cargador en todo momento por lo que en caso de emergencia era imposible que mi hijo se comunicara con nosotros. Lo último que pude hacer fue prestarle mi batería portátil, pero como también era un poco grande Miguel se sentía incómodo ya que tenía que llevar siempre una especie de bolso para cargar tanto la batería como el teléfono. Entonces, era preciso adquirir un nuevo equipo para darle solución a esta situación. A raíz de esto, y gracias nuevamente a nuestra madre hive por otorgarnos muchas bendiciones, otra vez me di a la tarea de ir al centro de la ciudad de Cumaná en la búsqueda de una opción ni tan costosa, ni tan económica, es decir, una opción que se adaptara a mi presupuesto.
Visité varios locales destinados a la venta de celulares y ubiqué varias alternativas como el realme c11, sin embargo, este equipo solo levantaba 4G para la operadora digitel, razón por la que esta opción fue desechada. En tal sentido visité un nuevo local ubicado en el Centro Comercial Cumaná Plaza, llamado DLR Tech. En dicho local tenían en exposición variados modelos y a muy buenos precios, por si la gente que está en Cumaná estado Sucre Venezuela está interesada en adquirir nuevos equipos. Pues aquí, luego de ver los modelos y probarlos encontré el Redmi 9A.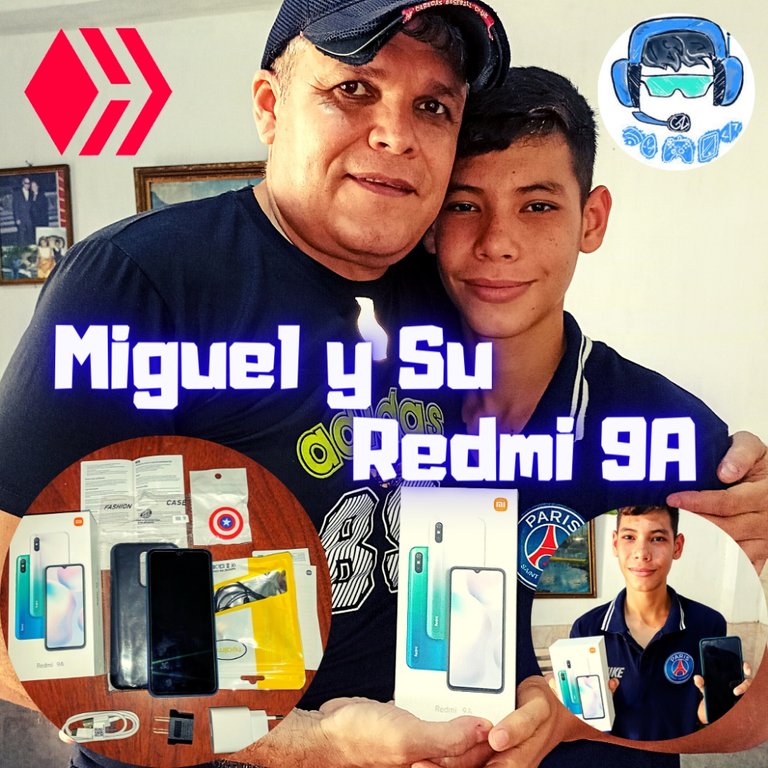 Imagen de mi Autoría Editada por/Image of my Authorship Edited by Canva
My son Miguel last year on the occasion of his birthday, had the opportunity thanks to #hive, to receive a Smooth 5.5 cell phone. It had worked very well, but about three months ago it began to have problems with the battery, which swelled so much that it was almost impossible to close the back cover, plus it had to be connected to the charger permanently to work. For this reason I gave myself the task of looking for a new battery, but apparently the phone became as disposable as the battery was impossible to get, here in Cumana state Sucre Venezuela I never managed to locate it, I searched in free market and for that model was not found either. Therefore, I started a kind of saving to buy a new one because this August 11 is his birthday and I wanted to surprise him again with a new cell phone.
More than the proximity of Miguel's birthday, my biggest concern was that every time he left the house he was incommunicado, since the previous phone had to be attached to the charger at all times so in case of emergency it was impossible for my son to communicate with us. The last thing I could do was to lend him my portable battery, but as it was also a bit big Miguel felt uncomfortable as he always had to carry a kind of bag to charge both the battery and the phone. So, it was necessary to acquire a new equipment to solve this situation. As a result of this, and thanks again to our mother hive for giving us many blessings, again I went to the center of the city of Cumaná in search of an option not so expensive, not so economical, that is, an option that would fit my budget.
I visited several stores selling cell phones and found several alternatives such as the realme c11, however, this equipment only lifted 4G for the operator digitel, which is why this option was discarded. In that sense I visited a new store located in the Cumaná Plaza Shopping Center, called DLR Tech. In this store they had in exhibition several models and at very good prices, in case people who are in Cumaná state Sucre Venezuela are interested in acquiring new equipment. Well here, after seeing the models and testing them I found the Redmi 9A.

Como dije antes logré encontrar el Redmi 9A a un precio de 110 dólares, o 649,83 bolívares. El equipo tiene prestaciones aceptables para el uso que le dará Miguel, que no es más que para sus actividades escolares y uno que otro juego que se pueda instalar para divertirse, ya que la mayor parte de la actividad en relación a juegos la hace con su ps3. Luego de la compra me dirigí a casa y le entregué su regalo de cumpleaños adelantado.
Miguel estaba muy emocionado y me dijo, papá yo soy como adivino porque días atrás le había dicho a mis amigos que me habías comprado un Redmi, y hoy me lo has dado, jajajaja, cosas de los muchachos. Ahora, ¿que es lo que trae este nuevo equipo?, bueno, para saberlo vamos a su desempaquetado. Por allí tenemos una cajita blanca y al destaparla lo primero que observamos fue el teléfono envuelto en una bolsa transparente.
Sacamos el equipo y podemos descubrir que realmente internamente están el cable usb normal, los manuales, la herramienta para sacar la bandeja porta sim y el adaptador para la carga del celular. Pero, como este adaptador tiene enchufe tipo c, es decir, el adaptador tiene sus puntas redondas, la empresa nos obsequio el conector de color negro que ven allí para poder enchufarlo al tomacorriente.
Además de ello la tienda también dio como regalo unos audífonos, un popsocket y el vidrio templado que ellos mismos colocaron. En el mismo sitio compré un forro protector, pero me dieron uno diferente por error, sin embargo eso fue lo de menos porque al día siguiente fui a cambiarlo sin problemas.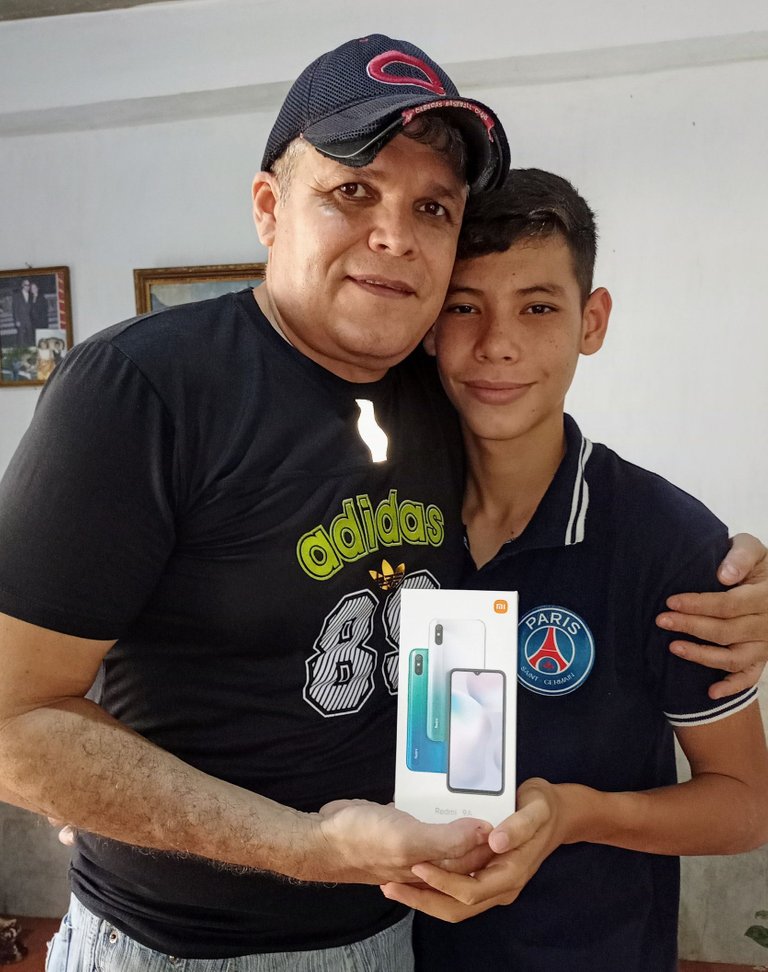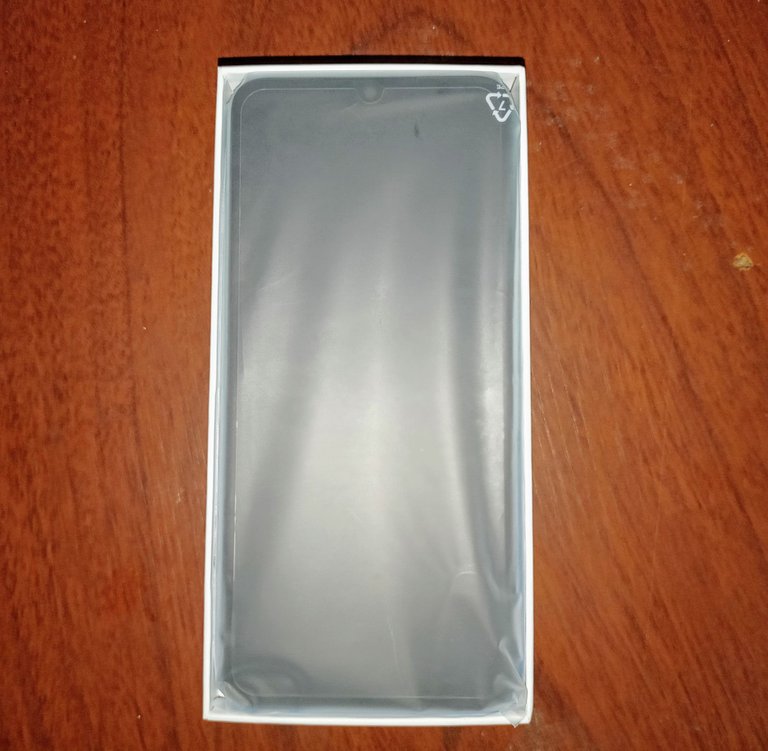 As I said before I managed to find the Redmi 9A at a price of 110 dollars, or 649.83 bolivars. The device has acceptable features for Miguel's intended use, which is only for his school activities and the occasional game he can install for fun, since most of his gaming activity is done with his ps3. After the purchase I headed home and gave him his early birthday present.
Miguel was very excited and said to me, dad I am like a fortune teller because days ago I had told my friends that you had bought me a Redmi, and today you gave it to me, hahahaha, boy stuff. Now, what does this new device come with, well, to find out let's go to its unpacking. Over there we have a little white box and when we uncover it the first thing we see is the phone wrapped in a transparent bag.
We take out the device and we can discover that inside there is the normal usb cable, the manuals, the tool to remove the sim tray and the adapter for charging the cell phone. But, as this adapter has a type c plug, that is, the adapter has round tips, the company gave us the black connector that you see there to plug it into the outlet.
In addition to this the store also gave as a gift a headset, a popsocket and tempered glass that they themselves placed. In the same place I bought a protective lining, but they gave me a different one by mistake, however that was the least of it because the next day I went to change it without problems.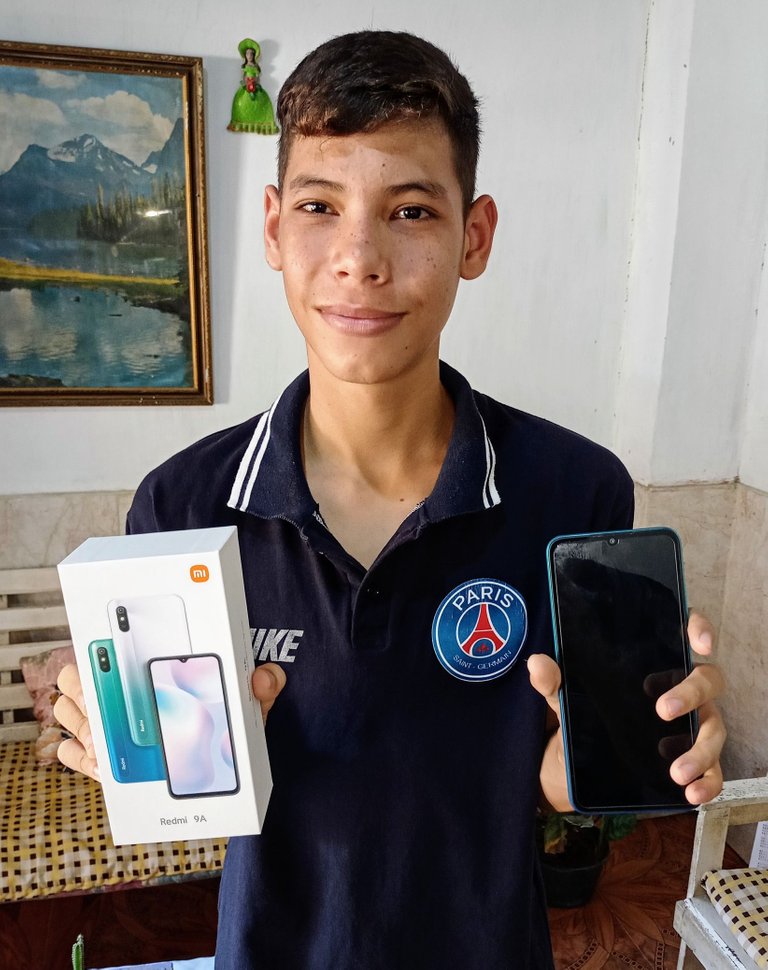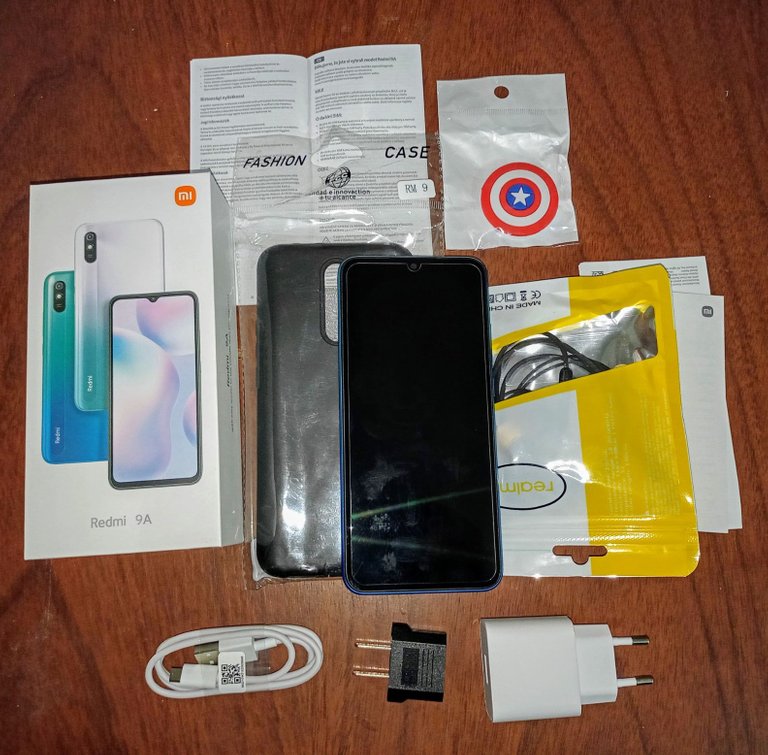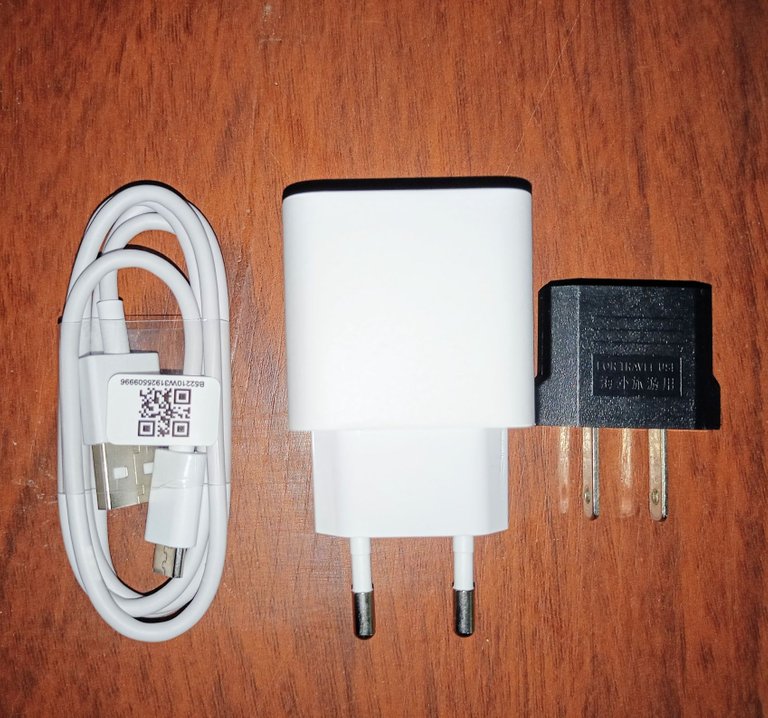 Ya conocido todo el contenido de la caja y de los obsequios recibidos, vamos ahora a disfrutar de las características externas del Redmi 9A. En términos generales el equipo en su parte superior tiene un puerto 3.5 mm para adaptar los audífonos o cualquier dispositivo de audio que cumpla con esas características. En su parte inferior ubicamos el micrófono, el puerto de carga usb y las cornetas de altavoz. Si giramos el teléfono, encontramos que en la zona posterior izquierda hay una cámara de 13 mega píxeles con su respectivo flash.
Es de hacer notar que la cámara es aceptable ya que las imágenes que nos otorga son de buena calidad, de hecho la foto de portada donde salgo con Miguel fue tomada con este teléfono, lógicamente saqué el equipo para ello. Si nos vamos a la parte frontal del celular, observamos que en lado derecho están los botones para regular el volumen hacia arriba o hacia abajo, y el de encendido y apagado.
En el costado izquierdo tenemos una ranura con un orificio, ésta es la bandeja porta sd y sim. Para abrirla tomamos la herramienta especial para ello, la introducimos en el orificio y la bandeja sale, observamos que podemos colocar una tarjeta de memoria SD y dos tarjetas sim. No podemos olvidar la cámara frontal con una resolución de 5 mega píxeles, además de contar con una pantalla HD+ de 6.53 pulgadas.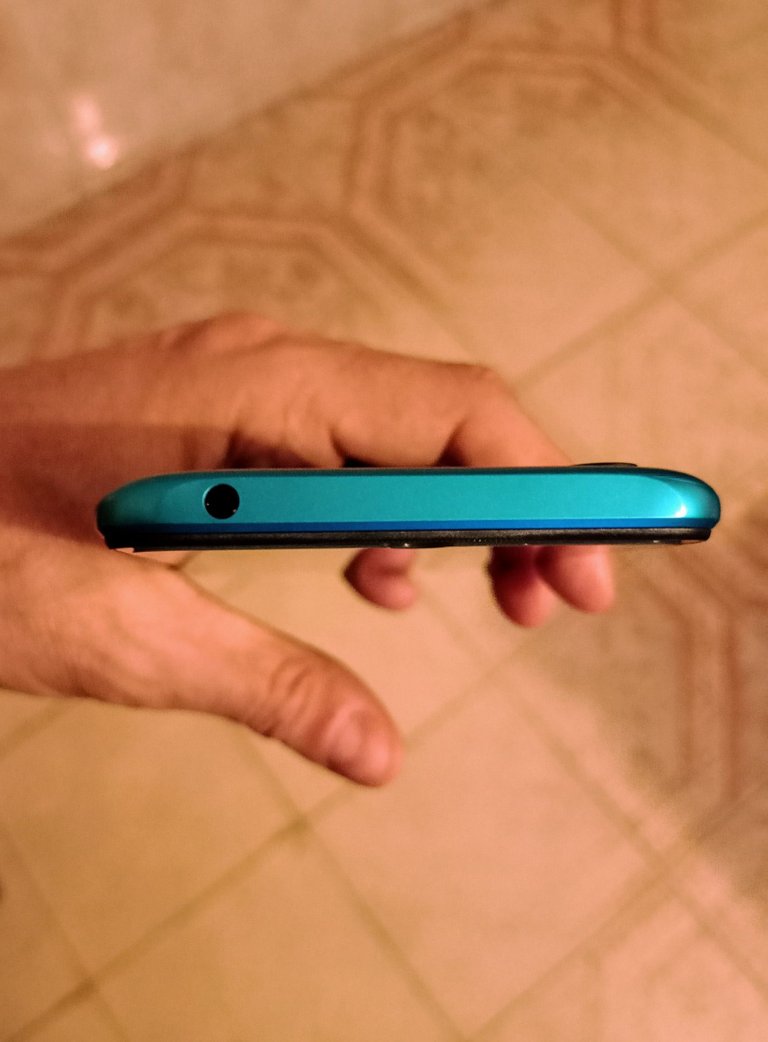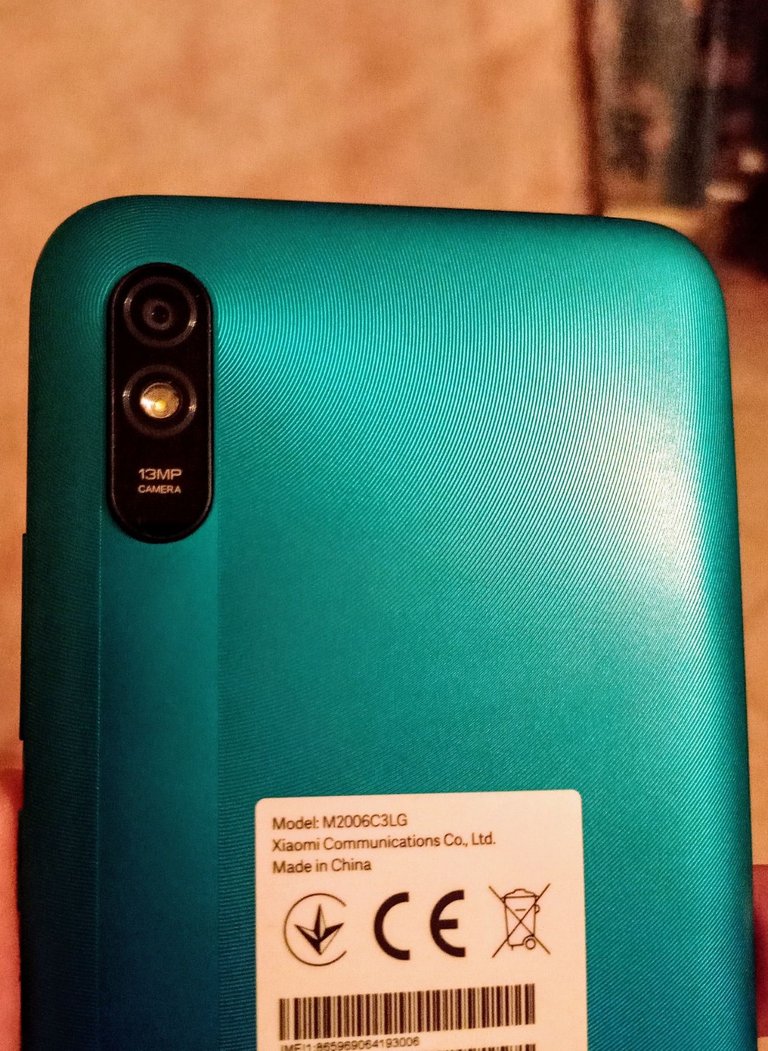 Already known all the contents of the box and the gifts received, let's now enjoy the external features of the Redmi 9A. In general terms, the top part of the device has a 3.5 mm port to adapt headphones or any audio device that meets these characteristics. In its lower part we locate the microphone, the usb charging port and the speaker horns. If we turn the phone, we find that on the back left side there is a 13 megapixel camera with its respective flash.
It should be noted that the camera is acceptable because the images it gives us are of good quality, in fact the cover photo where I go out with Miguel was taken with this phone, logically I took out the equipment for it. If we go to the front of the cell phone, we see that on the right side are the buttons to adjust the volume up or down, and on and off.
On the left side we have a slot with a hole, this is the sd and sim tray. To open it we take the special tool for it, we introduce it into the hole and the tray comes out, we observe that we can place an SD memory card and two sim cards. We can not forget the front camera with a resolution of 5 mega pixels, in addition to having an HD+ screen of 6.53 inches.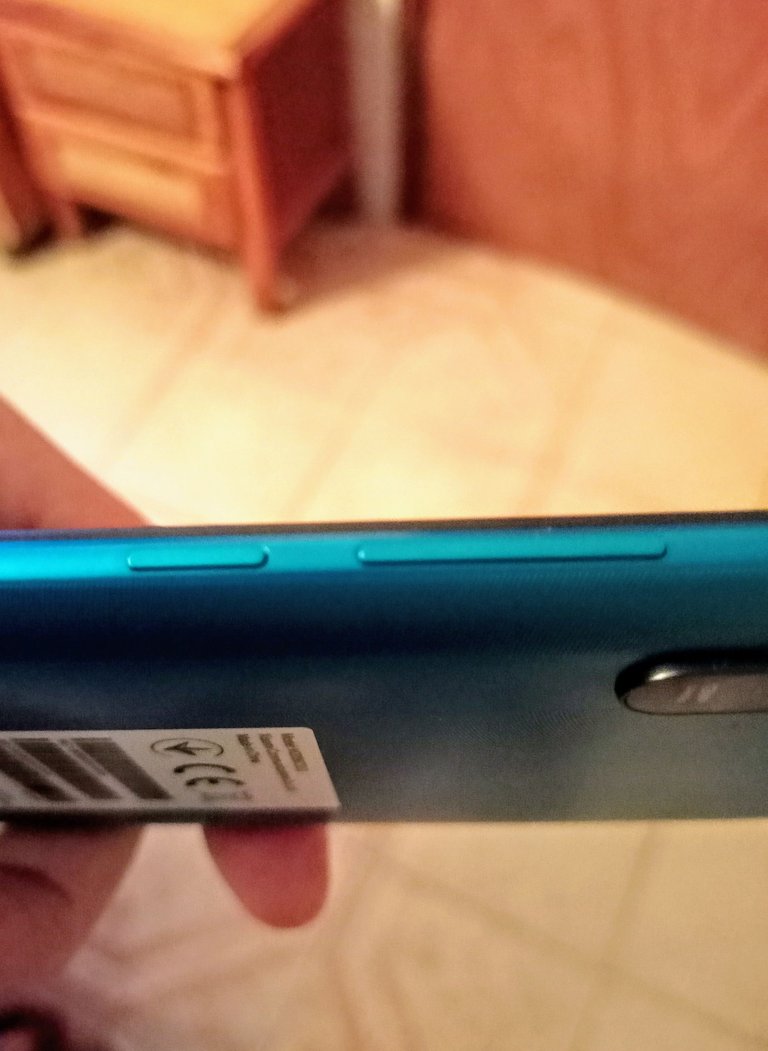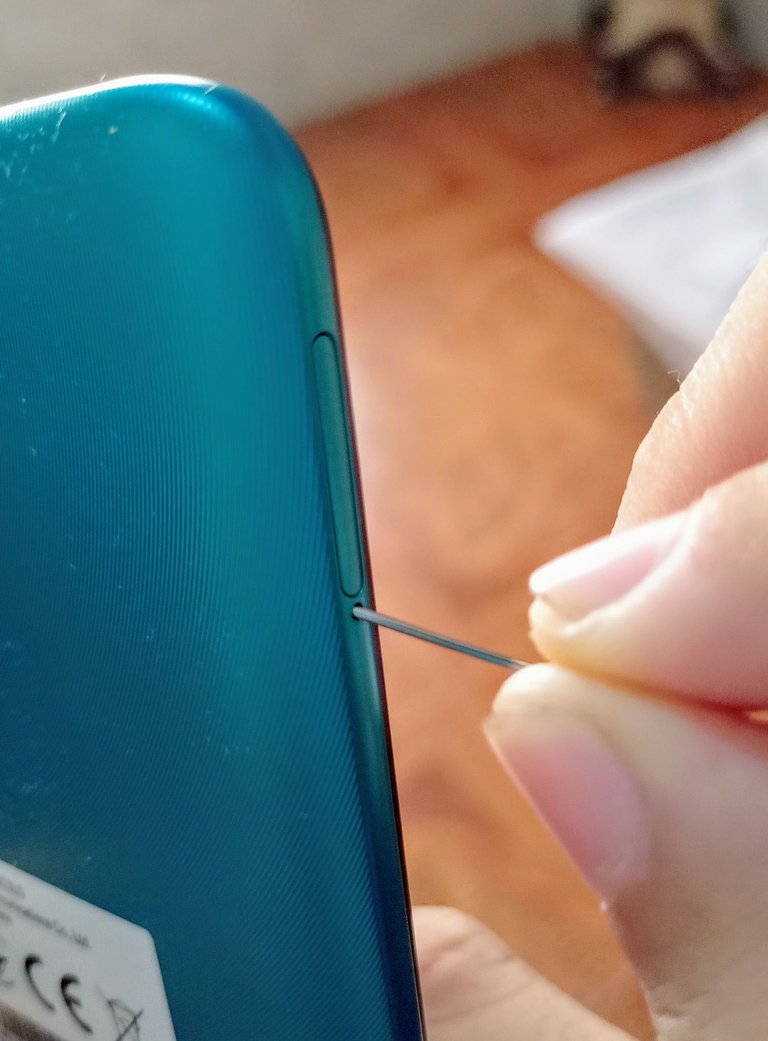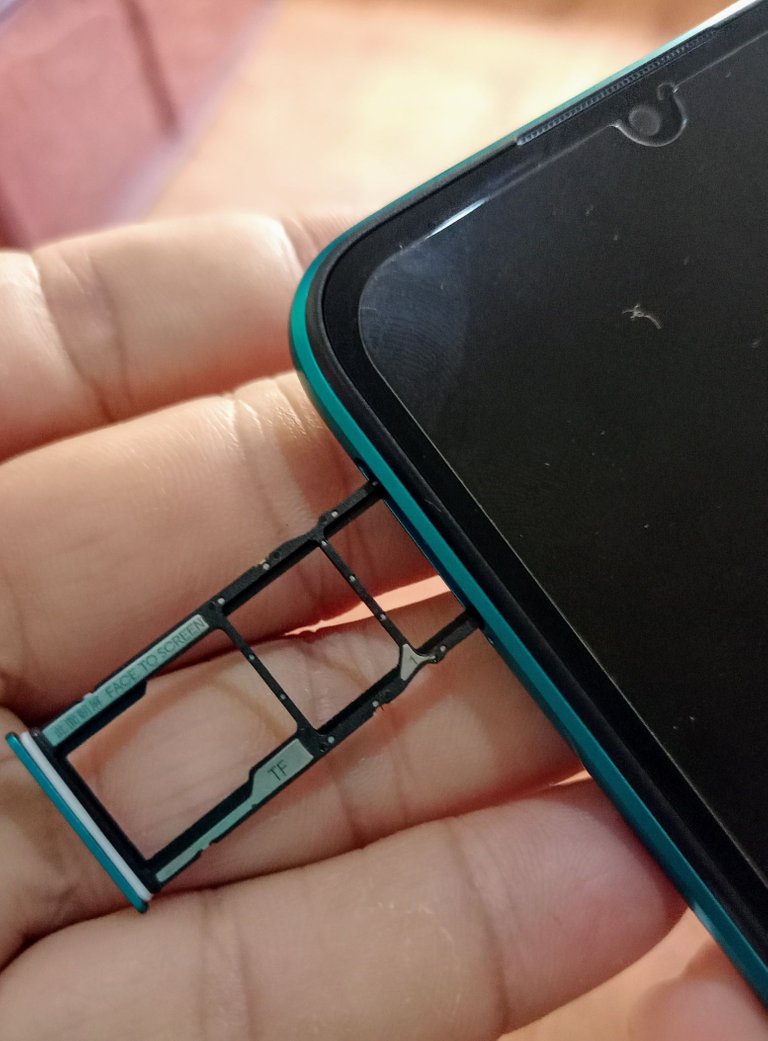 Encendemos el teléfono y como se mencionó antes el equipo cuenta con una pantalla de 6.53 pulgadas HD+ con 720x1.600 de resolución; contando con un procesador MediaTek Helio G25 corriendo a 8 núcleos y a 2mhz, que puede ser usado para juegos no tan pesados. Por ser un dispositivo de gama baja tiene una memoria RAM de 2 GB y una capacidad de almacenamiento de 32GB. Su cámara principal es de 13 MP con una densidad PPI o píxeles por pulgada de 291, y 5 MP la frontal. Su batería es super aceptable ya que es de 5000 mAh con carga rápida de 10w; fácilmente puede durar más de dos días en uso corriente. Su versión de sistema operativo nativa es Android 11 con su versión MIUI 12. No cuenta con lector de huella, pero si cuenta con desbloqueo fácil y Bluetooth v5.0. Probamos el puerto de carga conectando el cable usb y observamos que funciona.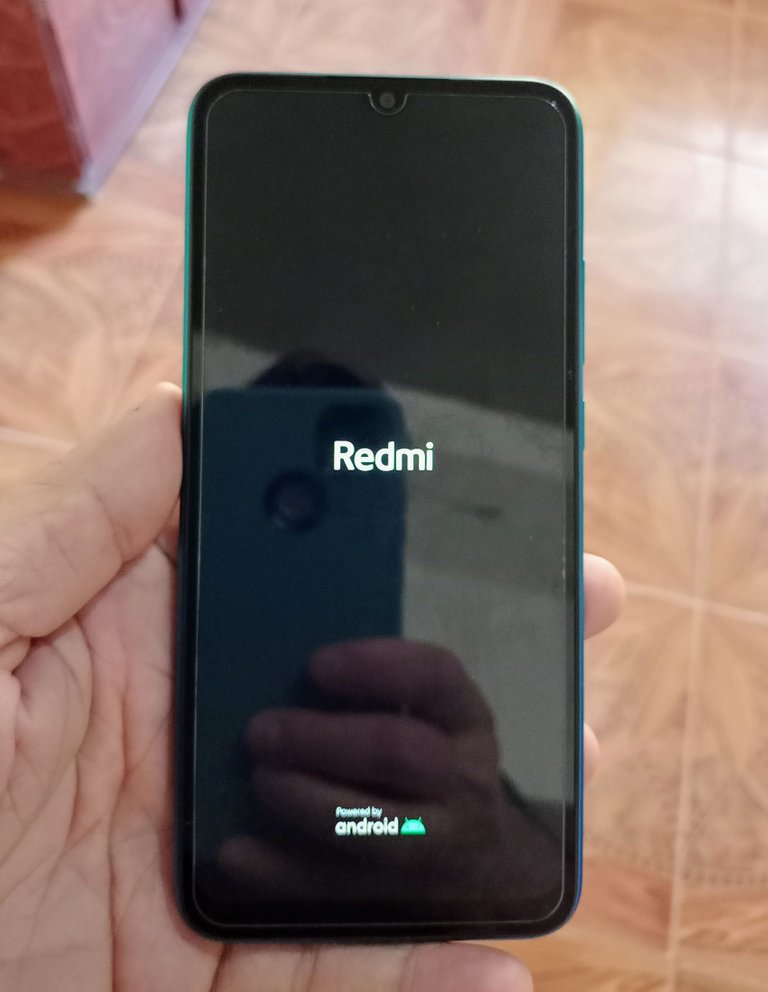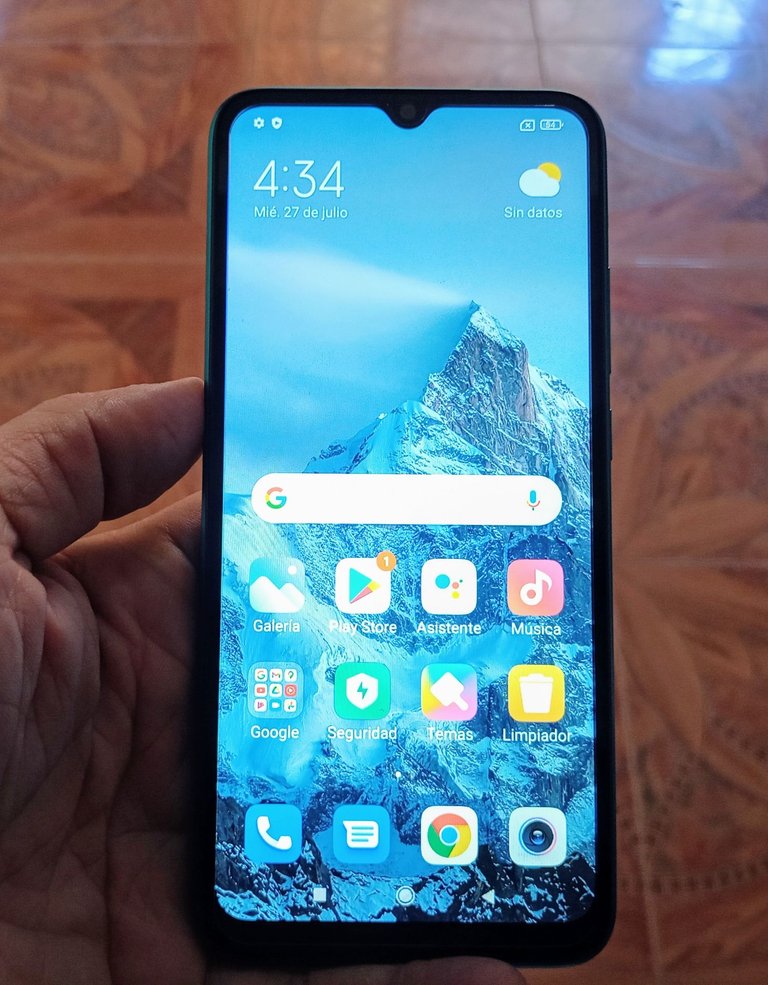 We turn on the phone and as mentioned before the device has a 6.53-inch HD+ screen with 720x1,600 resolution; having a MediaTek Helio G25 processor running at 8 cores and 2mhz, which can be used for not so heavy games. Being a low-end device, it has a RAM memory of 2 GB and a storage capacity of 32GB. Its main camera is 13 MP with a PPI or pixel per inch density of 291, and 5 MP on the front. Its battery is super acceptable as it is 5000 mAh with 10w fast charging; it can easily last more than two days in current use. Its native OS version is Android 11 with its MIUI 12 version. It does not have a fingerprint reader, but it does have easy unlock and Bluetooth v5.0. We tested the charging port by connecting the usb cable and observed that it works.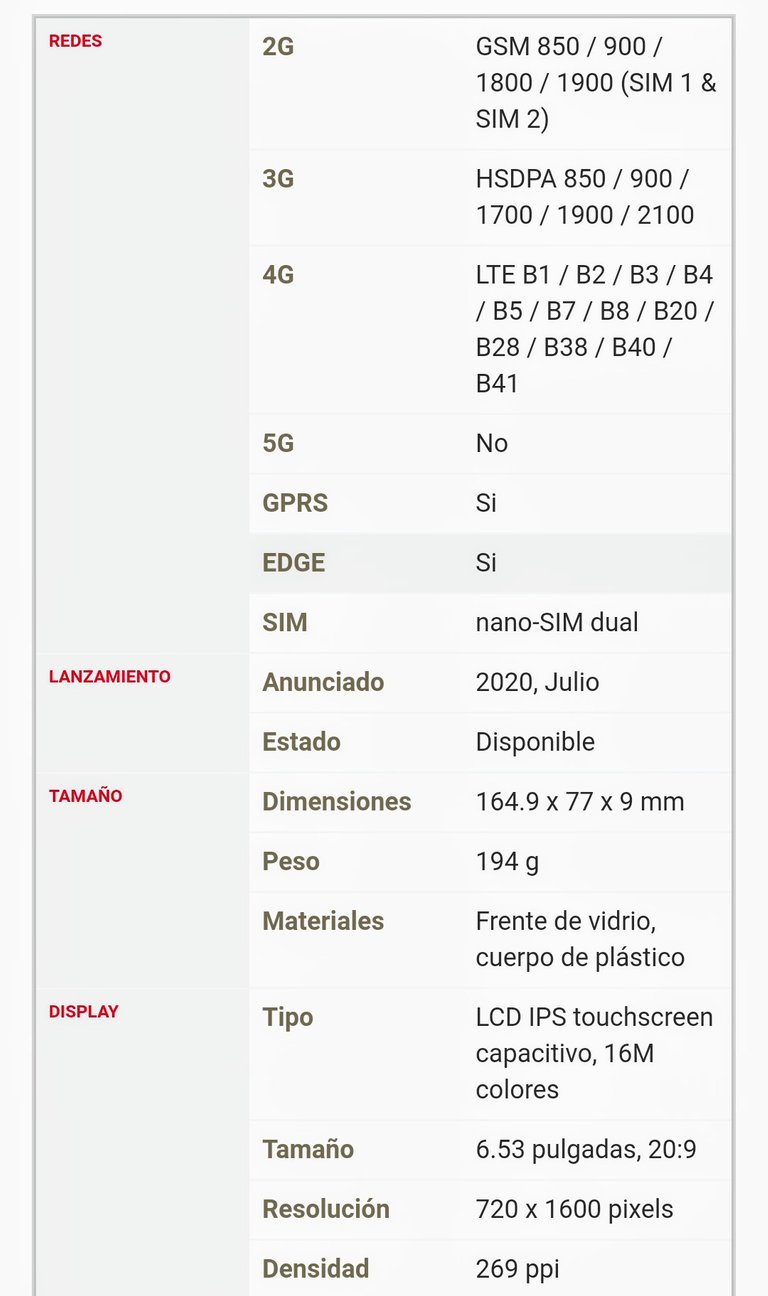 Fuente-Source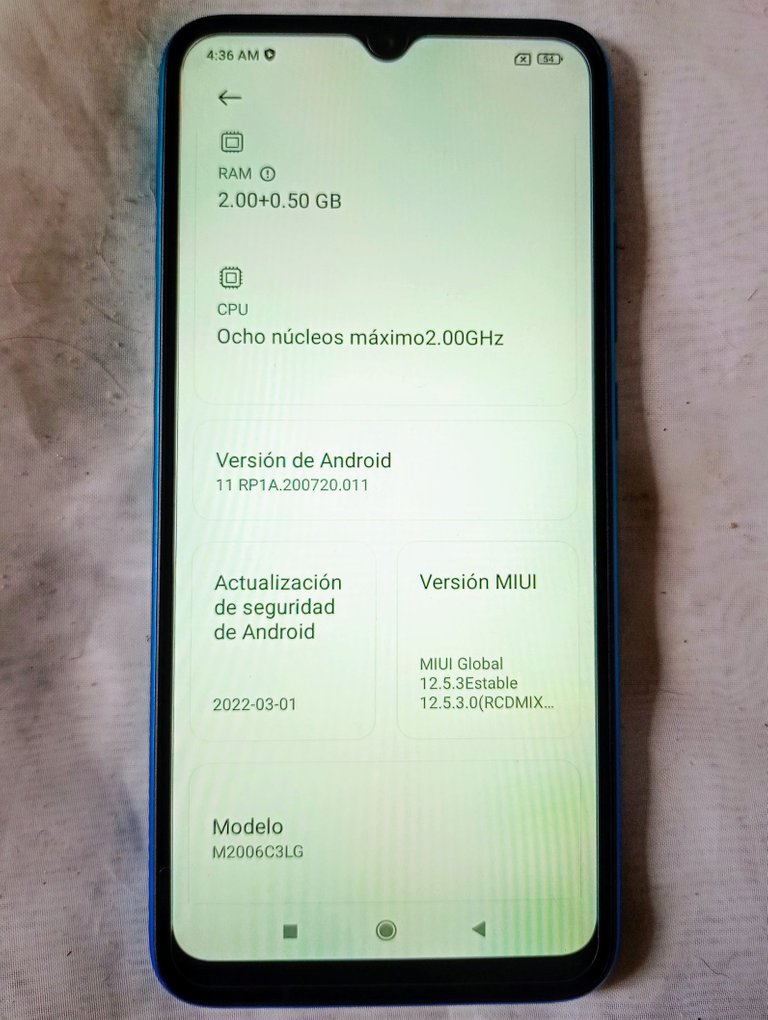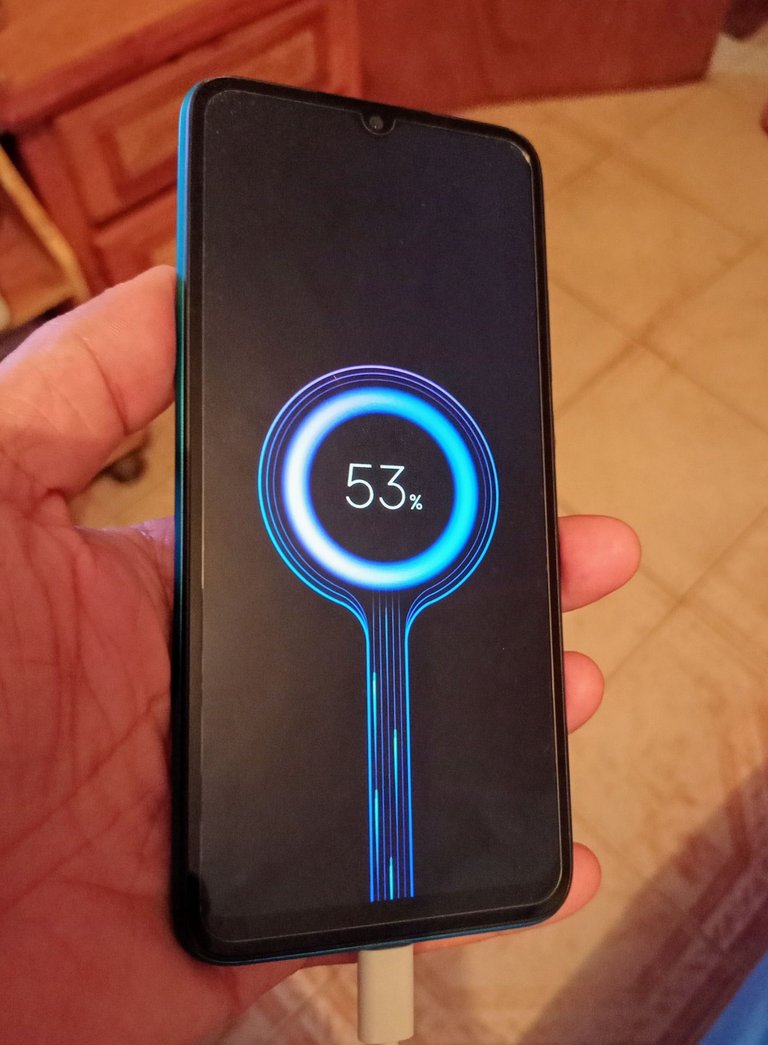 De igual manera el equipo se puede conectar en redes cuyas bandas son GSM, HSDPA, LTE, no disponible para bandas 5G. Si nos vamos a los ajuste de la cámara podemos observar que la misma es de 13 MP con funcionalidades diferentes en cuanto a rango de toma. Por otra lado, la misma en la opción de video puede grabar a resoluciones de 720 o 1080P a 30fps. En cuanto a rendimiento, el dispositivo es rápido, las aplicaciones fluyen con normalidad, y si le ha gustado a Miguel que es un poco exigente, entonces hemos realizado una buena compra.
Amigos míos, hemos llegado al final de esta breve descripción. Sabemos que el mundo de la tecnología avanza de forma muy rápida y que este dispositivo poco a poco se va quedando atrás, sin embargo todo depende del uso que se le dé, y se muy bien que mi hijo lo ha aceptado con toda responsabilidad porque sabe que todo lo que hemos logrado se ha hecho con total dedicación y sacrificio. En términos generales es un buen equipo porque ya lo he probado y funciona perfectamente, más adelante se podrá adquirir uno mas avanzado. Saludos a todos y hasta pronto.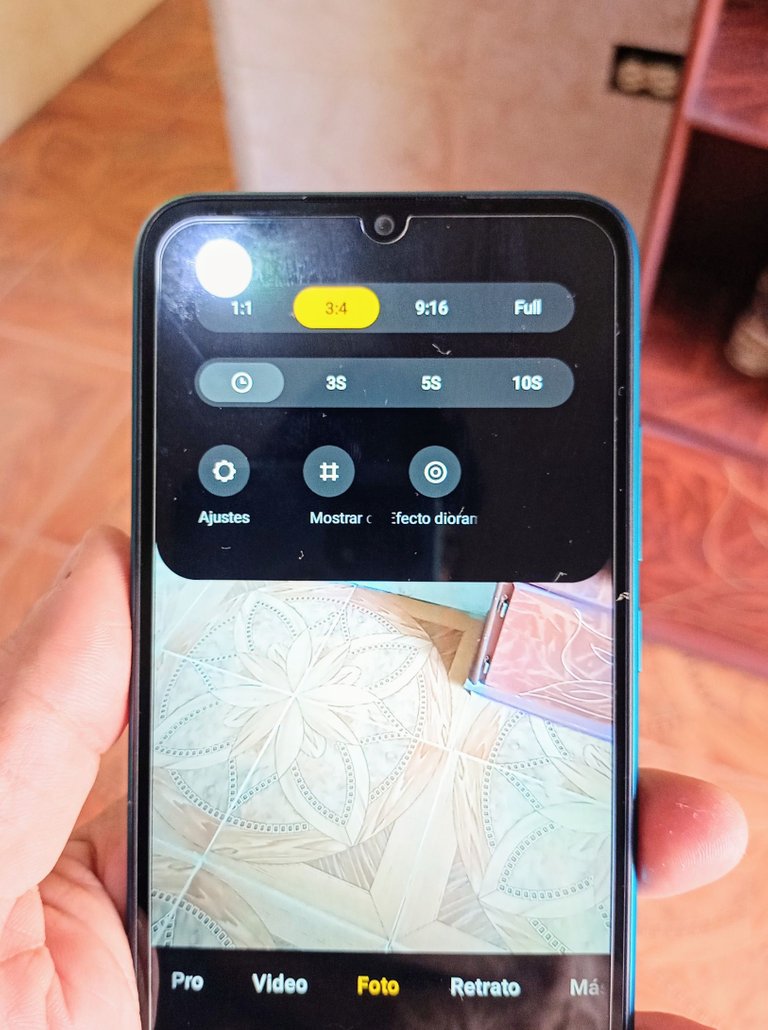 Similarly, the device can connect to networks whose bands are GSM, HSDPA, LTE, not available for 5G bands. If we go to the camera settings we can see that it is a 13 MP camera with different functionalities in terms of shooting range. On the other hand, the same in the video option can record at resolutions of 720 or 1080P at 30fps. In terms of performance, the device is fast, the applications flow normally, and if Miguel who is a bit demanding has liked it, then we have made a good purchase.
My friends, we have reached the end of this brief description. We know that the world of technology is advancing very fast and that this device is gradually being left behind, however it all depends on the use it is given, and I know very well that my son has accepted it with full responsibility because he knows that everything we have achieved has been done with total dedication and sacrifice. In general terms it is a good equipment because I have already tested it and it works perfectly, later it will be possible to acquire a more advanced one. Greetings to all and see you soon.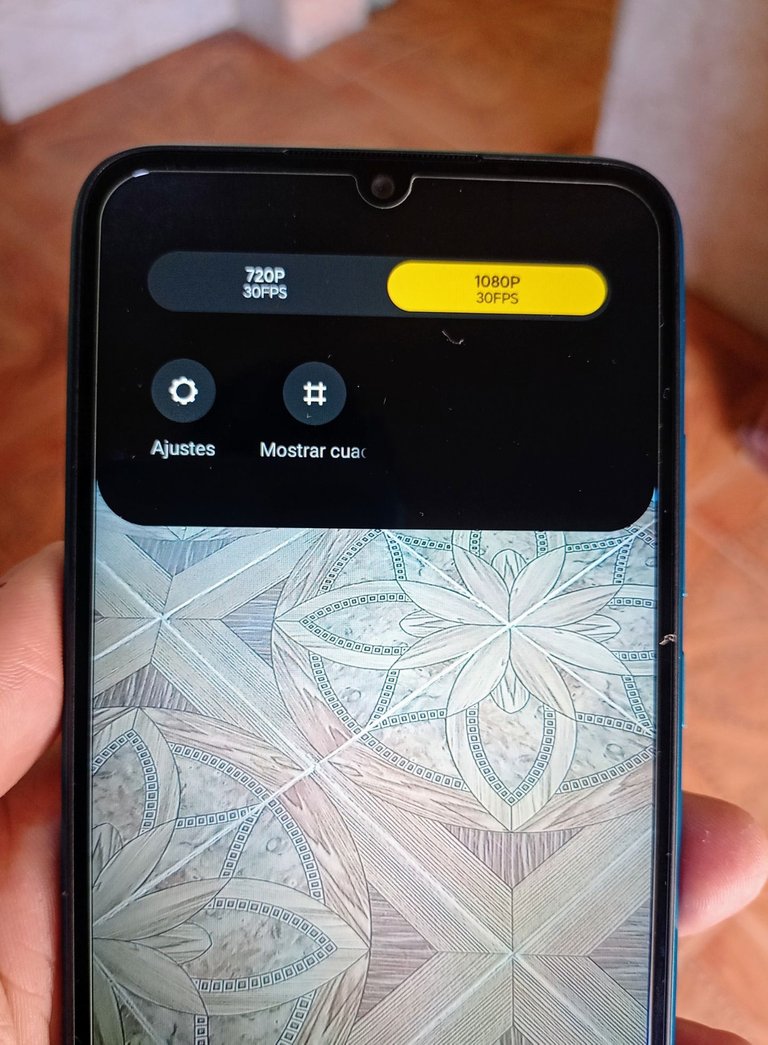 ...Gracias Por Visitar...
...Thanks for visiting...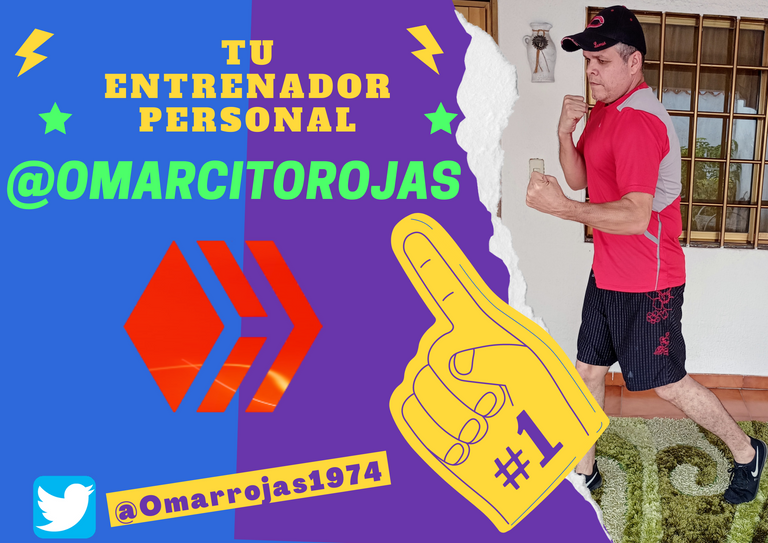 Imágenes tomadas por mí y mi hija Nancy desde el realme 7i. Imagen en conjunto con Miguel tomada desde el teléfono redmi 9A por mi hija Nancy.
Images taken by me and my daughter Nancy from the realme 7i. Image together with Miguel taken from the redmi 9A phone by my daughter Nancy.
Sorry. English is not our native language. Therefore, a web translator is used for texts in English. (Spanishdict)