Estamos en un mundo donde la tecnología avanza de forma vertiginosa, y nosotros como creadores de contenidos no podemos quedarnos atrás. En estos tiempos cuando las imágenes y vídeos inundan las redes sociales, y demás plataformas de interacción, hacen que cada uno de nosotros tengamos que dar un paso al frente y actualizarnos. En mi caso, no puedo escapar a esta realidad, más aún si la pasión que me desborda es la creación de contenidos destinados a la ejecución de rutinas de ejercicios, donde cada imagen o vídeo hable por si sola, para que cada uno de mis seguidores puedan realizar cada movimiento sin ningún problema. Entonces, la idea era buscar un dispositivo que se adaptara a la actualidad, y lógicamente a mi presupuesto.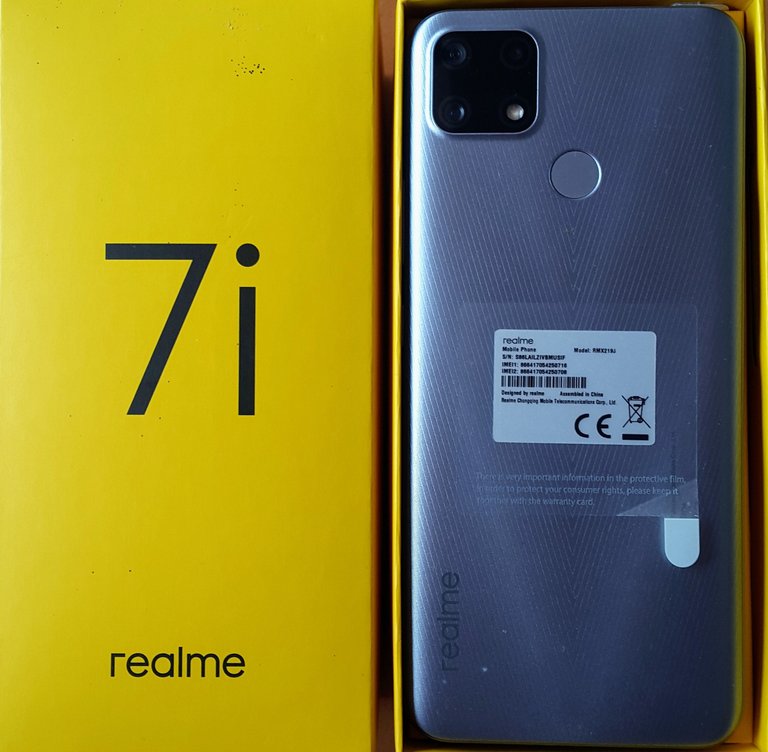 We are in a world where technology is advancing at a dizzying pace, and we as content creators cannot be left behind. In these times when images and videos flood the social networks, and other platforms of interaction, make each of us have to take a step forward and update ourselves. In my case, I can not escape this reality, even more so if the passion that overflows me is the creation of content aimed at the execution of exercise routines, where each image or video speaks for itself, so that each of my followers can perform each movement without any problem. So, the idea was to look for a device that adapted to the present, and logically to my budget.

En tal sentido, hasta hace poco realizaba mis contenidos a través de un dispositivo, si se quiere obsoleto, ya que el mismo contaba con teología hasta 3.5g, y como la linea que uso es Movistar, este dispositivo quedó literalmente como un pote (nombre que le damos en Venezuela a equipos que solo funcionan para llamadas y mensajes de texto). Me refiero al Samsung galaxy S5, el cual no es versión 4G. Ahora, viendo la urgencia del caso, me propuse buscar un dispositivo de gama media debido al corto presupuesto; presupuesto que por cierto provino de la mano de nuestra madre #hive, como siempre proporcionando bendiciones a las familias. Lo cierto es que en dicha búsqueda, y estableciendo como meta un dispositivo con una cámara aceptable, tanto para fotos como para videos, me encontré con el Realme 7i; un dispositivo de gama media pero con características adaptadas a mis necesidades. Este equipo lo pude encontrar aquí en Cumaná estado Sucre, Venezuela a un costo de 135$, y como dije anteriormente, todo gracias a mi esfuerzo y a nuestra madre hive.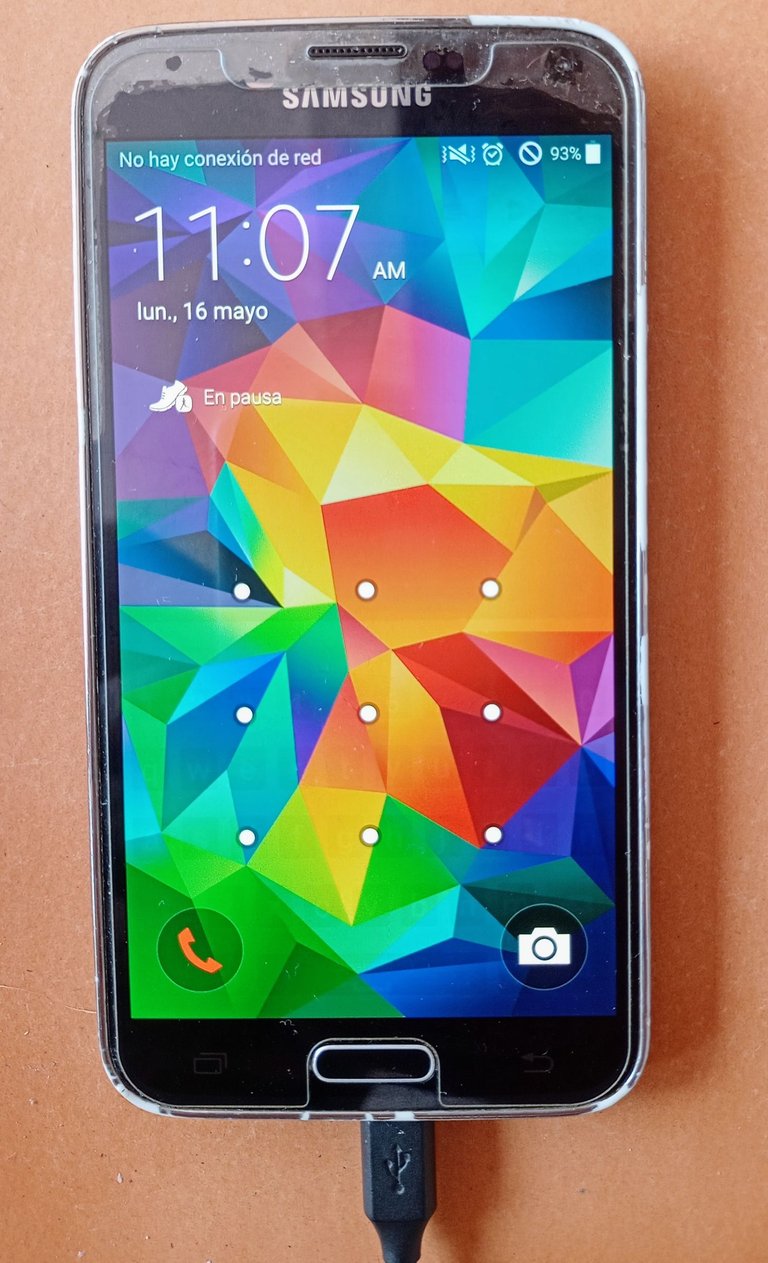 In that sense, until recently I made my content through a device, if you will obsolete, since it had theology up to 3.5g, and as the line I use is Movistar, this device was literally like a pot (name we give in Venezuela to equipment that only work for calls and text messages). I am referring to the Samsung galaxy S5, which is not a 4G version. Now, seeing the urgency of the case, I set out to find a mid-range device due to the short budget; budget that by the way came from the hand of our mother #hive, as always providing blessings to families. The truth is that in that search, and setting as a goal a device with an acceptable camera, both for photos and videos, I came across the Realme 7i; a mid-range device but with features tailored to my needs. I was able to find this device here in Cumaná, Sucre state, Venezuela at a cost of 135$, and as I said before, all thanks to my effort and our mother hive.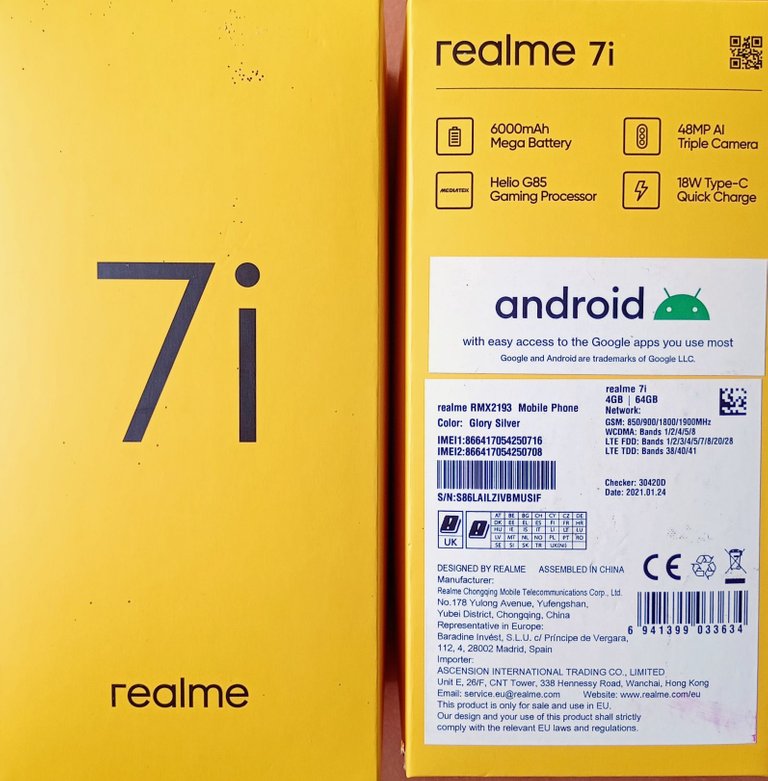 Entonces, como expresé antes necesitaba un teléfono con buena cámara, claro que también se necesita una velocidad de procesamiento aceptable para que los trabajos de edición no se hagan tan tediosos. Recuerden que mis contenidos son en su mayoría referidos a los deportes, específicamente a la ejecución de rutinas de ejercicios que les llevo a todos ustedes en formato video, y en ocasiones en formato fotográfico o Gifs. Al momento de la búsqueda probé varios dispositivos, sin embargo, cuando las fotos salían bien, el video no era tan nítido; o el video quedaba perfecto, pero las imágenes un poco desenfocadas. Pero como todo sacrificio conlleva recompensas, se atravesó en el camino el Realme 7i que cumplió con las dos pruebas como todo un guerrero. Vamos ahora a disfrutar de lo que nos trae este equipo.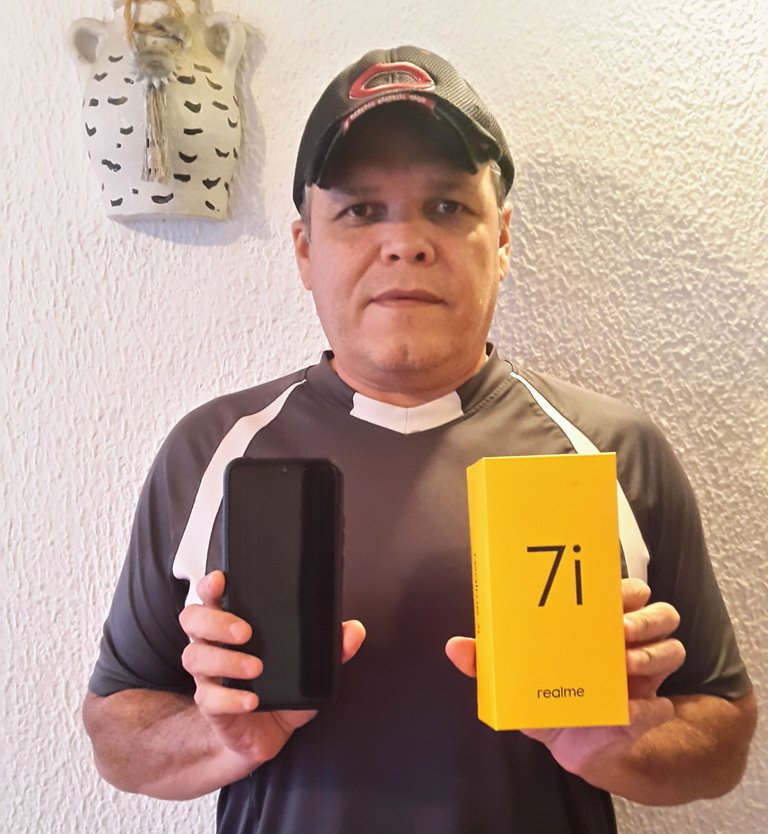 So, as I said before I needed a phone with a good camera, of course you also need an acceptable processing speed so that the editing work does not become so tedious. Remember that my contents are mostly referred to sports, specifically to the execution of exercise routines that I bring to all of you in video format, and sometimes in photographic format or Gifs. At the time of the search I tried several devices, however, when the photos came out well, the video was not so sharp; or the video was perfect, but the images were a little out of focus. But as all sacrifice brings rewards, the Realme 7i crossed the path and met both tests like a warrior. Now let's enjoy what this equipment brings us.

Llego el momento del desempaquetado y descubrir lo que existe en esta caja. Primeramente observamos una caja color amarillo con la marca y modelo del equipo. Dentro de ella encontramos el teléfono celular Realme 7i modelo RMX2193, el cual es de color plata en su parte trasera y con bordes frontales negros. De igual manera, seguimos revisando y encontramos el cargador con su respectivo cable de datos tipo C. Lógicamente, los manuales de usuario no pueden faltar, además de la respectiva llave que sirve para extraer la bandeja donde se colocan las dos tarjetas sim, además de la tarjeta SD. Por otra parte, tuvimos que adquirir un adaptador para ser colocado en el cajetín del cargador, y así poder cargar el celular.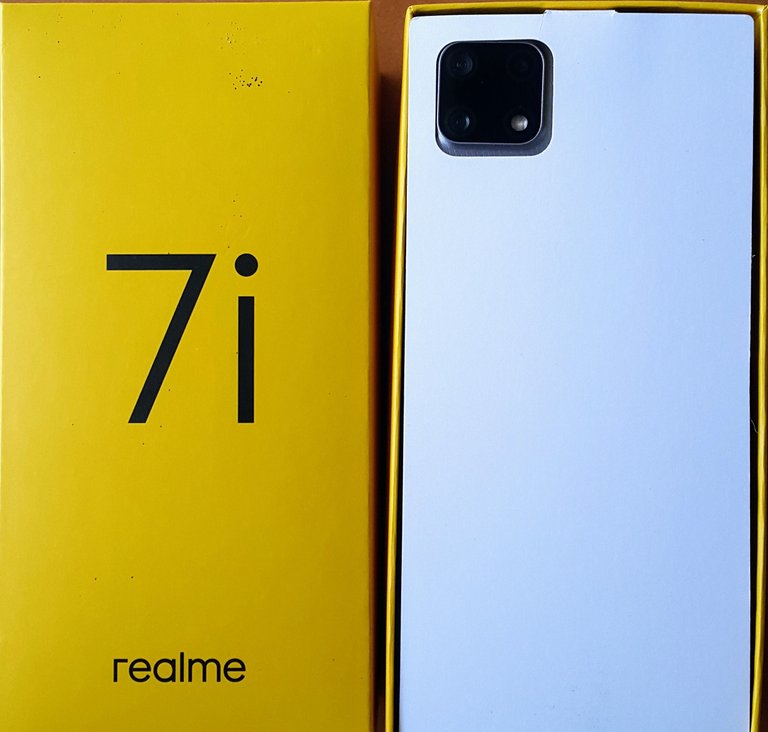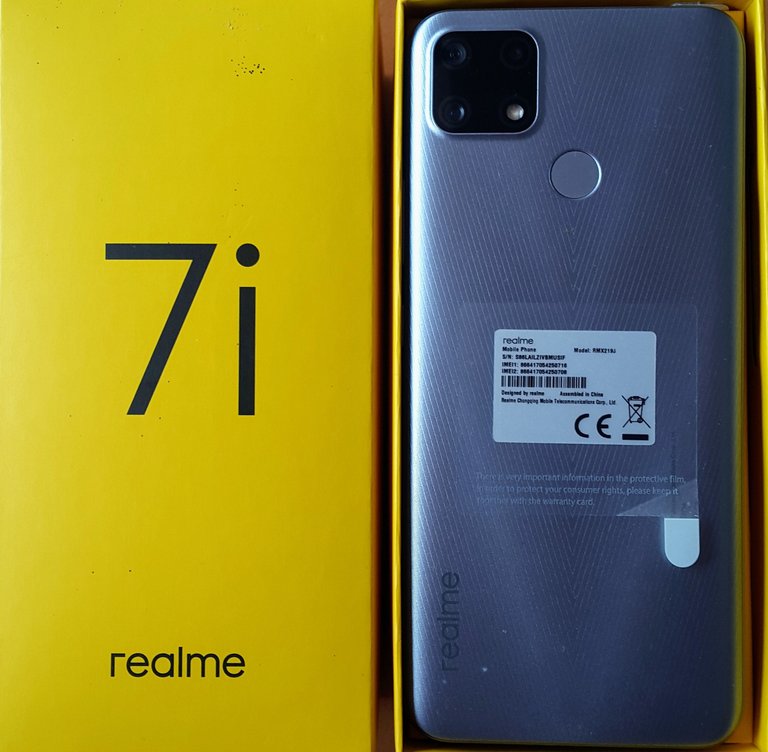 It is time to unpack and discover what is in this box. First we see a yellow box with the brand and model of the equipment. Inside it we found the Realme 7i cell phone model RMX2193, which is silver on the back and with black front edges. Likewise, we continued to review and found the charger with its respective type C data cable. Logically, the user manuals can not be missing, in addition to the respective key used to remove the tray where the two sim cards are placed, in addition to the SD card. On the other hand, we had to acquire an adapter to be placed in the charger box, and thus be able to charge the cell phone.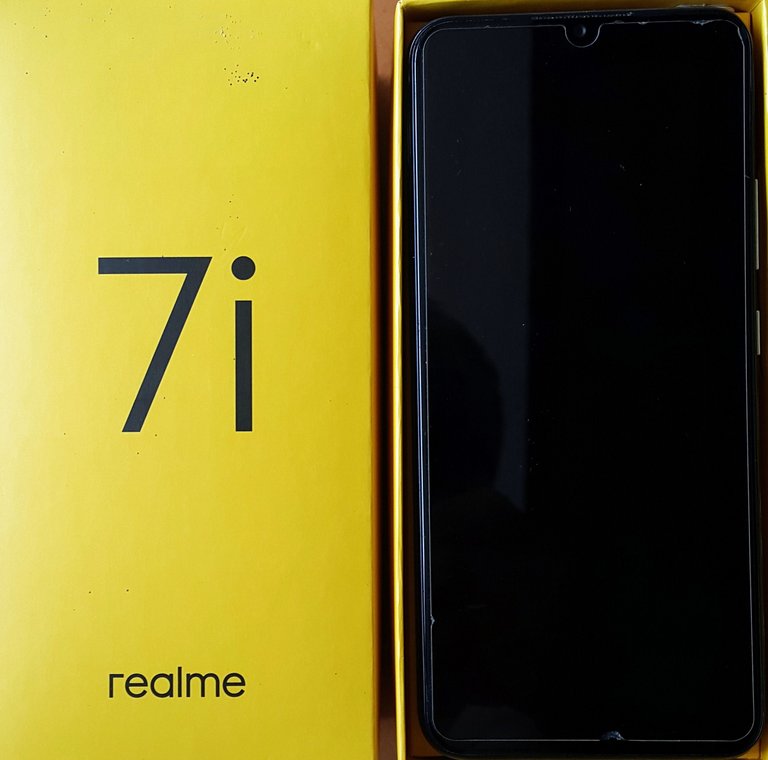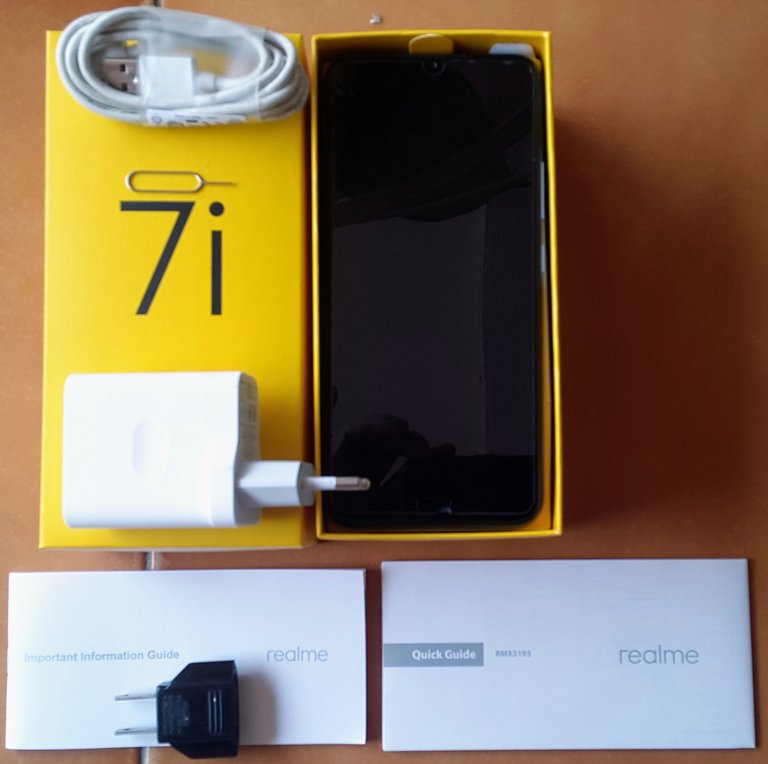 Nos vamos ahora a disfrutar de las características externas del dispositivo. En su parte posterior observamos una textura rugosa que permite un buen agarre del mismo. De igual manera, el equipo presenta un lector de huella digital; además de una cámara triple cuyo lente principal es de 48 MP y el flash. En la región frontal podemos ver una cámara en el centro superior frontal tipo gota de 8 mp; la pantalla del equipo es de 6.5 pulgadas. Si nos dirigimos a la parte lateral derecha, podrán observa el botón superior que sirve para subir y bajar volumen; el botón inferior es para apagado y encendido. En el lado lateral izquierdo encontramos la zona para colocar las tarjetas sim y sd. No podemos olvidar trasladarnos a la parte inferior del teléfono, para disfrutar de los puertos tipo Jack 3.5 para audífonos, y tipo C para la carga del teléfono y la colocación de otros dispositivos que funcionen con este tipo de puerto. Por otro lado, encontramos un micrófono doble y el altavoz. Lógicamente, como es característico de los equipo actuales, la batería no es extraíble. Como podrán ver, el equipo cuenta con aceptables características externas.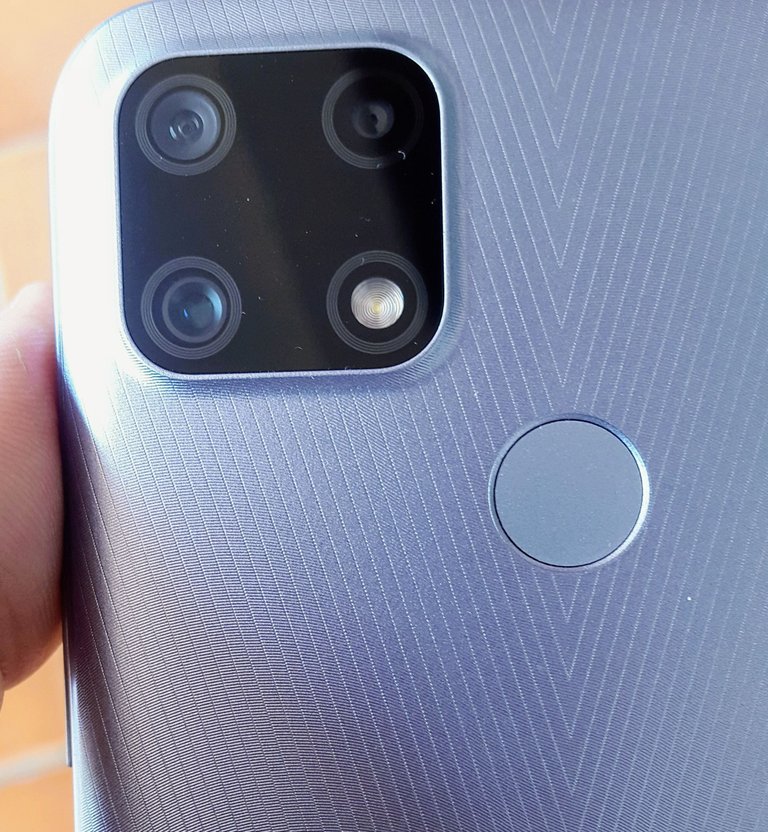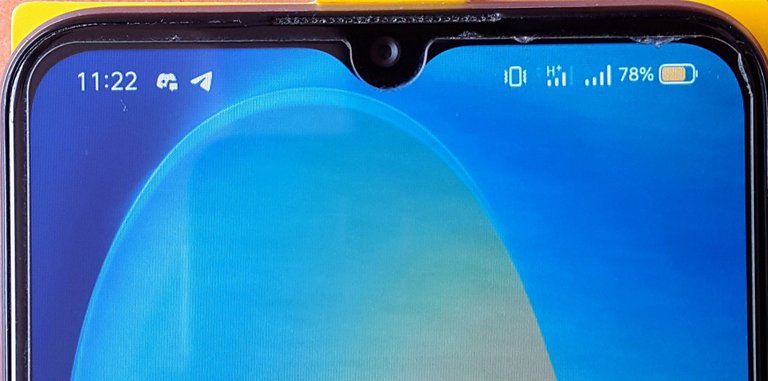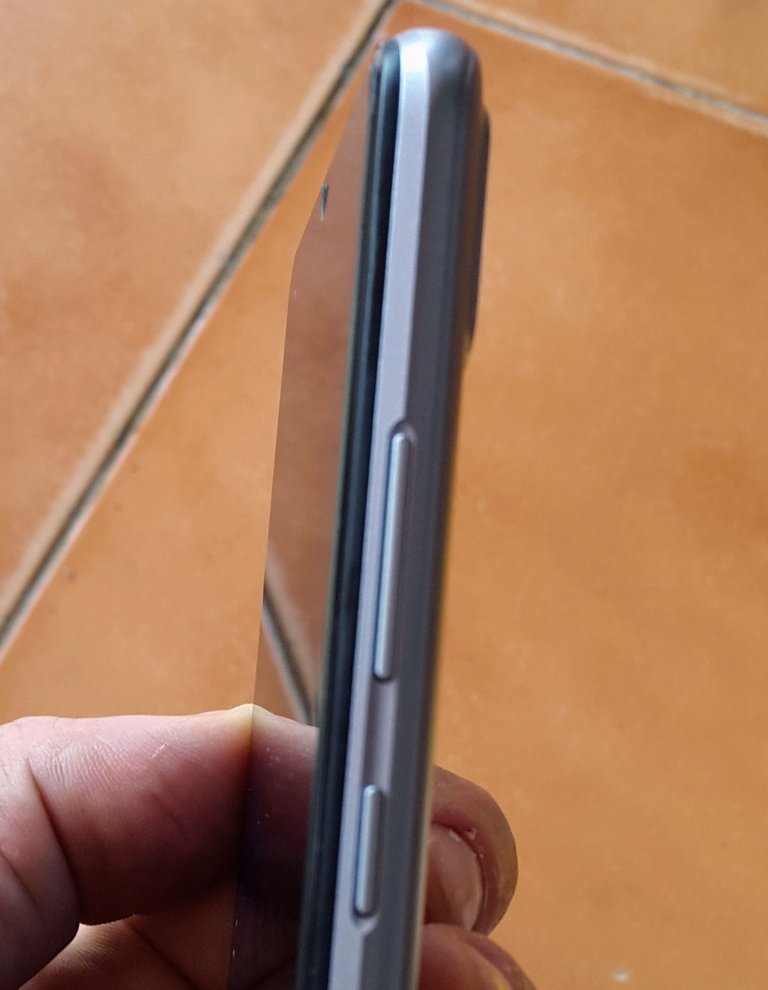 We are now going to enjoy the external features of the device. On the back we observe a rough texture that allows a good grip. Similarly, the team presents a fingerprint reader; plus a triple camera whose main lens is 48 MP and flash. In the front region we can see a camera in the upper center front drop type of 8 mp; the screen of the team is 6.5 inches. If we go to the right side, you can see the top button that serves to raise and lower volume; the lower button is for power off and on. On the left side we find the area to place the sim and sd cards. We can not forget to move to the bottom of the phone, to enjoy the 3.5 jack ports for headphones, and type C for charging the phone and the placement of other devices that work with this type of port. On the other hand, we find a dual microphone and speaker. Logically, as is characteristic of current equipment, the battery is not removable. As you can see, the device has acceptable external features.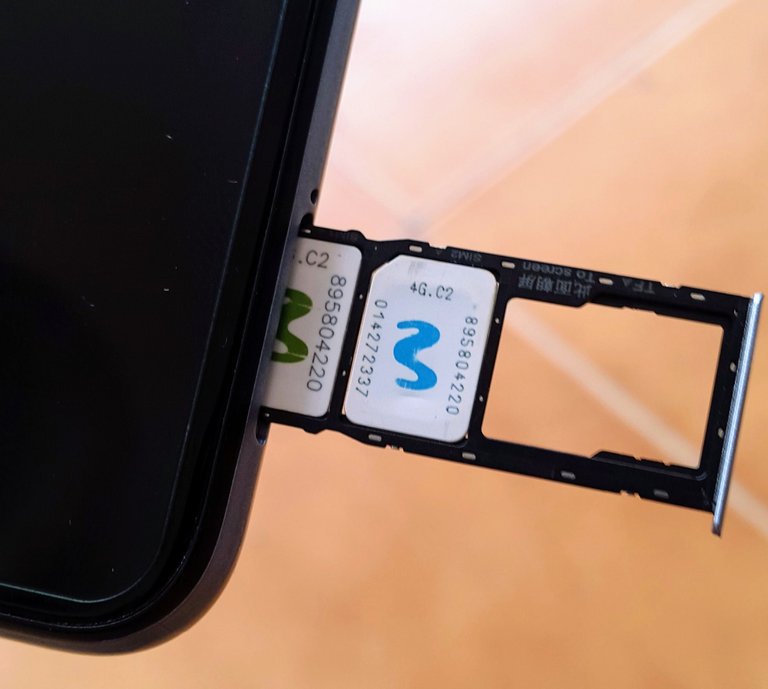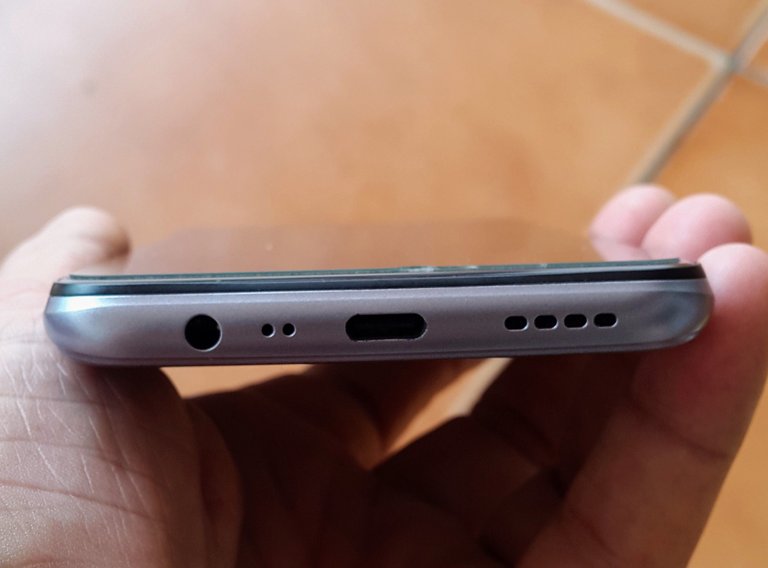 El dispositivo cuenta con una pantalla de 6.5 pulgadas HD+ de 720x1.600; contando con un procesador MediaTek Helio G85 de 8 núcleos, que puede ser usado para juegos. Por ser un dispositivo de gama media tiene una memoria RAM de 4 GB y 64GB de almacenamiento. Sus cámaras posteriores son de 48 MP la principal, 8 MP de gran angular, y 2 MP para macro; la frontal es de 8 MP. Muy pero muy importante, su batería es de 6000 mAh con carga rápida dart a 18 w; fácilmente puede durar más de dos días en uso corriente. Su versión de sistema operativo nativa es Android 10 Realme UI, actualizable a la versión 11. La conectividad es Dual 4G, WIFI 5, Bluetooth 5.0, GPS, puerto Jack 3.5 y conector USB tipo C, además del respectivo lector de huellas.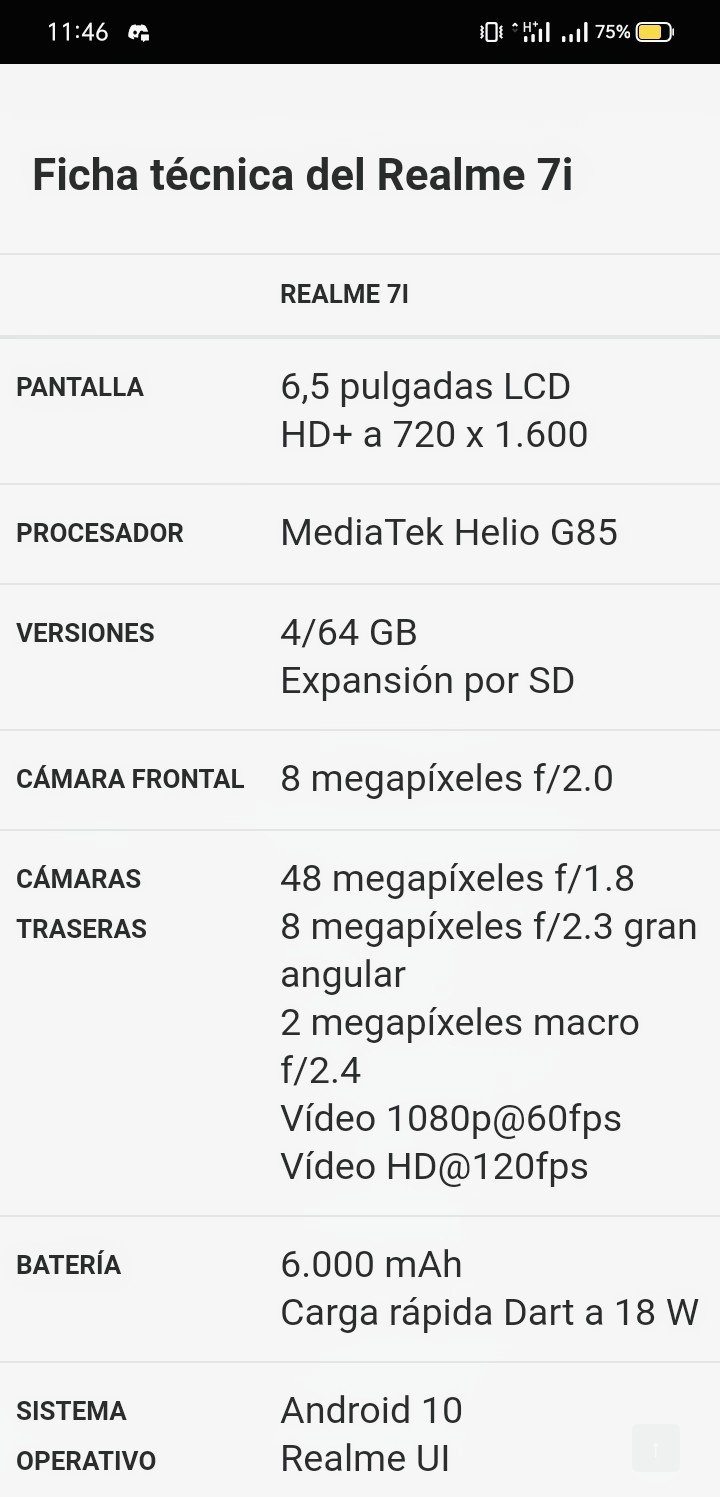 Fuente-Source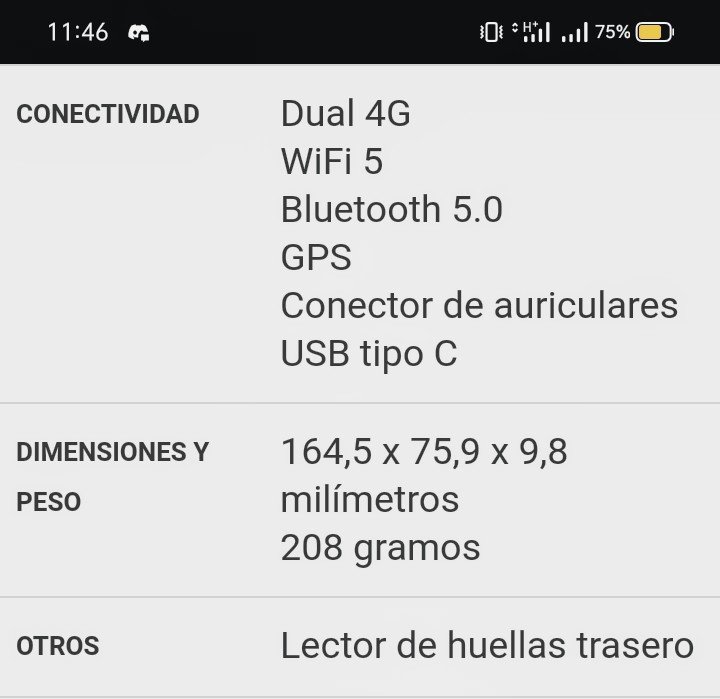 Fuente-Source
The device features a 6.5-inch HD+ 720x1,600 display; counting with an 8-core MediaTek Helio G85 processor, which can be used for gaming. Being a mid-range device it has a RAM of 4 GB and 64GB of storage. Its rear cameras are 48 MP the main one, 8 MP wide-angle, and 2 MP for macro; the front one is 8 MP. Very but very important, its battery is 6000 mAh with fast charging dart at 18 w; it can easily last more than two days in current use. Its native operating system version is Android 10 Realme UI, upgradeable to version 11. Connectivity is Dual 4G, WIFI 5, Bluetooth 5.0, GPS, Jack 3.5 port and USB type C connector, in addition to the respective fingerprint reader.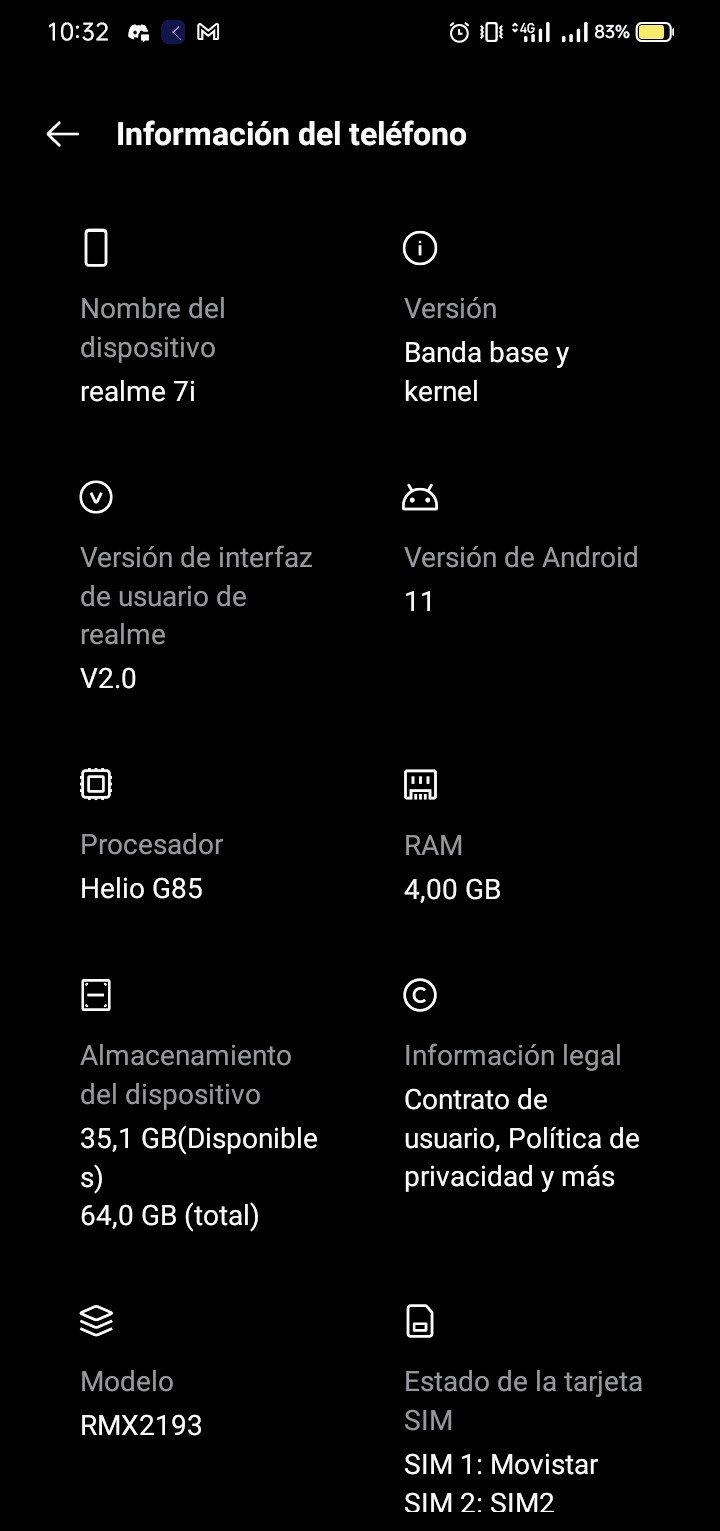 De igual manera el equipo se puede conectar en redes cuyas bandas son GSM, WCDMA, LTE FDD, y LTE TDD. Por otro lado la cámara cuenta con la inteligencia artificial (AI), además puede tomar videos con resoluciones de 720P y 1080p, a una velocidad de fotogramas de 30fps y 60fps. Posteriormente, procedemos a encender al teléfono y a cargarlo a través de su cable usb tipo C. Realizamos esta carga por medio de una batería portátil, ya que como es normal aquí en Venezuela, para ese momento no se contaba con servicio de energía eléctrica. Por otra parte el dispositivo es rápido, las aplicaciones fluyen con normalidad, por lo que he podido realizar mis videos y ediciones sin ningún tipo de inconvenientes; además, realiza tomas en video y fotografía de manera eficiente; a las pruebas me remito, y los invito a disfrutar de ello entrando en los siguientes enlaces Rutina en Video; Rutina Gifs y Fotografías.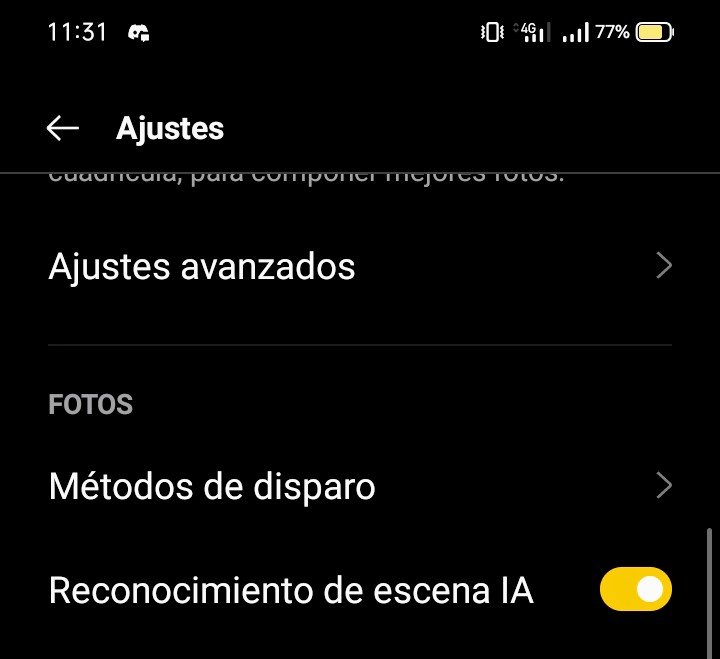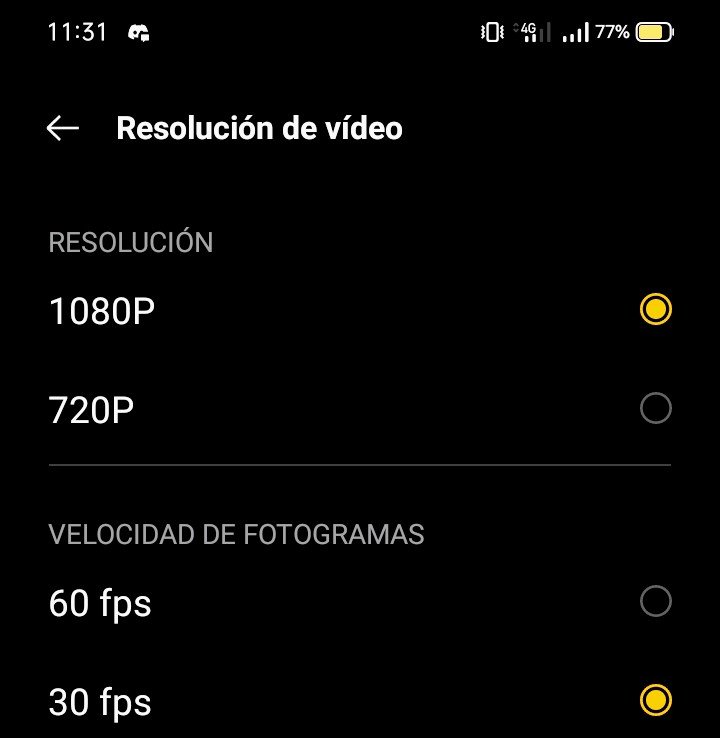 The device can also connect to networks with GSM, WCDMA, LTE FDD, and LTE TDD bands. On the other hand, the camera has artificial intelligence (AI), and can also take videos with resolutions of 720P and 1080p, at a frame rate of 30fps and 60fps. Subsequently, we proceed to turn on the phone and charge it through its usb type C cable. We did this charging through a portable battery, since as usual here in Venezuela, at that time there was no electricity service. On the other hand, the device is fast, the applications flow normally, so I have been able to make my videos and editions without any inconvenience; also, it takes video and photo shots efficiently; to the evidence I refer, and I invite you to enjoy it by entering the following links Video Routine; Routine Gifs and Pictures.
Bien amigos, hasta aquí le hemos presentado las características y bondades del Realme 7i, dispositivo que puede adaptarse a tus necesidades y presupuesto. En pocas palabras, representa una alternativa si deseas actualizarte en cuanto a teléfonos celulares se refiere; recuerda, la tecnología avanza, y no podemos quedarnos en el camino. Ahora si más adelante se requiere otra actualización, poco a poco iremos avanzando para alcanzar otra meta. Espero hayan disfrutado, saludos, y nos vemos en otra oportunidad cuando tengamos presente un nuevo tema en este mundo tecnológico. Se les quiere.
Well friends, so far we have presented the features and benefits of the Realme 7i, a device that can adapt to your needs and budget. In a few words, it represents an alternative if you want to upgrade in terms of cell phones; remember, technology advances, and we cannot stay on the way. Now if later another update is required, we will gradually move forward to reach another goal. I hope you enjoyed, greetings, and see you another time when we have a new topic in this technological world. We love you.
...Gracias Por Visitar...

...Thanks for visiting...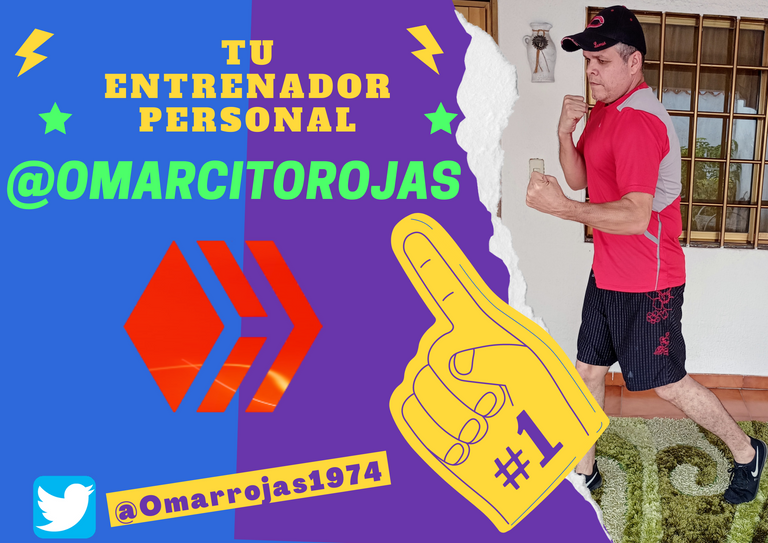 Imágenes tomadas por mí desde el galaxy S5, realme 7i, capturas de pantalla.
Images taken by me from galaxy S5, realme 7i, screenshots.
Sorry. English is not our native language. Therefore, a web translator is used for texts in English. (Spanishdict)