Desempaquetado Batería Portátil Biyang. Cuando estamos creando algún tipo de contenido desde nuestro teléfono celular o tableta, en ciertas ocasiones estamos tan emocionados, que se nos olvida cargar los dispositivos sin tomar en cuenta que en cualquier momento puede apagarse, o en su defecto resulta que se va la energía eléctrica y perdemos por partida doble, ya que pudiera perderse el trabajo por no guardar a tiempo, y además quedamos incomunicados. Lo dicho no se aleja de la realidad, más aún si hablamos que en nuestro país Venezuela ya es un lugar común estar sin energía eléctrica, sino que lo diga la bella @zullyscott que más de una vez no ha podido trabajar por la ausencia constante de esta tan necesaria electricidad. Por ello, para evitar algún grado de frustración decidí adquirir una batería portátil o el llamado power bank, claro está que es otro logro gracias a los beneficios recibidos por #hive. Este cargador portátil marca Biyang de producción china tuvo un costo de 16$, y de verdad que le he sacado el jugo, puesto que más de una vez en un solo día se ha ido la luz. Este dispositivo es una bendición ya que tiene una larga duración, y si el teléfono está cargado, dura aun más, todo un éxito justo y necesario que todos deben tener.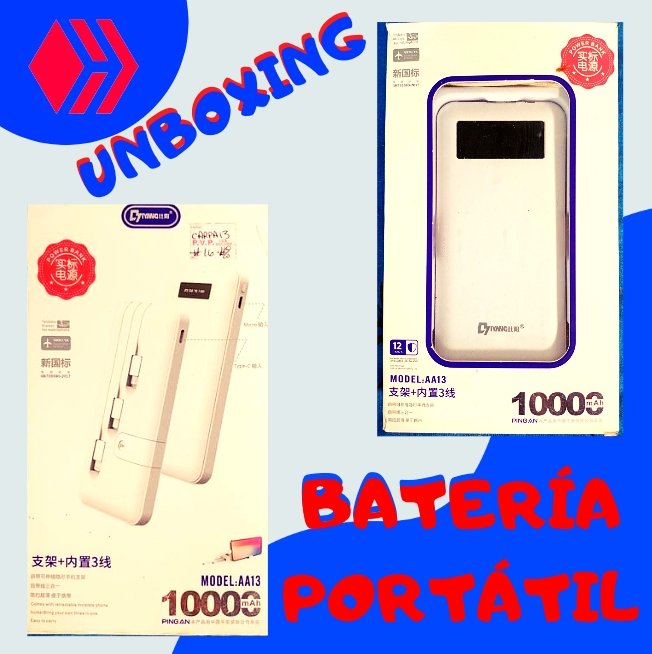 Imagen de mi Autoría Editada en/Image of my Authorship Edited in Canva
Unpacking Biyang Portable Battery. When we are creating some kind of content from our cell phone or tablet, sometimes we are so excited that we forget to charge the devices without taking into account that at any time it can turn off, or otherwise it turns out that the power goes out and we lose twice, since the work could be lost by not saving on time, and also we are incommunicado. This is not far from reality, even more if we talk that in our country Venezuela is already a common place to be without electricity, but let the beautiful @zullyscott say it, who more than once has not been able to work because of the constant absence of this much-needed electricity. Therefore, to avoid some degree of frustration I decided to acquire a portable battery or the so-called power bank, of course it is another achievement thanks to the benefits received by #hive. This portable charger brand Biyang of Chinese production had a cost of $ 16, and I have really taken advantage of it, since more than once in a single day the light has gone out. This device is a blessing as it has a long life, and if the phone is charged, it lasts even longer, all a fair and necessary success that everyone should have.

Hoy en día existen muchas marcas y tamaño de este dispositivo, sin embargo, aquí en Cumaná estado Sucre Venezuela, hay que caminar para ubicar el dispositivo idóneo. Entonces me di a la tarea de caminar por el centro de la Ciudad para tratar de encontrar un equipo, como decimos en mi tierra con las 3b, bueno, bonito, y barato, jajaja. Luego de tanto recorrer, buscar y buscar, sin mucha variedad por cierto, encontré una batería portátil marca Biyang por el costo que les indiqué con anterioridad. Su tamaño es parecido al de un teléfono de 5 pulgadas, tanto de ancho como de alto. Entonces que esperamos, sigamos adelante y vamos a ver que hay dentro de la caja.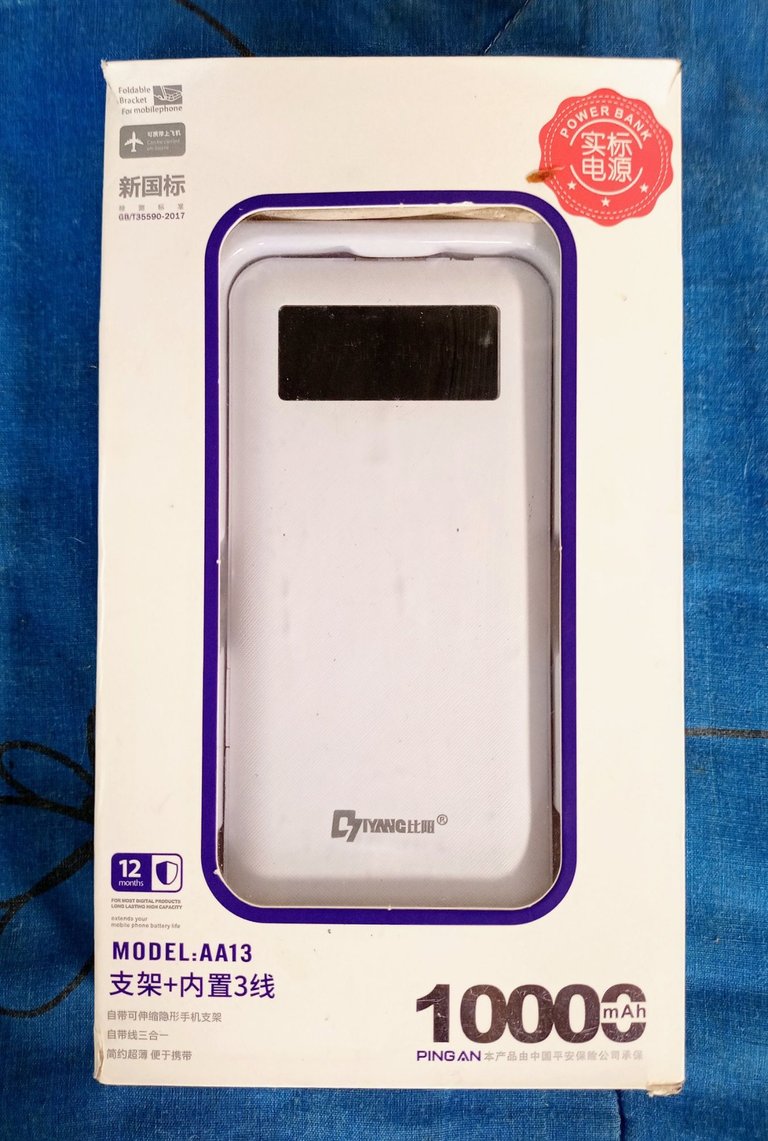 Today there are many brands and sizes of this device, however, here in Cumaná state Sucre Venezuela, you have to walk to locate the ideal device. So I took the task of walking through the center of the city to try to find a team, as we say in my land with the 3b, good, nice, and cheap, hahaha. After so much walking, searching and searching, without much variety by the way, I found a portable battery Biyang brand for the cost that I indicated above. Its size is similar to that of a 5-inch phone, both in width and height. So what are we waiting for, let's go ahead and see what's inside the box.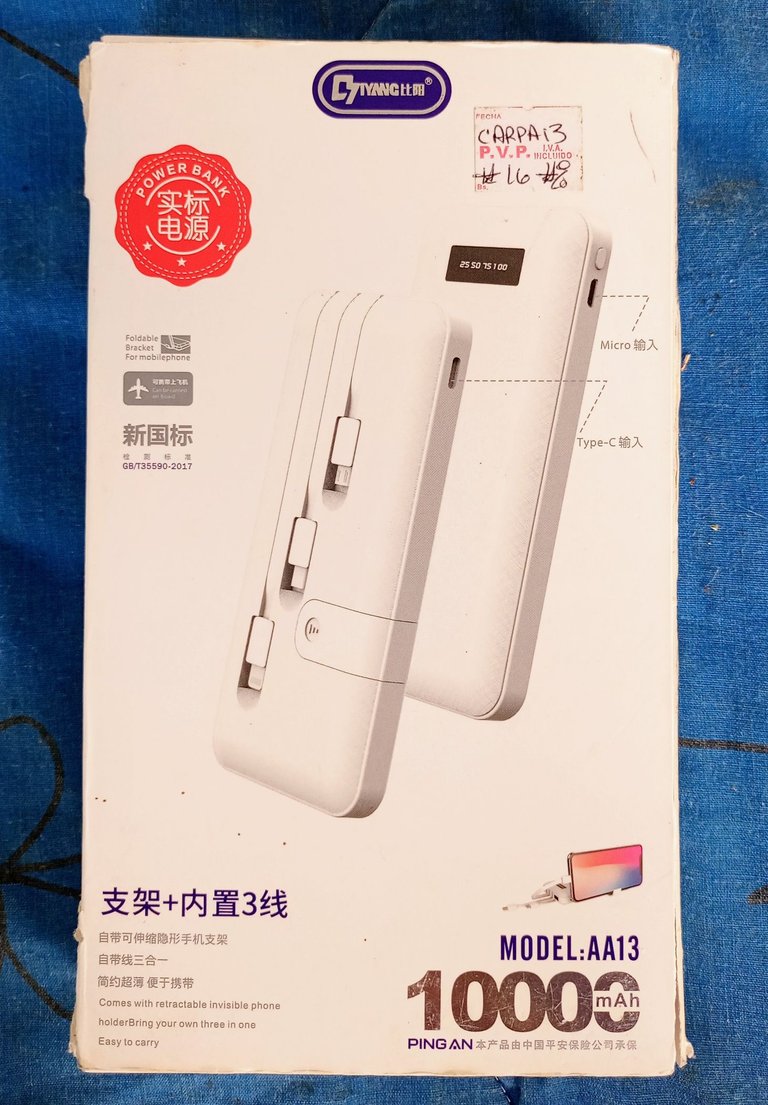 Al sacar el dispositivo de la caja nos encontramos con un detalle que no es muy común, el dispositivo no trajo el acostumbrado manual. Bueno, podemos observar el equipo de color blanco, como dije tiene un tamaño similar a un teléfono de 5 pulgadas. En su parte frontal se aprecia una pantalla que indica la carga de reserva del dispositivo, caracterizado por números que van de 25 a 100 con intervalos de 25 en 25, esto es el porcentaje de carga. También trajo consigo un cable usb tipo C para cargar los dispositivos celulares o tablas.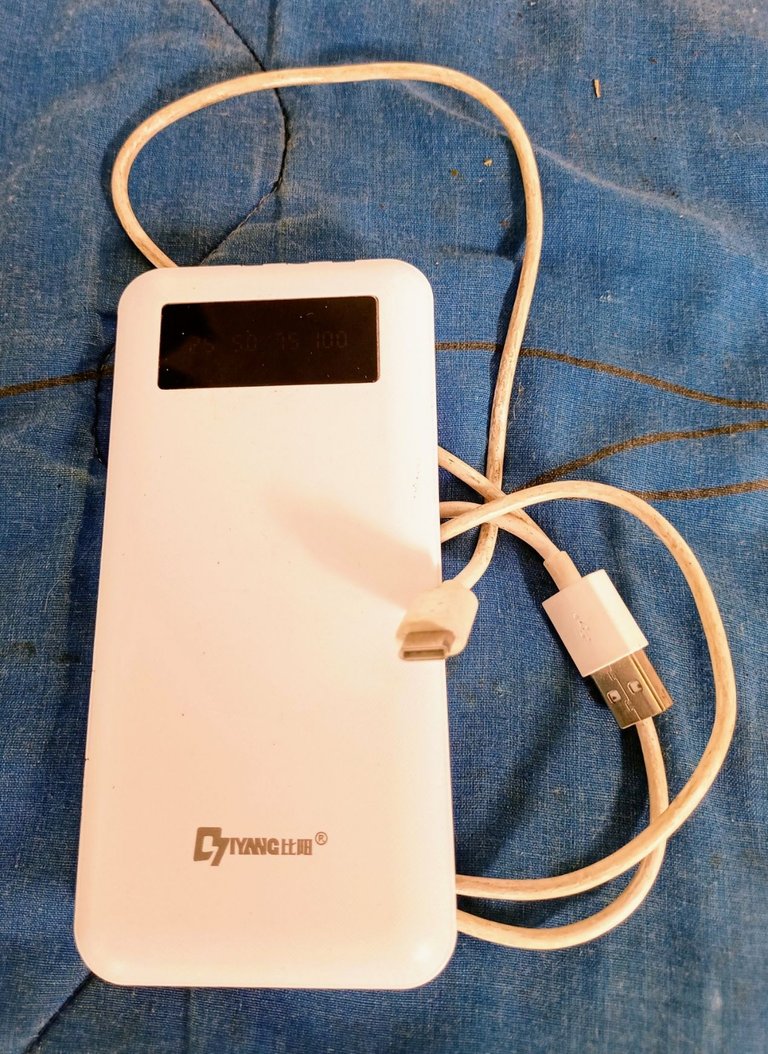 When we took the device out of the box we found a detail that is not very common, the device did not bring the usual manual. Well, we can observe the white equipment, as I said it has a size similar to a 5-inch phone. On the front there is a screen that indicates the reserve charge of the device, characterized by numbers ranging from 25 to 100 with intervals of 25 in 25, this is the percentage of charge. It also brought with it a type C usb cable for charging cellular devices or tablets.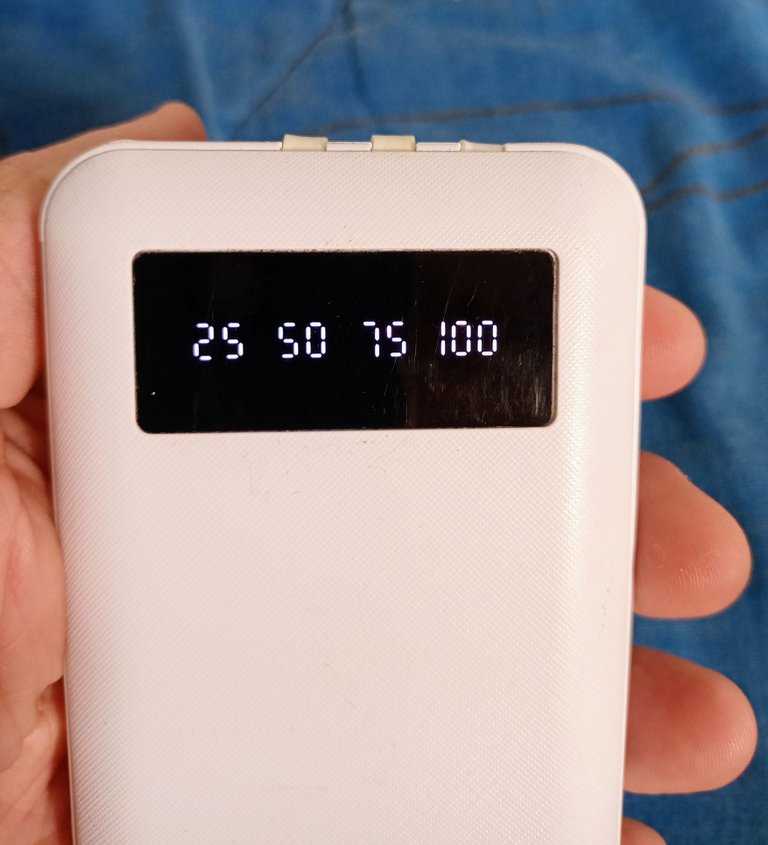 En el costado derecho encontramos una entrada o puerto mini usb acompañado también por un botón de encendido y apagado. Del costado izquierdo disfrutamos de otro puerto usb pero tipo C, además de contar en su parte superior con otro puerto usb grande, donde se puede conectar el cable para cargar algún dispositivo, sin embargo, una característica fabulosa es que la batería cuenta con 3 cables incorporados, que aunado al puerto usb grande permite cargar 4 dispositivos al mismo tiempo. Los tres cables incorporados tienen 3 conectores diferentes, una conector mini usb, uno tipo C, y un conector para iPhone. Y por si fuera poco su batería es de 10.000 mAh. Es decir, si se corta el servicio eléctrico, y si tenemos el teléfono cargado, podemos contar con horas y horas de trabajo hasta que se restablezca la electricidad.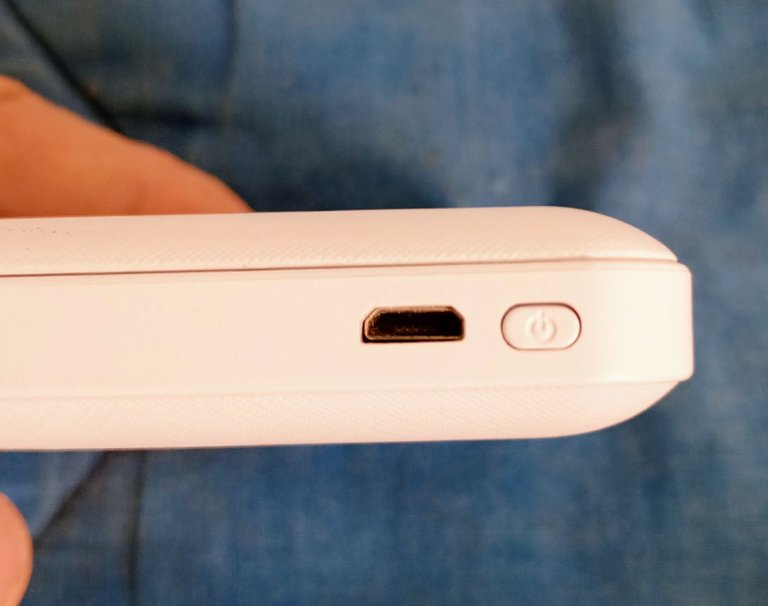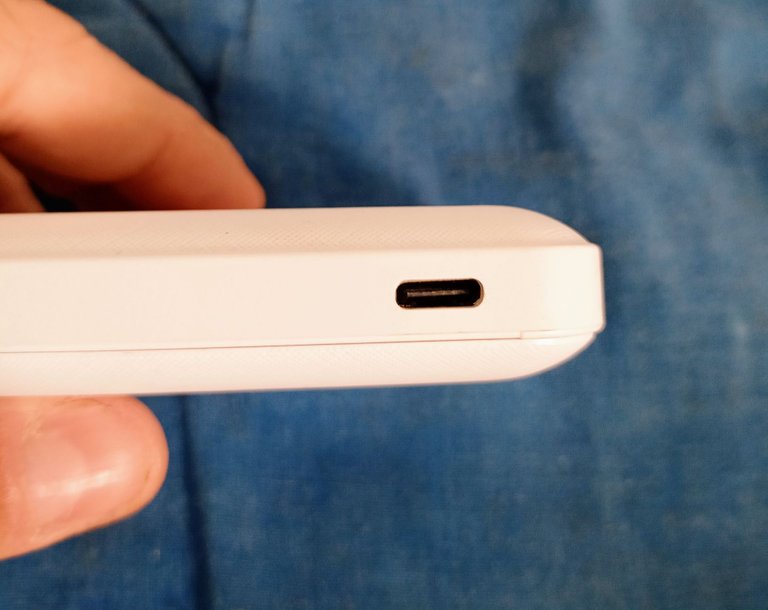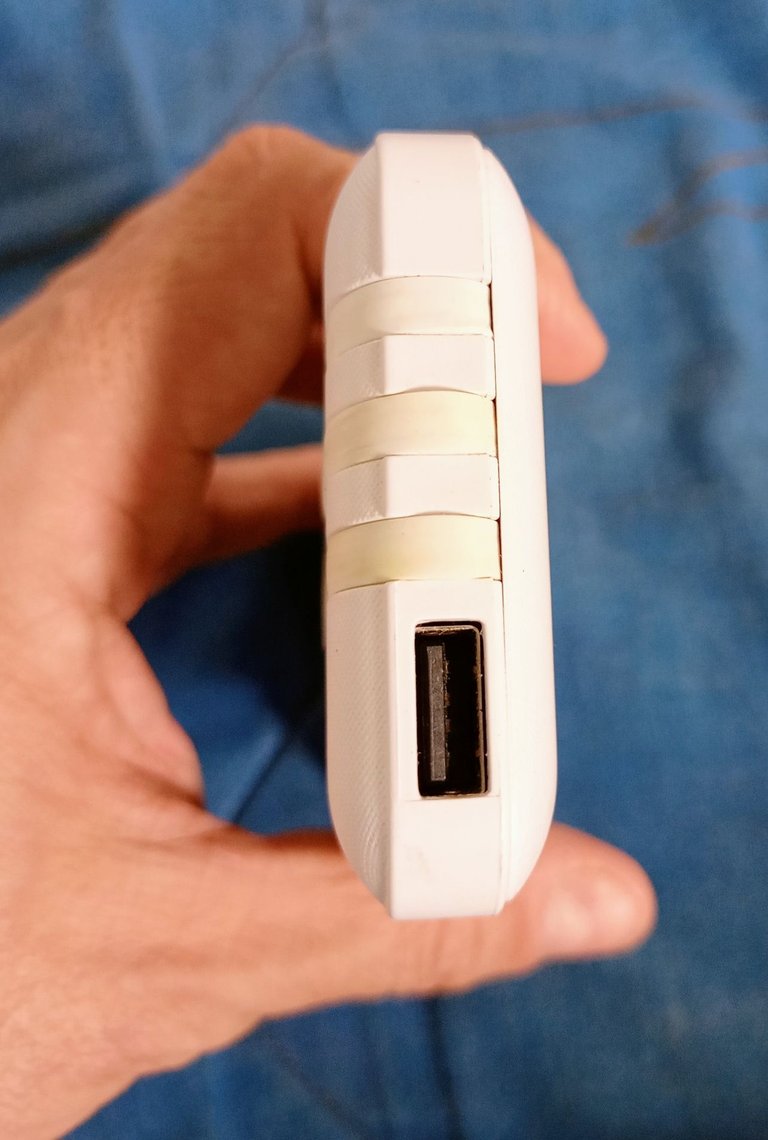 On the right side we find an input or mini usb port also accompanied by an on/off button. On the left side we enjoy another usb port but type C, in addition to having at the top with another large usb port, where you can connect the cable to charge a device, however, a fabulous feature is that the battery has 3 built-in cables, which together with the large usb port allows you to charge 4 devices at the same time. The three built-in cables have 3 different connectors, a mini usb connector, a type C connector, and an iPhone connector. And if that wasn't enough, its battery is 10,000 mAh. That is, if the power goes out, and if we have the phone charged, we can count on hours and hours of work until the electricity is restored.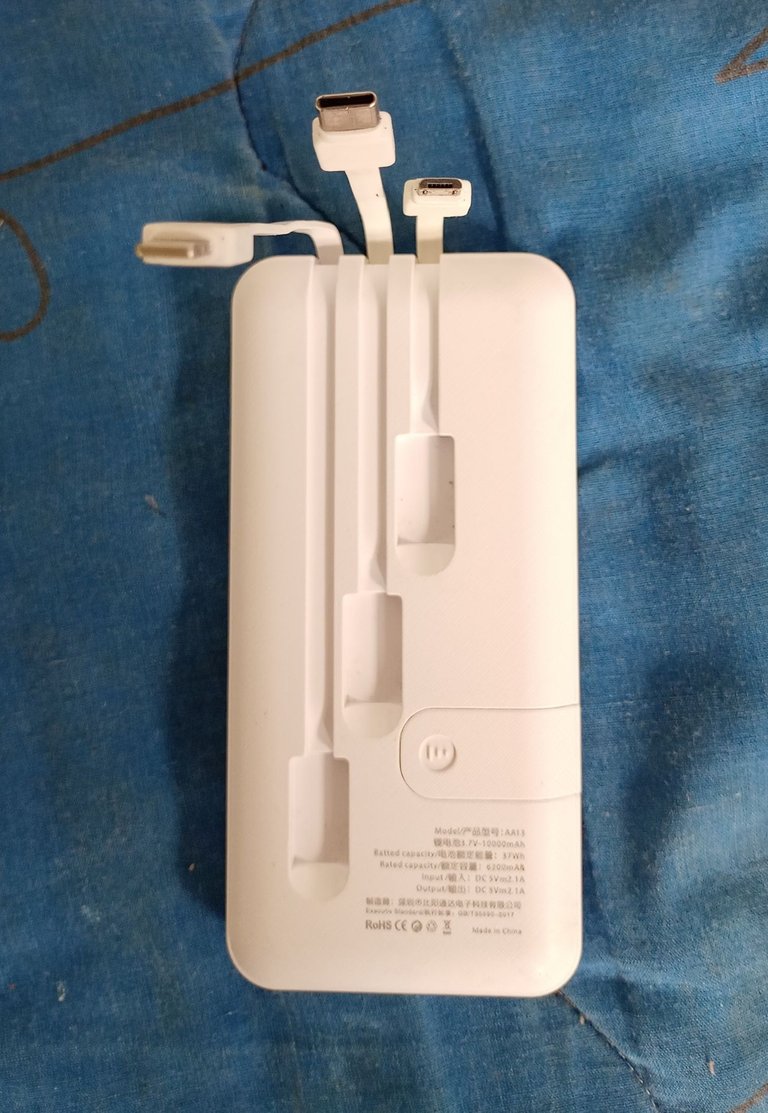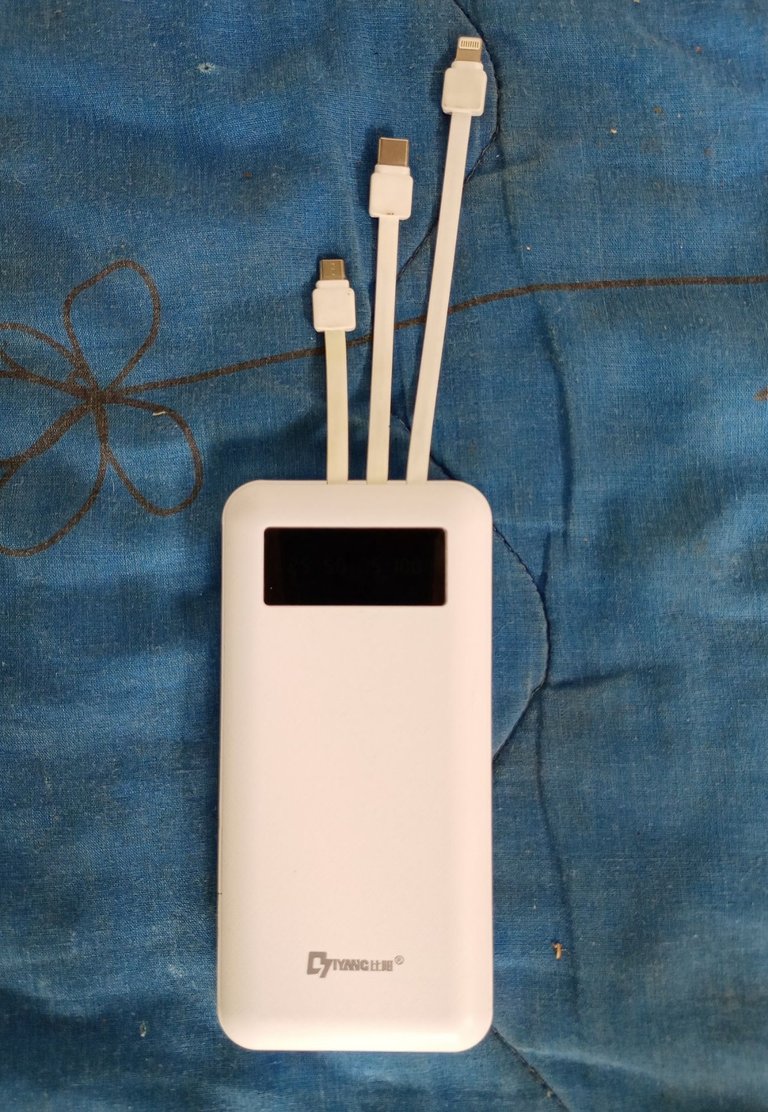 El modelo del dispositivo es AA13 de 7V con una batería de 10.000 mAh. Capacidad de batería de 37wh con un radio de capacidad de 6.200 mAh. Su entrada y salida es de 4V 2.1 A, siendo de fabricación china.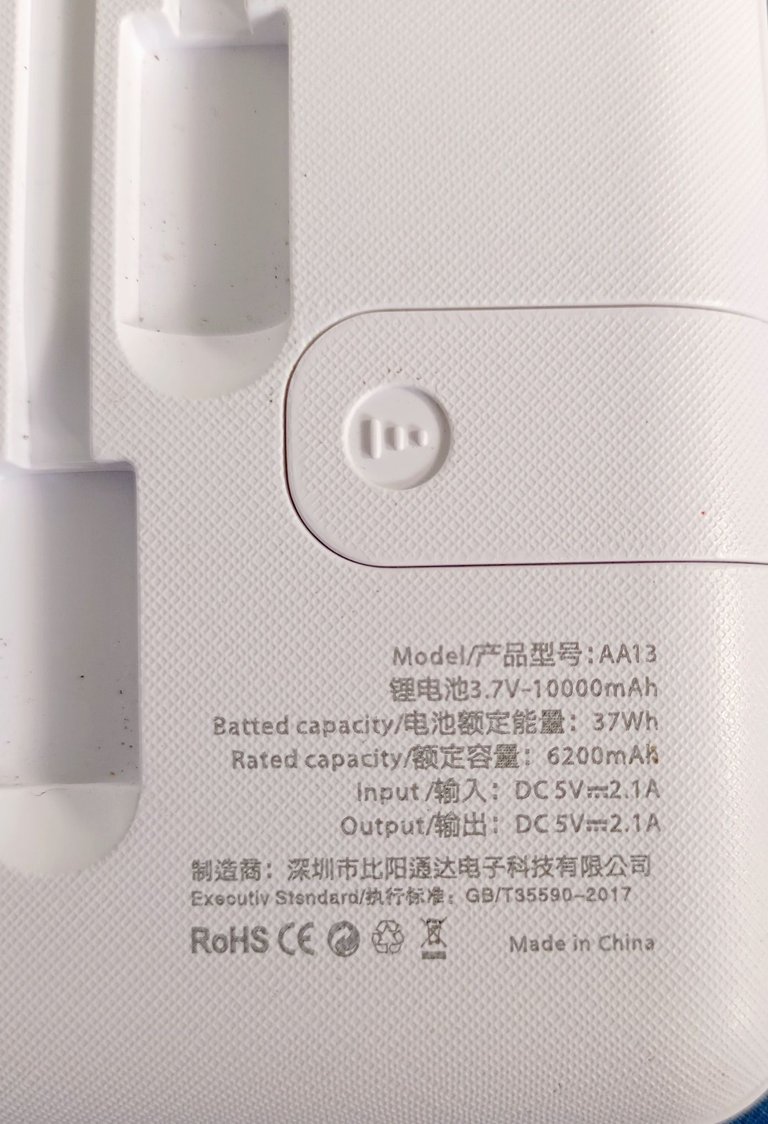 The device model is 7V AA13 with a 10,000 mAh battery. Battery capacity of 37wh with a capacity radius of 6,200 mAh. Its input and output is 4V 2.1A, being of Chinese manufacture.

En cuanto a su funcionamiento, esto es muy sencillo. Primero probamos que el dispositivo reciba carga, es decir lo vamos a cargar a él en primera instancia. Para ello podemos usar un cable mini usb o tipo c, el cual se conecta en las ranuras ubicadas en los costados de batería portátil, para luego proceder a conectar el extremo usb grande en el cajetín que debe colocarse en el tomacorriente. Una vez realizado este proceso, podemos observar en la pantalla del dispositivo que esta cargando cuando inician a titilar los números, cuando éstos se detienen es porque la batería está completamente cargada.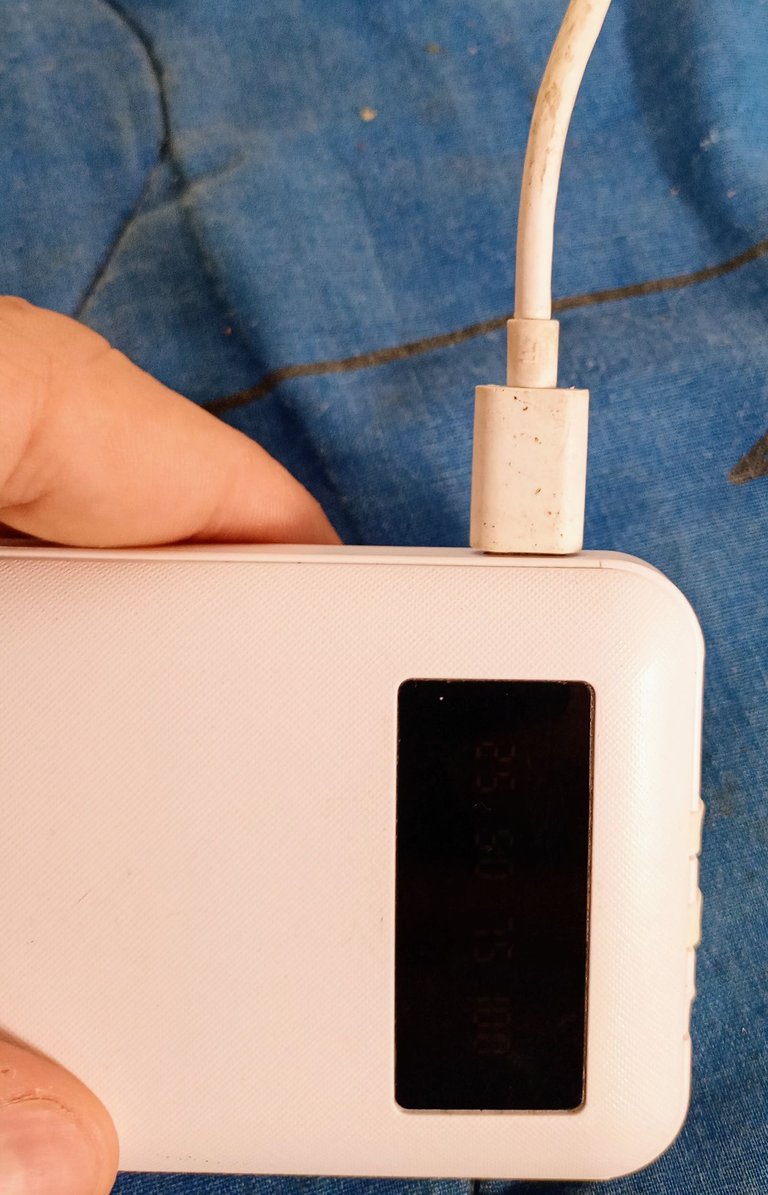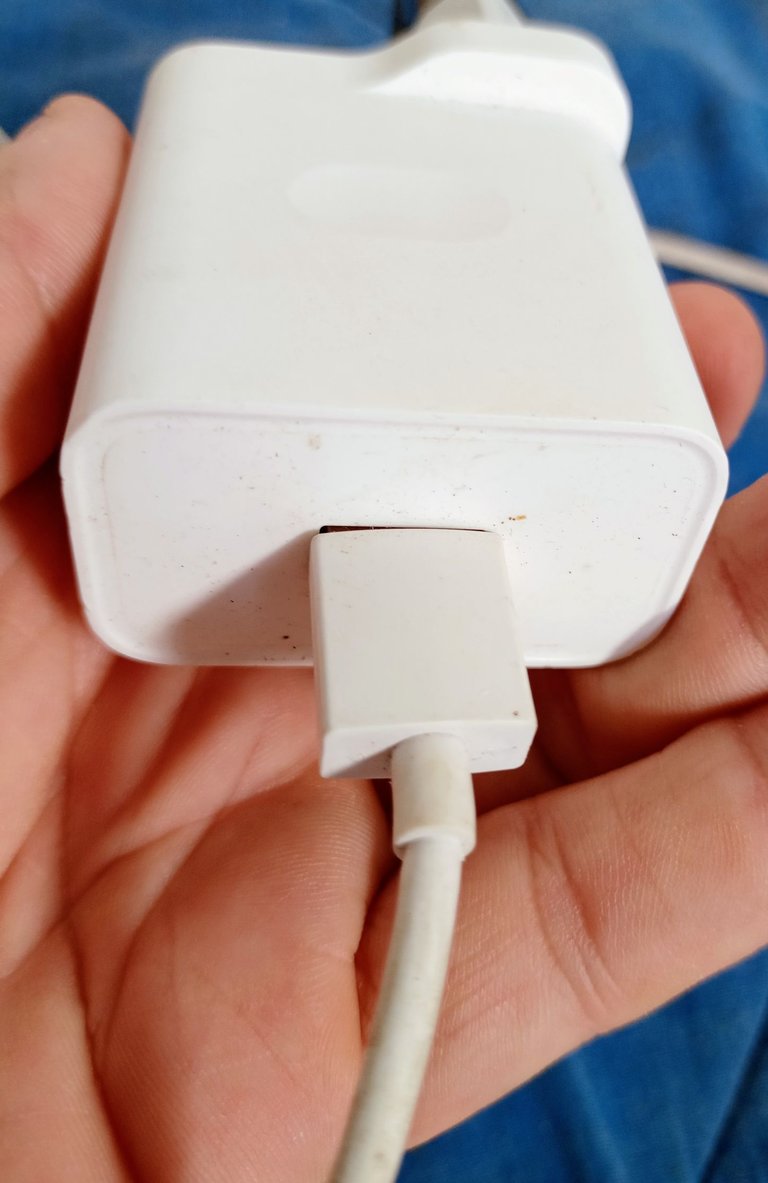 As for its operation, this is very simple. First we test that the device receives charge, that is to say we are going to charge it in the first instance. For it we can use a mini usb cable or type c, which is connected in the slots located in the sides of portable battery, to then proceed to connect the end usb big in the box that must be placed in the outlet. Once this process is done, we can see on the screen of the device that it is charging when the numbers start blinking, when they stop it is because the battery is fully charged.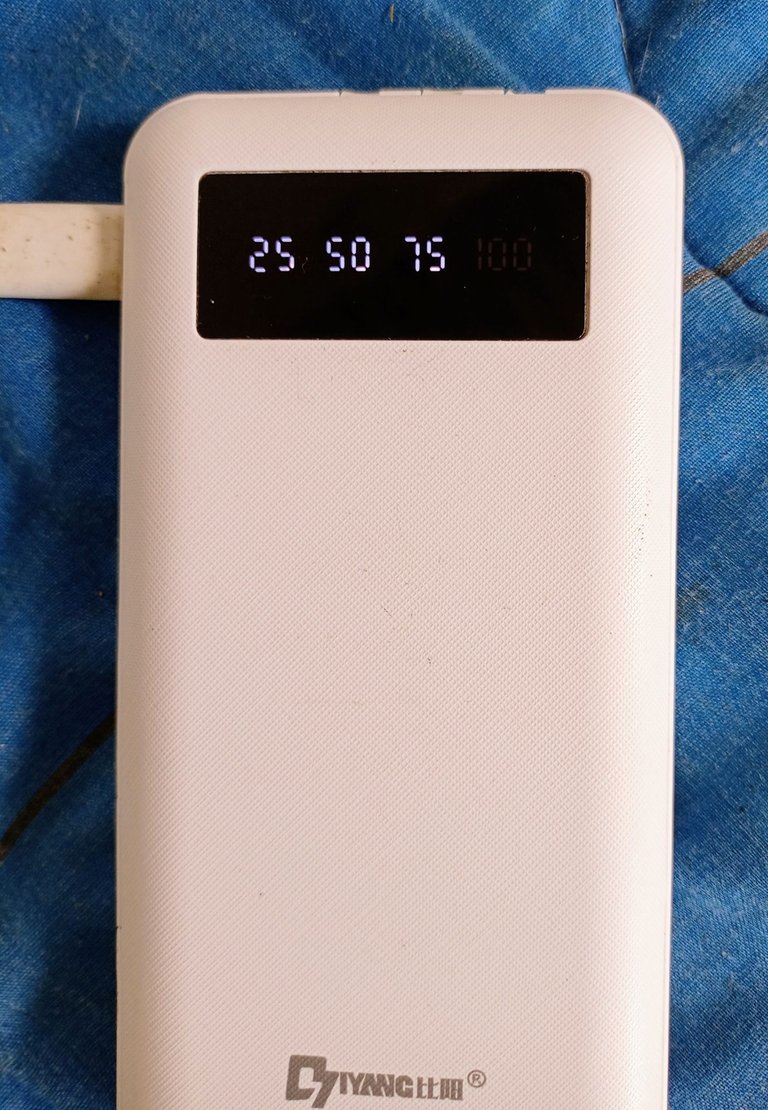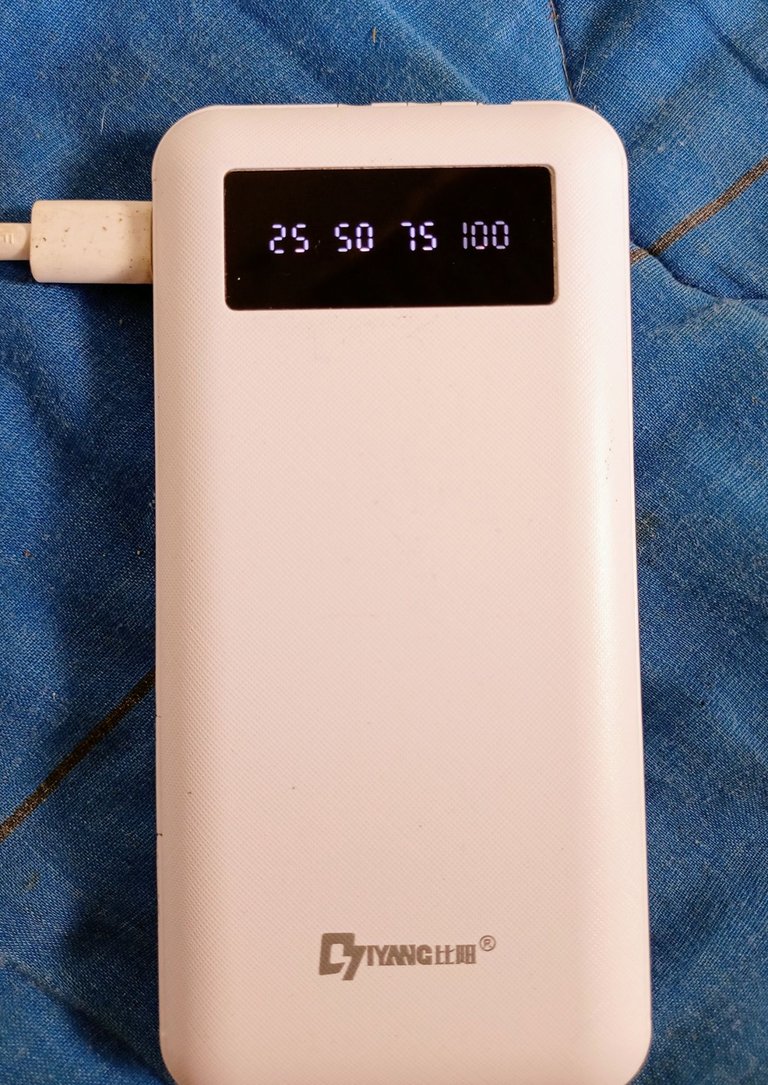 Ahora para la carga de celulares, hemos probado dos teléfonos diferentes, uno con puerto mini usb, y otro con puerto tipo C. En ambos casos el procedimiento es el mismo, lo que cambia es la punta del conector. Para ello vamos a usar los cables que vienen incorporados con la batería portátil. Simplemente tomamos el conectar respectivo y lo conectamos, valga la redundancia en el puerto de carga del teléfono o tableta. Hecho esto, podemos observar que el dispositivo que recibe la carga se enciende e indica que está cargando. Para ello podemos ver el característico indicador de carga que aparece en la batería del teléfono, ubicado en la parte superior derecha del mismo.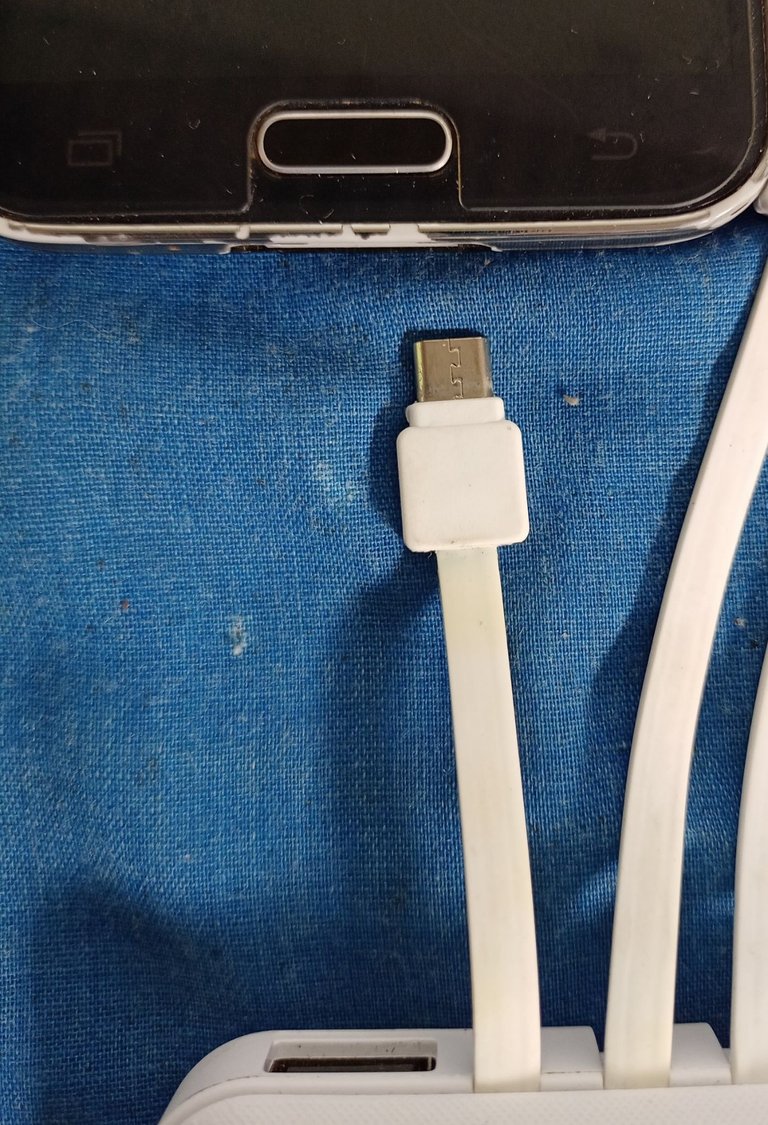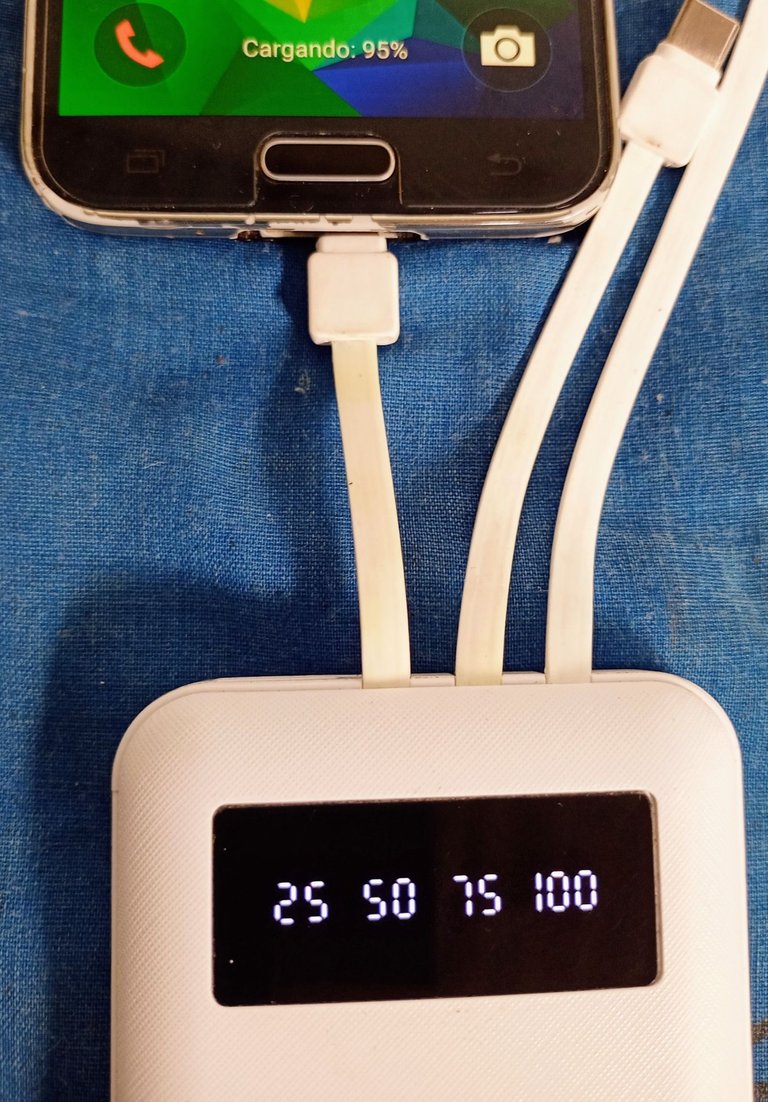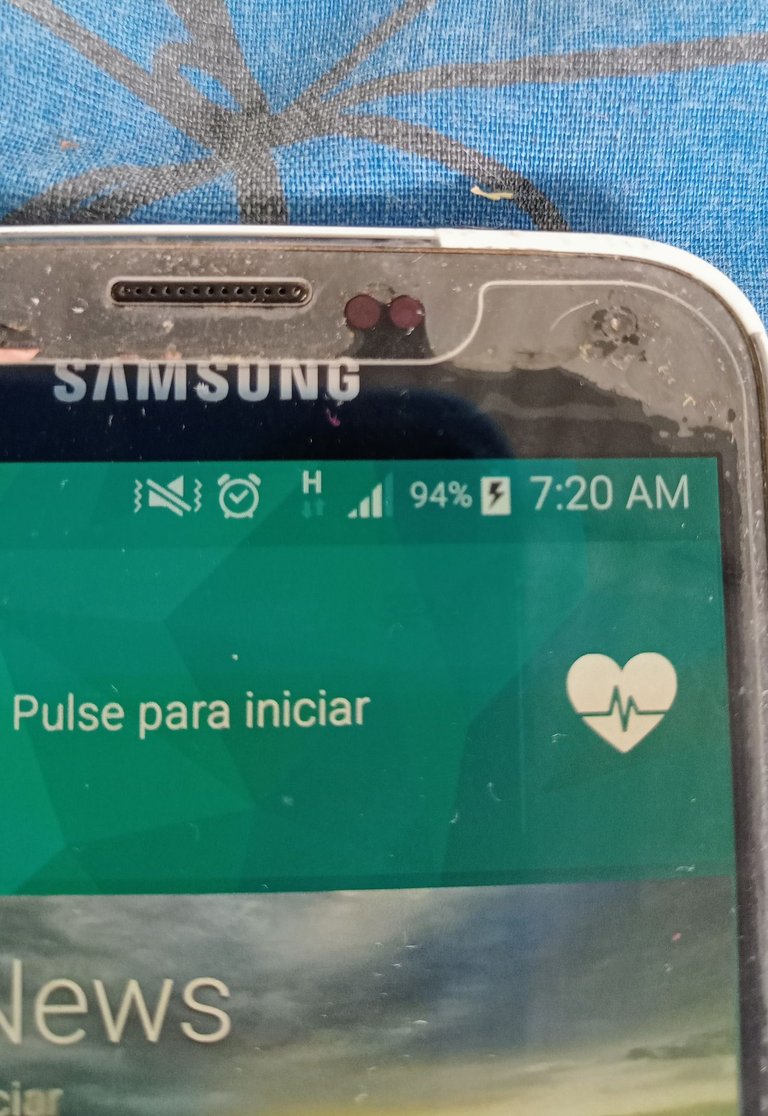 Now for cell phone charging, we have tested two different phones, one with mini usb port, and the other with type C port. In both cases the procedure is the same, what changes is the connector tip. For this we are going to use the cables that come with the portable battery. We simply take the respective connector and connect it to the charging port of the phone or tablet. Once this is done, we can observe that the device receiving the charge turns on and indicates that it is charging. To do this we can see the characteristic charging indicator that appears on the phone battery, located at the top right of the phone.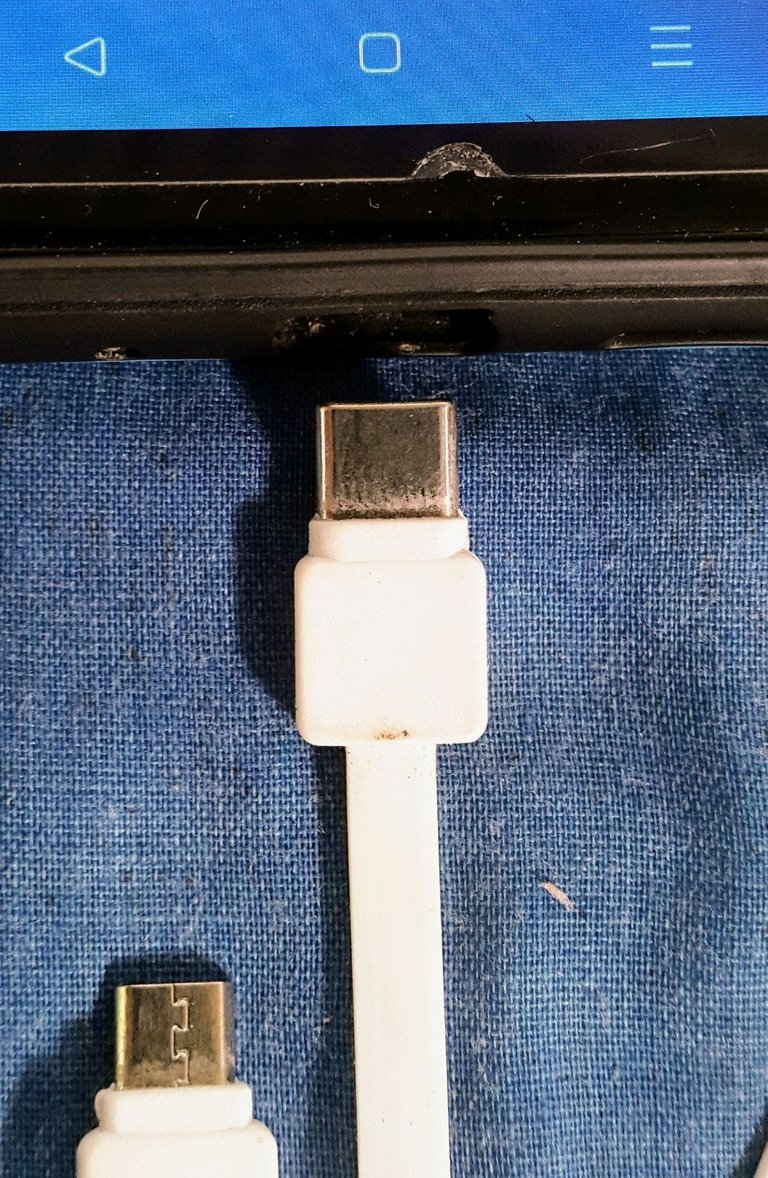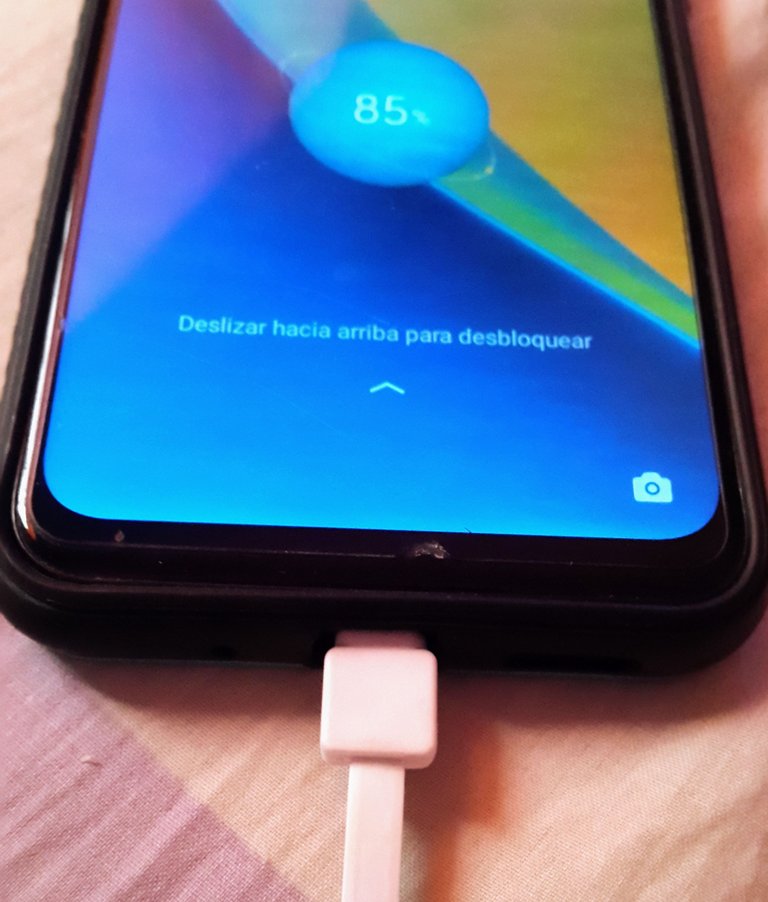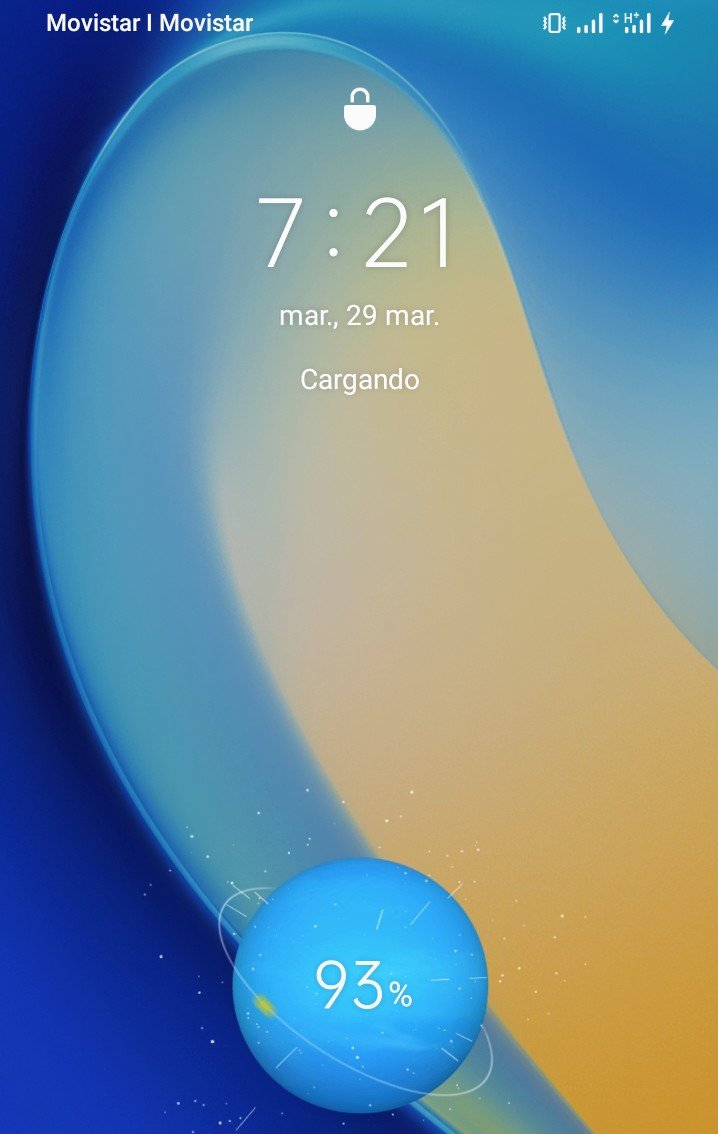 Bueno amigos, hemos llegado al final de este desempaquetado tan maravilloso y útil. Y de verdad que es muy útil porque aquí en Venezuela el problema eléctrico es grave, donde podemos estar sin energía eléctrica por horas y horas. Sinceramente, esta batería es el salvavidas ideal cuando falla la electricidad. Equipo muy pero muy necesario, espero que puedan adquirir uno de estos para que sus niveles del estrés se minimicen. Hasta la próxima amigos míos. Chao.
Well friends, we have reached the end of this wonderful and useful unpacking. And it is really very useful because here in Venezuela the electrical problem is serious, where we can be without power for hours and hours. Sincerely, this battery is the ideal lifesaver when the electricity fails. Very, very necessary equipment, I hope you can acquire one of these so that your stress levels are minimized. Until next time my friends. Ciao.
...Gracias Por Visitar...
...Thanks for visiting...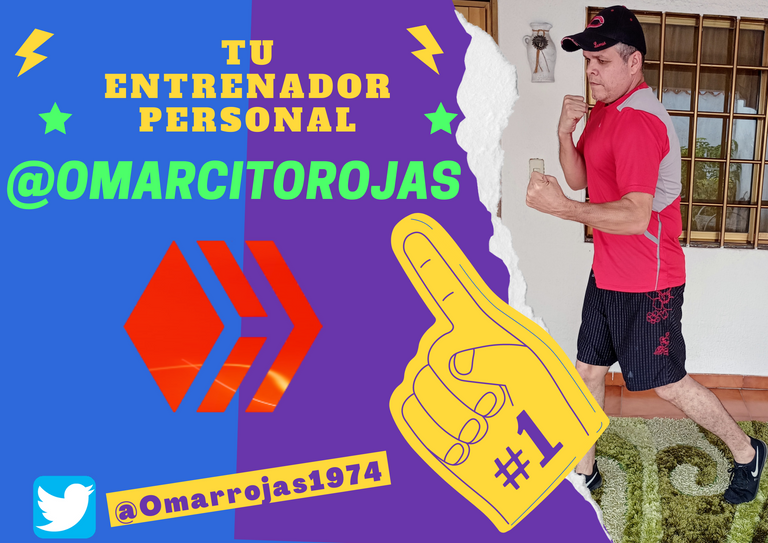 Imágenes tomadas por mi desde mi teléfono realme 7i
Pictures taken by me from my phone realme 7i
Sorry. English is not our native language. Therefore, a web translator is used for texts in English. (Spanishdict)