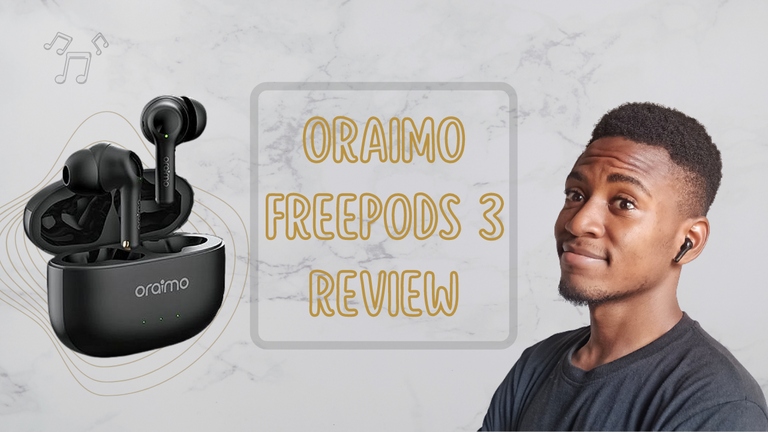 Hello! As a person that loves technology, trying out new gadgets and devices is something that I am always eager to do. To know how much creativity and innovation was poured into a concept and to adore the brilliancy in manifesting beautiful ideas gives me the feeling of being high (digitally high, by the way😂).
Have you not always preferred to get something and have it do exactly what you got it for? Yeah, my guess is that your answer is yes. If it wouldn't serve its claim (the product), you definitely would like to know that way before hand.
I got the Oraimo Freepods 3 about six months ago and ever since then, there has literally never gone a day without them hanging on my ears.
¡Hola! Como una persona que ama la tecnología, probar nuevos aparatos y dispositivos es algo que siempre estoy ansioso por hacer. Saber cuánta creatividad e innovación se vertió en un concepto y adorar la brillantez en la manifestación de hermosas ideas me da la sensación de estar drogado (digitalmente drogado, por cierto 😂). ¿No ha preferido siempre obtener algo y hacer que haga exactamente lo que lo obtuvo? Sí, supongo que tu respuesta es sí. Si no cumple con su reclamo (el producto), definitivamente le gustaría saberlo de antemano. Obtuve los Oraimo Freepods 3 hace unos seis meses y desde entonces, literalmente, nunca ha pasado un día sin que me los cuelguen en las orejas.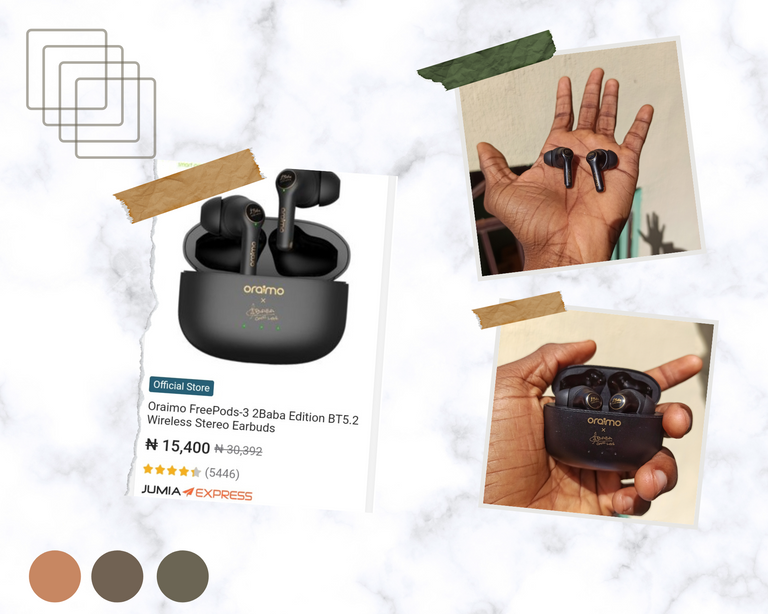 I simply heard about it's release and, as enthusiastic as I always am, I became instantly curious about it. I instantly asked myself the question, "Will this new guy actually perform like it says?" I got into a store as soon as I could and purchased a pair. I have been using them ever since.
So yeah, I have seen the ins and out of this device/gadget (figuratively speaking). Without further ado, let's dive into it...
Simplemente escuché sobre su lanzamiento y, tan entusiasmado como siempre, sentí curiosidad al instante. Inmediatamente me hice la pregunta: "¿Este chico nuevo realmente se desempeñará como dice?" Entré en una tienda tan pronto como pude y compré un par. Los he estado usando desde entonces. Así que sí, he visto los entresijos de este dispositivo.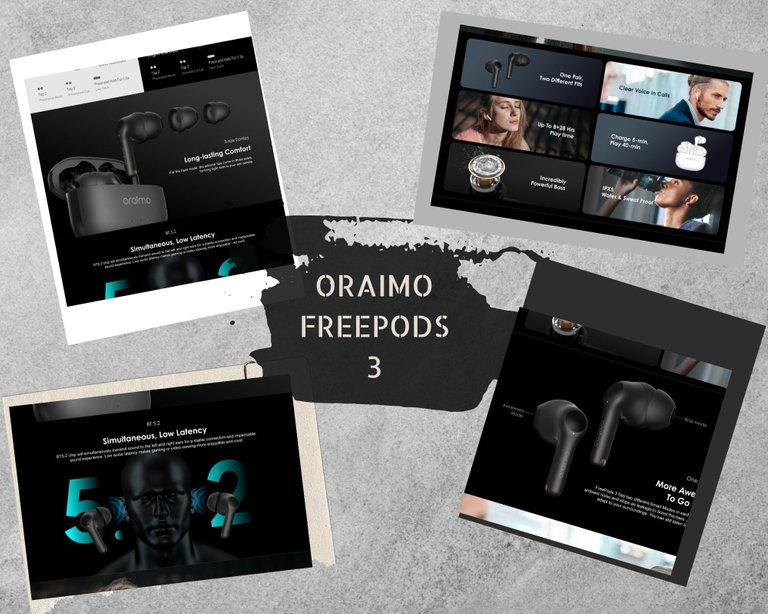 ᴘʀᴏᴅᴜᴄᴛ sᴘᴇᴄɪғɪᴄᴀᴛɪᴏɴs // ᴇsᴘᴇᴄɪғɪᴄᴀᴄɪᴏɴᴇs ᴅᴇʟ ᴘʀᴏᴅᴜᴄᴛᴏ
BT Version
V5.2
Wireless Range
10M
Battery Capacity
45mAh(each earbud), 500mAh (case)
Battery Life
Up to 8 hours play time
Case provides additional 28 hours
Case Input
Type-C
Waterproof
IPX5
Environmental Noise Cancellation
Yes
Versión BT
V5.2
Alcance inalámbrico
10M
Capacidad de la batería
45 mAh (cada auricular), 500 mAh (estuche)
Duración de la batería
Hasta 8 horas de reproducción
El estuche brinda 28 horas adicionales
Caso de entrada
Tipo-C
Impermeable
IPX5
Cancelación de ruido ambiental
Sí

ᴘᴇʀғᴏʀᴍᴀɴᴄᴇ // ᴀᴄᴛᴜᴀᴄɪᴏ́ɴ
Now, let's talk about their actual performance for the last six months of my experience. I'll be talking about them in four sections.
As a musician, this, to me, is the most important part to consider. Any earphones I use must sound fantastic in order for me to be satisfied. You'd probably agree with me. These earphones do really well to deliver solid and not plastic-sounding bass.
Equipped with 13mm drivers, the Freepods 3 are highly capable of giving truly incredible bass with a nice punchy feeling to it.
Despite being able to deliver bass really well, they do not fail to deliver other frequencies well. Higher frequencies do not come out harsh, but rather they come out just right.
And for loudness, because of their design, they have good enough volume juice to serve.
Ahora, hablemos de su desempeño real durante los últimos seis meses de mi experiencia. Hablaré de ellos en cuatro secciones.
Como músico, esto, para mí, es la parte más importante a considerar. Cualquier auricular que use debe sonar fantástico para que esté satisfecho. Probablemente estarías de acuerdo conmigo. Estos auriculares funcionan muy bien para ofrecer graves sólidos y no plásticos.
Equipados con controladores de 13 mm, los Freepods 3 son muy capaces de brindar graves realmente increíbles con una agradable sensación de contundencia.
A pesar de ser capaces de ofrecer graves muy bien, no dejan de ofrecer otras frecuencias bien. Las frecuencias más altas no salen ásperas, sino que salen bien.
Y para sonoridad, debido a su diseño, tienen suficiente jugo de volumen para servir.

With 8+28 hrs. advertised, these earphones actually do last that long. With a complete charge, I usually only needed to charge it once a week. And believe me when I say, I am definitely a power user with these earphones.
Con 8+28 hs. anunciados, estos auriculares realmente duran ese tiempo. Con una carga completa, normalmente solo necesitaba cargarlo una vez a la semana. Y créanme cuando digo que definitivamente soy un usuario avanzado con estos auriculares.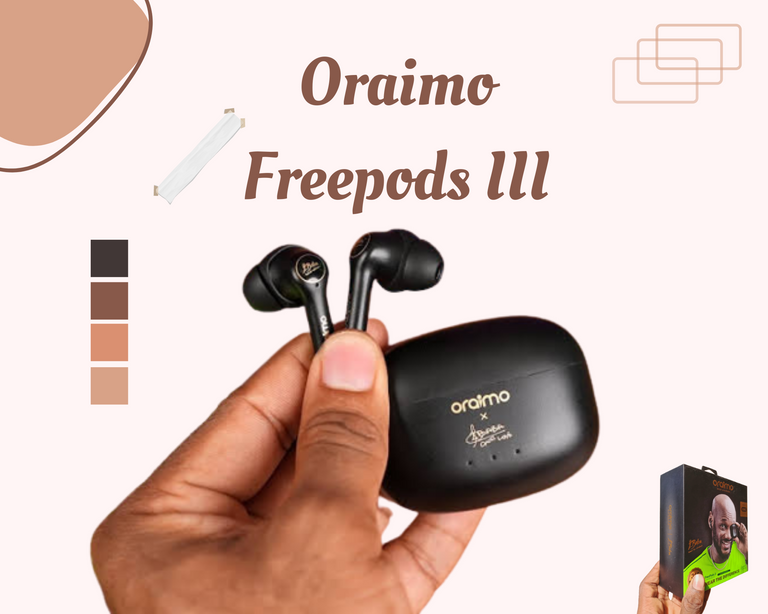 Design- Come on, take one more look at them. I would say they have a fairly sleek design. For their many good qualities, especially solid battery life, they do well to maintain a nice look.
Cormfortability- Now, this is something I really appreciate about the build of these headphones. I wore them every day for long hours without even once feeling fatigued. They fit nicely, and they never fell off my ears either.
Although, when you have these babies on, your hearing of your environment reduces quite significantly as they really close one's ears.
Durability- For as long as six months, these headphones have definitely fallen to the ground on numerous occasions (due to improper removal from the case or incorrect placement). Other than a few scratches, they still stand on their grounds to perform their duties.
Waterproof- They have been advertised as having very good waterproofing, but we all know that nothing's 100% waterproof. I have never deliberately attempted to test this feature, but I can say that I have sometimes been out in the rain and they stood their ground there too.
Diseño- Vamos, míralos una vez más. Yo diría que tienen un diseño bastante elegante. Por sus muchas buenas cualidades, especialmente la sólida duración de la batería, hacen bien en mantener una apariencia agradable.
Comodidad- Ahora, esto es algo que realmente aprecio de la construcción de estos auriculares. Los usé todos los días durante largas horas sin sentirme fatigado ni una sola vez. Se ajustan muy bien y nunca se me cayeron de las orejas.
Aunque, cuando tienes estos bebés puestos, la audición de tu entorno se reduce significativamente ya que realmente cierran los oídos.
Durabilidad- Durante seis meses, estos auriculares definitivamente se han caído al suelo en numerosas ocasiones (debido a una extracción incorrecta del estuche o una colocación incorrecta). Aparte de algunos rasguños, todavía se paran en sus terrenos para realizar sus funciones.
Impermeable- Se ha anunciado que tienen muy buena impermeabilización, pero todos sabemos que nada es 100% impermeable. Nunca intenté deliberadamente probar esta función, pero puedo decir que a veces estuve bajo la lluvia y también se mantuvieron firmes allí.
This is my favourite feature of these headphones, actually. Having the person on the other end of a phone call repeatedly complain about the background noise can be a true hassle.
The Environmental Noise Cancellation (ENC) technology deployed in these earphones really helps so well to let your phone call go quite seamlessly.
My next favourite feature is being able to play/pause, or skip to the next or previous song in my playlist. I can even take photos with my phone far from my reach.
So far so good. The touch feature is in 100% condition.
Esta es mi característica favorita de estos auriculares, en realidad. Hacer que la persona al otro lado de una llamada telefónica se queje repetidamente del ruido de fondo puede ser una verdadera molestia.
La tecnología de cancelación de ruido ambiental (ENC) implementada en estos auriculares realmente ayuda mucho a que su llamada telefónica se realice sin problemas.
Mi próxima característica favorita es poder reproducir/pausar, o saltar a la canción siguiente o anterior en mi lista de reproducción. Incluso puedo tomar fotos con mi teléfono lejos de mi alcance.
Hasta aquí todo bien. La función táctil está en condiciones al 100%.
ᴏᴠᴇʀᴠɪᴇᴡ // ᴠɪsɪᴏ́ɴ ɢᴇɴᴇʀᴀʟ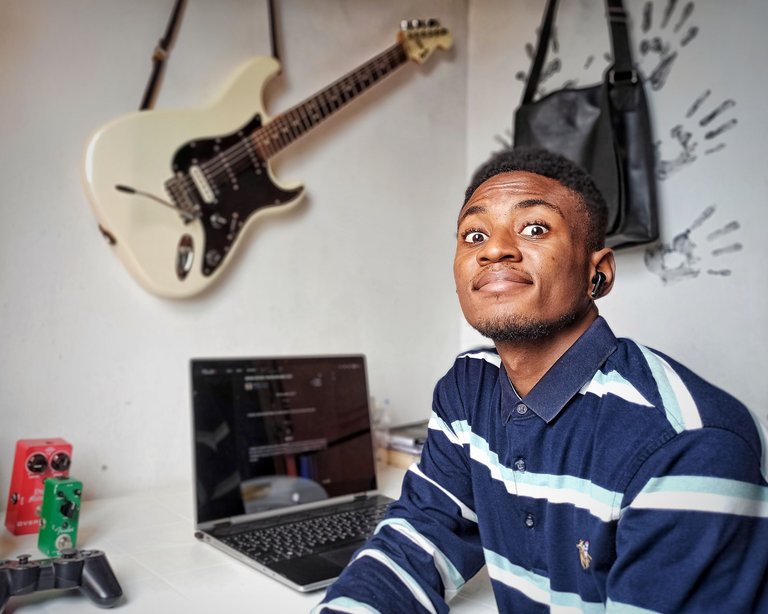 The Oraimo Freepods 3, in my opinion, have truly been exceptional. They have been the best earphones I have used so far.
The fact that they still sound just as good as they did when I first got them leaves me glad and grateful.
They only lost some paintings and now have a few scratches.
I'll rate the earphones at 9/10.
Thank you for staying this long.
Los Oraimo Freepods 3, en mi opinión, han sido verdaderamente excepcionales. Han sido los mejores auriculares que he usado hasta ahora.
El hecho de que todavía suenen tan bien como cuando los compré por primera vez me deja contento y agradecido.
Solo perdieron algunas pinturas y ahora tienen algunos rasguños.
Calificaré los auriculares en 9/10.
Gracias por quedarte tanto tiempo.
ᴜɴʟᴇss ɪɴᴅɪᴄᴀᴛᴇᴅ ᴏᴛʜᴇʀᴡɪsᴇ, ᴀʟʟ ɪᴍᴀɢᴇs ᴀʀᴇ ᴍɪɴᴇ.
𝕀𝕗 𝕪𝕠𝕦 𝕖𝕟𝕛𝕠𝕪𝕖𝕕 𝕥𝕙𝕚𝕤 𝕡𝕠𝕤𝕥, 𝕜𝕚𝕟𝕕𝕝𝕪 𝕝𝕖𝕒𝕧𝕖 𝕒 𝕔𝕠𝕞𝕞𝕖𝕟𝕥, 𝕣𝕖𝕓𝕝𝕠𝕘, 𝕠𝕣 𝕦𝕡𝕧𝕠𝕥𝕖. 𝕀𝕥 𝕨𝕚𝕝𝕝 𝕓𝕖 𝕘𝕣𝕖𝕒𝕥𝕝𝕪 𝕒𝕡𝕡𝕣𝕖𝕔𝕚𝕒𝕥𝕖𝕕.
T͜͡H͜͡A͜͡N͜͡K͜͡ ͜͡Y͜͡O͜͡U͜͡ ͜͡F͜͡O͜͡R͜͡ ͜͡S͜͡T͜͡O͜͡P͜͡P͜͡I͜͡N͜͡G͜͡ ͜͜͜͜͡͡͡͡B͜͡Y͜͡