Human beings for sure, plan their activities in a short time, medium or a long run. We may even classify them according to the importance they may represent. We may letter them as A, those that should be looked at primarily, B, those that are very important but not urgent, C, those that can wait for us to attend them, and so on.
However, there are times when a B classification could become an A all of a sudden. That is exactly what I would like to talk about Repairing a Fridge – Freezer Voltage Regulator, not even being a C classified priority but with power cuts we have had recently, became an A classification.
Small and probably not expensive devices, Voltage Regulators are not necessarily electronic units that we may pay attention to. However, the appliances they protect turn their importance very, very high since a fridge, freezer, air-conditioner make life a lot easier for us.
El ser humano, sin duda, planifica sus actividades a corto, mediano o largo plazo. Incluso podemos clasificarlas según la importancia que puedan representar. Podemos clasificarlas como A, las que deben ser atendidas prioritariamente, B, las que son muy importantes pero no urgentes, C, las que pueden esperar a que las atendamos, y así sucesivamente.
Sin embargo, hay ocasiones en las que una clasificación B puede convertirse en A de repente. De eso es precisamente de lo que me gustaría hablar: La reparación de un Regulador de Voltaje del Frigorífico - Congelador, no siendo ni siquiera una prioridad de la clasificación C pero que con los cortes de electricidad que hemos tenido recientemente, se convirtió en una clasificación A.
Dispositivos pequeños y probablemente economicos, los reguladores de tensión no son necesariamente unidades electrónicas a las que podamos prestar atención. Sin embargo, los aparatos que protegen hacen que su importancia sea muy, muy alta, ya que un frigorífico, un congelador o un aire acondicionado nos facilitan mucho la vida.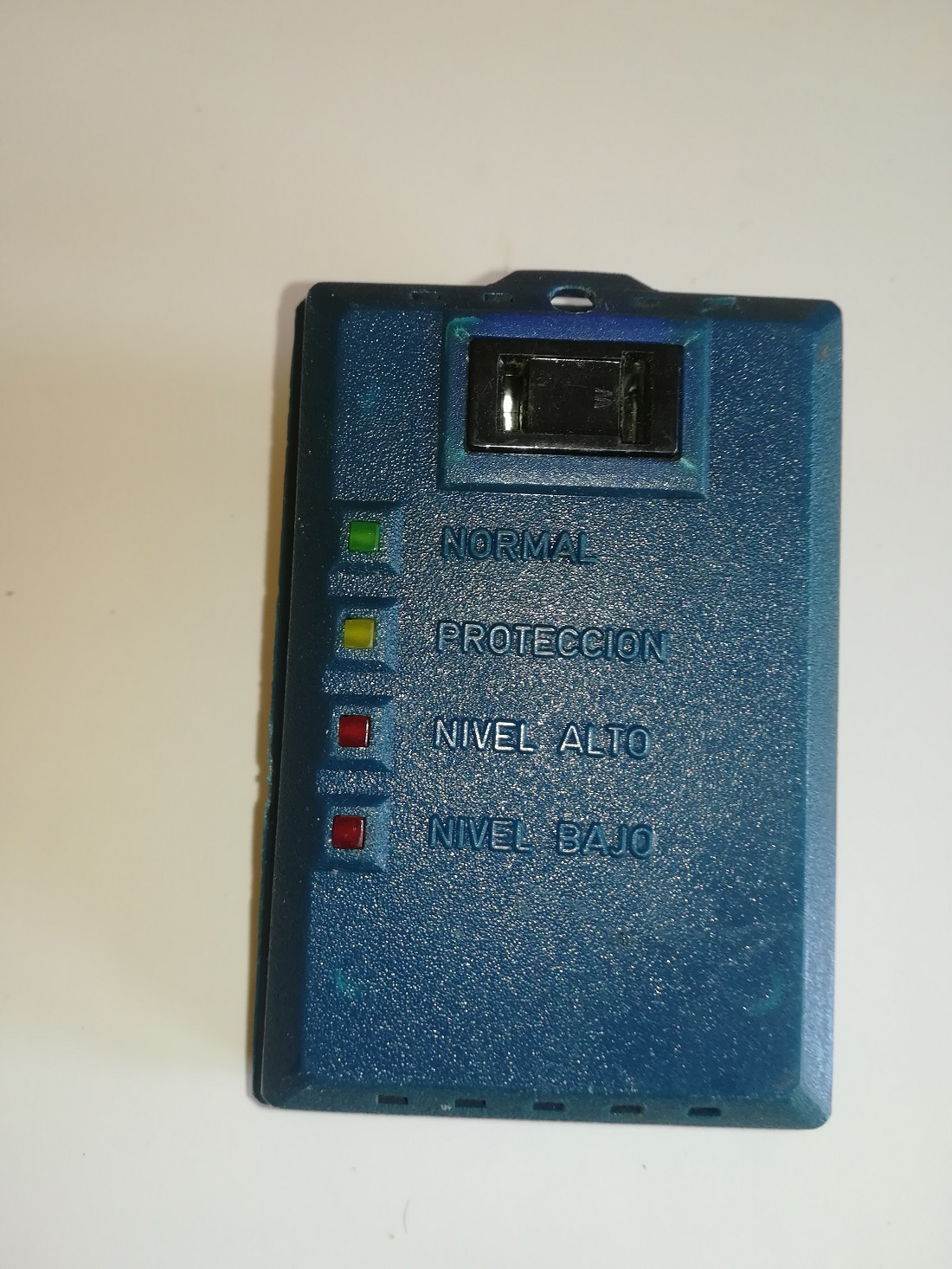 A change in the classification of priority of such a device, from a probable C classification to an A came into place due to power cuts we have been having due to maintenance, or rationing because of hydraulic damps low water levels, among other possible reasons.
So here I was checking one that needed to have been looked at some time before but I kept procrastinating for family health reasons. It was not that I could not go and get a new one, it was a matter of getting to the electronic shop which sold them before it closed. Anyway, here I was getting down to business.
Un cambio en la clasificación de prioridad de dicho dispositivo, de una probable clasificación C a una A se produjo debido a los cortes de energía que hemos estado teniendo por mantenimiento, o el racionamiento debido a los bajos niveles de agua de las presas hidráulicas , entre otras posibles razones.
Así que aquí estaba revisando uno que tenía que haber sido revisado tiempo atrás pero que seguía postergando por razones de salud familiar. No es que no pudiera ir a comprar uno nuevo, era cuestión de llegar a la tienda de electrónica que los vendía antes de que cerrara. En fin, asi que me puse manos a la obra.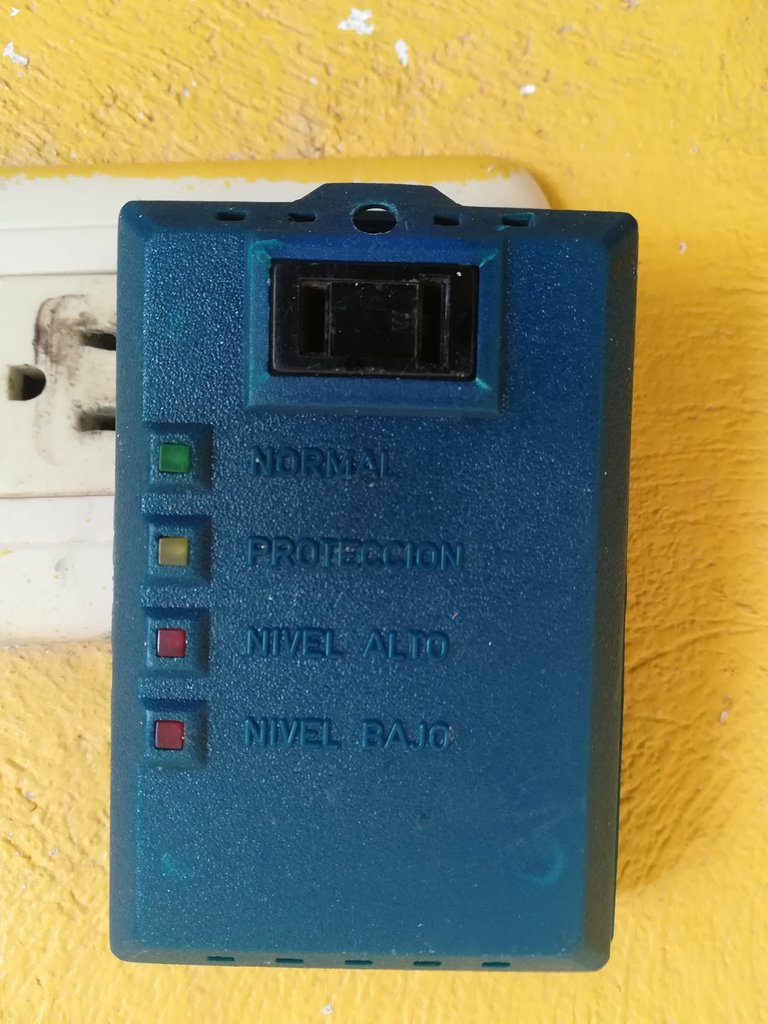 This fairly simple and probable cheap voltage regulator had a led display indicating the status it was in. Red for High or Low Voltage, Amber for Protection and Green for Normal operation. But none of these leds came on as seen in the picture above. The question arose. What was wrong with it? Well, the symptom displayed was that once electricity supply returned after having been cut off, after 3 mins it was supposed to output a stabilized voltage, however there was no indication it had done so. The first noticeable thing was that one of the plug pins was loose, it can be wiggled by the finger.
Este regulador de voltaje, bastante simple y probablemente barato, tenía una pantalla de leds que indicaba el estado en el que se encontraba. Rojo para alta o baja tensión, Ámbar para protección y Verde para funcionamiento normal. Pero ninguno de estos leds se encendía como se ve en la imagen de arriba. La pregunta surgió. ¿Qué le pasaba? Pues bien, el síntoma que se mostraba era que una vez que volvía el suministro eléctrico después de haber sido cortado, el re3gulador al cabo de 3 minutos se suponía que debía emitir una tensión estabilizada, sin embargo no había ninguna indicación de que lo estuviese haciendo. Lo primero que se notó fue que una de los pines del enchufe estaba suelto, se podía mover con el dedo.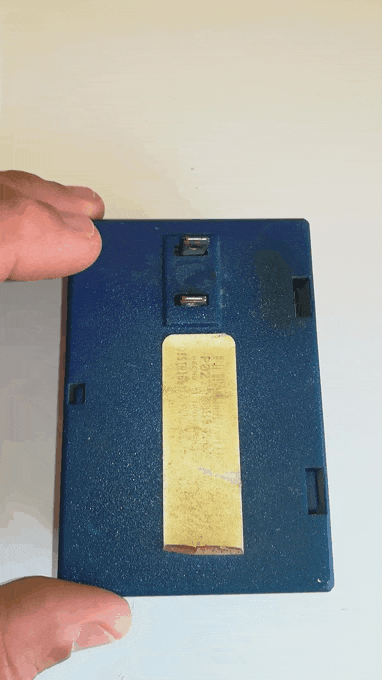 It immediately suggested a cold or broken weld. After taking the lid off, it was noticed that this pin fed the transformer directly, therefore it was understandable that no electricity was going into the circuitry. Once it was confirmed that the weld was broken, it was proceeded to heat the weld with a soldering iron so as to reaccommodate the weld, with no need to apply more welding element.
Esto sugirió inmediatamente una soldadura fría o rota. Tras quitar la tapa, se observó que este pin alimentaba directamente al transformador, por lo que era comprensible que no entrara electricidad en el circuito. Una vez confirmado que la soldadura estaba rota, se procedió a calentar la soldadura con un cautín para reacomodar la soldadura, sin necesidad de aplicar más elemento de soldante.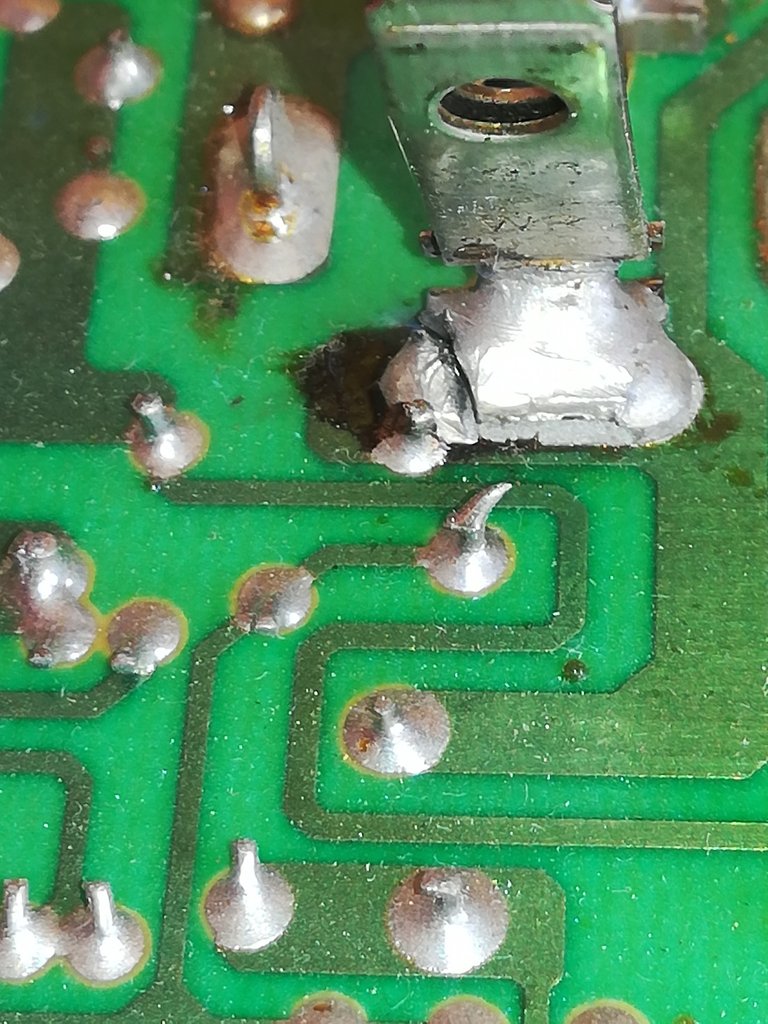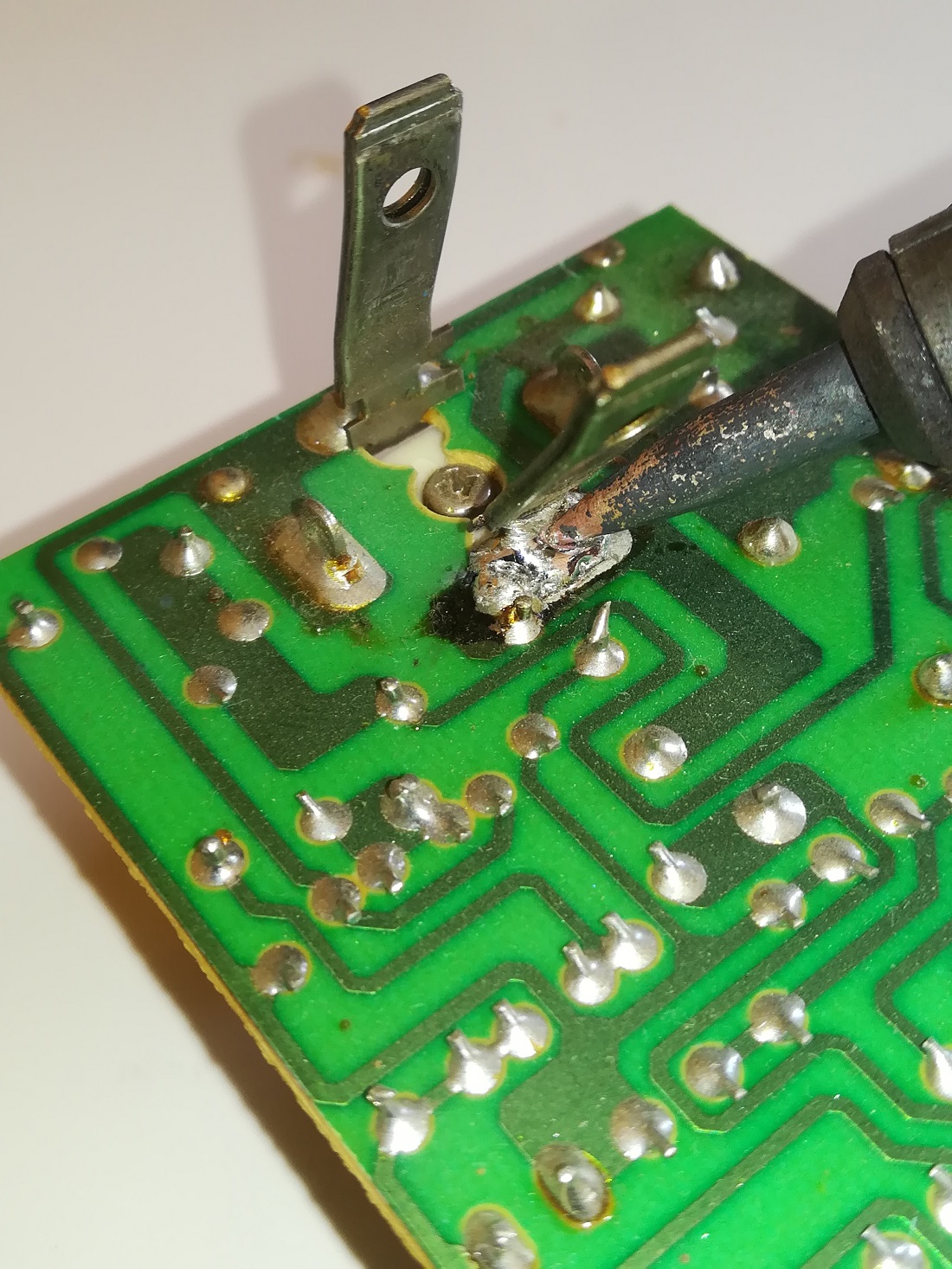 Once the weld was hard enough, the voltage regulator was plugged into the mains and the voltage output monitored. For 120 VAC mains it was outputting 123.0 V approximately prior to stabilizing, with the amber led flashing.
Una vez que la soldadura estaba lo suficientemente fuerte, se conectó el regulador de tensión a la red y se monitoreó la salida de tensión. En el caso de la red de 120 VAC, la salida era de 123,0 V aproximadamente antes de estabilizarse, con el led ámbar parpadeando.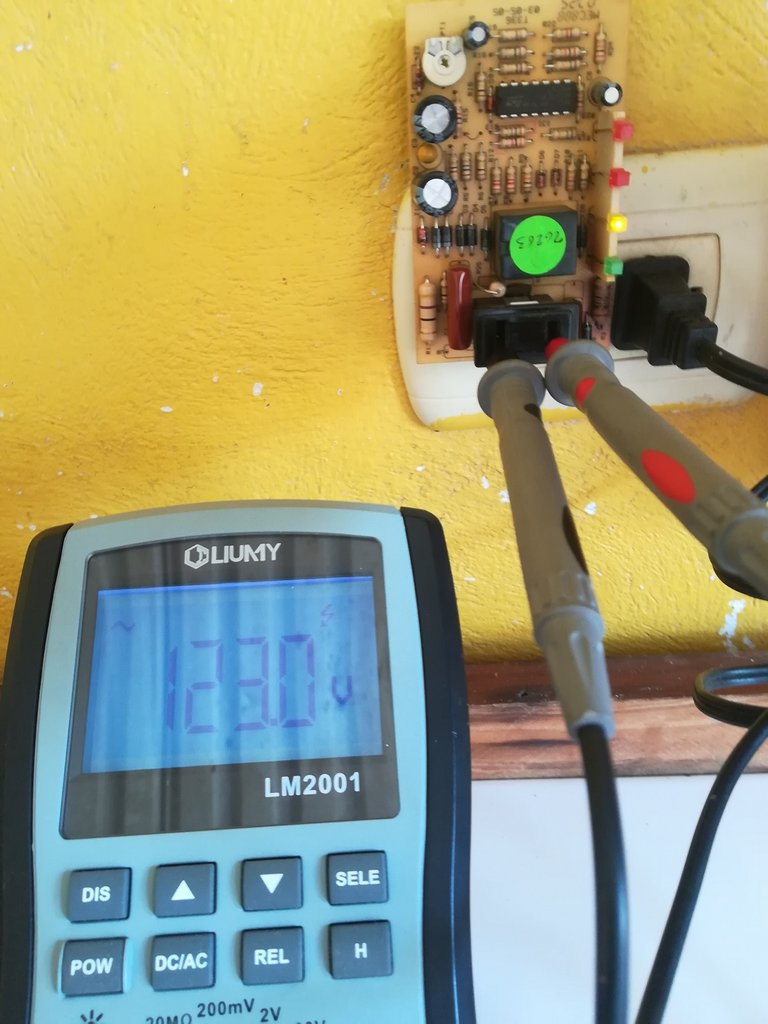 After the 3 mins lapse, the flashing of the amber led stopped and the multimeter read an output of 123.4 V, which was good enough.
Tras el lapso de 3 minutos, el parpadeo del led ámbar se detuvo y el multímetro registró una salida de 123,4 V, lo cual era bastante aceptable.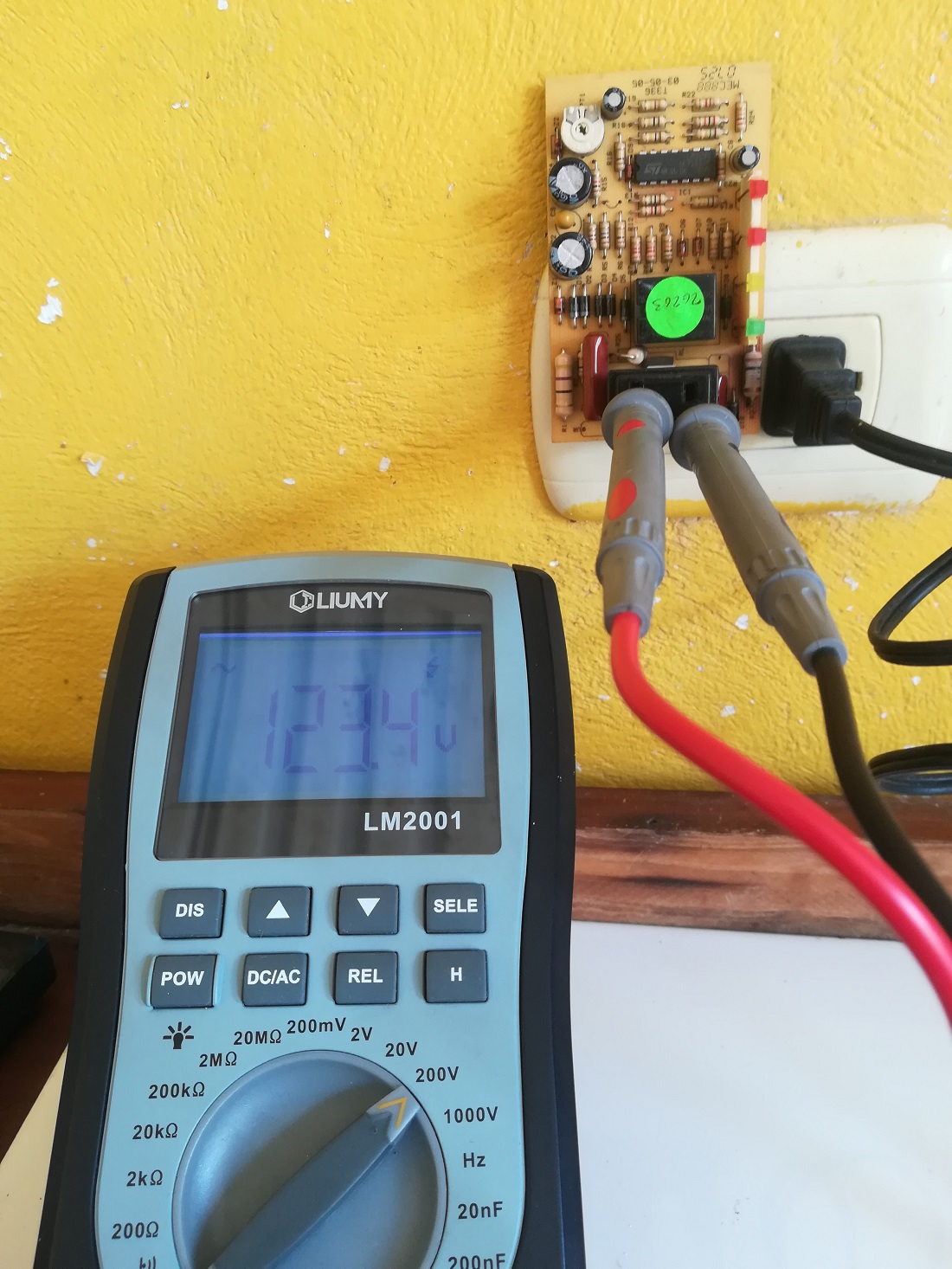 However, there was no indication that the voltage output was a reliable one since no led was turned on after the amber one stopped flashing. So, a further look had to be taken to the circuitry. I knew there was a voltage output, though not trustable. At that particular moment, it sounded reasonable that there could be another cold weld, so wiggling the leds, specially the Green one indicating Normal functioning, it came about it was also a bit loose.
Sin embargo, no había ninguna indicación de que la salida de tensión fuera confiable, ya que ningún led se encendía después de que el ámbar dejara de parpadear. Por lo tanto, había que dar un vistazo más a fondo al circuito. Sabía que había una salida de tensión, aunque no fiable. En ese momento, pareció razonable que pudiera haber otra soldadura fría o rota, así que moviendo los leds, especialmente el verde que indica el funcionamiento normal, resultó que también estaba un poco flojo.
Measuring the resistor that fed this led no value could be obtained. However, knowing every resistor obeys a colour code,
Midiendo la resistencia que alimentaba este led no se podía obtener ningún valor. Sin embargo, sabiendo que cada resistencia obedece un código de colores,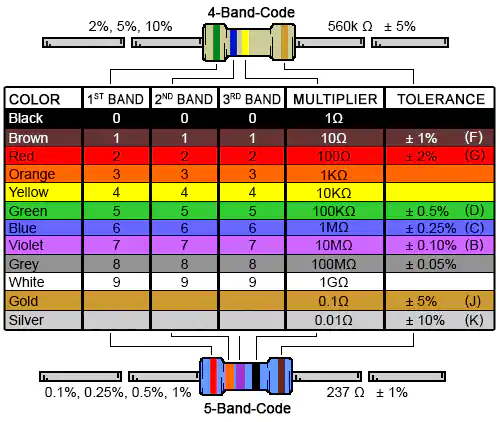 Resistor Colour Code / Codigo de Color de las Resistencias
It could be deduced that this resistor was 10 K ohms one since in its first band it was brown, the second band was black, though the third band was not clearly seen what colour it was, it looked like a fainted orange.
Se podía deducir que esta resistencia era de 10 K ohmios ya que en su primera banda era de color marrón, la segunda banda era de color negro, aunque la tercera banda no se veía claramente de qué color era, parecía un naranja degradado.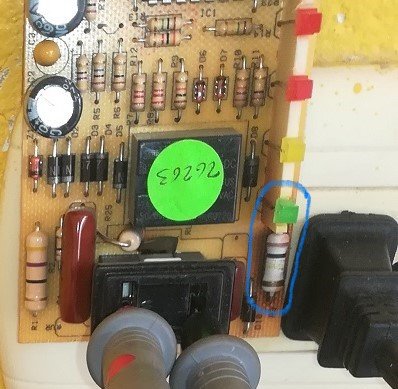 )
Resitor feeding the Green Led. The band colours can be easily seen. / Resistencia que alimente el Led Verde. Se puede ver facilmente los colores de la banda.

Having that in mind, It was proceeded to take this resistor off the board, unwelding its tips or extremes, taking off any residue of weld or dirt, after which the resistor was measured to find out its value was 10 k ohms. Now, the job was to resolder it back on to the bord, making sure there was continuity from the resistor to the Green led. Once it was done, it was waited for the welding to harden enough to test it.
Teniendo esto en cuenta, se procedió a sacar esta resistencia de la tarjeta, desoldando sus puntas o extremos, quitando cualquier residuo de soldadura o suciedad, tras lo cual se midió la resistencia para comprobar que su valor era de 10 k ohmios. Ahora se trataba de volver a soldarla a la tarjeta, asegurándose de que había continuidad desde la resistencia hasta el led verde. Una vez hecho, se esperó a que la soldadura se endureciera lo suficiente para probarla.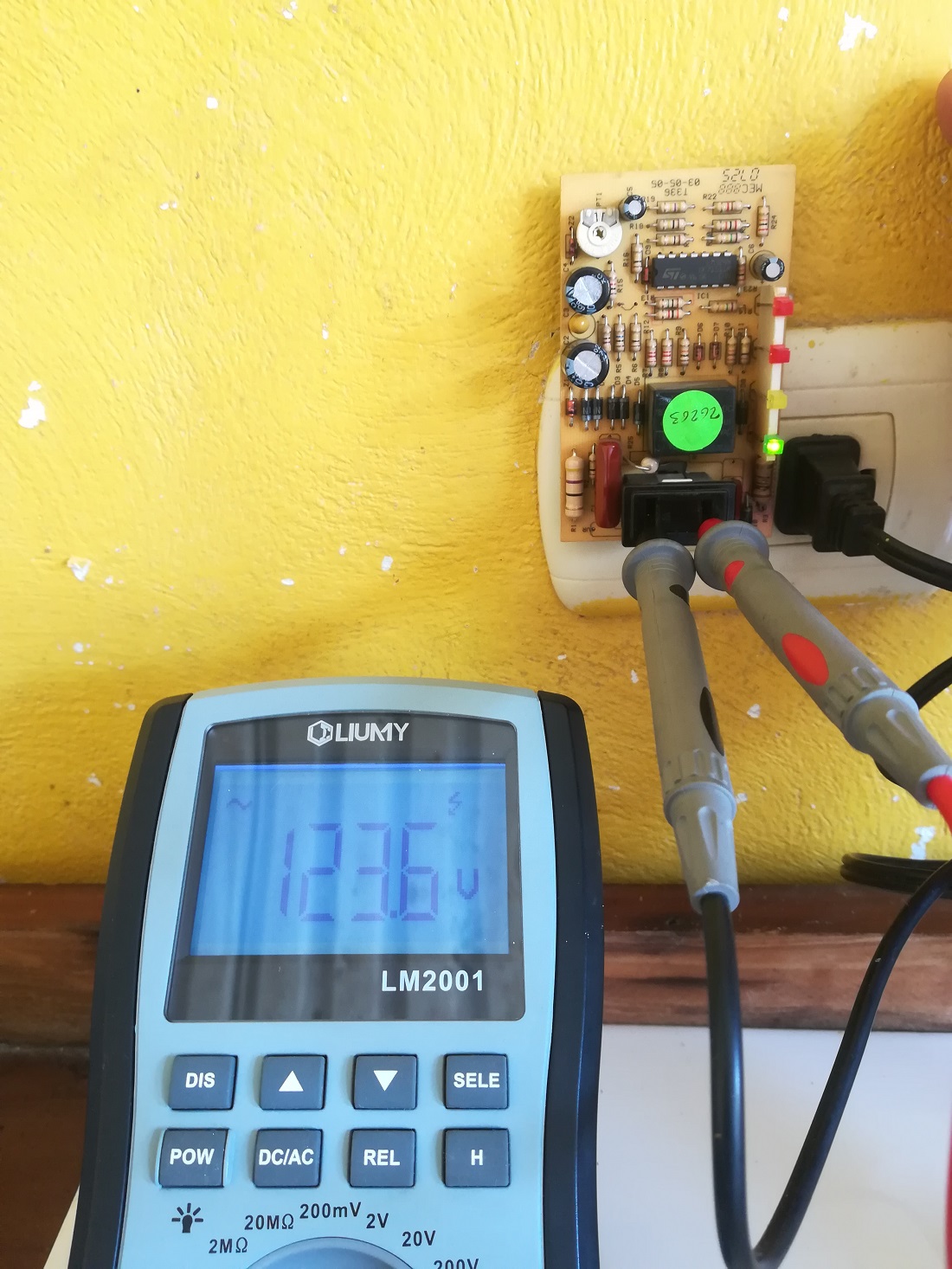 Final result, 123.6 V, and the Green Led indicating Normal Voltage and this A Priority could be crossed out from the list.
Resultado final, 123,6 V, y el Led Verde indicando Tensión Normal y esta Prioridad A pudo ser tachada de la lista.
All photographs used are of my own.
Todas las fotografías utilizadas son de mi autoría