You may have heard a saying that goes "He who becomes a Redeemer dies crucified". What do I mean to say by stating that? Well, sometimes we feel confident about a particular job, subject, and when facing it we just give it a go, not knowing that probably we may just "die" on the attempt. What may seem more important is that we do so nowadays more than any other time, probably saying to ourselves: "I can always "google" it and find out how to go about it"
Es posible que hayas oído un dicho que dice: "El que se mete a redentor muere crucificado". ¿Qué quiero decir al afirmar esto? Pues que a veces nos sentimos seguros de un trabajo, de un tema, y a la hora de afrontarlo nos lanzamos sin más, sin saber que probablemente podamos "morir" en el intento. Lo que puede parecer más importante es que hoy en día lo hacemos más que en otras ocasiones, probablemente diciéndonos a nosotros mismos: "Siempre puedo "googlear" y averiguar cómo hacerlo"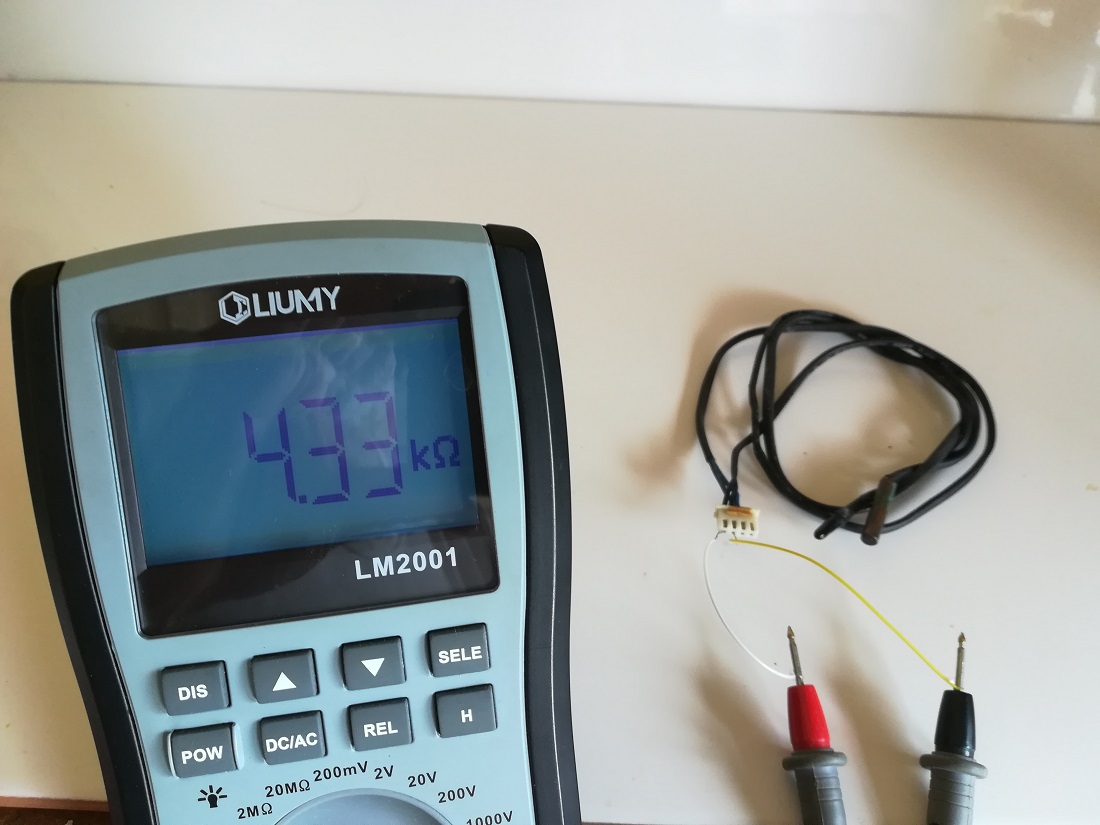 Room Temp Sensor Resistance Reading at 25 °C / Valor de Resistencia del Sensor de Temperatura Ambiente a 25 °C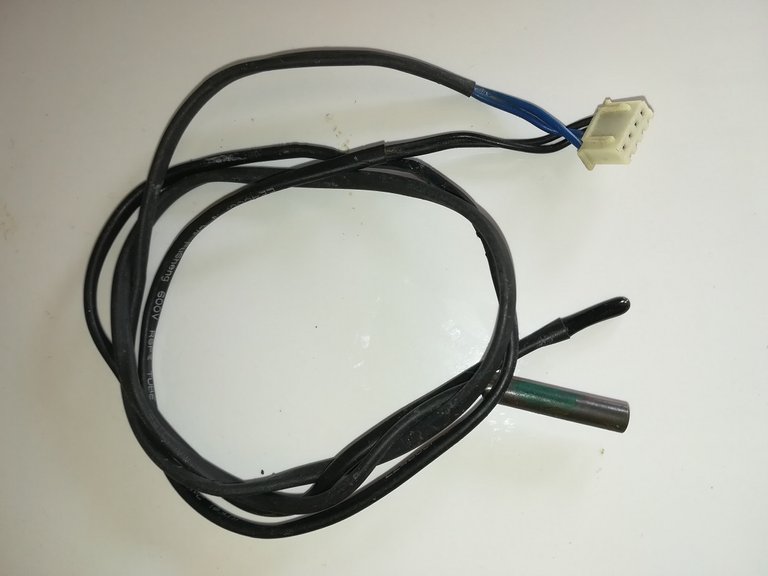 Tubing and Room Temperature Sensors / Sensores de Temperatura ambiente y de Tuberia
However, it may be a fairly costly attempt in the long run, since it could take us quite a long time. Therefore, we have to bear in mind that "Time is money" or as Jose "Pepe" Mujica, Uruguay's ex-president said, paraphrasing him: "When you give a present, you do not give the money it cost you, you give part of your life, the time of your life you spent to gain that money". By this, I would like to share that "time is not really money, is your life itself". So, when we face a challenge and decide to take it on, though we may feel confident and think we have a good domain of the subject we are facing, it may turn out to be fairly complicated, taking us more time that we have, ending up "crucified".
Sin embargo, puede ser un intento bastante costoso a largo plazo, ya que podría tomarnos bastante tiempo. Por lo tanto, hay que tener en cuenta que " El Tiempo es Oro" o como dijo José "Pepe" Mujica, ex presidente de Uruguay, parafraseándolo: "Cuando das un regalo, no das el dinero que te costó, das parte de tu vida, el tiempo de tu vida que invertiste para ganarte ese dinero". Con esto quiero compartir que "el tiempo no es realmente dinero, es tu vida misma". Así, cuando nos enfrentamos a un reto y decidimos asumirlo, aunque nos sintamos seguros y pensemos que tenemos un buen dominio del tema al que nos enfrentamos, puede resultar bastante complicado, que nos lleve más tiempo del que tenemos, y acabamos "crucificados".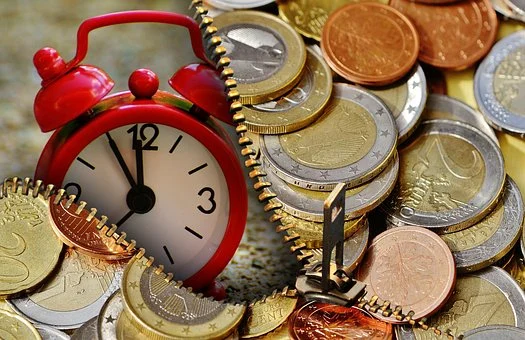 Time is Money / El Tiempo es Oro Source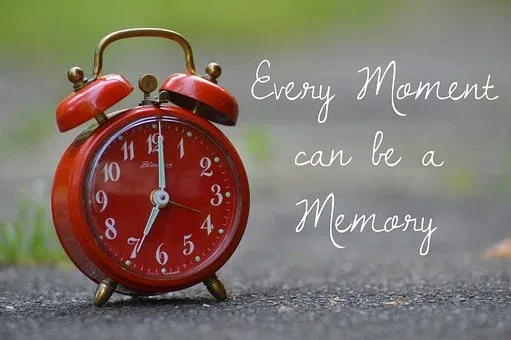 Time is Life / El Tiempo es la Vida misma Source

Having said that, I took the challenge to dismount my air conditioner split due to the E4 error displayed. In my investigation I found out that one of the possible reasons could be the ambient or room temperature or the tubing temperature sensor. However, I am not a person that just take things because someone says so, if I can, I like trying or testing them by myself. So, I did so with these sensors.
First, I constructed a table or chart of Temperature vs Resistance or Ohms so that I knew what value to expect when measuring the resistance at room or ambient temperature, and afterwards when grabbing the sensors between my fingers transferring my body temperature to them.
Dicho esto, acepté el reto de desmontar mi split de aire acondicionado debido al error E4 mostrado. En mi investigación descubrí que uno de los posibles motivos de ese E4 podría ser el sensor de temperatura ambiente o de la habitación o el sensor de temperatura de la tubería. Sin embargo, no soy una persona que se limita a aceptar las cosas porque alguien lo dice, si puedo, me gusta probar o testearlas por mí mismo. Así que lo hice con estos sensores.
En primer lugar, construí una tabla o gráfico de Temperatura vs Resistencia u Ohms para saber qué valor esperar al medir la resistencia a temperatura ambiente, y después al tomar los sensores entre mis dedos transfiriéndoles mi temperatura corporal.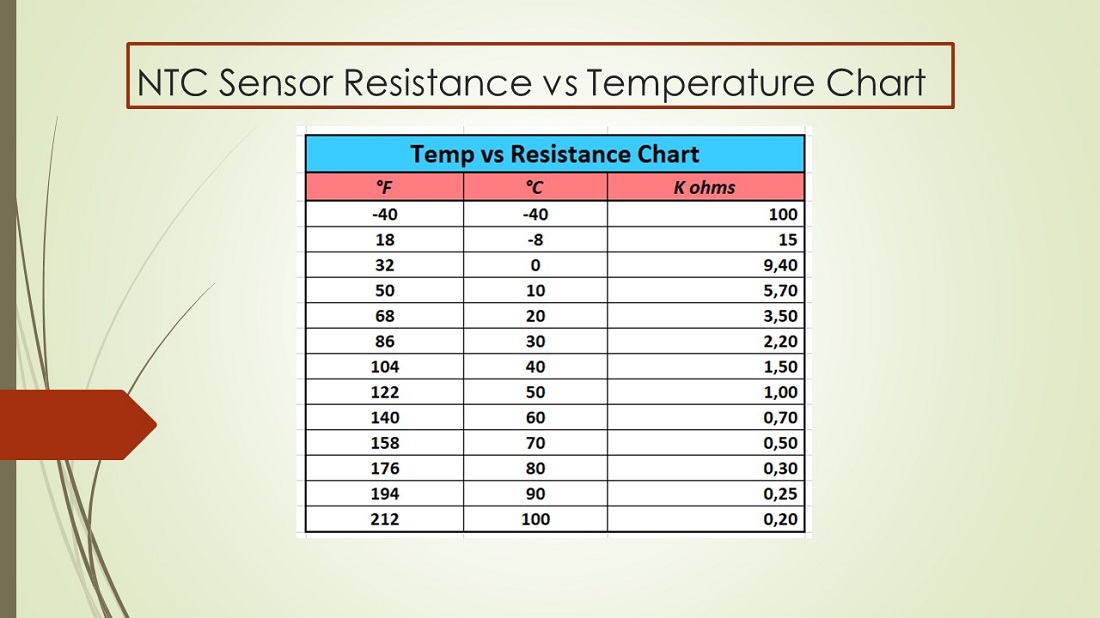 From my PPP / De mi Presentacion de PP
The first measurement taken was the ohm resistance of the room temperature sensor at an ambient temperature of 25 °C, according to the cellphone weather report. The value obtained was 4.33 K ohms, as can be seen in the first picture. After that, the next reading taken was 3.67 K ohms, related to a human body temperature of, approximately, 37 °C.
La primera medición realizada fue la resistencia en ohmios del sensor de temperatura ambiente a una temperatura de 25 °C, según el informe meteorológico del móvil. El valor obtenido fue de 4,33 K ohmios, como puede verse en la primera imagen. A continuación, la siguiente lectura tomada fue de 3,67 K ohmios, relacionada con una temperatura del cuerpo humano de, aproximadamente, 37 °C.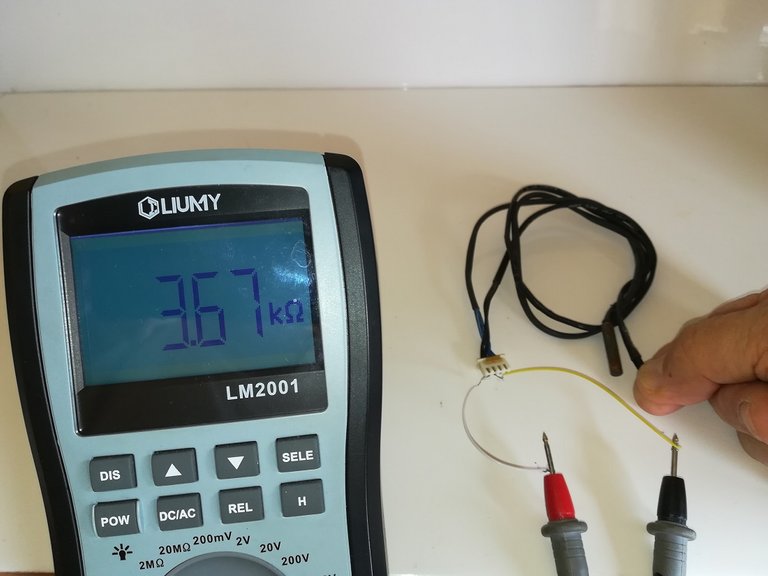 Resistance Reading for the Room Temp Sensor at Body temp of 37 °C aprox / Lectura de Resistencia para el Sensor de Temp Ambiente a 37 °C aprox
Once this was achieved, it was the turn to test the tubing sensor. The values measured for this one were: at room temperature 3.97 K ohms and at body temperature 3.51 K ohms as seen on the following pictures.
Una vez conseguido esto, era el turno de probar el sensor de la tubería. Los valores medidos para éste fueron: a temperatura ambiente 3,97 K ohmios y a temperatura corporal 3,51 K ohmios como se ve en las siguientes imágenes.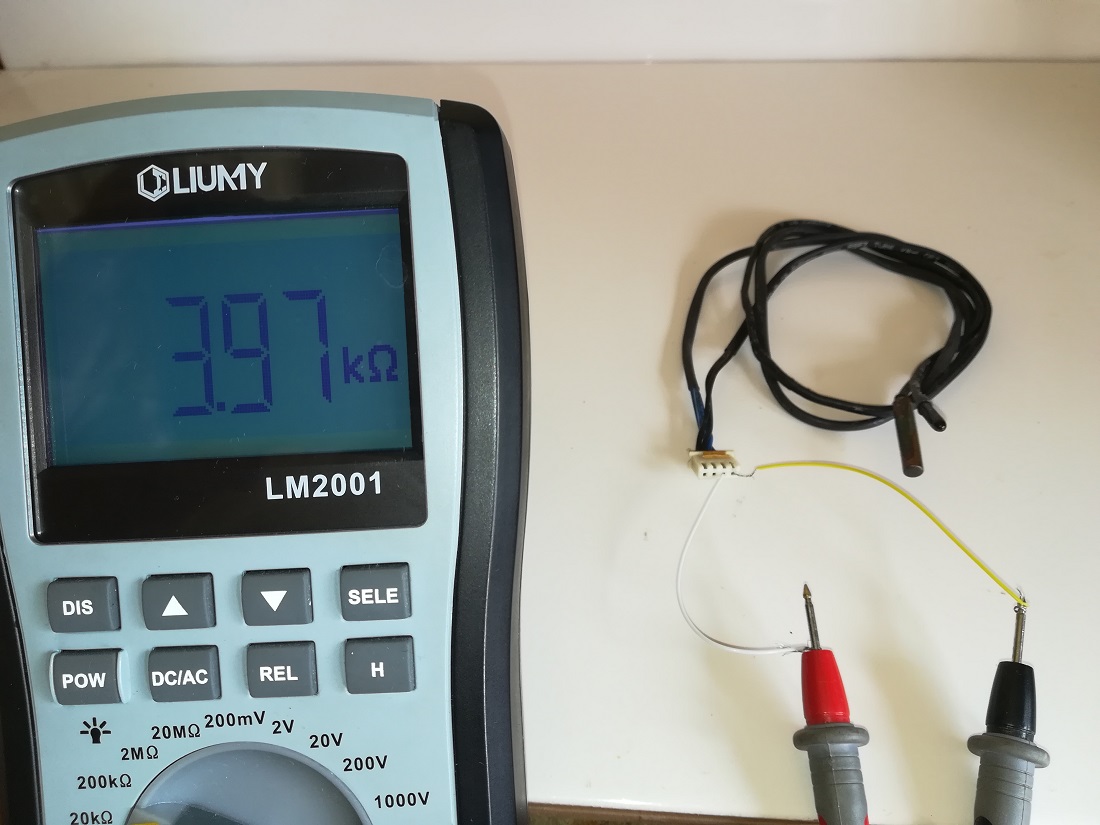 Resistance Reading for the Tubing Temp Sensor at ambient temp / Lectura de Resistancia del Sensor de Tuberia a temperatura ambiente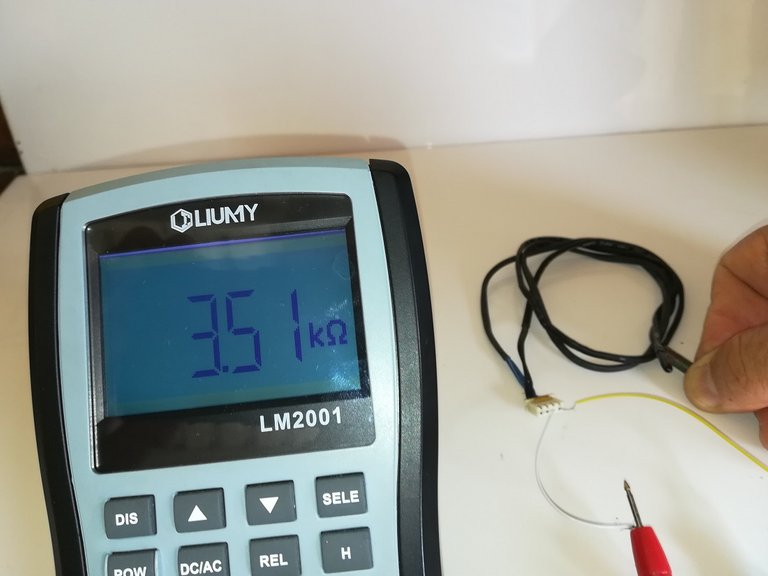 Resistance Reading for the Tubing Temp Sensor at 37 °C Body temp aprox. / Lectura de Resistancia del Sensor de Tuberia a 37 °C de temperatura del cuerpo humano aproxambiente
According to the Temperature vs Ohms Chart, the value for the resistance at room temperature should lay between 3.5 K ohms and 2.2 k ohms, in other words, the values between 20 °C and 30 °C. Having measured 4.33 k ohms suggested that this sensor could be out of range. At body temperature its resistance should lay between 2.2 k ohms and 1.5 k ohms for a range of temperature between 30 °C to 40 °C. Again, having measured 3.57 K ohms it indicated very much the same. For the tubing sensor, the readings suggested some similar as can be seen in the following chart built for that matter.
Según la tabla de Temperatura vs Ohmios, el valor de la resistencia a temperatura ambiente debería estar entre 3,5 K ohmios y 2,2 k ohmios, es decir, los valores entre 20 °C y 30 °C. El hecho de haber medido 4,33 k ohmios sugiere que este sensor podría estar fuera de rango. A temperatura corporal, su resistencia debería estar entre 2,2 k ohmios y 1,5 k ohmios para un rango de temperatura entre 30 °C y 40 °C. Una vez más, la medición de 3,57 K ohmios indicaba lo mismo. Para el sensor de la tubería, las lecturas sugirieron algo similar como se puede ver en el siguiente gráfico construido para tal fin.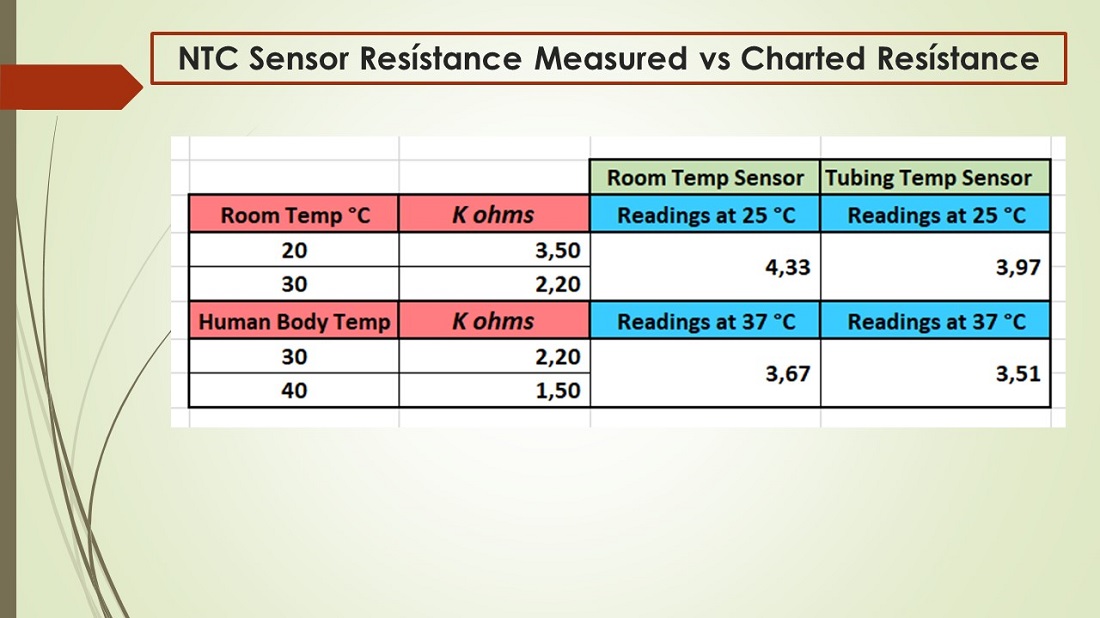 From my PPP / De mi Presentacion de PP
After analyzing the readings taken for the room temperature sensor, doing some interpolation of those values in to the chart for the ambient temperature reading, the measured value is about 52% over what it should be, and at body temp, it works out to be 98% above what it is suggested by the chart.
In the case of the tubing sensor readings, they come out to be 85% and 90% above their corresponding values.
After this short analysis I concluded on a very good basis that these temperature sensors had to be replace.
However, I must say that it took me much more time than what it could have taken if I just went to buy and replace them. So I ended up "crucified"
Después de analizar las lecturas tomadas para el sensor de temperatura ambiente, haciendo una interpolación de esos valores en la tabla para la lectura de la temperatura ambiente, el valor medido es alrededor del 52% por encima de lo que debería ser, y a la temperatura corporal, resulta ser un 98% por encima de lo que se sugiere en la tabla.
En el caso de las lecturas del sensor de la tubería, resultan ser un 85% y un 90% por encima de sus valores correspondientes.
Después de este breve análisis llegué a la conclusión, con muy buen criterio, de que había que sustituir estos sensores de temperatura.
Sin embargo, debo decir que me llevó mucho más tiempo del que podría haber llevado si simplemente hubiera ido a comprarlos y sustituirlos. Así que terminé "crucificado"
All photographs used are of my own.
Todas las fotografías utilizadas son de mi autoría