I guess at any time in life you have confronted a problem for which you have felt you don't have the solution for. That is precisely what happened to me when wanting to login in Hive.block. Well, it so happened that my PC didn't start up at all, just didn't initiate Windows, therefore unenabling me to have access to login as I already said.
Supongo que en algún momento de la vida te has enfrentado a un problema para el que has sentido que no tenías la solución. Eso es precisamente lo que me ocurrió al querer iniciar sesión en Hive.block. Pues bien, sucedió que mi PC no arrancó del todo, simplemente no inició Windows, por lo que no pude acceder al login como ya dije.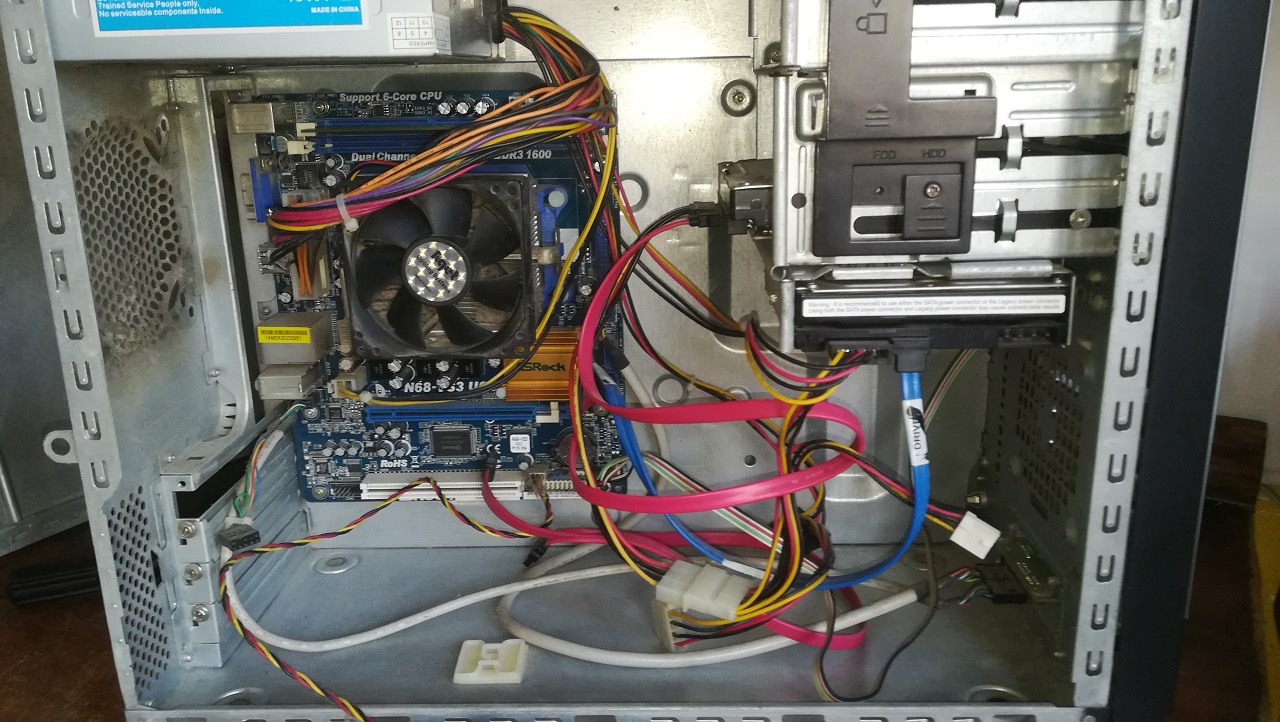 My son's PC / El PC de mi hijo
Not being an expert in those subjects, the first thought that comes to mind is to call for help, either from a member of the family that knows more than what you do, or take it to a technician. Or try googling from another PC.
In any case I just sat back, thought about it. A question aroused: "What can I do?" Then I remembered that one of my sons had a PC in his room, not in use. At this point my mind started "to work". Probably I could take my PC's hard disc and connect it to my son's. From what I learned when I was studying at university I remembered that a PC can have a master disc and as many slave discs as the connections permit. May be I could connect my PC's hard disc as a slave and be able to access the files, which after all was what I was interested in.
So, hands to the job. I began to take the lids off from both PCs. Also, I dismounted the fan cooler after realizing the dust the latter had accumulated, as well as on the case.
Al no ser un experto en esos temas, lo primero que se me ocurre es pedir ayuda, ya sea a algún familiar que sepa más que tú, o llevarlo a un técnico. O intentar buscar en Google desde otro PC.
En cualquier caso, me senté a pensar en ello. Surgió una pregunta: "¿Qué puedo hacer?" Entonces recordé que uno de mis hijos tenía un PC en su habitación, que no estaba usando. En ese momento mi mente empezó a "trabajar". Probablemente podría tomar el disco duro de mi PC y conectarlo al de mi hijo. De lo que aprendí cuando estudiaba en la universidad, recordé que un PC puede tener un disco maestro y tantos discos esclavos como las conexiones permitan. Tal vez podría conectar el disco duro de mi PC como esclavo y poder acceder a los archivos, que al fin y al cabo era lo que me interesaba.
Así que manos a la obra. Empecé a quitar las tapas de ambos PCs. También desmonté el fan cooler de la caja tras darme cuenta del polvo que éste había acumulado, al igual que la caja.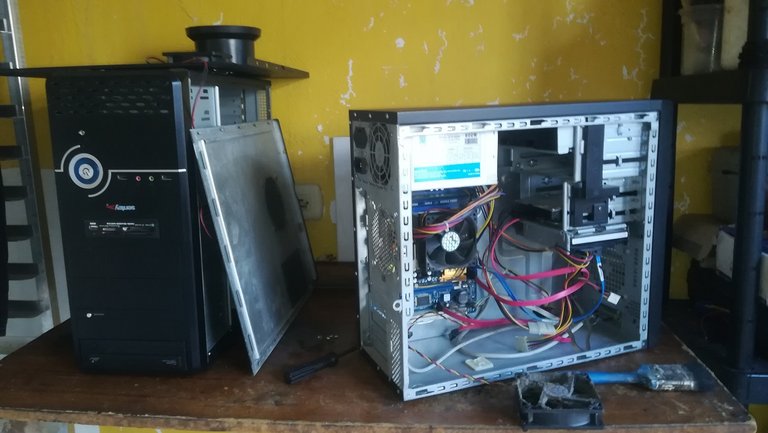 Case fan cooler and lids off / Ventilador de la caja y tapas desmontadas
At this point knowing that dust is the number one enemy to electronic equipment, it sounded reasonable to do some dust-maintenance, so I got to the job.
Al llegar a este punto, sabiendo que el polvo es el enemigo número uno de los equipos electrónicos, me pareció prudenterealizar limpieza o mantenimiento para extraer el polvo, así que me puse manos a la obra.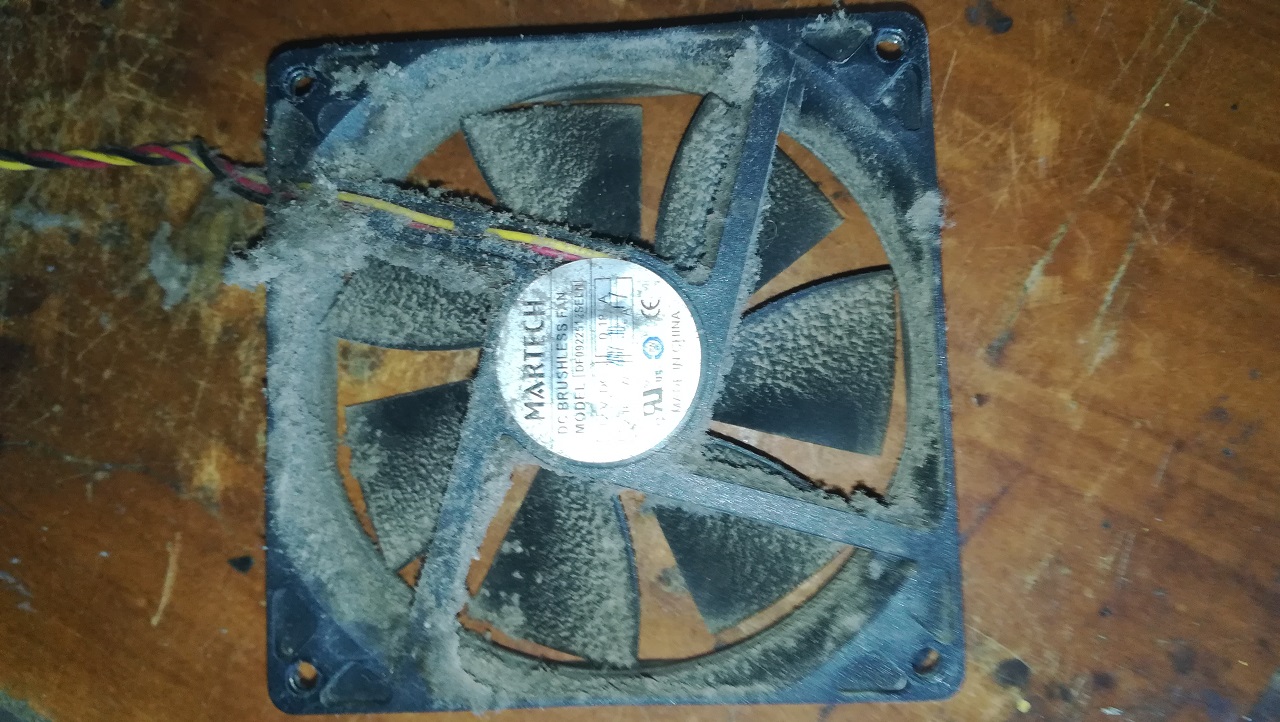 Case fan cooler all dusted / Ventilador de la caja lleno de polvo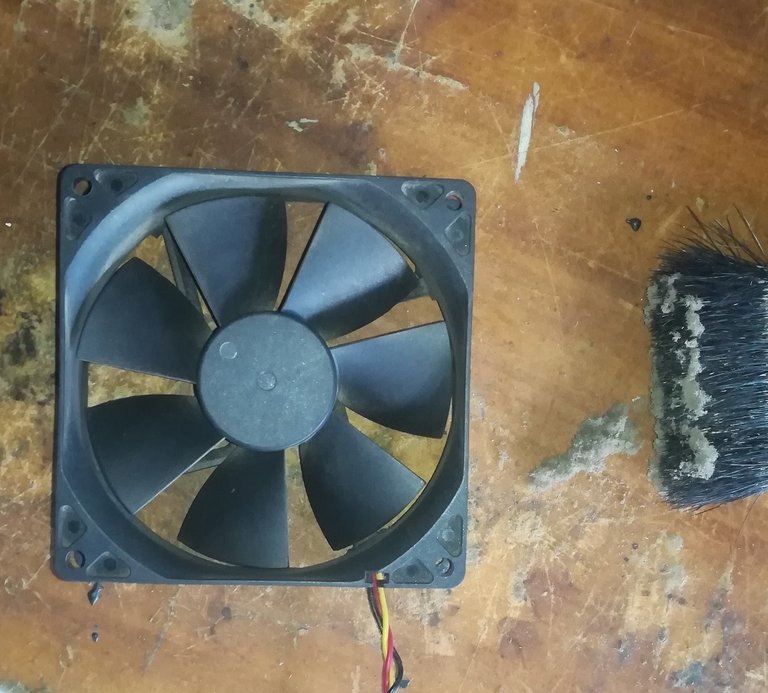 )
Case fan cooler undusted / Ventilador de la caja desempolvado

Having a look at the processor blower or fan cooler, it was obvious that it also needed some dust-maintenance, though in this case it was not recommended to dismount the fan and the heat sink with it, since it uses a thermal conducted paste. As in the case of the case fan that could be dusted with a brush, the processor couldn't, so it had to be blown.
Al darle un vistazo al ventilador del procesador o fan cooler, era obvio que también necesitaba algo de mantenimiento quitandole tanto polvo como se pudiese, aunque en este caso no era recomendable desmontar el ventilador y el disipador con él, ya que utiliza una pasta térmica conductiva. Al igual que en el caso del ventilador de la caja que se podía desempolvar con un cepillo, el procesador no, por lo que había que soplarlo.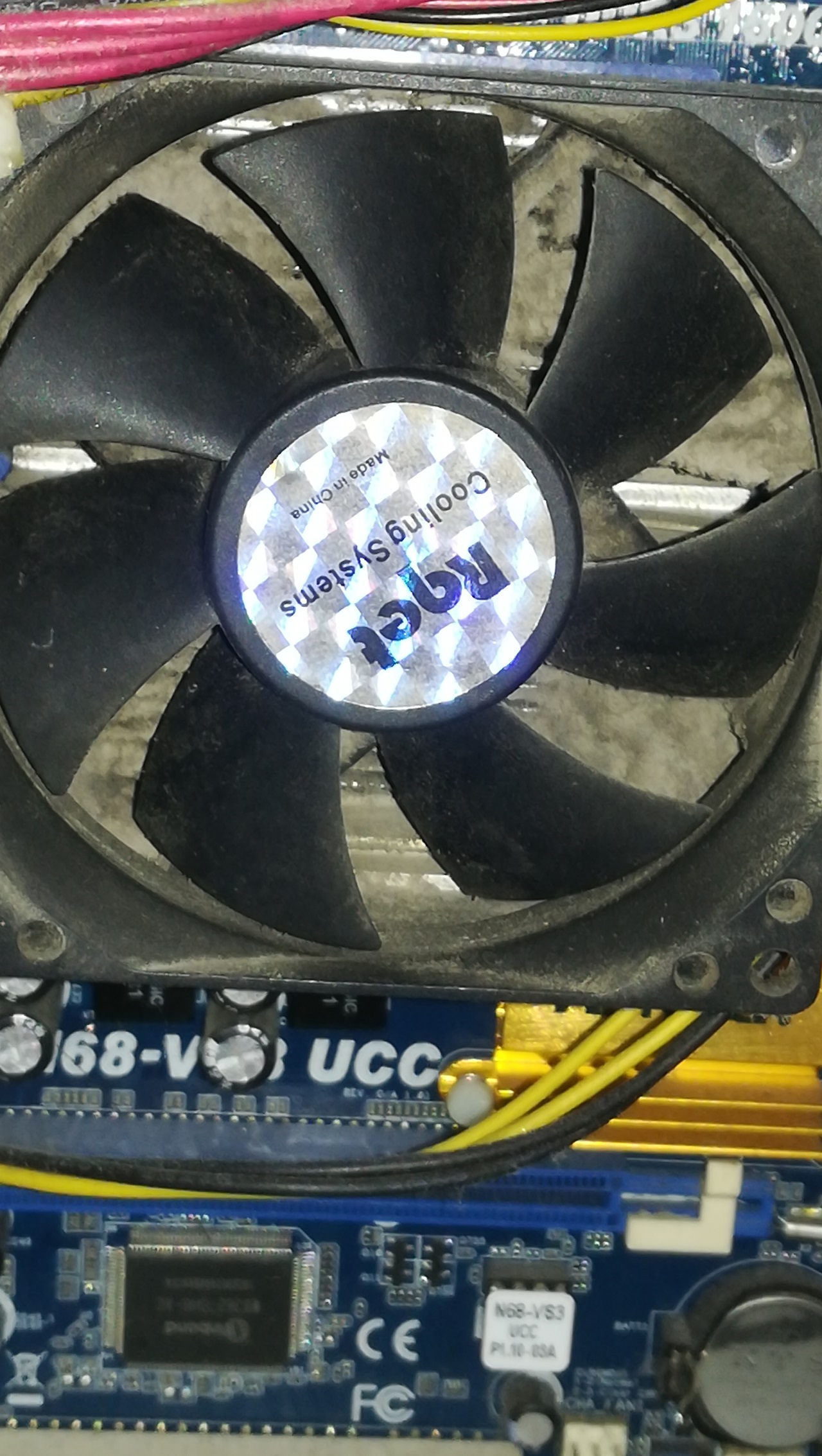 Processor heat sink all dusted, seen through the fan /Disipador de calor del procesador lleno de polvo visto a través del ventilador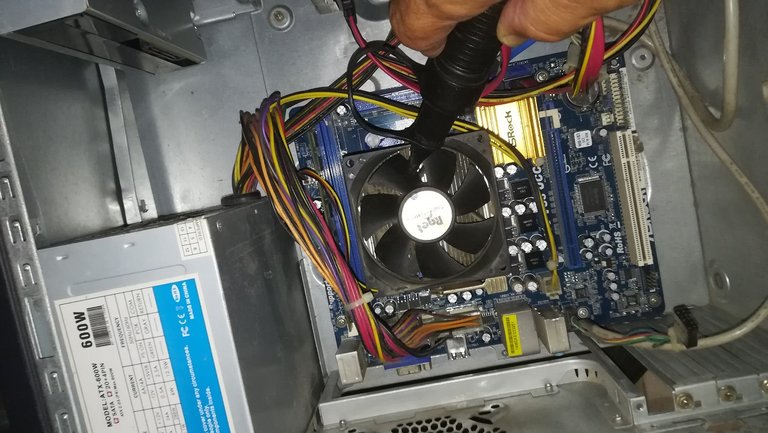 Blowing the heat sink dust away / Soplando el polvo del disipador de calor
Once it was finished, came the turn to evaluate the ram memory size. It was found to be a 2 MB and it was incremented to 4 MB. To avoid an electric shock before pulling them away from the slots on the mother board, it is recommended to discharge any capacitor that may be charged, by pressing the start button for at least 20 seg.
Una vez terminado, llegó el turno de evaluar el tamaño de la memoria ram. Se comprobó que era de 2 MB y se incrementó a 4 MB. Para evitar una posible descarga eléctrica, antes de sacarlas de las ranuras de la tarjeta madre, se recomienda descargar algun condensador que pudiera estar cargado, pulsando el botón de inicio durante al menos 20 seg.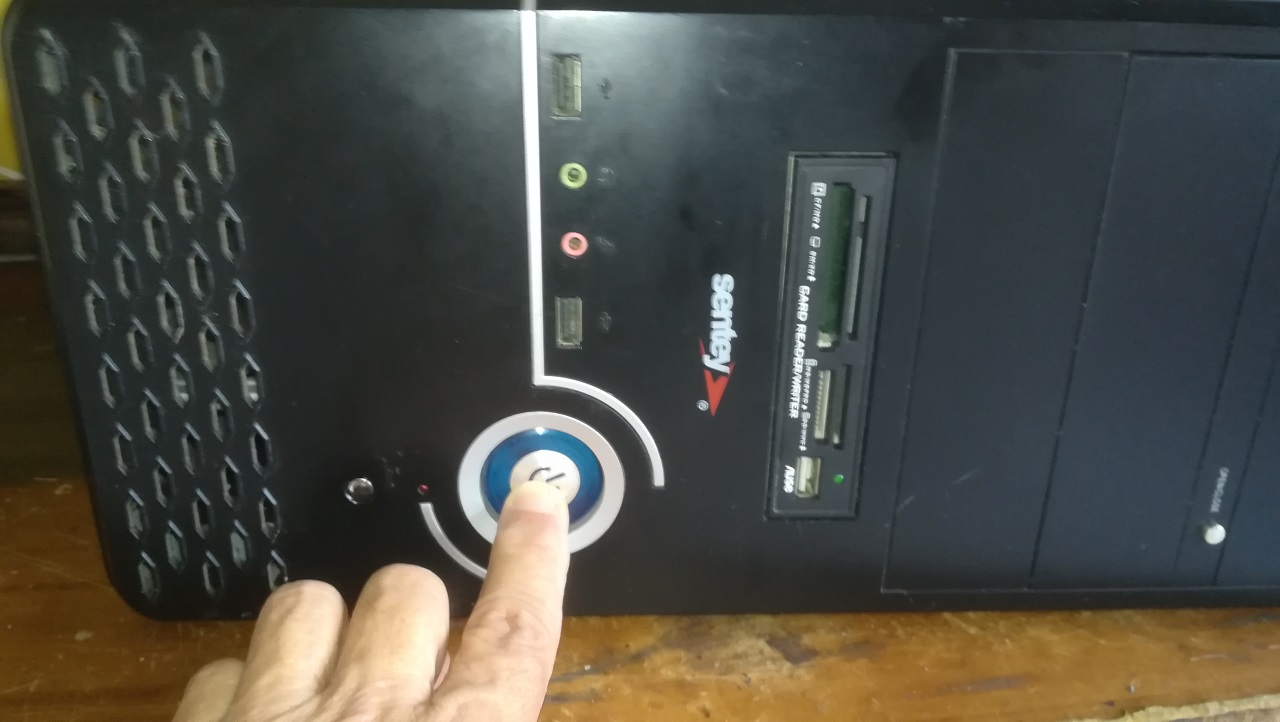 Pressing the start button to eliminate possible hazards /Presionando el boton de arranque para eliminar posibles peligros
From then on, the ram memory cards can be pulled away from the mother board, after pressing the holding clips away. Following this, next step was to install them onto the mother board of my son's PC.
A partir de ese momento, las tarjetas de memoria ram se pueden separar de la tarjeta madre, tras presionar los clips de sujeción. A continuación, el siguiente paso fue instalarlas en la tarjeta madre del PC de mi hijo.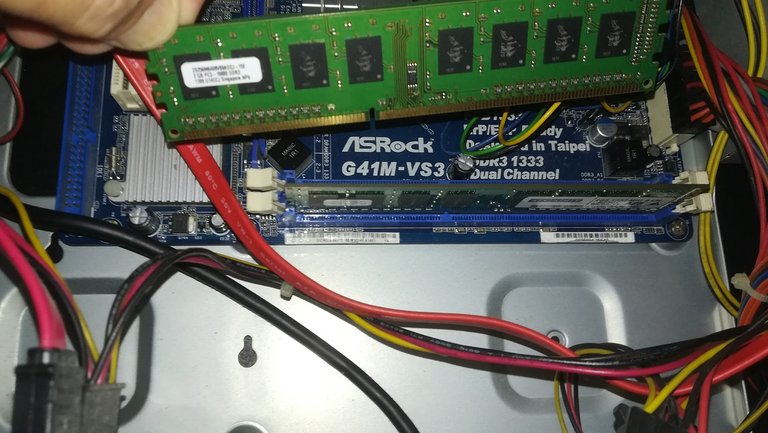 Ram memoriy cards being unplugged from mother board / Tarjetas de memoria ram siendo desconectadas de la tarjeta madre
At this stage it was the turn to dismount the hard disc from the malfunctioning PC and installing it on the good one, after making all the necessary disconnections and unscrewing all the screws which hold it tight in place.
En este punto, era el turno de desmontar el disco duro del PC que funcionaba mal e instalarlo en el bueno, después de hacer todas las desconexiones necesarias y aflojar y quitar todos los tornillos que lo sujetan a la caja.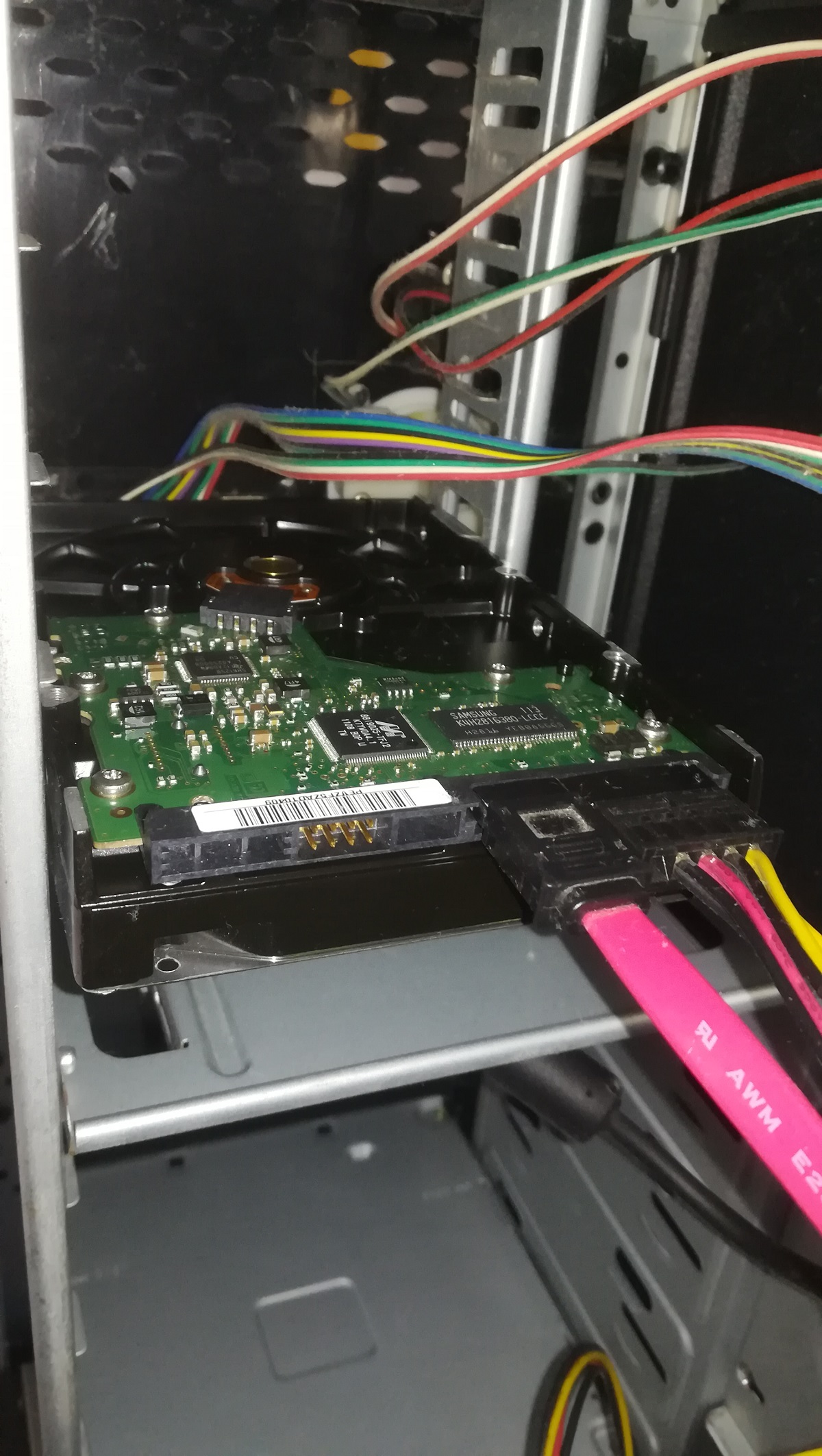 Hard disc connections to be unplugged to transfer it to the other PC / Conecciones del disco duro a ser desconectadas para transferirlo al otro PC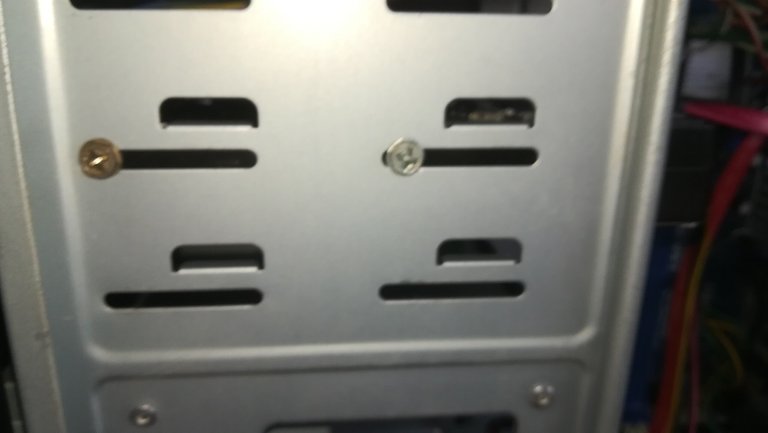 Hard disc screws to be taken off / Tornillos del disco duro a desmontar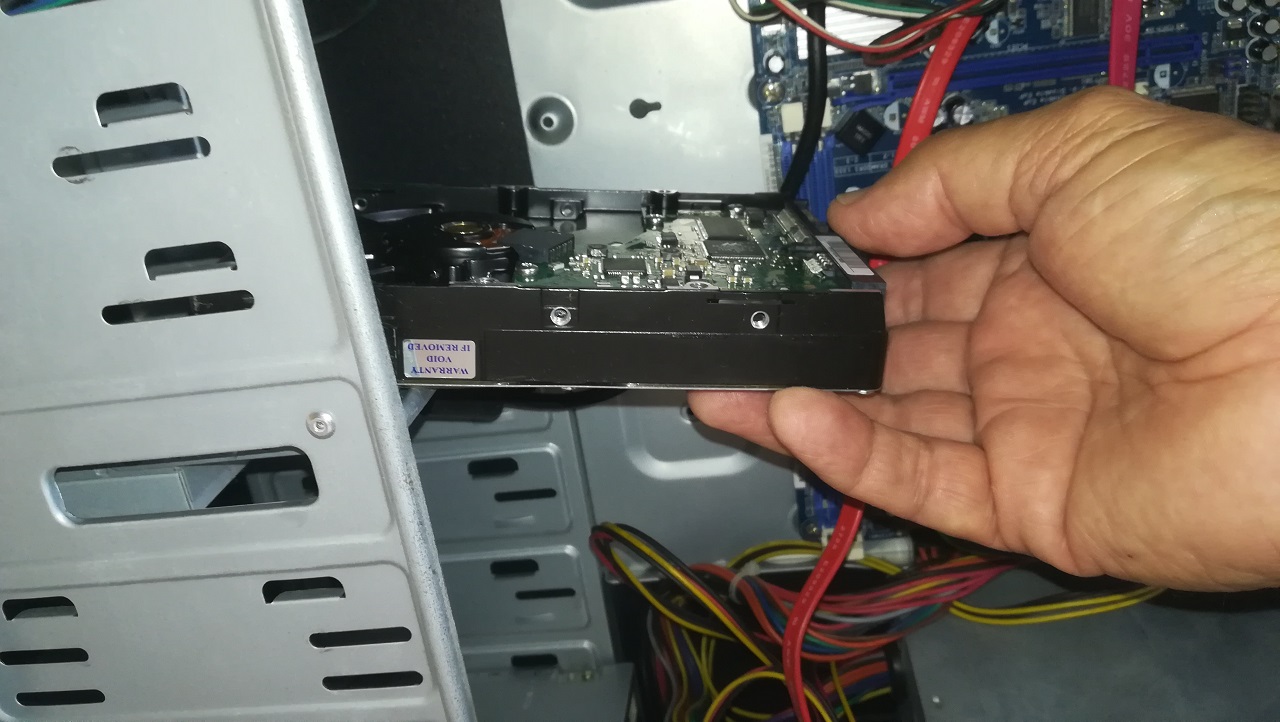 Dismounting the hard disc / Desmonatando el disco duro
What was there left to complete the job was to install the hard disc on the good PC, and leave everything as tidy as possible.
Sometimes it may occur that after pressing the ignition button there is not signal on the screen. This could be due to the ram card memories not being recognized. If that is the case, the they should be dismounted, pass an eraser over the contacts, clean them with some alcohol, and place them back again, not forgetting to make sure the holding clips close on the cards.
Finally, an overview to the job done just to make sure everything is in its correct place: ram memory cards, hard disc and case fan cooler installed, heat sink fairly dusted, data cable from the mother board to the hard discs connected as well as power to the discs.
Lo que faltaba para completar el trabajo era instalar el disco duro en el PC bueno, y dejar todo lo más ordenado posible.
A veces puede ocurrir que tras pulsar el botón de encendido no haya señal de video en la pantalla. Esto puede ocurrir debido a que no se reconocen las tarjeta ram de memoria. Si ese es el caso, hay que desmontarlas, pasar una borrador por los contactos, limpiarlas con un poco de alcohol, y volverlas a instalar, sin olvidar asegurarse que los clips de sujeción se cierran sobre las tarjetas.
Por último, un repaso al trabajo realizado para asegurarnos de que todo está en su sitio: tarjetas de memoria ram, disco duro y ventilador de la caja instalados, disipador de calor bastante desempolvado, cable de datos desde la tarjeta madre
a los discos duros conectado, así como la alimentación de los discos.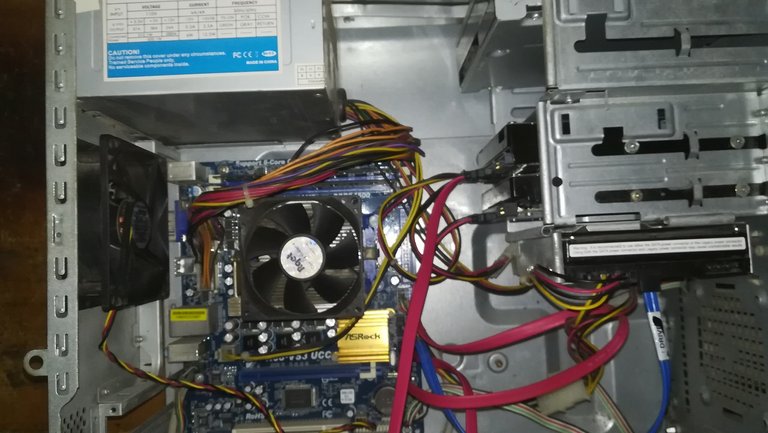 PC cleaned and components on, ready to be tried / PC limpio y con componentes instalado, listo para probar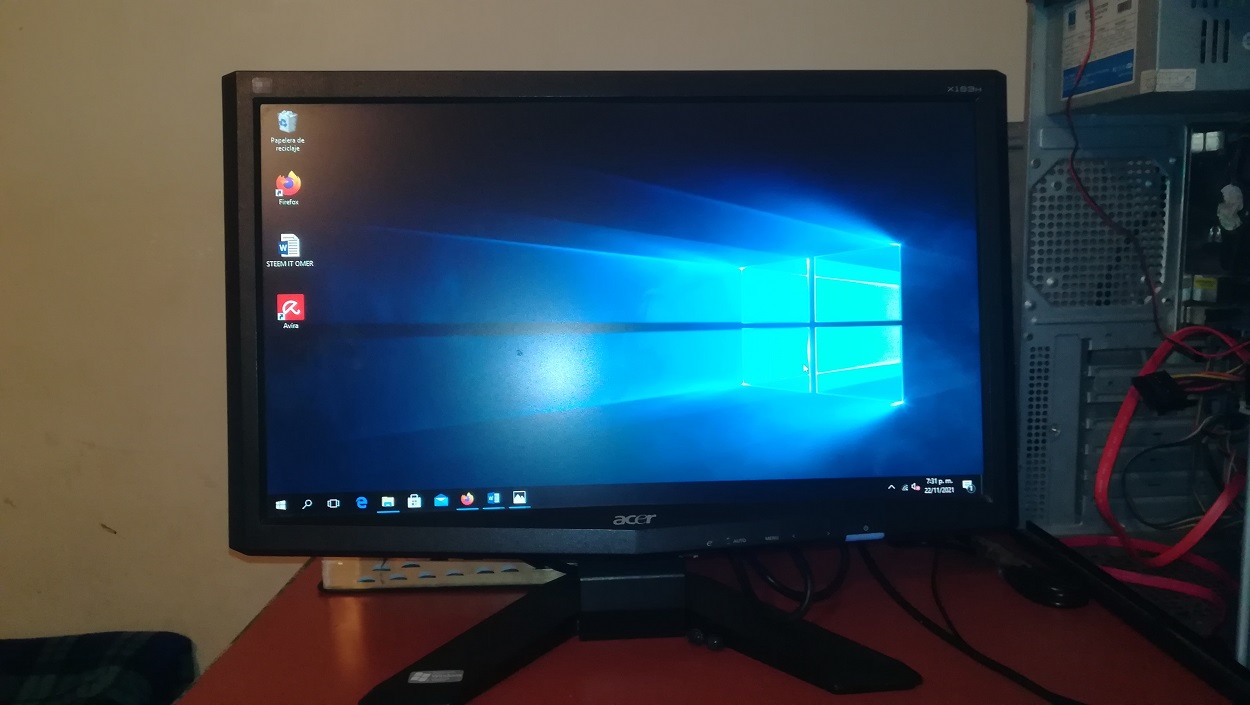 Rewarding to be succesful / Gratificante el logro
All photographs used are of my own.
Todas las fotografías utilizadas son de mi autoría