---
Versión en español
–Iniciando Núcleo...
–Cargando unidades...
–Activando Modo Multiplayer...
–Esperando por mi pésima conexión a internet...
–Success!
¡Hola Geeks! ¿Me leen?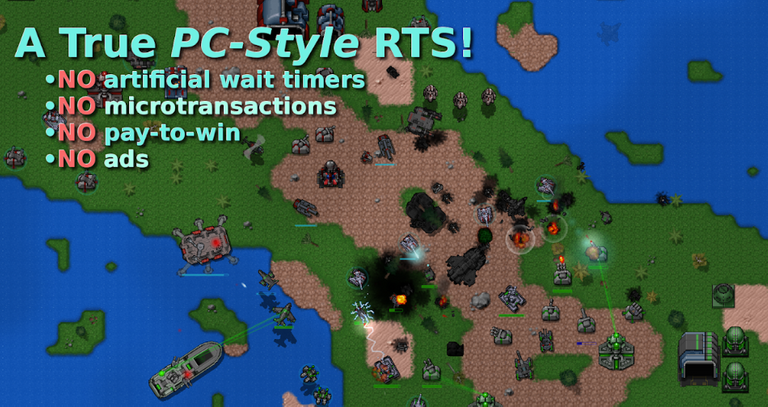 Fuente
Bien, llevo un buen rato sin pegar ojo, los Rusos y los Chinos están por todas partes, comienzan partidas a las que se unen cientos de jugadores y es casi imposible encontrar un hueco vacío, pero no me desanimo. Al fin puedo conectarme.
Comienza la partida.
Después de leer esta inusual introducción estoy casi seguro que debes tener un poco de curiosidad acerca de lo que estoy hablando. Pues voy a contarte:
Rusted Warfare es un juego de Estrategia en Tiempo Real (RTS por sus siglas en inglés) lanzado el 14 de Julio de 2017 por Corroding Games para el sistema operativo Android.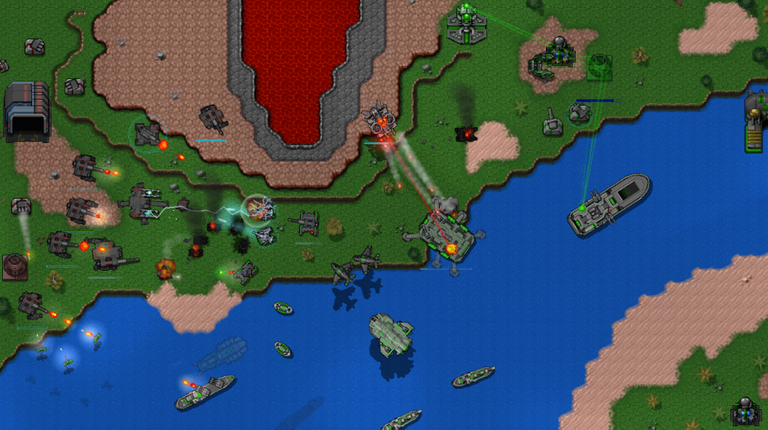 Su sistema de gráficos rememora los juegos de 16bits, pero no te desanimes, pues este es un auténtico ejemplo de que no debes dejarte engañar por las apariencias, para convencerte te diré que cuenta con una jugabilidad muy parecida a nuestro entrañable StarCraft: BroodWar, aunque solo posee una Raza (por llamarle de algún modo), cuenta con más de 50 unidades agrupadas en tres grupos, Tierra, Aire y Mar, todas muy bien equilibradas. Además, cuenta con varios modos de juego como Campaña con un total de 10 misiones, Escaramuza, Desafíos y Supervivencia, además del modo Multijugador que veremos más adelante.
Para comenzar contaremos con un Comando Central y tres obreros, con los que deberás comenzar a construir las fábricas para generar unidades. Por supuesto, antes tendrás que ganar créditos, para hacerlo tienes que construir un Extractor que situarás encima de los pozos de recursos, estos generan +5 de recursos. También están los Fabricadores, otra manera de conseguir créditos, pero estos solo generan +2 en su primera etapa.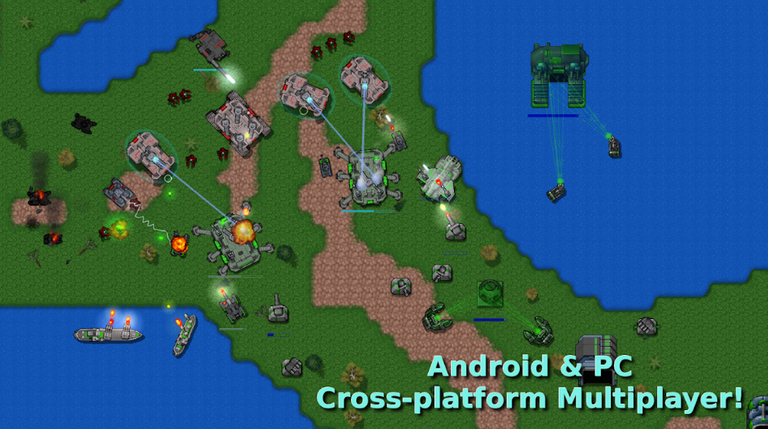 Algo que agregar es que todas las construcciones son mejorables, lo cual te permite crear unidades de mayor nivel y capacidad de ataque.
Hasta aquí lo básico, hablemos del modo Multijugador y de su costo para nuestro preciado Plan de Datos. Este modo cuenta con una sala principal dedicada al Chat y seguidamente, se listan los Servidores, algunos generados automáticamente y otros creados por los usuarios. En cuanto al consumo de datos, este oscila entre 2-4 Mb por hora de partida, lo cual constituye un verdadero alivio para nuestros bolsillos, así que, si estabas buscando un juego entretenido, online, poco consumidor y que además cumpla con tus altos estándares de exigencia como gamer, aquí lo tienes: Rusted Warfare, un RTS bueno, bonito y barato, como para no dejarte dormir.
English Version
Starting Core...
Loading units...
-Activating Multiplayer Mode...
Waiting for my lousy internet connection...
Success!
Do you read me?
Well, I haven't had an eye for a while, the Russians and the Chinese are everywhere, they start games that hundreds of players join and it's almost impossible to find an empty slot, but I'm not discouraged. I can finally connect.
The game begins.
After reading this unusual introduction I'm almost sure you must be a little curious about what I'm talking about. Well, I'm going to tell you:
Rusted Warfare is a Real-Time Strategy (RTS) game released on July 14, 2017 by Corroding Games for the Android operating system.
Its graphics system recalls the 16bit games, but do not be discouraged, because this is a real example that you should not be fooled by appearances, to convince you I will tell you that it has a gameplay very similar to our beloved StarCraft: BroodWar, although it only has one Race (to call it somehow), it has more than 50 units grouped into three groups, Land, Air and Sea, all very well balanced. In addition, it has several game modes such as Campaign with a total of 10 missions, Skirmish, Challenges and Survival, in addition to the Multiplayer mode that we'll see later.
To start we will have a Central Command and three workers, with whom you will have to start building the factories to generate units. Of course, before you will have to earn credits, to do so you have to build an Extractor that you will place above the resource wells, these generate + 5 resources. There are also the Fabricators, another way to get credits, but these only generate + 2 in their first stage.
Something to add is that all the constructions are upgradable, which allows you to create units of higher level and attack capacity.
So much for the basics, let's talk about the Multiplayer mode and its cost for our precious Data Plan. This mode has a main room dedicated to Chat and then the Servers are listed, some generated automatically and others created by users. As for data consumption, it ranges between 2-4 Mb per game hour, which is a real relief for our pockets, so, if you were looking for an entertaining, online game, little consumer and that also meets your high standards of demand as a gamer, here you have it: Rusted Warfare, a good, beautiful and cheap RTS, not to let you sleep.
Comprar por $1.99 / Buy for $1.99
Descargar demo gratis / Download Free Demo

Imágenes Utilizadas: Play Store y Screenshots del juego.
Texto: Original del Autor
---
▶️ 3Speak