Greetings technology lovers, welcome to my post once again, I'm Nitsu and a long time ago in some of my posts talking about 3D printing I had told you that I bought a BlTouch but, for lack of time and knowledge, I had not yet placed it so this time I will tell you, what it is, what it is for and the complexity of its placement.
Saludos amantes de la tecnología, bienvenidos a mi post una vez más, soy Nitsu y hace muchísimo en alguno de mis posteos hablando sobre la impresión 3D había contado que compre un BlTouch pero, por falta de tiempo y conocimientos, todavía no lo había colocado así que en esta ocasión les voy a contar, que es, para que sirve y la complejidad se su colocación.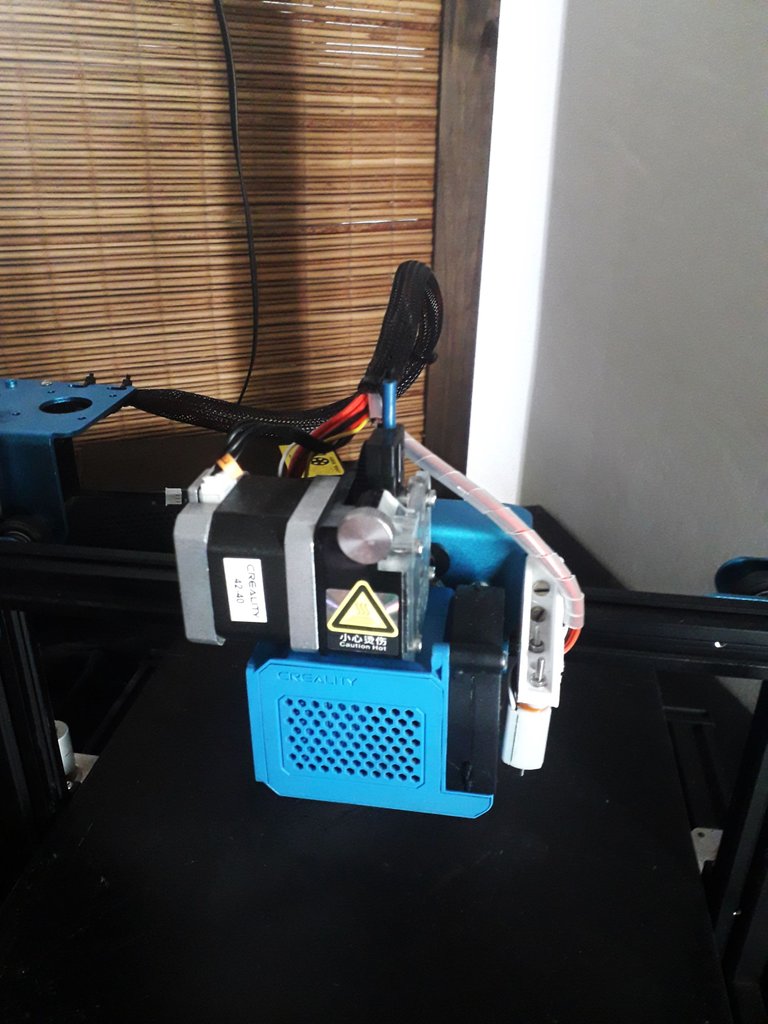 To begin with, what is a BlTouch? This is a device that in recent years is already included in some 3D printing machines, it is not absolutely necessary, but it improves the quality of the prints and reduces the possibility of failures; its main function is to generate a mesh of points to measure the distance from the nozzle of the machine to the printing base seeking to generate a flat surface at all times. This device does not avoid manual calibration, but it does generate better results.
Para comenzar ¿Qué es un BlTouch? Este es un dispositivo que en los últimos años ya viene incluido en algunas máquinas de impresión 3D, no es absolutamente necesaria, pero mejora la calidad de las impresiones y disminuye la posibilidad de fallas; su principal función es generar una malla de puntos para medir la distancia de la boquilla de la maquina a la base de impresión buscando generar una superficie plana en todo momento. Este dispositivo no evita hacer una calibración manual, pero si genera mejores resultados.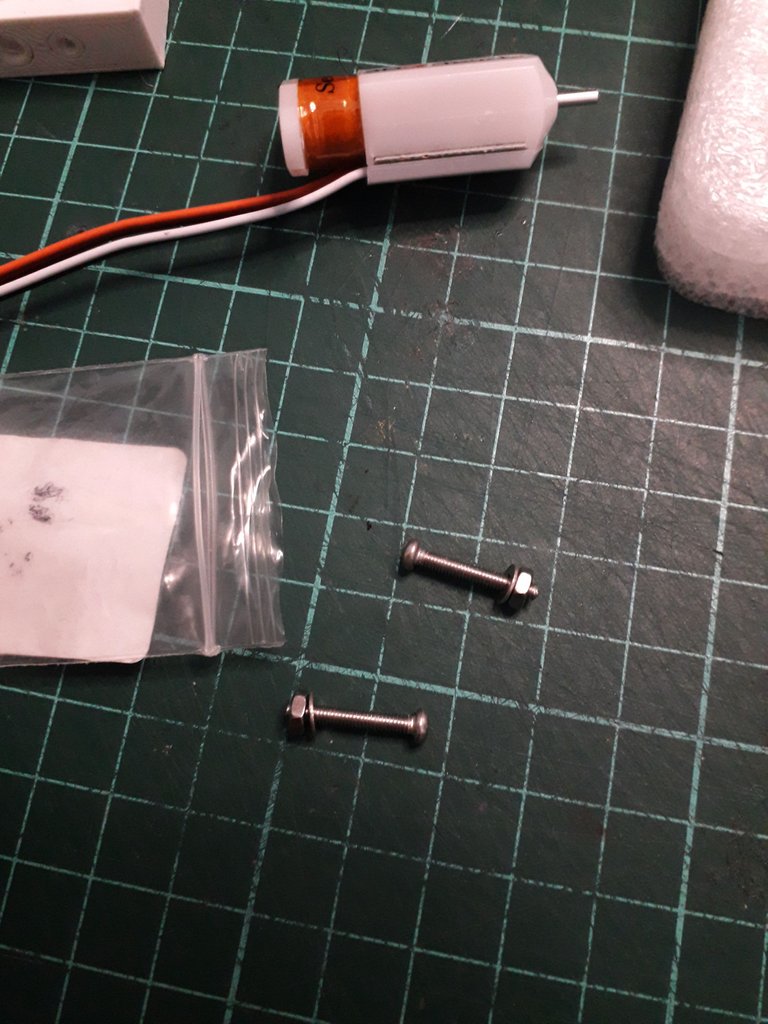 The product I bought is a generic model, it is four times cheaper than the original and does exactly the same, I took advantage of having a little extra money and bought it to add it to my CR10-V3 which is a printer with a large printing area which made it difficult for me to do a manual calibration.
El producto que compre es un modelo genérico, es cuatro veces más barato que el original y hace exactamente lo mismo, aproveche que tenía un poco de dinero extra y lo compre para agregarlo en mi CR10-V3 que es una impresora con un área de impresión grande lo que me dificultaba hacer una calibración manual discente.
For this project I needed to buy flat Arduino cables since I did not get an extension for the correct placement, approximately 40cm long, so the first thing I did was to research on the internet how to place it since I did not know anything about it. There were two possible ways, way A where I would simply place the sensor and everything would work or way B where I would have to change the fimware of my printer for the sensor to work. Guess which one I had to do? Exactly the hardest way, install new fimware.
Para este proyecto necesité comprar cables planos de Arduino ya que no me vino incluida una extensión para la correcta colocación, aproximadamente unos 40cm de cale, así que lo primero que hice fue investigar por internet como colocarlo ya que desconocía totalmente. Había dos caminos posibles, el camino A donde simplemente colocaría el sensor y toda funcionaria o el camino B donde tendría que cambiar el fimware de mi impresora para que el sensor funcionara. ¿Adivinen cual toco hacer? Exactamente el camino más difícil, instalar un nuevo fimware.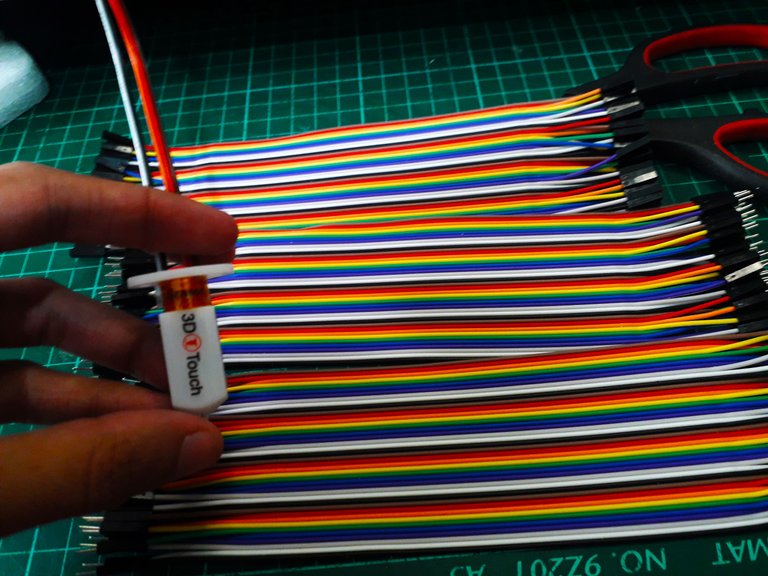 First I had to go to the official website of creality to look for the latest updates of the CR10-V3 fimware one that, if it accepted the BlTouch, once I downloaded it I had to connect directly the motherboard of my 3D printer to the computer and through the Cura Slicer application install the new firmware. This seems simple but I could not find anywhere the information to do it, it was very important to get it right on the first try because if done wrong it could leave the machine unusable.
Primero tuve que entrar a la página oficial de creality para buscar las ultimas actualizaciones del fimware de la CR10-V3 uno que, si aceptara el BlTouch, una vez lo descargue tuve que conectar directamente la placa madre de mi impresora 3D a la computadora y por medio de la aplicación Cura Slicer instalar el nuevo firmware. Esto parece sencillo pero no encontraba por ninguna parte la información para hacerlo, era muy importante que esto saliera bien al primer intento porque si se hace mal podría dejar la maquina inutilizable.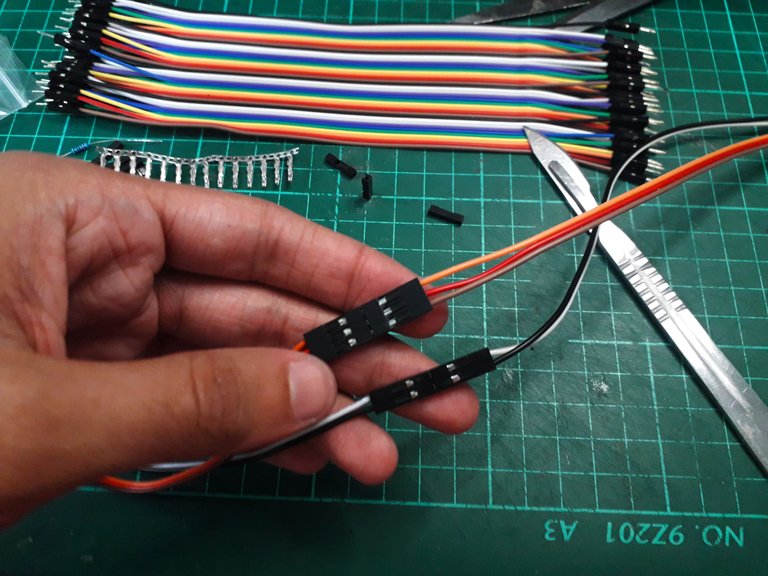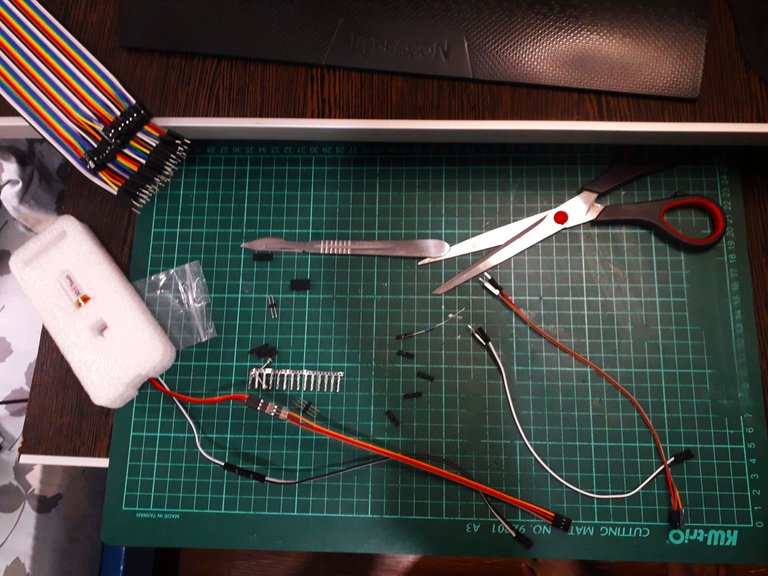 How do we know which fimware to install? Well for this in general it is always necessary to know the motherboard model of our printer, this way we know which one is compatible. This information can be found on the board itself by looking for a code that should be quite visible, its location may vary in different models of printers.
¿Cómo sabemos que fimware instalar? Bueno para esto en general siempre es necesario saber el modelo de placa madre de nuestra impresora, de esta forma sabemos cuál es compatible. Esta información podremos observarla en la propia placa buscando un código que debería ser bastante visible, su ubicación puede variar en los diferentes modelos de impresoras.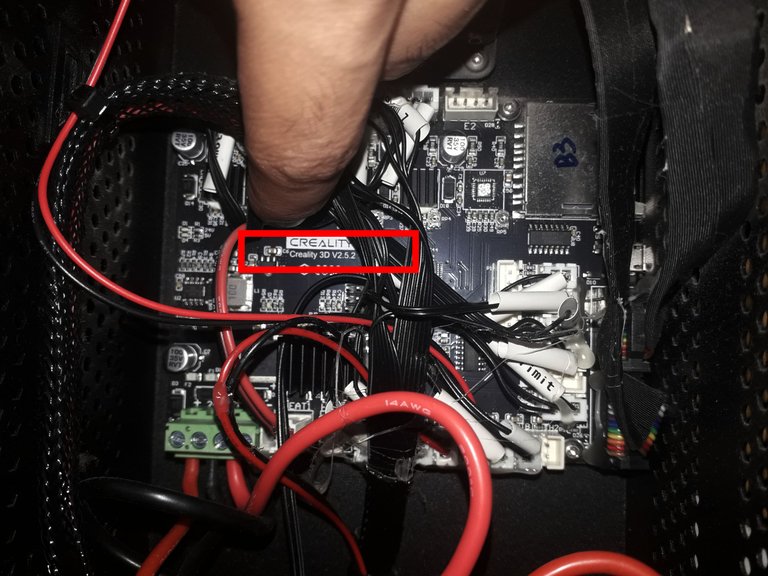 After waiting those eternal minutes my printer started and everything seemed to be correct, I opened the small box that is located on one of the threaded shafts, here there is a plate where the device should be connected, I had to remove one of the pins, carefully levering it with a flat screwdriver, because it made the connection difficult, but once I did all this the printer detected it successfully. Now I had to remove the Z-axis limit switch as it was not necessary because the Bltouch would now also fulfill that function.
Tras esperar esos minutos eternos mi impresora inicio y parecía estar todo correcto, abrí la pequeña caja que se encuentra en uno de los ejes roscados, aquí hay una plaqueta donde se deberá conectar el aparato, tuve que quitar uno de los pines, haciendo palanca cuidadosamente con un destornillador plano, debido a que me dificultaba la conexión, pero una vez hice todo esto la impresora lo detecto exitosamente. Ahora debía retirar el final de carrera del eje Z ya que no era necesaria porque el Bltouch ahora también cumpliría esa función.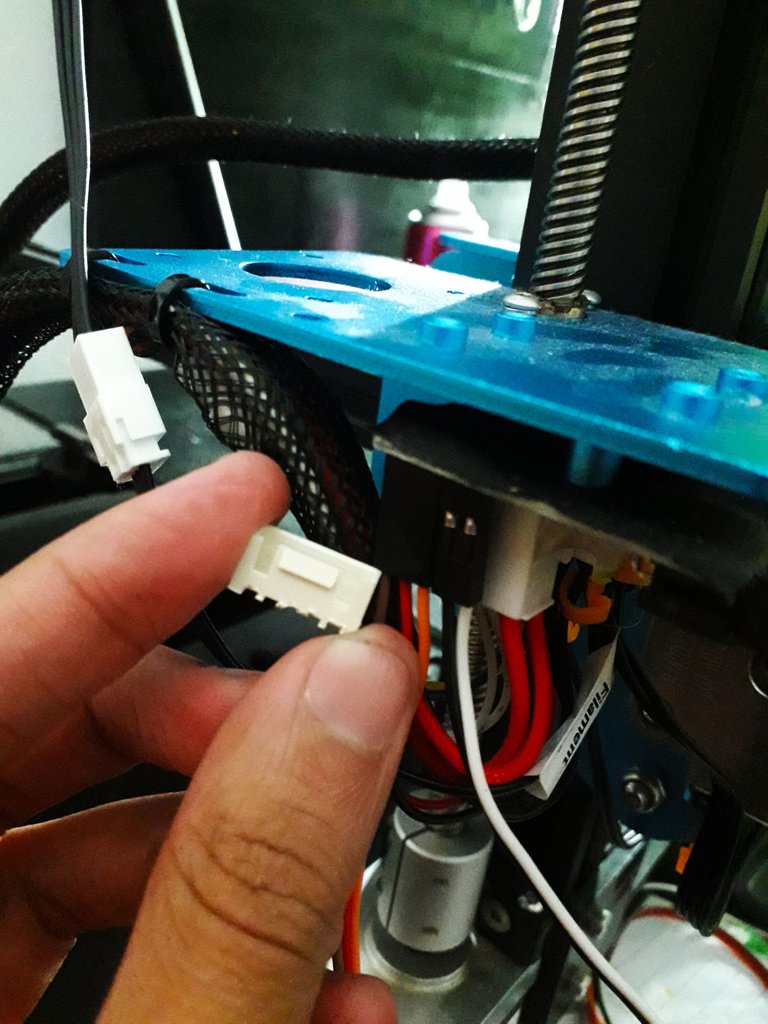 With another of my machines I printed an adapter to attach the Bltouch to the machine and tightened it with the screws that came in the package, all of this must stay in place because if it loosens it will measure the wrong way and could also break our valuable upgrade.
Con otra de mis maquinas imprimí un adaptador para vincular el Bltouch a la maquina y lo ajuste con los tornillos que vinieron en el empaque todo esto debe queda fijo en su lugar porque si se afloja medirá de forma equivocada y también podría romperse nuestra valiosa mejora.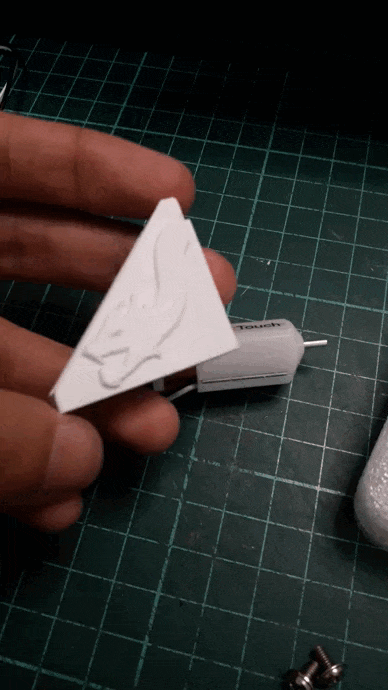 Once I verified that everything was working correctly I started to set up the Z-Offset. It is the distance between the nozzle tip and the printing base when the leveling sensor detects it. That is, the difference between the sensing distance and the distance at which the nozzle is positioned below the sensor. Which in the case of the CR10-V3 is a negative value. In the videos I saw they used the value -3mm, but I have used values between -2.45mm and -2.75mm, all this will depend on the manual calibration that we have done previously and to improve the adherence we will have to modify little by little this value until we find the point that gives us the best result.
Una vez verifiqué que todo funcionara correctamente empecé a configurar el Z-Offset ¿Qué es esto? Es la distancia que hay entre la punta de la boquilla y la base de impresión cuando el sensor de nivelación la detecta. Es decir, la diferencia entre la distancia de censado y la distancia a la que está colocado la boquilla por debajo del sensor. Que en el caso de la CR10-V3 es un valor negativo. En los videos que vi utilizaban el valor -3mm, pero a mí me han funcionado valores entre los -2.45mm hasta los -2.75mm todo esto dependerá de la calibración manual que hayamos hecho anteriormente y para mejorar la adherencia deberemos ir modificando de a poco este valor hasta encontrar el punto que nos dé el mejor resultado.
I did some calibration tests and used the machine for a few weeks before putting all the wires in place, I preferred to wait for a failure before wiring everything. It was a difficult job, but a good challenge that I was able to overcome. Even today I am still getting used to using the BlTouch but I have noticed good results. Something I forgot to mention is that there is not much information on this model and the one that exists is all in English.
Realice algunos test de calibración y utilice la maquina algunas semanas antes de colocar todos los cables en su lugar, prefería esperar un fallo antes de cablear todo. La verdad fue un trabajo difícil, un buen reto que pude superar. Aun a día de hoy me sigo acostumbrando a usar el BlTouch pero he notado buenos resultado. Algo que olvidaba mencionar es que no hay mucha información de este modelo y el que existe esta todo en inglés.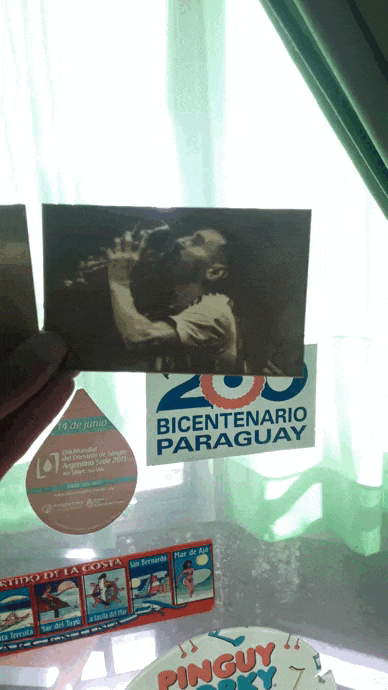 I know that this post does not explain exactly how to place the sensor, but what I write here is much more information than I have found and I have no doubt that it will be useful to understand the steps and requirements for this task. I am very grateful that you have arrived here, I am Nitsu and I wish you success with all your projects.
Se que con este post no explico exactamente como colocar el sensor, pero lo que escribo aquí es mucha más información que la que he encontrado y no tengo dudas que será de utilidad para ir entendiendo los pasos y requerimientos para esta tarea. Desde ya estoy muy agradecido por que hayas llegado hasta aquí, soy Nitsu y te deseo éxitos con todos tus proyectos.

My 3D printing works @nit_3dprinting
Mis trabajos de impresión 3D @nit_3dprinting
Translated by DeepL
Traducido con DeepL
All images are my own
Todas las imágenes son de mi autoría
My last post My way to Nihilanth [ENG-ESP]
Mi último post My way to Nihilanth [ENG-ESP]