Greetings members of Hive geek, welcome to my post once again, I'm Nitsu and this time I bring another beautiful retro console that remains pristine despite having been released more than 20 years ago and yes, I'm talking about the Gameboy Color.
Saludos miembros de Hive geek, bienvenidos a mi post una vez más, soy Nitsu y en esta ocasión traigo otra preciosa consola retro que se conserva impoluta a pesar de haber salido hace más de 20 años y si, estoy hablando de la Gameboy Color.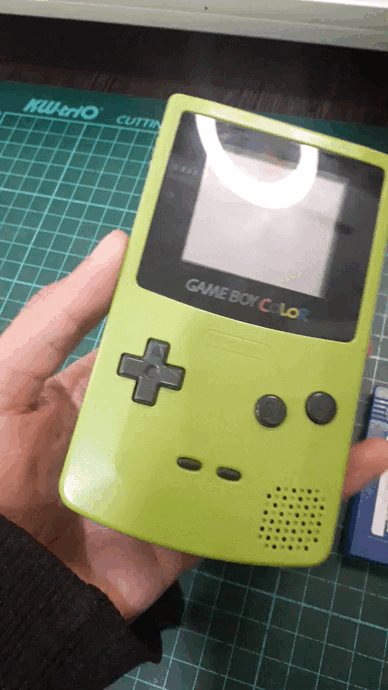 Some time ago I wrote my post about the Nintendo DS that I had acquired and with this console the situation is quite similar, I had some money left over and before having it saved while it devalued day by day I decided to buy a retro console. I had never had a Gameboy when I was little, but I had had the opportunity to play with it thanks to a friend, I remember playing Sonic and falling in love with the sound of 8 bits. Some of you may know that I am passionate about pixels and as the pixel art games did not fill my soul I started to get into this world of collecting.
Hace algún tiempo escribir mi post sobre la Nintendo DS que había adquirido y con esta consola la situación es bastante similar, me sobraba algo de dinero y antes de tenerlo guardado mientras de devaluaba día a día decidí comprar una consola retro. Nunca había tenido una Gameboy cuando era pequeño, pero si había tenido la oportunidad de jugar con ella gracias a un amigo, recuerdo jugar al Sonic y quedarme enamorado del sonido de 8 bits. Algunos de ustedes sabrán que soy un apasionado por los pixeles y como ya los juegos pixel arts no llenaban mi alma empecé a adentrarme en este mundo del coleccionismo.
| | | |
| --- | --- | --- |
I will start by telling you how I got it. I talked to a person who was selling some consoles in the market place of facebook, here you always have to be careful and be aware of scams. I had decided for a green gameboy that had no cover, but this person told me that he was going to take the others that he had so I could see them, try them and decide which one I liked the most. We met and we were talking for a while, he told me that he had started to collect consoles some years ago and was selling some without box because he started to collect complete gameboys (with box and instructions), after testing I decided for the one you see in the pictures a kiwi green gameboy that was very well preserved, no scratches, no bumps, sometimes the sound fails a little, but I think it's because the knob is dirty.
Comenzare contando como la conseguí. Hable con una persona que estaba vendiendo unas consolas en el market place de facebook, aquí siempre hay que tener cuidado y estar atento a las estafas. Me había decidido por una gameboy verde que no tenía tapa, pero esta persona me dijo que iba a llevar las otras que tenia para que las pueda ver, probar y decidir cual me gustaba más. Nos encontramos y estuvimos hablando un rato, me comento que había comenzado a coleccionar consolas hace algunos años y estaba vendiendo algunas sin caja porque empezó a coleccionar gameboys completas (Con caja e instrucciones), tras probar me decidí por la que ven en las fotos una gameboy color verde kiwi que estaba muy bien conservada, sin rayones, ni golpes, a veces el sonido falla un poco, pero considero que es porque la perilla esta sucia.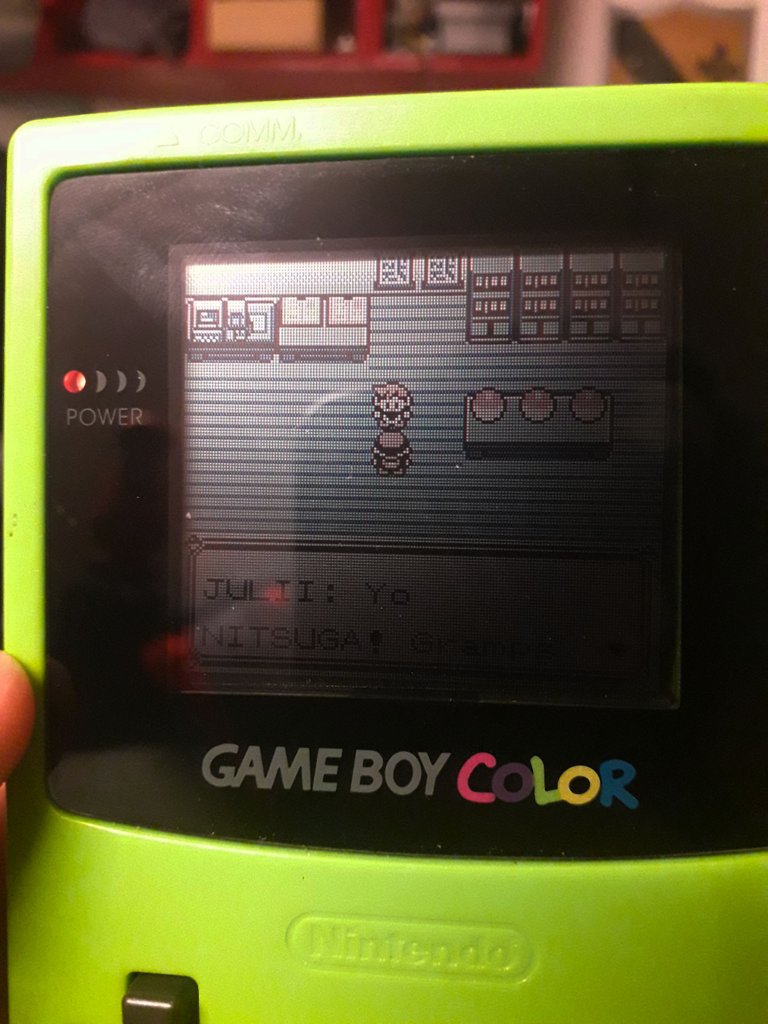 This device cost me $16,000 Argentinean pesos, the equivalent to $50 dollars approximately, this person was very kind and let me include a cartridge of one of the games I had so I could keep it, since I had told him that this was my first approach to a portable console of this style, it is very good to find kind people in the context of video games and why not also sales.
Este aparato me costo $16mil pesos argentinos el equivalente a $50 dólares aproximadamente, esta persona fue muy amable y me dejo incluir un cartucho de alguno de los juegos que tenia para que me lo quede, ya que le había contado que esta era mi primer acercamiento a una consola portátil de este estilo, es muy bueno encontrar gente amable en el contexto de los videojuegos y porque no también las ventas.
The game I chose is one of Bugs, from the well known Disney movie, it is not a very fun game and it is extremely difficult; the times I tried to play it I never get past the first part so it is really frustrating. Another reason why I bought this console was to play the well known Pokémon RPG game, I feel that playing this game on an emulator is not the same because the game is not in its natural habitat, so I looked for an original cartridge of the game and bought it.
El juego que elegí es uno de Bichos, de la conocida película de Disney, no es un juego muy divertido y es sumamente difícil; las veces que intente jugarlo nunca paso de la primera parte así que es realmente frustrante. Otra de las razones por las cuales compre esta consola fue para jugar al tan conocido juego RPG de Pokémon, siento que jugar esta entrega en un emulador no es lo mismo debido a que el juego no se encuentra en su habitad natural, así que averigüe por un cartucho original del juego y lo compre.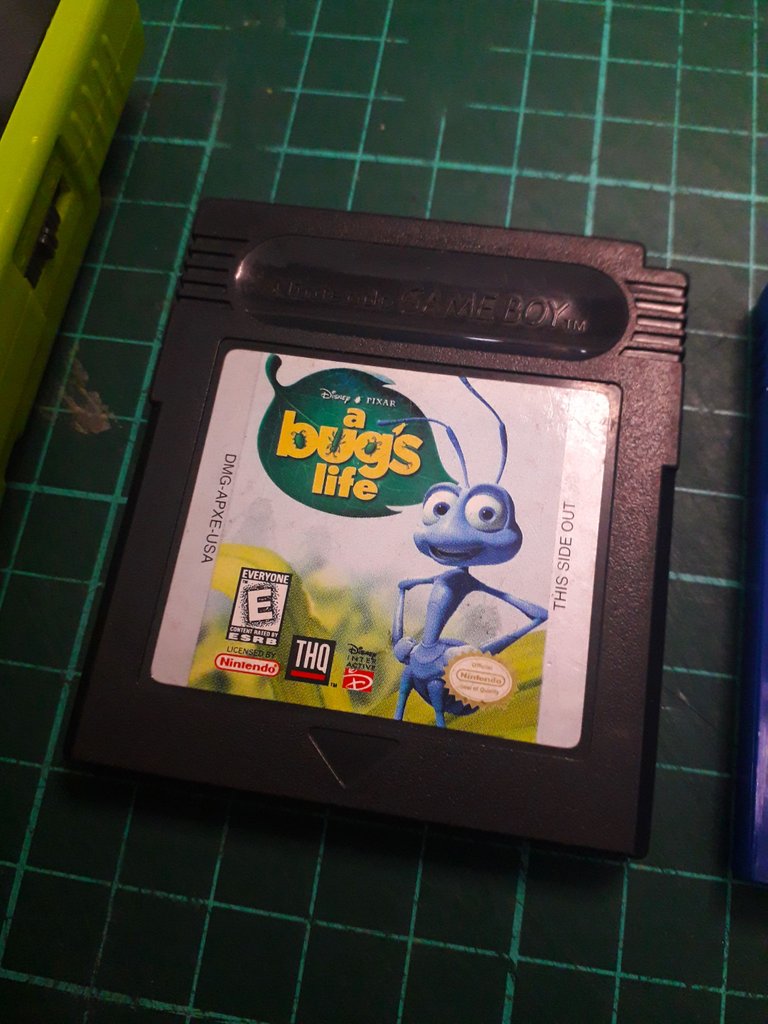 This seller was also very kind, we met one day in a park near my house and he explained to me a little about how to tell when a game is original, very valuable information if you are just starting in the world of collecting because you can always find someone who wants to rip you off.
Este vendedor también fue muy amable, concretamos un día en un parque cerca de casa y me explico un poco de como darme cuenta cuando un juego es original, información muy valiosa si uno recién esta comenzando en el mundo del coleccionismo debido a que siempre uno puede encontrarse con alguien que quiera estafarlo.
I bought the blue Pokémon for $9,000 Argentine pesos, the equivalent of $30 dollars, to some it may seem expensive, but it is a price that first I am willing to pay and secondly it seems fair, think that it is an original game created in Japan that remained perfect for more than 20 years is an object with value that can be sold for the same price or even more.
Compre el Pokémon azul por $9mil pesos argentinos el equivalente a $30 dólares, a algunos les parecerá caro, pero es un precio que primero estoy dispuesto a pagar y segundo me parece justo, piensen que es un juego original creado en Japón que se mantuvo perfecto durante mas de 20 años es un objeto con valor que puede venderse por el mismo precio o aún más.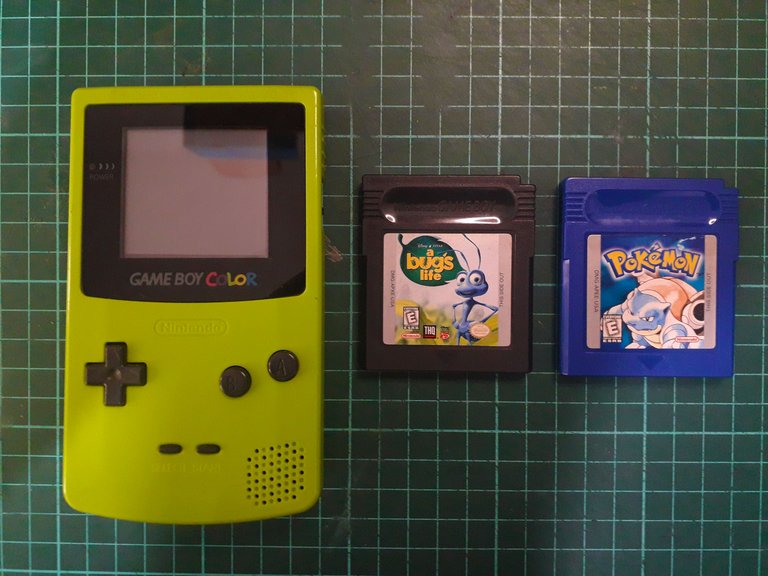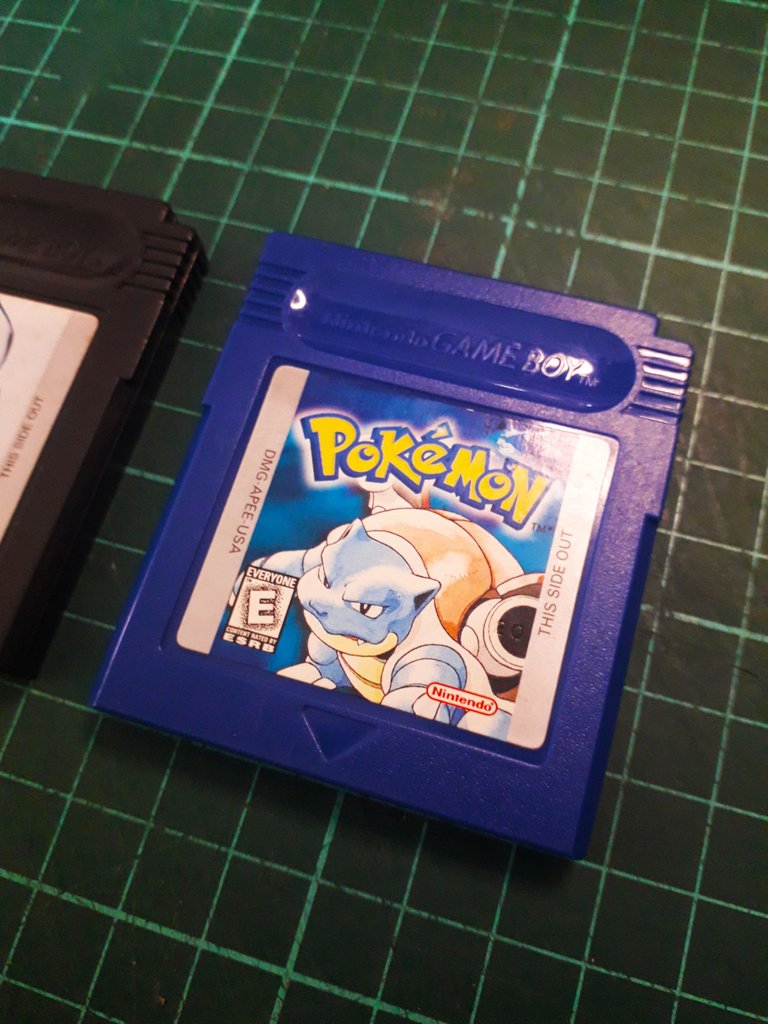 I had the opportunity to play Pokémon blue in my free time in college, I'm currently about 5hs of game and I could already put together a good team to overcome the other challengers, it brings me many memories and I love it because I'm fulfilling small dreams I had as a child.
Tuve la oportunidad de jugar al Pokémon azul es mis ratos libres en la facultad, actualmente voy unas 5hs de juego y ya pude armar un buen equipo para superar a los demás retadores, me trae muchos recuerdos y me encanta porque estoy cumpliendo pequeños sueños que tenía cuando era niño.
The gameboy color came out in 1998 in Japan, its predecessor is the gameboy that was in black and white and it was much more robust, it works with batteries and I understand that it has an autonomy of 30 to 35 hours depending on the game and if it is used with sound or not. It has a RAM memory of 32KB, a maximum of 32,768 color combinations with a maximum of 56 at the same time on screen and measures approximately 133 mm high, 75 mm wide and 27 mm deep with a weight of 138 grams. It has a Sharp LCD screen with a resolution of 160x144pixels.
La gameboy color salió en 1998 en Japón, su antecesora es la gameboy que estaba en blanco y negro además de que era mucho mas robusta, funciona con pilas y tengo entendido que tiene una autonomía de 30 a 35hs dependiendo el juego y si se usa con sonido o no. Tiene una memoria RAM de 32KB, un máximo de 32.768 combinaciones de colores con un máximo de 56 al mismo tiempo en pantalla y unas medidas aproximadas de 133 mm de altura, 75 mm de ancho y 27 mm de fondo con un peso de 138 gramos. Tiene una pantalla LCD Sharp con una resolución de 160x144pixeles.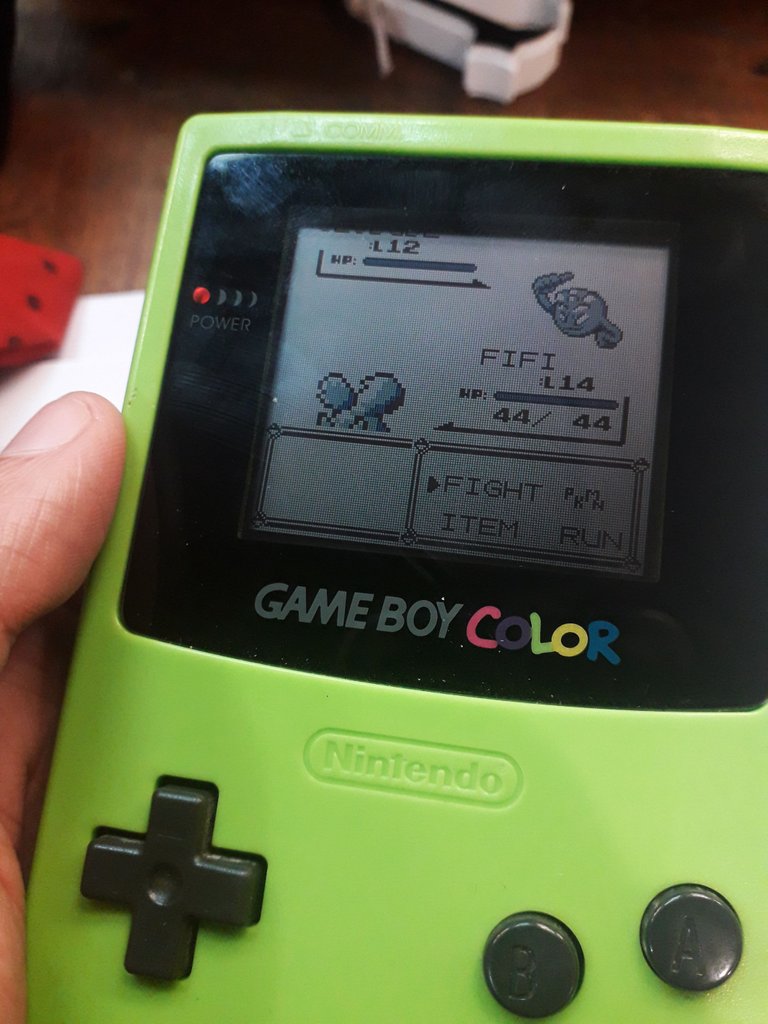 I understand that its development was a bit unsuccessful due to the screen that when receiving direct external light it is not possible to see the images well, the same happens when there is not enough light. This was an attempt to reduce costs in its production generating a huge problem in the design, it was thought to be a failure for this reason, but anyway they decided to market the product obtaining a great reception around the world.
Tengo entendido que su desarrollo fue un poco fallido debido a la pantalla que al recibir luz directa externa no es posible ver bien las imágenes de igual forma ocurre cuando no hay suficiente luz. Este fue un intento de abaratar costos en su producción generando un enorme problema en el diseño, se pensó que iba a ser un fracaso por este motivo, pero de todas formas decidieron comercial el producto obteniendo un gran recibimiento alrededor del mundo.
My next goals with this console besides finishing the Pokémon is to get other interesting games to try, I would also like to place a FRONT LIGHT which is an accessory that is soldered inside the console to see the screen better, this would be a modification for the console, but at least for me this would value it, although there are collectors who prefer to leave the model as is.
Mis próximas metas con esta consola además de terminar el Pokémon es conseguir otros juegos interesantes para probar, también me gustaría colocarle un FRONT LIGHT que es accesorio que se suelda dentro de la consola para poder ver mejor la pantalla, esto sería una modificación para la consola, pero al menos para mí esto la valorizaría, aunque hay coleccionistas que prefieren dejar el modelo tal cual esta.
Have you had the chance to own or play with a Gameboy, do you have any games you would recommend? I would love to read your stories and opinions in the comments, I'm Nitsu and I wish you a great day.
¿Han tenido la oportunidad de tener o jugar con una Gameboy? ¿Tienen algún juego que me recomienden? Me encantaría poder leer sus historias y opiniones en los comentarios, soy Nitsu y les deseo un gran día.

My 3D printing works @nit_3dprinting
Mis trabajos de impresión 3D @nit_3dprinting
Translated by DeepL
Traducido con DeepL
All images are my own
Todas las imágenes son de mi autoría
My last post The beginning of the disaster (Chapter 0) [ENG-ESP]
Mi último post The beginning of the disaster (Chapter 0) [ENG-ESP]