Greetings technology lovers, welcome to my post once again, I'm Nitsu, I wish you happy holidays and again I have the opportunity to bring you a review and this time it's the Redragon Magic Wand Pro keyboard.
Saludos amantes de la tecnología, bienvenidos a mi post una vez más, soy Nitsu, les deseo unas felices fiestas y nuevamente tengo la oportunidad de traer una review y esta vez le toca al teclado Redragon Magic Wand Pro.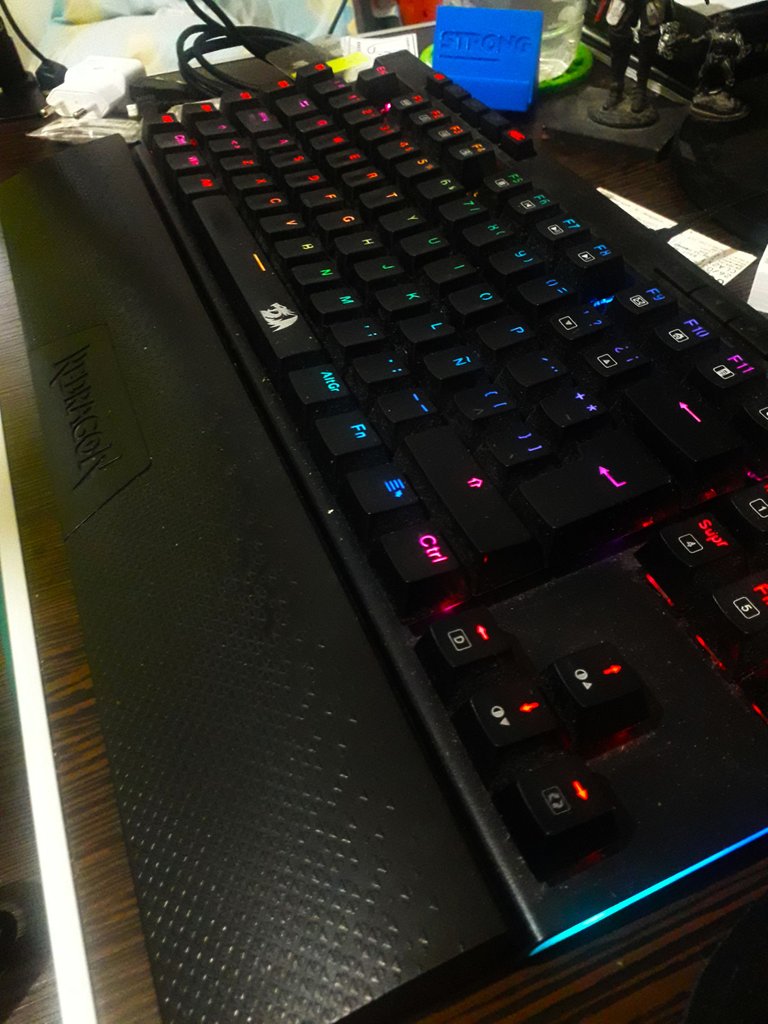 For many years I had a Ttsport keyboard, I don't have a picture since I gave it its dignified Viking farewell. It was not a super keyboard, but it was my first gamer peripheral so I was very fond of it, it was a low keyboard so the action of its keys was smooth and it had a small hidden fan that could be placed to ventilate your hands in summer times and it also had fantastic macro keys that made my life easier when editing. With time, use and League of Legends games several keys ended up breaking and I couldn't repair them anymore.
Durante muchos años tuve un teclado Ttsport, no tengo una foto ya que le di su digna despedida vikinga. No era un super teclado, pero fue mi primer periférico gamer así que le tenia mucho cariño, era un teclado bajo así que el accionar de sus teclas era suave y traía un pequeño ventilador oculto que podía colocarse para que ventile tus manos en épocas de verano y también tenía unas fantásticas teclas macro que me facilitaban la vida a la hora de editar. Con el tiempo, el uso y las partidas de League of legeds varias teclas terminaron por romperse y ya no las pude reparar.
So with the money that I had earned from my venture I started to investigate and see which keyboard was useful for my needs in short I wanted a nice keyboard, that would last long and had macro keys to customize and facilitate my work. Looking at different options I opted for the Redragon Magic Wand Pro because it was one of the few with an affordable price with macro keys, the only thing I did not like is that it did not have the numbers on the right side, but I must say that over time I got used to it, plus I added a lot of space to my set-up using this smaller keyboard.
Así que con el dinero que me había ingresado desde mi emprendimiento comencé a investigar y ver que teclado era útil para mis necesidades en resumen quería un teclado lindo, que durara mucho tiempo y tuviera teclas macro para poder personalizar y facilitar mi trabajo. Viendo diferentes opciones me decante por el Redragon Magic Wand Pro debido a que era uno de los pocos con un precio accesible con teclas macro, lo único que no me gustaba es que no tuviera los números en su parte derecha, pero debo decir que con el tiempo me acostumbre, además que sume bastante espacio a mi set-up utilizando este teclado más pequeño.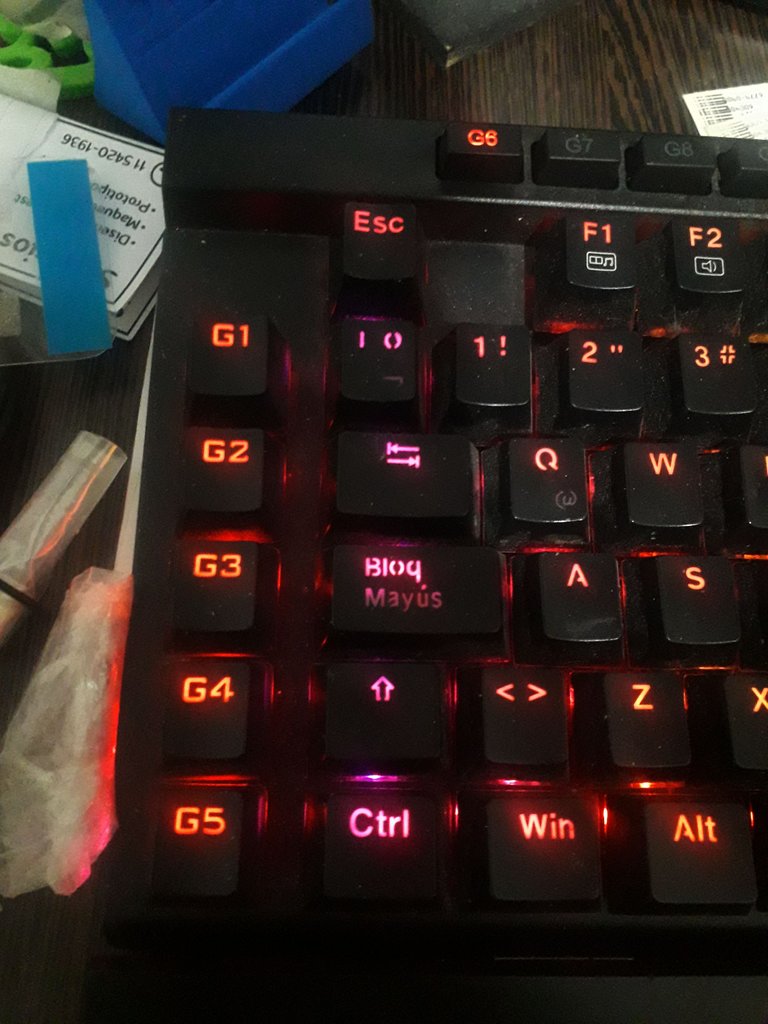 It is a comfortable keyboard, it has an ABS plastic pad that helps to support the wrists when using it, this accessory is magnetic so placing and removing it is a very simple task. From what I read it is splash resistant, clearly I do not recommend drinking or drinking near these devices, but as we all know sometimes our games can be long and it is inevitable to drink near the keyboard.
Es un teclado cómodo, posee un pad plástico de ABS que ayuda a apoyar las muñeras a la hora de usarlo, este accesorio es magnético así que colocarlo y retirarlo es una tarea muy sencilla. Por lo que leí es resistente a salpicaduras, claramente no recomiendo tomar ni beber cerca de estos aparatos, pero como todos sabemos a veces nuestras partidas pueden ser largas y es inevitable beber cerca del teclado.
It is an opto-mechanical keyboard. What does it mean? Let's call it in an easy way, it is an optical and mechanical keyboard here is mixed the best of both worlds. Inside the switch there is a laser that when you press the key is interrupted and reads the action of pressing the key, this serves first for a quick response and secondly not being 100% mechanical it wears less. What can I say? It's just great.
Es un teclado opto mecánico ¿Qué quiere decir? Vamos a llamarlo de una forma fácil, es un teclado óptico y mecánico aquí se mezcla lo mejor de ambos mundos. Dentro del switch existe un laser que a la hora de aprietas la tecla se interrumpe y lee la acción de apretar la tecla, esto sirve primero para una respuesta rápida y segundo al no ser mecánico al 100% se desgasta menos. ¿Qué puedo decir? Es simplemente genial.
They have a USB cable type C mayado to connect it, cylindrical keys that fit the fingertips and has 9 fully customizable macro keys, currently I only have in use 5 for functions cut, paste and other more specific for editing programs. Aesthetically it looks great, a sober black design with an anodized aluminum structure, the keys are laser engraved so you will never erase your characters, the combination of colors and patterns is infinite so it is fully customizable for any set-up.
Tienen un cable USB tipo C mayado para conectarlo, teclas cilíndricas que se adaptan a la yema de los dedos y cuenta con 9 teclas macro totalmente personalizables, actualmente solo tengo en uso 5 para las funciones cortar, pegar y otras mas especificas para programas de edición. Estéticamente se ve genial, un diseño sobrio color negro con una estructura de aluminio anodizado, las teclas están grabadas con láser así que jamás se borraran sus caracteres, la combinación de colores y patrones es infinita así que es totalmente personalizable para cualquier set-up.
The supplier says it has a half-life of 100 million keystrokes and the prized anti-ghosting technology that many gamers need to avoid failures when pressing several keys at once. At first it cost me to get used to the dimensions, the noise of the keys and the fact of having to do a little more pressure on them to operate them, but I say with total certainty that it is a purchase that has been worth it, I have tested it in many games and it has accompanied me since the first post I made here on Hive.
El proveedor dice que tiene una vida media de 100 millones de pulsaciones y la preciada tecnología anti ghosting que muchos gamers necesitan para evitar fallos a la hora de presionar varias teclas a la vez. En un comienzo me costo acostumbrarme a las dimensiones, al ruido de las teclas y al hecho de tener que hacer un poco más de presión en ellas para accionarlas, pero digo con total seguridad que es una compra que ha valido la pena, lo he probado en muchos juegos y me acompaño desde el primer post que hice aquí en Hive.
The truth when I saw and heard about redragon products, I did not trust them, but over the years they have managed to distinguish themselves and offer very good products at an excellent price, I believe they have nothing to envy to other brands and many should learn from them and offer the same quality from the point of durability to functionality. Like any brand they have had their successes and failures, but this keyboard for someone who does not need something high-end for a competitive level is excellent.
La verdad cuando vi y escuche sobre los productos de redragon dude, no me inspiraban confianza, pero con el paso de los años han logrado distinguirse y ofrecer muy buenos productos a un excelente precio, considero que no tienen nada que envidiarles a otras marcas y es más muchos deberían aprender de ellos y ofrecer la misma calidad desde el punto de durabilidad hasta el de funcionalidad. Como toda marca han tenido sus aciertos y desaciertos, pero este teclado para alguien que no necesita algo de gama alta para un nivel competitivo es excelente.
What did you think of my review, have you had the opportunity to own or try any redragon product? If I forget to mention something or fail to explain something, your recommendations are always welcome in the comments. I wish you a good week Hive geek friends.
¿Qué te ha parecido mi review? ¿Has tenido la oportunidad de tener o probar algún producto redragon? Si me olvide de mencionar algo o falle frente a alguna explicación sus recomendaciones siempre son bienvenidas en los comentarios. Les deseo una buena semana amigos de Hive geek.

My 3D printing works @nit_3dprinting
Mis trabajos de impresión 3D @nit_3dprinting
Translated by DeepL
Traducido con DeepL
All images are my own
Todas las imágenes son de mi autoría
My last post My last adventure in Unturned [ENG-ESP]
Mi último post My last adventure in Unturned [ENG-ESP]