Greetings everyone, I'm Nitsu and I hope you are having a great week. As an industrial design student I am practically forced to be able to draw, it is not always necessary to draw well for this career, I know many people who can draw well enough to express their ideas with a pencil and a sheet of paper, but there are times like in the final project deliveries where you have to bring out all the skills you have.
Saludos a todos, soy Nitsu y espero que estén teniendo una gran semana. Como estudiante de diseño industrial estoy prácticamente obligado a poder dibujar, no siempre es necesario dibujar bien para esta carrera, conozco mucha gente que se defiende dibujando lo suficiente como para expresar sus ideas con un lápiz y una hoja, pero hay ocasiones como en las entregas finales de proyecto donde hay que sacar a relucir todas las habilidades con las que uno cuenta.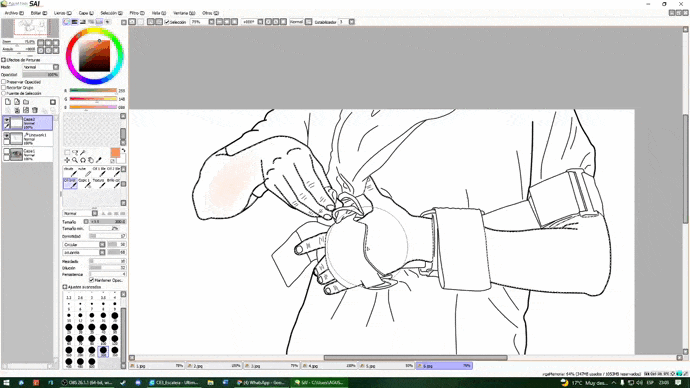 The project consisted of designing an orthosis to assist people who had accidents at home and this product had to be manufactured almost entirely by 3D printing technology. For my part I decided to assist people who had problems or accidents in the shoulder so I put my hands to work and after several classes I arrived at this result.
El proyecto consistía en diseñar una ortesis para asistir a personas que tuvieran accidentes en sus casas y este producto debía ser fabricado casi en su totalidad por medio de la tecnología de impresión 3D. Por mi parte decidí asistir a personas que tuvieran problemas o accidentes en el hombro así que puse manos a la obra y luego de varias clases llegué a este resultado.
In the final deliveries I have to explain the whole project I designed, from the concept I used, the problem it solves, who it is for, how it is used, sometimes we have to explain the sales and marketing method and everything that is necessary to understand the project.
En las entregas finales tengo que explicar todo el proyecto que diseñe, desde el concepto que use, el problema que soluciona, para quien es, como se usa, a veces tenemos que explicar el método de venta y comercialización entre todo lo que sea necesario par que se pueda entender el proyecto.
In this case I want to show you the process I used to draw the sequence of use of my product, I admit that I am not very good at drawing by hand, there are days when I feel more inspired and I draw with more effort, but usually I do not feel like doing this kind of work so a trick I learned to facilitate and shorten the hours of work is to take pictures of myself using the design products and then use those photos as a base to draw over them. On the one hand, I save hours of work and on the other hand I get a very good final result that ends up being my characteristic style of drawing representation.
En este caso quiero mostrarles el proceso que utilice para dibujar la secuencia de uso de mi producto, admito que dibujando a mano no soy muy bueno hay días donde me siento mas inspirado y dibujo con más empeño, pero generalmente no tengo ganas de hacer este tipo de trabajos así que un truco que aprendí para facilitar y acortar las horas de trabajo es sacarme fotos usando los productos de diseño y posteriormente usar esas fotos de base para dibujar encima. Por un lado, me ahorro horas de trabajo y por otro logro un resultado final muy bueno que termino siendo mi estilo característico de representación de dibujos.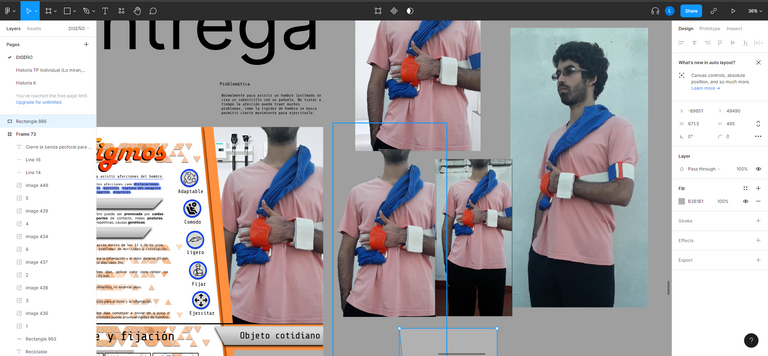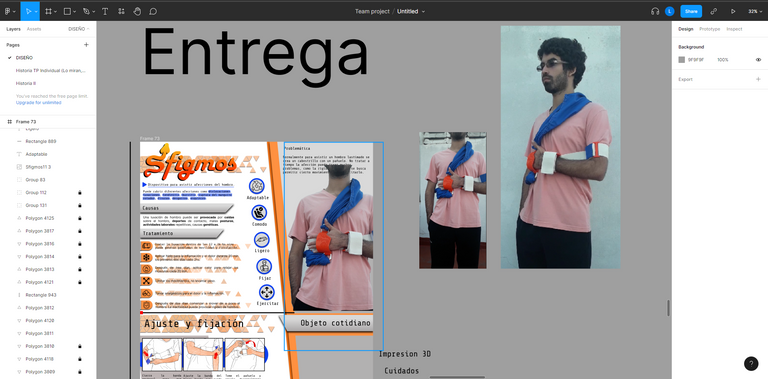 Once I take all the pictures I need I make a pre-selection and transfer them to my computer, I only need the amount of images necessary to understand how to place the product. To draw I use a basic graphic tablet that I got at a good price for the amount of pressure points it has, it is focused to be used for signatures, but as I only have to make sketches and give a little color I did not feel necessary to buy something more professional besides that I was going to give little use.
Una vez saque todas las fotos que necesito hago una preselección y las paso a mi computadora, solo necesito la cantidad de imágenes necesarias para que se entienda la forma de colocarse el producto. Para dibujar utilizo una tableta grafica básica que conseguí a un buen precio para la cantidad de puntos de presión que tiene, está enfocada es ser usada para firmas, pero como solo tengo que hacer bocetos y dar un poco de color no sentí necesario comprar algo más profesional además de que iba a darle poco uso.
| | | |
| --- | --- | --- |
The program I use to draw in is PAINT TOOL SAI is a tool that I have been using for years and I feel very comfortable working with it because it is very intuitive, the good thing about this program is that it is very well known and used so there are a lot of extensions made by users, brush packs and other things. There was a time when I learned to use KRITA which is also a great program for drawing, it is totally free and the interface is very similar to Photoshop or Illustrator, I used this program for a while, but when I stopped using it I completely forgot how to use it so I went back to my origins with SAI.
El programa que uso para dibujar en es PAINT TOOL SAI es una herramienta que uso desde hace años y me siento muy cómodo al trabajar con el ya que es muy intuitivo, lo bueno de este programa es que es muy conocido y usado por ende existen un montón de extensiones hechas por los usuarios, paquetes de pinceles entre otras cosas. Hubo un tiempo donde aprendí a usar el KRITA que también es un gran programa para dibujar, es totalmente gratis y la interfaz es muy similar a Photoshop o Ilustrator, use este programa durante un tiempo, pero cuando lo deje de usar me olvide completamente de como usarlo así que volví a mis orígenes con el SAI.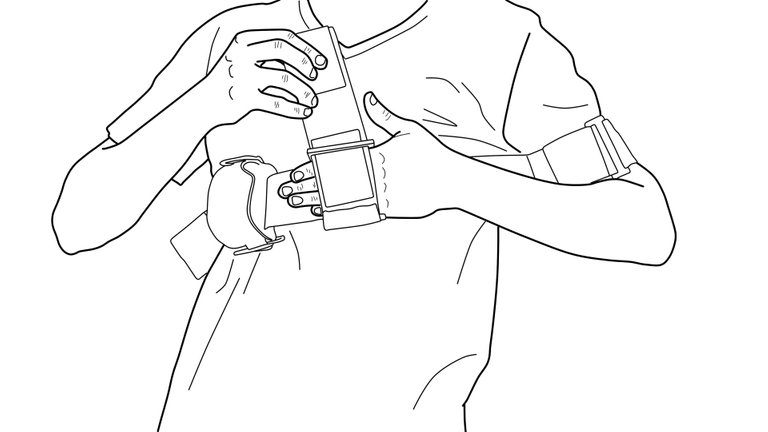 Once in the SAI I drag the photos, place them in the background and give them opacity so I don't get lost when drawing the strokes, then I create a new drawing layer where I start to draw the lines following the reference image. It is something very simple and fun to do.
Una vez en el SAI arrastro las fotos, las coloco en el fondo y les doy opacidad para no perderme a la hora de dibujar los trazos, luego creo una nueva capa de dibujo donde empiezo a hacer las líneas siguiendo la imagen de referencia. Es algo muy sencillo y entretenido de hacer.
Once I had the main lines of all the images the color stage begins, in this case of sequence of use I only put color to the important areas that I want to be noticed that would be the arms of the person and sometimes sectors of the product, but the important thing is that the gestures of the hands are noticed so that the image accompanies the text of explanation of how to use it. When drawing I choose a light tone and with a watercolor brush I give the initial layer of color, then I vary the tone and generate the shadows to make it look more realistic and in the areas of skin folds and knuckles I always try to make those places darker. I was never good at placing lights and shadows, but I am very satisfied and happy with the drawings I have achieved. Once I have everything painted I select the smoothing brush to make the skin tone changes more natural and not so noticeable.
Una vez tenía las líneas principales de todas las imágenes comienza la etapa de color, en este caso de secuencia de uso solo coloco color a las zonas importantes que quiero que se noten que serian los brazos de la persona y en ocasiones sectores del producto, pero lo importante es que se noten los gestos de las manos para que la imagen acompañe el texto de explicación de como usarlo. A la hroa de dibujar elijo un tono claro y con un pincel estilo acuarela doy la capa inicial de color, luego voy variando el tono y generando las sombras para que parezca mas realista y en las zonas de pliegues de piel y en los nudillos siempre intento que esos lugares sean más oscuros. Nunca fui bueno colocando luces y sombras, pero estoy muy conforme y contento por los dibujos que he logrado. Una vez tengo todo pintado selecciono el pince de suavizado para que los cambios de tono de piel queden mas naturales y no se noten tanto.
| | | |
| --- | --- | --- |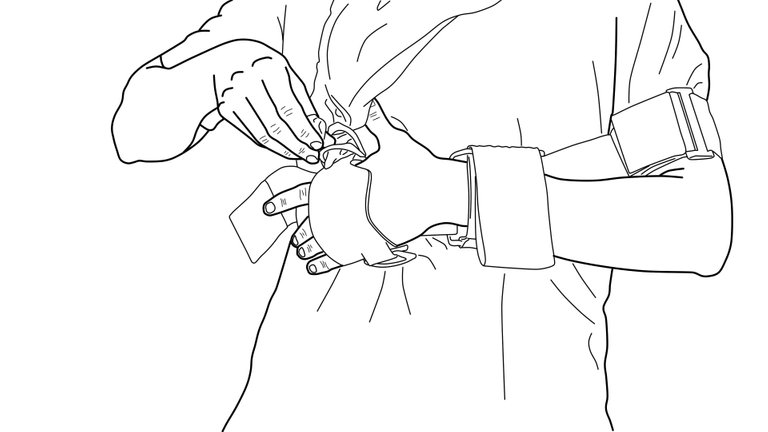 Once I finish painting everything I export the images and start putting together the sequence of formal use for my laminate. I add the text and some arrows to indicate certain movements and actions and I'm all set.
Ya una vez termine de pintar todo exporto las imágenes y empiezo a armar la secuencia de uso formal para mi lamina. Agrego el texto y unas flechas para indicar ciertos movimientos y acciones y ya estaría todo listo.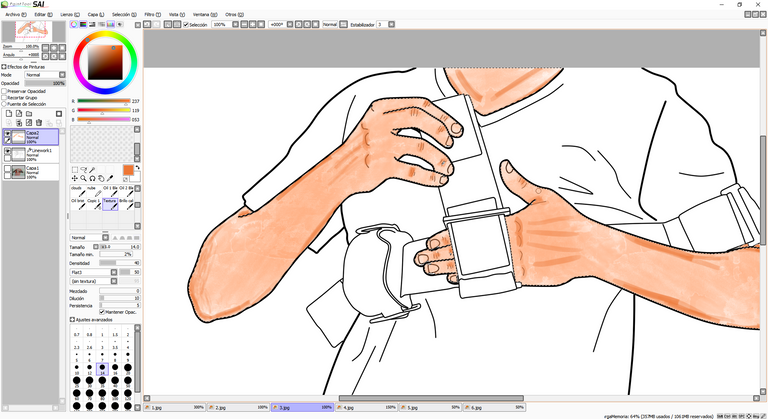 I remember that at the beginning of my career it was very difficult for me to draw by hand, I practiced a few hours and managed to improve, but the method that helped me the most is what I told you and I will continue to use it for any project I have to do.
Recuerdo que al principio de la carrera me costaba muchísimo dibujar a mano, practique algunas horas y logre mejorar, pero el método que más me ayudo es lo que les conté y voy a seguir usándolo para cualquier proyecto que tenga que realizar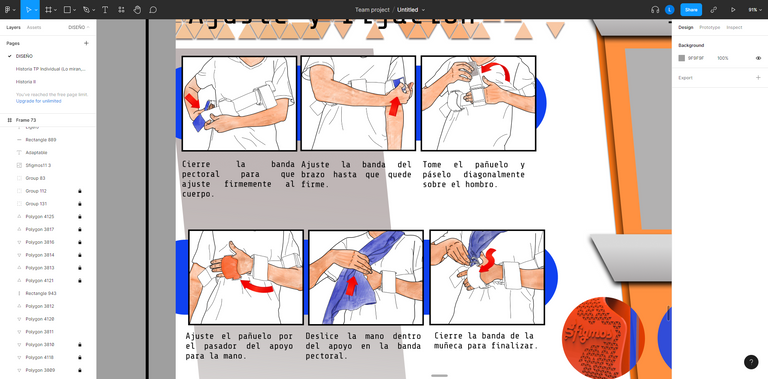 What do you think of my drawings, do you have any recommendations or methods that you use? I would love to read your opinions in the comments and show me your next projects, I'm Nitsu and I hope you can have a great day.
¿Qué les parecen mis dibujos? ¿Tienen alguna recomendación o método que ustedes utilicen? Me encantaría poder leer sus opiniones en los comentarios y que me muestren sus próximos proyectos, soy Nitsu y espero que puedan tener un gran día.

My 3D printing works @nit_3dprinting
Mis trabajos de impresión 3D @nit_3dprinting
Translated by DeepL
Traducido con DeepL
All images are my own
Todas las imágenes son de mi autoría
My last post The end of our hero - Hyper Light Drifter [ENG-ESP]
Mi último post The end of our hero - Hyper Light Drifter [ENG-ESP]