Greetings to all my Hive Geek friends, welcome to my post once again, I'm Nitsu and I'm here to share with you some simple tricks that I use when I have to model 3D parts.
Saludos para todos mis amigos de Hive Geek, bienvenidos a mi post una vez más, soy Nitsu y vengo a compartirles algunos sencillos trucos que utilizo a la hora de tener que modelar piezas en 3D.
For the faculty I needed to replicate a handle of a paper guillotine, it was necessary to make it as similar as possible, so to start I took a profile picture of the handle to have a base to guide me when placing the guide lines for modeling.
Para la facultad necesite replicar un mango de una guillotina de papel, era necesario que quede lo más parecido posible, así que para comenzar tomar una foto de perfil de mango para tener una base donde guiarme a la hora de colocar las líneas guías para modelar.
Something that helps me is to imagine the base shapes that build the piece I have to make, for example, if we think of a refrigerator we could say that the base shapes that make it are rectangles, the main body and the doors, another example that comes to mind would be a cell phone charger, I would say that they are extruded rectangles with cylinders in the case of the connectors that go to the plug. So this is a little bit of the abstraction work that I do to start generating the structure.
Algo que me sirve a mi es imaginarme las formas base que construyen la pieza que tengo que hacer, por ejemplo, si pensamos en una heladera podríamos decir que las figuras base que la conforman son rectángulos, el cuerpo principal y las puertas otro ejemplo que se me viene a la mente seria un cargador de celular diría que son rectángulos extruidos con cilindros para el caso de los conectores que van al enchufe. Así que este es un poco del trabajo de abstracción que hago para comenzar a generar la estructura.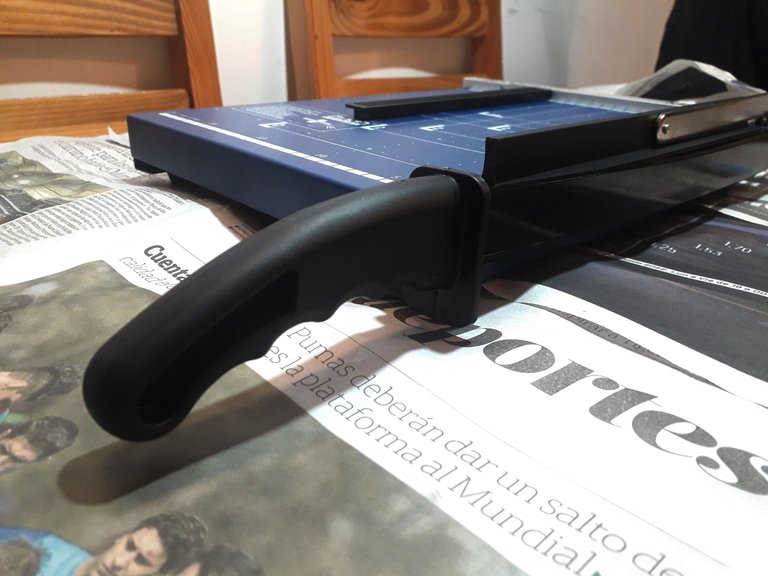 If here I mention the structure that is extremely important, what do I mean? Of course in all the objects that exist someone had to think and design, there is an abstract structure where the above mentioned forms are positioned, so in order to make a 3D replica it is important to imagine or generate this structure.
Si aquí menciono lo de la estructura que es sumamente importante ¿A que me refiero? De por si en todos los objetos que existen alguien tuvo que pensar y diseñar, existe una estructura abstracta donde las formas anteriormente mencionadas se posicionan, así que para poder hacer una replica en 3D es importante imagina o ir generando esta estructura.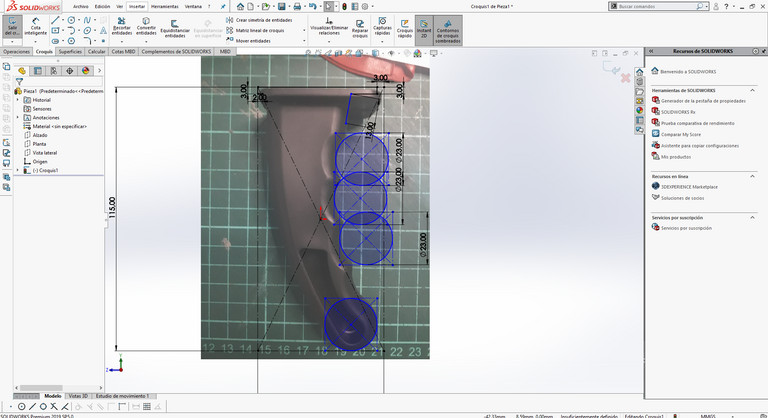 Now let's go to the case where I am working, which is this handle. To begin with, I generated the rectangle with the maximum measures that surround the piece, in this way I delimit my work area, if I go beyond these measures is because I'm doing something wrong. This piece is inscribed in a maximum rectangle of 115mm height by 55mm width. As you can see here I can take as a reference to start modeling the upper part where I will support part of the handle to continue modeling.
Ahora vayamos al caso donde estoy trabajando que es este mango. Para empezar, genere el rectángulo con las medidas máximas que envuelven a la pieza, de esta forma ya delimito mi zona de trabajo, si me paso de estas medidas es porque algo estoy haciendo mal. Esta pieza esta inscripta en un rectángulo máximo de 115mm de altura por 55mm de ancho. Como verán aquí puedo tomar de referencia para empezar a modelar la parte superior donde apoyare parte del mango para seguir modelando.
Always have a caliper at hand to take the measurements as accurately as possible, in this case it was not super necessary, but if you make more technical pieces with a practical use, accuracy is essential.
Tire algunas líneas para ir conformando la forma del mango, siempre tengan a mano un calibre para tomar las medidas de la forma más exacta posible, en este caso no era super necesario, pero si hacen piezas más técnicas con un uso practico la exactitud es algo fundamental.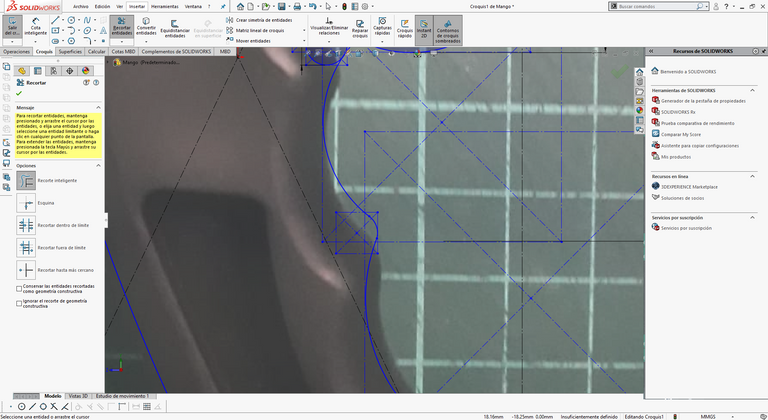 In the lower area of the handle I identified a series of circles with different measures so I generated a square envelope structure to delimit them. I repeated this process in the area of the handle where the fingers would be located, I was able to locate four circles with a similar circumference and a fifth one that was a little larger than the rest. I placed the dimensions and continued generating the structure.
En la zona inferior del mango identifique una serie de círculos con diferentes medidas así que genere una estructura envolvente cuadrada para irlos delimitando. Repetí este proceso en la zona de la agarradera donde irían ubicados los dedos, pude ubicar cuatro círculos con una circunferencia similar y un quinto que era un poco más grande que el resto. Coloqué las cotas y seguí generando la estructura.
On the other side of the piece there is a large curvature, this is a much larger circumference where only one segment will be used to form the handle. I went back to the grip area to generate the small roundings in the grip by placing small circles, then I cut the segments of curves that I didn't need, this way I was generating the silhouette of the handle. When I finished, I removed the structural lines and extruded the piece to both sides on its horizontal axis, obtaining a very approximate volume of the handle I needed.
Del otro lado de la pieza hay una gran curvatura, esta es una circunferencia mucho mayor donde solo se utilizará un segmento para conformar el mango. Volví a la zona de agarre para generar los pequeños redondeos en el agarre ubicando circunferencias pequeñas, posteriormente fui cortando los segmentos de curvas que no necesitaba de esta forma se iba generando la silueta del mango. Al terminar retire las líneas estructurales y extrui la pieza hacia ambos lados en su eje horizontal obteniendo un volumen muy aproximado del mango que necesitaba.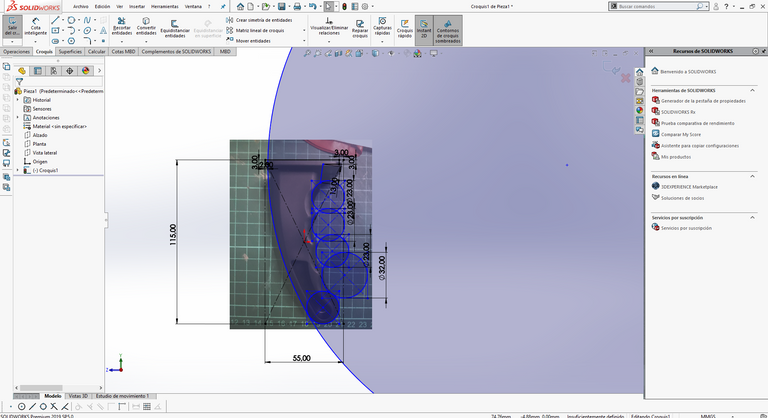 At this point I was adding the volumes I needed for the piece and placing roundings on the sharp edges so that it would take the desired shape. I also generated subtractions of parts to create the concavities and holes of the original piece, while I was making partial cuts to verify thicknesses and see certain internal parts just to make sure that everything was correct because later I had to make the plan of this piece.
En este punto fui agregando los volúmenes que necesitaba para la pieza y colocando redondeos en las aristas vivas para que vaya tomando la forma deseada. También genere sustracciones de partes para crear las concavidades y agujeros de la pieza original, mientras iba realizando cortes parciales para verificar espesores y ver ciertas partes internas solo para quedarme tranquilo de que todo estuviera correcto ya que después tenia que realizar el plano de esta pieza.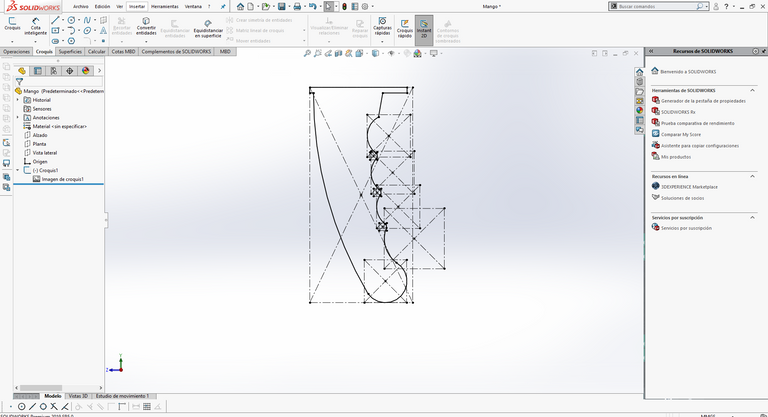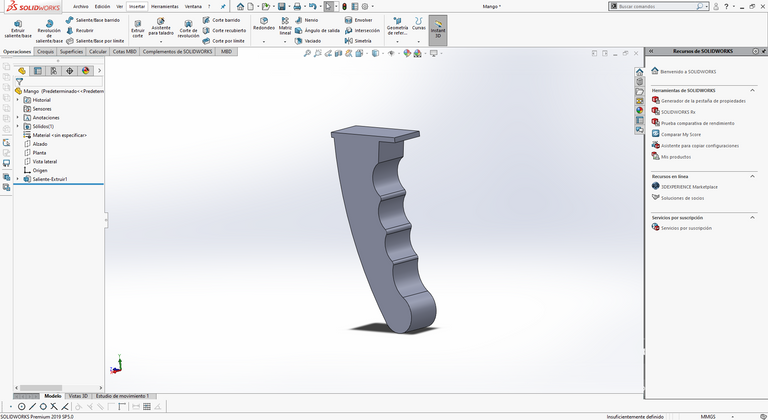 | | | |
| --- | --- | --- |
Once you get to the desired result generate the views for the plan, it is assumed that the information and measures that should appear are all necessary for another person in a factory can replicate the handle to later produce them on a large scale making all the pieces are identical. Maybe at first sight it looks like a normal and simple handle but once you start to model it and measure it you realize all the necessary information to be able to reproduce it, it is something that I like to do but it takes a lot of time to achieve good results. .
Una vez llegue al resultado deseado genere las vistas para el plano, se supone que la información y medidas que deben aparecer son todas las necesarias para que otra persona en una fabrica pueda replicar el mango para posteriormente producirlos a gran escala logrando que todas las piezas sean idénticas. Tal vez a simple vista parece un mango normal y sencillo pero una vez te poner a modelarlo y medirlo te das cuenta de toda la información necesaria para poder reproducirlo, es algo que me gusta hacer pero que lleva bastante tiempo para lograr buenos resultado.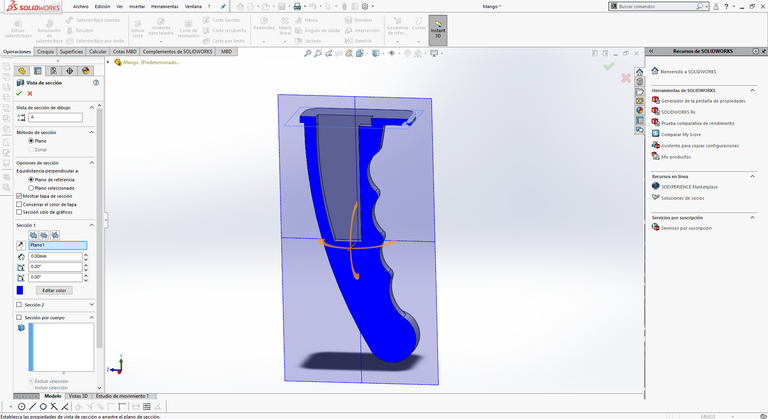 I hope my tips were useful and if you are not in the 3D modeling field I hope you enjoyed my explanation, I'm Nitsu and I hope to bring you more stuff soon. Thanks for making it this far and I wish you a great day.
Espero que mis consejos hayan podido ser de utilidad y si no estas en el ámbito del modelado 3D espero que hayas podido disfrutar de mi explicación, soy Nitsu y espero poder traer más cosas próximamente. Gracias por llegar hasta aquí y les deseo un gran día.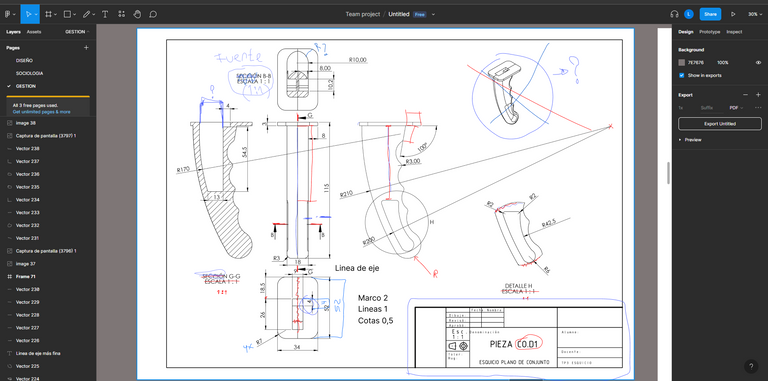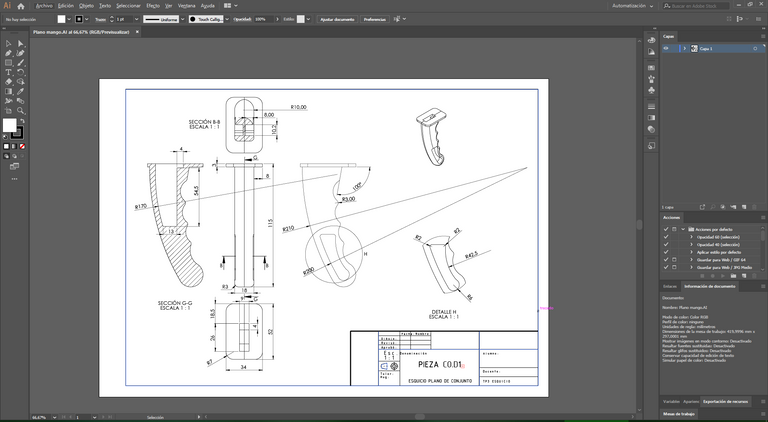 My 3D printing works @nit_3dprinting
Mis trabajos de impresión 3D @nit_3dprinting
Translated by DeepL
Traducido con DeepL
All images are my own
Todas las imágenes son de mi autoría
My last post Tool to calibrate your printer [ENG-ESP]
Mi último post Tool to calibrate your printer [ENG-ESP]