Welcome to my post once again, I'm Nitsu and finally I could find some time to write about my final project. I'm going to tell you about the assignment and in this post I'm going to show you all the modeling, rendering and animation I did; in a next post I hope to show you the prototype I had to submit for this project.
Bienvenidos a mi post una vez más, soy Nitsu y al fin pude encontrar un tiempo para escribir sobre mi proyecto final de la facultad. Les voy a contar la consigna del trabajo y en este post voy a mostrarles todo el apartado de modelado, renderizado y animación que hice; en un próximo post espero poder mostrar el prototipo que tuve que presentar para este proyecto.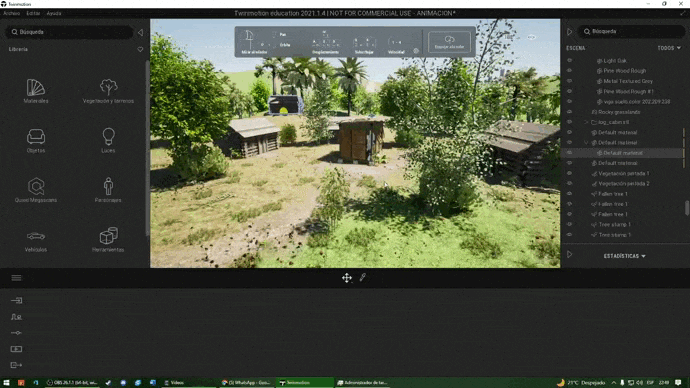 The task of this work consisted of designing an object, system or experience to improve the quality of life, education or other aspects of a community; this chosen community had to be an active participant in the project. To be able to really provide what the community needs and not to design and propose things that will not be useful, it is always better to ask the problem to the user and not to assume it. To carry out all this it was necessary to work in teams of two, so with a friend we coordinated and started.
La consigna de este trabajo consistía en diseñar un objeto, sistema o experiencia para mejorar la calidad de vida, educación u otro apartado de una comunidad; esta comunidad elegida tenía que ser participe activa del proyecto ¿Porque? Para poder brindar realmente lo que esa comunidad necesita y no diseñar y proponer cosas que no serán útiles, siempre es mejor preguntar el problema al usuario y no suponerlo. Para llevar a cabo todo esto era necesario trabajar en equipos de dos así que con una amiga coordinamos y empezamos.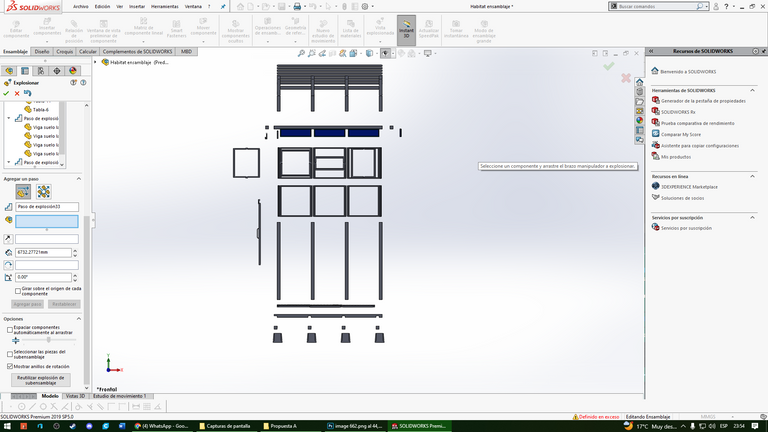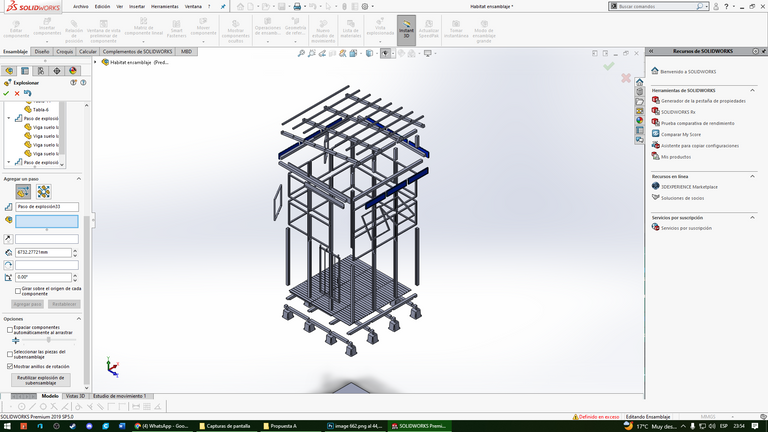 We focused on the Mbya Guarani community located in Misiones Argentina, this community is very closed in the sense of accepting technologies and new knowledge so it was necessary to take this into account for what we wanted to do otherwise it would be invasive to their customs and worldview. After chatting we decided to build a space made with the vernacular architecture of the Guarani community to provide basic health care services because when we investigated we discovered that the health centers they have are very far away.
Nos enfocamos en la comunidad Mbya Guaraní ubicados en misiones Argentina, esta comunidad es muy cerrada en el sentido de aceptar tecnologías y nuevos conocimientos así que era necesario tener en cuenta esto para lo que queríamos hacer sino sería algo invasivo para sus costumbres y cosmovisión. Tras charlar decidimos realizar un espacio fabricado con la arquitectura vernácula de la comunidad guaraní para brindar servicios de atención medica básicos ya que al investigar descubrimos que los centros de salud con los que cuentan están muy alejados.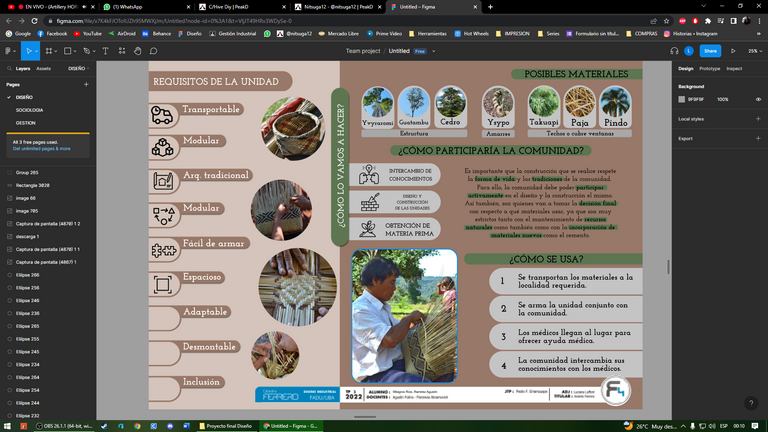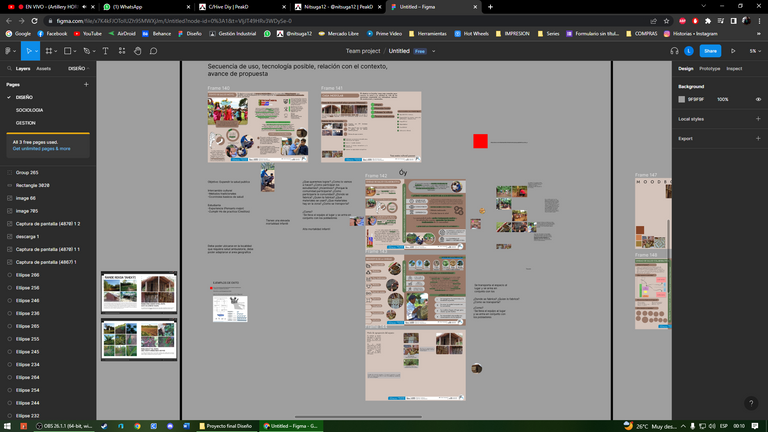 Weeks went by, we made sketches and proposals that we presented to our teachers. This process is so long that I could not show it in a single post, to give you an idea all this took about 4 months of work, analysis and research. In the pictures you can see the 3D modeling process in the Solid Works program showing all the separate pieces.
Pasaron las semanas, hicimos bocetos y propuestas que fuimos presentándoles a nuestros profesores. Este proceso es tan largo que no podría mostrarlo en un solo post, para que se den una idea todo esto llevo unos 4 meses de trabajo, análisis e investigación. En las fotos podrán ver el proceso de modelado 3D en el programa Solid Works mostrando todas las piezas separadas.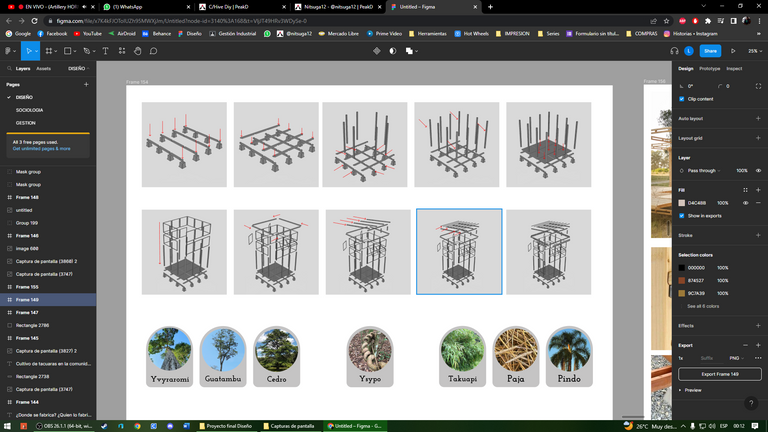 Once we had the final modeling we focused on preparing the rendering in Keyshot, a great program that even a new user can start using but clearly to achieve better results you need to have more knowledge and spend more time on the textures of the materials you are going to use in your modeling. I recommend to look for these textures on the internet or if you dare to create them from scratch, but this requires a lot of time.
Una vez tuvimos el modelado final nos enfocamos en preparar el renderizado en Keyshot, un gran programa que hasta un usuario nuevo puede comenzar a usar pero claramente para lograr mejores resultados hay que tener mayores conocimientos y dedicarle más tiempo a las texturas de los materiales que vas a usar en tu modelado. Recomiendo buscar estas texturas por internet o si se animan a crearlas desde cero, pero esto requiere mucho tiempo.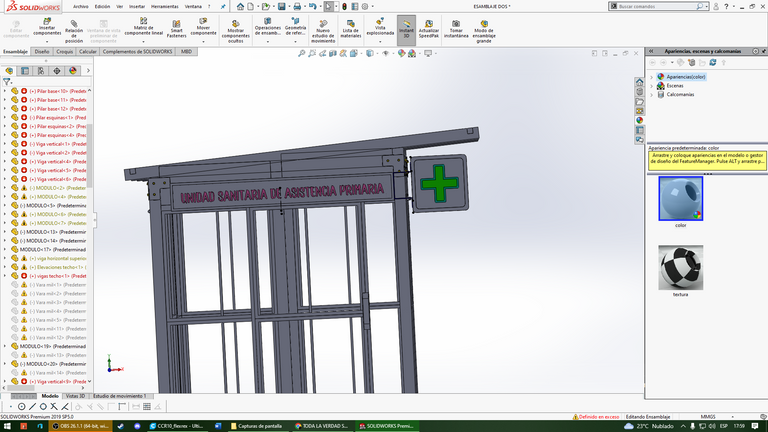 This work was very big and exhausting, there are colleagues who worked alone and I tell you that for them it was hell. Luckily with my friend I was able to divide many tasks, she was in charge of the research and the graphic presentation section class by class while I sketched, modeled or took renders taking advantage of the capabilities of my PC, each one focused on what he could do best and we could optimize a lot of time.
Este trabajo fue muy grande y agotador, hay compañeros que trabajaron solos y les digo que para ellos fue un infierno. Yo por suerte con mi amiga pude dividir muchas tareas, ella se encargaba de la investigación y el apartado de presentación gráfica clase a clase mientras yo boceteaba, modelaba o sacaba renders aprovechando las capacidades de mi PC, cada uno se enfocó en lo que mejor sabía hacer y se pudo optimizar muchísimos los tiempos.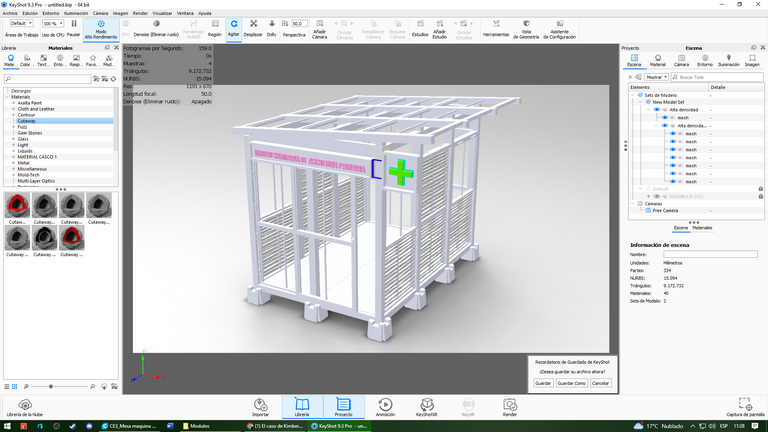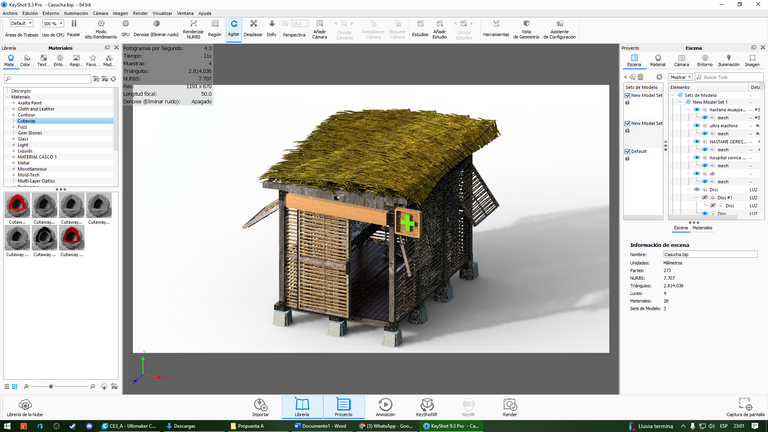 When it came to making decisions, we always talked about what was convenient for us. On two occasions we proposed things to our professors and they asked us to take physical examples, which was very complicated, first because of the short work time and secondly because of the complexity of the things we had to take, so we had to simplify so as not to make everything so difficult. We always tried to be practical and make the best decision that would save us time.
A la hora de tomar decisiones siempre hablábamos de lo que nos convenia, nos paso en dos ocasiones de proponer cosas a nuestros profesores y nos pedían que llevemos ejemplos físicos lo cual era muy complicado primero por los cortos tiempos de trabajo y segundo por la complejidad de las cosas que llevábamos así que tuvimos que ir simplificando para no hacer todo tan difícil. Siempre intentábamos ser prácticos y tomar la mejor decisión que nos ahorrara tiempo.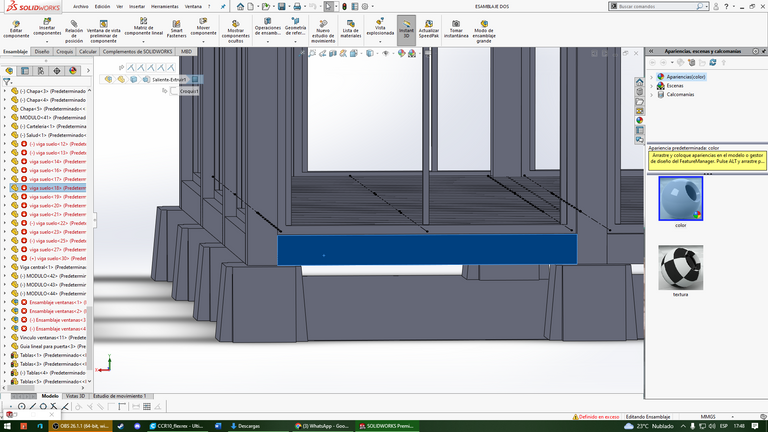 The weeks went by and we reached the delivery date, the truth is that we did not sleep much, there were things that we solved on the spot, but we were very happy with the final result. We had to prepare the graphic presentation, which involved compiling the research and placing the renderings of the project to assemble a 1 meter panel, we had to do the 3D modeling taking into account the links between parts, screws and other details that took many hours of work, plus the prototype of one of the modules of the habitat.
Pasaron las semanas y llegamos a la fecha de entrega la verdad dormimos poco, hubo cosas que resolvimos sobre el momento, pero quedamos muy conformes con el resultado final. Tuvimos que preparar la presentación gráfica, lo cual conlleva recopilar la investigación y colocar los renders del proyecto para armar un panel de 1 metro, tuvimos que hacer el modelado 3D teniendo en cuenta los vínculos entre piezas, tornillos y otros detalles que llevo muchísimas horas de trabajo, sumado al prototipo de uno de los módulos del hábitat.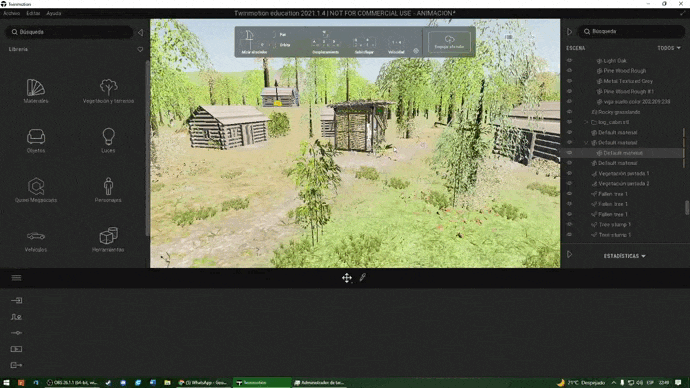 It was a very enriching but exhausting work, currently I have this work published on Behance a platform that designers use to upload their work to promote their work, it is the first work I have uploaded, I have many others, but I have to dedicate time to update everything.
Fue un trabajo muy enriquecedor pero desgastante, actualmente este trabajo lo tengo publicado en Behance una plataforma que usan los diseñadores para subir sus trabajos para promocionar sus trabajos, es el primer trabajo que tengo subido, tengo muchos otros, pero tengo que dedicar el tiempo para ir actualizando todo.
What did you think about the work I did? I wish I could tell you much more about my methodology, I hope to bring you a post about the prototype of this project, sadly it doesn't have to do so much with this community but if you want to see more you can follow me to be aware of everything I do. Thank you very much for reading me, I'm Nitsu and I wish you a great week.
¿Qué les pareció el trabajo que hice? Me gustaría poder contarles mucho más sobre mi metodología, espero poder traer un post sobre el prototipo de este proyecto, tristemente no tiene que ver tanto con esta comunidad pero si quieren ver más pueden seguirme para estar al tanto de todo lo que hago. Muchas gracias por leerme, soy Nitsu y les deseo una gran semana.

My 3D printing works @nit_3dprinting
Mis trabajos de impresión 3D @nit_3dprinting
Translated by DeepL
Traducido con DeepL
All images are my own
Todas las imágenes son de mi autoría
My last post The morphology of things [ENG-ESP]
Mi último post The morphology of things [ENG-ESP]