What's up Hive Geek friends? Very happy new year to all of you and welcome to my post once again, it's a pleasure to be here with you and to read you. Today I come to share with you a work I did in college, at the beginning of the project cost me a little because I had done something very complicated, but thanks to the support of my teachers I could reach a great end result.
¿Qué tal amigos de Hive Geek? Muy feliz año nuevo para todos y bienvenidos a mi post una vez más, es un gusto poder seguir por acá con ustedes y leerlos. Hoy vengo a compartirles un trabajo que realicé en la facultad, al principio del proyecto me costo un poco ya que había hecho algo muy complicado, pero gracias al acompañamiento de mis profesores pude llegar a un gran resultado final.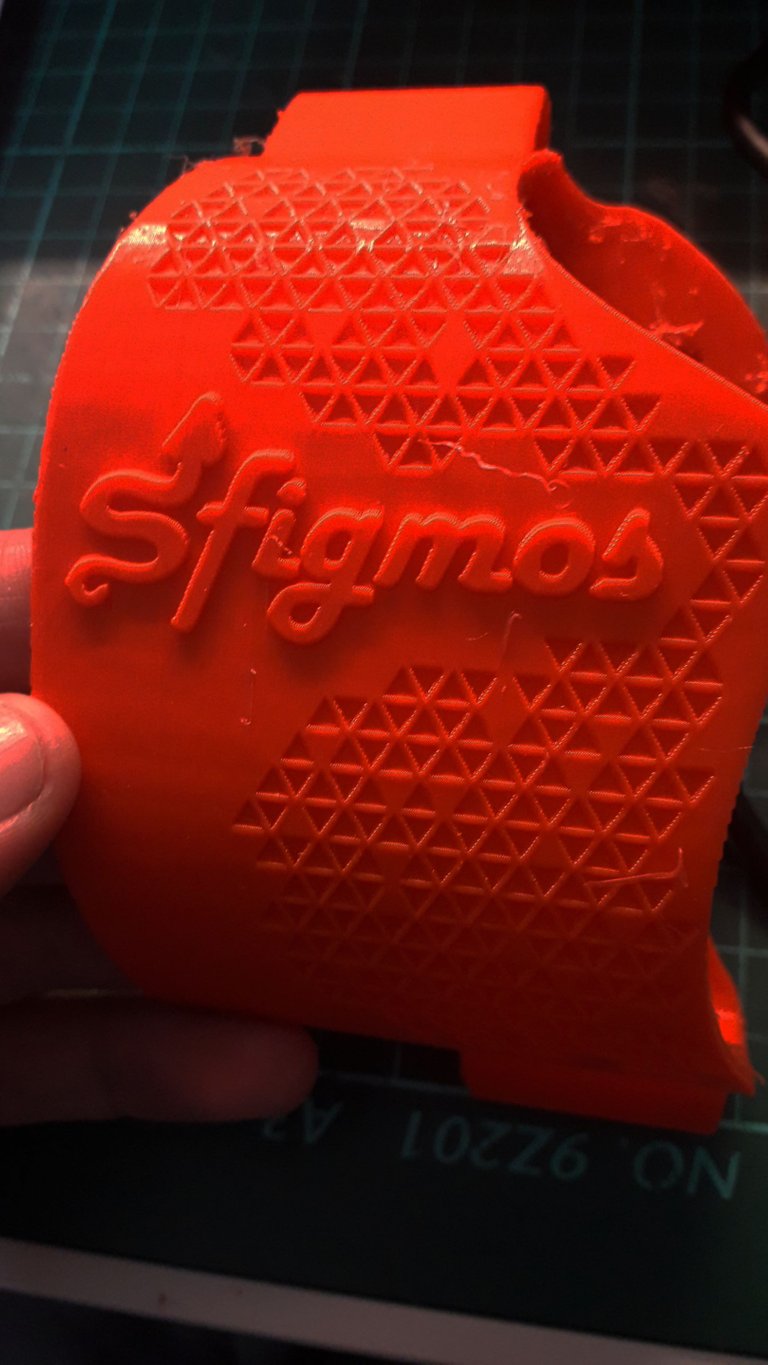 You may wonder what this is? Maybe when you see it you can get an idea, but I want to tell you the whole design process, from the slogan to the final result. This work was individual and it was the one that had the most weight in terms of grade and concept in the year, so I had to achieve a good result, since I am in my last years of my career and I wanted to show everything I had learned so far. The task was to design an orthosis or prosthesis using 3D printing technology to cover more than one affliction, plus I had to be able to use something from the home context to complement it and propose a type of E-commerce sale.
¿Se preguntarán que es esto? Tal vez al verlo se pueden dar una idea, pero quiero contarles todo el proceso de diseño, desde la consigna hasta el resultado final. Este trabajo fue individual y era el que más peso en cuestión de nota y concepto tenia en el año así que tenia que lograr un buen resultado, ya que estoy en mis últimos años de carrera y yo quería demostrar todo lo que había aprendido hasta ahora. La consigna era diseñar una ortesis o prótesis por medio de la tecnología de impresión 3D para cubrir más de una aflicción además se tenia que poder utilizar algo del contexto hogareño para complementarlo y proponer un tipo de venta E-comerce.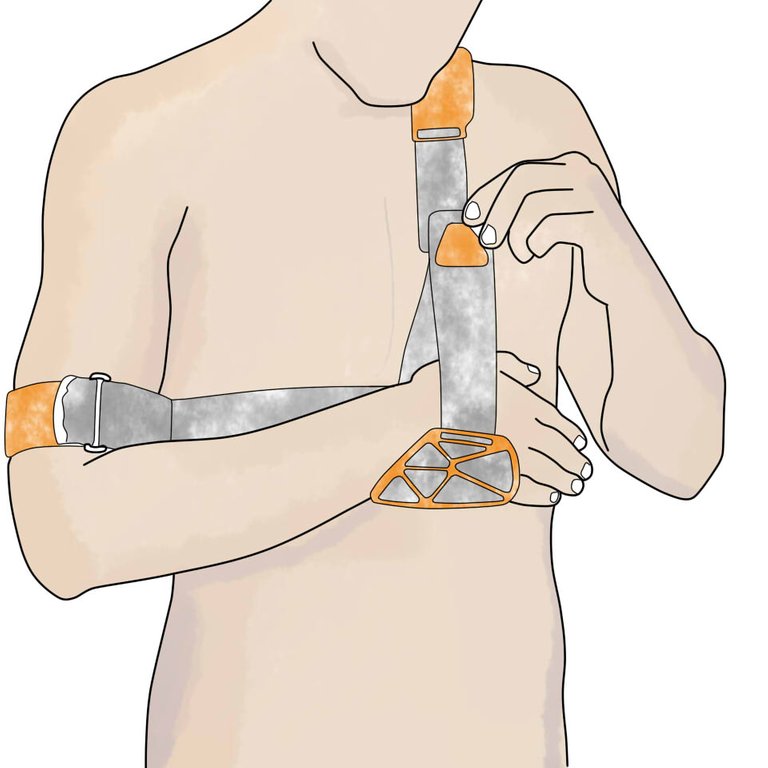 | | | |
| --- | --- | --- |
I started by researching the general panorama of the things that already existed, I watched videos and asked questions to be able to go internalizing and understanding this world of orthotics. I decided to focus on a product that was for the shoulder or the cough. Because many of my colleagues were going to work with hands, wrist or fingers, something a little simpler, safe to do, but I wanted to get out of my comfort zone and try something a little more complex, in short, I wanted to differentiate myself and do something new and useful. Here I am not saying that my colleagues went for the easy side, since everything has its complexity, they just made the decision not to complicate and secure their grades, which is not a bad choice.
Comencé investigando el panorama general de las cosas que ya existían, miré videos e hice preguntas para poder ir interiorizándome y entendiendo este mundo de la ortesis. Decidí cerrarme en algún producto que fuera para el hombro o el toso ¿Por qué? Porque muchos de mis compañeros iban a trabajar con manos, muñeca o dedos, algo un poco más sencillo, seguro de realizar, pero yo quería salir de mi zona de confort y probar algo un poco más complejo, en resumen, quería diferenciarme y hacer algo nuevo y útil. Aquí no digo que mis compañeros se fueron por un lado fácil, ya que todo tiene su complejidad, solo que tomaron la decisión de no complicarse y asegurar sus notas lo cual no es una mala elección.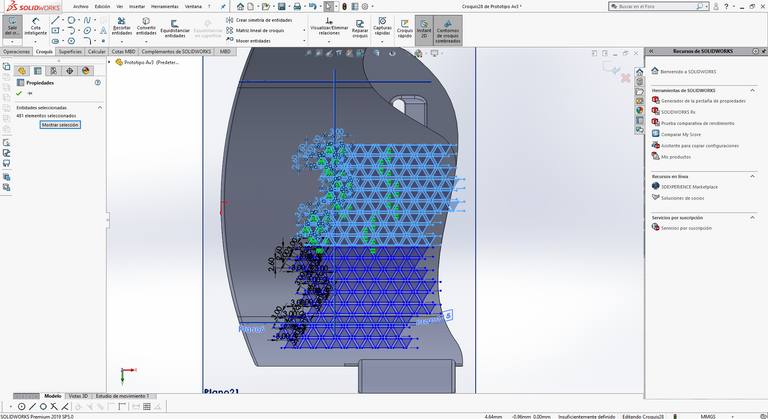 As the classes went on I focused on making a product that would treat shoulder injuries, this product was not meant to replace the medical treatment but to accompany it and help the user to make his affliction more bearable. I thought of a modular sling that at first glance looked simple, its use had to be understood so I didn't want to move away from the well known sling made with a handkerchief to keep the shoulder and arm in place. Because of this I made a fusion.
Con el paso de las clases me enfoque en realizar un producto que tratara las lesiones en el hombro, este producto no tenía que reemplazar el tratamiento medico sino acompañarlo y ayudar al usuario a hacer su aflicción más llevadera. Pensé en un cabestrillo modular que a simple vista se viera sencillo, se tenia que entender su uso así que tampoco tenia quería alejarme del conocido cabestrillo hecho con un pañuelo para mantener el hombro y brazo en su lugar. Debido a esto hice una fusión.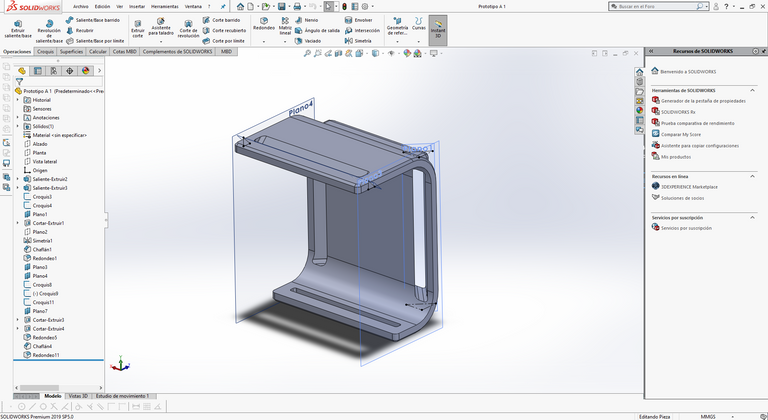 I used a wide elastic band with blue fabric ends, these had a buckle that allowed adjustment around the torso of the user, the orange modules were positioned and served to pass the hand and keep it in place in turn in the wrist area there was another adjustment to keep the arm attached to the body keeping the arm fixed to the body at waist height. This is necessary to allow early recovery of the shoulder.
Utilice un elástico ancho con unos remates de tela azul en las puntas, estas tenían un abrojo que permitía ajustar alrededor del torso del usuario, los módulos naranjas se posicionaban y servían para pasar la mano y mantenerla en su lugar a su vez en la zona de la muñeca había otro ajuste para mantener el brazo pegado al cuerpo manteniendo fijo el brazo al cuerpo en la altura de la cintura. Esto es necesario para permitir una pronta recuperación del hombro.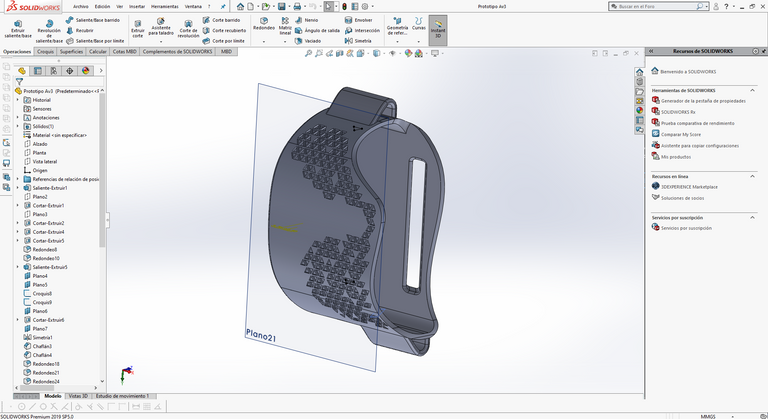 In the orange module where the hand enters, above and below it has double buckles, like the ones used in formula one, these were used to adjust a scarf that passes over the other shoulder in a cross way and fulfills the same function of holding as a traditional sling, but allowing to move a little the affected shoulder. It is necessary to be able to move it a little after a week because otherwise the stiff shoulder disease can occur, this happens after damaging the shoulder and not moving it for a long time, so the idea was that the user could exercise and move it little by little to avoid this problem.
En el modulo naranja donde entra la mano, arriba y debajo tiene unas hebillas dobles, como las que se utilizan en fórmula uno, estas servían para ajustar un pañuelo que pasa sobre el otro hombro de forma cruzara y cumple la misma función de sostener que un cabestrillo tradicional, pero permitiendo mover un poco el hombro afectado. Es necesario que se pueda mover un poco luego de una semana porque sino puede producirse el mal del hombro rígido, esto sucede luego de dañarse el hombro y no moverlo por un largo tiempo así que la idea era que el usuario pudiera ejercitar y moverlo de a poco para evitar este problema.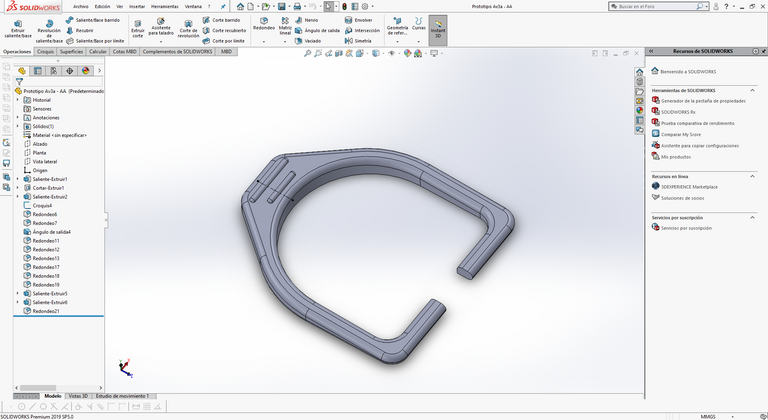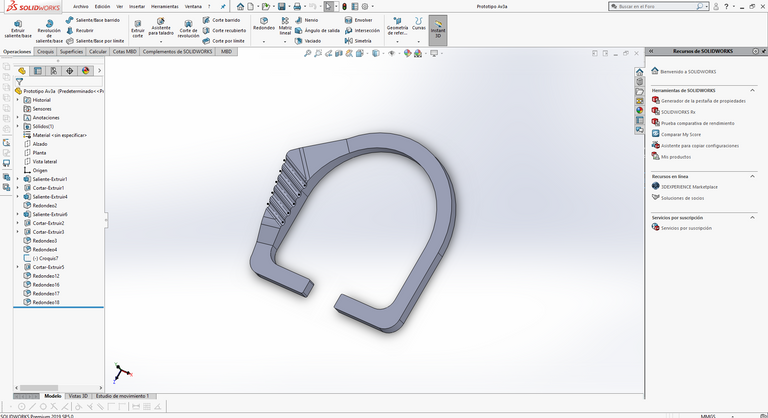 After several weeks of research, deliveries and corrections, the final delivery date was approaching. During all this time I was modeling the printed pieces in solidworks and being on time I could take the extra work of being attentive to the details to give it a more final product finish. My girlfriend
@youyowi
was advising me with the use of fabrics and types of stitching for this work and I'm sure that without her I would not have been able to make important decisions for the finishes and the final finish of this project.
Tras varias semanas de investigación, entregas y correcciones se acercaba la fecha de la entrega final. Durante todo este tiempo estuve modelando las piezas impresas en solidworks y al llegar bien con los tiempos pude tomarme el trabajo extra de estar atento a los detalles para darle una terminación más de producto final. Mi novia @youyowi estuvo asesorándome con el uso de telas y tipos de costura para este trabajo y estoy seguro que sin ella no hubiera podido tomar decisiones importantes para las terminaciones y el acabado final de este proyecto.
| | | |
| --- | --- | --- |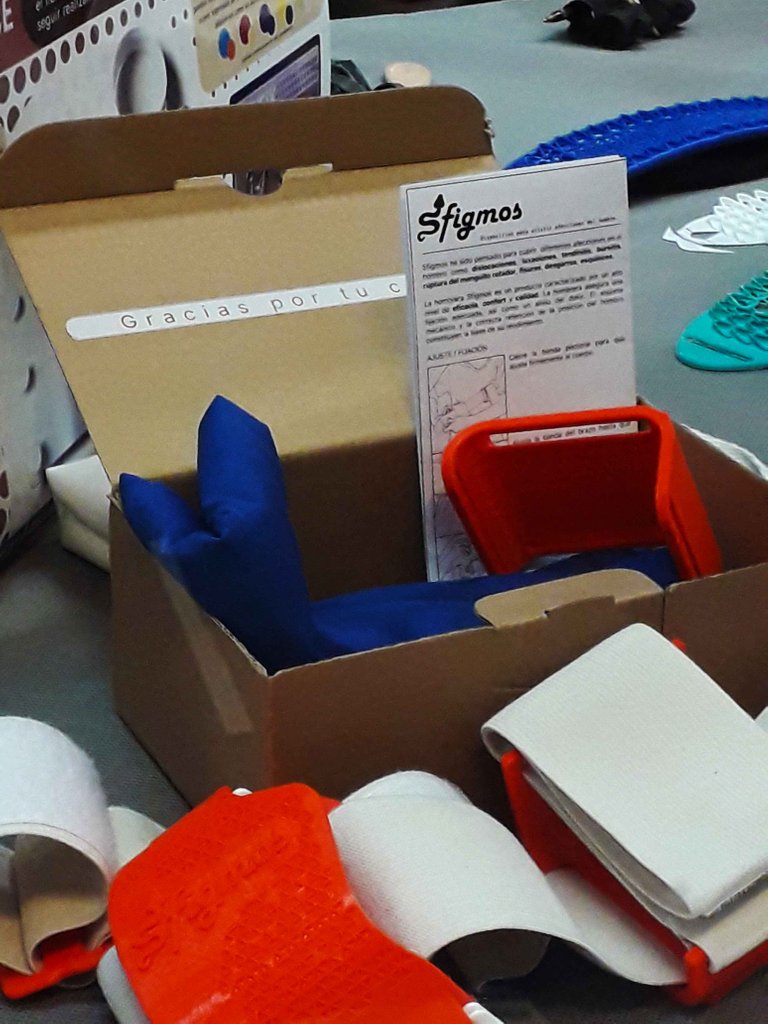 I also had to put together a panel explaining the sequence of use of the product, showing the details and explaining all the work. The laminate you are seeing in these images measures 1 meter high by 60cm wide and it is always difficult to fill all the space with information and also to do it in a graphic way that others can understand, the trick is not to put so much text but to explain it with images because the first thing that comes to people in the visual, once they are interested in the work is the possibility that they begin to read the information.
También tuve que armar un panel explicando la secuencia de uso del producto, mostrando los detalles y explicando todo el trabajo. La lamina que están viendo en estas imágenes mide 1 metro de alto por 60cm de ancho y realmente siempre es difícil llenar todo el espacio con información y además hacerlo de una forma grafica que puedan entender los demás, el truco esta en no poner tanto texto sino explicarlo con imágenes ya que lo primero que le llega a las personas en lo visual, una vez les interesa el trabajo está la posibilidad de que comiencen a leer la información.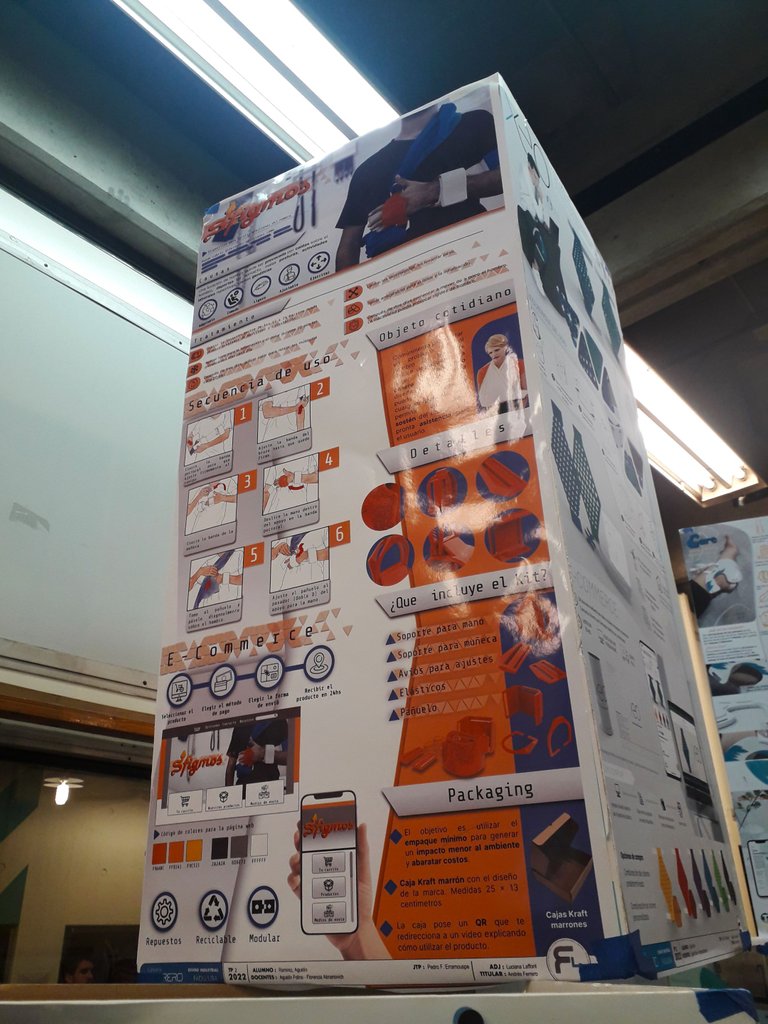 In the E-Comerse section I had to explain what decisions I was going to take to sell it online, I chose a simple brown packaging because in this type of project surely more is invested in the product and there is no surplus to invest in a large packaging and as it would be a test in the market I think it is better this way. Inside the packaging would be accompanied by a small manual where the recommendations for use and cleaning are explained.
En el apartado E-Comerse tenia que explicar que decisiones iba a tomar para venderlo por internet, elegí un empaque marrón simple ya que en este tipo de proyectos seguramente se invierte más en el producto y no queda un excedente para invertir en un gran packaging además que como seria una prueba en el mercado considero que es mejor de esta forma. Dentro del empaque estaría acompañado por un pequeño manual donde se explican las recomendaciones de uso y limpieza.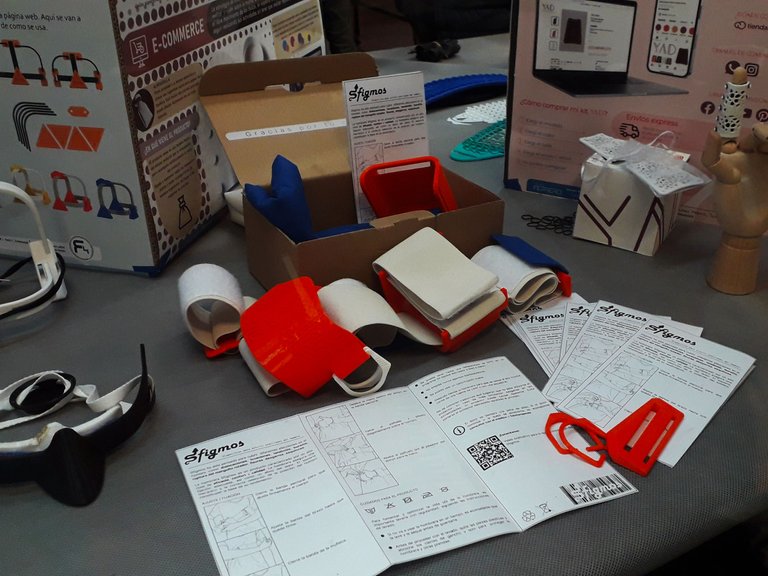 I consider it a great job that I was able to carry out, I was very happy with the final result, I was able to demonstrate my design skills, decision making, time management, graphic representation and also video editing since it was necessary to make a video explaining how to make a collation.
Considero que es un gran trabajo que pude llevar a cabo, me quedé muy contento con el resultado final, pude demostrar mis capacidades de diseño, toma de decisiones, manejo de tiempos, representación grafica y también de edición de video ya que fue necesario hacer un video explicando la forma de colación.
In future posts I will show the work of my colleagues that are really amazing, there are many super original ones that could be used in everyday life. I hope you found my design process and my work interesting. I wish you a great week.
En próximos posteos voy a mostrar los trabajos de mis compañeros que realmente son increíbles, hay muchos super originales que perfectamente podrían usarse en la vida cotidiana. Espero que les haya parecido interesante mi procedo de diseño y también mi trabajo. Les deseo una gran semana.

My 3D printing works @nit_3dprinting
Mis trabajos de impresión 3D @nit_3dprinting
Translated by DeepL
Traducido con DeepL
All images are my own
Todas las imágenes son de mi autoría
My last post #2 Life is strange 2 - Surviving the World [ENG-ESP]
Mi último post #2 Life is strange 2 - Surviving the World [ENG-ESP]