Greetings to all my Hive Geek friends, it's a pleasure to be here again. Welcome to my post once again, I'm Nitsu and I'm here to share with you my experience with the Logitech G203 mouse.
Saludos para todos mis amigos de Hive Geek es un gusto estar por aquí nuevamente. Bienvenidos a mi post una vez más, soy Nitsu y vengo a compartirles mi experiencia con el mouse Logitech G203.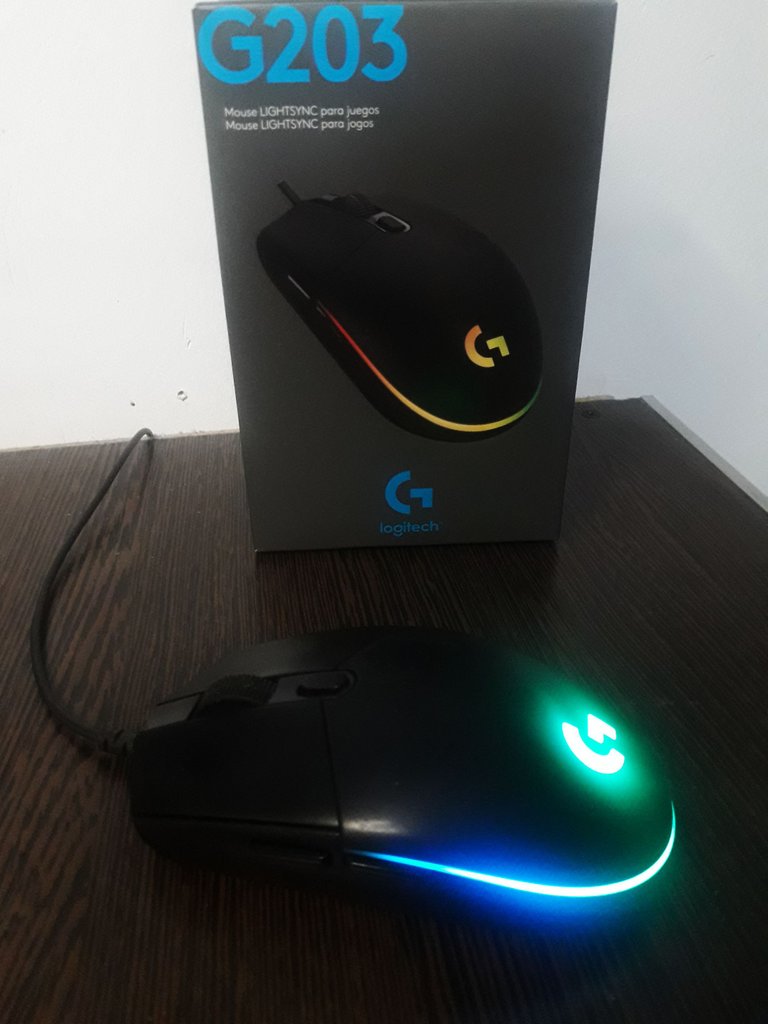 Before this mouse I also had a Logitech that lasted me many years, I would dare to say that between 8 or 10 years, it was a simple, comfortable and of great resistance that knew how to support me in good times and bad. I swear I can say with total certainty that this mouse endured what it should not and accompanied me until the end, I had it in my times when I was young and played League of legends so it suffered several blows against my frustrations or very bad teams. But as we know all good things come to an end and here is another stage where I needed a new mouse, so after researching and informing myself I came to the conclusion that the Logitech G203 was the right one for me.
Antes de este mouse también tuve un Logitech que me duro muchísimos años, me animaría a decir que entre unos 8 o 10 años, era uno sencillo, cómodo y de gran resistencia que supo soportarme en las buenas y en las malas. Se los juro puedo decir con total seguridad que ese mouse soporto lo que no debía y me acompaño hasta el final, lo tuve en mis épocas donde era joven y jugaba al League of legends así que sufrió varios golpes frente a mis frustraciones o equipos muy malos. Pero como sabemos todo lo bueno llega a su fin y aquí otra etapa en donde necesitaba un nuevo mouse, así que tras investigar e informarme llegue a la conclusión de que el Logitech G203 era el indicado para mí.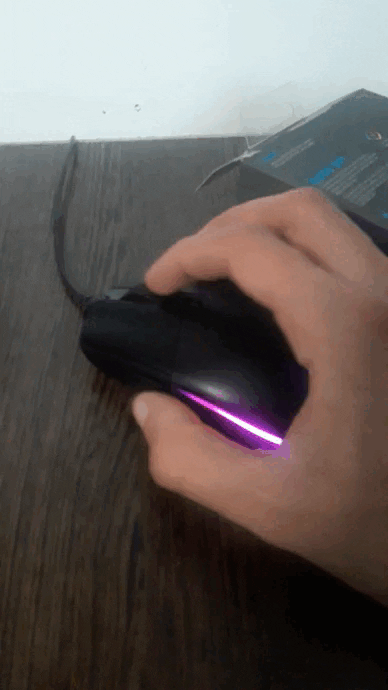 Why this mouse? The truth is that when I bought it it was affordable, nowadays due to inflationary issues in Argentina it has increased a lot, but I would dare to say that it is still worth it. Besides being visually beautiful and being able to configure its RGB the technical section of this mouse shines everywhere. It is a mouse focused on gaming that has a perfect balance between price, performance and visual appeal, has a very accurate optical sensor and here I would like to explain the difference between optical and laser sensor mouse. While a laser sensor reflects a light towards the surface and reads the light received to calculate the distance of displacement, an optical mouse is literally a camera that constantly takes pictures to calculate the distance, thus achieving greater accuracy and avoiding the problem of the laser that does not behave properly on translucent surfaces. The morphology, its general shape is simple and reminiscent of the 90's mouse but with a great personality in its black casing and with that curved line that accompanies the palm area and allows to see the combination of RGB colors that we decide in the software.
¿Por qué este mouse? La verdad que cuando lo compre era accesible, actualmente por temas inflacionarios en Argentina aumento bastante, pero me animaría a decir que todavía vale la pena. Además de ser lindo visualmente y poder configurar su RGB el apartado técnico de este mouse brilla por todos lados. Es un mouse enfocado al gaming que tiene un equilibrio perfecto entre precio, prestaciones y atractivo visual, tiene un sensor óptico muy preciso y aquí me gustaría explicar la diferencia entre sensor óptico y laser de los mouse. Mientras que un sensor laser refleja una luz hacia la superficie y lee la luz recibida para calcular la distancia de desplazamiento un mouse óptico es literalmente una cámara que toma fotos constantemente para calcular la distancia de esta forma se logra una exactitud mayor además de evitar el problema del laser que sobre superficies translucidas no se comporta de manera adecuada. La morfología, su forma general vamos a decir es sencilla remite mucho al mouse de los 90 pero con una gran personalidad en su carcasa negra y con esa línea curva que acompaña la zona de la palma y permite ver la combinación de colores RGB que nosotros decidamos en el software.
| | | |
| --- | --- | --- |
In addition to configuring the different types of sensitivity for each of its 4 modes, yes because through a button behind the wheel we can change the mode and therefore the sensitivity, we can also choose whether the RGB goes to the rhythm of the music or sound that is being played, a pattern that tones that we want or that suits the tone that is at that time on the screen, are simple things but that provide much customization. It can reach up to 6000 DPI sensitivity which seems crazy to me and I do not know if there is a being on earth that has used this value but as we know for tastes colors.
En el software además de configurar los diferentes tipos de sensibilidad para cada uno de sus 4 modos, si porque por medio de un botón detrás de la rueda podremos cambiar el modo por ende la sensibilidad, también podremos elegir si el RGB va al rimo de la música o sonido que se este reproduciendo, un patrón que tonalidades que queramos o que se adecue al tono que este en ese momento en la pantalla, son cosas simples pero que aportan mucha personalización. Puede llegar hasta los 6000 DPI de sensibilidad lo cual me parece una locura y no se si existe un ser en la tierra que haya usado este valor pero como sabemos para gustos colores.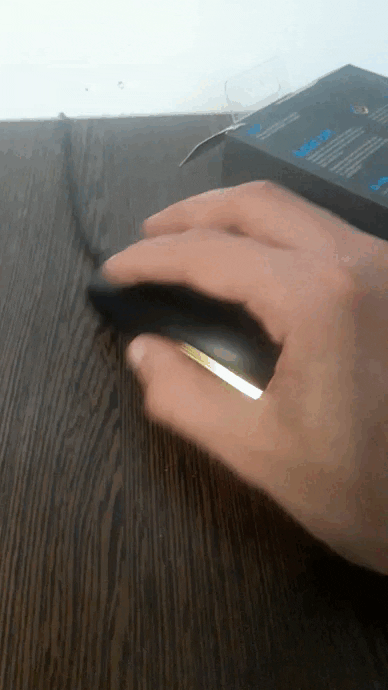 Leaving aside the technical and software I want to focus on the hardware. Ergonomically it is very comfortable, I've had it for a year now and the only complaint I have is that it has two extra buttons to activate with the thumb that I personally do not use, but this is purely personal, by default it serves to go forward or backward on a page, but other functions can be configured. Its size is 116mm x 62mm x 38mm with a total weight of 85 grams making it a compact and lightweight mouse making it easy to move on the surface of the mouse pad. Now that I mention it, its base has Teflon to improve the displacement, although to be honest I don't know if this really affects or improves that section.
Dejando de un lado lo técnico y el software quiero enfocarme en el hardware. Ergonómicamente es muy cómodo, ya hace un año que lo tengo y la única queja que tengo es que tiene dos botones extras para activar con el pulgar que en lo personal no uso, pero esto es meramente personal, por defecto sirve para ir hacia adelante o atrás en una página, pero se pueden configurar otras funciones. Su tamaño es de 116mm x 62mm x 38mm con un peso total de 85 gramos haciéndolo un mouse compacto y ligero facilitando el desplazamiento sobre la superficie de la alfombrilla. Ahora que lo menciono en su base posee teflón para mejorar el desplazamiento aunque para serles sinceros no se si esto realmente afecta o mejora ese apartado.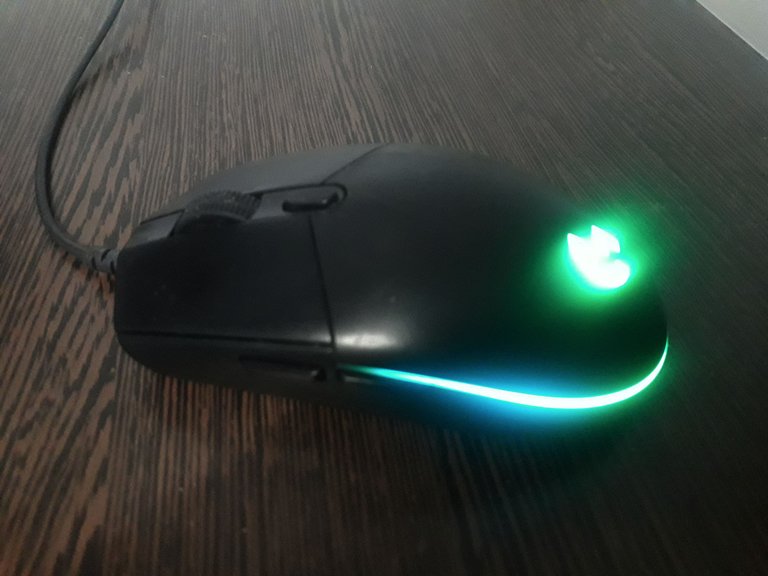 Surely many members of the Hive Geek community will know this mouse, either because they have it or have used it in their set-up or because they know the great quality by word of mouth of another user. If you are not interested in having a super flashy mouse, with lush shapes and need a high performance this mouse for the price is totally worth it, as I said I use it for some time and has not left me in any game. What it did cost me to get used to the cable since I previously had a wireless one, but I understand that there is a model without cable and RGB that is just as efficient as the G203 so it can adapt to all types of users, you have no excuse to buy it!
Seguramente muchos miembros de la comunidad de Hive Geek conocerán este mouse, ya sea porque lo tienen o han usado en su set-up o porque conocen la gran calidad por boca de otro usuario. Si no estas interesando en tener un mouse super llamativo, con formas exuberantes y necesites un rendimiento alto este mouse por el precio vale totalmente la pena, como dije lo uso hace tiempo y no me ha abandonado en ninguna partida. Lo que si me costo acostumbrarme al cable ya que anteriormente tenia uno inalámbrico, pero tengo entendido que existe un modelo sin cable y RGB que es igual de eficiente que el G203 así que logra adaptarse a todo tipo de usuario, ¡Ya no tenés excusa para comprarlo!
Again I want to thank you because you got to the end of my post, I hope you found it useful or interesting. I would like to read your opinion or review of this product, I wish you a great week.
Nuevamente quiero agradecerte porque llegaste al final de mi post, espero que te haya sido de utilidad o de interés. Me gustaría poder leer tus opinión o reseña de este producto, te deseo una gran semana.

My 3D printing works @nit_3dprinting
Mis trabajos de impresión 3D @nit_3dprinting
Translated by DeepL
Traducido con DeepL
All images are my own
Todas las imágenes son de mi autoría
My last post #3 Life is strange 2 -Drifting wolves [ENG-ESP]
Mi último post #3 Life is strange 2 -Drifting wolves [ENG-ESP]