Welcome to another post once again, I'm Nitsu and I want to tell you a little bit about my new acquisition to improve the quality of my prints. What you are seeing in the pictures is called BL Touch and it mainly serves to level the print bed of 3D printers Don't know what leveling is or anything about the 3D printing world? Well then I invite you to take some time to find out.
Bienvenidos a otro post una vez más, soy Nitsu y quiero contarles un poco de mi nueva adquisición para mejorar la calidad de mis impresiones. Lo que están viendo en las imágenes se llama BL Touch y principalmente sirve para nivelar la cama de impresión de las impresoras 3D ¿No sabes que es nivelar ni nada del mundo de la impresión 3D? Bueno entonces te invito a que tomes un tiempo para averiguarlo.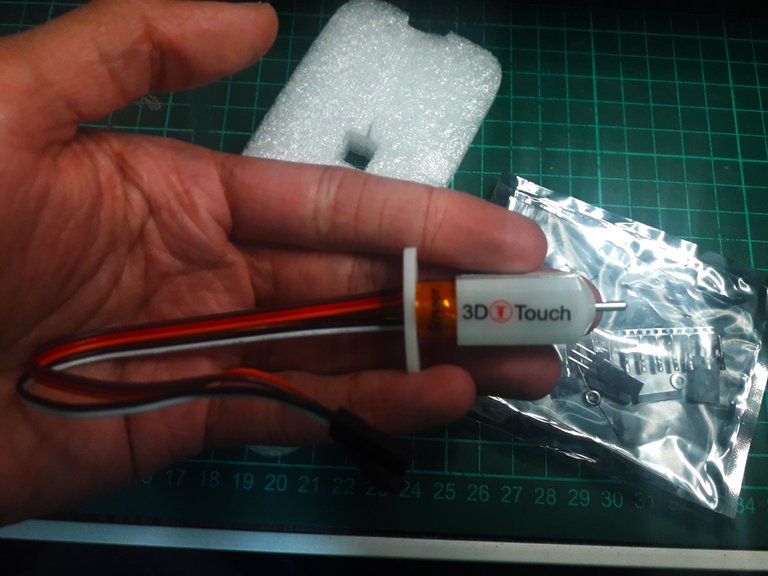 Currently I have two 3D printers, sometimes I have three when they bring me some to repair, but mainly I have the Ender 3 and a CR10 V3 these models vary in dimensions and some other feature that is not relevant. When I talk about leveling I mean to leave the printing base (which is where the parts are created) completely flat. It serves mainly to obtain better pieces by not noticing the printing lines, it also prevents the extruder (part that melts the plastic) from getting clogged by being very glued to the base. So with this simple device you can achieve two things, increase the quality in production and avoid plastic jams in the long term.
Actualmente cuento con dos impresoras 3D, a veces tengo tres cuando me traen alguna a reparar, pero principalmente tengo la Ender 3 y una CR10 V3 estos modelos varían en dimensiones y alguna que otra característica que no viene al caso. Cuando hablo de nivelar me refiero a dejar la base de impresión (Que es donde se crean las piezas) totalmente plana ¿Para qué sirve esto? Sirve principalmente para obtener piezas mejores al no notarse las líneas de impresión, también evita que el extrusor (Pieza que funde el plástico) se tape al quedar muy pegado a la base. Así que con este simple aparato se pueden lograr dos cosas, aumentar la calidad en la producción y evitar atascos de plástico a largo plazo.
The BLTouch I bought is not the original, but it fulfills exactly the same function. Why didn't I choose the original? Mainly because it is very expensive, the creality series costs about $15,000 Argentine pesos, the equivalent of $50 dollars and this one cost me $4,000, which would be about $13 dollars. A really big difference.
El BLTouch que yo compre no es el original, pero cumple exactamente con la misma función ¿Por qué no elegí el original? Principalmente porque es muy caro, el de la serie creality cuesta unos $15mil pesos argentinos el equivalente a $50 dólares y este me costo $4000 que serian unos $13 dólares. Una diferencia realmente grande.
As far as I understand its installation is simple, I have not installed it yet because I do not have the time and I prefer to have a margin of error in case I can not install it because I work continuously with my machines making orders. Something I have to get are flat cables to be able to generate an extension, this BL Touch that I bought has a very short cable and that is why the extension is necessary.
Por lo que tengo entendido su instalación es sencilla, todavía no lo he colocado debido a que no cuento con el tiempo y prefiero contar con un margen de error llegado el caso de que no pueda instalarlo ya que trabajo continuamente con mis maquinas elaborando pedidos. Algo que tengo que conseguir son cables planos para poder generar una extensión, este BL Touch que compre tiene un cable muy corto y por eso es necesaria la extensión.
I may have to update the firmware of my printer to detect it, once installed I will have to send a command to the device to generate a mesh of 25 points on the printing base, this device does not prevent me from having to level the bed, but it greatly improves the fact of having to do it. Once the 25 points are generated the device will detect which ones have unevenness and based on that when printing it will automatically go up or down to maintain a perpendicular print to the base.
Tal vez deba actualizar el firmware de mi impresora para que lo detecte, una vez instalado tendré que enviar un comando para que el aparato genere una malla de 25 puntos sobre la base de impresión, este aparato no evita que tenga que nivelar la cama, pero mejora muchísimo el hecho de tener que hacerlo. Una vez generados los 25 puntos el aparato detectara cuales presentan desniveles y en base a eso cuando imprima automáticamente subirá o bajara para mantener una impresión perpendicular a la base.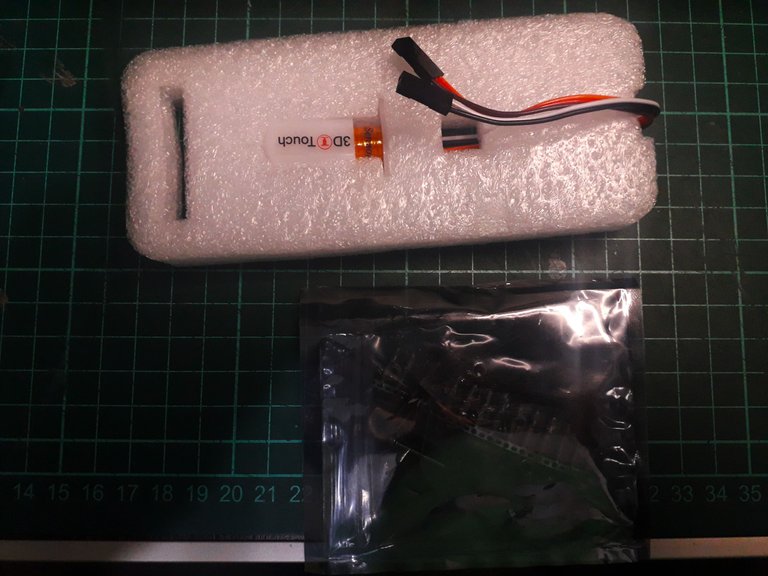 Product specifications are as follows:
Product dimensions: 5.91 x 3.94 x 1.97 inches.
5v required for proper operation
Includes pins to create an extension and screws to secure it in place
Las especificaciones del producto son las siguientes:

Dimensiones del producto: 5.91 x 3.94 x 1.97 pulgadas
Son necesarios 5v para su correcto funcionamiento
Incluye pines para crear una extensión y tornillos para fijarlo en su lugar
I am really happy for this purchase, I admit that at the time I did not believe in the usefulness of this simple device, but a friend recommended it to me, so I am confident that it will be a great contribution to offer a better job to my customers and why not also to facilitate the management of my 3D printer.
Estoy realmente contento por esta compra, admito que en su momento no creía en la utilidad de este simple aparato, pero un amigo me lo recomendó, así que confió que será un gran aporte para ofrecer un mejor trabajo a mis clientes y porque no también para facilitarme un poco el manejo de mi impresora 3D
What do you think of my purchase, do you think it can make my job easier? Did I explain the technical terms well? I hope you have been able to understand everything I explained in the post, I thank all those who have come this far, I wish you a good week and that you achieve all your goals.
¿Qué opinan de mi compra, creen que pueda facilitar mi trabajo? ¿Explique bien los términos técnicos? Espero que hayan podido entender todo lo que explique en el post, agradezco a todos los que han llegado hasta aquí, les deseo una buena semana y que logren todos sus objetivos.

My 3D printing works @nit_3dprinting
Mis trabajos de impresión 3D @nit_3dprinting
Translated by DeepL
Traducido con DeepL
All images are my own
Todas las imágenes son de mi autoría
My last post My tricks for 3D modeling [ENG-ESP]
Mi último post My tricks for 3D modeling [ENG-ESP]