Greetings friends, welcome to my post once again, I'm Nitsu and it's been a while since I made this delivery in my faculty, but I didn't want to miss the opportunity to share with you some of the amazing projects that my classmates carried out and luckily I could actively participate as a supplier printing works and giving advice for a better final result.
Saludos amigos, bienvenidos a mi post una vez más, soy Nitsu y ya paso un buen tiempo desde que hice esta entrega en mi facultad, pero no quería dejar pasar la oportunidad de compartirles algunos de los increíbles proyectos que llevaron a cabo mis compañeros y por suerte yo pude participar activamente como un proveedor imprimiendo trabajos y dando consejos para un mejor resultado final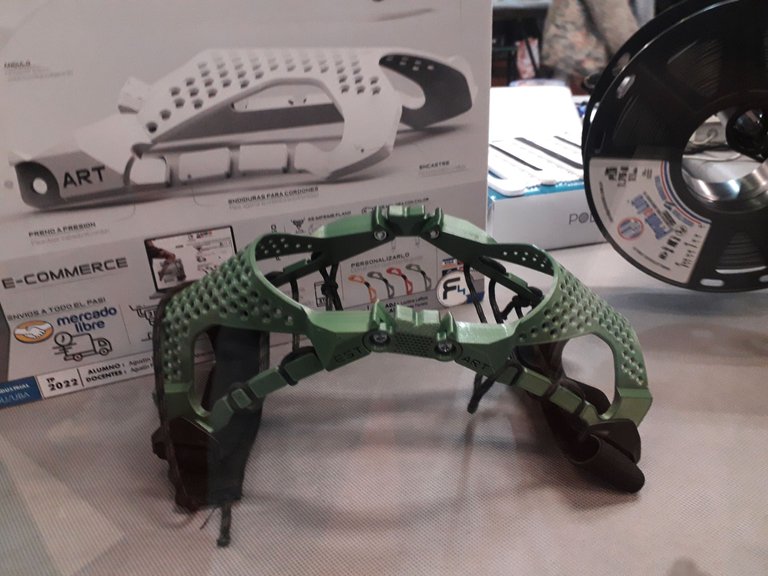 For those who do not remember, this project consisted of designing an orthosis to assist in a home accident, the goal was to focus on an ailment or accident that could happen at home and design a product that through 3D printing could be marketed to act as the first tool to assist the affected person.
Para los que no recuerdan, este proyecto consistía en diseñar una ortesis para asistir frente a un accidente casero, el objetivo era enfocarse en alguna dolencia o accidente que pudiera suceder en el hogar y diseñar un producto que por medio de la impresión 3D se pudiera comercializar para actuar como primer herramienta a la hora de asistir a la persona afectada.
Since so much time has passed there are some things that I don't remember specifically what area they were focused on but anyway I would like you to appreciate the quality of the design, the details and the materials used since the idea was that the overall project would be 80% 3D printing and the remaining 20% could be some home gadget or easy to get for the user.
Como ha pasado tanto tiempo hay algunas cosas que no recuerdo muy bien específicamente para que área iban enfocadas pero de todas formas me gustaría que pudieran apreciar la calidad del diseño, los detalles y las materialidades usadas ya que la idea era que el proyecto general fuera un 80% impresión 3D y el 20% restante pudiera ser algún artilugio hogareño o fácil de conseguir para el usuario.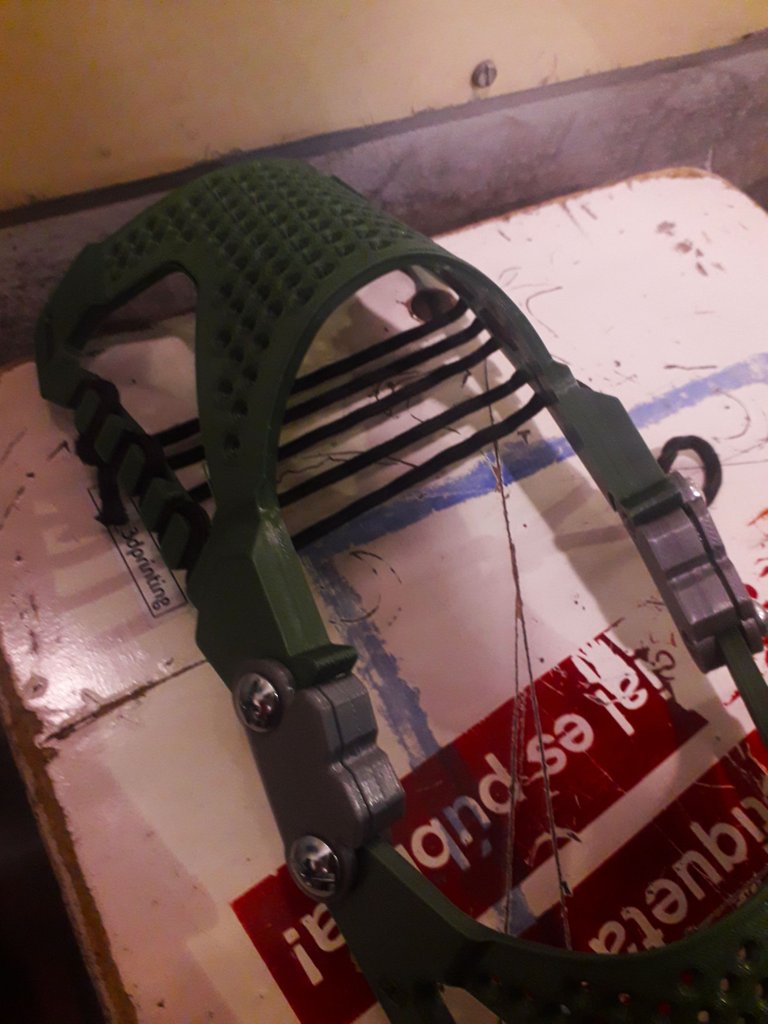 This kind of knee brace was the one that surprised me the most and I liked it because it had a very high quality of printing, the color seemed incredible and it was not only designed to assist any ailment in the leg or knee as it could also be adjusted for the shoulder achieving a wider functionality.
Esta especie de rodillera fue la que más me sorprendió y me gusto porque tenía una calidad altísima de impresión, el color me pareció increíble y además no solo estaba pensado para asistir alguna dolencia en la pierna o rodilla ya que podía ajustarse también para el hombro logrando una funcionalidad más amplia.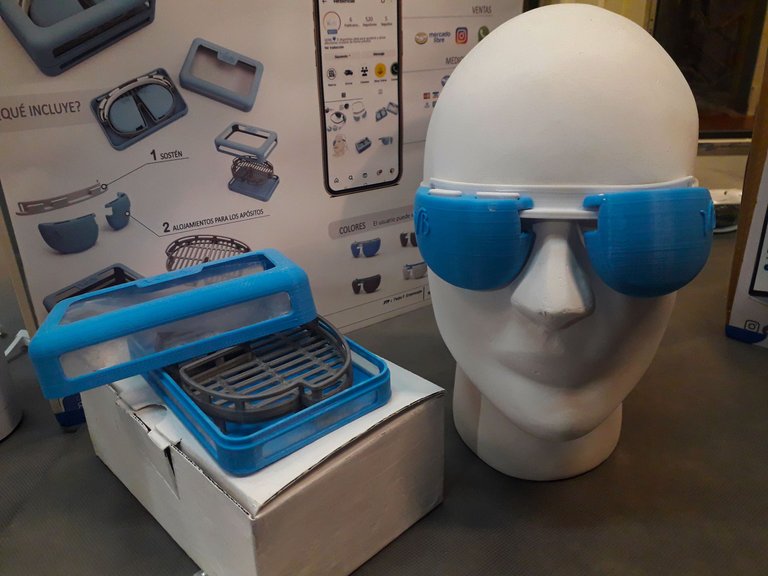 Then in this mannequin you can see that it has a kind of glasses, a flexible strip with an elastic to fit on the forehead, here two lenses could be placed both on the right and left side to assist people who had some eye ailment. For example, some conjunctivitis where a cotton ball with warm tea or some ointment could be added to keep it in place. I thought it was a great idea, this one in particular belonged to a friend with whom we were able to actively discuss improvements and I was able to print her work with those colors that ended up looking so good for this home medical device.
Después en este maniquí pueden ver que tiene como una especie de anteojos, se pensó una tira flexible con un elástico para que ajuste en la frente aquí podían colocarse dos lentes tanto del lado derecho como del izquierdo para asistir a personas que tuvieran alguna dolencia en el ojo. Por ejemplo, alguna conjuntivitis donde podría agregarse un algodón con te caliente o alguna pomada para mantenerlo en su lugar. Me pareció una gran idea, este en especial era de una amiga con la cual pudimos charlar activamente de mejoras y pude imprimir su trabajo con esos colores que terminaron quedando tan bien para este aparato de uso médico doméstico.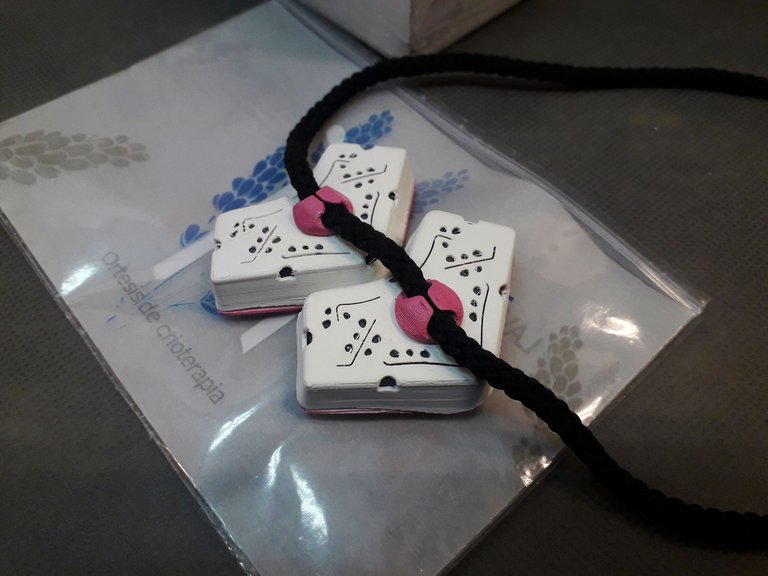 If I remember correctly these triangles printed with flexible were designed to contain ice and apply it to different areas swollen by a blow, they were small and I do not remember exactly how they fit the body, but what caught my attention was the amount of detail that they placed in such a small piece, it seems almost futuristic.
Si mal no recuerdo estos triángulos impresos con flexible estaban pensado para contener hielo y aplicarlo a diferentes zonas hinchadas por algún golpe, eran pequeños y no recuerdo exactamente como ajustaban al cuerpo, pero lo que más me llamo la atención de estos era la cantidad de detalles que colocaron en una pieza tan pequeña, parece casi futurista.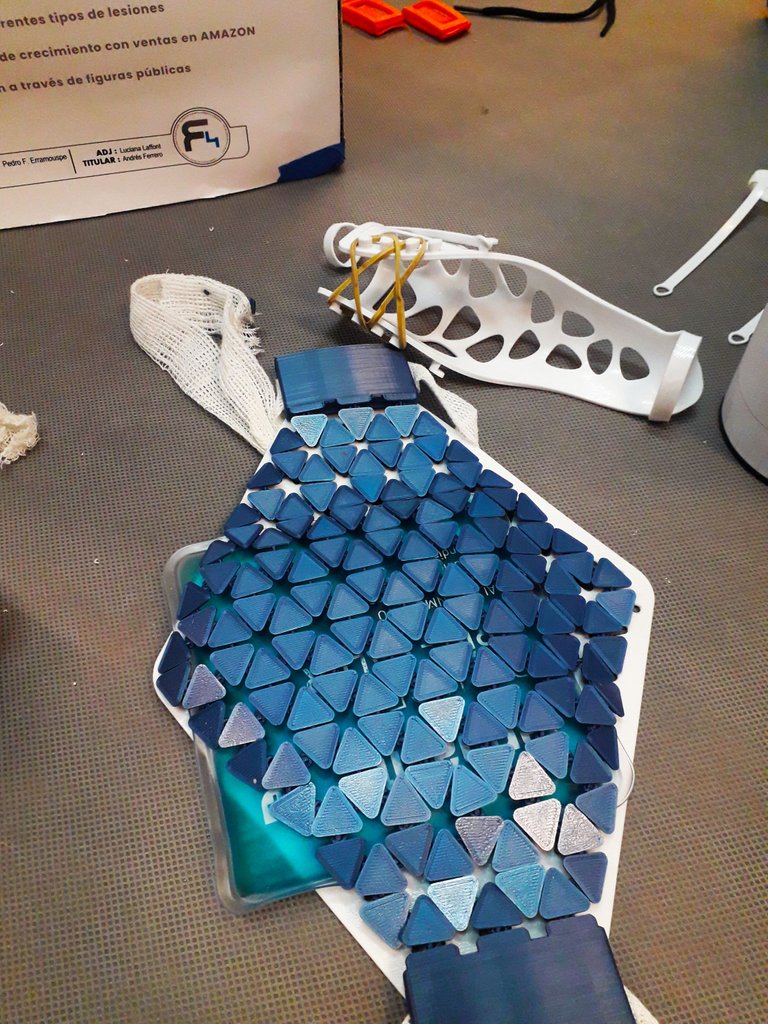 Then there is this triangular lattice designed for areas with articulation as this kind of chain mail allowed a good fit and movement, the idea is to place a gel ice pack underneath and that this fit above keeping it in place, I remember seeing the progress of this prototype and I know that there is a lot of work behind it.
Después esta este entramado triangular pensado para las zonas con articulación ya que esta especie de cota de malla permitía una buena adaptación y movimiento, la idea es colocar una bolsa de hielo de gel debajo y que este ajuste por encima manteniéndolo en su lugar, recuerdo haber visto los avances de este prototipo y se que hay mucho trabajo detrás de él.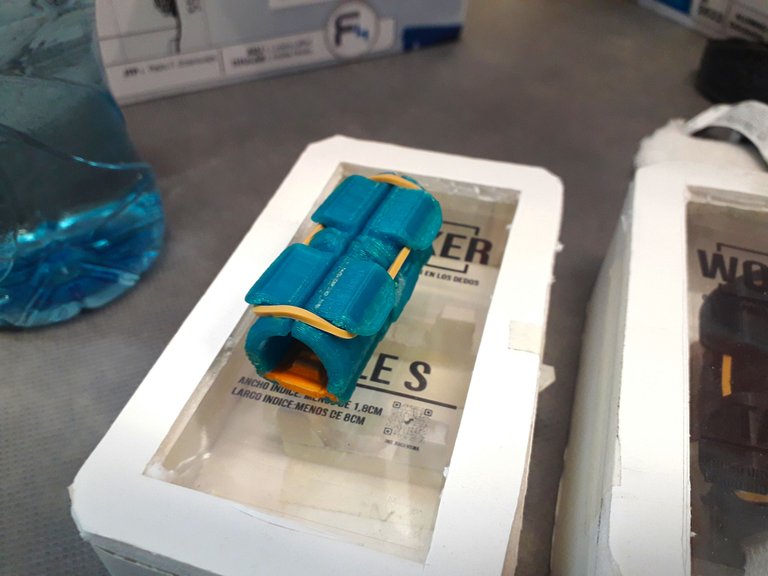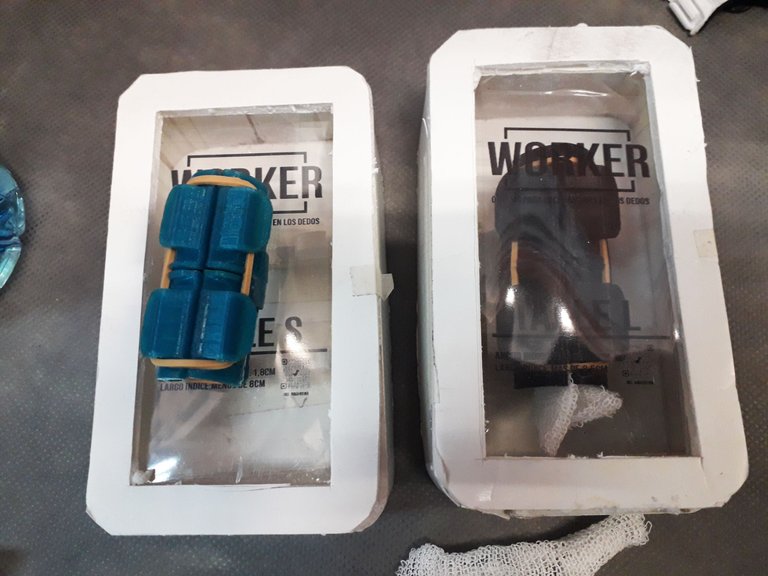 This device for example I see it simple when it comes to manufacture it, but very useful, I feel it is a total success, it is designed to keep in place a finger of the hand for both fracture and sprain, has three parts that cover the finger and through elastic bands is adjusted to keep everything in place. This person took the work for the final delivery to design a great packaging and also create a proposal of another color to show commercial variations that could have.
Este aparato por ejemplo lo veo sencillo a la hora de manufacturarlo, pero muy útil, siento que es un total acierto, esta pensado para mantener en su lugar algún dedo de la mano tanto para fractura como para esquince, cuenta con tres partes que cubren al dedo y por medio de unas bandas elásticas se ajusta para mantener todo en su lugar. Esta persona se tomo el trabajo para la entrega final de diseñar un gran packaging y además crear una propuesta de otro color para mostrar variaciones comerciales que podría tener.
This other one is not so much to my liking, but I must admit that the printing quality is very good because it is printed on flexible material, it is a difficult material to handle and even more so for pieces as large as this one. The idea if I remember correctly of this project was also to contain some cold pack that would fit in different parts of the body allowing to reduce swelling or pains, it was very nice the texture of the semi spheres to the touch almost therapeutic.
Este otro no es tanto de mi agrado, pero debo admitir de la calidad de impresión es muy buen debido a que esta impreso en material flexible, es un material difícil de manejar y mas aun para piezas tan grandes como esta. La idea si no mal recuerdo de este proyecto también era contener alguna bolsa de frio que ajustara en diferentes partes del cuerpo permitiendo disminuir la hinchazón o dolores era muy agradable la textura de las semi esferas al tacto casi terapéutico.
Then there were also many projects focused on accident assistance for the hand, some more on the side of blows, sprains or fractures and others more on the side of burns in the field of cooking.
Después también hubo muchos proyectos enfocados en la asistencia frente accidentes para la mano, algunos mas hacia el lado de los golpes, esguinces o fracturas y otros más hacia el lado de las quemaduras en el ámbito de la cocina.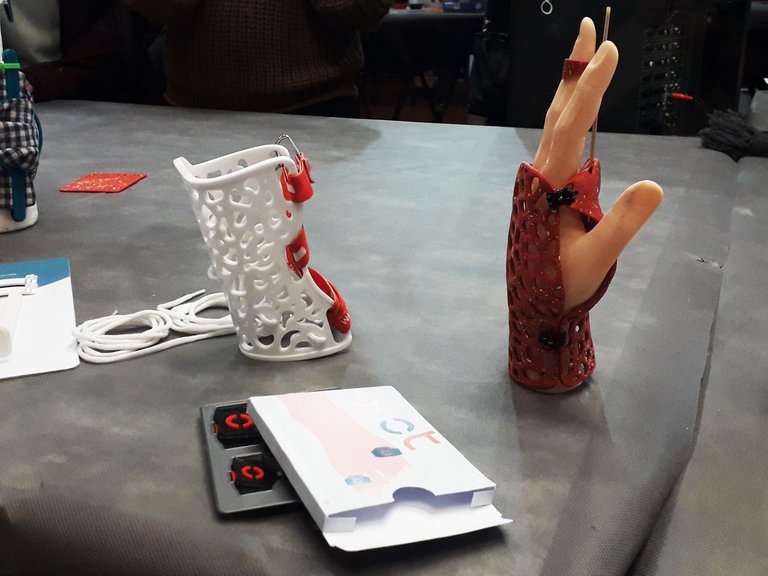 This project for the fingers is also very remarkable because it is modular allowing to move each module to the finger that is needed and leaving them fixed, in this case, with some toothpicks with rubber bands, the peculiarity apart from being modular is that the method of attachment could be with any element that fits in the socket added to the fact that it was a small product, cheap to make and extremely easy to transport and place.
Este proyecto para los dedos también es muy destacable ya que es modular permitiendo mover cada modulo al dedo que se necesita y dejándolos fijos, en e este caso, con unos escarbadientes con gomas, lo peculiar aparte de ser modular es que el método de fijación podía ser con cualquier elemento que entrara en el encastre sumado a que era un producto pequeño, barato de hacer y sumamente fácil de transportar y colocar.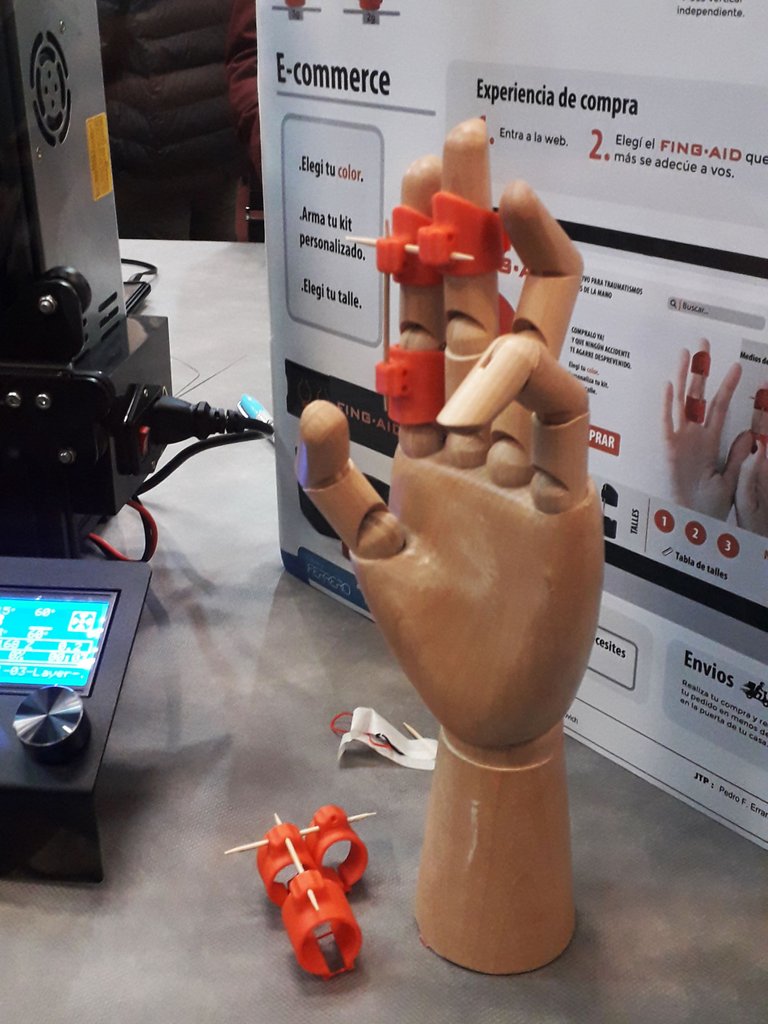 Last year there were three projects, two group projects and one individual. This orthosis work was individual and its grade had a great weight in the final average, the truth is that I was very happy with the result I achieved, with what I could contribute to the class and my classmates and it was extremely enriching to see the result of all my classmates, some of them had a harder time reaching the final result due to time and corrections, but in general we all did very well.
El año pasado fueron tres proyectos, dos grupales y uno individual. Este trabajo de ortesis fue individual y su nota tenia un gran peso en el promedio final la verdad estuve my contento con el resultado que logré, con lo que pude aportar a la clase y a mis compañeros y fue sumamente enriquecedor poder llegar a ver el resultado de todos mis compañeros, a algunos les costo más llegar al resultado final por cuestiones de tiempo y correcciones, pero en general a todos nos fue muy bien.

What did you think of the works I shared in this post, and do you think any of these projects have more potential to be used in everyday life? I'd love to read your comments and observations. I'm Nitsu and thank you for your time.
¿Qué les parecieron los trabajos que compartí en este post? ¿Creen que alguno de estos proyectos tiene más posibilidades de ser usado en la vida cotidiana? Me encantaría leer sus comentarios y observaciones. Soy Nitsu y gracias por tu tiempo.
My 3D printing works @nit_3dprinting
Mis trabajos de impresión 3D @nit_3dprinting
Translated by DeepL
Traducido con DeepL
All images are my own
Todas las imágenes son de mi autoría
My last post #2 Hotweels - Function & beauty [ENG-ESP]
Mi último post #2 Hotweels - Function & beauty [ENG-ESP]