Greetings to all the geeks in this great community, I'm Nitsu and today I come to show you some of the work I've been doing these last weeks.
Saludos a todos los geeks integrantes de esta gran comunidad, soy Nitsu y hoy vengo a mostrarles un poco del trabajo que estuve realizando estas últimas semanas.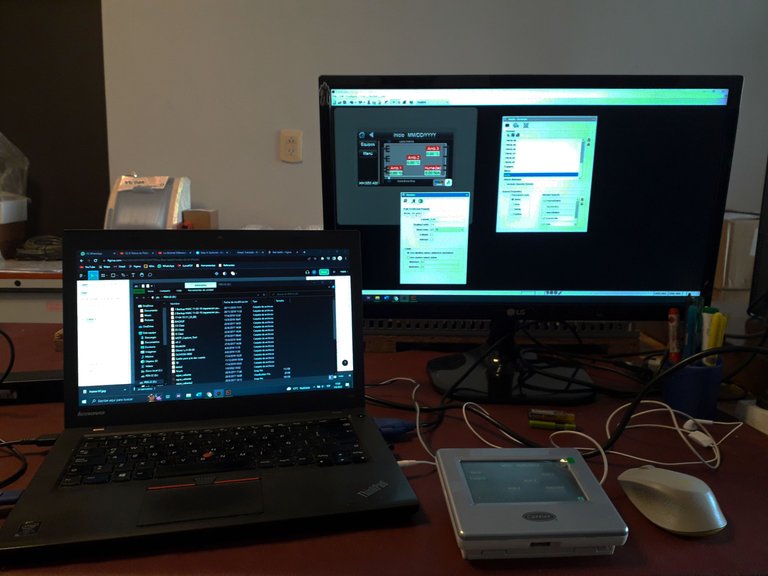 I work designing graphic interfaces for intelligent buildings, in this case I had to design an interface for a touch screen that would be placed at the exit of a television recording studio. This was the first job focused on touch screens that I did and for me it was a big challenge, but I was able to learn a lot of things.
Yo trabajo diseñando interfaces graficas para edificios inteligentes, en este caso tuve que diseñar una interfaz para una pantalla táctil que se colocaría a la salida de un estudio de grabación de televisión. Este fue el primer trabajo enfocado en pantallas táctiles que hice y para mi fue un gran reto, pero pude aprender muchísimas cosas.
| | | |
| --- | --- | --- |
Working with two screens made the work much more comfortable, in one I worked all the visual graphic part while in the other one I verified the data I had to have. I designed several screens where I had to represent the recording studio seen from above with the temperatures of three zones, the front part was a stage, in the middle was the jury and in the back the audience, that's why the three zone temperatures plus one of the humidity of the environment were necessary, this screen brings in real time the values through sensors that take it in real time, in case there is something strange the people in charge of this can see it from the screen and notify to modify the values from the main console.
Trabajar con dos pantallas hizo muchísimo más cómodo el trabajo, en una trabajaba toda la parte grafica visual mientras en la otra verificaba los datos que tenia que tener. Diseñe varias pantallas donde tenia que representar el estudio de grabación visto desde arriba con las temperaturas de tres zona, la parte de adelante era un escenario, en el medio se encontraba el jurado y atrás el publico por eso eran necesarios la tres temperaturas de zona más una de la humedad del ambiente, esta pantalla trae en tiempo real los valores a través de sensores que lo toman en tiempo real, llegado el caso de que haya algo raro la gente que se encarga de esto puede verlo desde la pantalla y avisar para modificar los valores desde la consola principal.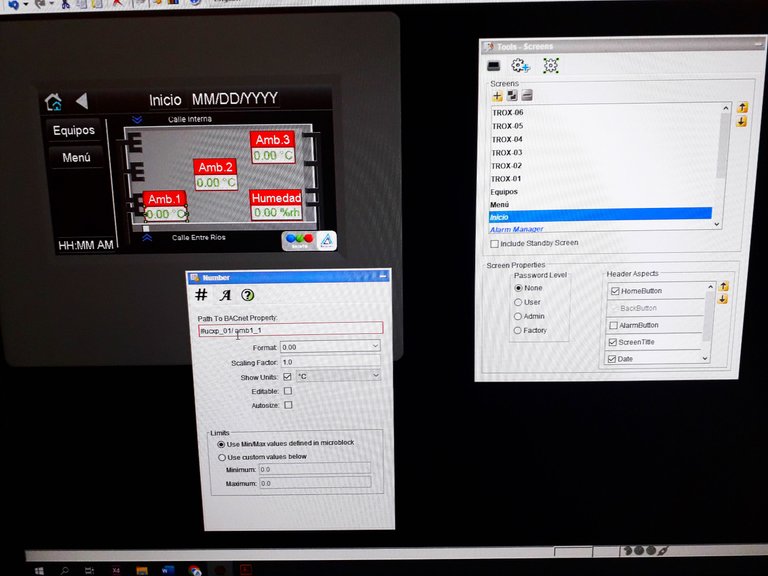 Then there were two buttons that redirected you to the menu, which this section serves to load new screens, update the fimware among other options and the equipment button that directed you to the TROX equipment, these are large air conditioning units, in short, are industrial air conditioners for large spaces. From this screen you could see the 6 teams for the recording studio each differentiated by a color to facilitate a quick reading of the user and when selected you went to the specific team where you could see the injection temperature, return and if the team was on.
Después había dos botones que te redirigían al menú, que esta sección sirve para cargar nuevas pantallas, actualizar el fimware entre otras opciones y el botón de equipo que te dirigía a los equipos TROX, estos son grandes unidades de aires acondicionado, en resumen, son aires acondicionados industriales para espacios amplios. Desde esta pantalla se podían ver los 6 equipos para el estudio de grabación cada uno diferenciado por un color para facilitar una lectura rápida del usuario y cuando los seleccionaban ibas al equipo especifico donde se podía ver la temperatura de inyección, de retorno y si el equipo estaba encendido.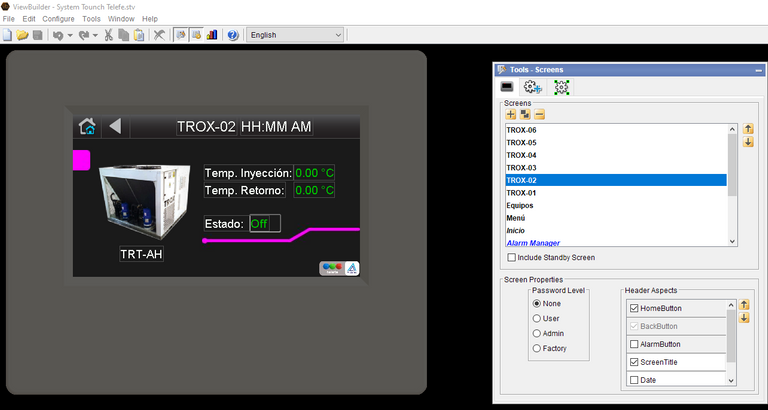 This work had a deadline and I had to learn to use and program it in a very short time, in the beginning I made many mistakes, the file was very heavy, I could not load the screen correctly until I accidentally deleted the fimware from the system, but that helped me later when I had to go to install it in the studio. Perhaps visually it does not look very striking but the equipment has a limited space to load screens so you can not work better images.
Este trabajo tenia un tiempo limite de entrega y tuve que aprender a usar y programarlo en muy poco tiempo, en un comienzo cometí muchos errores, el archivo quedaba muy pesado, no podía cargar correctamente la pantalla hasta sin querer borre el fimware del sistema, pero eso me sirvió más adelante cuando tuve que ir a instalarlo al estudio. Tal vez visualmente no se ve muy llamativo pero el equipo cuenta con una limitación de espacio para cargar pantallas así que tampoco se puede trabajar mejor las imágenes.
As of the date I am writing this post I have been in my job for about 5 months and I am very happy to be able to work in something that is related to what I am studying. I'm already in my fourth year of industrial design and many things I learned I could apply them to my working day such as color palettes, reading orders, symbologies and why not also work methodology, the latter was especially useful to be more orderly with my projects.
A día de la fecha que escribo este post ya estoy en mi trabajo hace unos 5 meses y estoy muy contento de poder trabajar en algo que se relaciona con lo que estoy estudiando. Ya estoy en mi cuarto año de diseño industrial y muchas cosas que aprendí pude aplicarlas a mi jornada laboral como por ejemplo paletas de colores, ordenes de lectura, simbologías y porque no también metodología de trabajo, esta última fue especialmente útil para ser más ordenado con mis proyectos.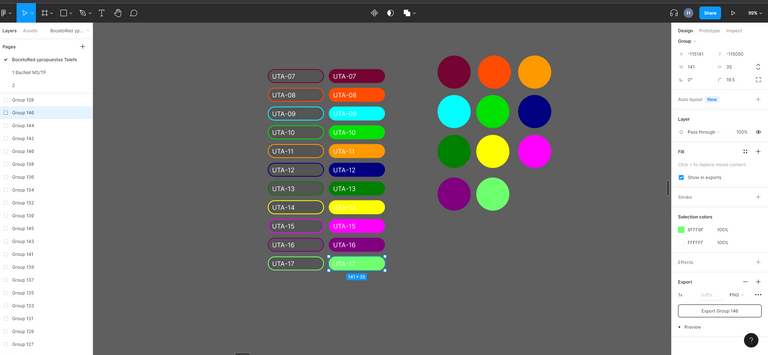 Soon I will be bringing more very interesting works and explaining a bit the working method I use to make them. What did you think? Do you think it is interesting? I would love to read your opinions in the comments
Próximamente estaré trayendo más trabajos muy interesantes y explicando un poco el método de trabajo que uso para realizarlos ¿Qué les pareció? ¿Creen que es interesante? Me encantaría poder leer sus opiniones en los comentarios

My 3D printing works @nit_3dprinting
Mis trabajos de impresión 3D @nit_3dprinting
Translated by DeepL
Traducido con DeepL
All images are my own
Todas las imágenes son de mi autoría
My last post My record printing FLEX [ENG-ESP]
Mi último post My record printing FLEX [ENG-ESP]