Hello Hive Geek community, I'm Nitsu and a week ago I finished a project I did with my work group for the faculty. I study industrial design at UBA (Universidad Buenas Aires) and in the project we were asked to design a different way to communicate within the context of the faculty, I do not want to explain much of the project because I would like to focus more on the program that I used to make some animations for the video we had to present.
Translated with www.DeepL.com/Translator (free version)
Hola comunidad de Hive Geek, soy Nitsu y hace una semana termine un proyecto que realice con mi grupo de trabajo para la facultad. Yo estudio diseño industrial en la UBA (Universidad Buenas Aires) y en el proyecto nos pidieron diseñar una forma diferente de comunicarnos dentro del contexto de la facultad, no quiero explicar mucho del proyecto porque me gustaría enfocarme más en el programa que utilice para hacer unas animaciones para el video que teníamos que presentar.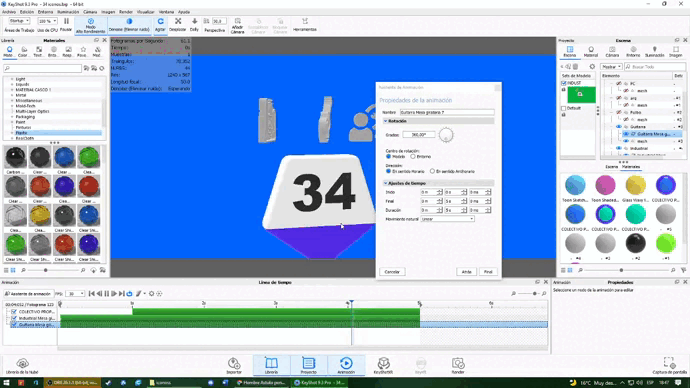 The Keyshot program is a great tool to make very professional renders and animations, I use it since I started my career, 4 years ago. And every time I use it I learn something new.
El programa Keyshot es una gran herramienta para realizar renders y animaciones muy profesionales, lo uso desde que empecé la carrera, ya hace 4 años. Y cada vez que lo utilizo aprendo algo nuevo.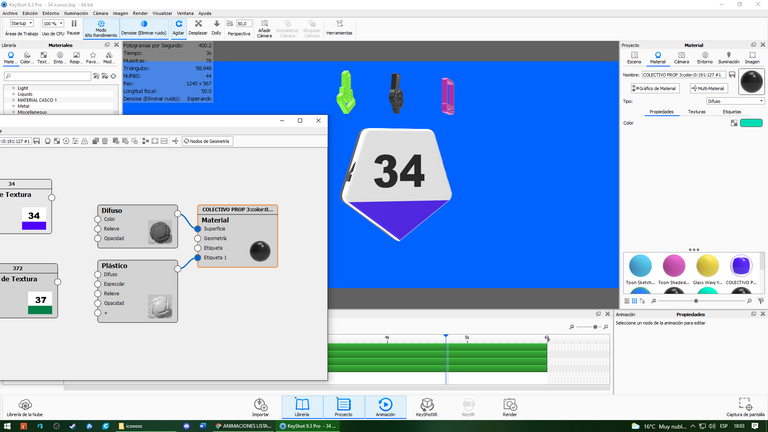 I needed to make an icon in the shape of a pentagon, it had to have a graph with a number and on top of that I had to have three icons representing activities. Then I had to animate the pentagon and the icons, but they had to rotate out of time.
Necesitaba hacer un icono con forma de pentágono, tenia que tener una gráfica con un número y sobre esto tenia que tener tres iconos que representaran actividades. Luego debía animar el pentágono y los iconos, pero estos tenían girar a destiempo.
First I started modeling the pentagon in Solidworks (3D modeling program) and moved the file to keyshot and here I added the graphic I designed in illustrator, once the graphic was on the modeling I had to arrange it to leave it in the place I needed. I scaled the size of the graphic and selected ``TWO SIDES'' and ``SYNCHRONIZE'' because if I didn't activate this the file detects that the graphic must be reflected in both sides of the piece and I only needed it in one.
Primero comencé modelando el pentágono en Solidworks (Programa de modelado 3D) y traslade el archivo a keyshot y aquí le agregue la grafica que diseñe en illustrator, una vez la grafica estaba sobre el modelado tuve que acomodarla para dejarlo en el lugar que necesitaba. Escale el tamaño de la grafica y seleccione ``A DOS CARAS´´ y ``SINCRONIZAR´´ ya que si no activaba esto el archivo detecta que la grafica debe reflejarse en ambos lados de la pieza y yo solo lo necesitaba en uno.
Then I downloaded icons from
THE NOUN PROYECT
a perfect site to search for icons in English. I selected to download them as SVG, gave them thickness from a 3D modeling program, loaded the STL files in Keyshot, scaled them and placed them centered on the pentagon.
Posteriormente descargue iconos desde THE NOUN PROYECT una pagina perfecta para buscar iconos en inglés. Seleccione descargarlos como SVG, les di grosor desde un programa de modelado 3D, cargue los archivos STL en Keyshot, los escale y los ubique centrados sobre el pentágono.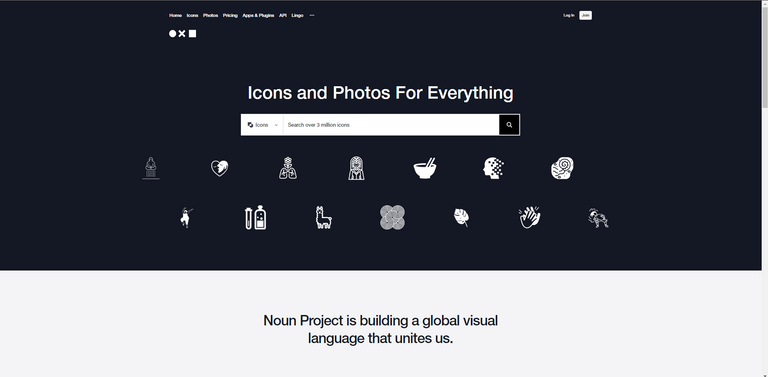 I gave these icons a plastic materiality with a specific color that we chose with my colleagues. The nice thing about the plastic material is that it allows for a much larger texture configuration if desired.
A estos iconos les di una materialidad plástica con un color determinado que elegimos con mis compañeras. Lo bueno del material plástico es que permite una configuración de textura mucho mayor si lo deseamos.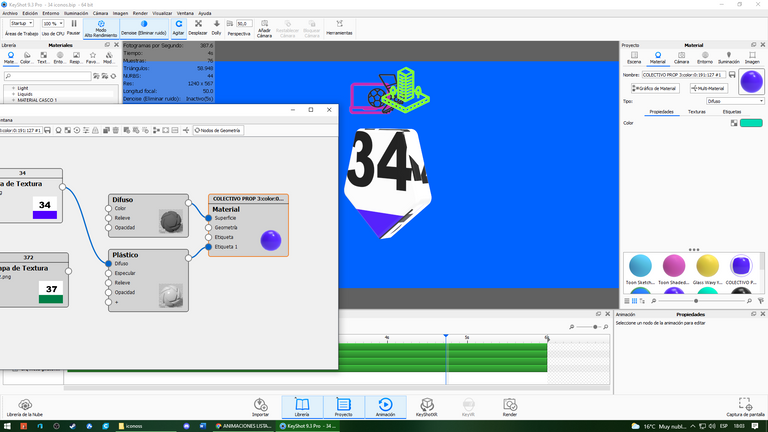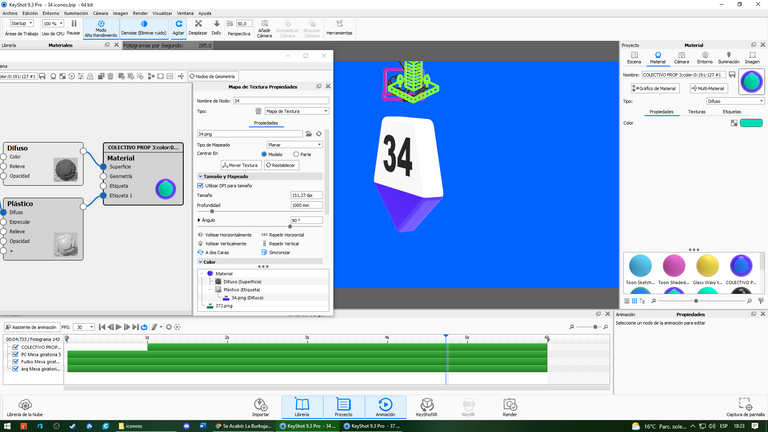 Once I had everything located in the place I needed I opened the animation section of Keyshot, I used simple animations I just needed them to rotate on their axis for a few seconds. Click on ANIMATION ASSISTANT select the object to animate and choose the type of animation which in this case is ROTATION, set the rotation to 360º on its own axis for 5 seconds, also choose counterclockwise rotation. Once this is finished, place the animation on the timeline.
Una vez tenia todo ubicado en el lugar que necesitaba abrí el apartado de animación de Keyshot, utilicé animaciones sencillas solo necesitaba que giraran sobre su eje durante algunos segundos. Aprete en ASISTENTE DE ANIMACION seleccione el objeto a animar y elegí el tipo de animación que en este caso es ROTACION, configure la rotación a 360º sobre el propio eje durante 5 segundos, además de elegir giro con sentido antihorario. Una vez terminado esto ubique en la línea de tiempo la animación.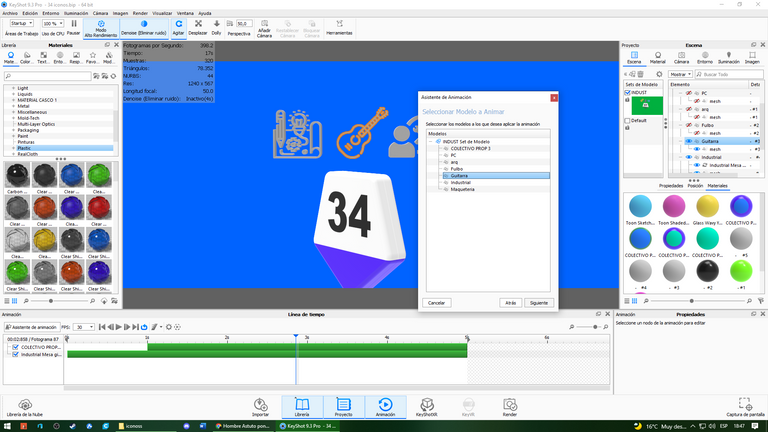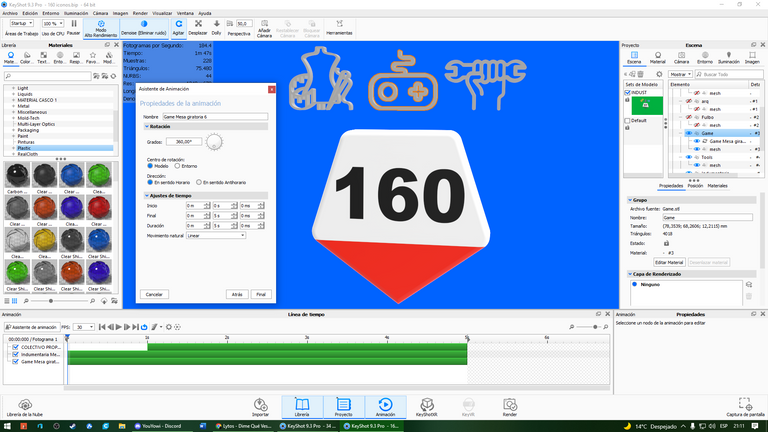 I repeated this action, but with the icons above, one at a time only selecting clockwise rotation. I chose a blue color for the environment since the idea was to use a Chroma Key, like the one in movies with animations, to place this inside a video editing program.
Repetí esta acción, pero con los iconos de arriba, de a uno a la vez solo que selecciones giro en sentido horario. Elegí un color azul para el entorno ya que la idea era utilizar un Chroma Key, como el de las películas con animaciones, para ubicar esto dentro de un programa de edición de video.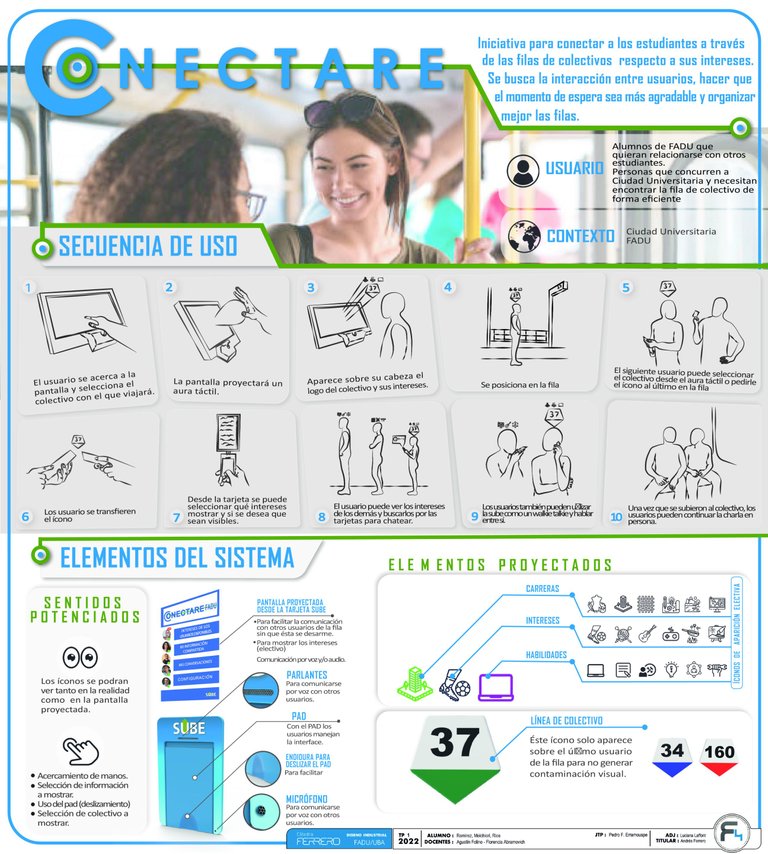 (This is the final laminate explaining the project)
Esta es la lamina final explicando el proyecto
Once everything was finished I had to render the animation, I needed it to come out fast, to give you an idea a 5 second animation can take 30 minutes to finish depending on the settings we give it.
Una vez toda terminada tenía que renderizar la animación, necesitaba que saliera rápido, para que se den una idea una animación de 5 segundos puede tardar en terminarse 30 minutos dependiendo de la configuración que le demos.
Would you like to know more about this faculty project, or maybe explain more about the Keyshot program? I would love to hear from you.
¿Les gustaría saber más sobre este proyecto de la facultad? ¿O tal vez que explique más sobre el programa Keyshot? Me encantaría conocer su opinión.